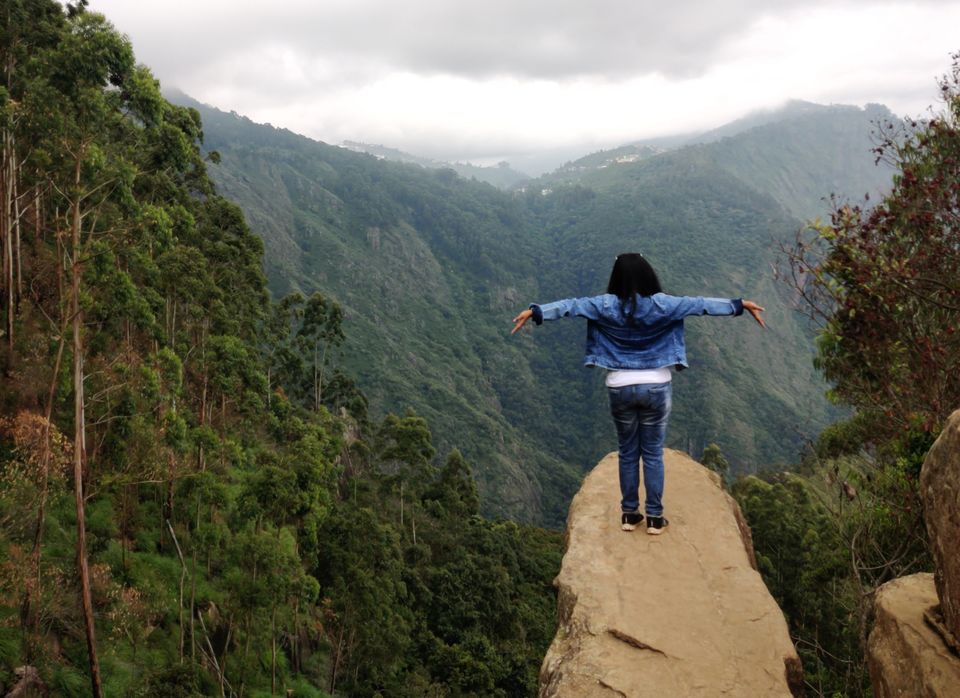 Kodaikanal is a very popular hill station of South India and was in my weekend destination list since a long time. Finally last year just before the monsoons I decided to tick this off from my list. So I gathered my 3 friends and set off for the journey.
We boarded a non AC sleeper bus from Bangalore at around 9pm from Majestic Bus Stand and headed off for our destination. Bus services to Kodaikanal are there from most of the cities of South India. But if you want to visit Kodaikanal from North India it is best to fly in to Chennai or Bangalore in the afternoon and take the night bus. If you are landing in Bangalore make sure to have a gap of at least 4 or 5 hours between flight landing and your bus as the airport and the main bus terminals are far away and Bangalore faces heavy traffic.
Now a quick tip for those travellers who are not used to bus journey.... Now it is better to travel to most of the South Indian destinations by sleeper bus than train or private car if you are attempting a weekend getaway. Car journey will take a major part of your day and train service is also limited here. Also with bus journey your destination just becomes a night's sleep away. Also if you tend to have motion sickness just carry a mouth dissolving vomiting tablet and try to book middle seats of Non AC Sleeper bus....that's it.
It was our first stop and to be honest we found it quite boring. It was an ordinary view point with a watch tower and our day being foggy visibility was zero. Also it was jam packed with family tourists. We quickly finished our tour and spent some time hiking up the nearby jungle. The jungle opposite to Moir Point starts with a steep climb up a rock but gets pretty easy later on. We loitered around this place for few minutes and took some cool pics before returning.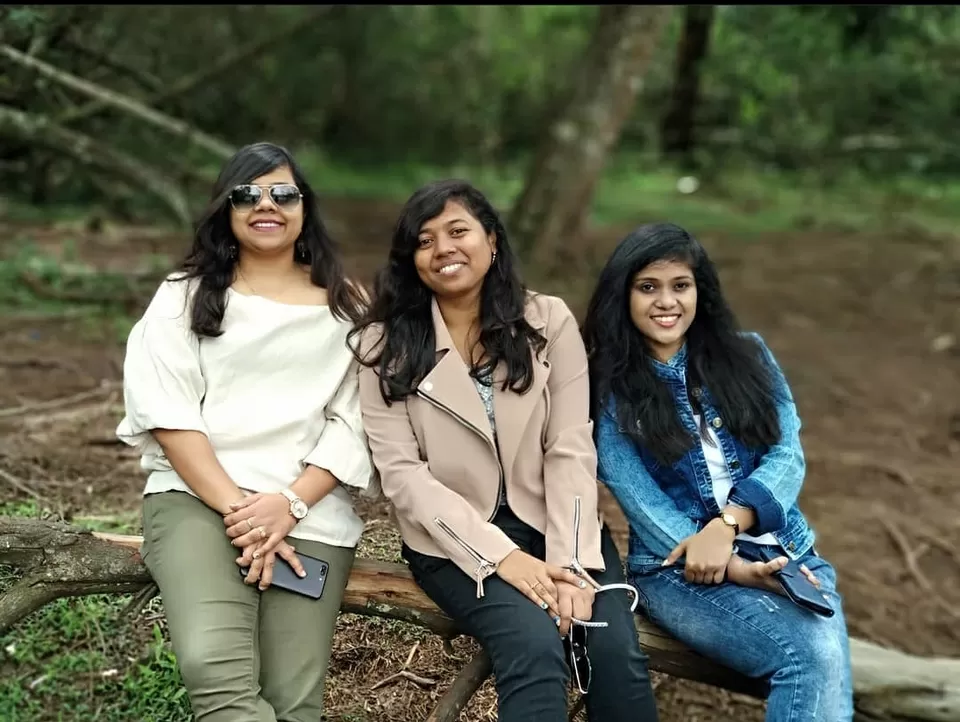 Our journey the night before was smooth and we reached our destination early morning. Though I personally don't prefer Oyos but at the insistence of my friends who did not want to spend too much on accommodation I had to book one this time. We booked a Guest House called Gurukripa Guest House a little away from the centre. The rooms here are Okish.....they were a bit less ventilated and dull. However the people there tried to make it up with their hospitality.
Not only were we offered early check in at a cheap extra cost, they also arranged an awesome driver for us (sorry for forgetting his name) who dealt with us with utmost professionalism and helped us discover hidden spots to take great pictures.
We freshened up, had our breakfast and set off for the sightseeing.
This was our next stop and it was one of the best destinations in the town. We could walk through a vast stretch of pine forest in the mystical atmosphere created by the fog. The place gets quite crowded near the entrance but as you hike towards the inner parts you can soon find some peaceful place for your own and enjoy. Do not miss this spot if you are in Kodaikanal.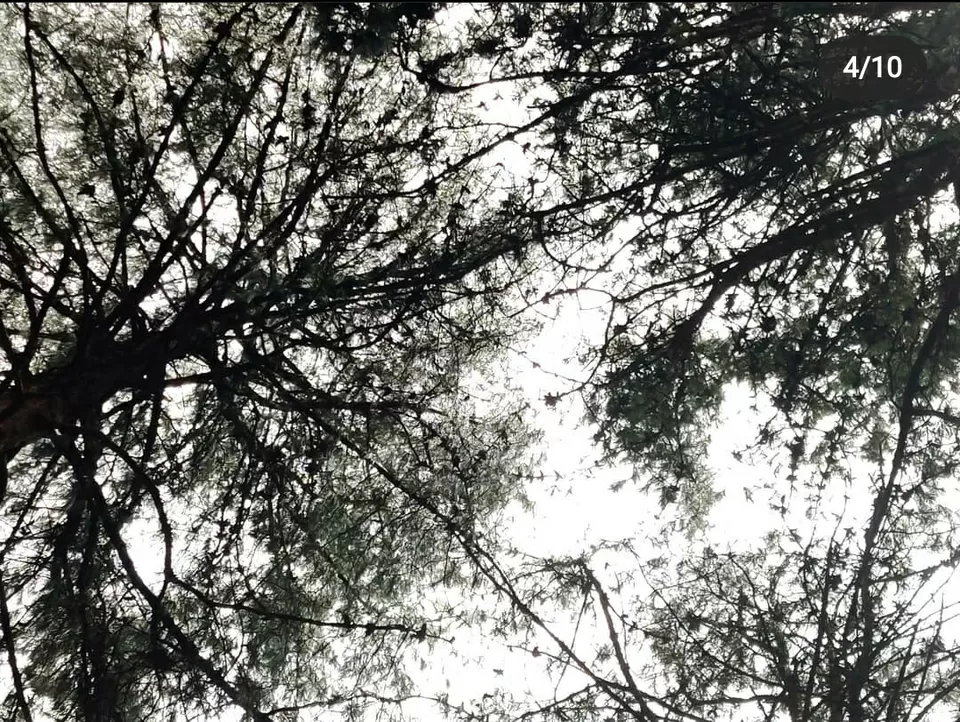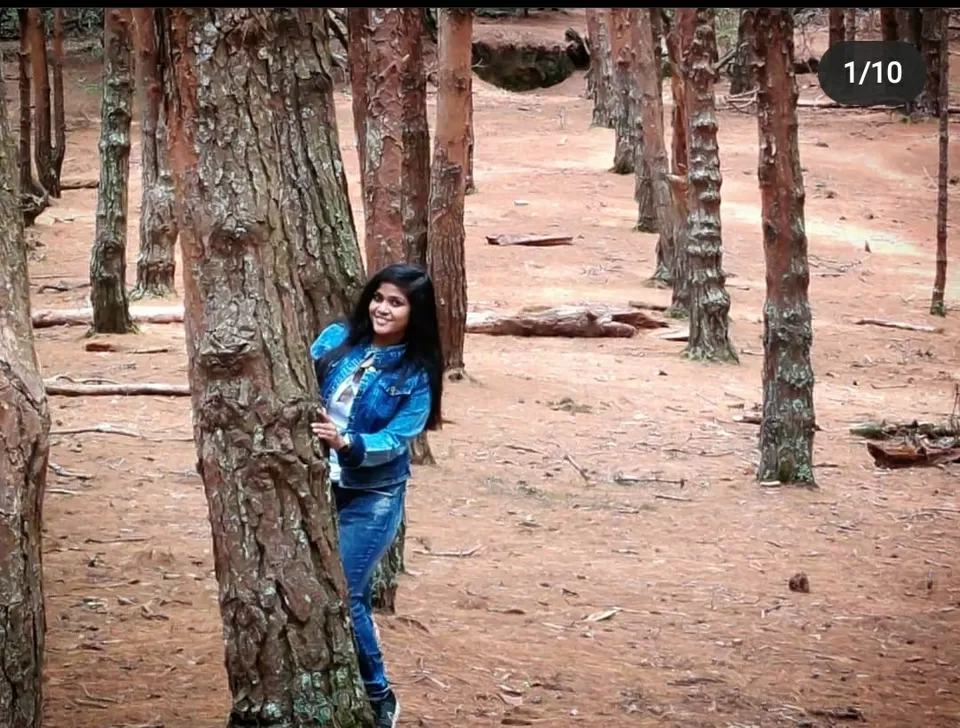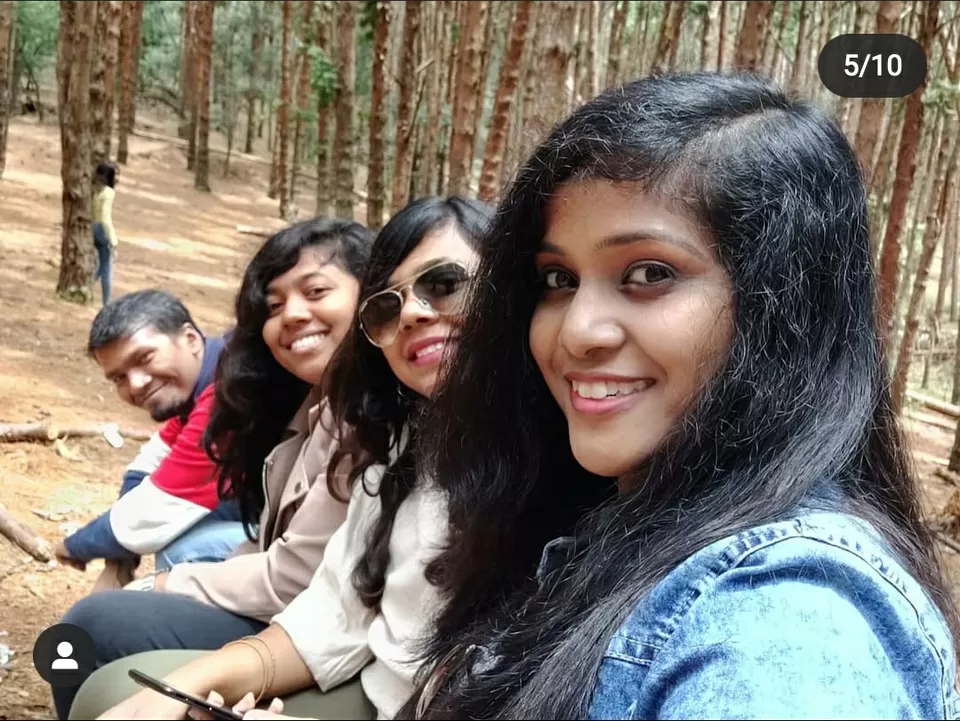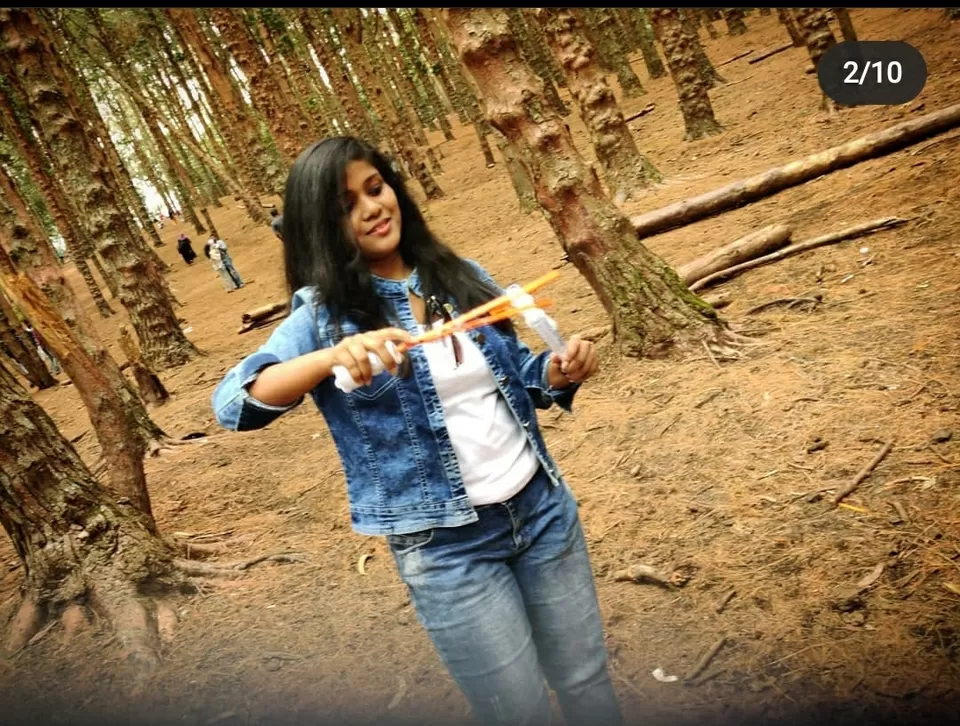 This place is situated very near to the Pine Forest. It became famous after Tamil Movie Guna was shot here. However the caves where the shooting took place is closed for public due to some accident in the past. You can still catch a glimpse of the cave from the viewpoint created for this. Unfortunately due to fog we did not get any view that day. However we enjoyed climbing up the roots of a gigantic tree spread across a slope.
We skipped our next stop which was Pillar Rocks as it was already 3 pm and the foggy weather was giving us no view at all. Instead we headed towards Dolphin's Nose and it turned out to be my favourite place in Kodaikanal. You will get beautiful views from many places in Kodaikanal but it is only here that you will be able to be a part of the view. We had to hike around 2km downhill to reach the Dolphin's Nose and the Echo Point. We also crossed another view point on the way.
The view from the Dolphin's Nose with the rock jutting out to a sharp drop was amazing. Do try out walking till the edge and taking photos but take utmost precaution in doing so and only go one person at a time. Luckily the weathered cleared a lot by the time we completed our hike. We captured our cover photos from the Dolphin's Nose and spent some time chilling near the Echo Point.
The return uphill hike was a bit tiring for my friends but it will be a cakewalk for people hitting the gym regularly. I remember climbing 20 minutes before and already completing my maggi in a nearby stall before the others could climb up. I highly recommend this hike to youngsters with average fitness....but do avoid it if you are with children or elders. Also wear comfortable clothes and shoes.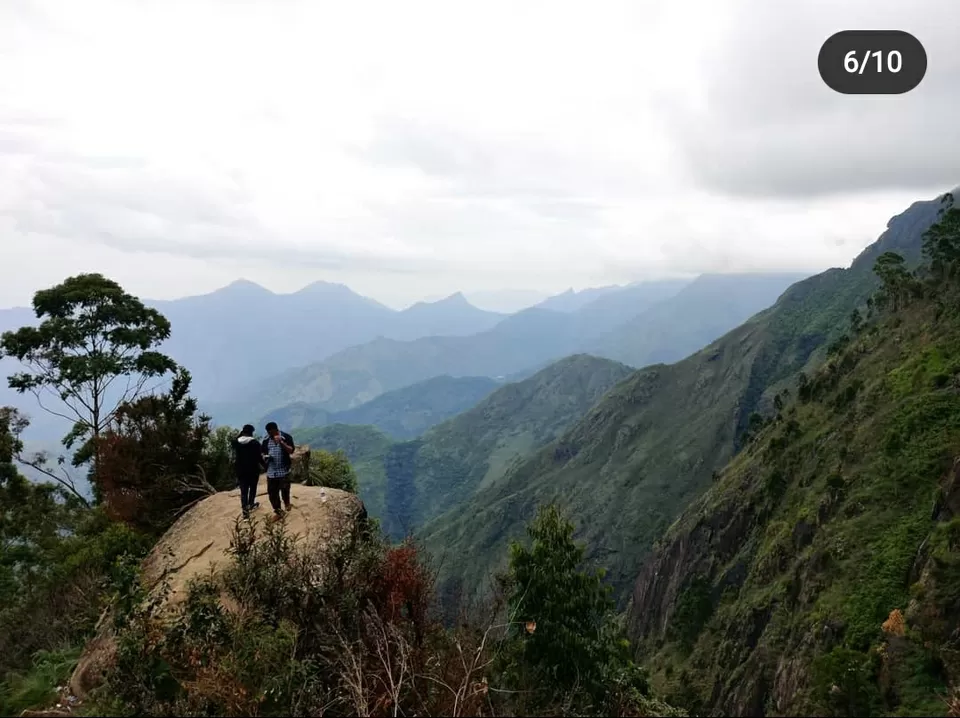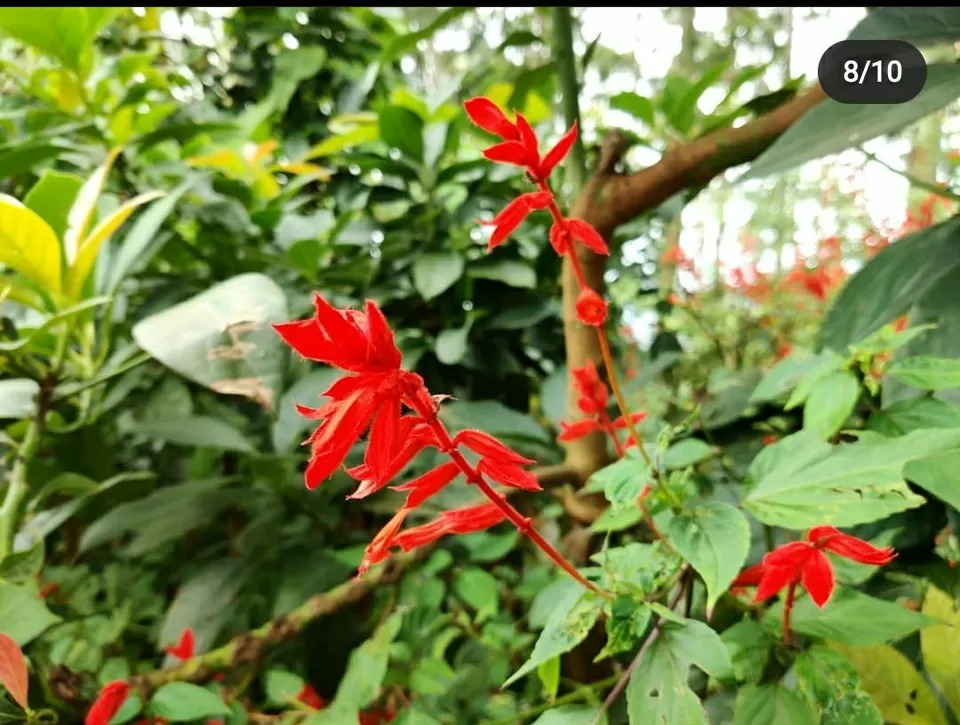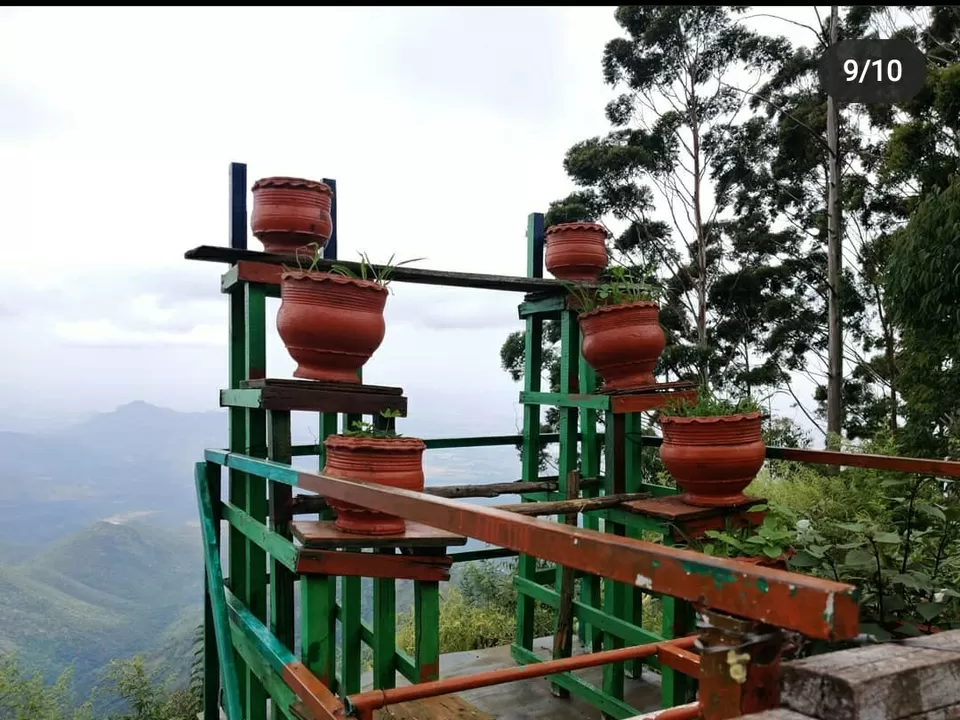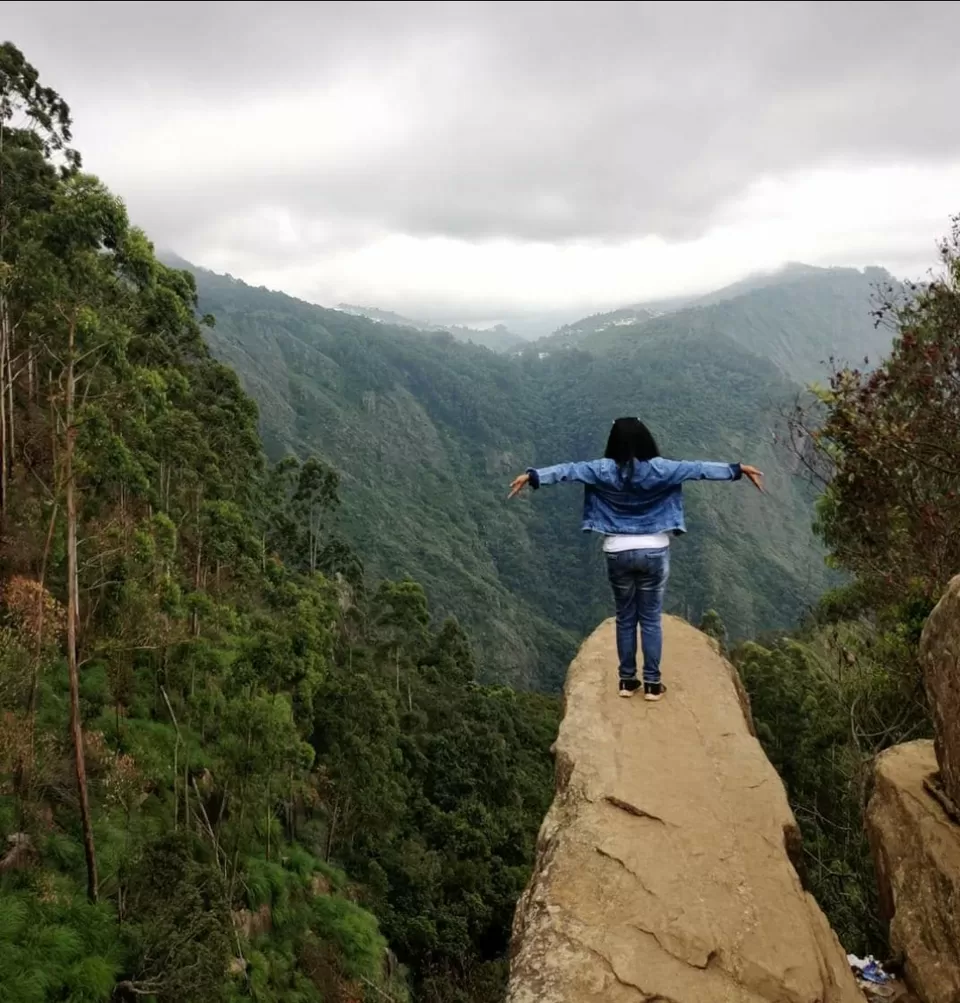 We visited this place while returning from Dolphin's Nose. It was almost 5 pm and the falls was nearing closing time. So we faced a huge crowd here. We spent some time at the foot of the waterfalls and then our driver guided us to climb up the waterfalls. It was a very thrilling experience and we don't get to do such a thing in many waterfalls in India. In most South Indian waterfalls which are accessible to people usually unfit senior guys will take bath in their chaddis and baniyans which repels most ladies like me to go and take a dip. This was not the scenario here.....and most people were not even attempting the climb. Also it was quite slippery and hence needed proper guidance for the climb (you need to know which parts you can climb and which not). Also dont attempt it if water flow is too high. We climbed two tires of the waterfall and took our pics without much disturbance.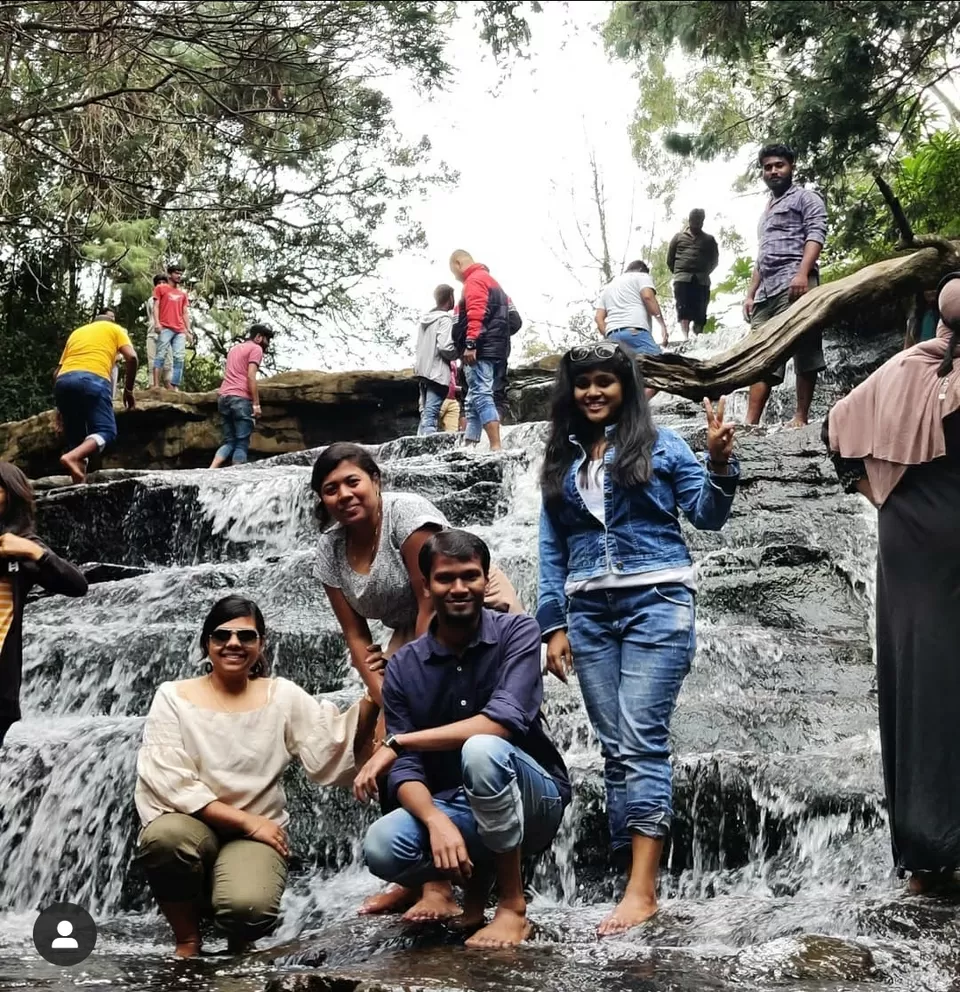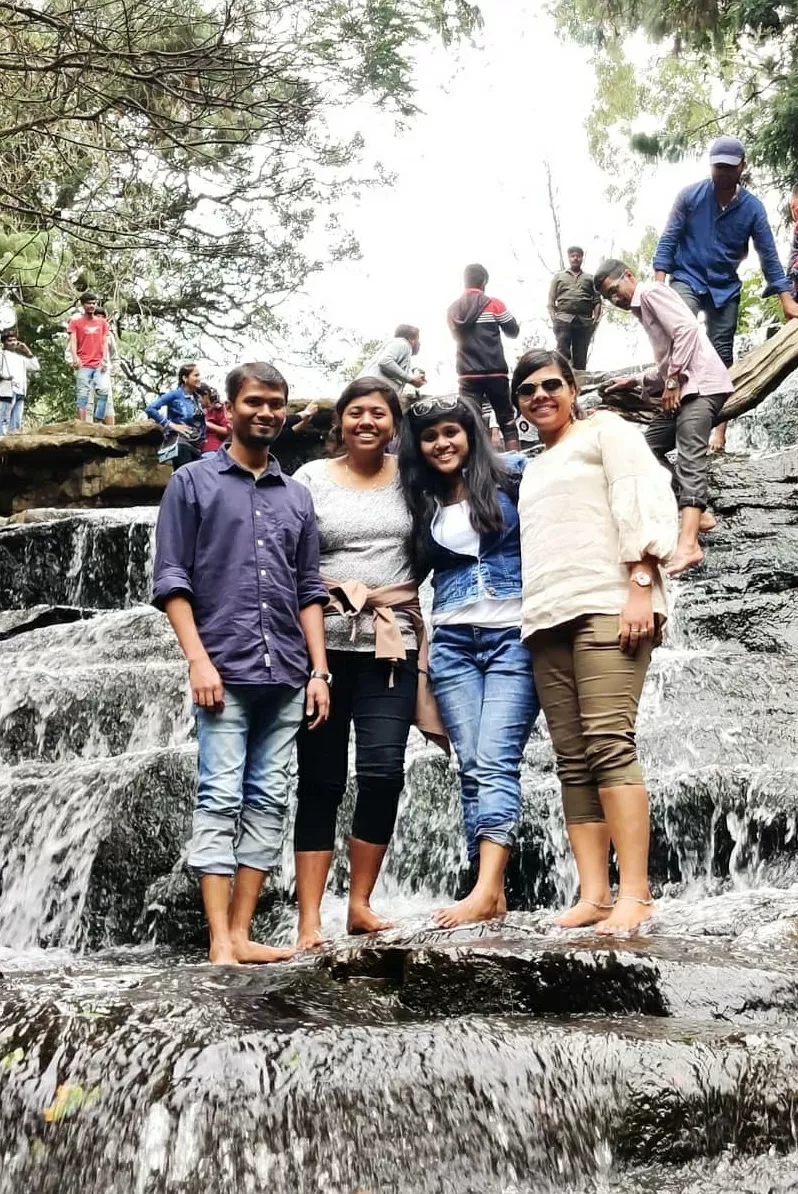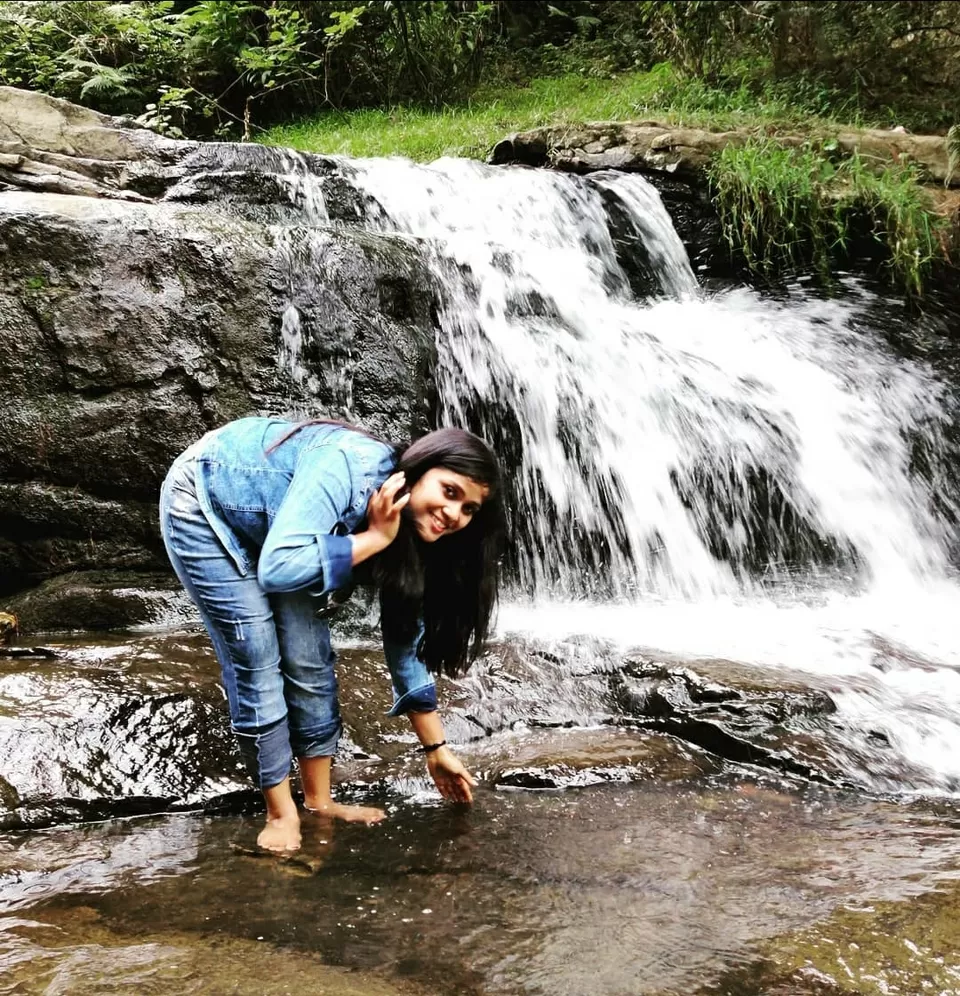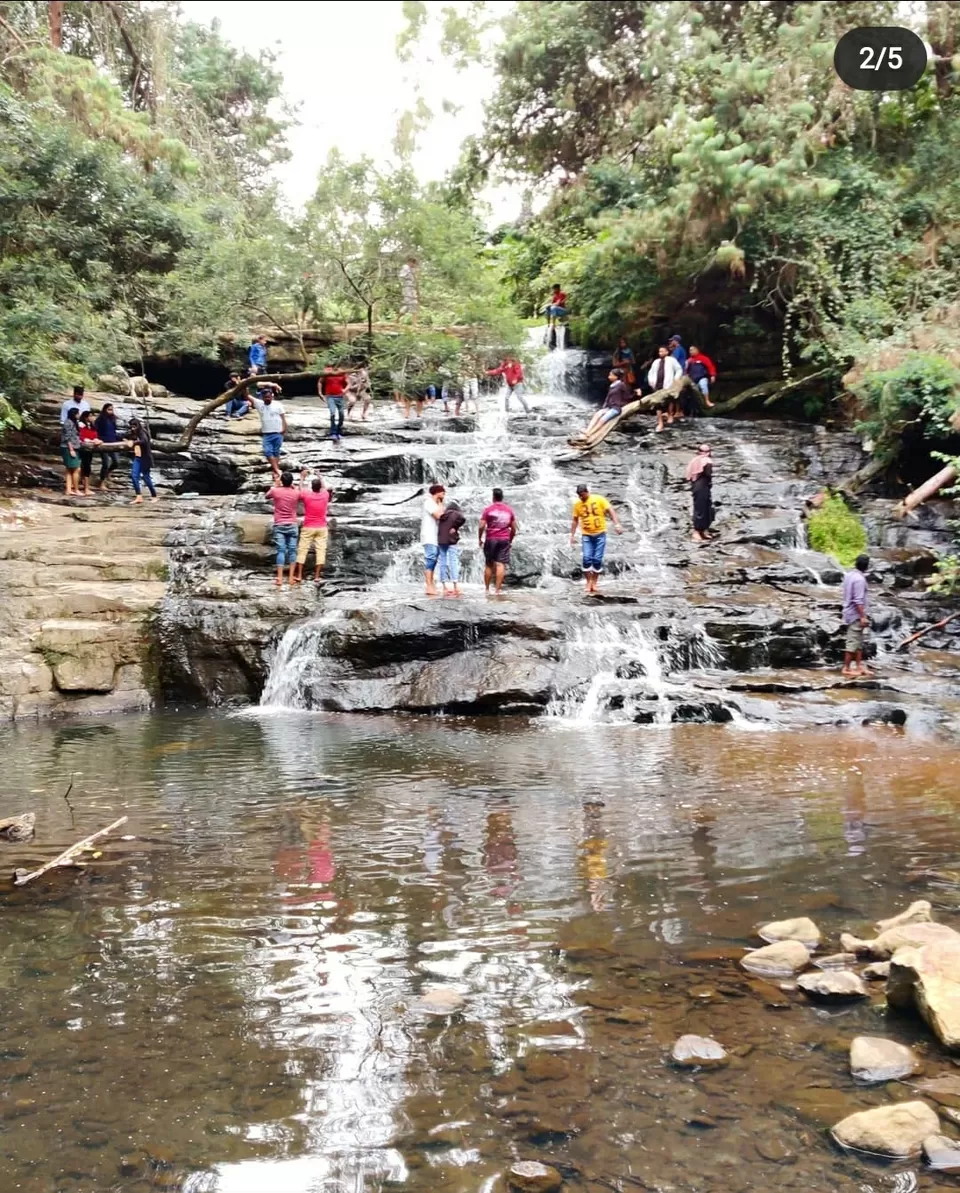 By the time we left Vattakanal Falls it was already evening and we were also tired. So we called it a day and headed straight towards our hotel.
Next day we checked out and started around 10 am. Today our destination was Mannavanur Lake. On the way we stopped at a random pine forest. Unlike the famous Pine Forest we visited yesterday this place was completely empty but equally beautiful. We were the only ones present and hence spent quite some time clicking pics without any photobombs.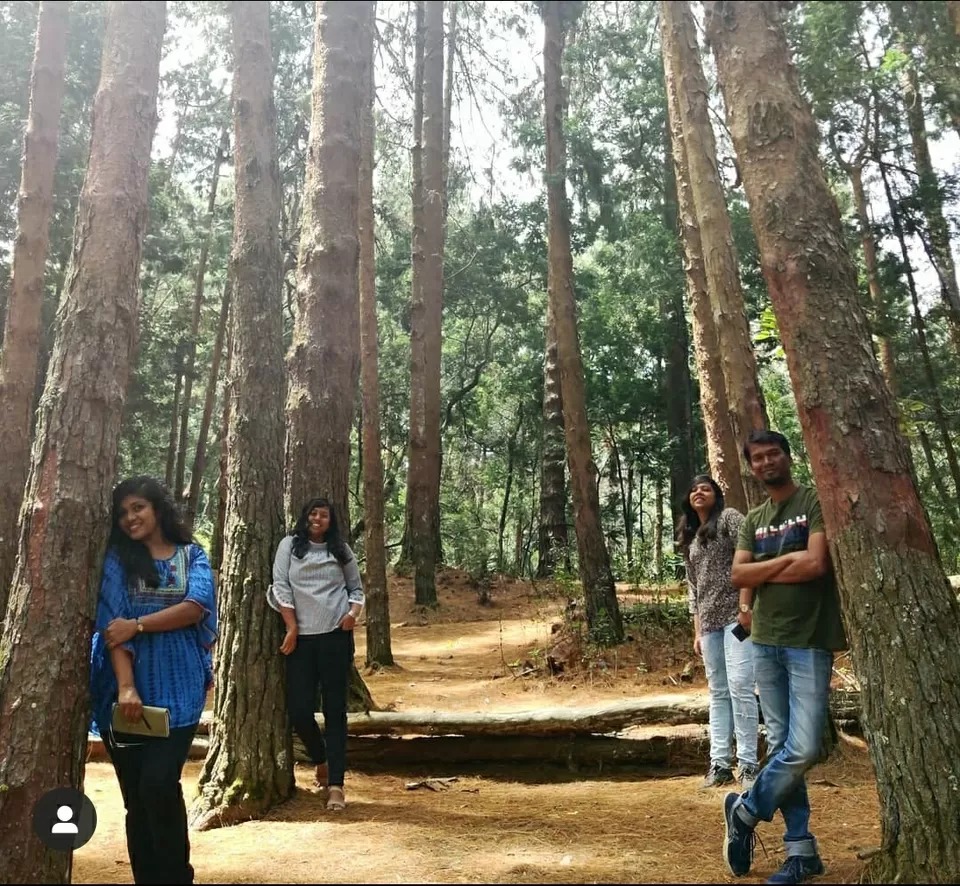 Our next stop was just in front of a dhaba. Initially we thought our driver was suggesting us to have food there but instead he took us behind the dhaba to a view point designated to give one of the best views of Poombarai Village. The view was amazing..... initially I wondered if it was over-hyped but trust me its not
The view of the pinkish houses of the village emerging amidst the step cultivation and the green hills looks amazing and is worth a few clicks. Do not miss this if you are on your way to Mannavanur.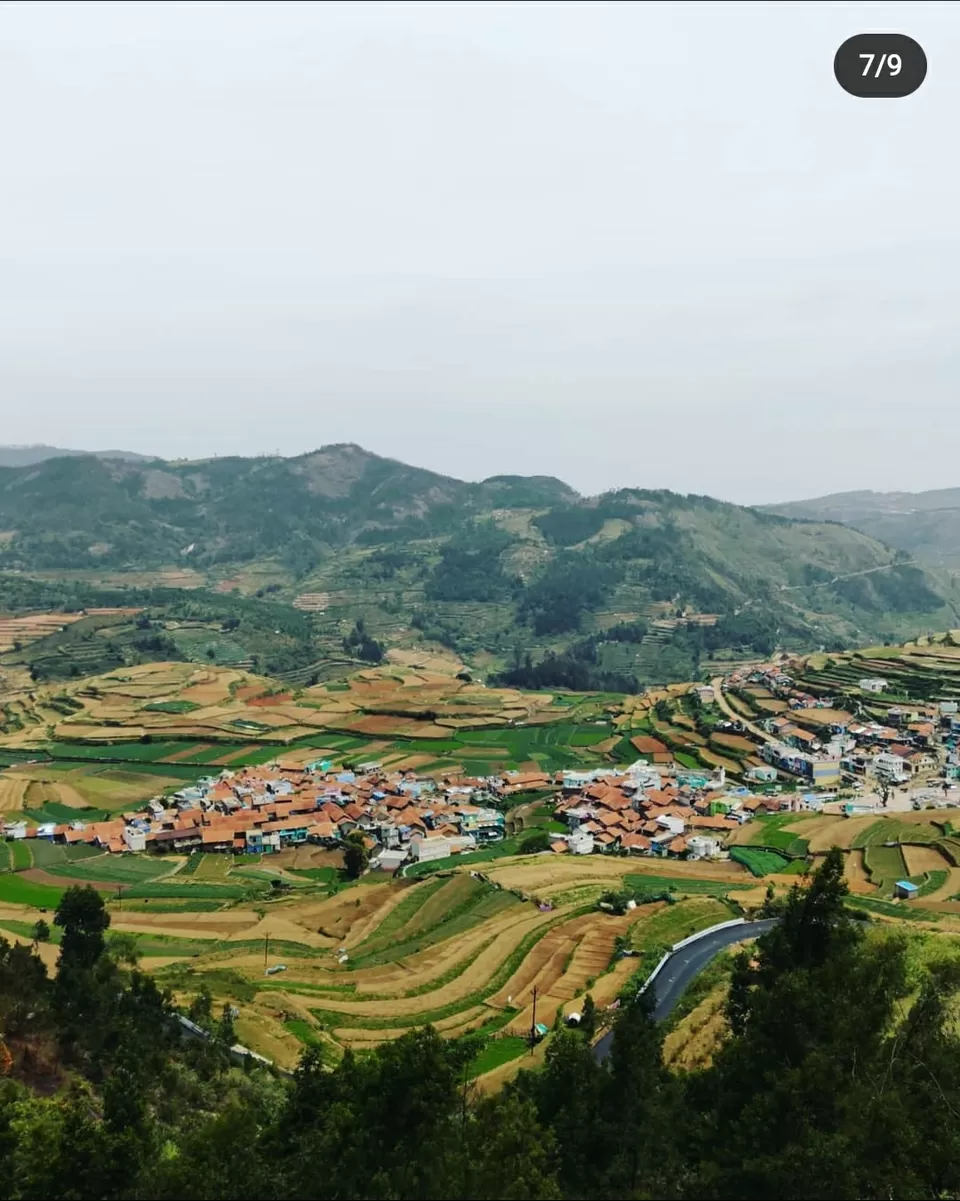 After the viewing point we drove down to the village and quite surprisingly we found this place super clean. The village looked like one of those pretty European hamlets where techies like us would love to retire.
At first we visited a temple inside the village. It was a beauty and quite less crowded....may be because we chose almost lunch time to go there. We had the most peaceful darshan of Lord Murugan. There were some other deities also in the temple but most of them were closed may be because of the time of the day. After your darshan do check out the organic vegetables the villagers sell at the temple gate for the tourists.
On our way back from the village our driver took us to a small Eucalyptus farm outside the village. We were taken inside an enclosure made of leaves with a huge boiler located at the middle. The thick smoke made me choke and I had to come out immediately. But the local caretaker explained about the process of eucalyptus oil extraction to my friends who could bear the smoke. Freshly prepared Eucalyptus oil was also sold at the farm....we took a bottle each at Rs 200. My father was very happy with this bottle when I gifted him this later on.
We reached Mannavanur lake around 1 pm. The main lake entrace was closed but we could still visit a green valley and take a glimpse of the lake from there. As rains were late the lake was quite dried up but still the view of the blue lake in the green background with the sheep grazing around was amazing. It didn't look like we were in India at all. There was a sheep farm and a rabbit farm nearby which you can explore. The amazing landscape, fresh air and the clean surroundings made us feel that we came to some English countryside. I highly recommend a visit to this lake of you are in Kodaikanal....you can spend a whole afternoon here strolling around and having picnic or just simply enjoying the view.
Fashion Tip: Ladies go for your bright blue or red dresses/tops in this green background to get those amazing pictures. Don't go for green or yellow or white ....it will get blended with the background. Avoid heels for sure.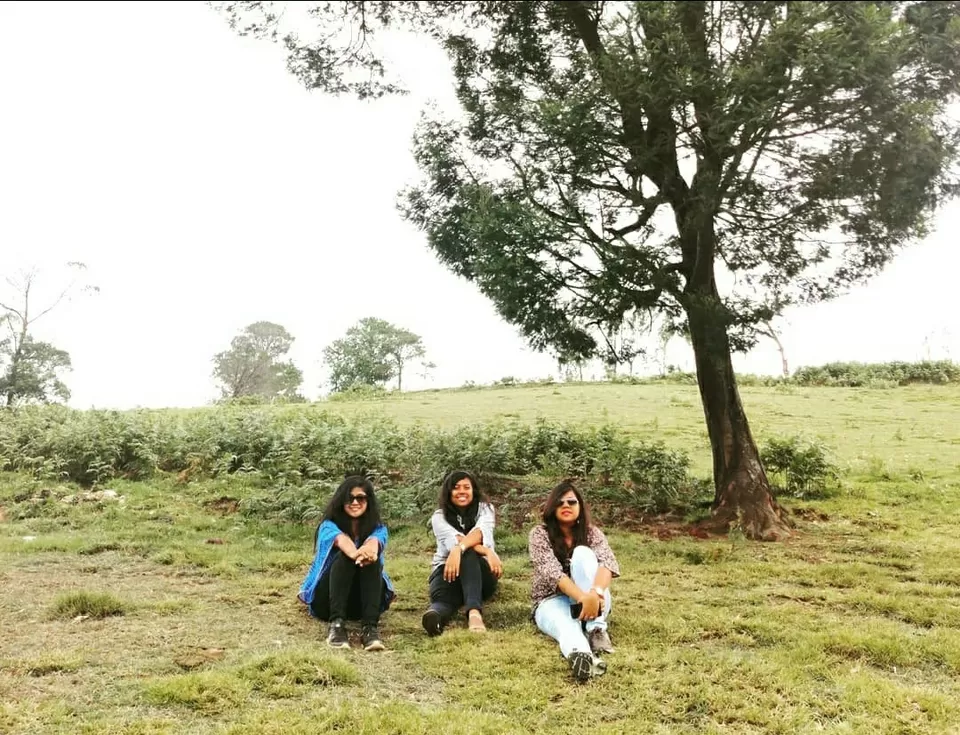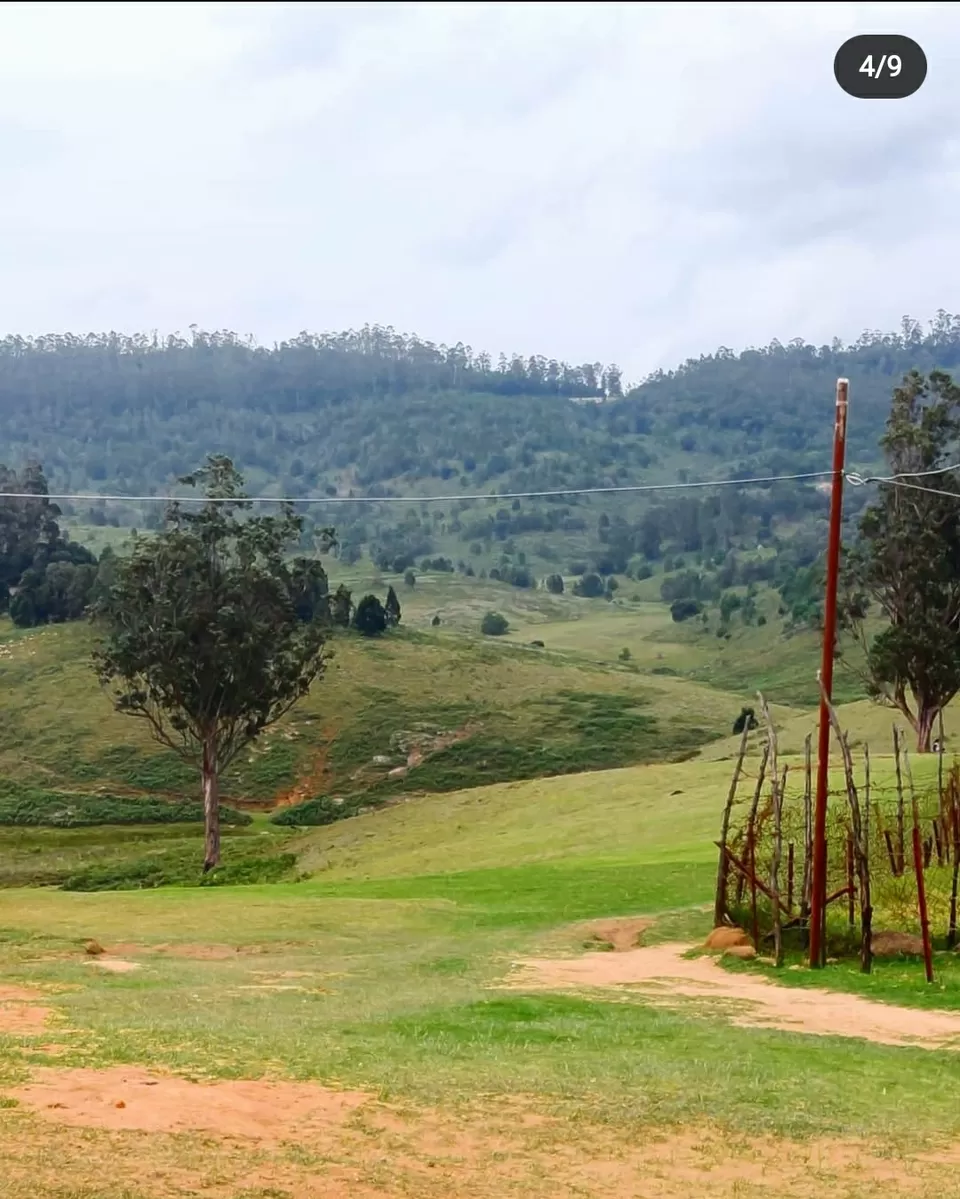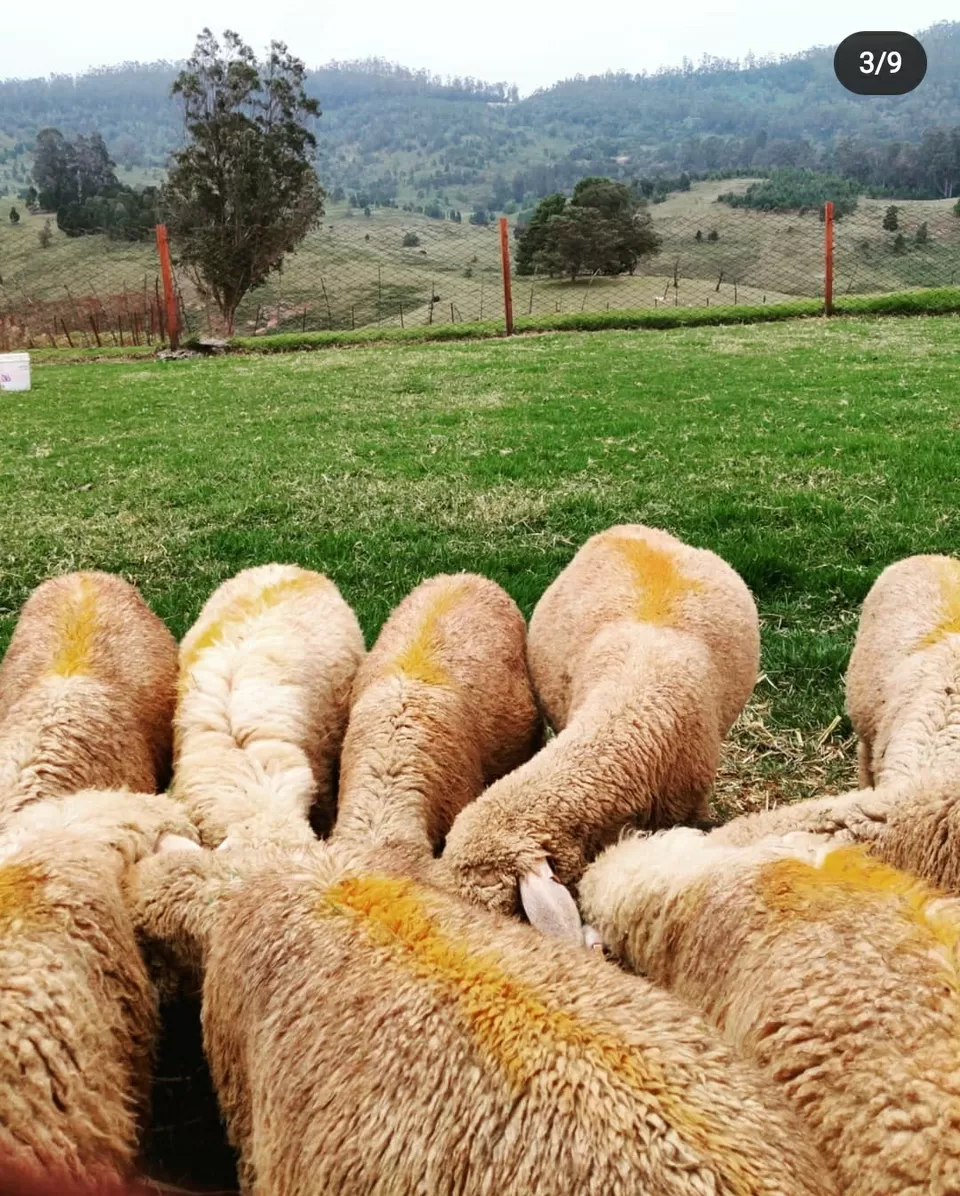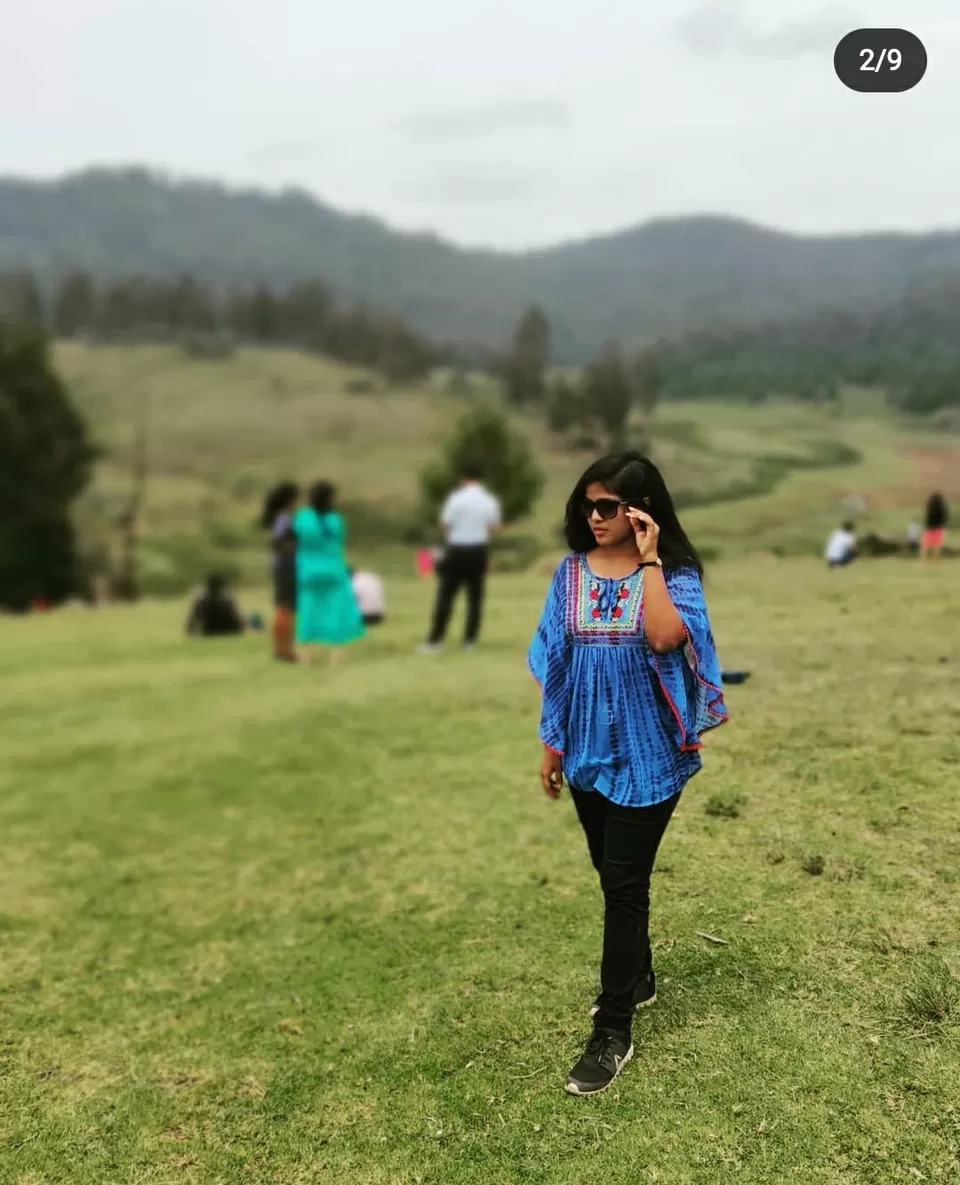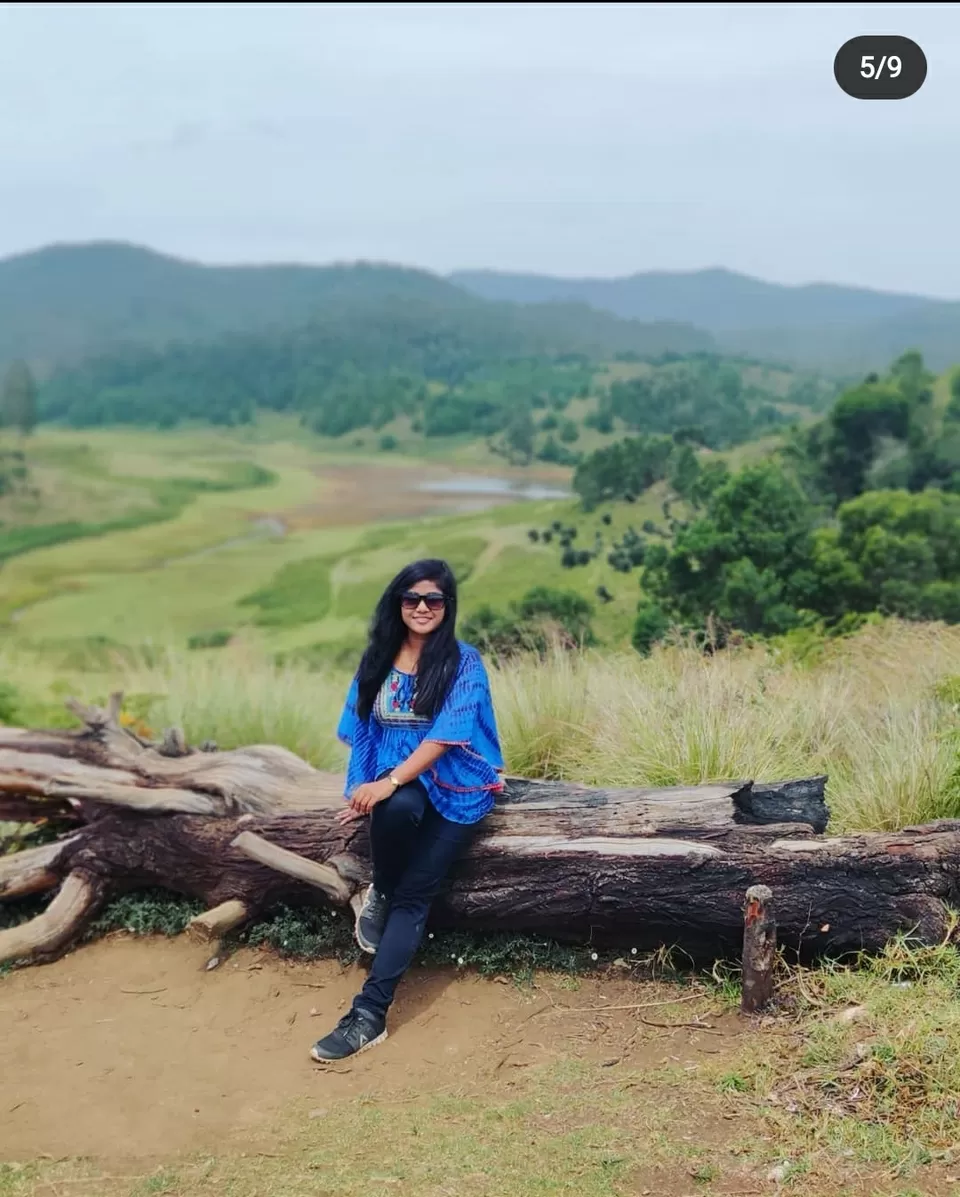 As this lake is situated in the middle of the main town so we decided to explore it at last just before leaving the town. We had to let go of our car and store our luggage in the office of our bus and then explore this lake. I wanted to hire a bicycle and take a cycling tour across the lake but my friends insisted on going on a paddle boat ride with them.
Now paddle boating is something you can do on the basis of your wish. I personally have done paddle boating so many times that it sounds boring to me now....specially the four seater one. My friends still find it exciting. It is up to you if you want to do it or not. In case you do.... opt for a ride length of at least an hour as it takes quite some time to go round the lake.....and you need to pay fine if you return late from your designated time.
Now you also have the option of renting a bicycle to ride around the lake.....you can try that also if you have time.
We left Mannavanur after an hour and headed straight to the main town of Kodaikanal.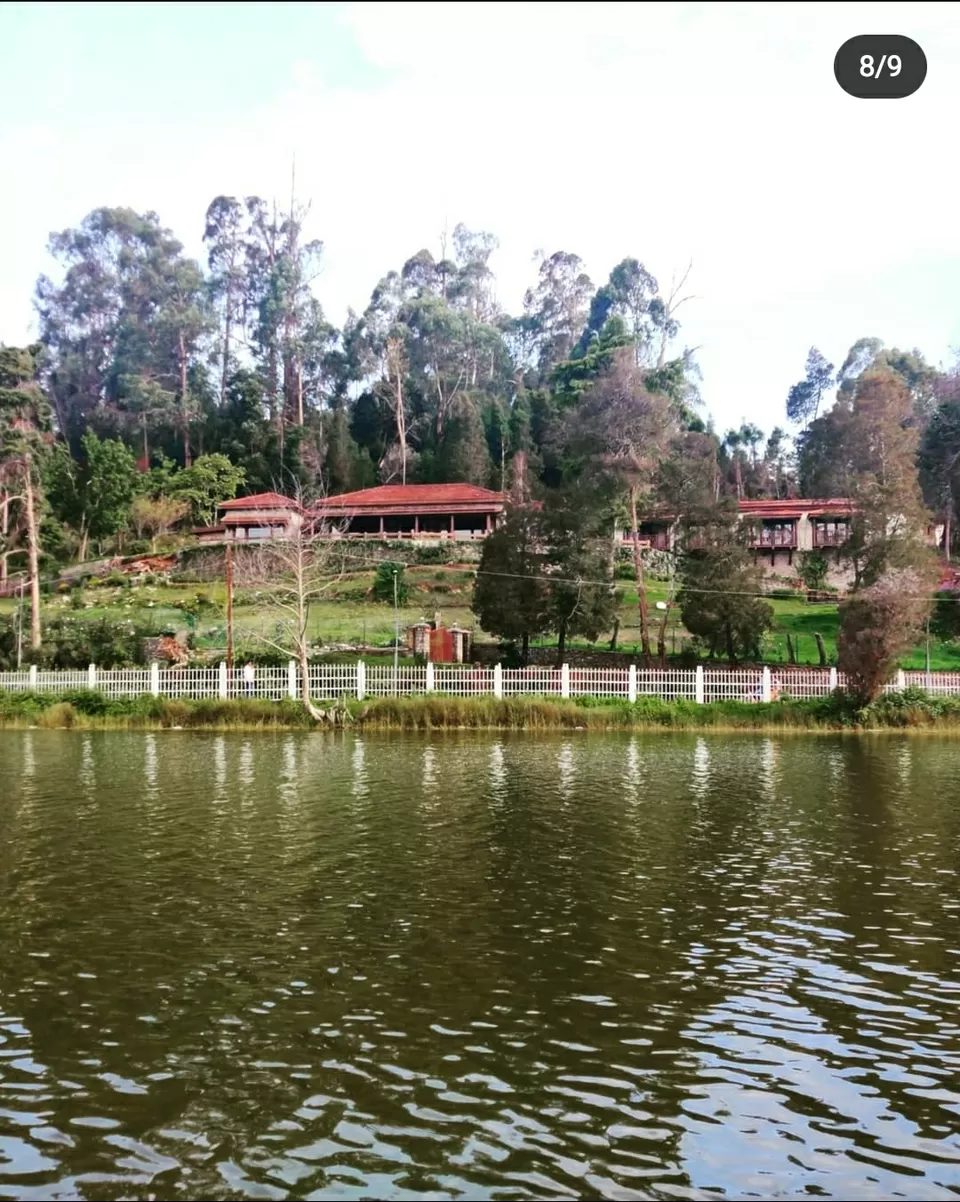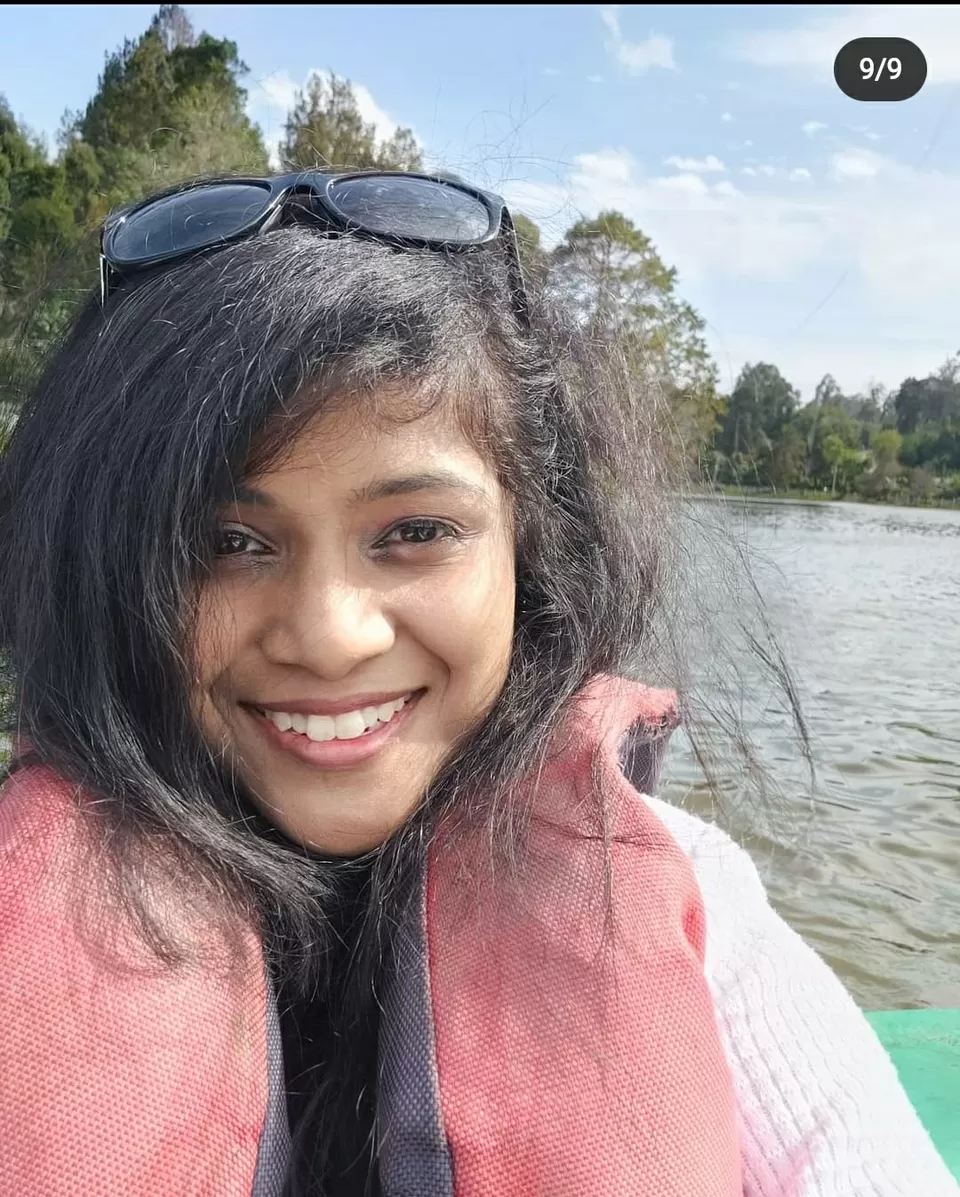 After we were done with the lake it was almost 4 pm. Our return bus was at 6.15pm so we decided to quickly visit Coakers Walk as it was nearby. It was a nice walk along a ridge with a beautiful view of the valley. Luckily as it was Sunday evening and people were hurrying to return hence there was very less crowd. We almost got the entire place to ourselves. The crowd being thin there were less hawkers as well and hence less disturbance for us. There was also a telescope point at one part from where you can see the cars moving in the roads far away. The walk in the quite environment with a mesmerising view was the perfect way to end our trip. Do visit the Coakers Walk and try to do this just before leaving in the evening to enjoy the place all for yourselves.
Tips: Do not buy the earrings from the vendors there......I bought some and by the time I reached home all these were in pieces.
Moreover I found Kodaikanal quite a fun weekend getaway with your friends and family. It has lot to offer and remember 2 days might not be enough for you to cover all the places. Do your research properly and decide which all you want to visit. Also this destination tends to get a bit crowded.....keep this in mind during planning.