A weekend trip with family.
Trip Dates : 23,24 Feb 2013
Boarded Kanyakumari express on Friday evening and got down at Nagercoil. The plan was to do some site seeing on Day-1 first half and check-in at TTDC in Kanyakumari by lunch. Do site seeing at Kanyakumari, stay overnight, see sunrise and leave by morning back to Nagercoil and see rest of the places and leave back to Chennai by Sunday evening.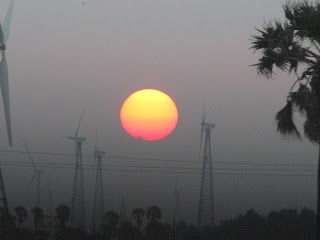 The train was late and we got down in Nagercoil railway station around 7 in the morning. We had booked a car for 2 days and it was ready to pick up us at the station. We decided to buy breakfast before we go to the falls. We packed our breakfast from Hotel Gowrikrishna - very good Pongal, Idlis and Pooris.
Nagercoil Railway Station - Thirparrappu Water falls - 43 kms
Thirparrappu Waterfalls is one perennial waterfalls in Tamilnadu. Water flows all 365 days. When we reached there around 8:30, there were only 50 people. We had excellent time there and a rich bath. The location has enough place for women to change clothes also.
After having the packed breakfast, next we went to Mathoor Aquaduct Bridge .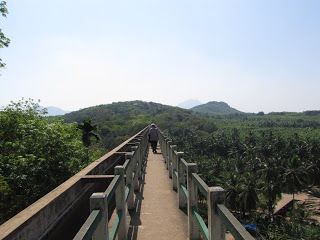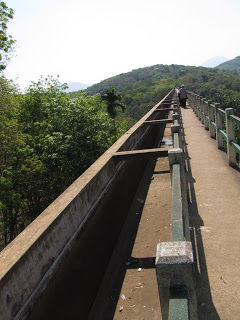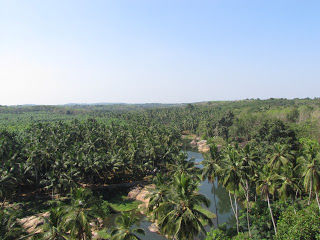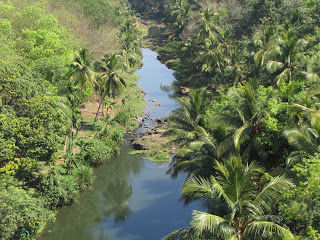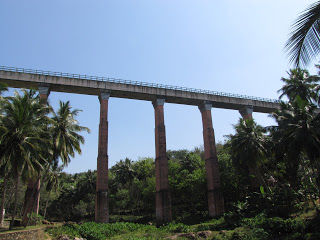 Rs.25 as entry fees here and he walked through the palace for little more than an hour. A good place for art and history lovers. Anyone can enjoy atleast half of the time there.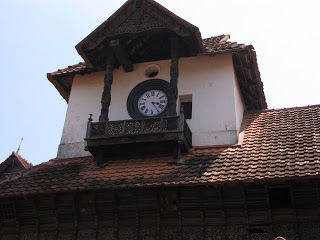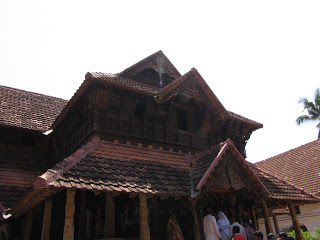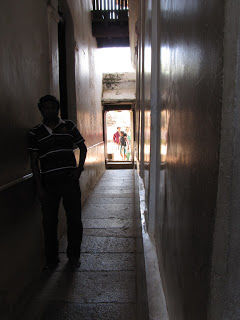 Having had decent experience with TTDC hotels earlier in Ooty, Kanyakumari TTDC was amazing. Clean bedsheets, bath towels and bathrooms. I would definitely recommend TTDC for stay. I booked the rooms one month in advance through online. After resting for an hour, we went for stroll on the shore side, viewed the Thiruvalluvar status and Vivekananda rock from the Sunrise points. Then, visited the temple - Kanyakumari Bhagavathi amman temple.
We climbed the view tower to see the sunset.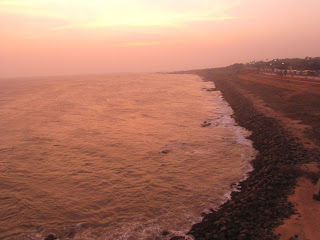 We got up around 4:30 AM, bathed and went to see the sunrise at sunrise point. Sunrise point is just behind the Amman temple on the Kanyakumari Beach. There were already around 3000 people there! One can sight beautiful sunrises anywhere in Kanyakumari, but, this place is quite special. The sun rises between the Vivekananda Rock Memorial and Thiruvalluvar statue !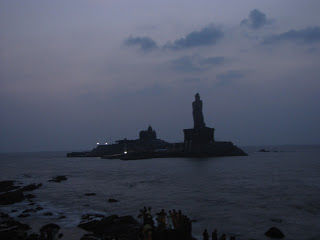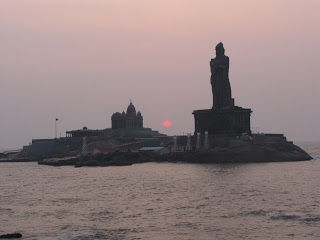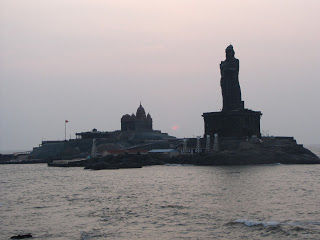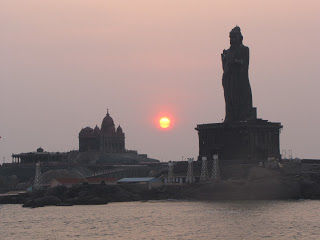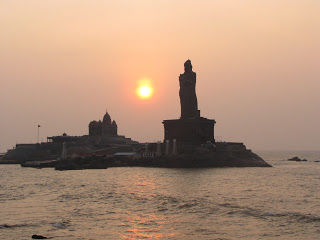 The sun rose around 6:20 and then, took few snaps. We had breakfast in hotel Saravana and went to get tickets for boats to reach Vivekananda Rock Memorial. The boat services start from 8 AM till 4 PM. The whole 3000 odd people were standing on the queue for the boats :(. It took 2 hours for us to get the tickets and spent around 40 mins in Vivekananda Memorial. One can keep taking hundreds of photographs here with water all around amazing views of Kanyakumari from this little rock !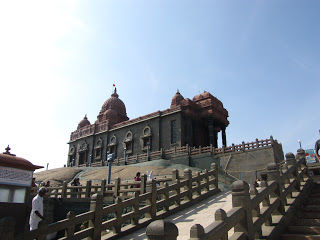 Thirparrappu Waterfalls - Mathoor Aquaduct Bridge - 11 kms
The location is really good with a good walk over the bridge and one can walk beneath the bridge and the views are excellent.
Mathoor Aquaduct Bridge - Padmanabhapuram Palace - 14 kms
Padmanabhapuram Palace - Hotel check-in - TTDC, Kanyakumari - 35 kms. Then, we had our lunch at Hotel Gowrikrishna again and drive to Kanyakumari. I had booked TTDC cottages(AC) for Rs.1200 each + Tax. The rooms were spacious and so clean. WOW, what a view from the cottage. The cottage is 5 mins walk from the view tower and 7-8 mins walk from the Gandhi memorial, Kumari Amman temple. The location is one of the best.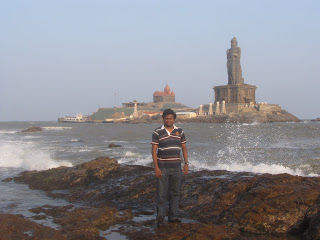 This is simply amazing to see ! What a location to see the sunset. The sunset was amazing to see with orange background and rumbling seas hitting the rocks on shoreline.
There was an moderate crowd there. Once the sunset, almost all left and we decided to spend few minutes in the strong wind top of the view tower. Then, came the amazing moment. The whole sky turned orange in colour and sea and oceans around reflected them ! This is one amazing moment.
Typical South Indian Vegetarian Food was not available in TTDC and we went outside to have dinner - Idlis and Dosas. Returned to the cottage and had a nice sleep to get ready to see the sunrise in the morning.
We returned back around 11:30 and checked out from TTDC. Next desination was Suchindrum Temple - 11 kms from TTDC Hotel. After the darshan, we went to one other amazing beaches - Muttom - I would definitely name is Tamilnadu's Greece ! Excellent, clean, clear waters ! White sandy beach inbetween rocks !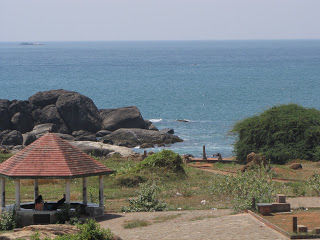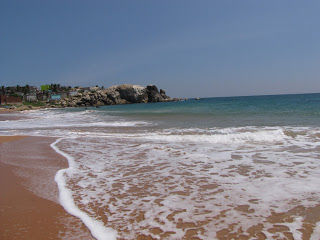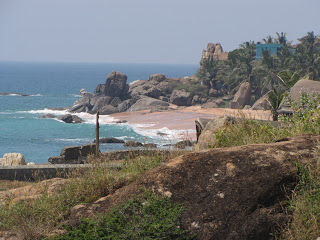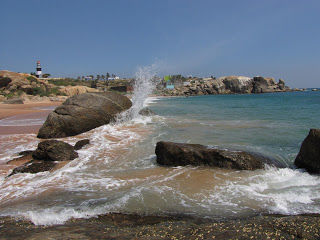 We had spent more than an hour there in the sun - it was 1 PM ! That was because of its rich ambiance.
Then, did some petty purchases - Matti Palam (small sweet bananas), Nendram palam and Kai Suthu Muruku in Nagercoil and back to Chennai.
Other places one may want to visit: Udayagiri Fort - 3-4 kms from Padmanabhapuram Palace
Chotthavillai beach - 10 kms from Kanyakumari - 7 kms from Suchindrum Temple
Vattakotai circular fort - 6 km from Kanyakumari