12 Dec 2019 Nagercoil is a city in Kanyakumari district, Tamil Nadu. Was in train when it halted for signal in morning at around 06:50 am, was stunned to have this view 🍷❣. A view that promises a better tomorrow.
If one is there for Kanyakumari *district then Nagercoil is the best place to explore things.
Nagercoil --> Kanyakumari = 19.6 Km By Road
At around 12:00 pm I started my journey, heading toward Kanyakumari. At the anna bus stand, Nagercoil it wasn't any big deal to find the city bus for Kanyakumari, again the localities kind gesture towards visitors ❣. As I boarded I met 3 Delhiites, they were going back to Kanyakumari. I asked them from where should I start so to make full of it.
" They suggested me to book myself with a group who organises city tour and they will make me visit all the hotspots in Kanyakumari, but it was clear in my mind to explore things on my own so I decided to walk down its streets".
⭐🌟⭐🌟⭐- Things I Did In Kanyakumari - Our Lady Of Ransom Church, Golden Temple, St. Thomas Church, Chinnamuttom Harbour, St. Thomas Rock, Tirupathi Venkateshwar Temple, Goddess Kanyakumari Temple, Sunset Point(southermost tip).
Walk Along The Shore 🌊
I walked🚶👣👣, I followed the waves and reached a place which was an approx center, from here to right it was sunset point and to left the visible thing was Tirupathi Venkateshwar Temple. So the plan was simple first walk to the temple and to return back to sunset point in the evening 😅.
I was clueless about what places I will meet on my way as I wasn't following the GPS, my aim was to reach the temple. I will talk in figures🚶so to reach temple I walked about 6.87 km only 😅😂
I went through the streets and all sorts of small lanes and the first place I meet was a Church:- Our Lady Of Ransom Church. Again repeating it, India has the best architectural marvels when it comes to church, what I noticed the city was going to transform as Christmas was arriving. I prayed for my safe journey and started again.
Kanyakumari Beach It was the nearest one to the church. Walk, sit, relax, feel the waves and breeze -- Repeat -- Walk #
Dogs Made Me Change My Route 😂
I PERSONALLY FEEL DOGS DON'T LIKE SOMEONE WEARING CAPS. 🙃🚫🧢
Yes, the place I had to reach was in a straight direction. I love dogs, but I only had bad memories with them. Seeing me one started to howl. What then😅, I took a diversion and I thanked that dog as I reached a new place Golden Temple, KK. With no one around this temple, it was a really cool place to sit down and relax.
Again I followed the shore and met two children's to be sure that, can I reach that Venkateshwar temple along this sea. They said yes # It was a long walk along the shore, what I knew I was all alone and to add it to my anxiety now I was in the place where one can't leave because I was now separated by a wall. (॥ मेरे समक्ष अथाह सागर और पीछे अभेद् दीवार ॥ 😄) only option was to walk and search for an exit.
The wall is not along the whole shore but it is long enough to make you feel unsafe and enough to grasp for an quick exit to the streets. And at such places, the worst one can do to himself is by not having water bottle.
I was enjoying the walk, no one around, waves hitting me, all combo of sand and stones. But, along the way, I was thinking what if the sea level will rise suddenly 😀, what if some wild dog be waiting there😧, what if I will get dehydrated😟, what??? now the temple was in front of me but I was still behind that wall, after walking for long their I saw a sign of relief, I saw the wall ended up at one point and kudos I got an exit.
However, that exit nowhere took me to the temple, still visible to me I walked for it and ended up at st. Thomas church, ladies singing their prayers and sound of wind adding background music both were audible 🎶.
No No No..................I Have Yet To Reach For What I Started (रूख जाओ, थोड़ा सबर करो 😃)
After using Google Maps for the first time on that day, temple was near but map showed the nearest place to be a harbour:- Chinnamuttom Harbour, being the dock yard for fishing communities it is one of the finest place to visit. I went there with some images in my mind, that mens working, ships honking and all fishing nets spread across the harbour, But it turned out to be the most barren one, not a single person there, as if it was a place for some curated crimes 🤡. Sitting their I could feel the waves hitting the stones, I was still and calm from inside in that wind which was blowing over me. The best thing of that place was I could be the one I wanted to be, with no one to stop and no one to ask ..... (॥मै उस बहती हुई हवा मे सर्वत्र विराजमान था॥ )
It was beautiful harbour, one can have moment of peace their, I had mine. But to warn you, I felt one shouldn't be all alone there.#travel safe #travel free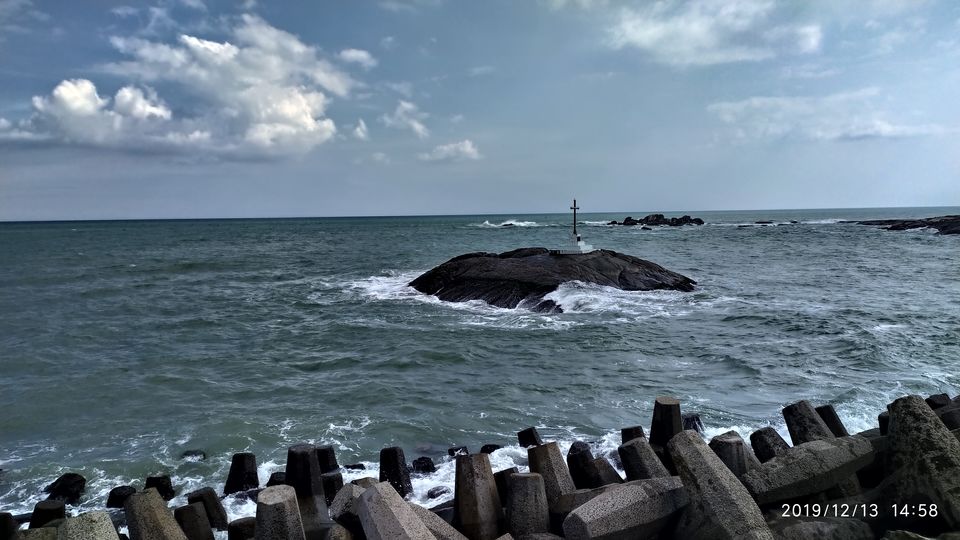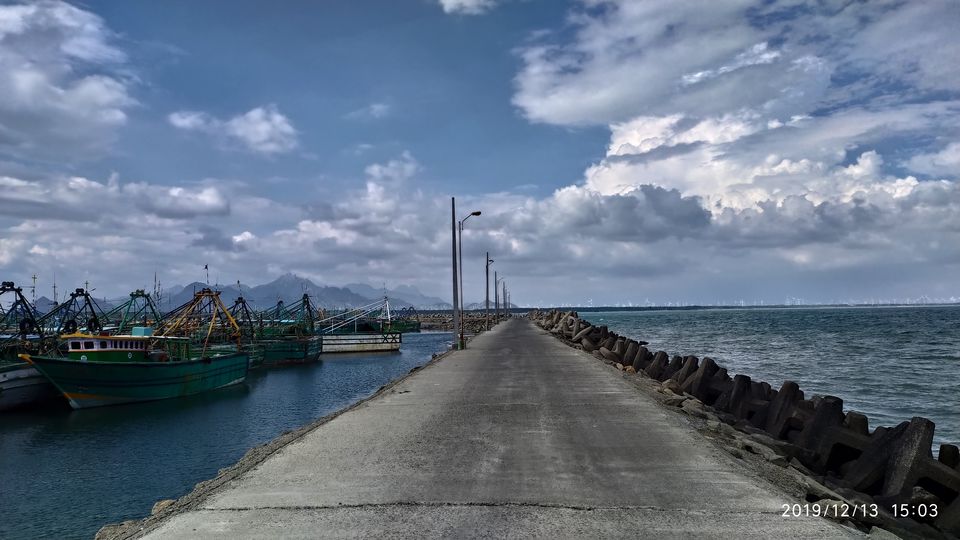 Near by there was st.thomas stone with a old abandoned church all destroyed. Cats wandering all over and yes dogs were waiting there too 😅(*cap), but thankfully I was at the end of that very place, so after spending some great time I started for Venkateshwar Temple.
Tirupathi Venkateshwar Temple 03:42 pm After taking some wrong streets I finally reached the temple campus and now something was really turning, the weather. Sky getting darker, I ran and as soon as I reached its restroom it started raining, whooooooooa. I was lucky enough that when I was walking the sky was clear and there was no rain. I thanked clouds for not raining when I was on the shore because there was no place to hide and also I wasn't having any umbrella or rain suit. It rained for a while and clouds were now gone like they did nothing. The sky was all blue again, all cool wind blowing. so, it was a pure moment to thank the lord and nature for being such kind to me 🥰😘.The swift desire in that picture proved to be a lifeline later on 😇.
When it started to get cloudier I was really worried about the sunset.
"Nature conspire things for us in a more better way".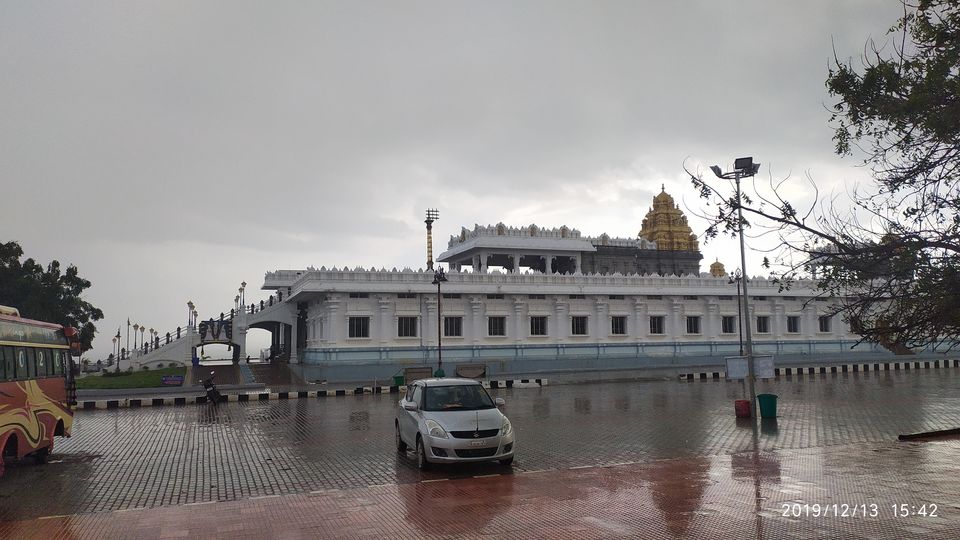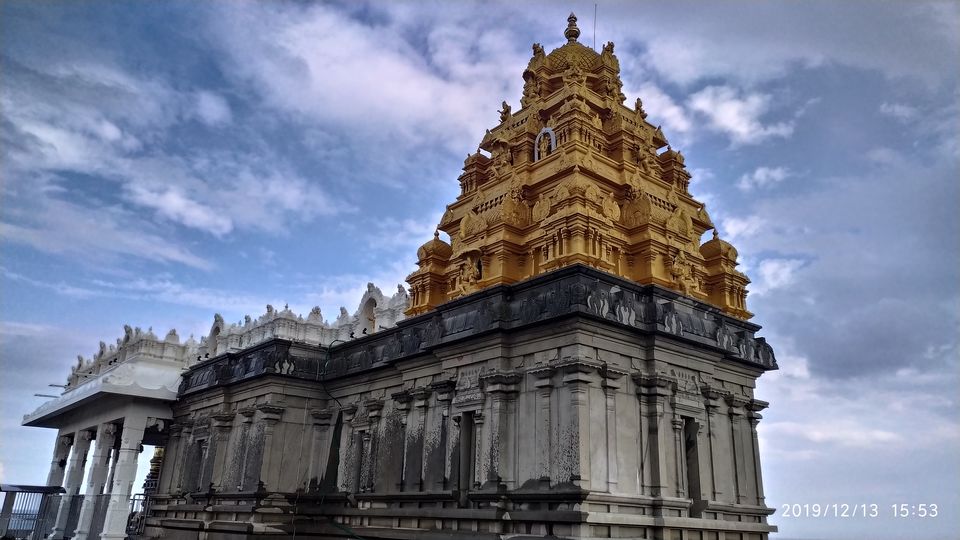 Now the toughest part was to reach Sunset Point, i.e. Goddess Kanyakumari Temple because I was done for the day, wasn't in the mood to walk a single step. remember I said Swift Desire, they did me the best favor they could do, it was my ANYWHERE DOOR 🚪😃-- I got a lift 🤞😍. It was a couple with their baby and they were so nice to me and also they dropped me the place where I wanted to be by the evening. To express my gratitude towards them I used the only word of Tamil which I was knowing Nandri (~~thankyou)
Nature conspired it all.
04:25 pm Ferry ride to the Vivekananda Rock Memorial and Thiruuvalluvar Statue was closed by this time, so I took blessings from Goddess Kanyakumari and went to the Southernmost Tip. It was time to settle myself down as around more than an hour was left for the sunset also I was not in any mood to walk. I looked for the direction and the place where I can sit to enjoy the sea, the phenomenal views, waves all around. For the day sunset was scheduled at around 06:10 pm. so it was time to rest me down in nature's lap, a kind of nap to boost me for my further journey. Now was time for it, the sunset, I prayed for it and it was in front of me it was the moment of the day. The sky changing its colours, those were the vibes I wanted never to end. Words aren't enough to express those colours, here is a short video to justify a bit of it.
One relieves faster from tiredness or stress in nature's lap.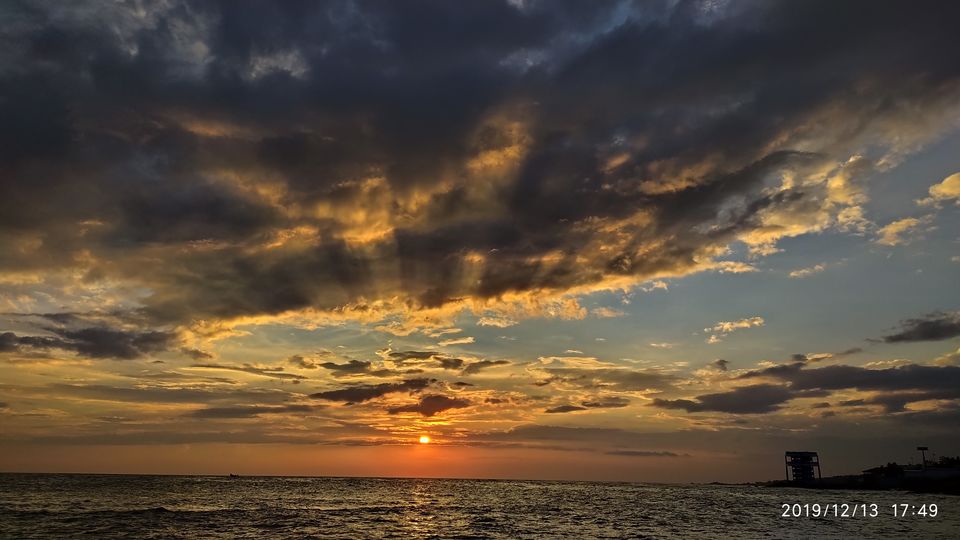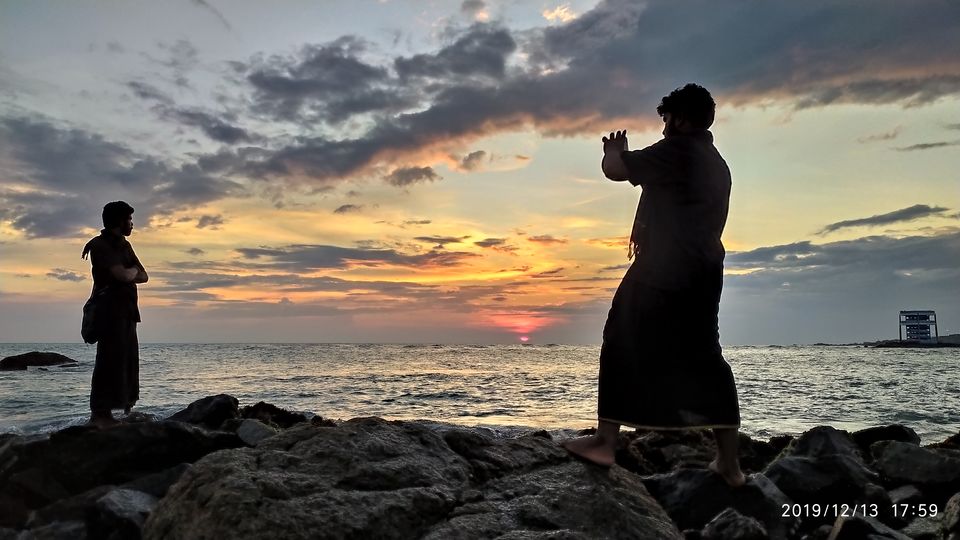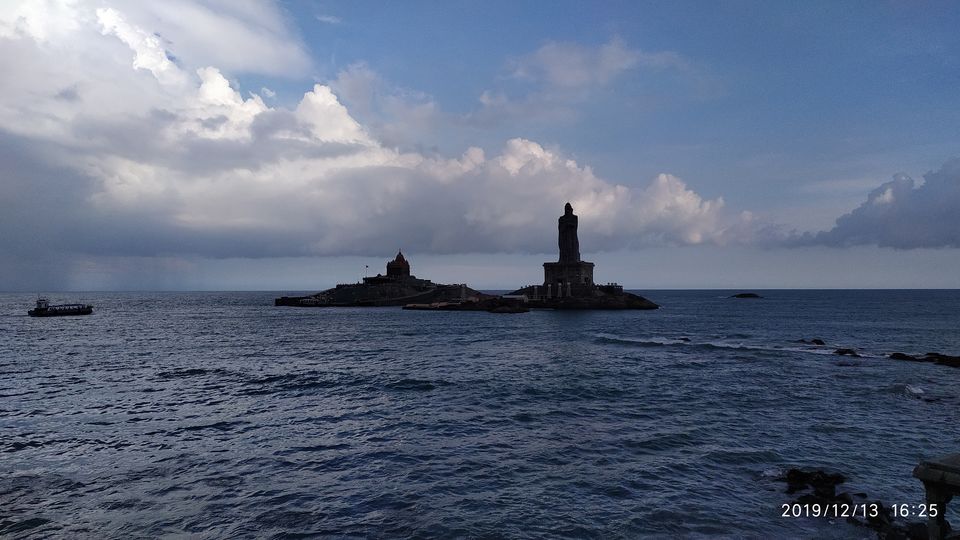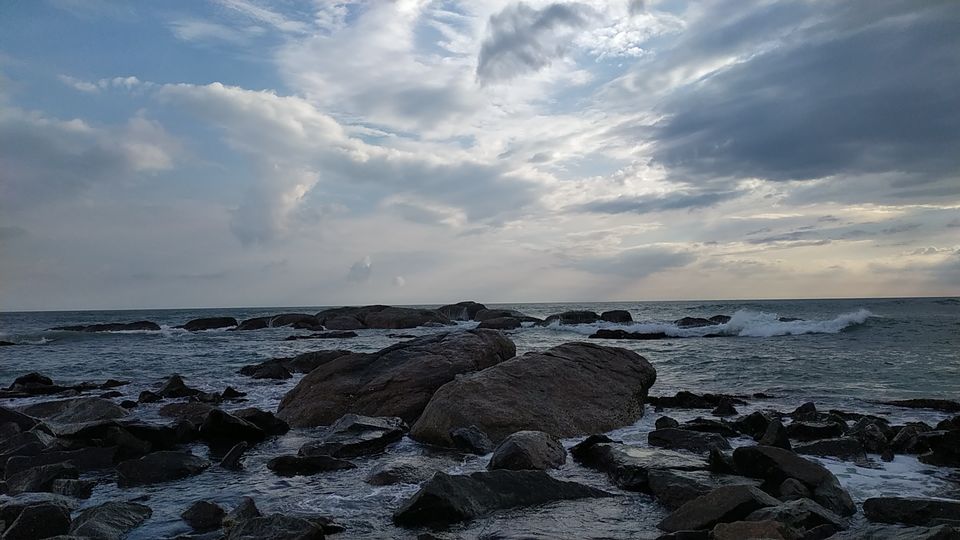 Click here to enjoy the sunset.
In Kanyakumari Arabian sea, the Bay of Bengal and the Indian Ocean meet.
Being southern most tip it has both east and west coast so one can enjoy both sunrise and sunset views ❣
Mahatma Gandhi Mandapam And Kanyakumari flee market was last thing I did there.
Kanyakumari has more to do, but as I say it's important to spend time at the places you go. To travel is to feel good, is to relax and to explore 🚶.... So pal no need to run just roam your heart, sit, breathe and enjoy the vibes🍷
IT'S HARD TIME, BUT THE THUMB RULE IS "NOTHING IS PERMANENT".
STAY HOME STAY SAFE
SPREAD LOVE ❤THANK YOU