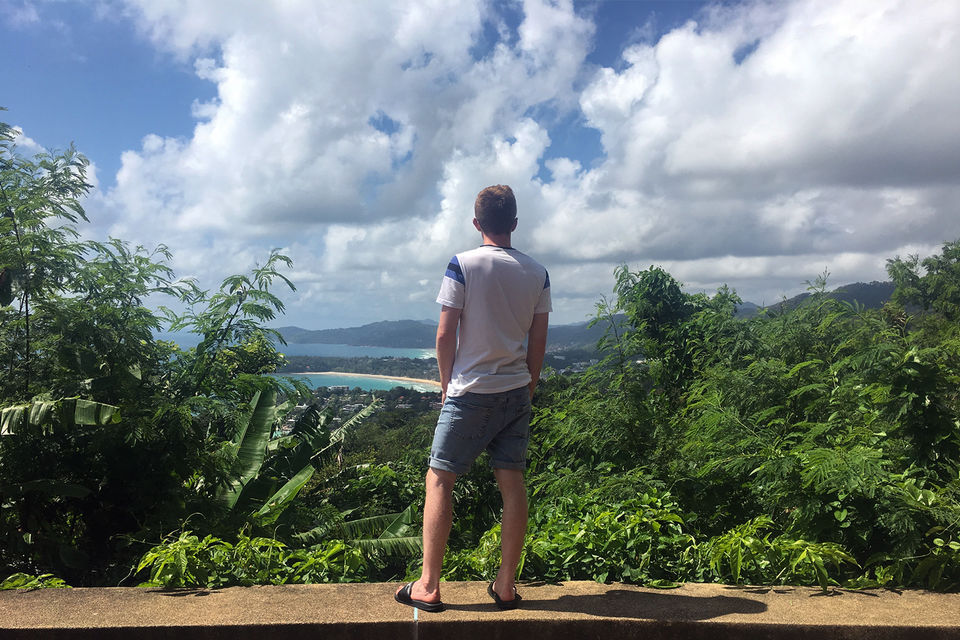 Karon and Kata are neighbouring resorts in Phuket that offer a more relaxed atmosphere compared with the bustling streets of Patong. Their beaches, nightlife and attractions are fairly similar to one another, making it extra difficult to choose which one to visit. Luckily, we had the pleasure of staying a few nights in both, so here is our comparison of the two and we hope that it will help narrow down your decision!

The Beaches
Karon Beach - if you are looking for a huge stretch of sand to relax and stroll along then Karon Beach is the place to be.
We visited during low season so the beach was fairly empty compared to Patong, which also meant that very few vendors were around to interrupt our sunbathing. The sea was a little too aggressive to swim in so we didn't spend as much time here as we would have liked. If you are visiting during peak season, this may not be a problem for you as the water is generally calmer during that time of year - just be aware of which areas along the beach have been declared safe to swim.
We stayed in Grand Sunset Hotel, which was only a two minute walk to the beach. There are many other hotels all within a similar walking distance, so if you are looking to step from your room to the sand fairly easily then we recommend Karon Beach for this.
There are a good selection of bars, restaurants and street food along the main road of the beach, so if you get hungry you will always have plenty of choice.
Kata Beach - with fine white sand and a calmer blue sea, Kata Beach is definitely the most picturesque of the two. It is slightly smaller than Karon and seems to be more sheltered, making it an ideal place to soak up the sun.
However, we found that there are far more locals selling things and it was generally more crowded, making it harder to relax. Despite this, the beach was actually a lot cleaner compared to both Patong and Karon and we enjoyed walking along the shore, not having to worry about stepping on washed-up rubbish.
We stayed at the The Blue Pearl Hotel, which was around an eight minute walk to the beach. When booking our hotel we tried to find one closer to the sea, but realised that only larger resorts are situated along the beach and we decided to opt for a cheaper option instead. The path from our hotel to the beach wouldn't be the friendliest for wheelchairs or pushchairs, so be aware of this.
If you get hungry on Kata Beach you can purchase food from many of the vendors that walk past the sun beds. There are many shops and restaurants up towards the hotels and the main road, however we found there to be limited options for bars and restaurants along the beach. We decided to walk from one end to the next in search for a good restaurant, yet we only came across a handful of beach bars and none of them really appealed to us.
Restaurants/Nightlife
Both resorts are certainly more relaxed and tolerable in comparison to Patong, offering a break from the lively bars and nightclubs yet still having a good selection of entertainment.
Karon - the north end of Karon Beach is the central hub for most of the restaurants and bars. Thai food and seafood are the most popular dishes as expected, but many restaurants offer larger menus and food options that cater for everyone, such as pasta dishes, pizza and burgers. Once you have eaten, this area is a great place to stick around for a few drinks and visit one of the many cocktail bars offering live music.
Unfortunately, we weren't particularly blown away by any of the food that we ate during our stay, however this could have been due to the lack of busyness during low season.
Kata - our hotel was more or less on the main road of Kata and here we found a number of restaurants and bars in both directions. Choices were pretty limited again with most places offering Thai food, seafood or Italian, so we would suggest doing some research before you head out to help narrow down restaurants that take your fancy (especially if you are very indecisive like we are, choosing a place to eat can take a while).
If you are looking to get a taste of some authentic Thai food without stretching your budget, we definitely recommend visiting Kata Walking Street Night Market. Here, you can experience real Thai food being cooked right in front of you whilst you wait. At a fraction of the price of the restaurants, it is a great chance to sample a number of dishes from many different stalls. Luckily for us, the market was located right opposite our hotel so we got to visit a few times during our stay!
Attractions
Big Buddha - definitely a place to visit whilst in Phuket! Big Buddha is a magnificent statue situated on a mountaintop, offering beautiful panoramic views of the island. There is no fee to enter but donations are kindly appreciated and help towards maintaining the attraction. Women are required to have their shoulders and knees covered to enter, but don't worry if you aren't wearing suitable clothing as you can borrow a sarong for free upon entry.
Although the statue is not fully finished yet, you are able to walk around and take a look inside. We spent around an hour enjoying the views and taking as many photographs as we could. It will probably get quite busy during peak season, but the viewing platforms are large and spacious to ensure that you get the perfect selfie!
Big Buddha is accessible from both Karon and Kata. As we were staying in Karon at the time, we booked a return taxi from our hotel which cost us 600 baht and the drive to reach the entrance took around 30 minutes. If you also book a return taxi, make sure that you take a good look at your car before leaving as you will need to know which one to get back into when finished - we couldn't find our taxi for a good 10 minutes as they all look the same!
If you are planning to visit Big Buddha by motorbike, there are clear signs from the main road to direct you and the stunning views on the ride up will definitely not disappoint! For the even more adventurous there is a walking route to the mountaintop, however this seemed a little too long and strenuous for us, especially as it was a very hot day.
If you have a few hours to spare, combine your trip with Wat Chalong temple and witness a truly amazing piece of Phuket's culture and history.
Karon Viewpoint - located south of Kata Beach, we recommend visiting this place via tuk tuk or motorbike as it is only a quick 10 minute drive. Soak up the scenery as you travel up the hill, before pulling into the viewpoint to observe the stunning views of the west coast and its magnificent beaches. Take photographs whenever you get the chance as this place can get really busy. We only spent around half an hour here as the sole thing to do is look at the beautiful landscape, but it is definitely worth the trip!
Dino Park Mini Golf - add an hours fun to your day whilst in Karon or Kata and visit Dino Park Mini Golf, situated directly in-between both resorts! We found the 18-hole course brilliantly maintained and equally challenging, you even get to learn the dinosaur species as you go around! Open from 10am - 11pm, the prices are cheap and you can cool off with refreshments afterwards in the impressive Flintstones-themed restaurant. Make sure to wear light clothing, mosquito repellant and bring plenty of water and suncream if visiting during the day.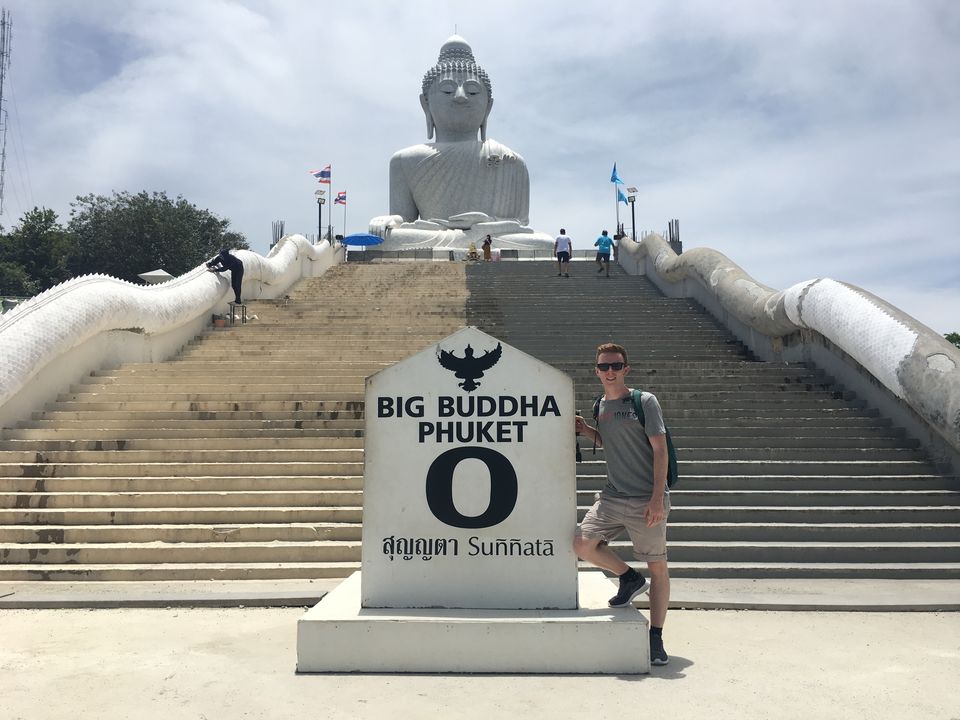 Our Favourite
Kata Beach wins our vote with a beautiful picturesque beach and smaller network of restaurants and bars all within close walking distance. We found our stay here more relaxed and enjoyable, which was exactly what we were looking for!