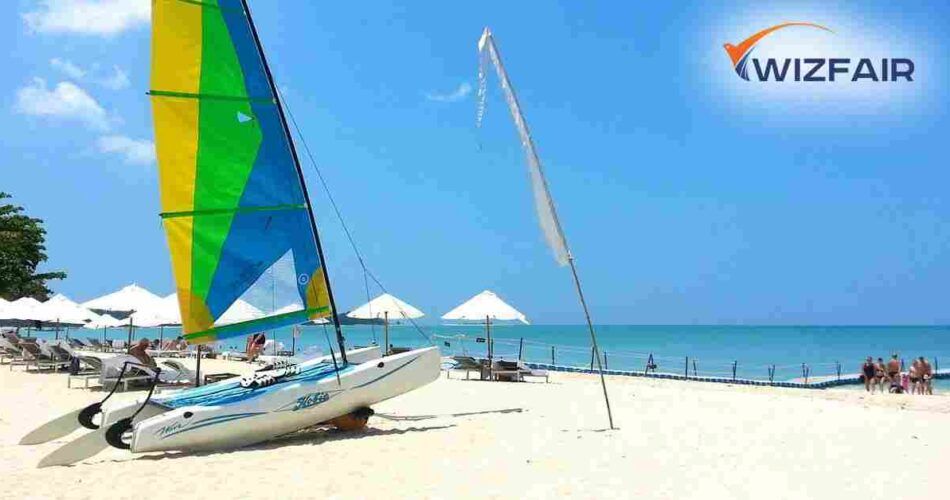 Phuket is a tourist-favored resort haven. There really is no lack of scenic shores on Thailand's main island, which can be ideal for your holidays. View a comprehensive list of Phuket's most gorgeous beaches and pick a spot to stay close to or explore them on an island trip. Many of the shores in Phuket are easily reachable straight from the main asphalt route, and some are more concealed. The incredibly clear blue water and its coasts' shiny chrome sand make Phuket one of Thailand's most beautiful places to enjoy your weekend. Book Thailand Tour Packages Today!
Top 8 Beautiful Beaches in Phuket
1. Mai Khao Beach
Sometimes recognized as White Wood Beach, Mai Khao Beach is situated north of Phuket Airport. Mai Khao Beach, which is 9.5 kilometers long, is the largest shoreline in Phuket. This is among the few areas with stunning beauty offering established international tourism as well as hiking trails. While not as stunning as most of the other destinations, because of the very calm setting, this place is pleasing to the eye.
2. Kata Beach

Kata Beach is a 1.5-kilometer-long coastline situated by a picturesque cove, with crystal blue waters and gentle white beaches. The shore is wide enough never to feel too cramped and means you have accommodation on the beach at all times. Kata Hotel is situated just south of Karon Beach, but the mood is distinct. Kata Beach has been one of the island's most famous tourist destinations as it's one of Phuket's many beautiful landscapes, providing natural light and tranquility. The beach is separated into Kata South and Kata Center provisionally (which is currently the north end, nearest to Karon Beach). On this beach, Kata South is host to almost all of the guest houses. Throughout the year, the shore is trendy and ideal for entertaining and refreshing. You could take part in sports such as cycling, diving, and soaking up the sun. Kata Beach has some great hotels as well as night clubs that will be very vibrant. There are several shopping malls, a splash house (Surf House Phuket) and a Jurassic inspired micro golf course, Dino Park Mini Golf.

3. Karon Beach

Karon Beach is separated into Karon Noi and Karon Yai, respectively. Karon Beach, another of the largest coastline in Phuket, is the first major beach south of Patong. The region is incredibly popular with visitors. There are a variety of fantastic Thai and Western establishments on Karon Beach, and while nothing like Patong, it seems to have a party scene. Clothing stores and vacation properties span the waterfront, but they are situated across the bridge from the water.

4. Rawai Beach

Rawai Beach in the south of Phuket Island, famous for its fantastic seafood joints, offering a thriving cultural vibe with its coastal culture, fish stalls, and the secluded beach lifestyle. As the famous Coral Islands and Koh Bon are situated adjacent, it is also a perfect spot for certain sightseeing tours.

5. Surin Beach

Surin Beach is a beautiful sand beach that is 1 kilometer long. This spot is known for its blue water and its stunning palm tree line. In the late 1950s, the coast was once toured by the late Rama IX, and then became a paradise for the famous and affluent, with many luxurious resorts and hotels surrounding, and even a golf course. The proliferation of underwater sports is amongst the most famous activities at Surin Beach. There are also many parks that can be viewed and coastal towns neighboring. Moreover, with several small bars and restaurants only a short stroll away, it is an incredibly nice beach. For more read...