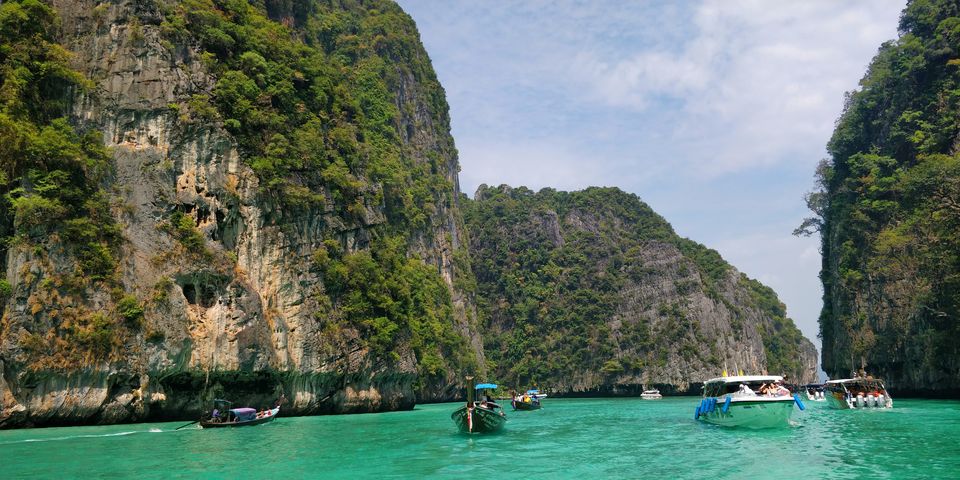 Thailand is the most beautiful place in every sense, there ain't a thing which you wish for & couldn't find here. The country serves its purpose of being a tourist destination with its plethora of awe-stuck places like white sand & pristine beaches, grandeur temples, peaceful resorts to hippie streets, rooftop lavish dinners to scrumptious dinner on cruise, loads of water sports, beautiful trails to treks, island hopping & the list goes on. The charm of this country doesn't end here, its not only a quint essential place for soar eyes but also for distressed mind, the people of Thailand will certainly leave a mark on your mind & will urge you to come back again. Though sometimes you have to struggle communicating with them as most of the cab drivers & also a few people in hotels aren't good with English, but they will never let you down & will do their best to help you. The sweet, simple, always smiling & humble nature of people will make your day even better.
It was during the Diwali of 2018, all of my siblings decided to take a vacation & after doing a bit of research we agreed on Thailand as its budget friendly, a tourist destination & also a safe place for all girls trip. Though the plan started with all of our siblings, but only 2 of my sisters could make it. The trip was more of a luxury trip & less of a budget trip costing per person less than 50k(including shopping & airfare) for 6 Nights & 7 Days covering Bangkok, Phuket & Krabi Province . The budget could be bought down by booking a decent hotel instead of going for luxury one.
Note
-Price of hotel, cab & meal were divided into 3
-All the price are mention in Thai currency (Baht) except for airfare
#thailandinpictures
Expenditure
Cab from Hotel Rome to Hotel Amari=600฿
Stay at Hotel Amari (Superior Ocean View King)=6279฿
Dinner & dessert= 1,300 ฿
At 7.20 am as we reached Suvarnabhumi airport (BKK) was flooded with tourist, the reason being visa on arrival fees was waived as a part of special offer to boost tourism, which saved our 2,000฿. The period was suppose to end in January but now have been extended till April 30. After standing in queue for couple of hours & completing our immigration process, we took a taxi for Hotel Prince Place. The best thing about this place was its conveniently located near the Talad Bobae pier from where we could take a boat ride and save our time & money. So our first destination was Platinum Fashion mall, 3 stops away from our hotel pier, a six storey wholesale mall with small outlets. The shop sells local stuffs like apparels, accessories & jewelry, cosmetics, footwear, bags, etc.If you looking for some Indian delicacy, there is a restaurant in Food court which servers pretty good food. There is one more huge mall near Platinum called Palladium World Shopping, but we dint get time to explore that.We spend our evening around hotel, having some street foods.
Expenditure
Airfare from Mumbai-Bangkok=Rs11,000
Cab fare=600฿
Hotel Prince Palace =2295฿
Boat ride two ways= 18฿
Dinner (street food)= 120 ฿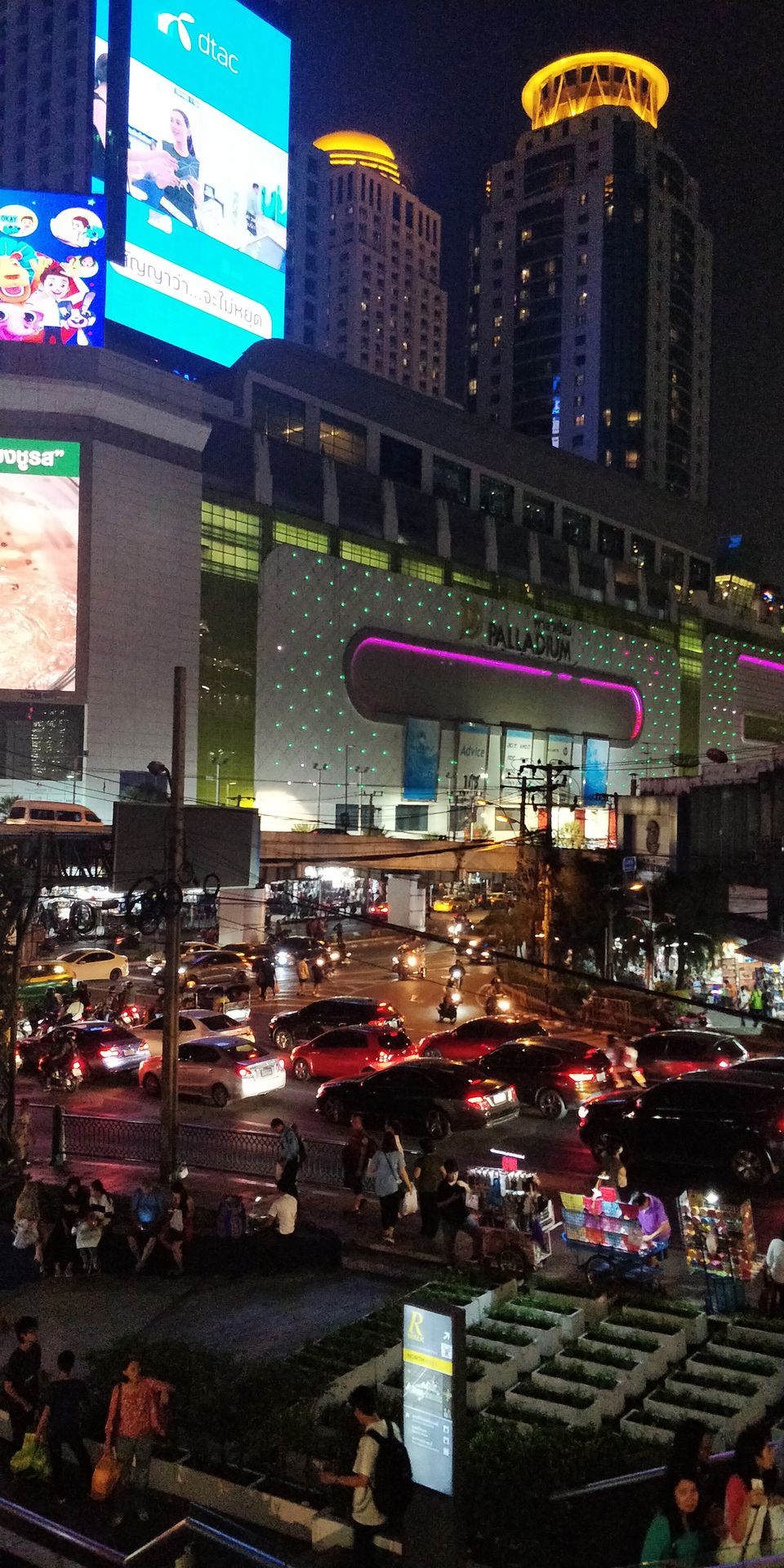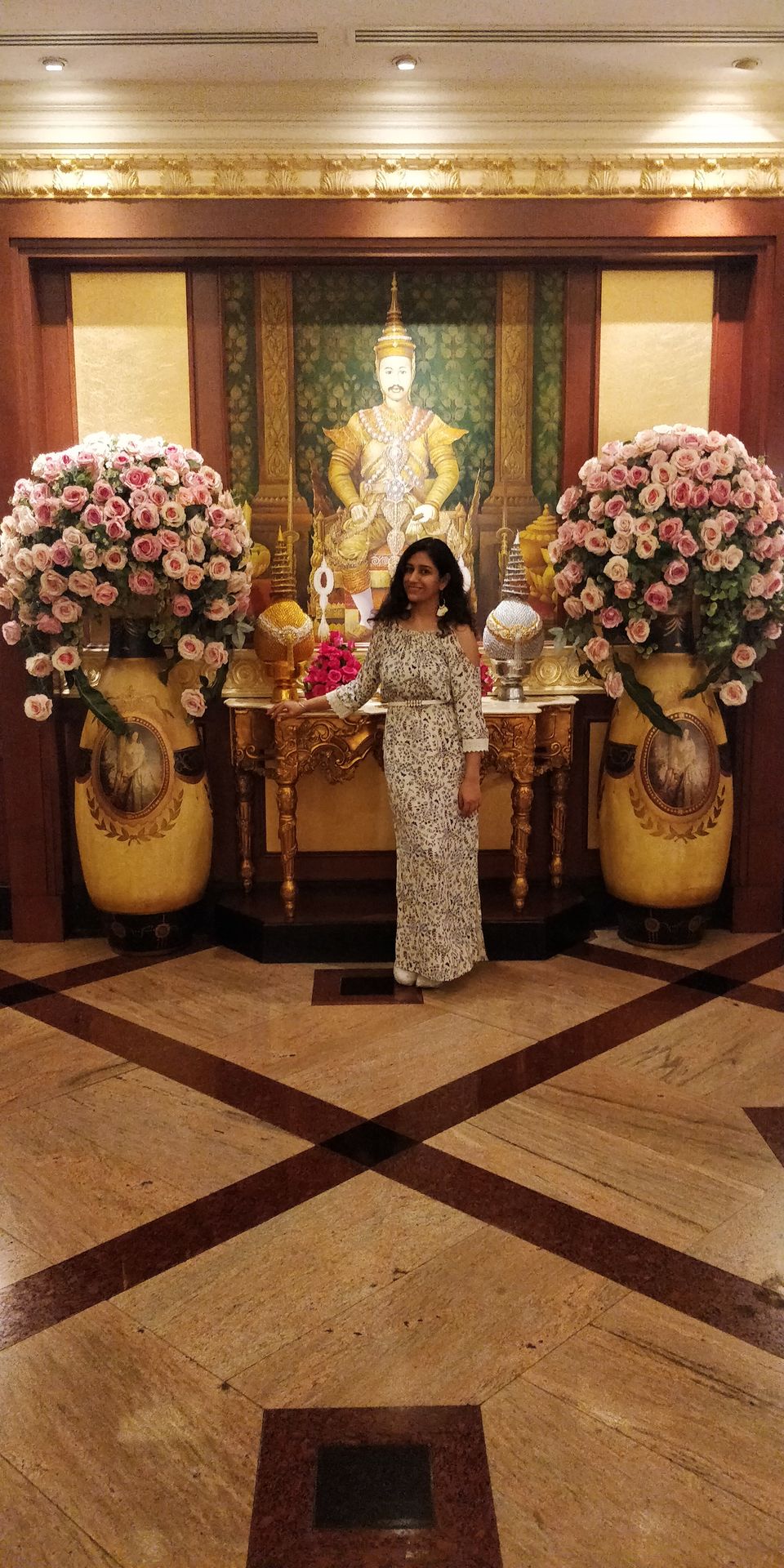 Though we planned to spend this day visiting a few temples & floating market but we end up yet another day in shopping. Bangkok is truly a shopping hub.Today we visited MBK shopping center, which is just 2 stops away from our hotel pier, is a 8 floor building & like most of the malls in the city its impossible to cover it in a day. Unlike Platinum, MBK has many international brands & shops selling electronics & gadgets.
By 3.00 pm we were back in hotel, collected out luggage & were off to Phuket. For the night we booked Rome Place Hotel for our stay and went to Patong to explore the night life of city. There are many Indian restaurants in the lane adjoining to Soi Bangla road famous for its ping-pong shows & night clubs .At the end of the street is Patong beach, which was very lively, save & a bit crowded even at 2.00 in night.
Expenditure
Boat ride two ways= 18 ฿
Cab from hotel to airport = 600฿
Airfare= Rs 3,300
Cab from airport to Hotel=800฿
Stay at Rome Place Hotel= 900฿
Cab to Patong & return = 1100฿
Dinner = 840฿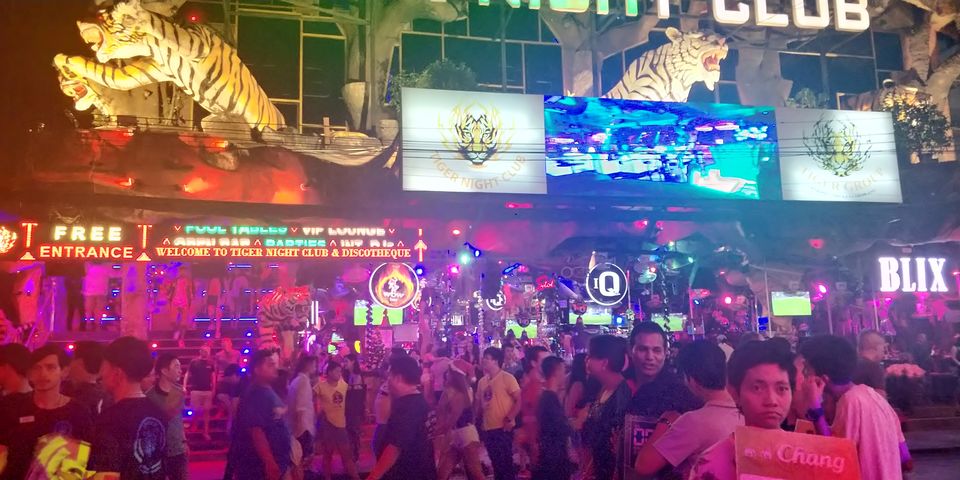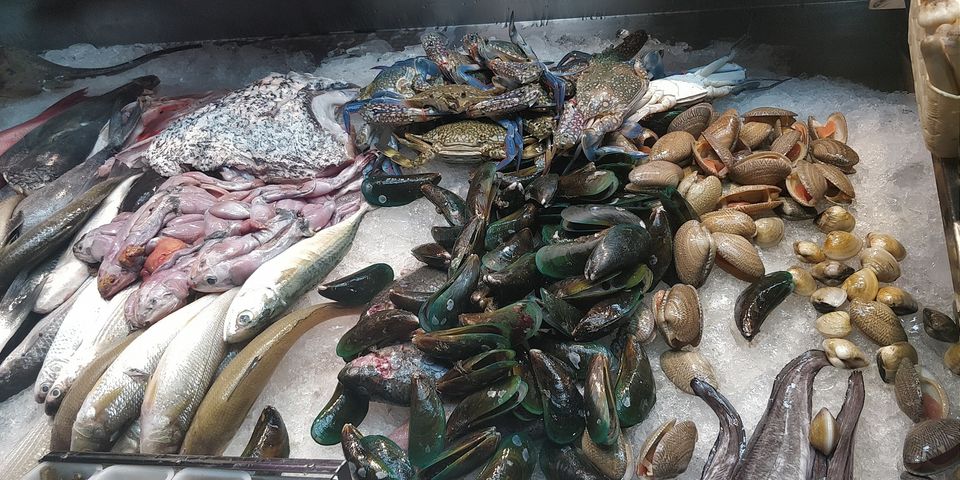 Today we checked in to a famous 4 star Thai based hotel, having its presence in all the major cities of Thailand Amari. We spent the afternoon in the clean & not at all crowded Private beach of hotel, followed by a session in swimming pool. Then we went to our room for some rest & were back in 2 hours for dinner, we were immensely in love with the feel & vibe of the hotel & decided to dine in the hotel restaurant. The strange thing which we noticed when we came out was that the private beach where we spent our afternoon was engulfed in water, infact the last few steps of the staircase were submerged into water.It was an elusive feeling to see the place where you have spent the day vanishing with no traces of showing its presence & guess which song was playing in the background "Ever night in my dreams" from Titanic. After staring at it for awhile we headed towards restaurant & had some delectable Indian & Thai cuisine . We spent the wee hours gazing at the sea from the balcony of our room & our happy private beach was back the next day we woke up.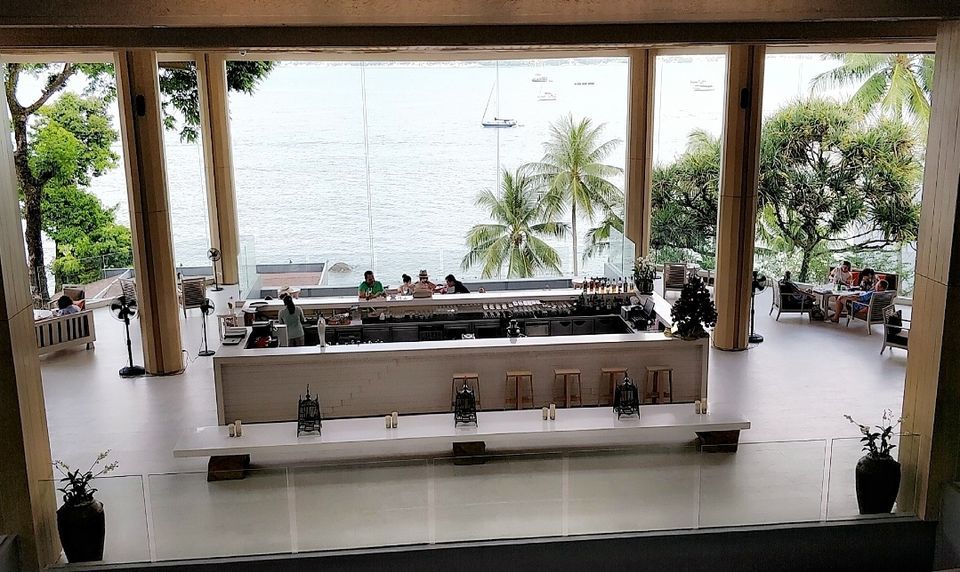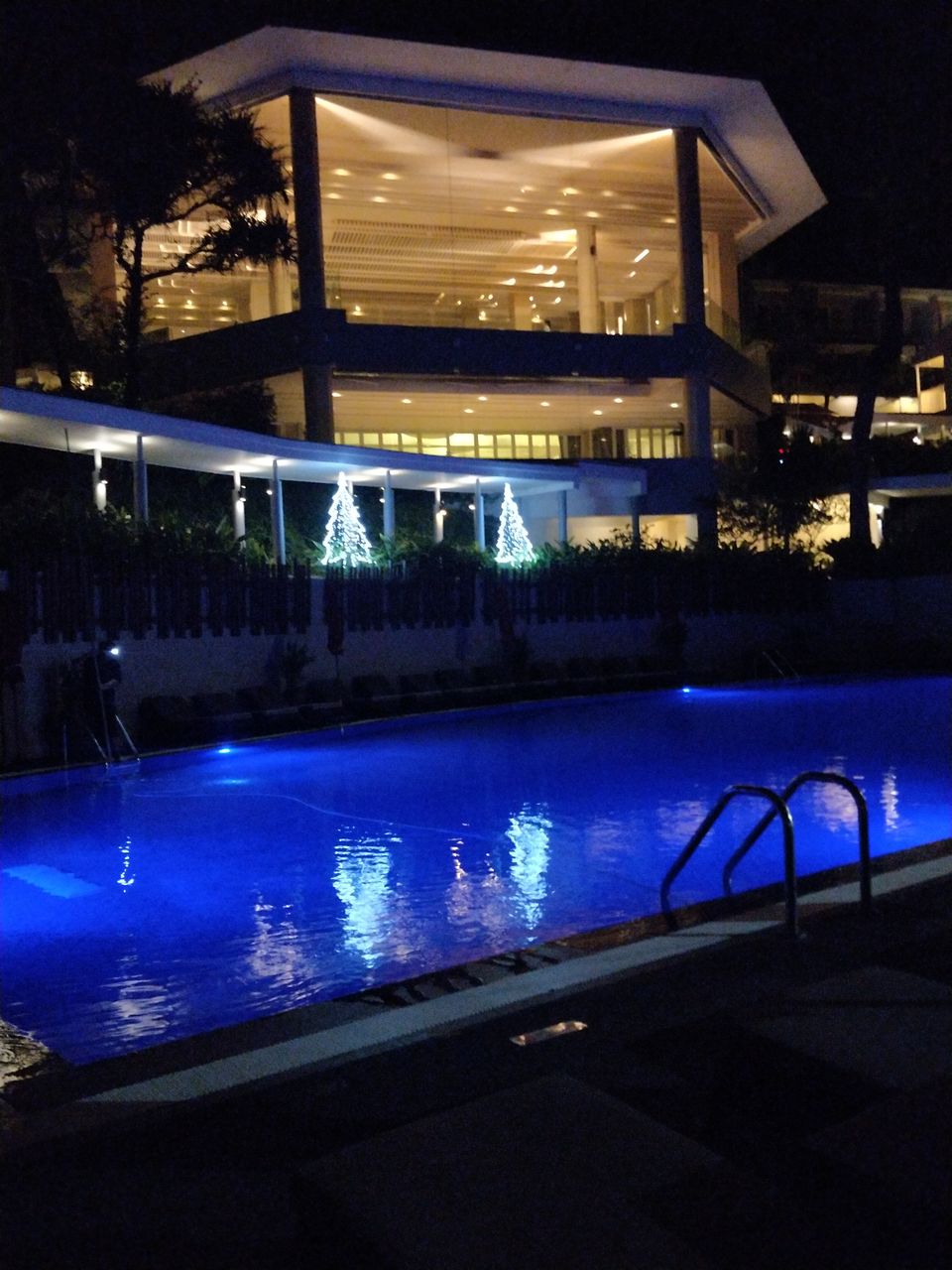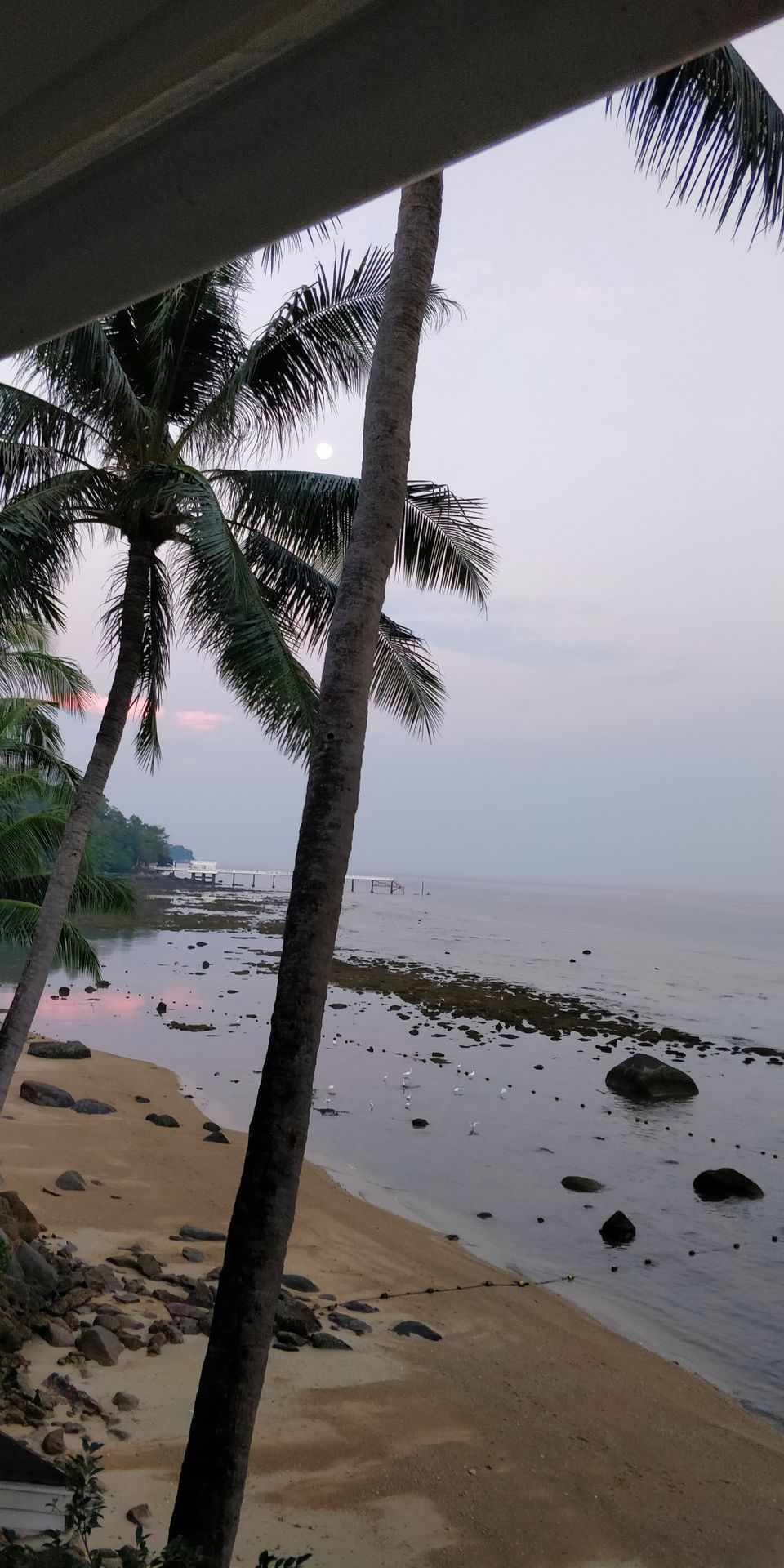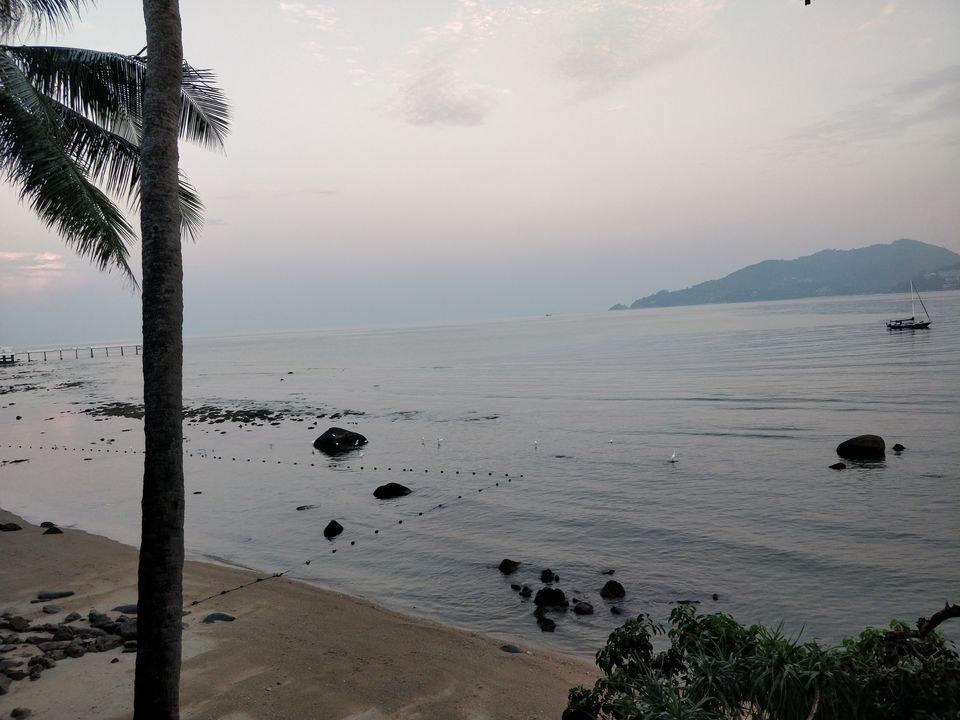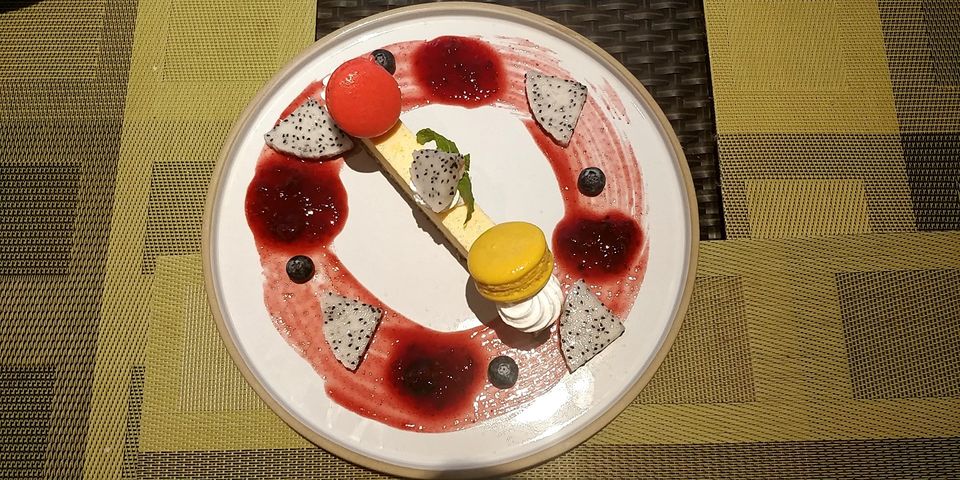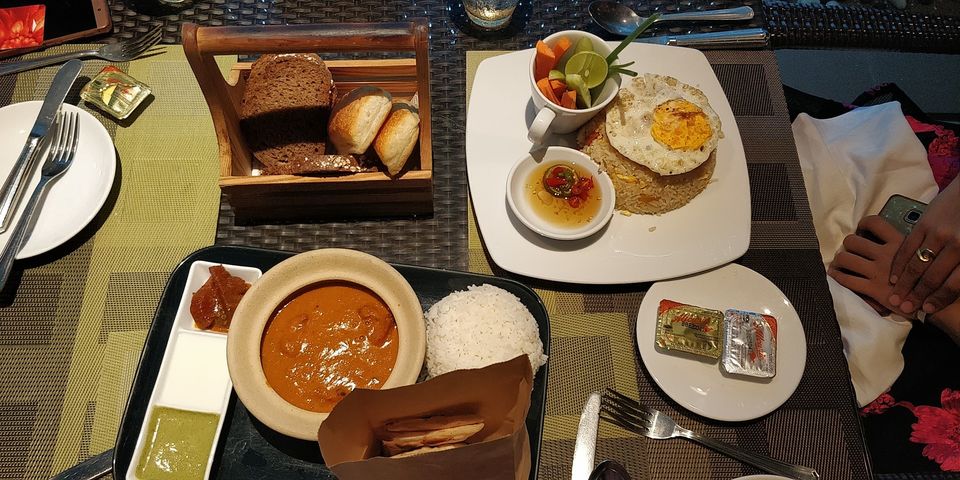 Since we planned to go for island hopping, it dint make any sense to splurge on luxurious hotel. We kept our luggage in cloak room and left for James bond island tour which we booked at Phuket airport. You will find numerous travel shops in the airport & the key to get a good deal is talk, talk, talk & laugh along with them. The initial price for the tour was 3,200 ฿ per person, which after bargain we got for 1,333 ฿.We opted for big boat ,one can also opt for speedboat.
The tour includes pick & drop facility, lunch & beverage, life jacket & an English speaking guide. Khao Phing Kan famously knows as James bond island because the movie" Man with the Golden Gun 1974" was shot on this island is the main attraction of the tour. Canoeing to Hong island & Panak island are also included where each canoe carrying 2-3 tourist is assign with the crew. The last stop "Lava island" is for some relaxation, swimming & self canoeing. While throughout the tour weather was pleasant, it suddenly started raining when we were about to leave Lava island. I was petrified for a moment when we were in canoe on our way to big boat, but everyone reached on boat safely & happily. It was one of the rare experience to witness the rain amidst sea. The tour ends by 5.00 pm & by 6-6.30 pm we reached hotel, collected the luggage & shifted to another hotel. Hotel golden house (not very far from Amari) is where we checked in, the rooms had basic amenities, but wasn't clean, so I won't recommend this hotel. The night was spent wandering around streets of Patong, the place is filled with tourist & have exhilarating vibes. The place also offers a lot to eat, shop souvenir, with lots of forex windows, travel shops & 7-eleven shops. Things not to miss is coconut ice-cream (the best), coconut chips & dried mangoes. We booked a cab for the next day to Khlong Thom, a place little ahead of Krabi town . One can also book a bus or boat, which is less expensive.
Expenditure
James bond island tour=1,333 ฿
Hotel Golden House=1,200 ฿
Dinner & dessert=400฿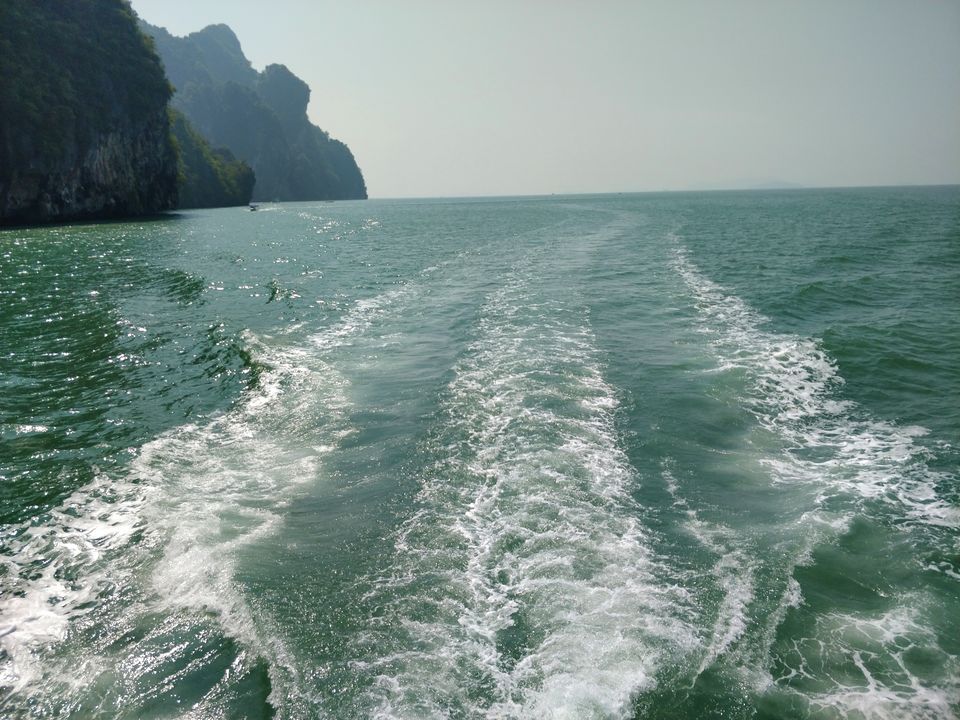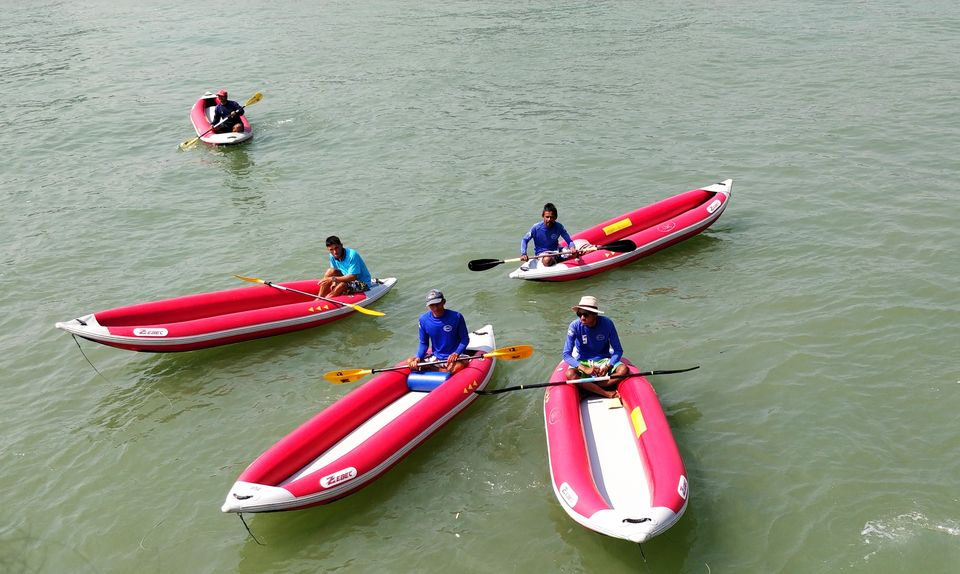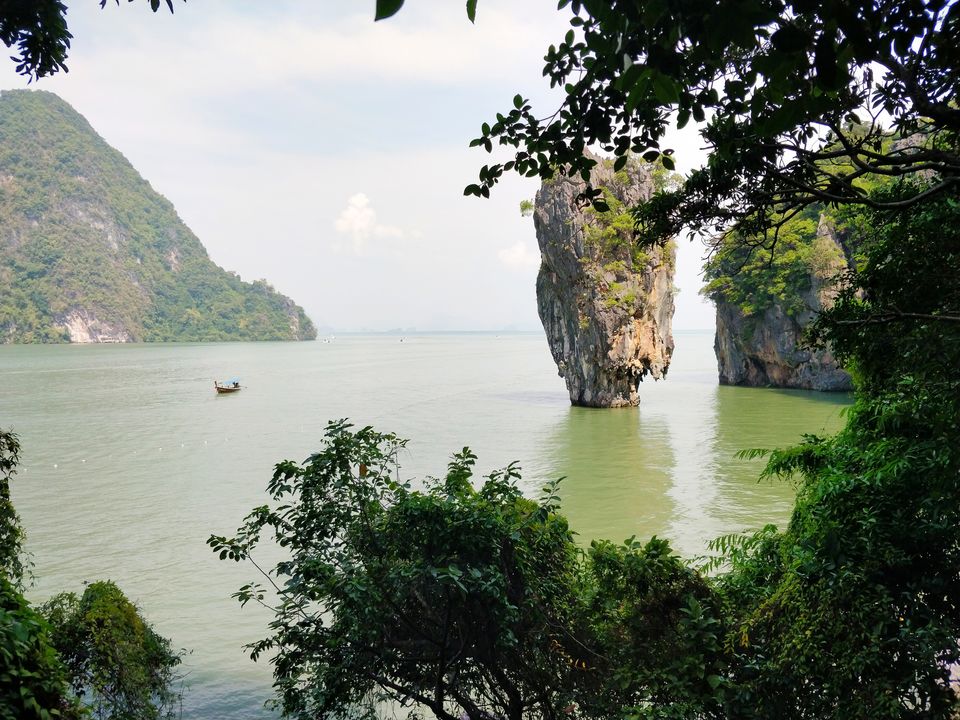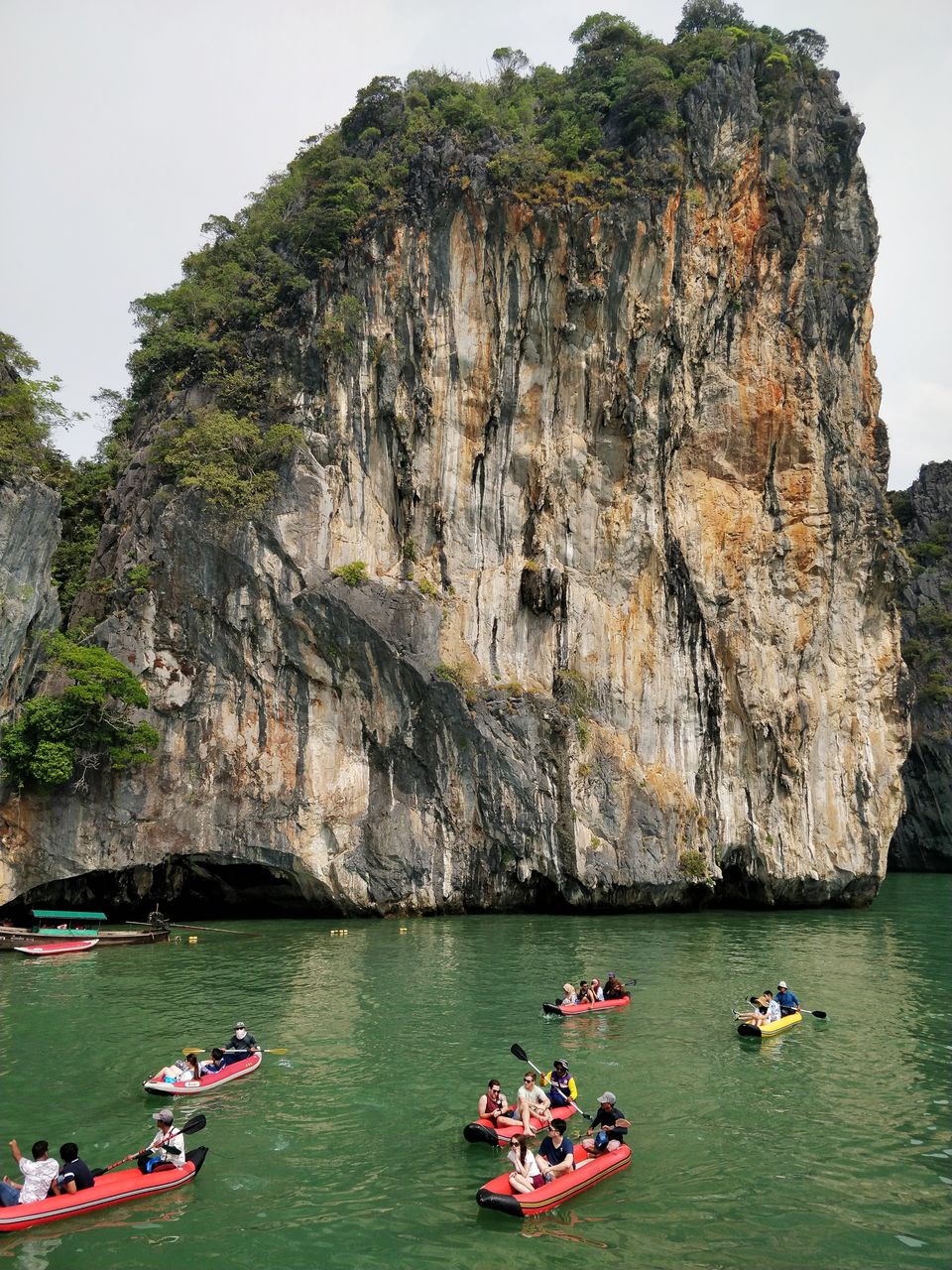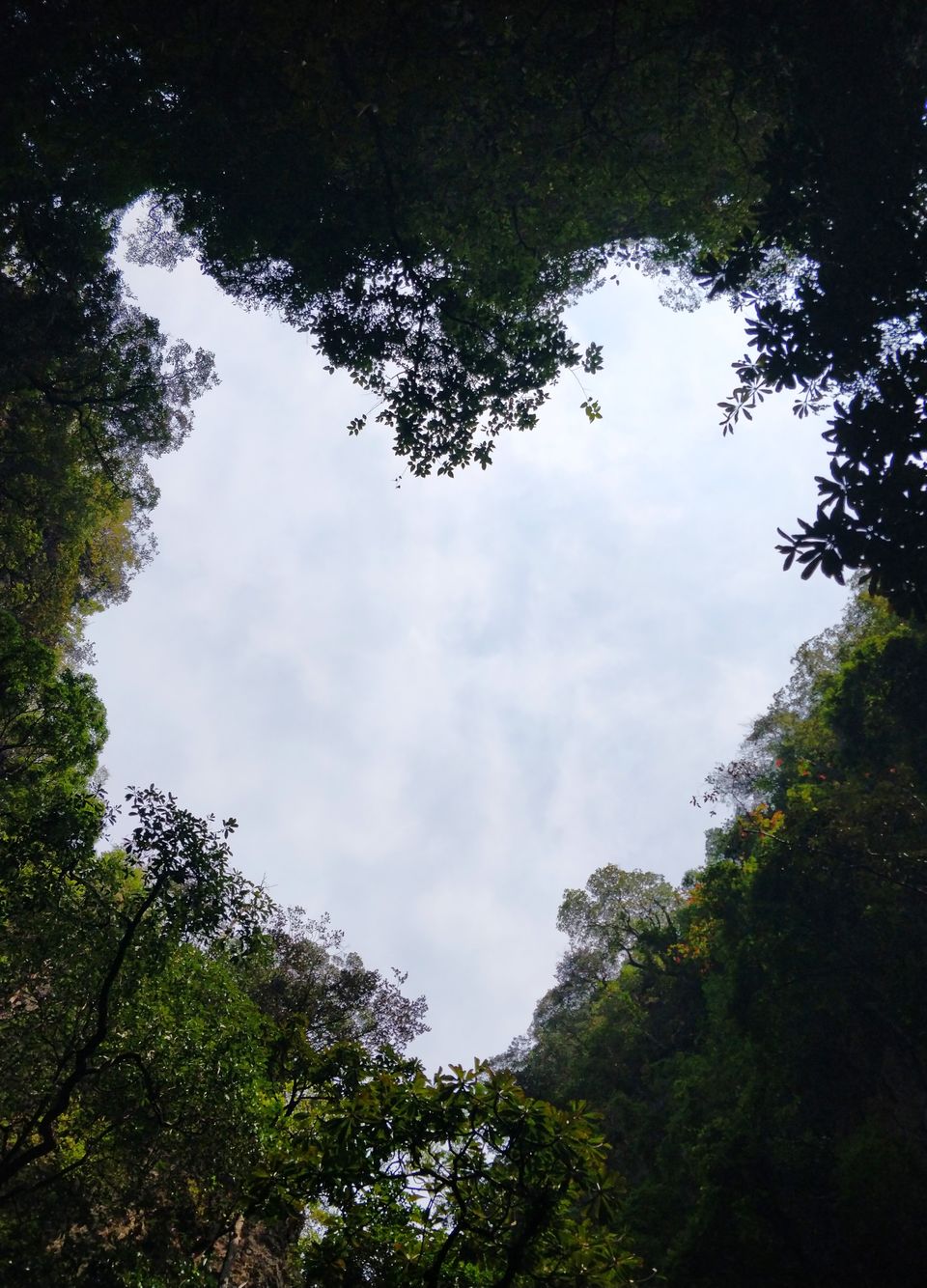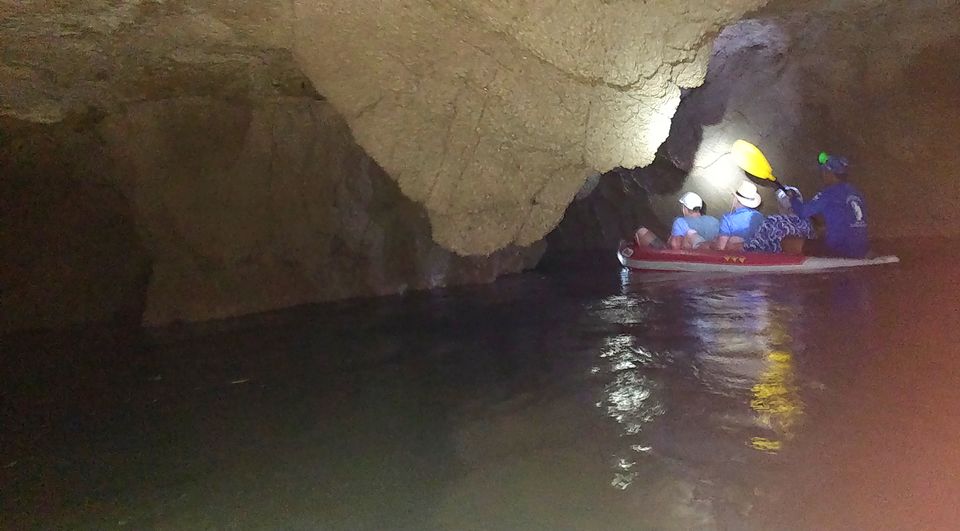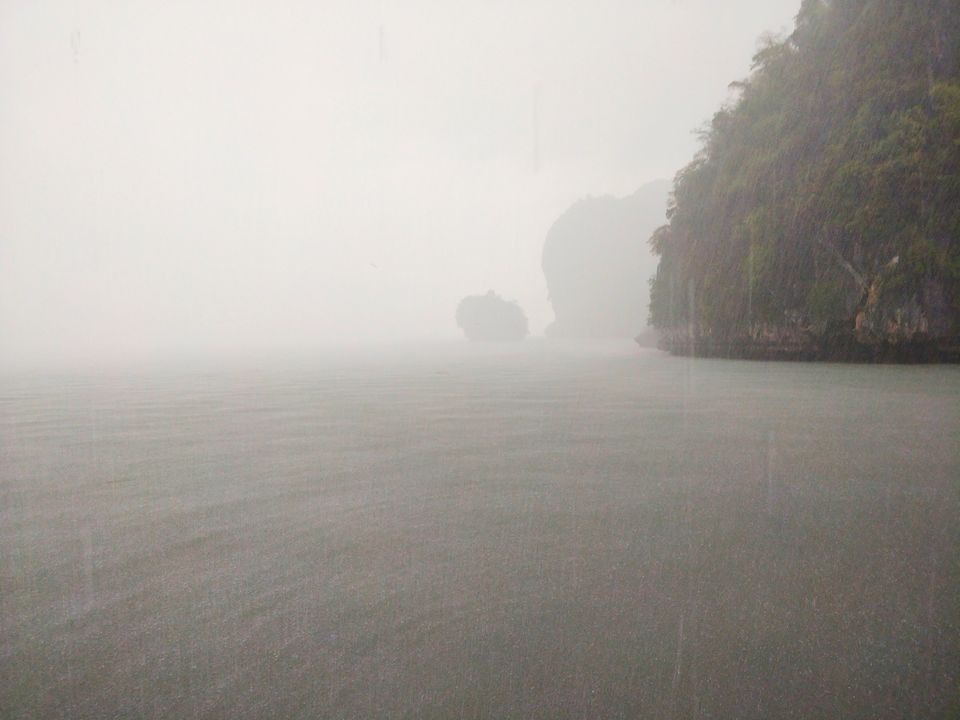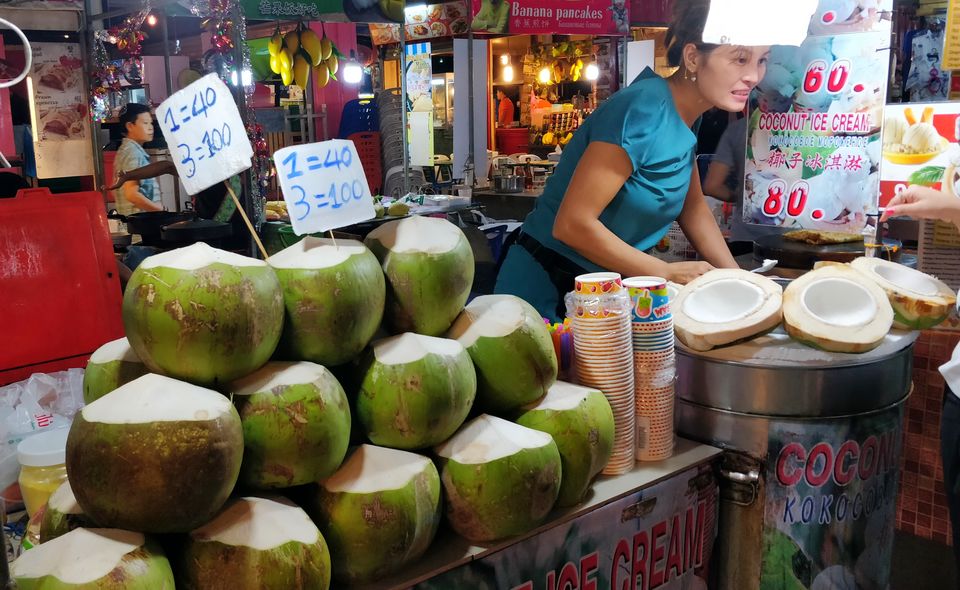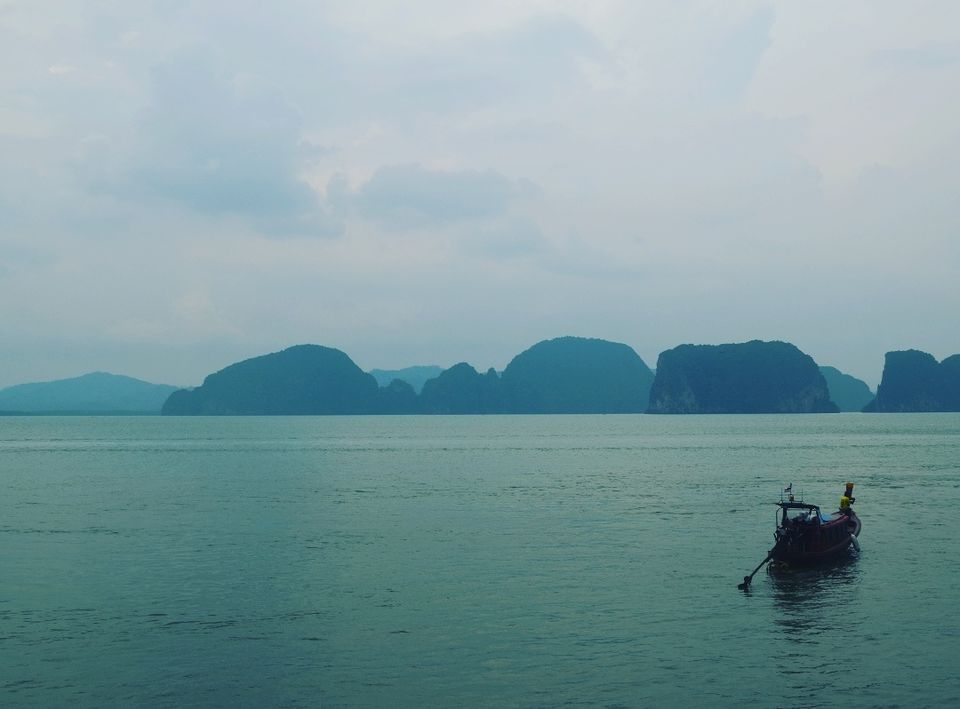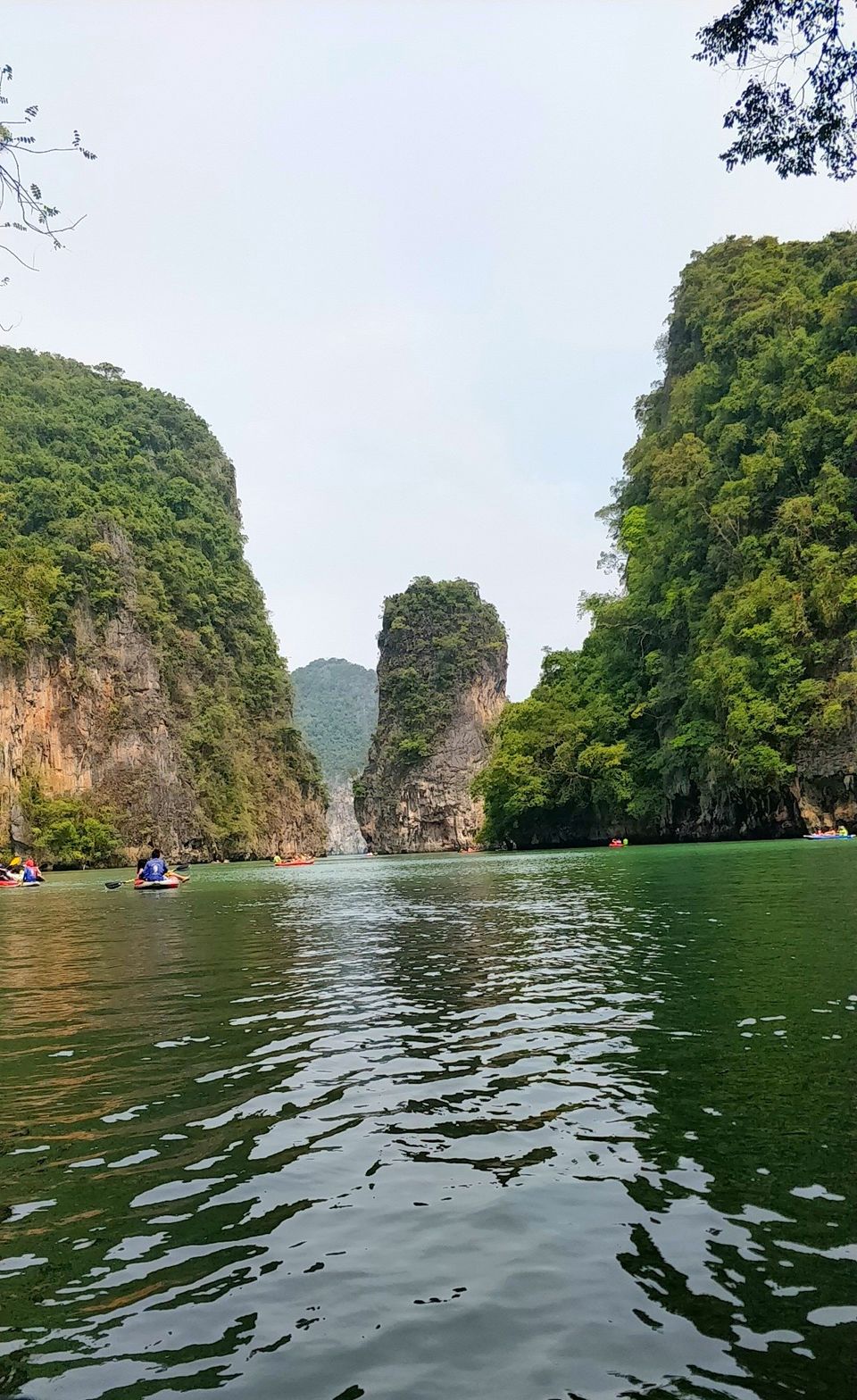 Early morning we left for our next destination Wareerak hot spring retreat by vacation village. On our way we booked Phi-Phi island tour for next day from a local shop. Before making booking for this resort we were skeptical about it, but i will say it was the right decision & best of all places we visited. I was literally awe-stuck by the beauty of the this resort situated midst of a jungle.Pure, serenity, calm are the words which come to mind when i recall this resort. It is the perfect place to detoxify your mind, body & soul, where the only audible sound is of wind & chirping of birds. They also offer massage & yoga classes on demand. The food is so pure & fresh that it will instantly recharge your mind & body. There two hot spring spas in the vicinity, one is Krabi hot spring where anyone can visit by paying 90 ฿ & the other one in the resort having 3 pools with different temperature, which has more privacy. Emerald pool also known as Crystal pool is located in Thung Teao Forest Natural Park which is just 8 km from resort.
Expenditure
Cab from Phuket to Wareerak =3,000 ฿
Stay at Wareerak hot spring retreat=3,00 ฿
Lunch at Wareerak= 300 ฿
Dinner at Wareerak= 350 ฿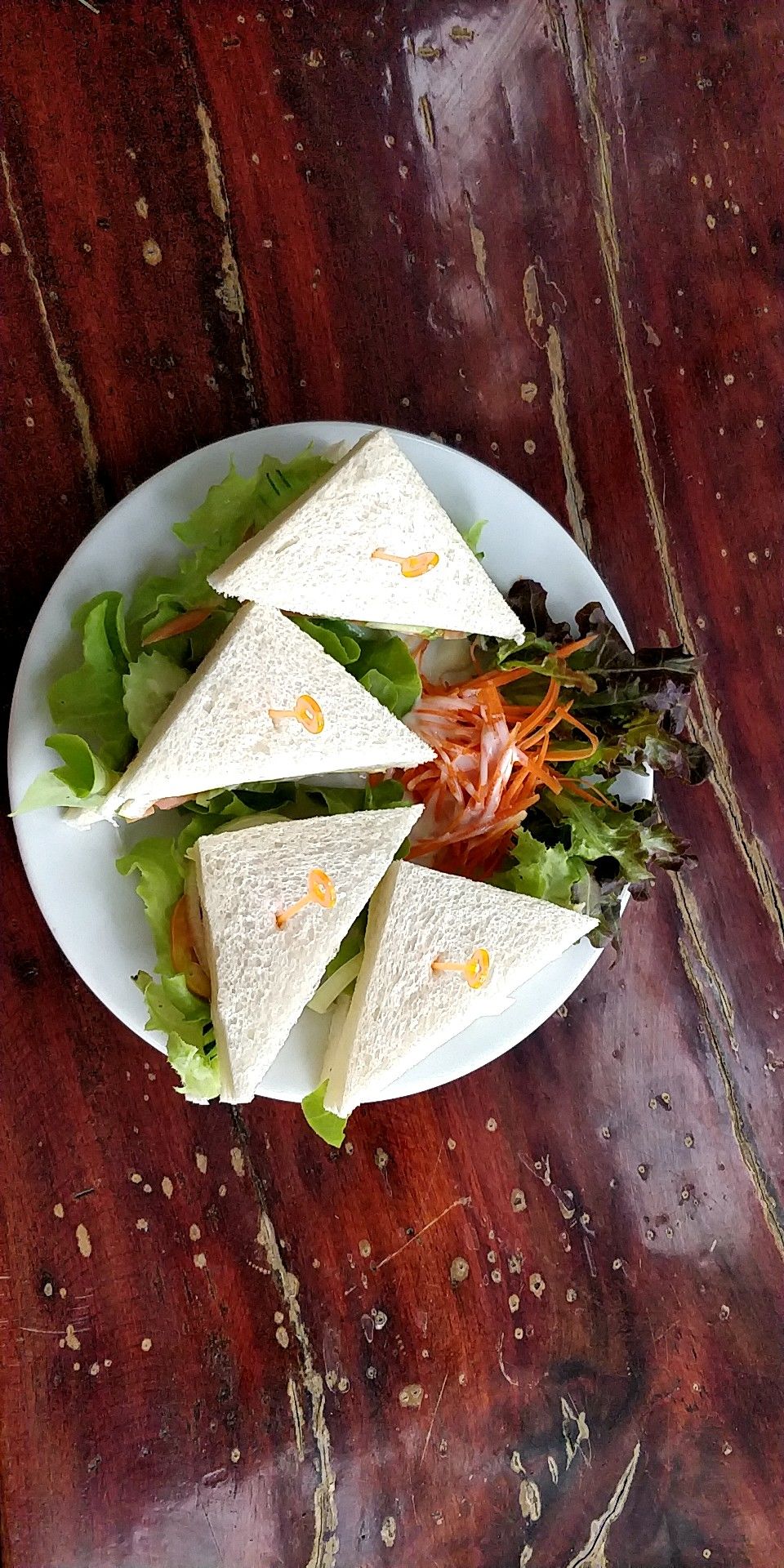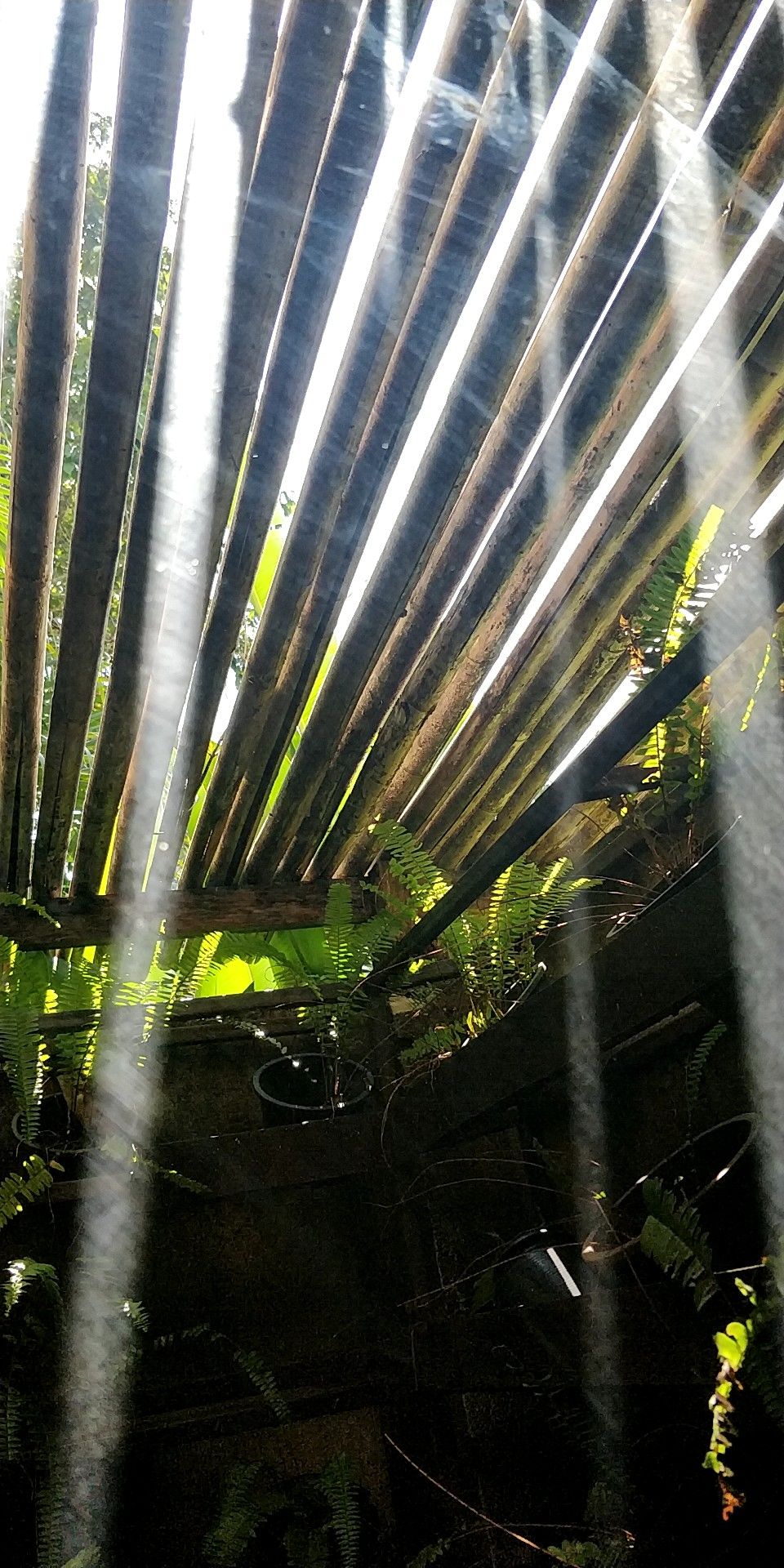 Today we planned for another island hopping tour & again after bargaining for 30-40 mins we got this customized speedboat package which includes pick up from hotel & drop at airport(we kept the luggage at the shop from where we booked the tour ) apart from lunch & beverages, English speaking guide, snorkeling. This tour was entirely different from James Bond tour, the islands covered were Bamboo island, Monkey bay, Viking caves, Pileh bay & Phi-Phi don. The very famous Maya bay, where Leonardo Dicaprio's "The beach" was shot was closed for public. This tour didn't have canoeing activity, but had a stop for swimming. The beaches with white, soft, clean sand & pristine water will certainly give a pleasing view.
We had flight at 8.55 pm for Bangkok, of all the flights this was the only one which was domestic allowing only 10kg of luggage + 7 kg of hand baggage. Though we encounter a problem,but we were able to manage it easily by wearing our boots & jackets. We reached Bangkok at 10.15 pm, had dinner at the airport & left for the hotel
Expenditure
Phi-Phi island tour=2,500฿
Krabi to Bangkok airfare= Rs 2790
Dinner=1000฿
Cab from DMK airport to hotel = 800฿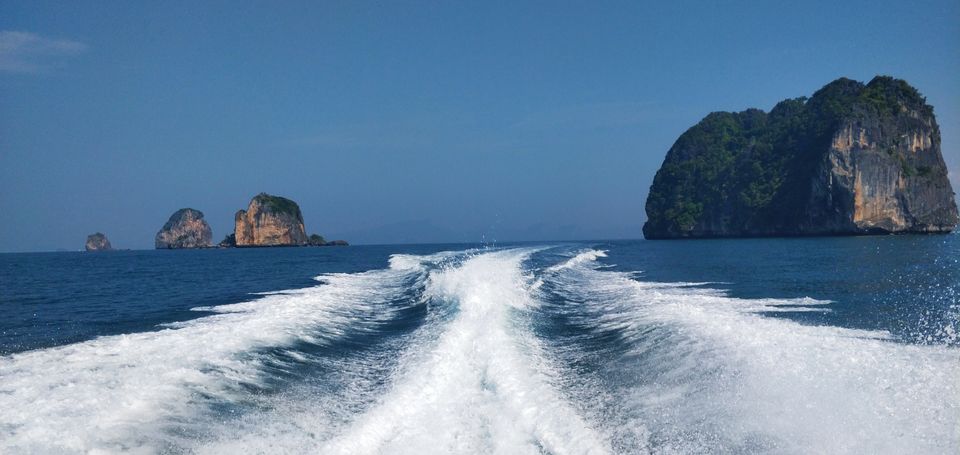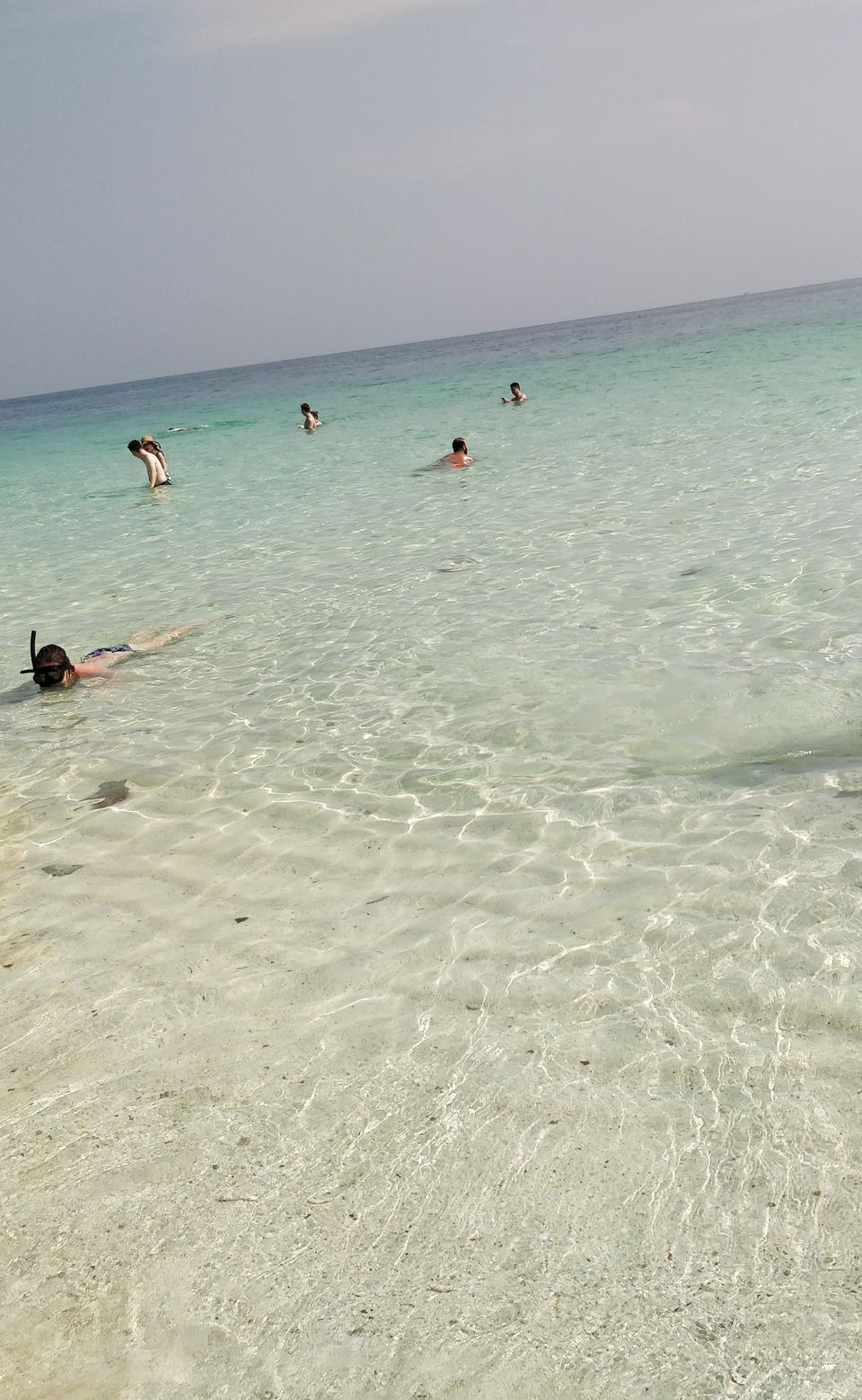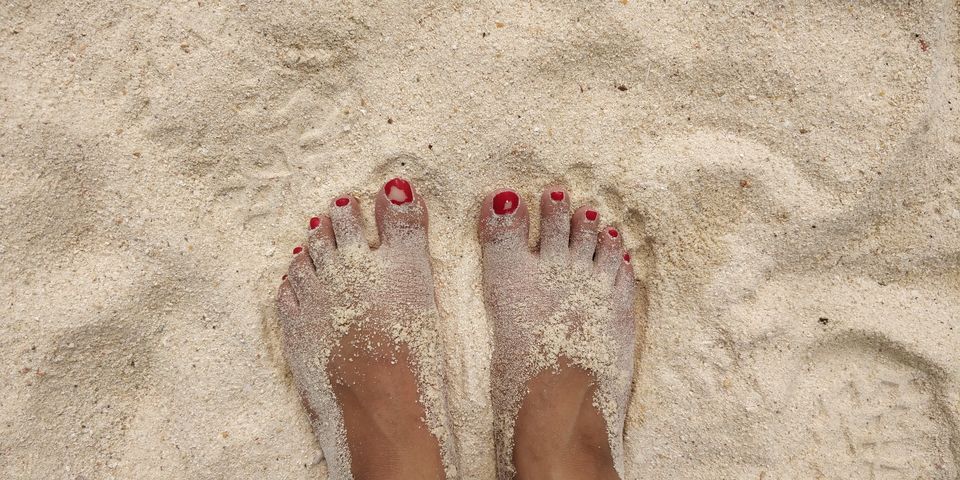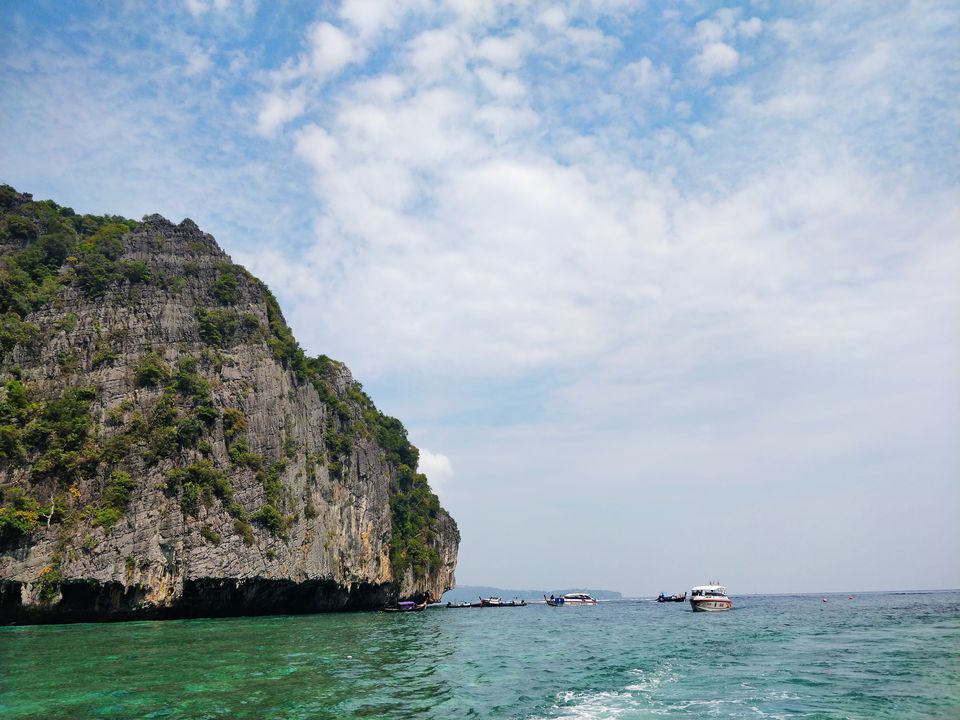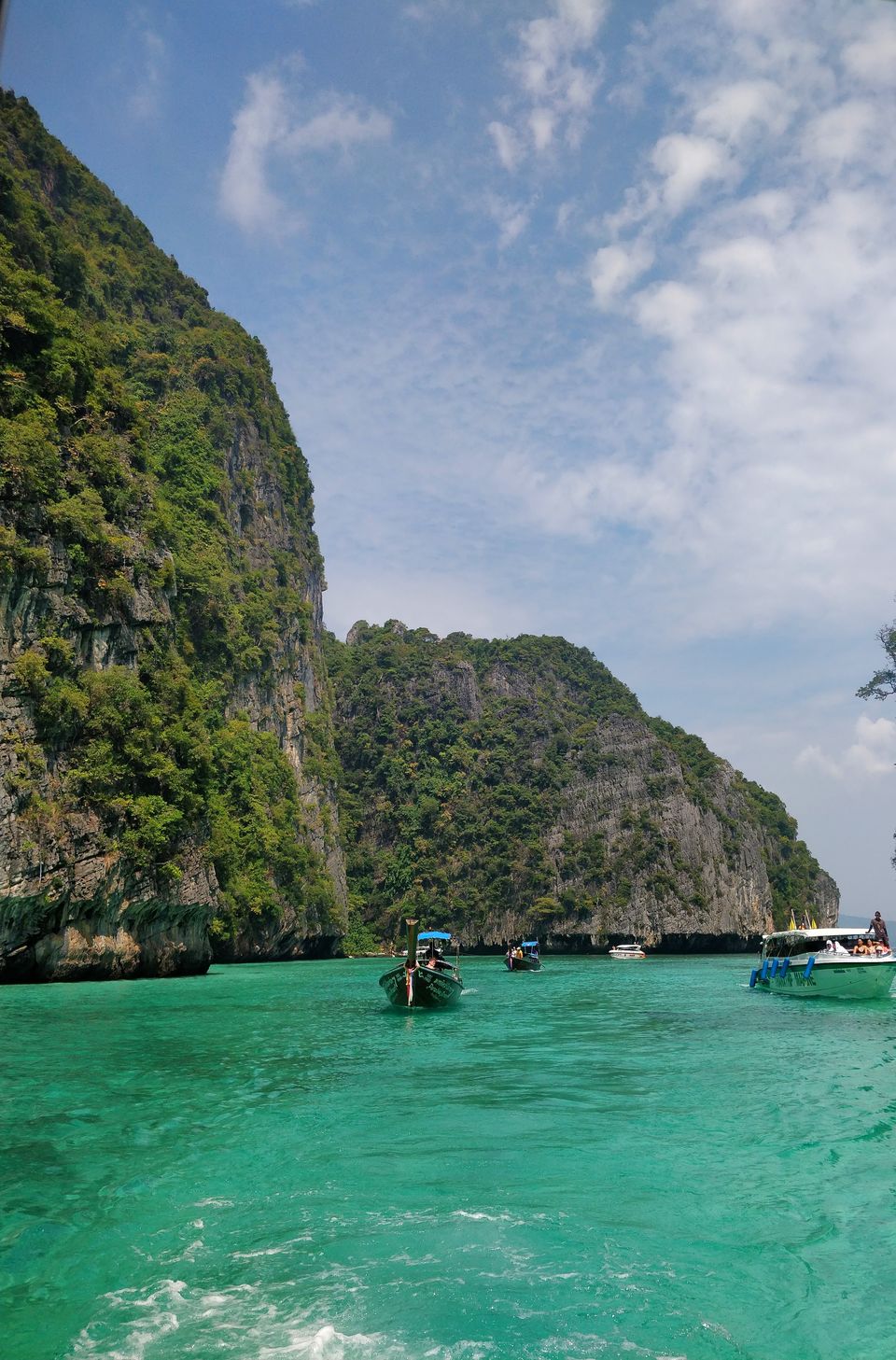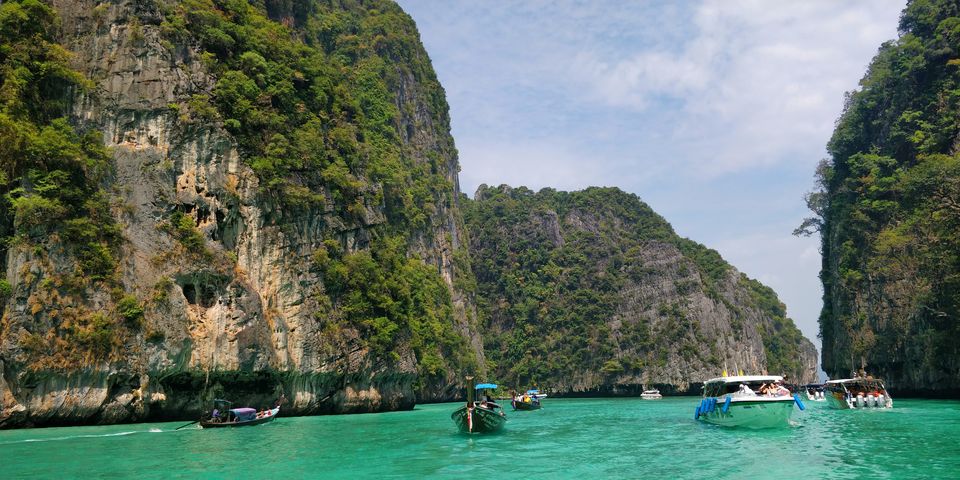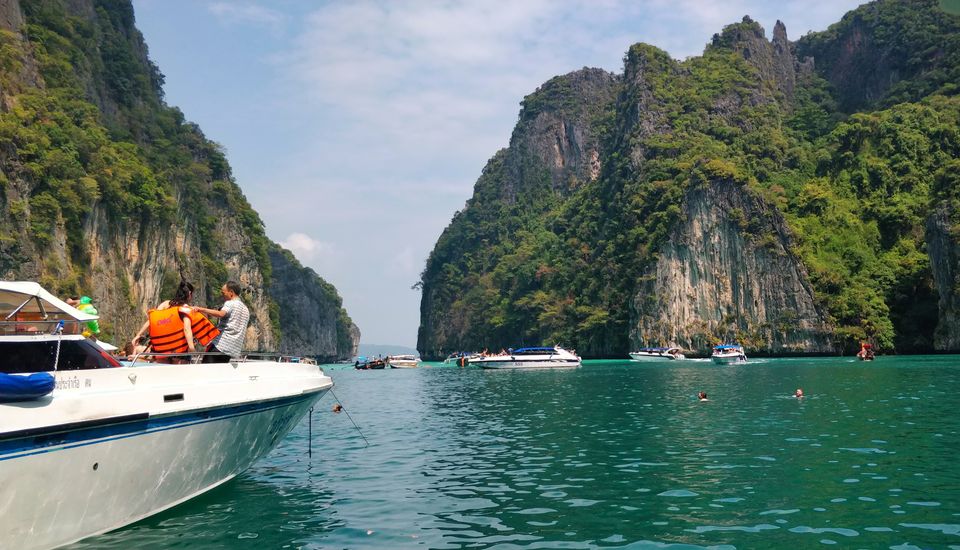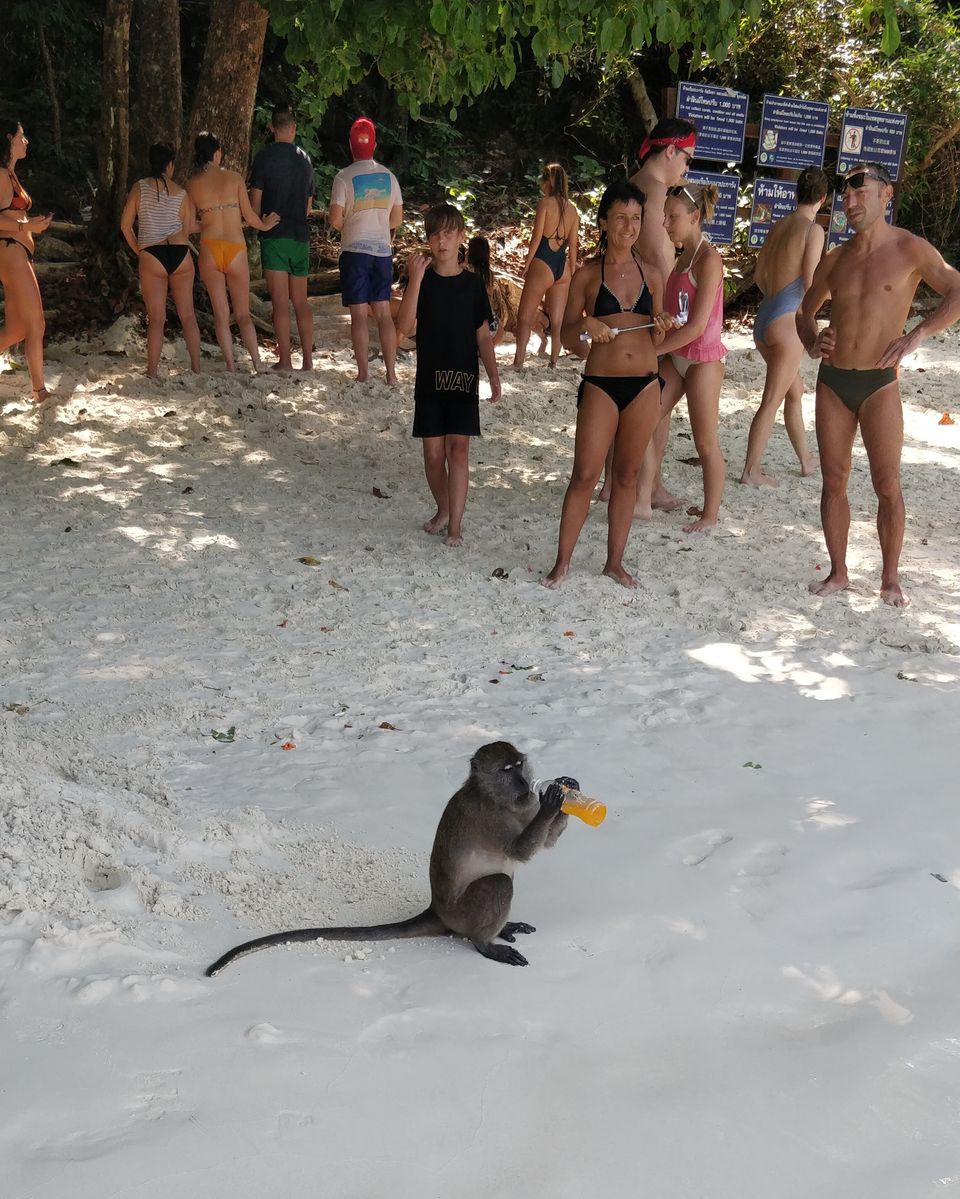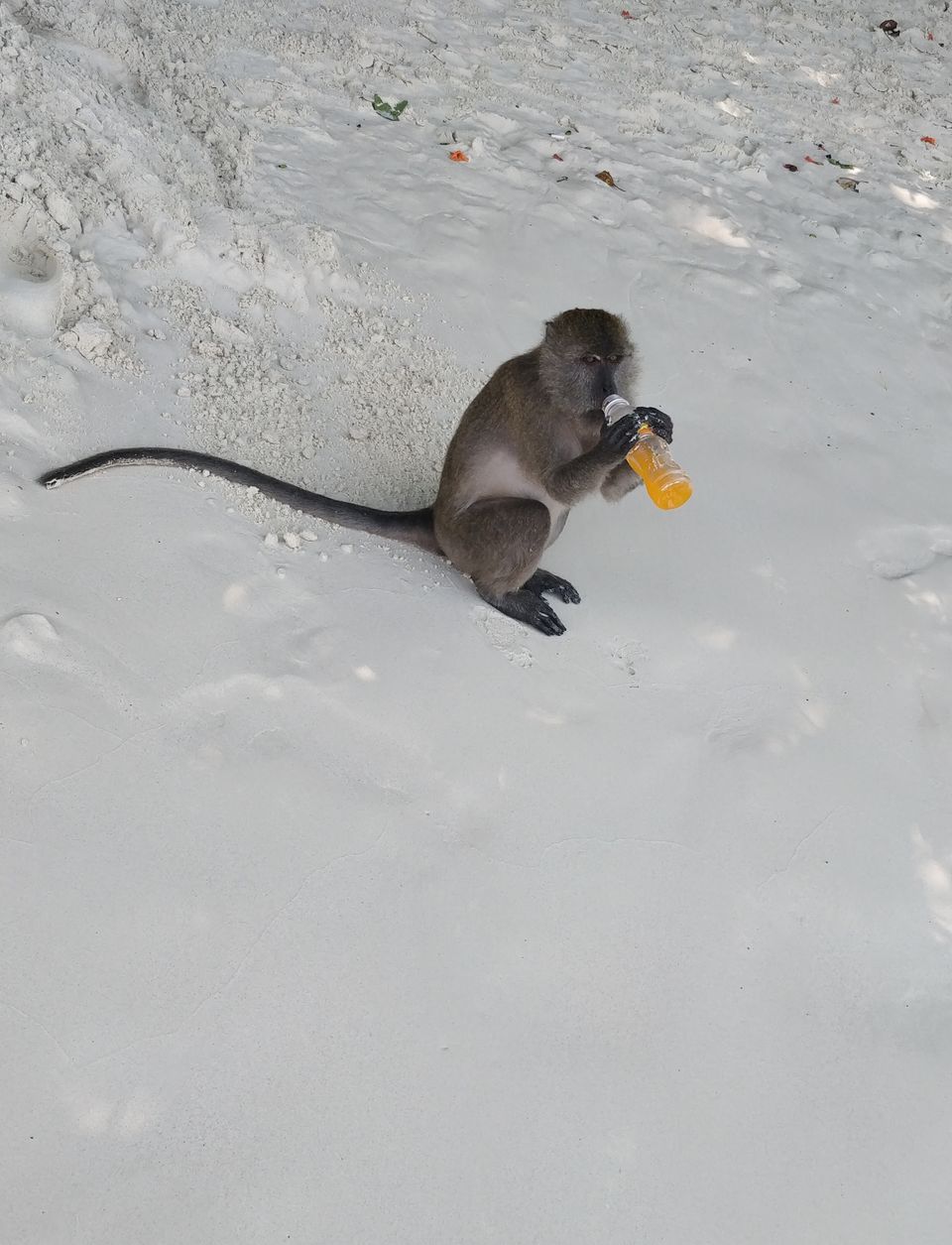 For the last day stay we book Suphan Lake Hometel, a pretty decent 3 star hotel, which is just 10 mins drive from Survarnabhumi airport. The day was planned for Safari world, to our dismay there wasn't much to see, it was a 30-40 mins of tour in bus with large windows. The unique thing about the safari was monkey boxing, cowboy show, tiger feeding session & a couple of other shows,which takes place only on particular time & we weren't aware of it. There is also marine world which we deliberately skipped. A few hours were left for our flight, so we spent some time in Fashion Island mall, which was close to Safari world & then left for our hotel, collected the luggage & further drove towards Suvarnabhumi Airport (BKK).
Expenditure
Stay at Suphan Lake Hotel =1,000 ฿
Safari world ticket=1000฿
Cab= 1200฿
We bid adieu to country of smiles with loads of good memories & experiences & an urge to come back again to explore more of it. A strong sense of positivity & ecstasy is what we were left with in the end.
Frequent searches leading to this page:-
Thailand tourism honeymoon packages from India, Thailand tourism cost, Thailand holiday packages for family, Thailand tour packages from Delhi