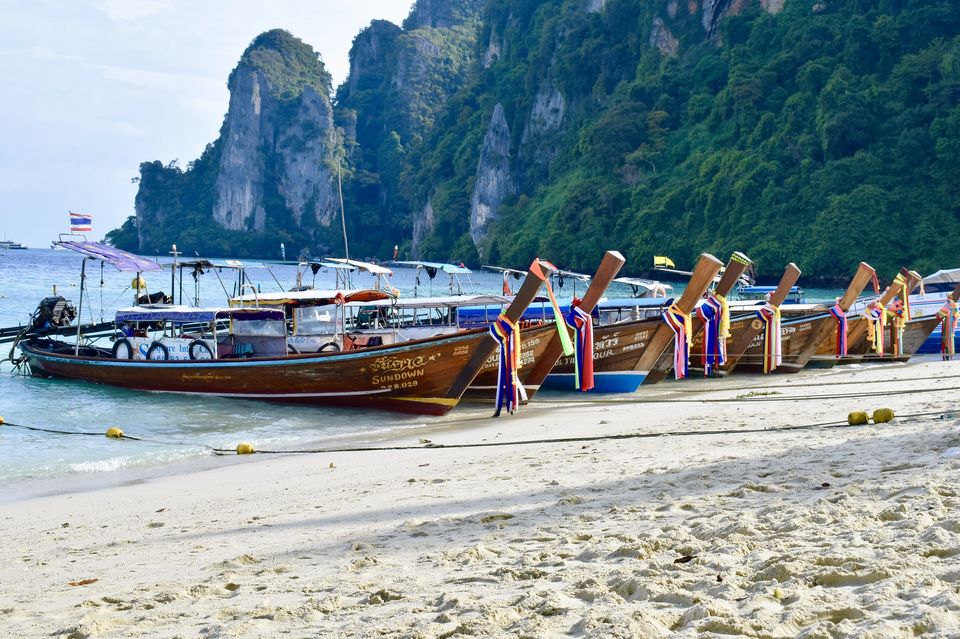 After traveling more than 10 European countries, had decided need to explore Asian countries as well...
However it was not that easy to maintain work life balance in India compare to Europe.. Finally decided to go Thailand with my wife for first Asian country ( apart from home country) to explore along with another Indian couple... So we were 4 together..
24/11/19: Day started early morning to Kempegowda international airport in Bengaluru... We had booked Indigo directly to Bangkok which is Max 4h of journey with free 20kg check in baggage.. However onboard facility not so different than domestic flights...
Reached Bangkok as scheduled around 14:30 local time & time for Visa in arrival.. Had taken visa filled form, immigration form, return ticket, stay confirmation, photos, required money in home currency( however they didn't ask that) & Obviously passport.. Service pretty good & within 2h immigration & Visa got approved. Had booked local Sim for 10 days through klook & need to collect at their counter .
One more sim we directly taken at airport counter for 10 days with 15GB data for 500TBH.
We headed towards our stay booked through Airbnb in pre-booked taxi. Reached stay which is slightly away from City centre , however near to super market, MRT(Metropolitan Rapid Transit). It was 2 bed room duplex house with canal balcony view. However initially disappointed a bit due to water in the canal was not smelling good to spend time in balcony.But the house was very pretty.
As per our trip schedule we supposed to go out to city centre , but since we were bit tired just been to nearby Mall for the dinner & seven-11 shop to get groceries for remaining days. Finding veg food is was not that easy as l thought, able to find a veggie pizza in a restaurant. Even McD don't have veg burger. Day ended with a local beer & planning for next days..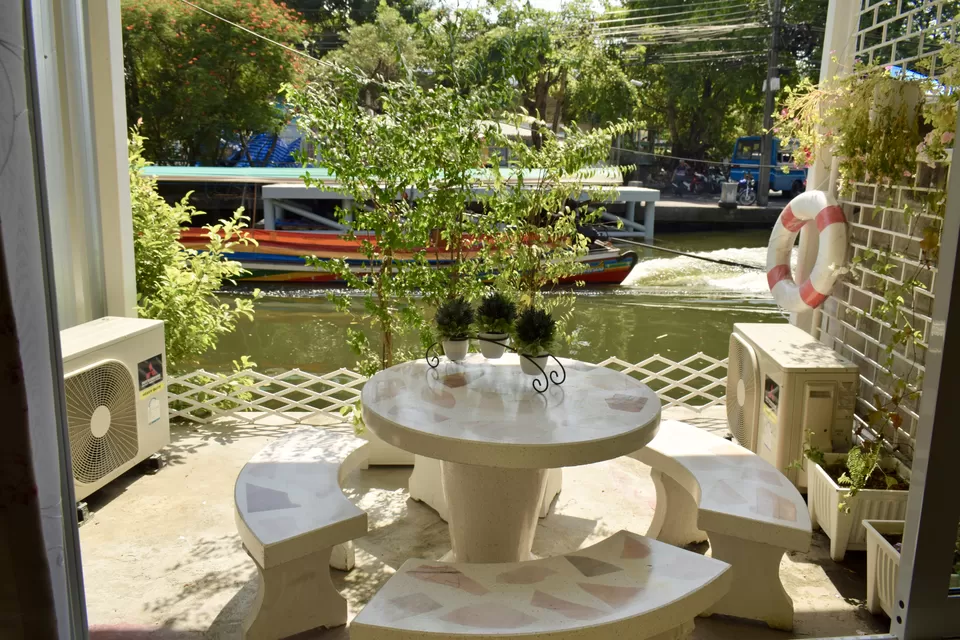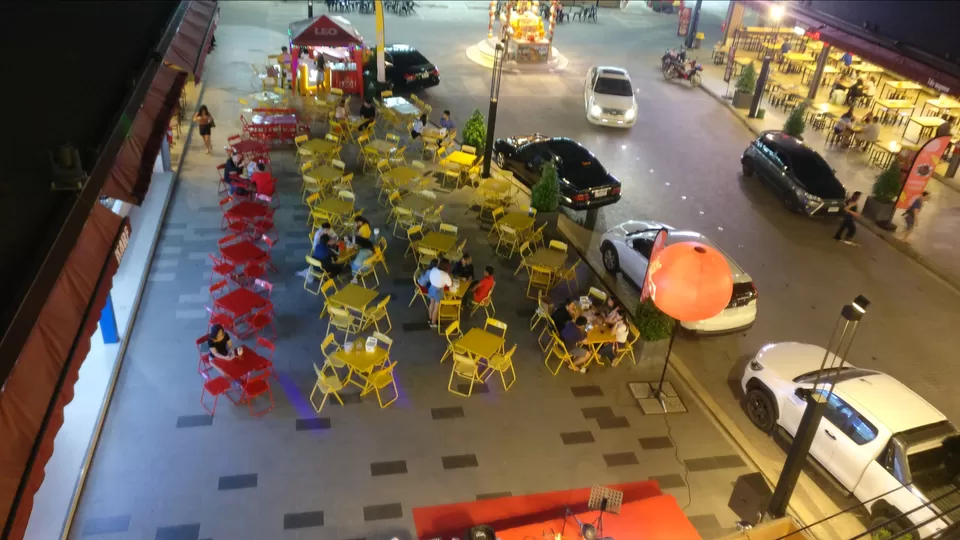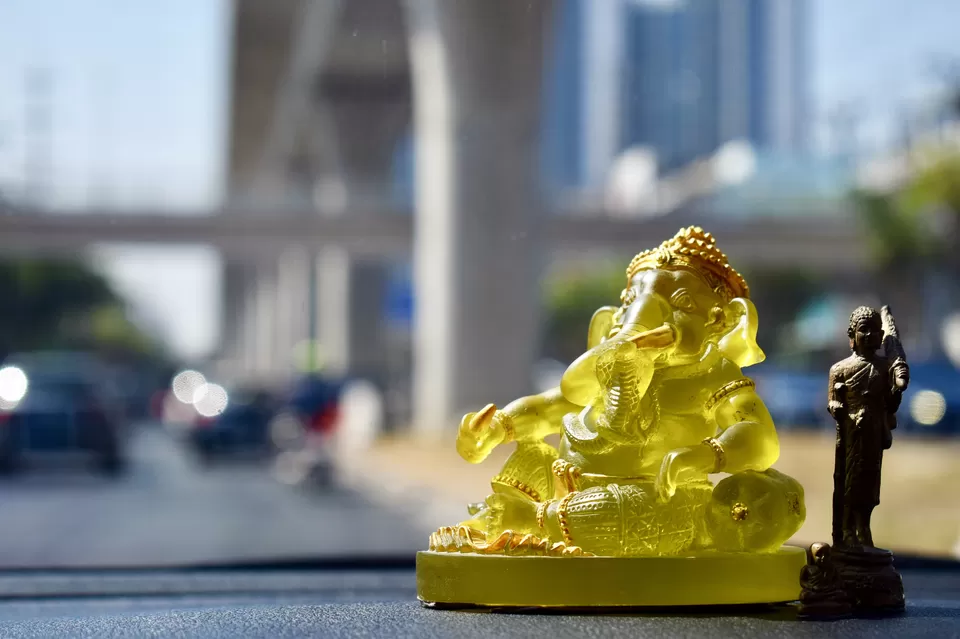 Exploring Bangkok: Grand Palace Khaosan road
Day started with exploring Bangkok with Grab taxi since MRT has no nearby station to grand palace. After visiting nearby temple in the grand palace area entered into grand palace. There is a dress code to enter inside the palace (no shorts, sleeveless allowed), there is also shop inside the palace where they will sell dresses which is allowed to enter inside for 200 Baht.
There is 3 ways grand palace can be explored. Slower path, medium path or faster path. I would say it will take avg 3-4 hours. Not all the buildings are open to enter inside, But emerald Buddha temple is open to all. Its a beautiful place surrounded with colorful Thai architectural designs. There is also refreshment center where juice, snacks available.
Next destination for the day was Khao san road which is just 15mins walk from grand palace. Best time to visit here evening , there is nothing which you can't get in khao san road. You can witness lot of restaurants, pubs, live music, street food, massage centers, tatto shops, etc etc.
Had a plan of visiting china town, but after booking taxi came to know on monday its closed. There is skybar at 62nd floor which is popular for best view of Bangkok , however need to pay huge amount for a drink or dinner there. We decided to skip that & returned back to stay.
Review: Grand palace /10, Khaosan road 8/10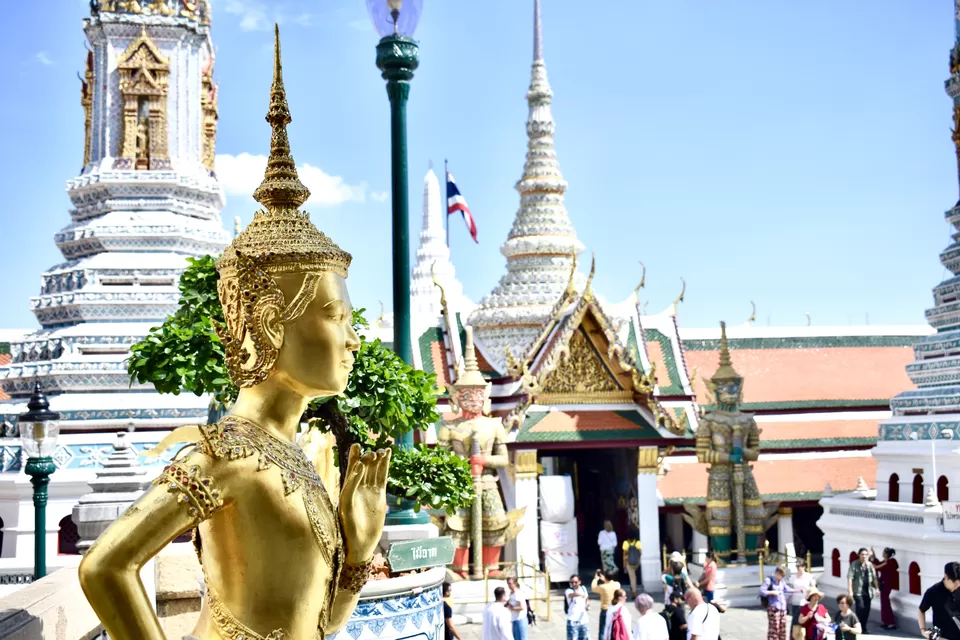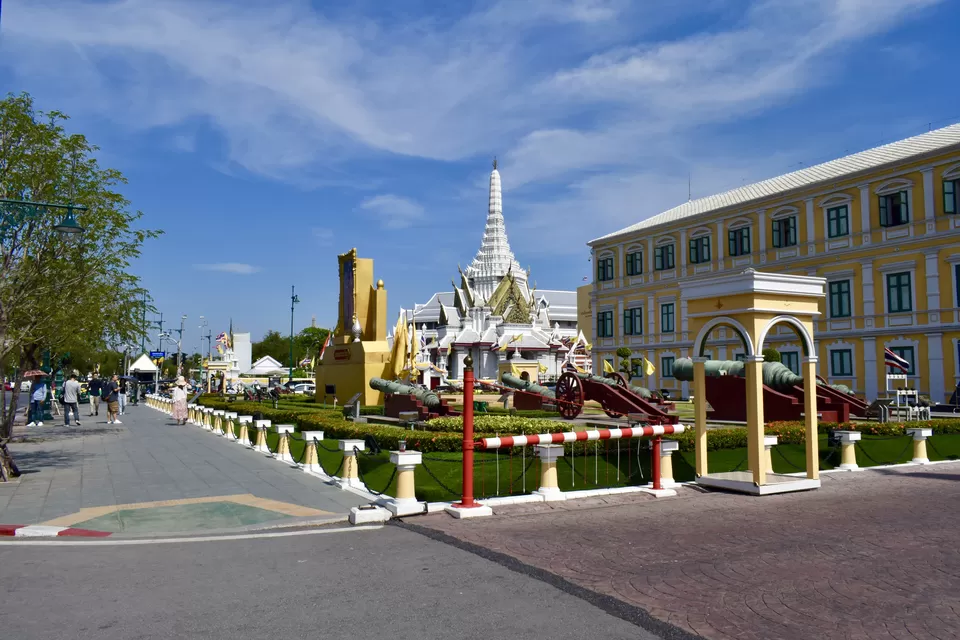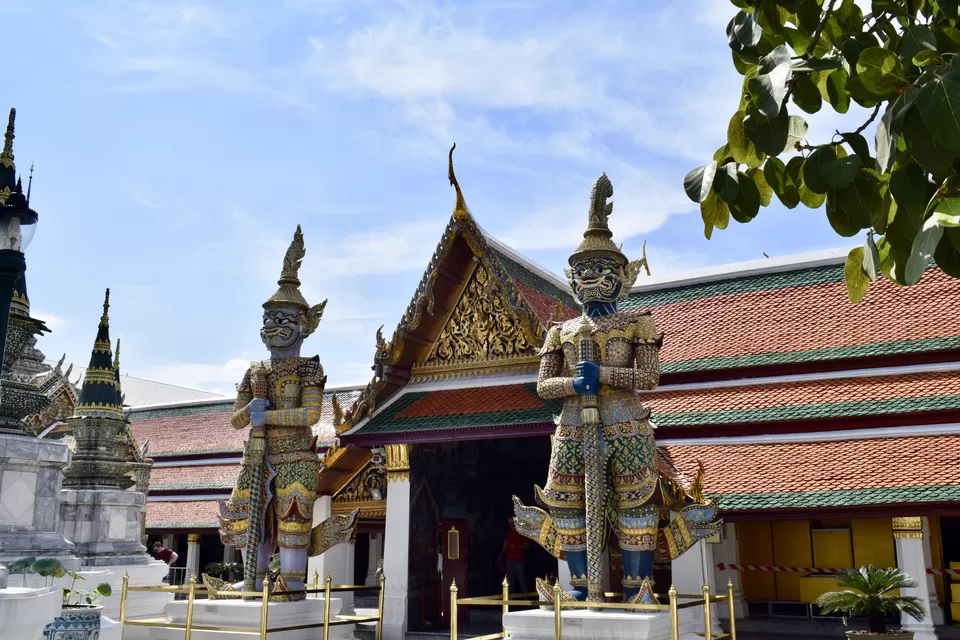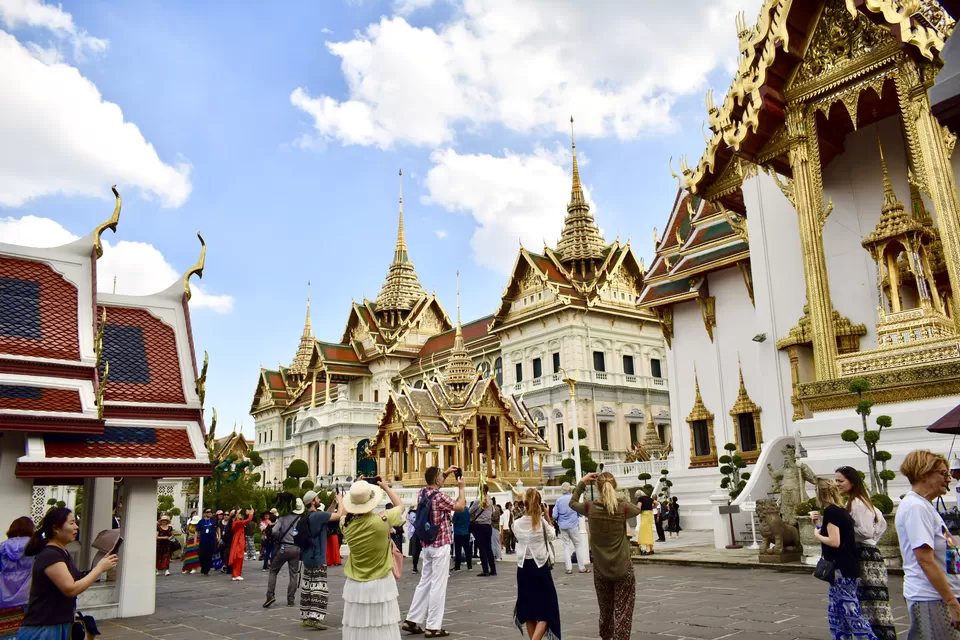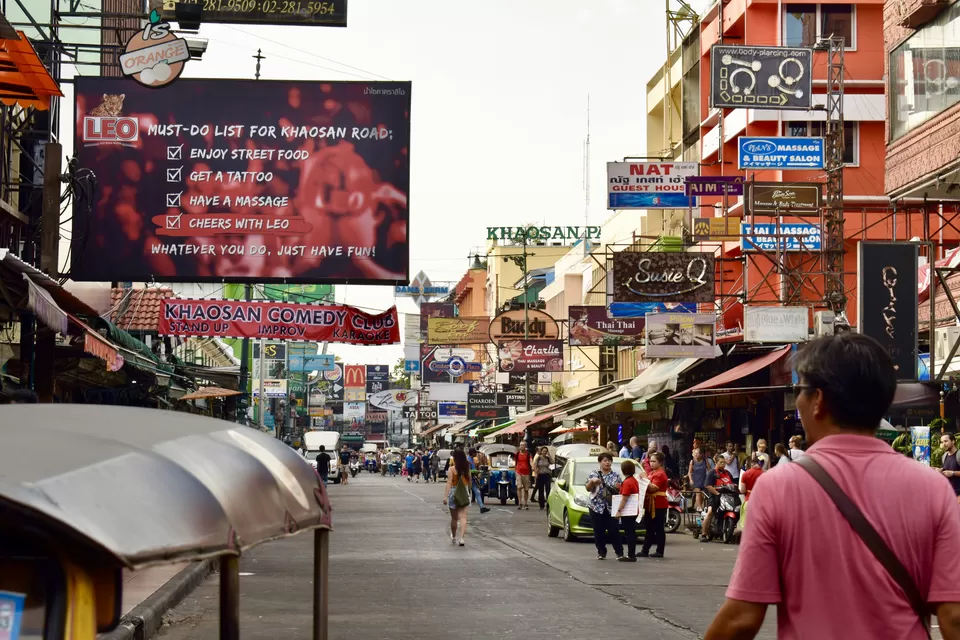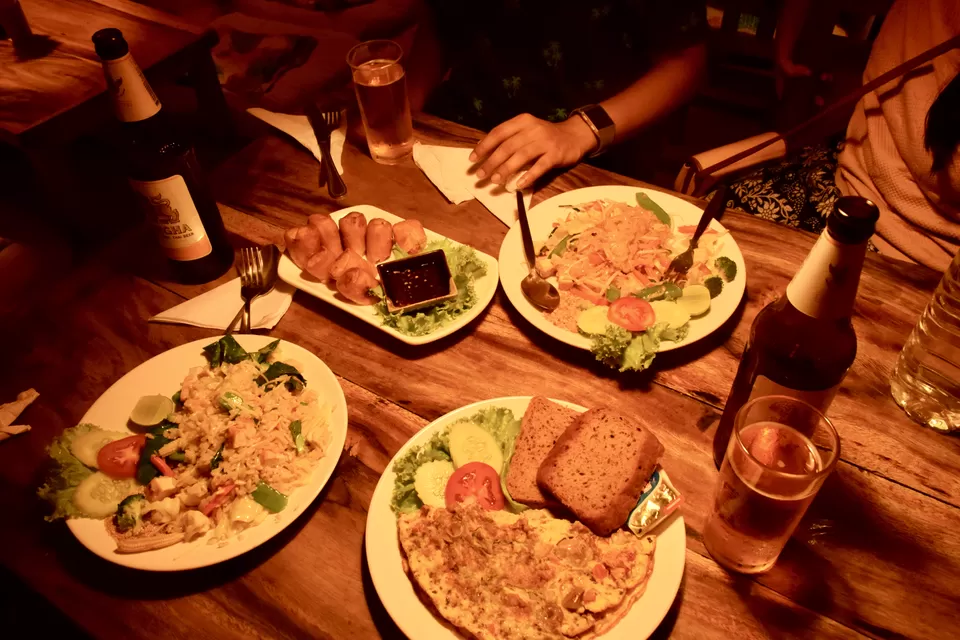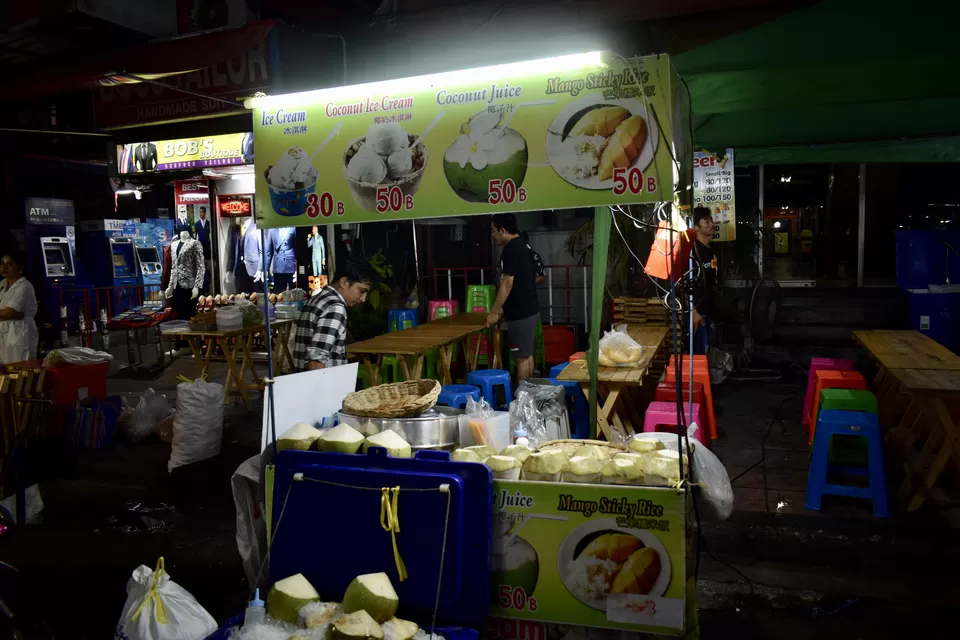 Floating market experience, Shopping, Siam Niramit show
There are lot of floating market in & around Bangkok , but only few of them open on weekdays. We decided to visit one of such market which is bit away from city center, wat Takein floating market. Place is very clean & there is a Buddha temple too. Few of the shops were open , but no need to rent a boat there. Prices were much cheaper than city.
Next stop was to do some shopping , headed towards Pratunam market , mainly popular for cloths. Rates were reasonable , but there don't allow much bargaining. After spending couple of hours walked into platinum fashion mall & there are lot of shops with international brands.
Main focus of the day was to explore art and cultural heritage of Thailand by show "Siam Niramat" which is listed in Guiness World Records. We had booked ticket in Klook for 1200Baht (actual price 1500 Baht). Before actual show begins there is a open area dance show as well. Actual show starts at 20:00 & lasts for 80mins non stop. Stage setting & timings were awesome & witnessed traditional Thai culture for 7 centuries.
Went back to stay in MRT just to experience the journey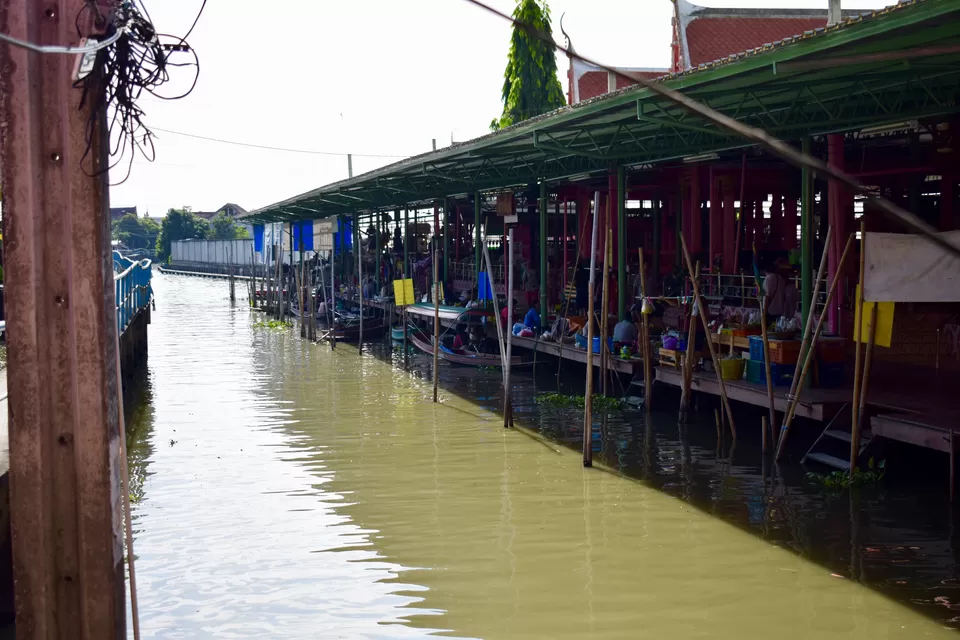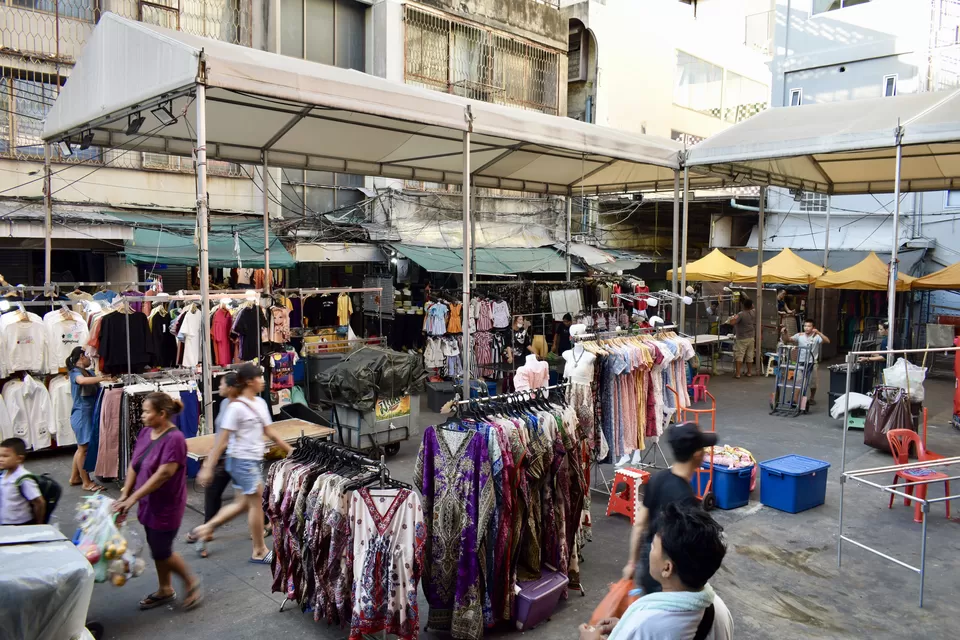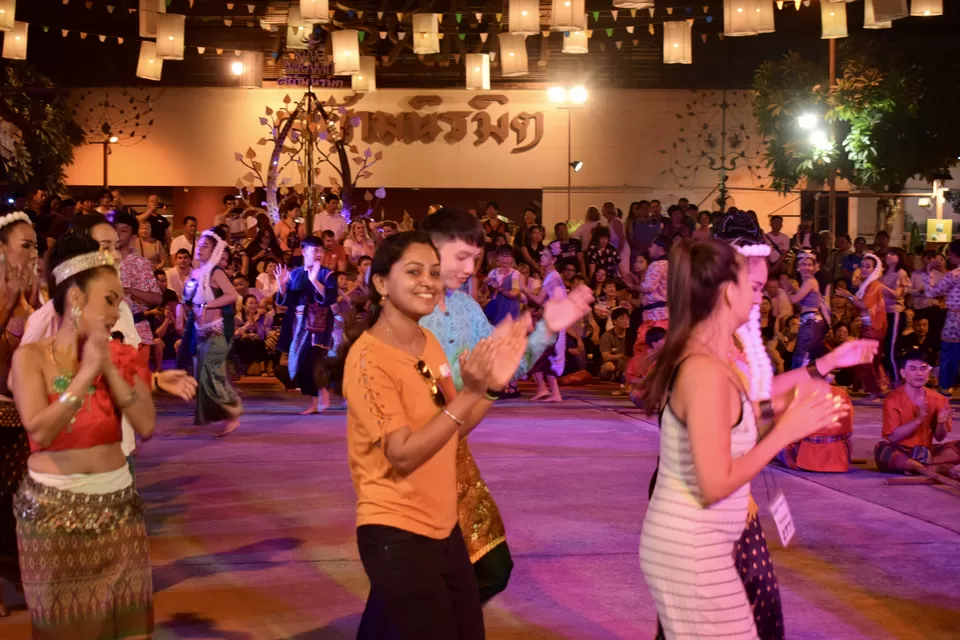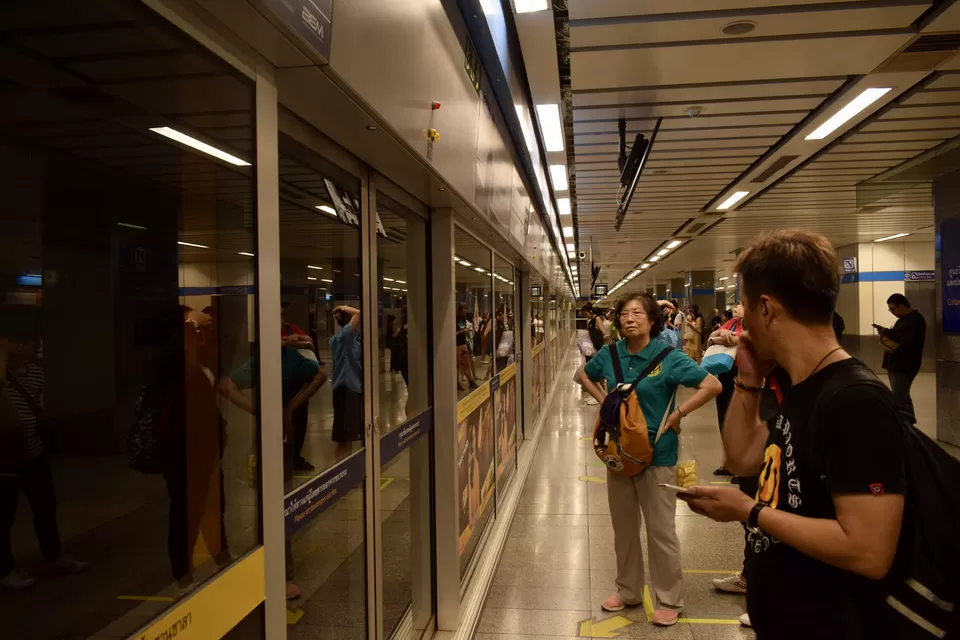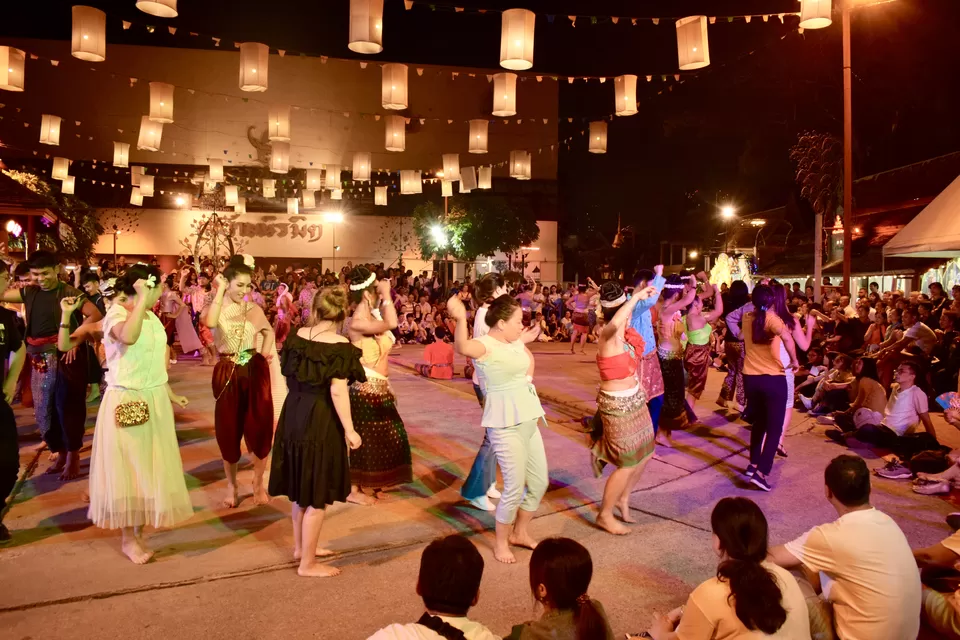 Review: Floating market 8/10, Pratunam mkt 6/10, Siam Niramit 9/10
Oceán world, Shopping time, Thai massage
Actual plan was to go for safari world on this day, however we missed ticket online & place was bit far as well. Finally decided to go Ocean world near siam paragon mall. We have booked ticket again in Klook including glass boat trip. There were lot of sea creatures including fishes, turtles, snacks, sharks, penguins & can easily spend 2-3 hours there. There is also shark feeding show & can experience ocean by wearing required gears at additional price.
There are many shopping malls near Siam paragon where lot of international brands available for shopping. We just spent some time there & headed back to stay area.
We had seen massage center near our stay & decided to go for it. we paid 180 Baht /hour & experience was very relaxing.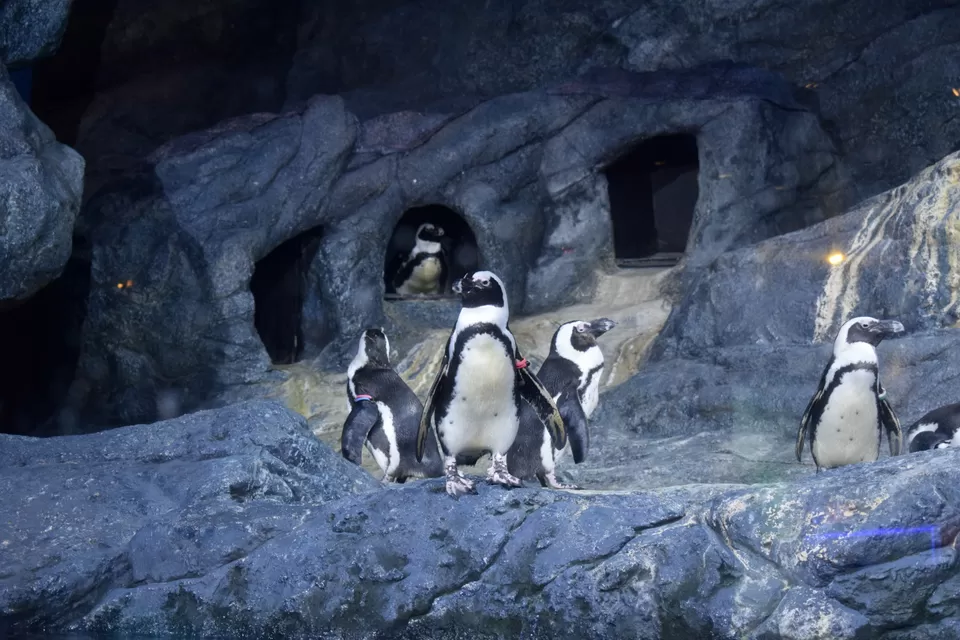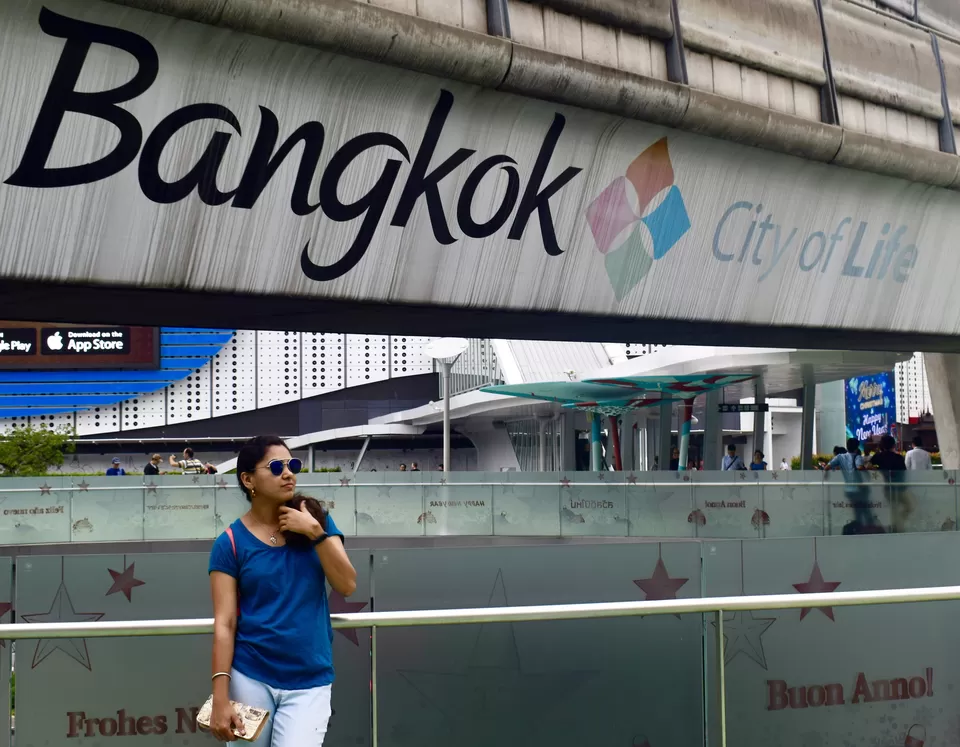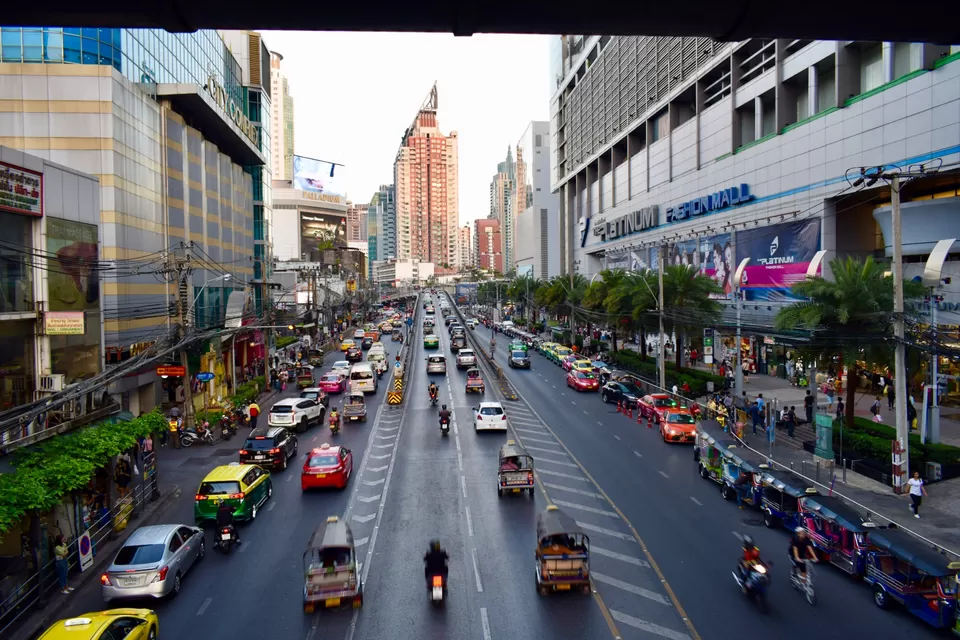 Review: Ocean world 7/10, Shopping mall 7/10, Thai massage 8/10
Flying to Phuket, Patong beach, Bangla walk street
Day to tell goodbye to Bangkok & fly to Phuket in morning 6:10 flight. Reached Phuket airport on time & arrived to prebooked airbnb house around 9:30AM. This house was more prettier than first one with pool. After taking some rest at house , planned to explore surrounding. However started raining & our sleep extended further. Finally we decided to go Patong beach by using Grab taxi ( since we had very few hours, raining & having drink in Patong skipped renting 2 wheeler). It was shocked Grabs were very expensive in Phuket than in Bangkok. Irrespective of distance they charge minimum 400Baht with big 10 seater min bus. Better to rent scooter/ car or hire the taxi just stopping in the road.
Patong was very lively at evening & we decided to get some beer from 7-11 shops . Spent some quality time on beach enjoying the view & calm sea.
Finished dinner at near by Indian restaurant Safron spices, then walked into Bangla road. Which is very crowded, lively at night. Parties runs till 5:00AM in the morning, can witness lot of adult shows there as well. Since we had plan for next day we returned back to stay at 11:00PM by taking taxi just by waving hand to driver.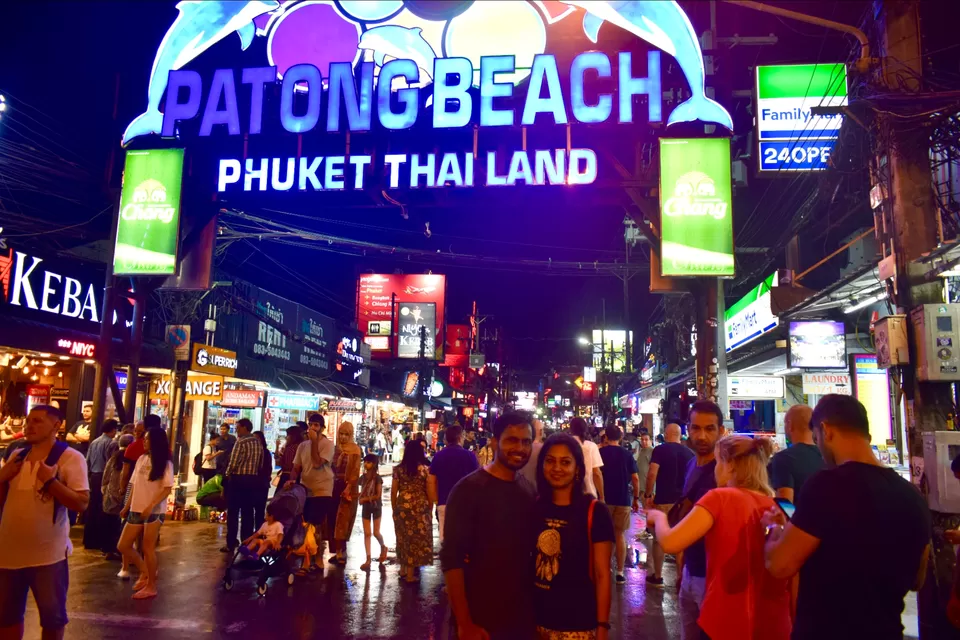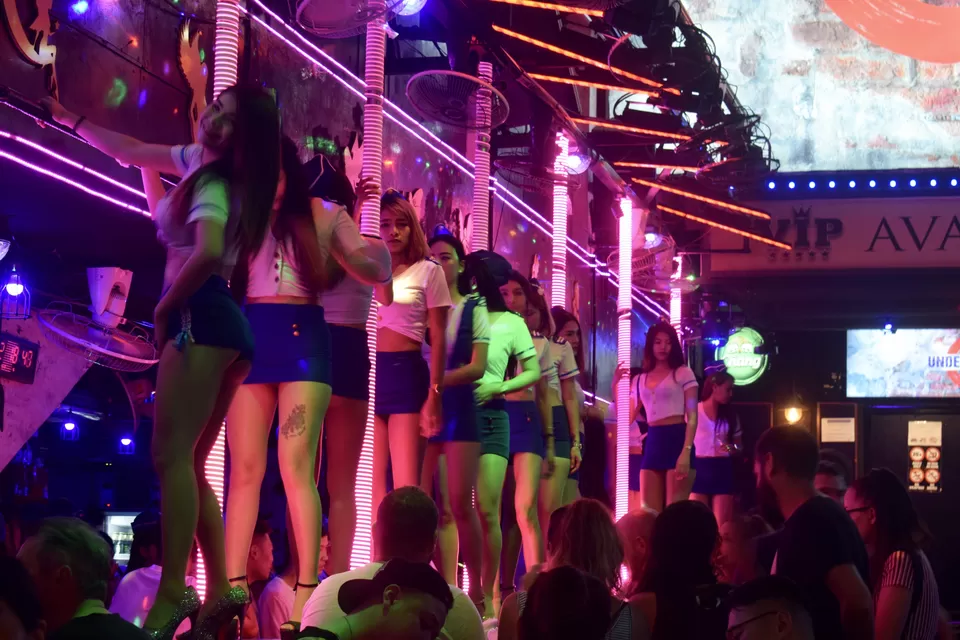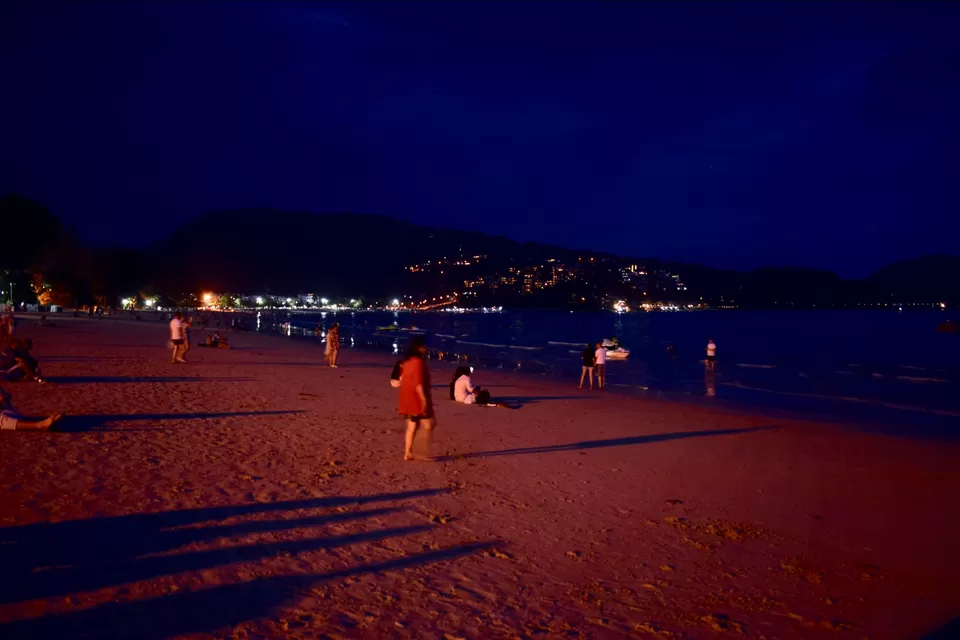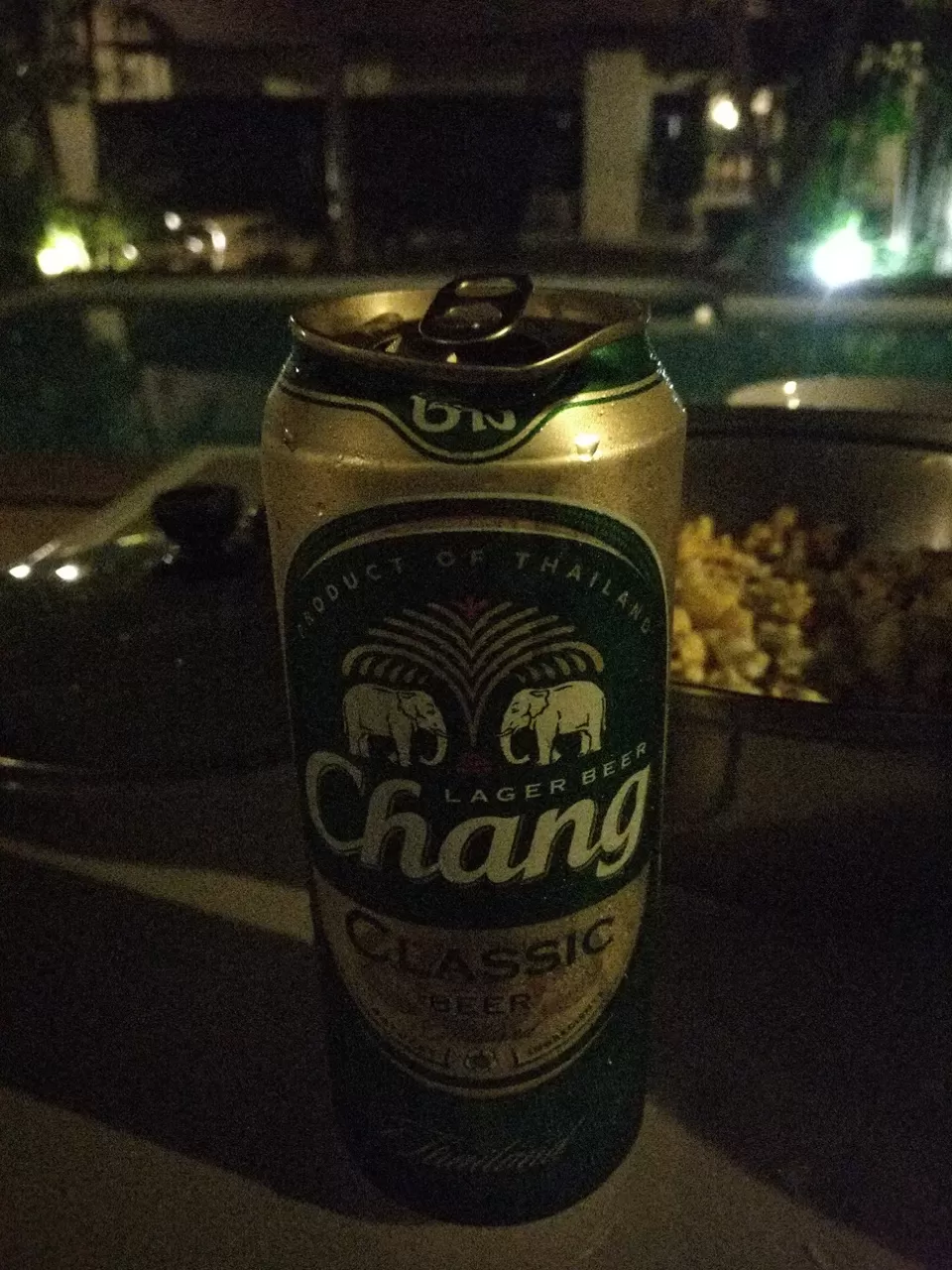 Review: Patong beach: 8/10, Bangla road & surrounding 9/10.
James Bond Island tour,
This was one of the most exciting day of our trip. We had booked James bond island tour with speed boat in Klook. Driver picked us around 7:30 from Chalong since we were the first to board the vehicle. After picking all other passengers we reached to Ao Po Port around 8:45 AM from where speed boat starts. We had paid 1550baht for this package which includes kayaking, cave visit,James bond island, Fisher man village for lunch, then Naka beach. Before boarding the speed boat need to pay 25 Baht for van which transfers to near the Boat which is less than 300mts away.
Speed boat journey started around 10:00AM, first stop was Kayaking near Hong island. It was one of the lifetime experience to do kayaking in center of ocean. Even though kayak will be driven by experience rider views were breath taking. There are very narrow lagoons on the way & need to bend down to pass through it. You will be allowed take pics at own risk because if you lost your mobile/camera its gone. Kayaking will take 30-40mins.
Next destination is as name indicates James bond island named after famous James bond movie " The man with a Golden gun".It is one of the island in Phang nga bay. However movie made it popular destination. You will be allowed to stay there 40-50mins. On the way to next stop boat will be driven towards natural painting area developed over a time.
Next stop is Muslim fishing village where boat will be stopped for an hour for lunch at 13:00. Lunch will be provided in a nice restaurant even vegetarian menu available. Even though it seems very small there is school, mosque , market in that & chances of getting lost very common.
Further proceeding to cave island where you will be walking into the caves with light. This stop will be just 10-15mins.
Final destination of the day tour was Naka beach where you are allowed to do whatever you want till 16:15. There is option to do swimming, Jet skying, paragliding or just relax on chair with a drink. Finally boat will reach to Port around 16:40 & pick up vehicle is ready to drop you back to the hotel. However it took us 2 hours in the evening , but we made Phuket road trip twice a day.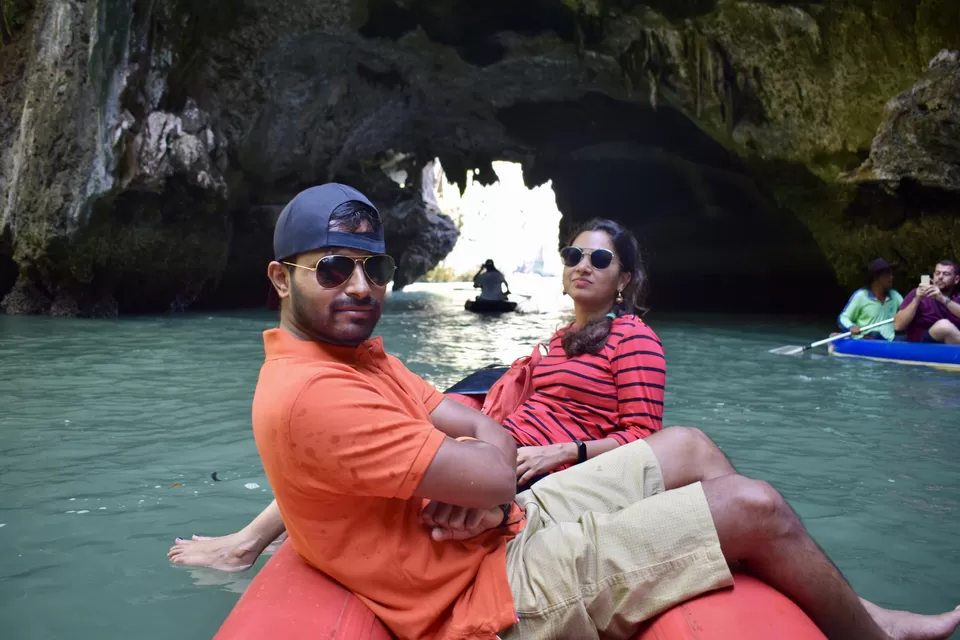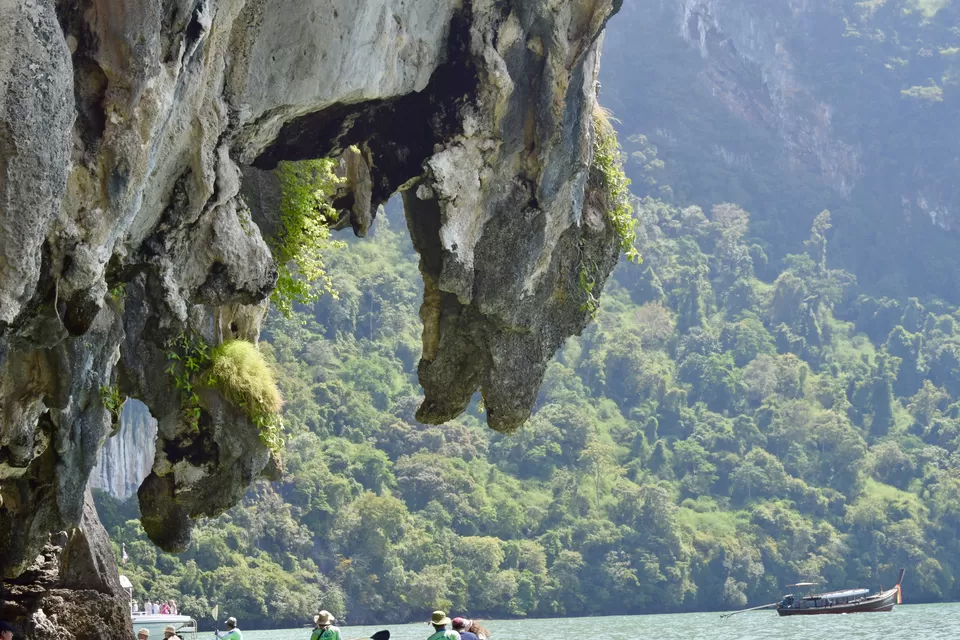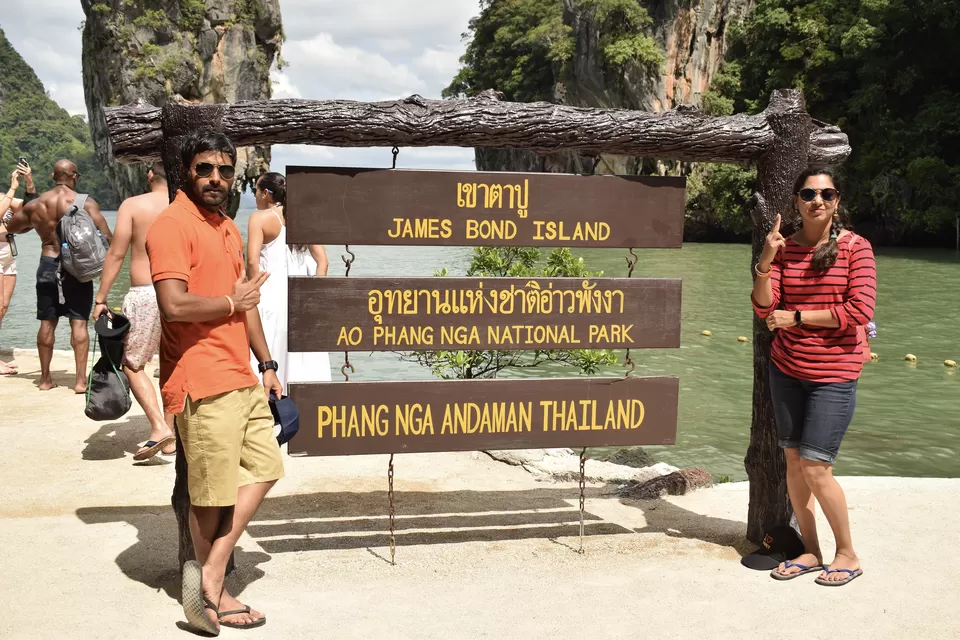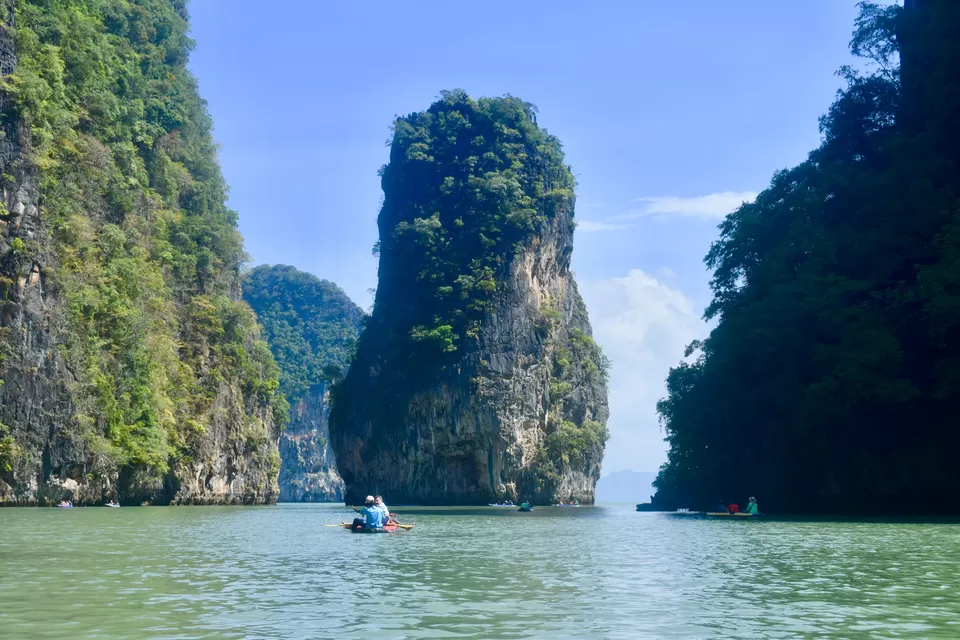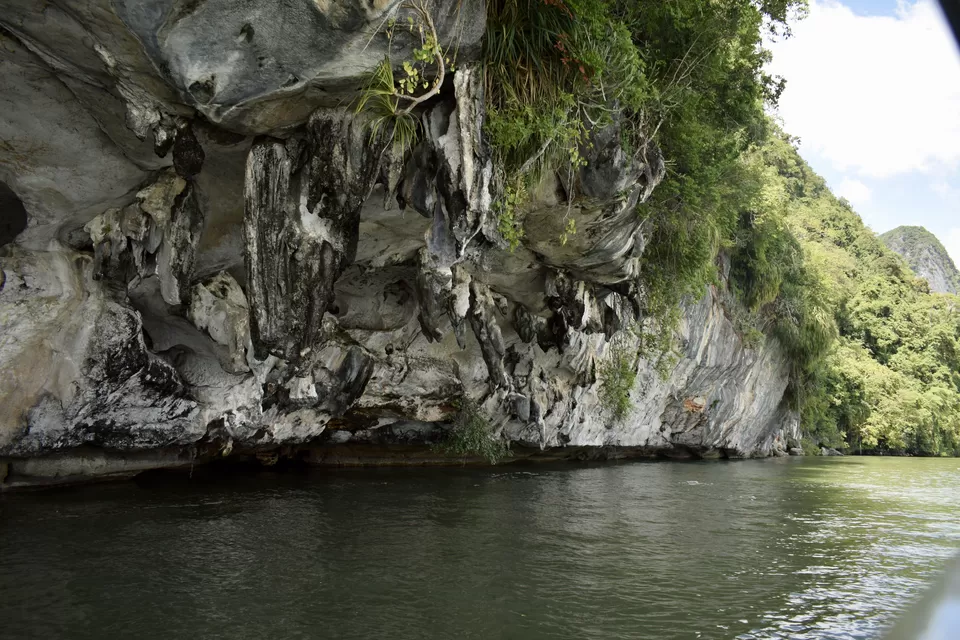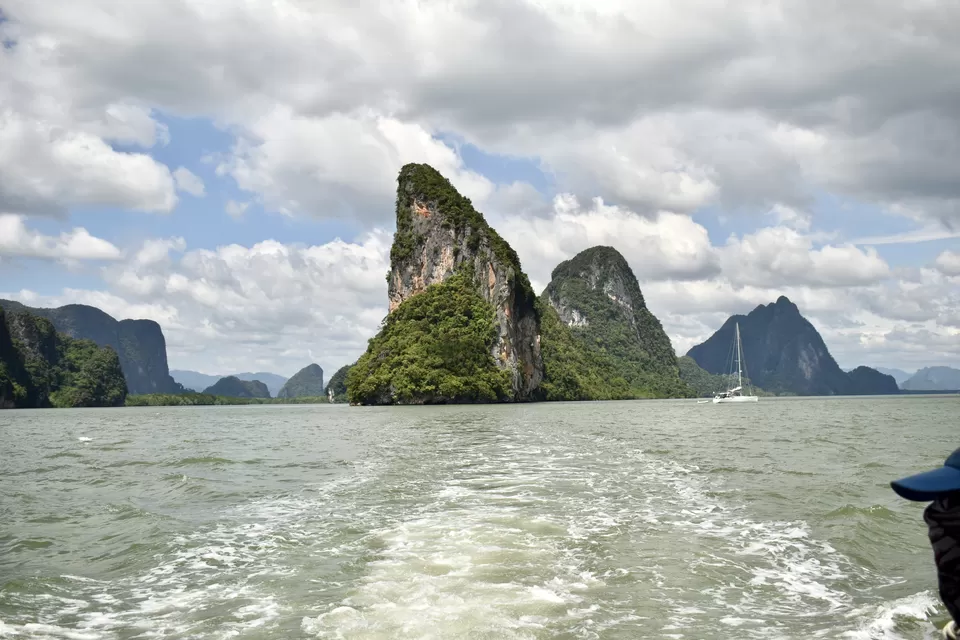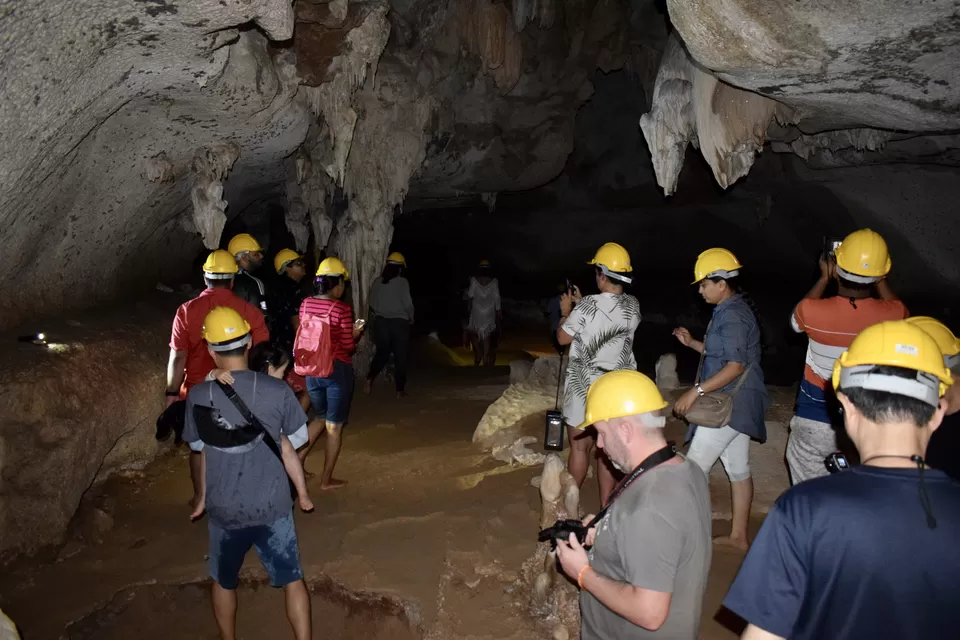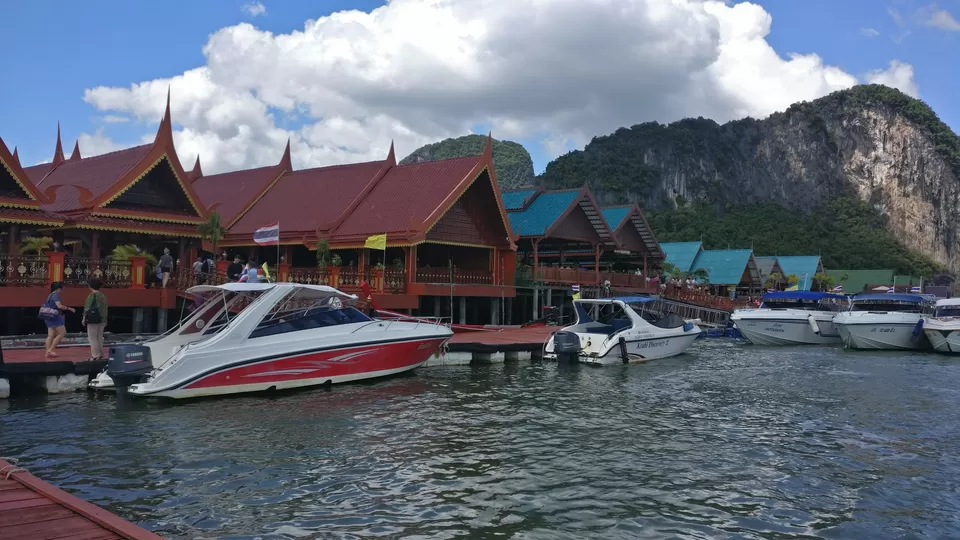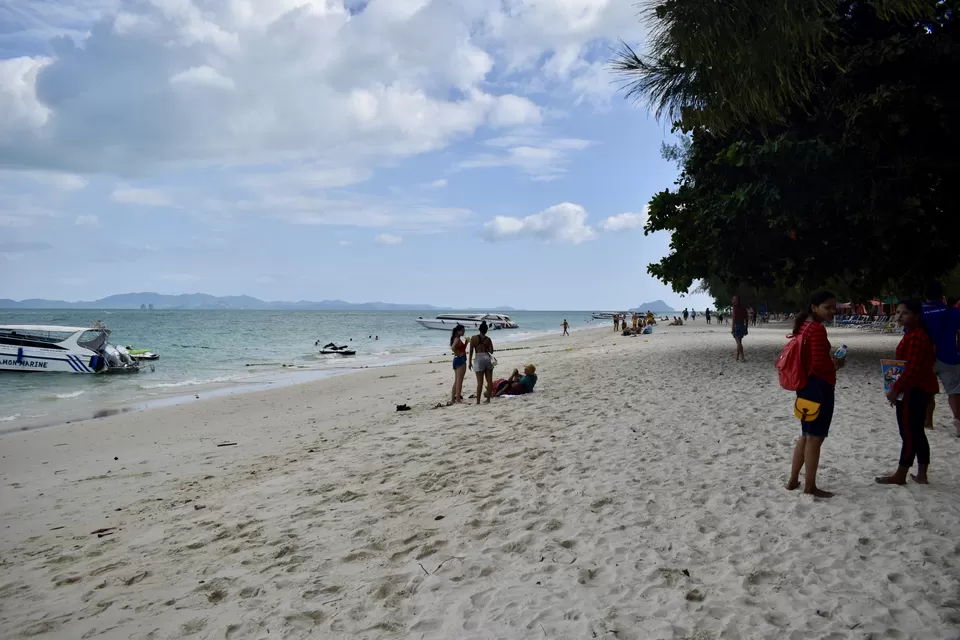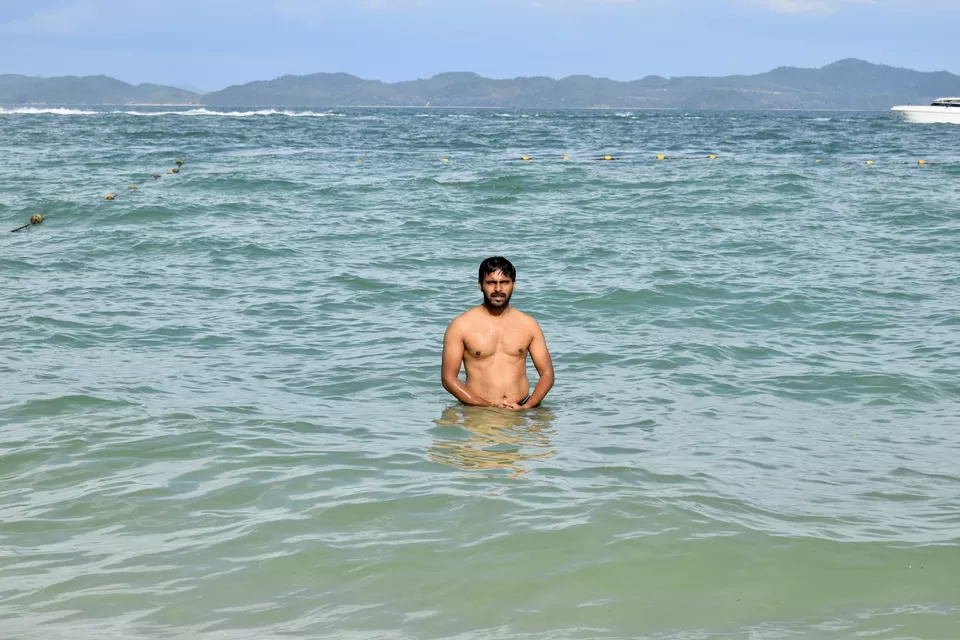 Review: James bond island tour 9/10.
Koh phi phi in ferry, exploring beaches
This time we took a ferry to reach koh phi phi & booked through agoda.com. It costed around 700 Baht with hotel pick up . Pick up was there at 7:30AM for us & reached Rassada port around 8:30AM. Ferry co-coordinator was ready to guide us & insisted to book return ticket for 600 Baht with hotel drop. It was open ticket so that can be usable anytime (twice a day). Ferry journey was very relaxing . It took 2.5h to reach Phi Phi island. In between ferry slows down near Maya bae as well. There small shop inside the ferry where you can buy basic stuffs. There is enough space for luggage as well. After some time we climbed up to top floor of the ferry boat & taken lot of pics with nice view. Reached Koh Phi Phi around 12:00 in the noon & there is entry fee of 20 Baht/person. Hotel co-coordinators will be waiting with name board to guide to the hotel. Also they offer you take the luggage in hand trolley. We decided to take our luggage our own since our hotel was nearby & he was asking 200 Baht for luggage transfer. Our hotel was 0.5km from the Ton sai beach , where all the boats will be parked. So it advisable book your stay near to Ton sai since easy to commute with luggage.
Once we reach our hotel Chongkaho resort got freshened up & headed towards lunch buffet at same hotel restaurant. Since there is not planned anything on that evening , everyone was free to do whatever they want. We took walk along the beach & captured few nice pictures. Also walked through street & checked prices for water activities. There are lot of tour agents who takes daily island tours, water activities like snorkeling, skuba diving etc. Also boat tickets will be available to travel Krabi, Phuket etc. We witnessed Phuket boat ticket starting from 350 Baht which we had paid 600 Baht.
After visiting couple of tour agents we finalized to go for skuba diving next morning along with photographer. There was a discount of 10% since we were in group of 4. Final deal was made with 3060Baht/person & 500baht/person for photos.Most important instruction not drink alcohol previous night to avoid hangover. Beach parties will be performed Loh dalum beach side along with fire games. It will continue till early morning , but we had wake up early morning left the place around 23:00.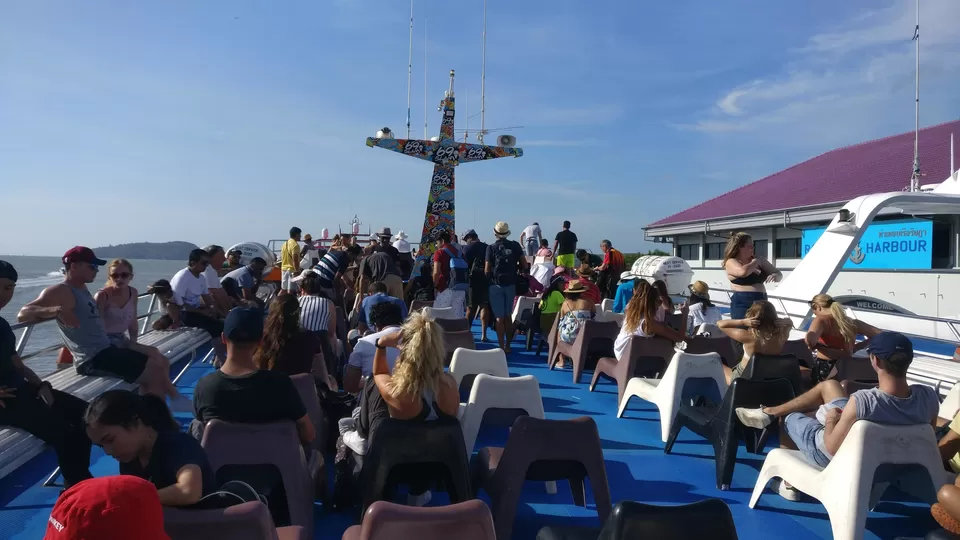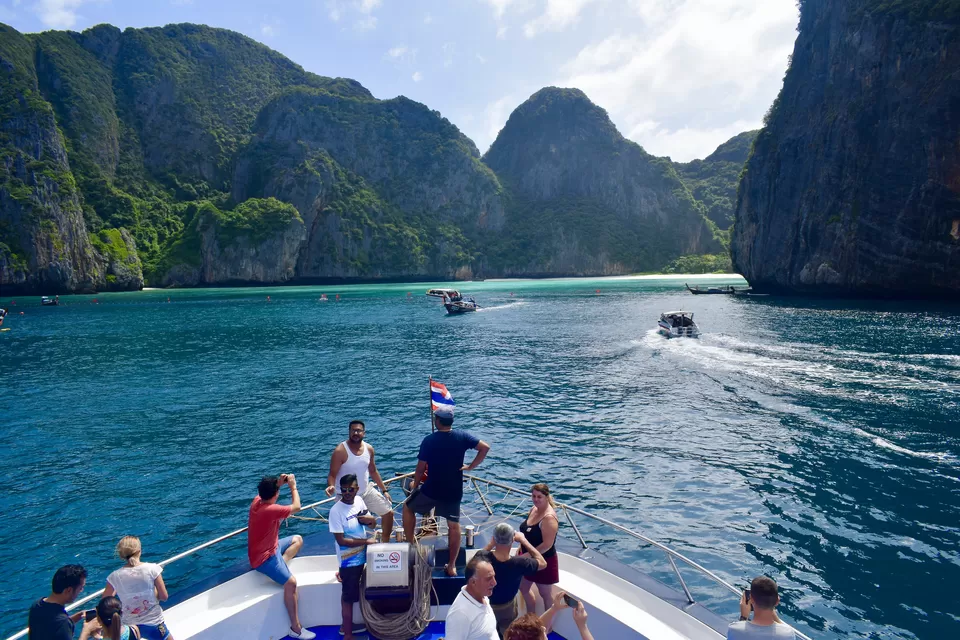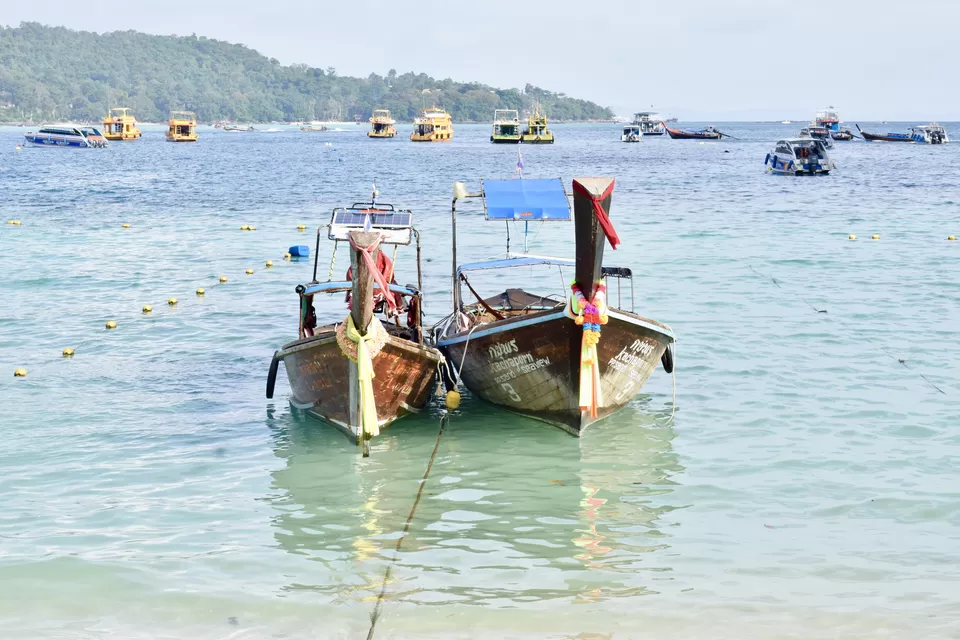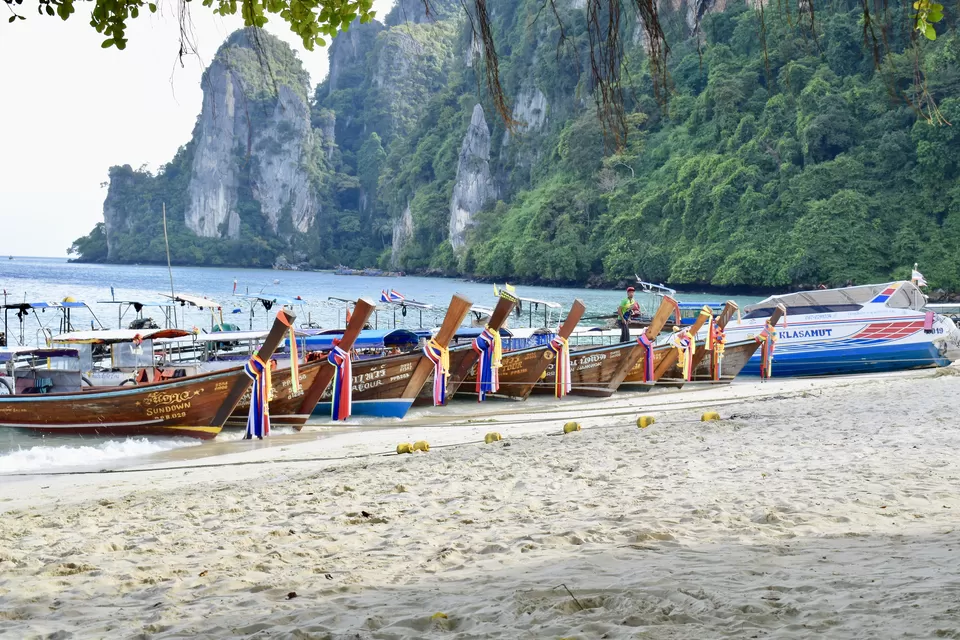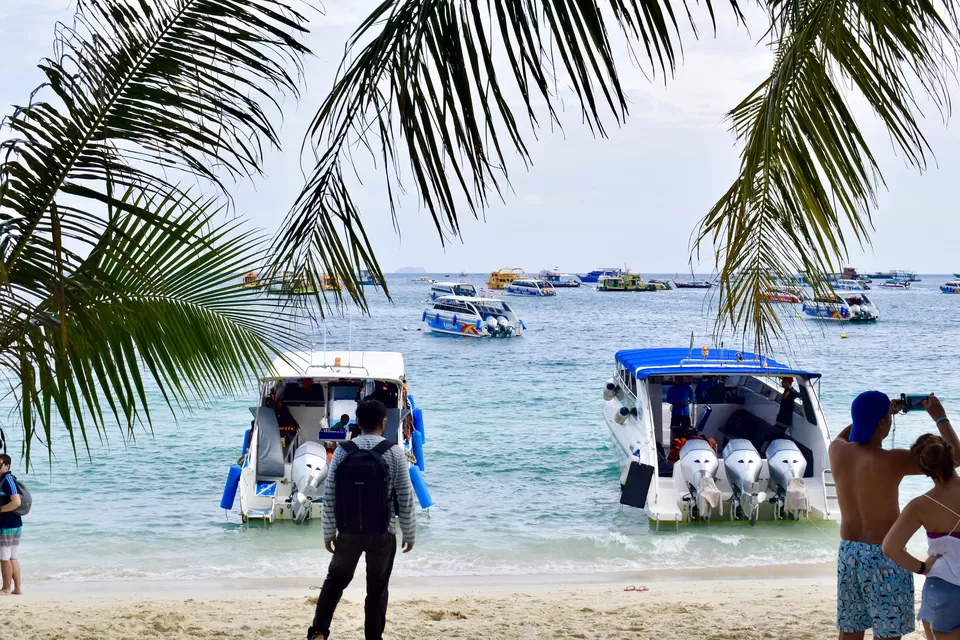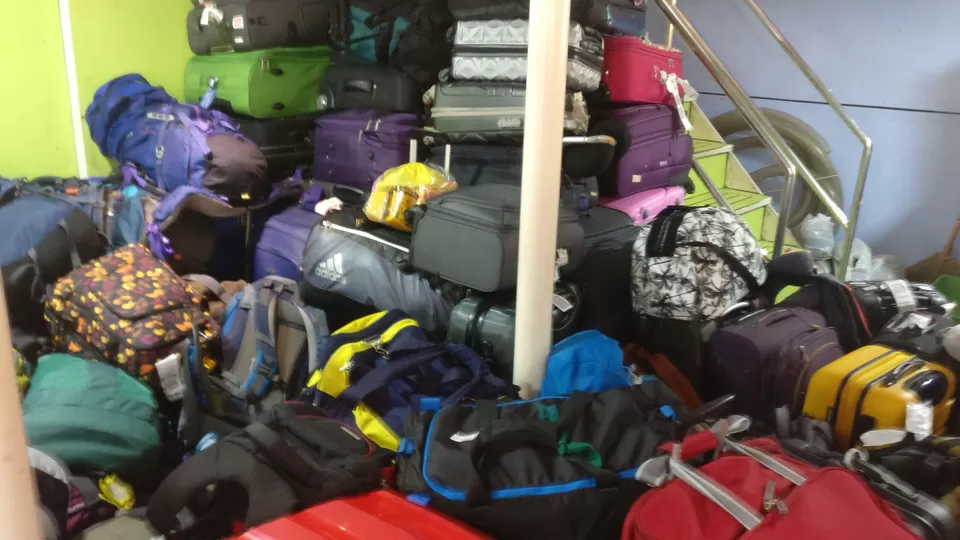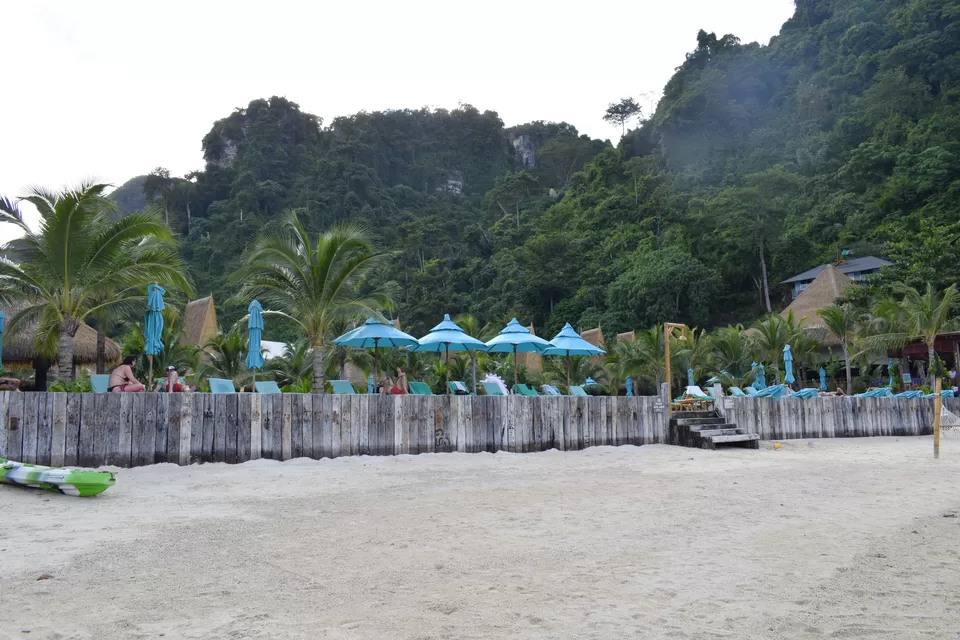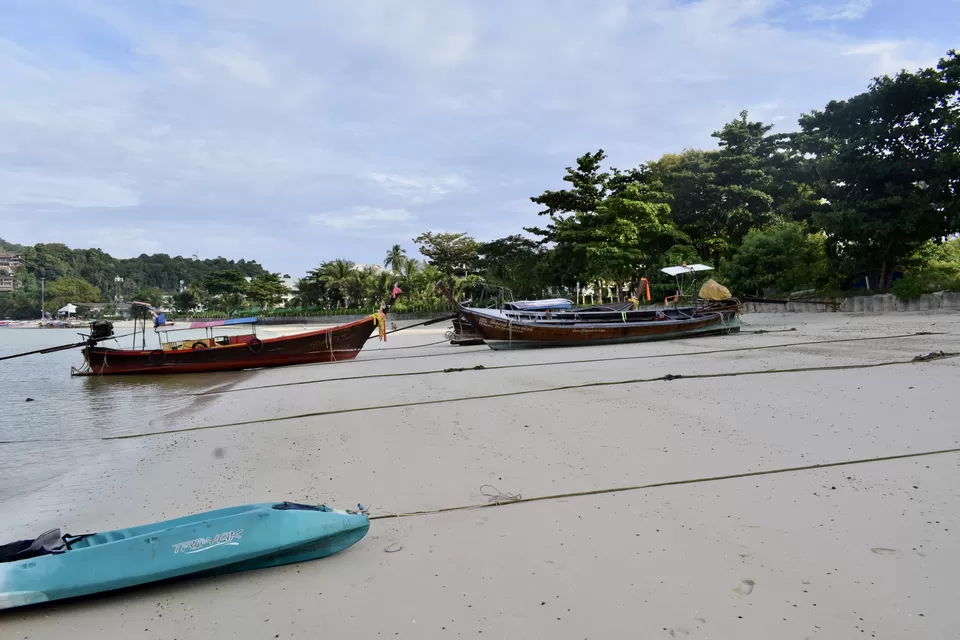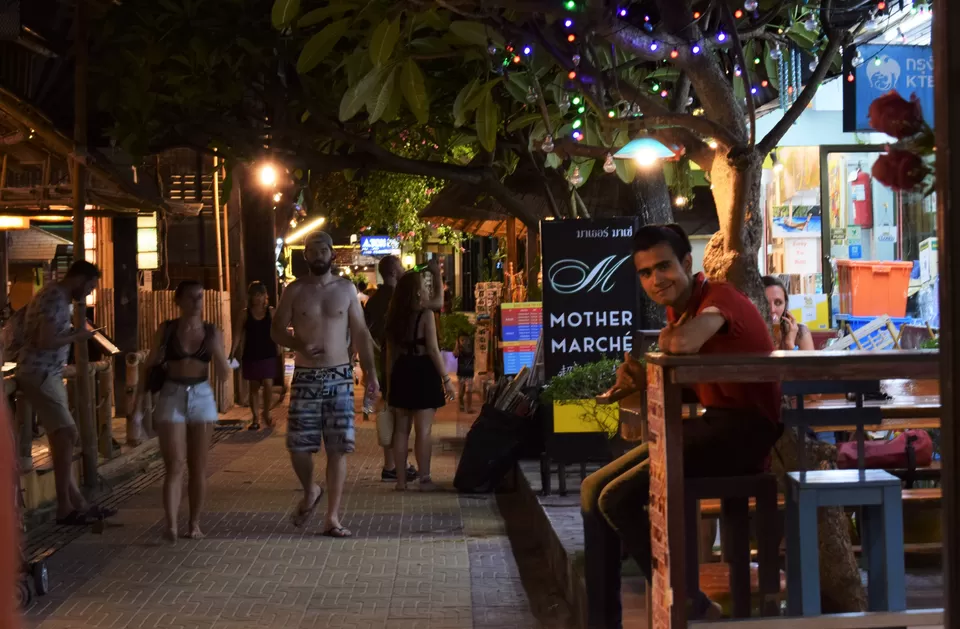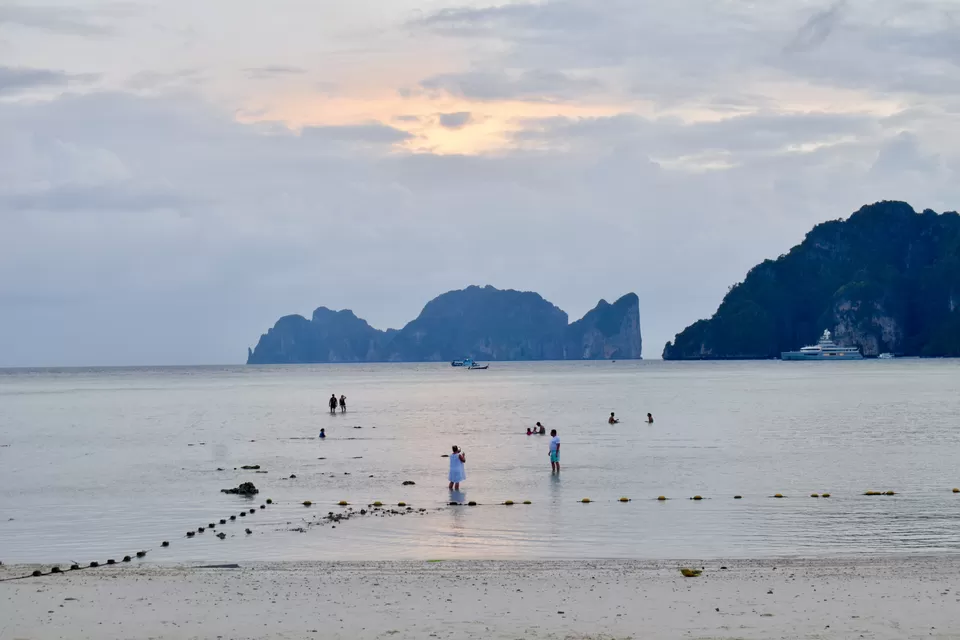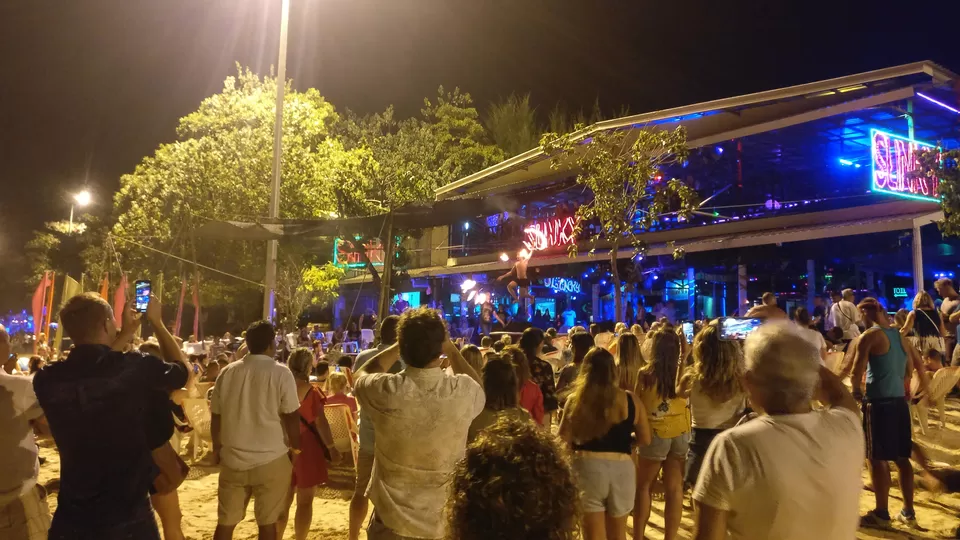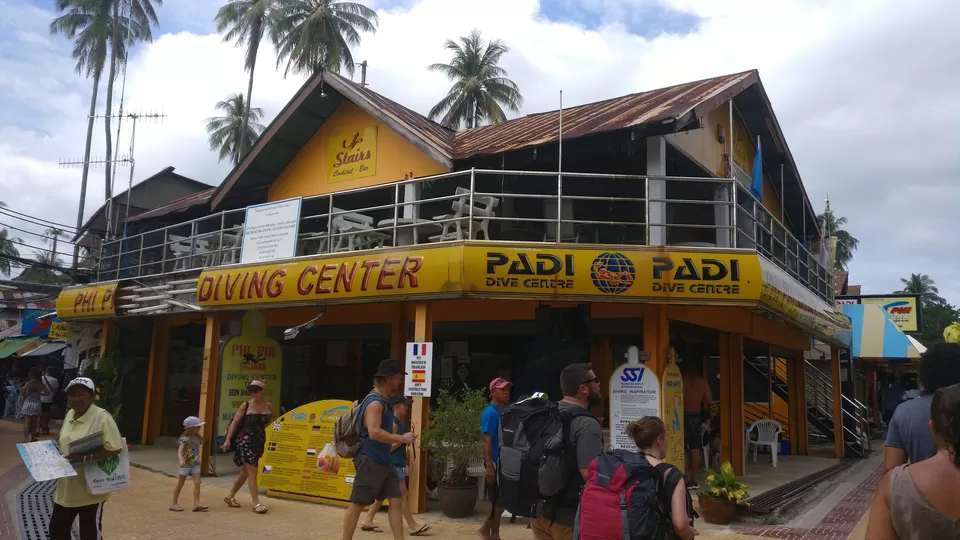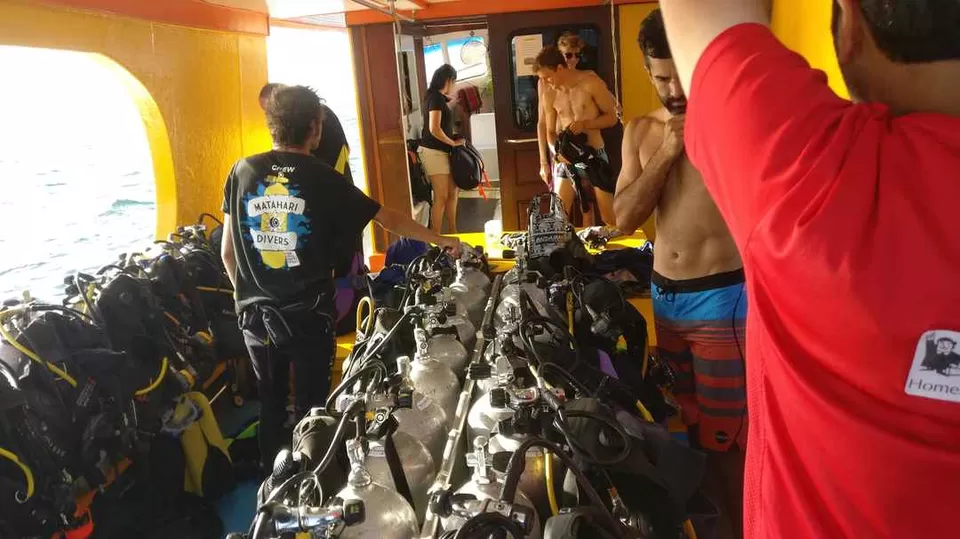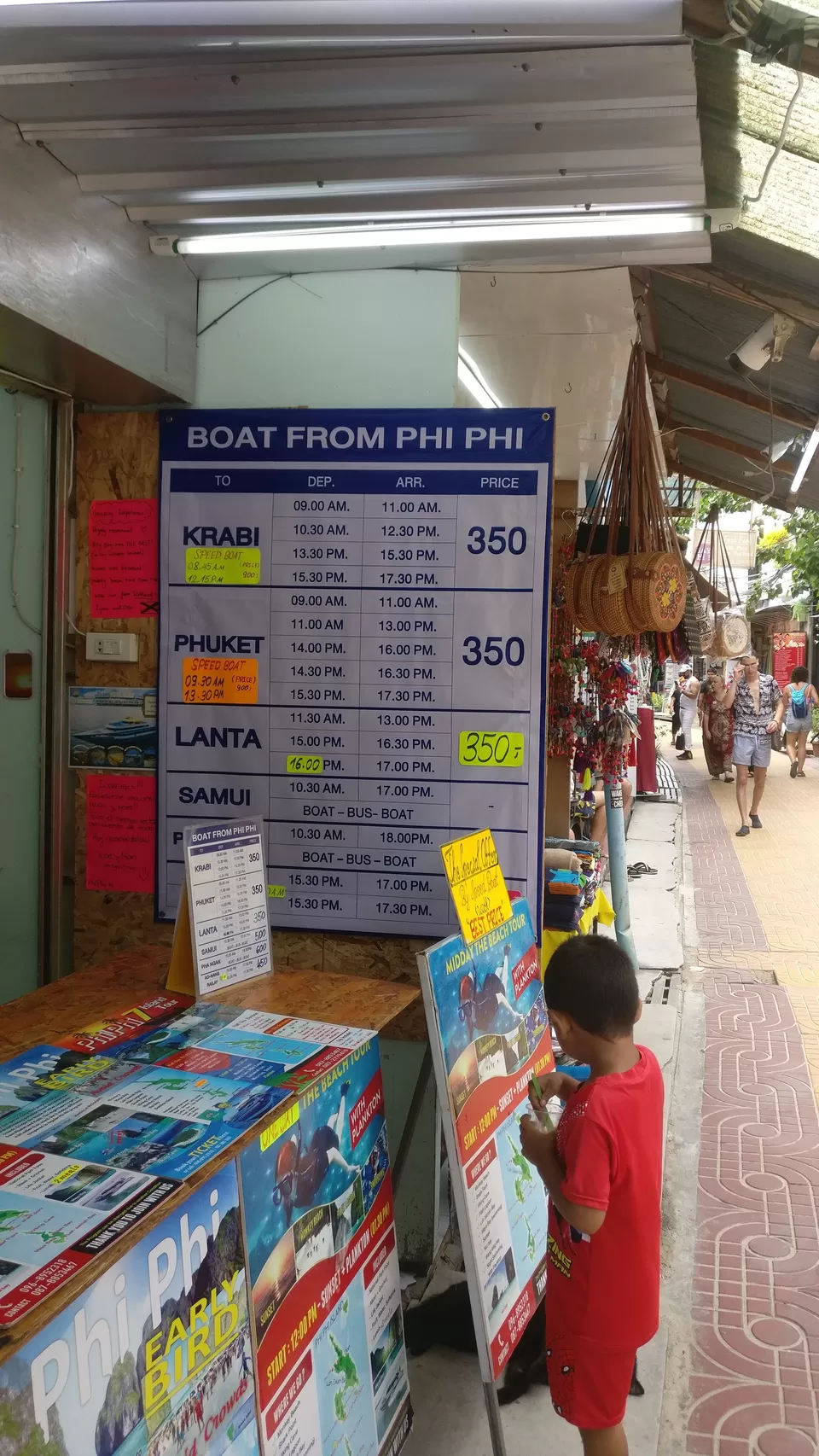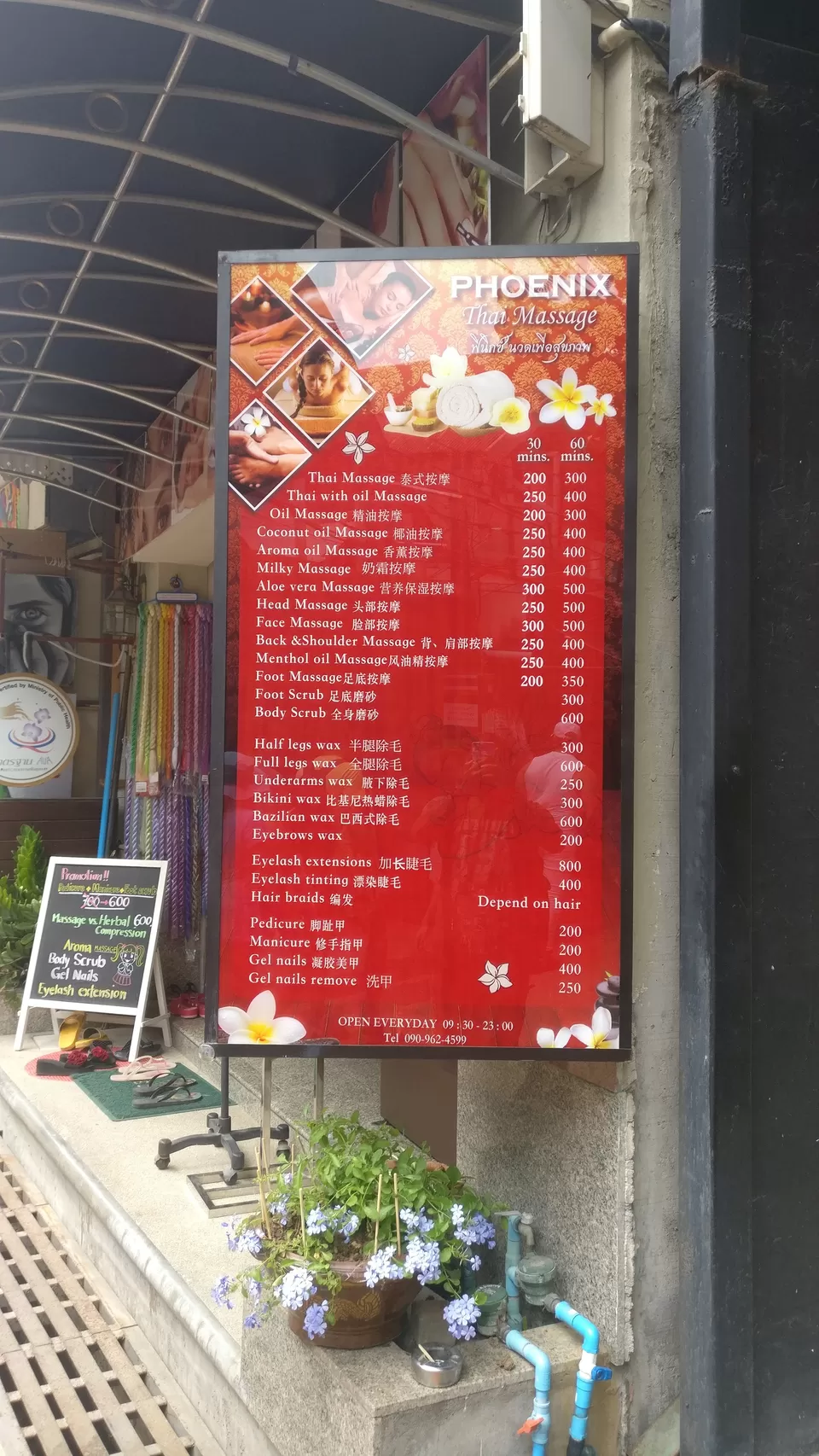 Scuba diving
This is the most exciting day & waiting for it from many years. Yes finally we are going to do skuba diving in Andaman sea. There is a fee of 400 Baht to entry into national park area. Boat started at 7:30AM & within 20mins we were near diving spot. Since we were all new to skuba diving there was one instructor for two of us. On the way in boat journey instructor will brief the symbols & safety precautions. Remember swimming is not prerequisite for skuba diving. Our first diving spot was near maya bae which lasts for 40-45 mins. After initial sip of salt water into the mouth everything was fine. Once realized floating is comfortable, instructor will take us inside the water & keeps on checking everything is fine. Photographer comes in between & clics pics or records video. Water was very clear & felt like we are in side ocean aquarium. we were lucky to see many ocean creatures including fishes, star fish, small shark etc. After the first dive , there is gap of 45-60mins where lunch will be server, fruits will be provided. Boat travels to the next destination to dive in.
During the second dive everything was perfect & witnessed turtles as well. Even dived into the cave area this time. Maximum depth was 12 meter & lasted for 40mins. Experience was can't be explained in words. Everyone should try at least once in a life time. After the skuba dive, collected our photos & headed towards Phuket to the next destination. It was very short stay in Phi Phi & wanted to stay more. We had booked airbnb house for one night stay near to Phuket airport & place was felt like staying in a village. We booked a car for rent for next 2 days with delivery to the hotel.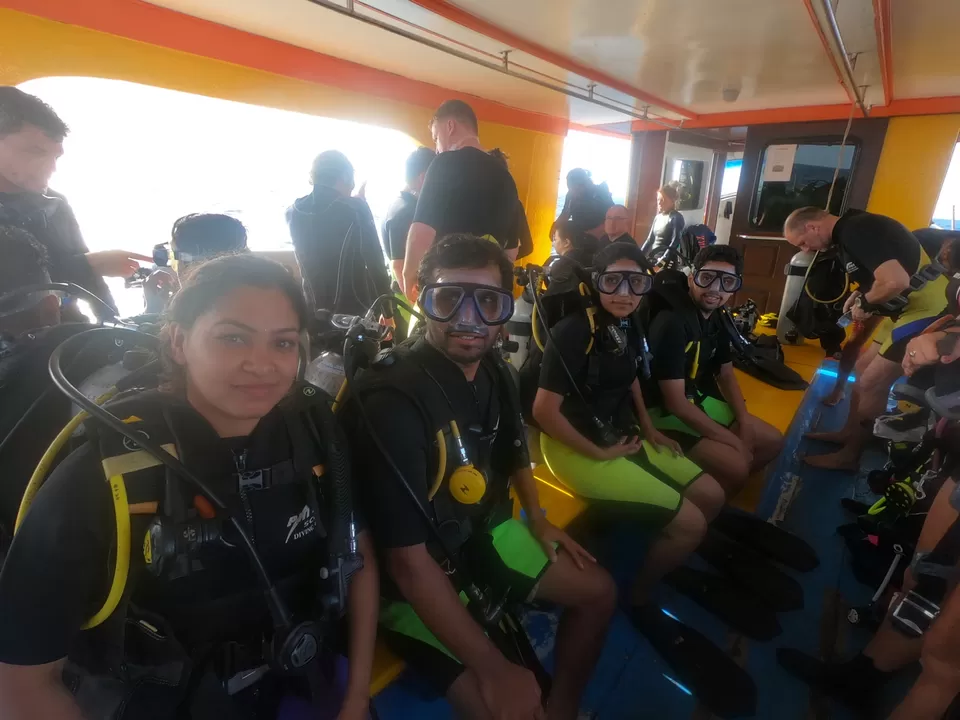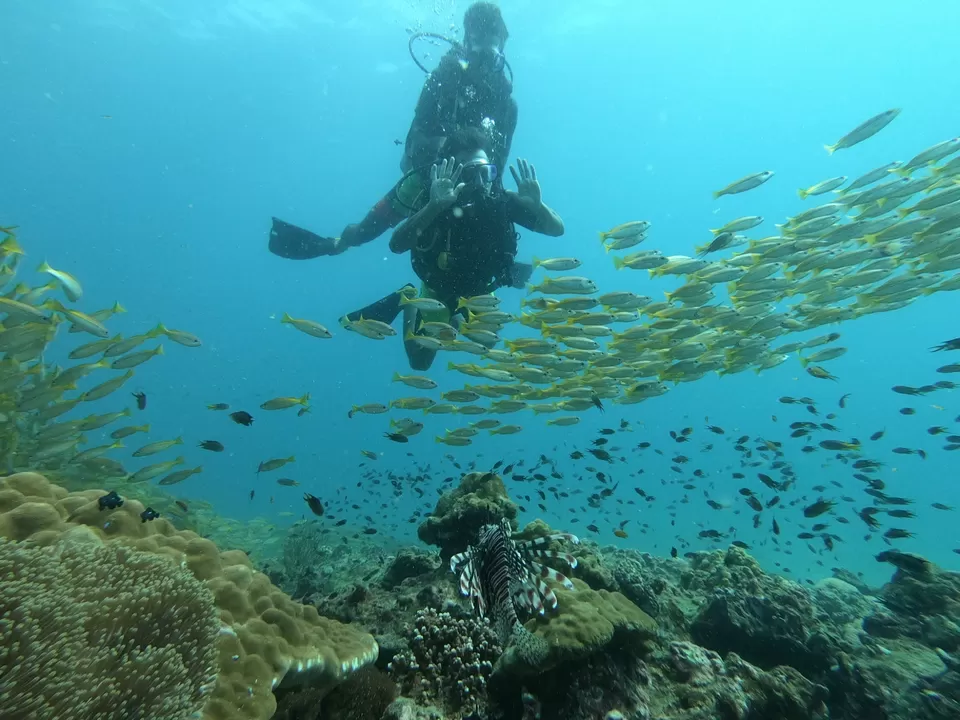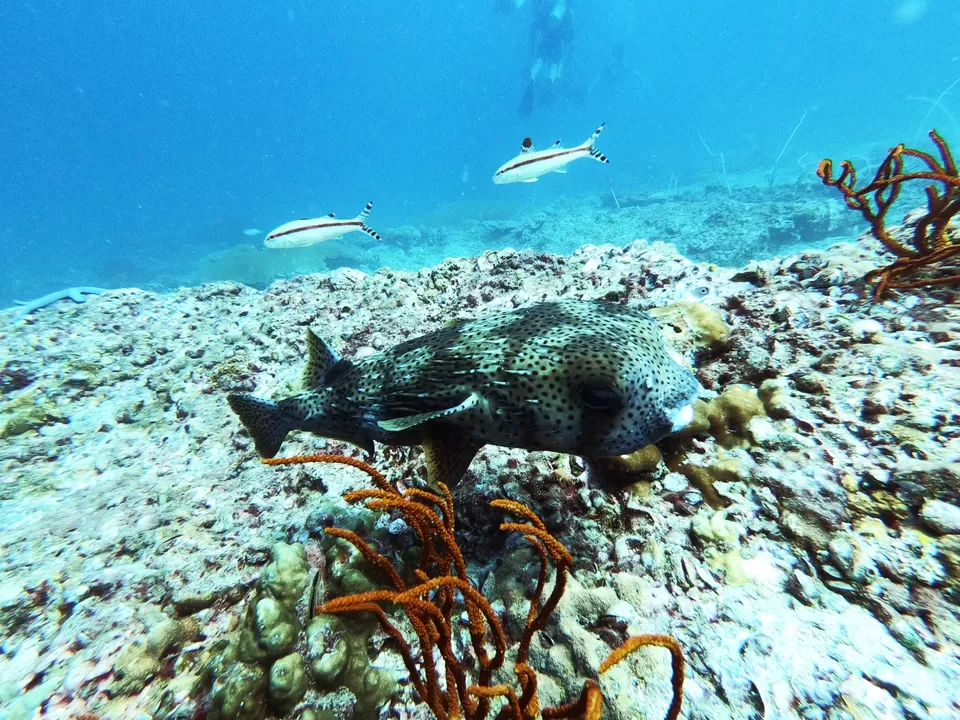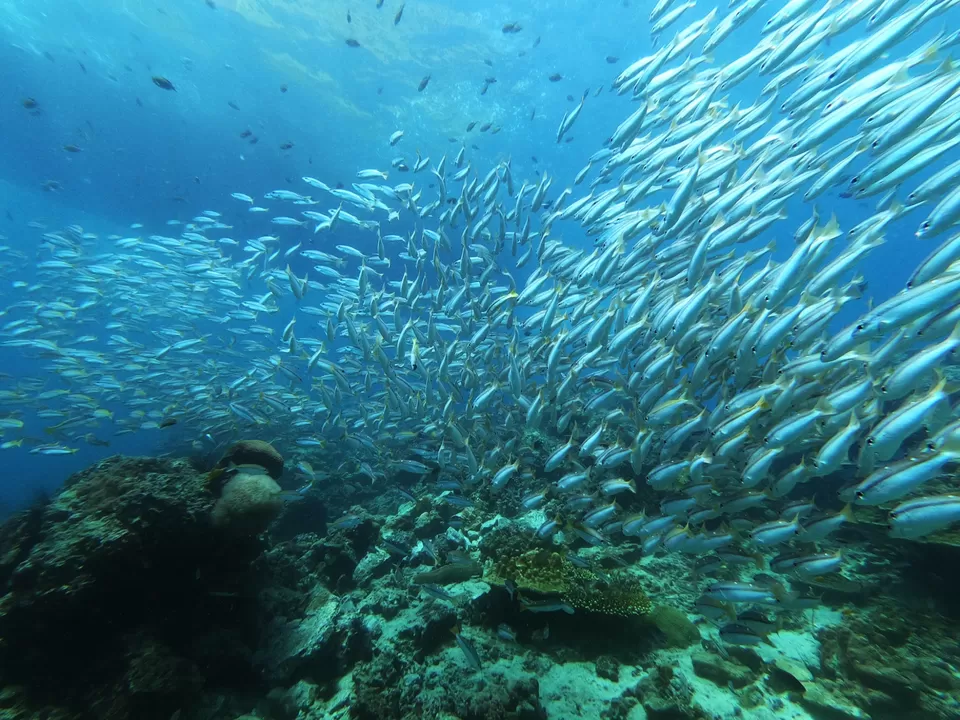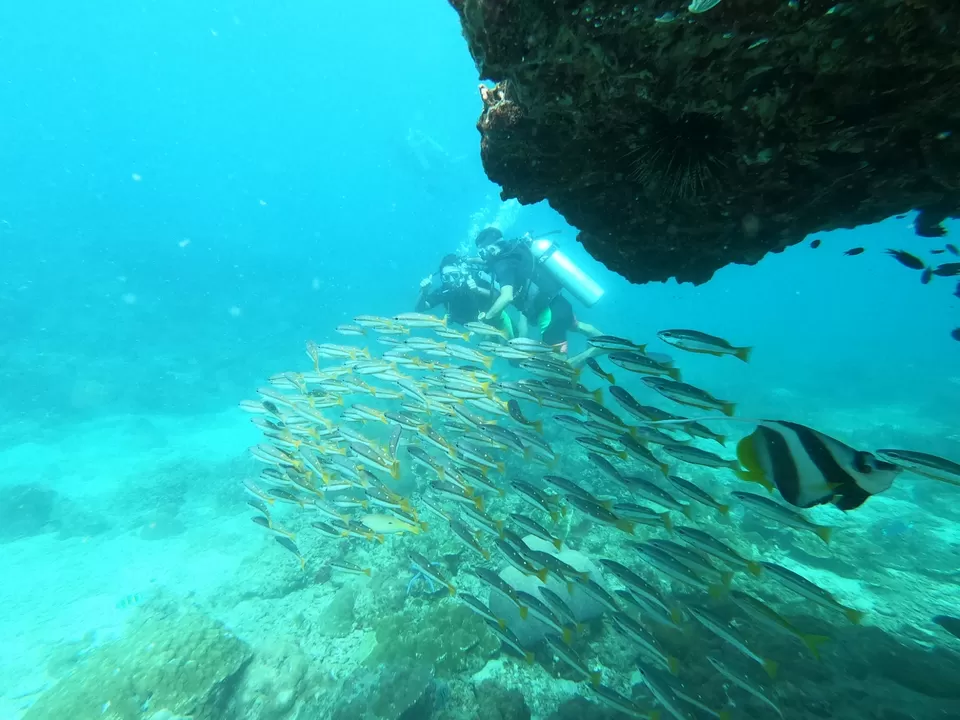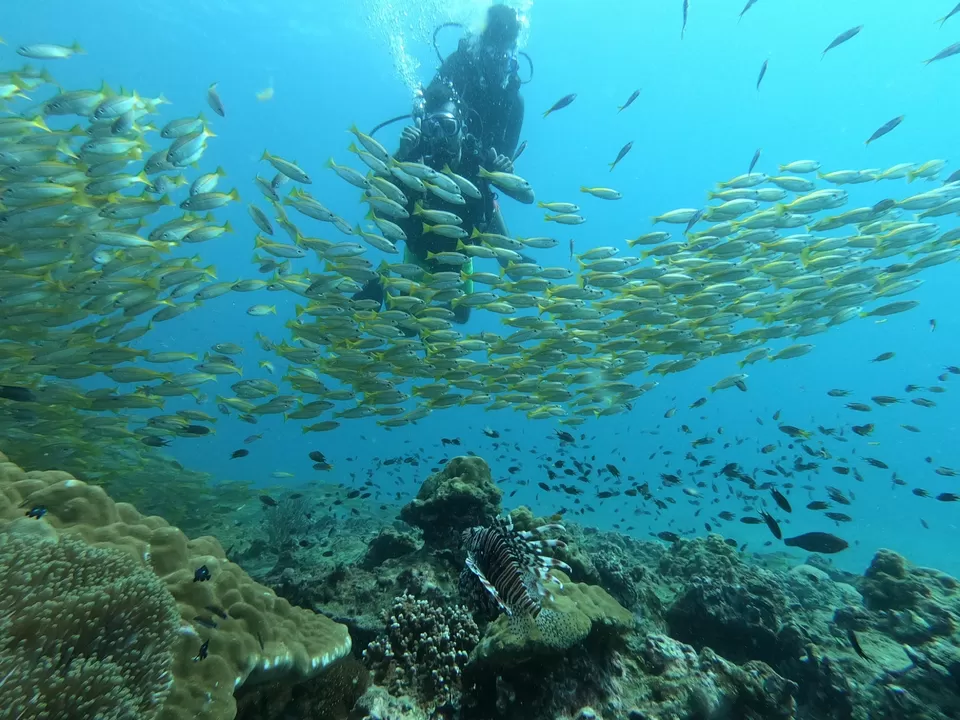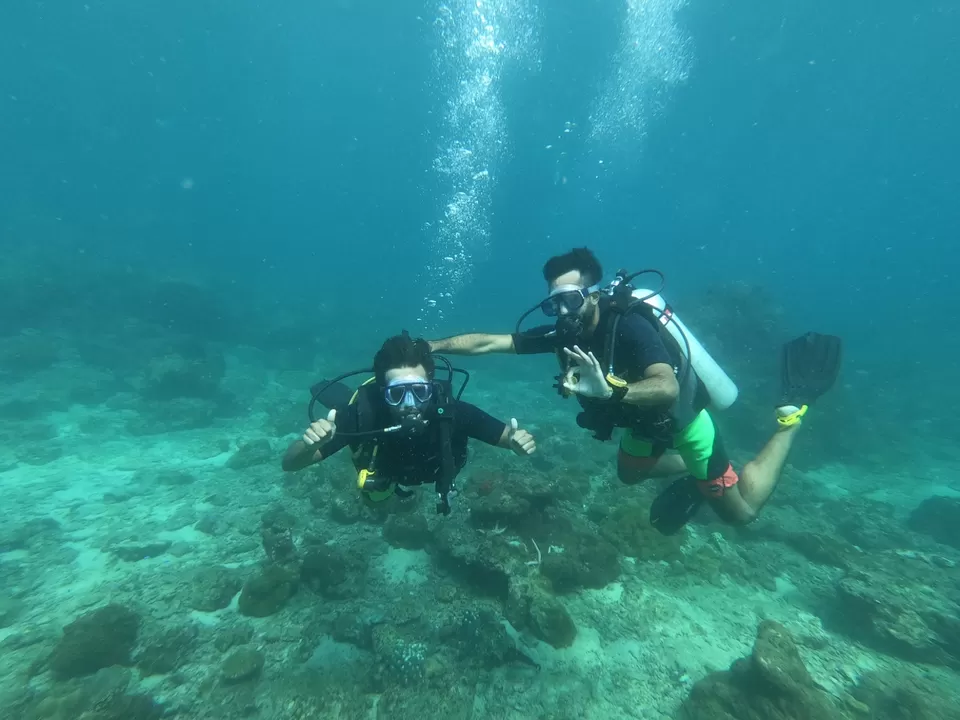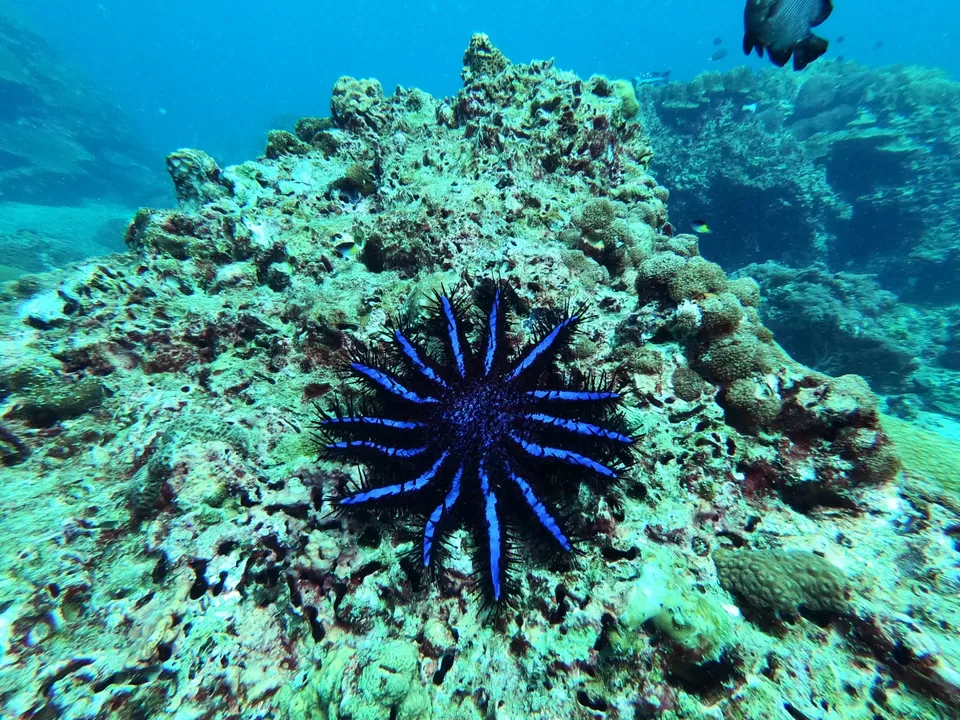 Samet nang She, monkey temple, Khao sok national Park
Vacation never ends without proper road trip. We got Toyota vios 1.5L sedan auto transmission car for 1800Baht for days. After requesting we don't need advance money back since this is going to be last part of our Thailand trip. They agreed not take any advance from us. There were some minor scratches & dents to the car. But car condition was very good.
It was kind of lazy day as planned before. we started around 10:30 AM. First stop was samet nungshe which is 50km from the stay place. Had requested owner to keep our excess baggage at store room & will pick it up next day. Samet nangshe is beutiful view point at Phang nag bae. From the parking place can go by walk (entry fee 30Baht/person) or by designated vehicle for 90Baht/person. We preferred to go by walk as it would burn some calories.It takes maximum 10mins to reach to peak. After witnessing beautiful view , taken few nice pics. Don't forget to capture nature in natural eyes before recording into camera. There are small shop which provides basic needs. There is option to stay at night in cottages or tents as well. Place is facilitated with specially designed chairs, huts,tables as well. This place most beautiful early morning sunrise view. After spending some time we headed back to parking lot & had some snacks at the shop.
On the way we stopped at a cafe as all of us were hungry around 16:00. Surprisingly seen lot of tourists vehicles taking diversion from highway & while checking with cafe owner , advised to visit monkey temple (wat Suwan Khuha) nearby which one of the major tourist attraction.
It was just 800m from the highway & there are monkeys outside the temple. Buddha statue situated inside the cave. We spent some more time as it was not much crowded & started raining as well.
We wanted to go one more Elephant park which is on the way to khao sok national park as per google map. However while checking with locals there it was closed few months back & only short portion is open till 17:00. So without any further option we had to drive our stay area i.e.Nung house in Khao sok national park. My friend driving this time , first time out side India & he enjoyed his drive in almost empty roads into the nature.
We reached our stay at 18:30. Khao sok stay area has lot of resorts & cottages along with restaurants. We had booked cheapest stay in Thailand here i.e. 350 Baht for 2 bed room cottage. We liked the place lot as it is not much crowded & located at center of nature. After getting freshened up, went out for dinner by walk & stopped at a pizza shop. All the shops/restaurants/pubs will open till 22:00. After getting basic tourist info we had to decide what can be done in limited time for next day.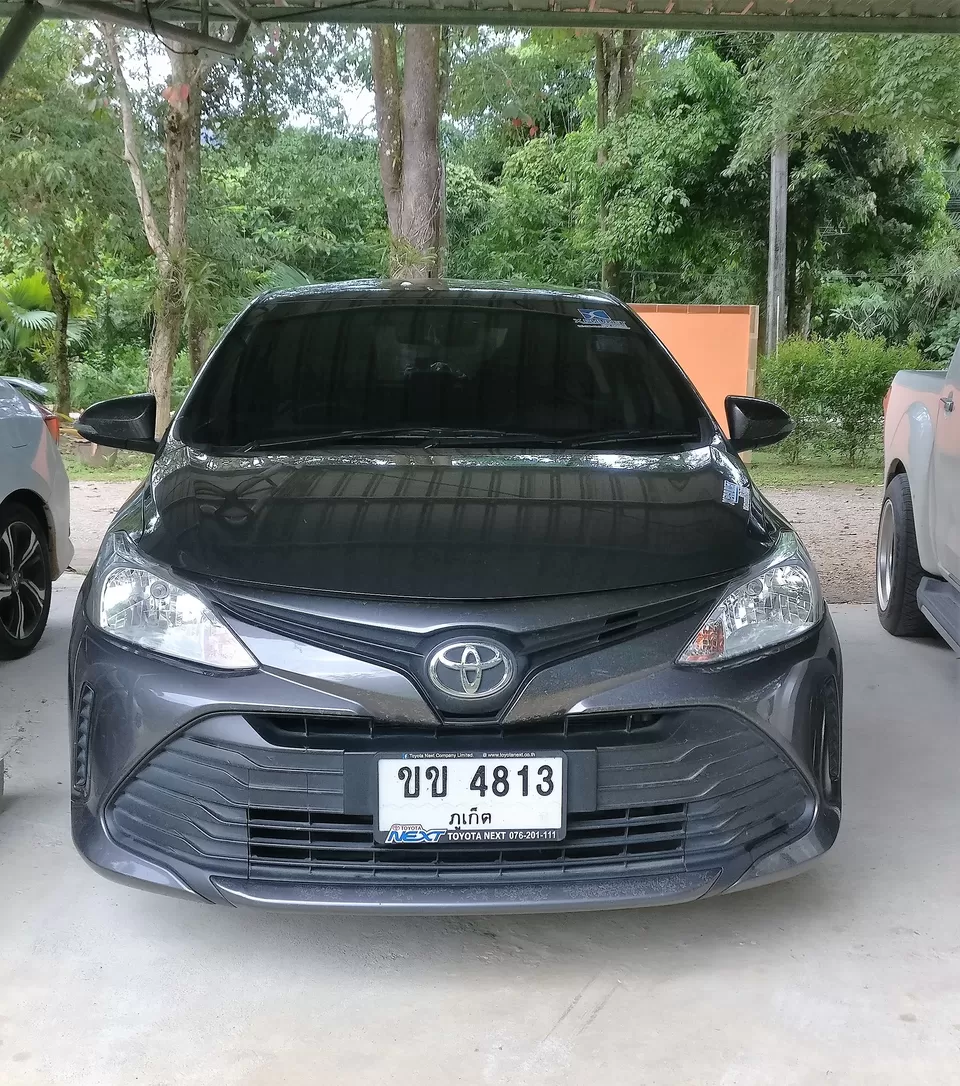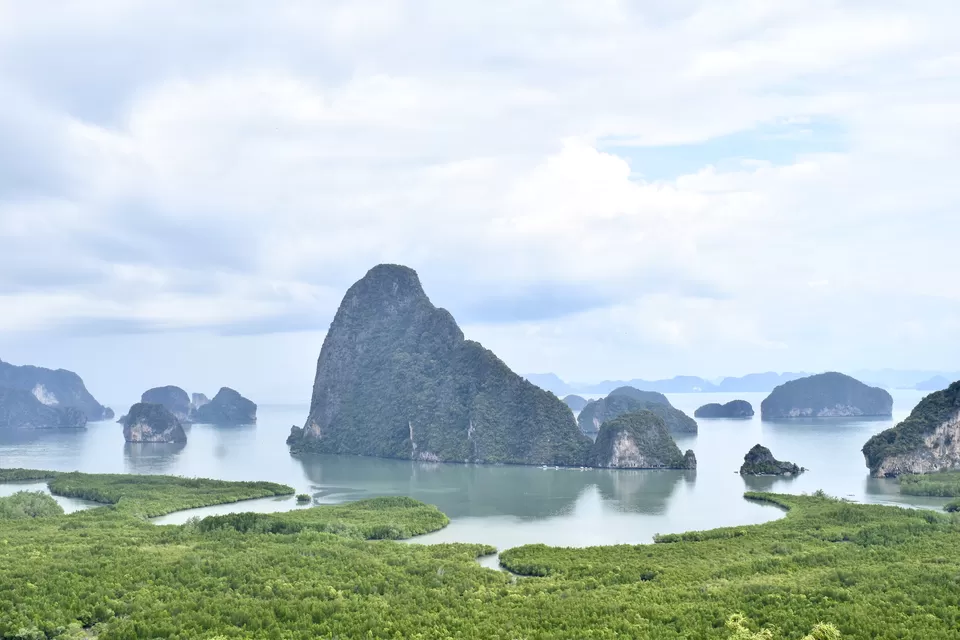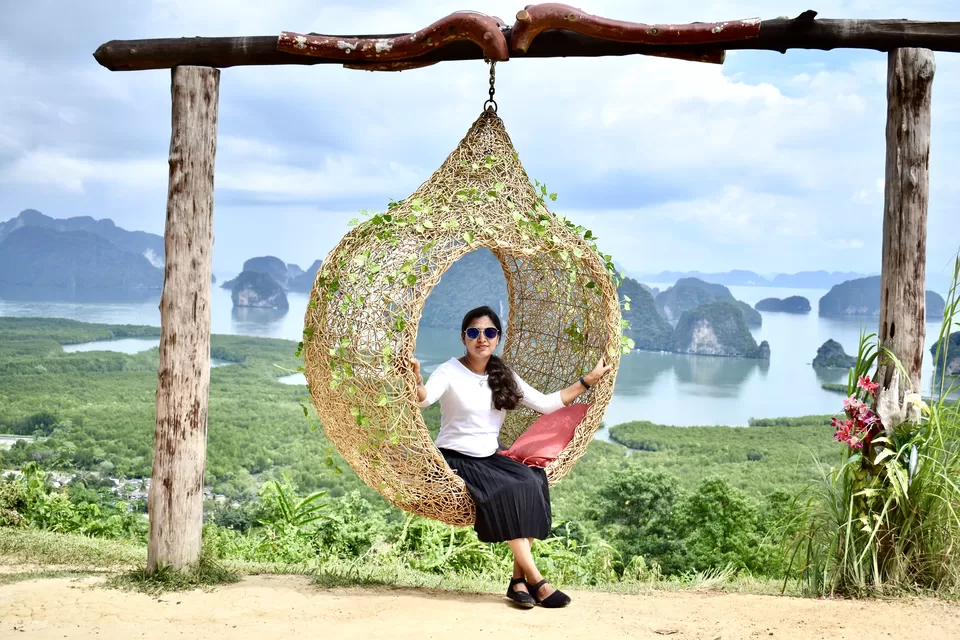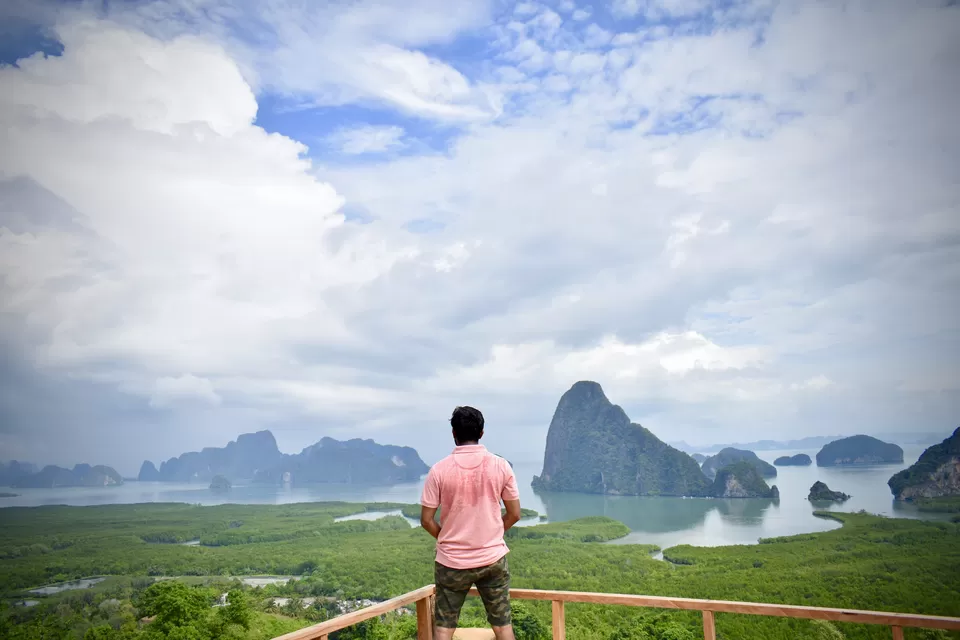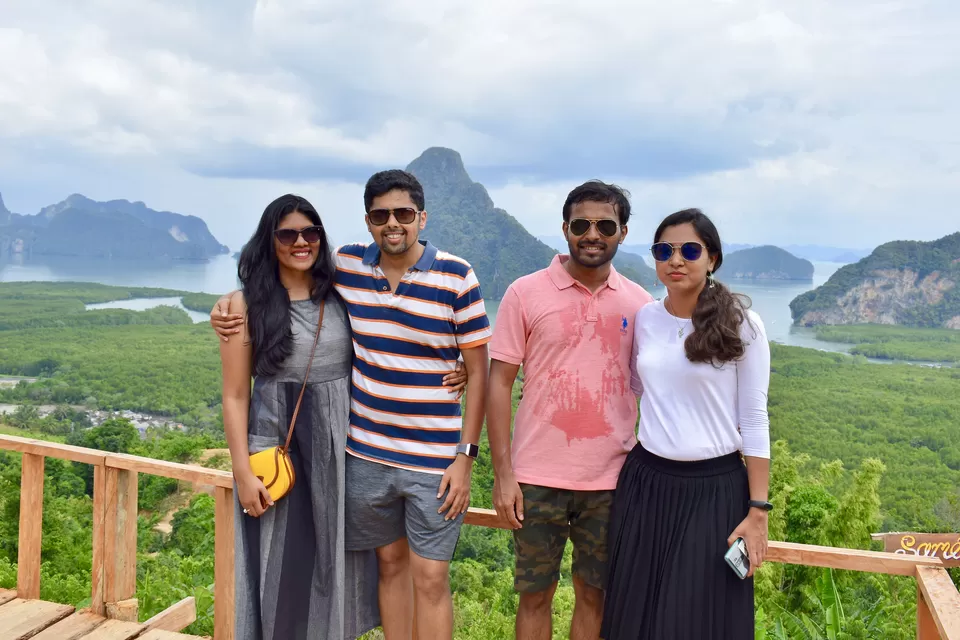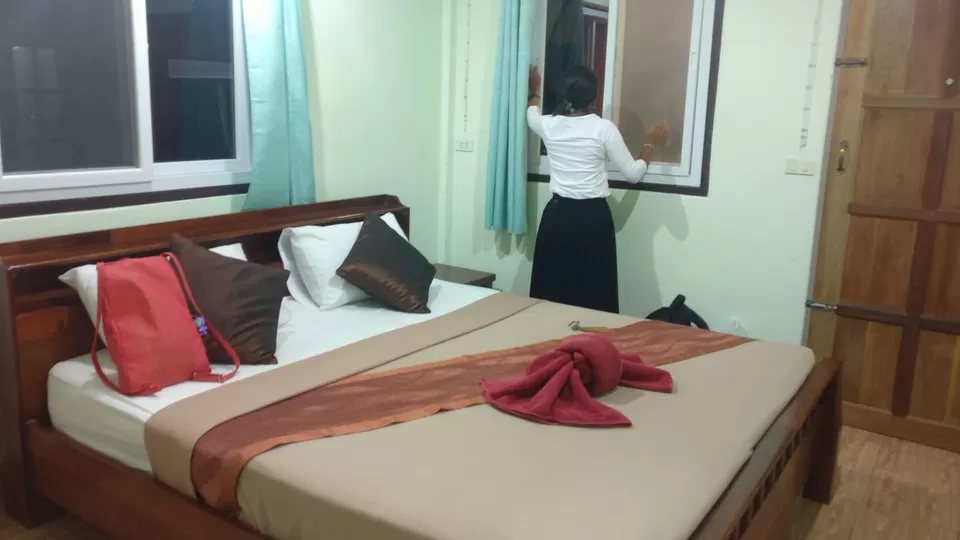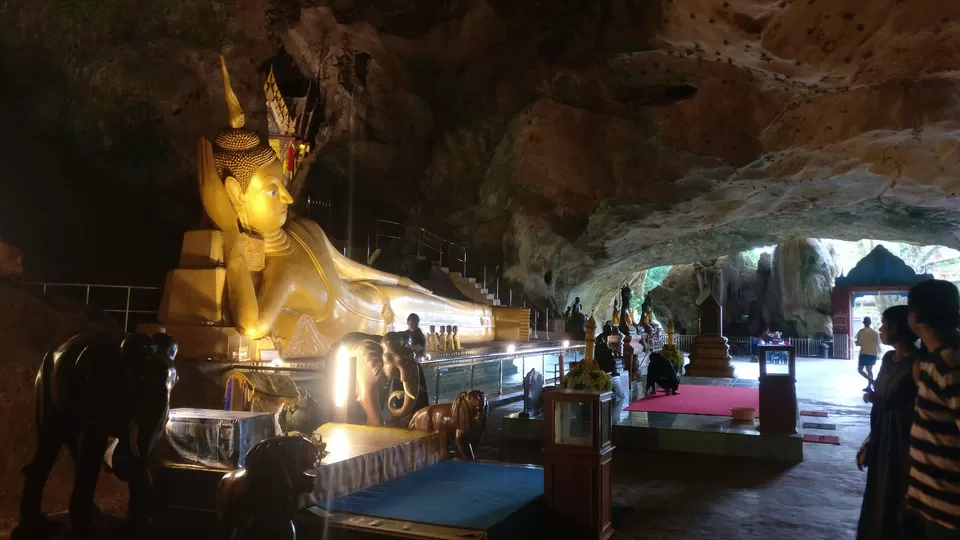 Review: Samet nungshe 9/10, wat suman 8/10
Cycling around Khao sok , flying to Bangkok& India
Final day of the trip. I had woken up bit early & been to a walk around the river Sok for an hour. Khao sok national park divided mainly into 2 parts. 1st part is forest area popular for hiking, water falls. But only till 3km allowed to hike without guide. 2nd part is Cheow lan lake area which is 65km away from the stay. National park is established in 1980 with man made lake. Can browse google for more info. While planning Thailand trip, it was decided to spend time in lake area than forest part. However time limitation & already experienced boating in island tours, we finally decided to rent bicycle & roam around. Rent for bicycle is 100Baht/day. But we hired it for half day for 50Baht. Motor cycles also available there for 250-300Baht/day. Requirement of IDP (international driving permit ) not there to rent vehicle, however if police not convinced may need to pay fine. Luckily we didn't face such issues. We went short bicycle ride covering river banks & monkey temple for 2hours. Journey was good without much humidity. After returning bicycles & shower time to say good bye to the Khao sok. But this is the place to spend many days if anyone likes nature. Lot of activities offered by tour agents like hiking, safari, canoeing, night safari, elephant rides etc.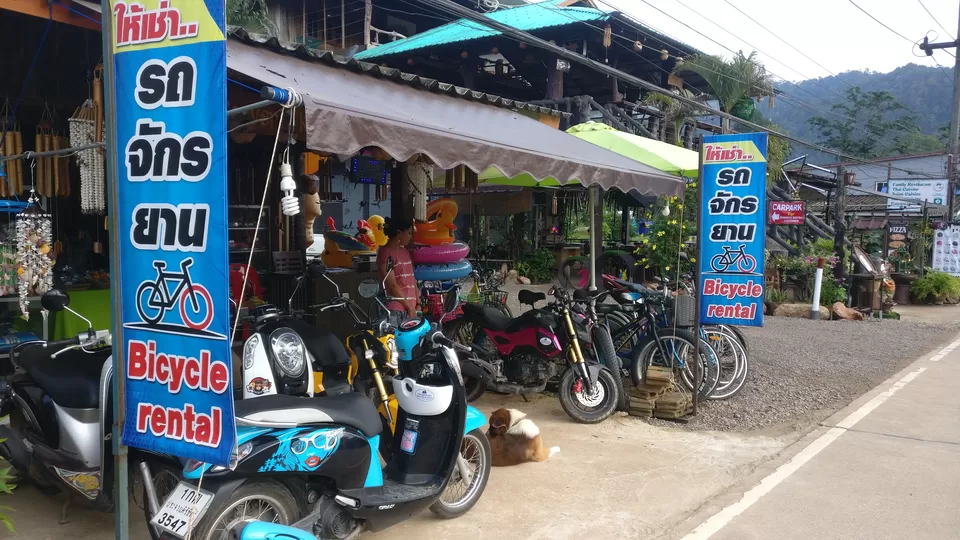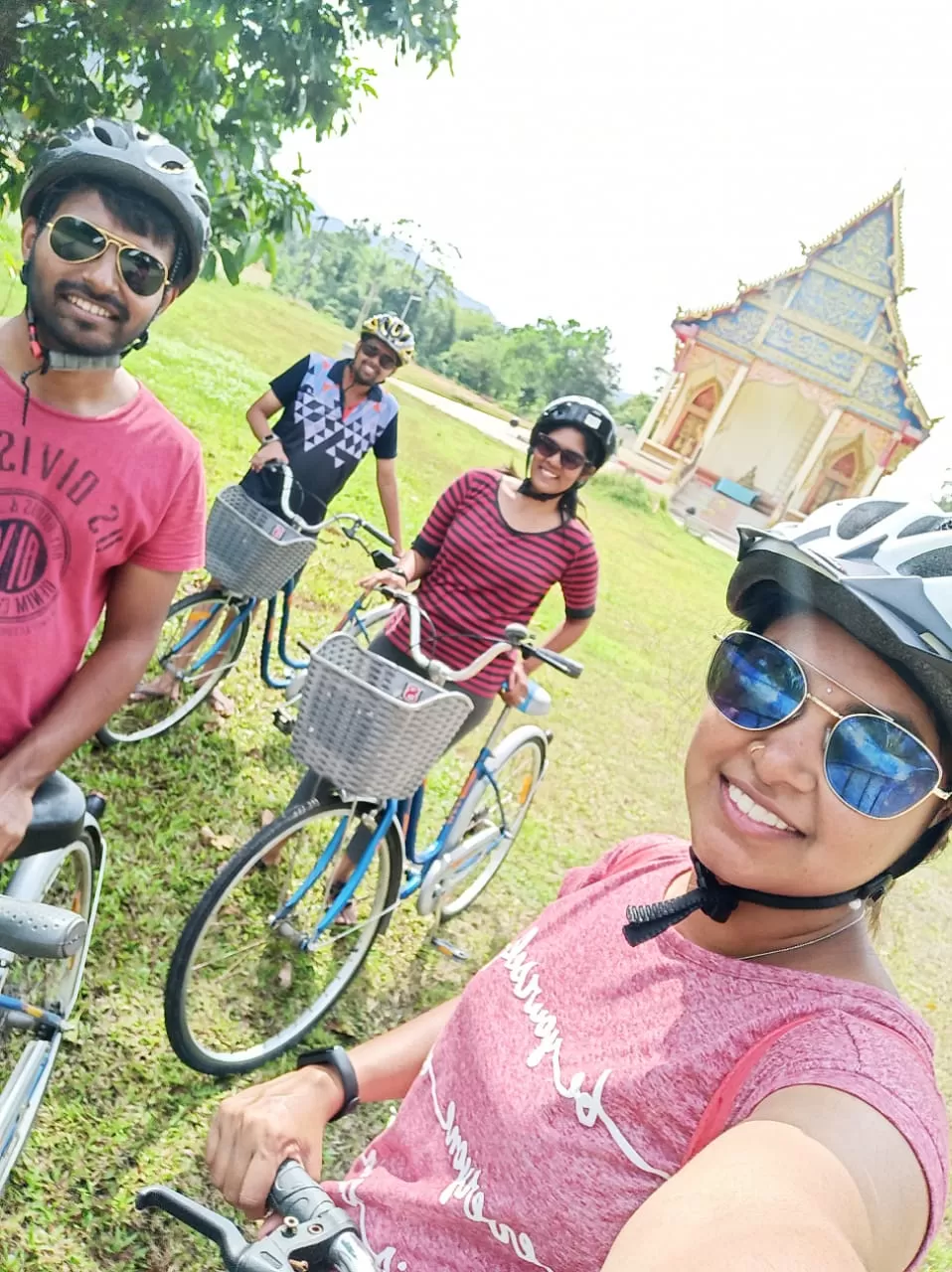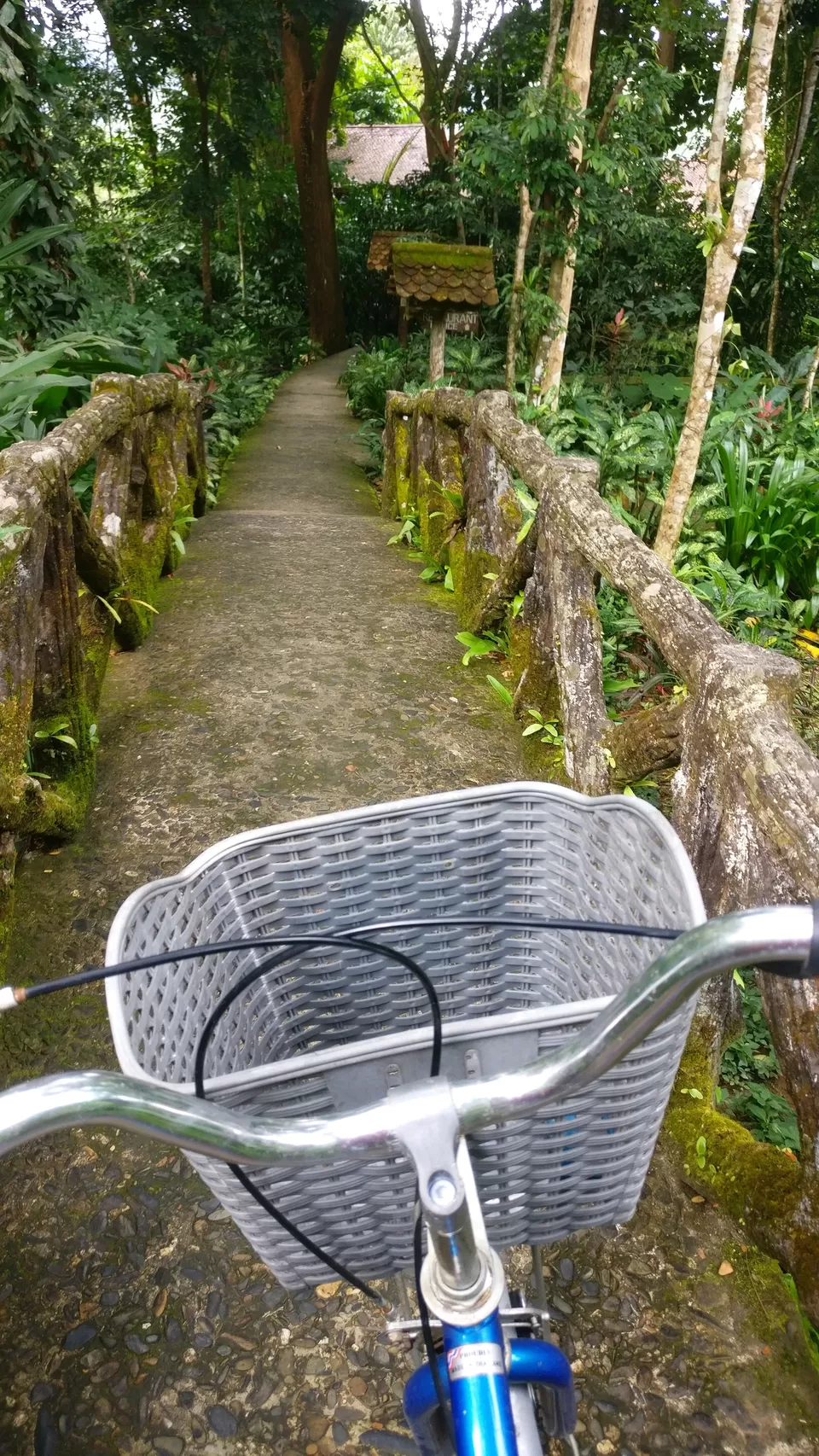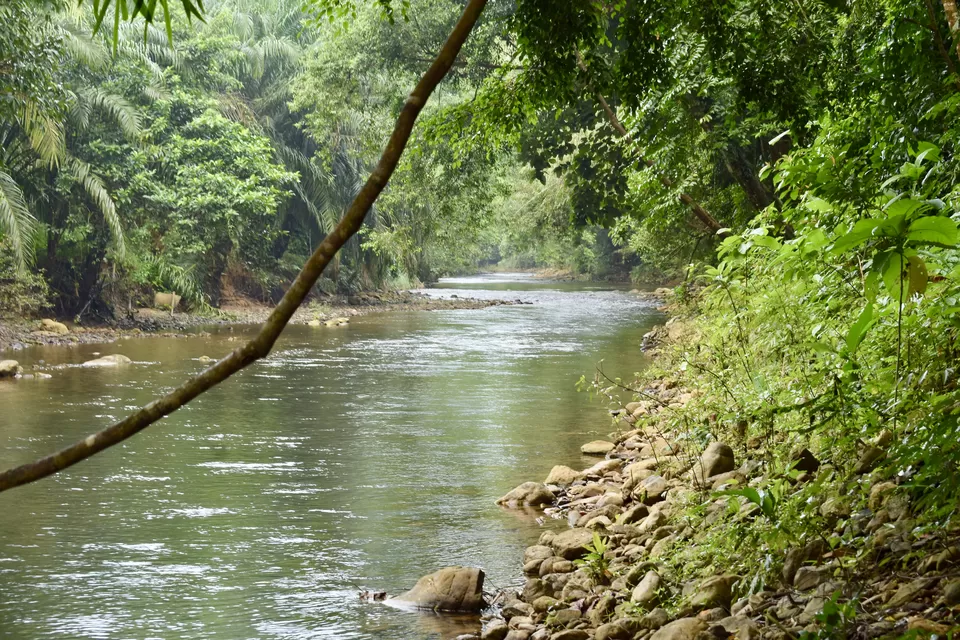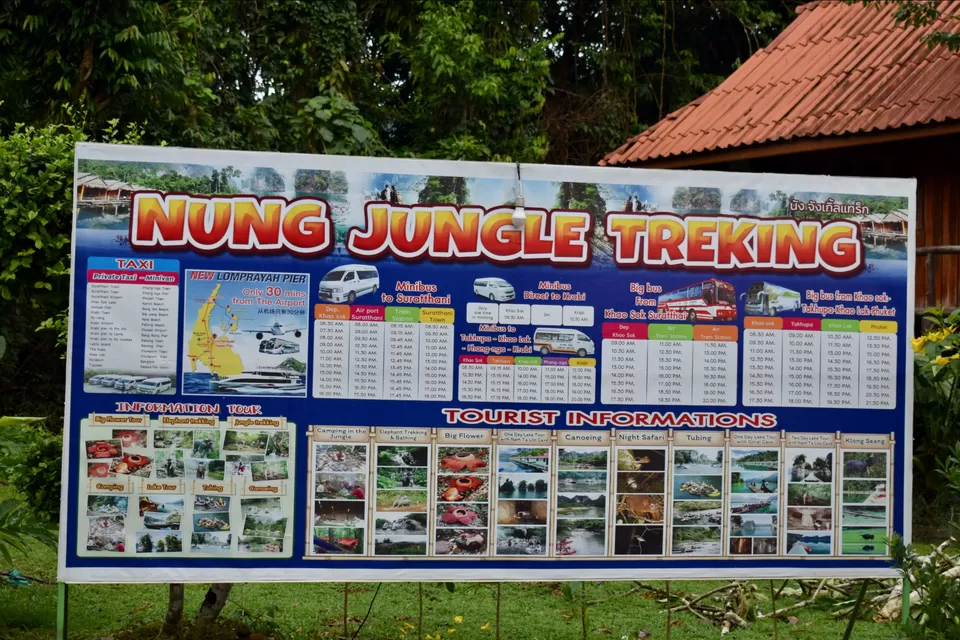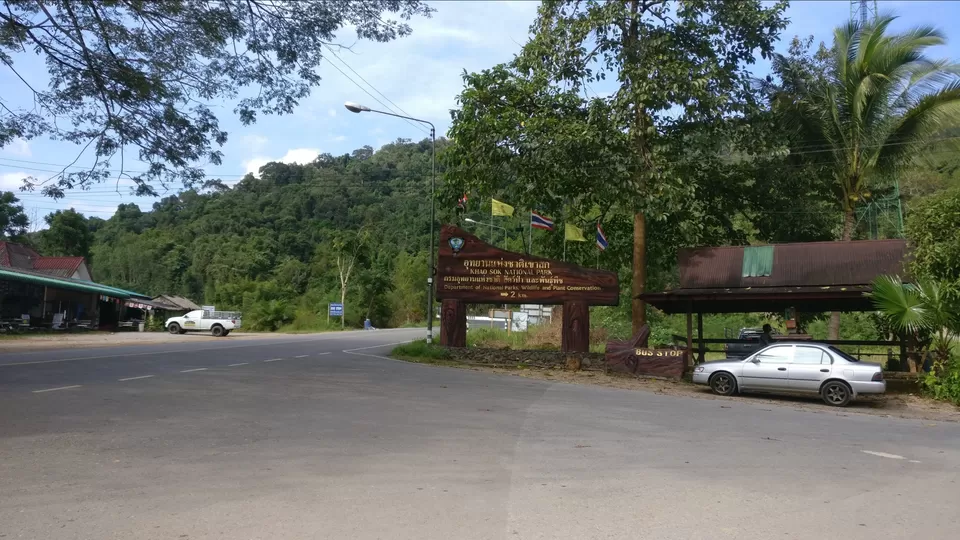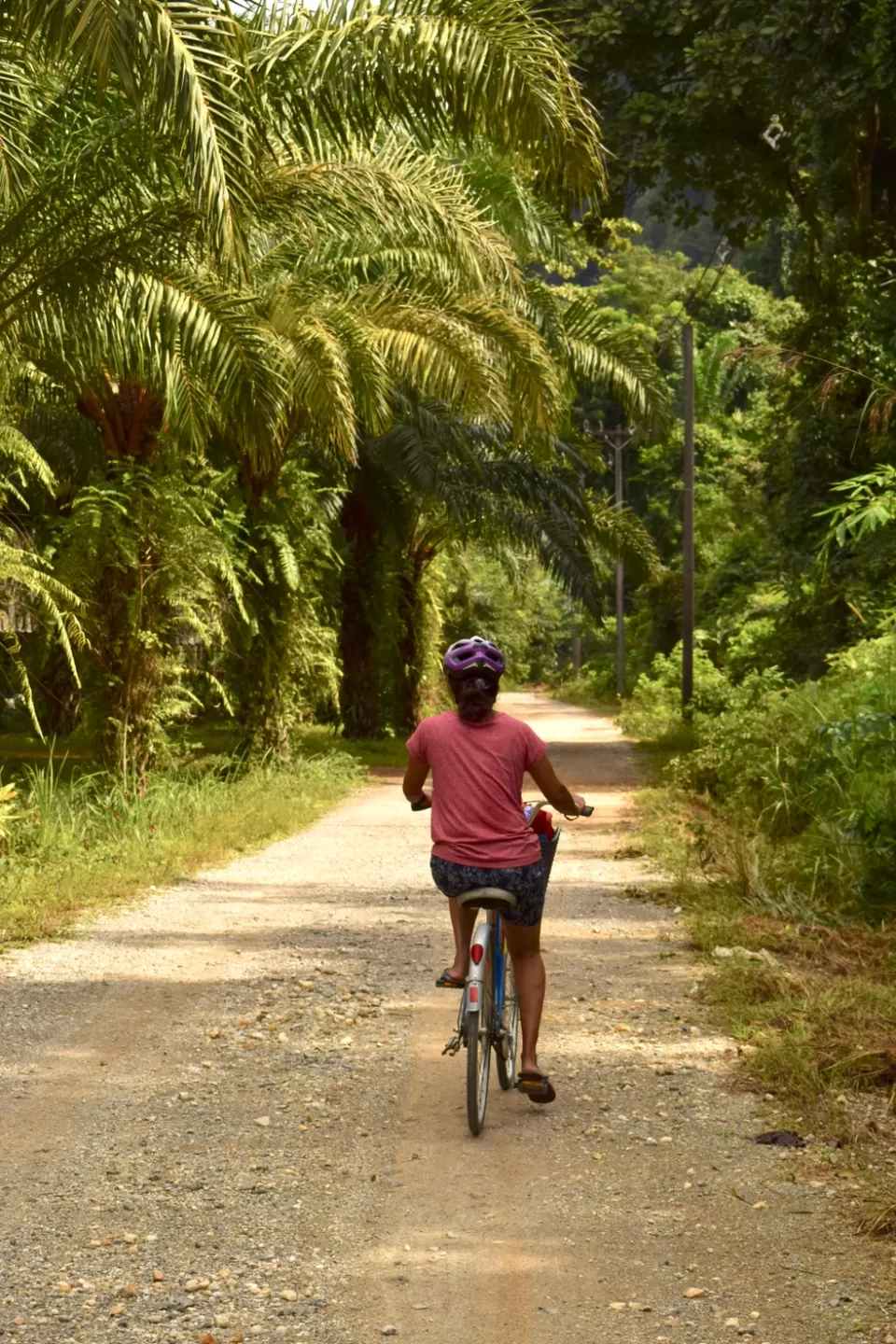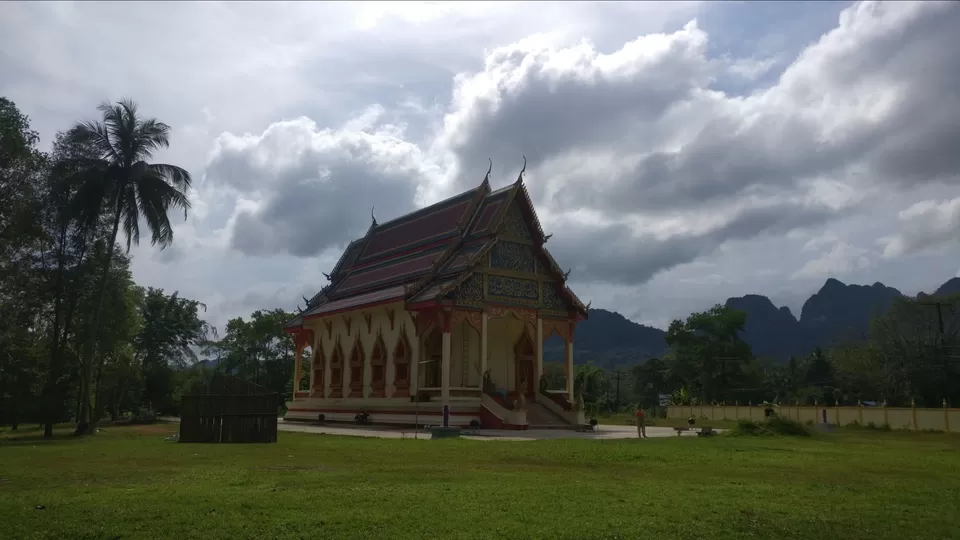 We left the place around 14:00 after finishing lunch & buying some fruits to carry to India. We stopped Khao Lam white sand beach for some time. Sand is not that white here , but nice restaurant at sea shore. since it started raining heavily couldn't stop anywhere in between till we reach Phuket. Our plan was to go Airport viwpoint in Mai Khao beach where flights landing/take off can be seen from very low height. However cars are not allowed to go till the point & have to park at designated location which is 2km away. Can take tuk tuk to reach the view point for 20 Baht/person. Since it was raining we didn't spend much time there & moved towards Naiyang beach in Srinat national park. Naiyang beach is extended so much that airport view point is very closer. We spent some nice time there before heading towards Indian restaurant nearby. Last part of the trip to take back our luggage & return the car to the airport.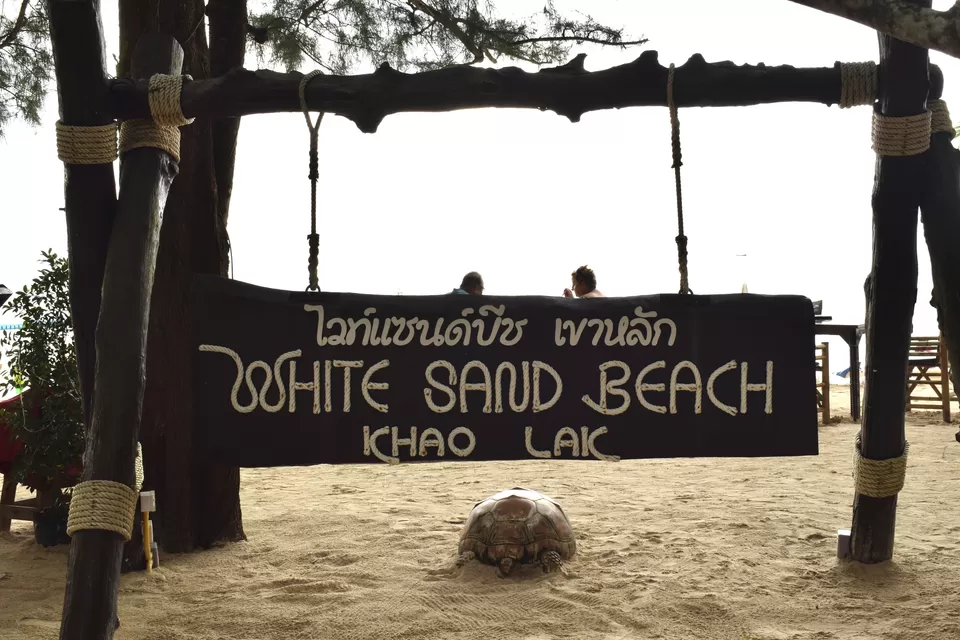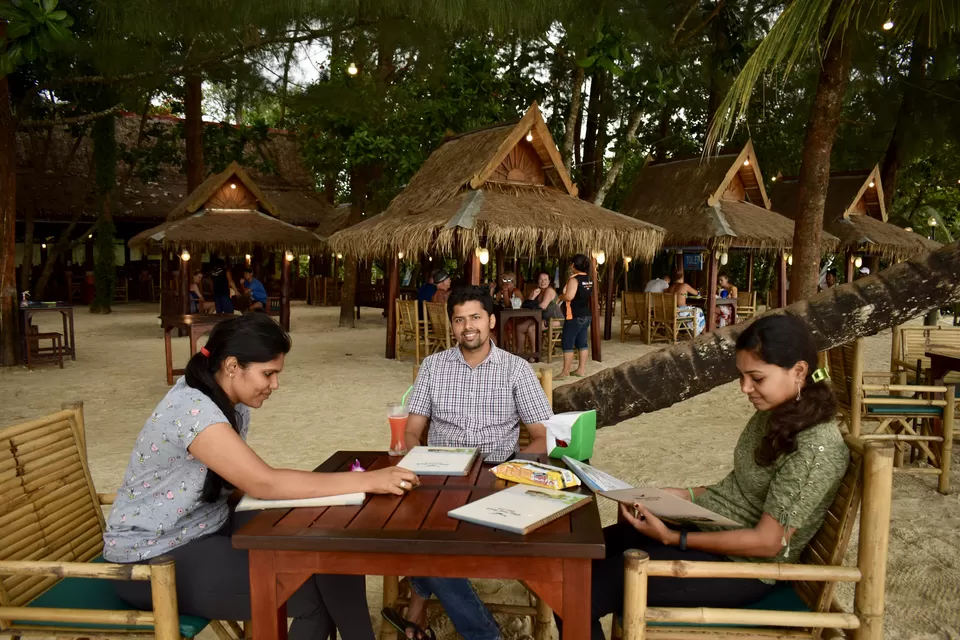 We reached airport on time i.e 20:00, but flight was delayed 1.5h to Bangkok. Luckily we had buffer time for our next flight from Bangkok to India. For the immigration it required to show initial immigration form during entry(keep it safely). So finally fly was at 4:15AM on 04/12 & reached back to namma Bengaluru around 6:30 AM. There is no much difference between prices in duty free shop at Bangkok & Bengaluru.
Review: Khaosok national park 9/10, White sand beach 8/10, Srinath national park 8/10
Trip Expense details:
Below Expense list is per couple in INR & Entertainment category includes all the activities involved. Taxi category includes ferry price & car rental price as well.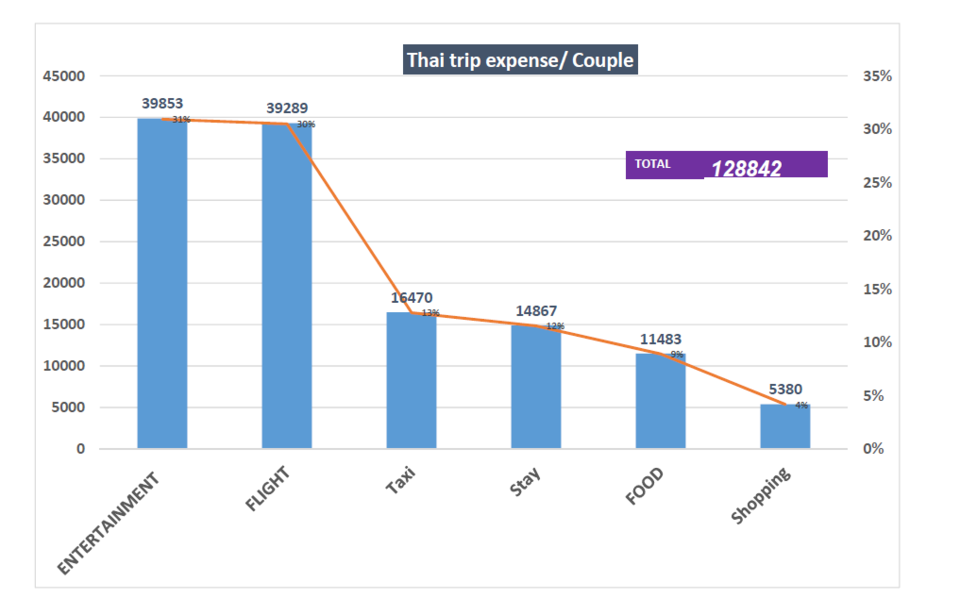 Actual trip plan was schedule was bit different & attached below: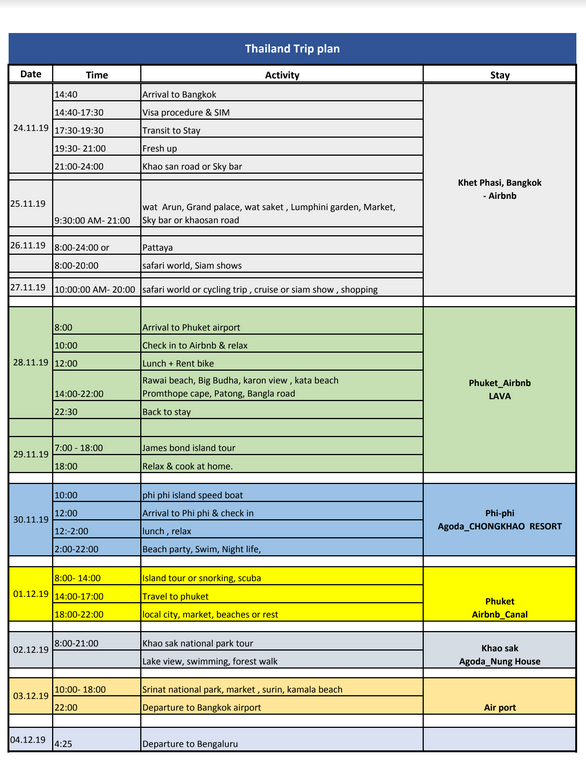 That's how my first Asian country vacation ended & but the memories , experiences remains forever.
You can see video from selected clips in below link
https://youtu.be/3dnestkQ4k8
Frequent searches leading to this page:-
Thailand tour package 3 days 2 nights, Thailand tour package from, Chennai Thailand tour package from Delhi, top Thailand tour packages with price, best Thailand tour packages for couple with price, best Thailand tour packages with price from Delhi