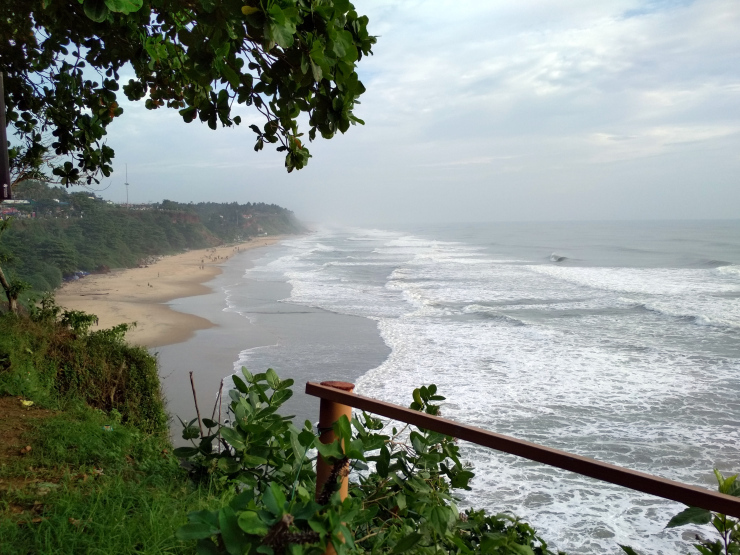 While cyclone Ockhi hit the Western coast of India and created a havoc at the sea and in the coastal towns, I packed my bag in a dilemma whether to risk the weather or stay put on the safer part of the land.
Original post on Varkala at 2littlemoments.
Visiting Varkala, Kerela before the end of 2017 was one of my resolutions and unexpectedly, the cyclone Okhi gave a hard hit to my plans.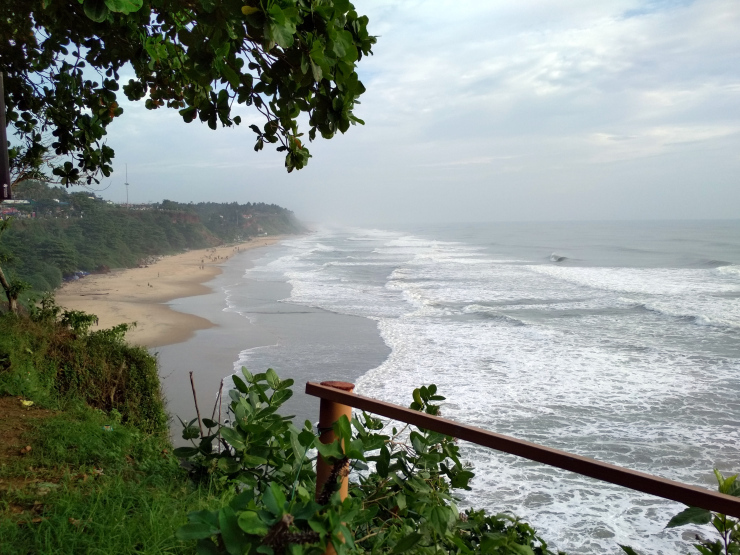 When my friend from Kerela warned me about the deteriorating weather conditions in the Arabian sea, I started tracking the cyclone hour-by-hour, fidgeting in my office chair.
Close to the Arabian sea, people in parts of Kerela, Tamil Nadu and Sri Lanka were coping with gusty winds and incessant rains that were causing serious damage to the trees and property.
Many fishermen were stuck in the storm, struggling amid the ruffling waves. Search and rescue operations were in full-swing to find those who unfortunately hadn't returned from the sea in time.
The schools were closed, many roads were blocked by fallen, uprooted trees. Some areas didn't have electricity for days at a stretch.
The news headlines had already declared a red alert, and here I was in Bangalore, biting my nails in anxiety yet planning my visit to this small dot on the Western side of Indian coastline - Varkala.
Varkala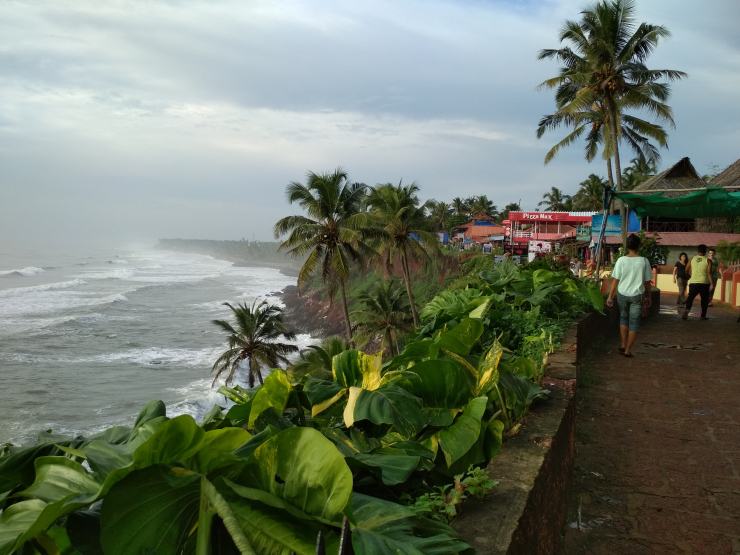 A coastal town in south Kerela with a beachline that is guarded by steep and lofty cliffs made of sedimentary rocks from the Cenozoic era (as old as 65 million years ago).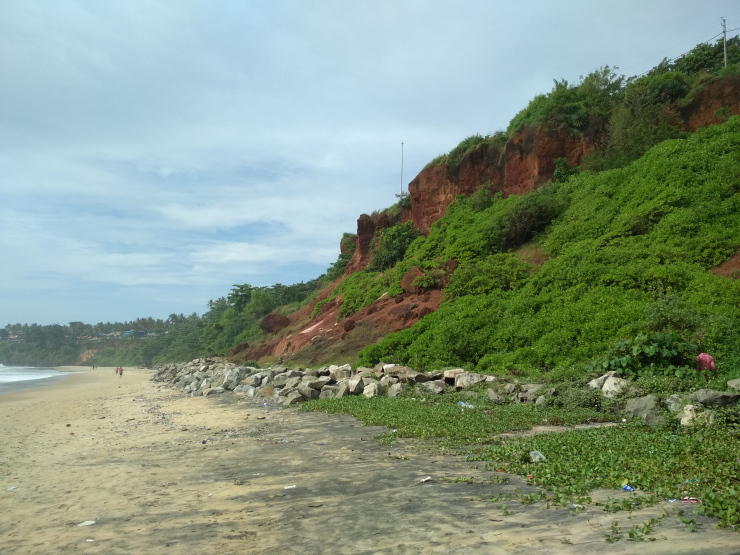 The Geological Survey of India has named this grand stretch as Varkala Formation and considered it as a Geological Monument. Isn't that cool!
A resident to tourist ratio of 3:1 approves of its popularity among the visitors who come here to experience the diverse culture, piquant cuisines including lip-smacking seafood and of course the scenic and serene sun-kissed beaches.
A day before leaving, I called up at our hotel and asked about the conditions. There was no electricity, the winds were rough, and it had been raining ever now and then, but it wasn't as bad yet to cancel the trip.
And the Journey Began
It drizzled the whole day in Bangalore. I knew we had already entered the storm when it rained cats and dogs the entire night of our journey - in these grey times, we could only be happy that our bus reservation didn't get cancelled.
We had boarded a KSRTC (Karnataka State Road Transport Corporation) bus from Bangalore to Thiruvananthapuram (formerly Trivandrum).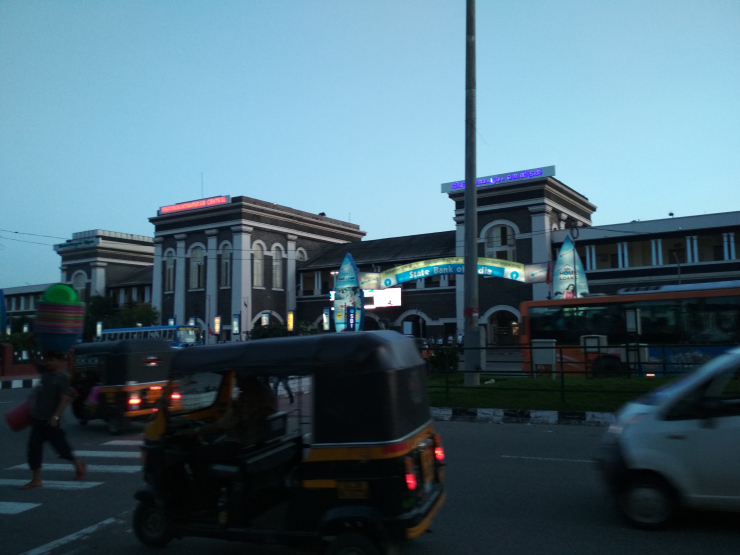 From Thiruvananthapuram Central, we planned to take a local train to Varkala.
Day 1
Next morning, the weather was surprisingly pleasant - it was drizzling. The sun had finally torn through the mesh of clouds when we reached the Thiruvananthapuram Central railway station.
The railway station is at a walkable distance from the last drop point of the KSRTC bus.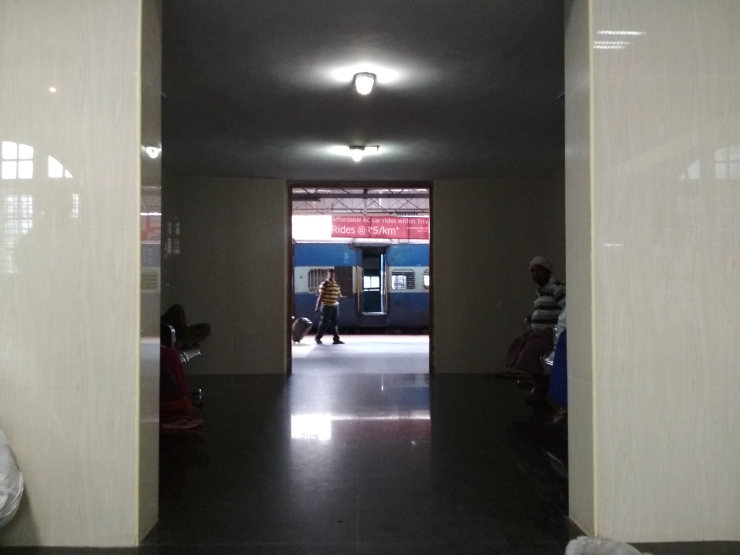 The station is clean and also has a waiting area where you can get fresh or take bath. The cops are helpful - they were guiding people including foreigners when our train to Varkala got late by an hour.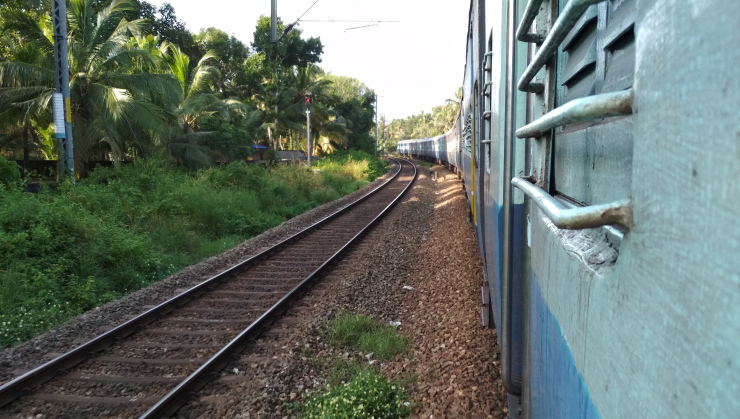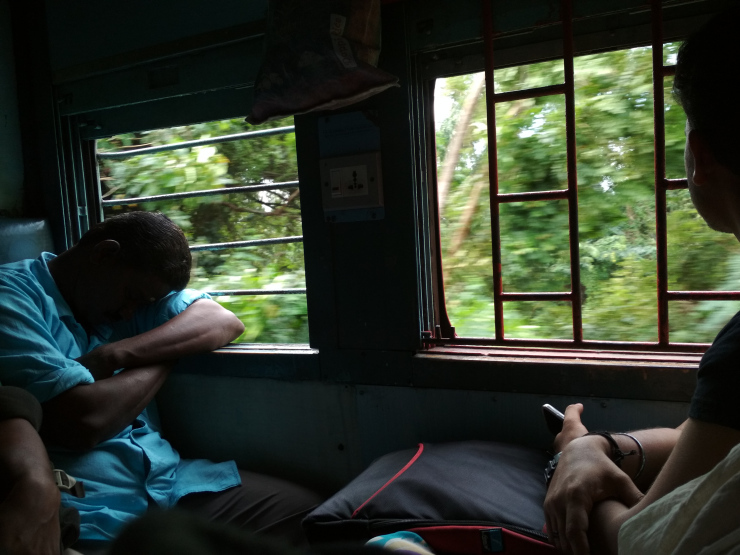 Note: The local trains are congested in India. Be mindful when you enter a general coach. Even if you have a ticket for sleeper coach, you are still made to oblige and shift to make space for one more.
We boarded the general coach and, being females were offered a seat almost immediately.
After 2 hours, we got down at Varkala station and took an auto for Helipad or North Cliff.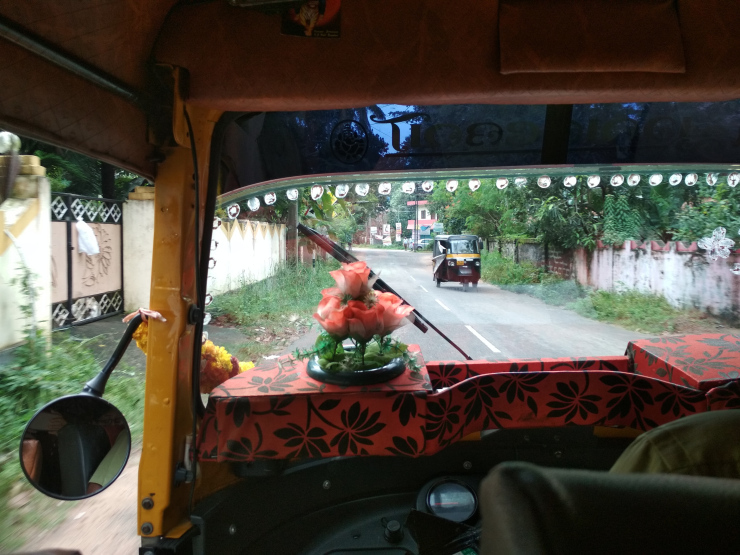 Note: Offer to give no more than 60 Indian Rupees to the auto driver.
The Helipad on the North Cliff is a viewing point and one of the ways to reach the Varkala beach. A little walk ahead to your right will lead you to the cliff and an alley of restaurants that Varkala is popular for. It is a 2-kilometre long stretch that runs parallel to the cliff - which eventually declines to beach-sidewalks, only to rise up again at a farther distance.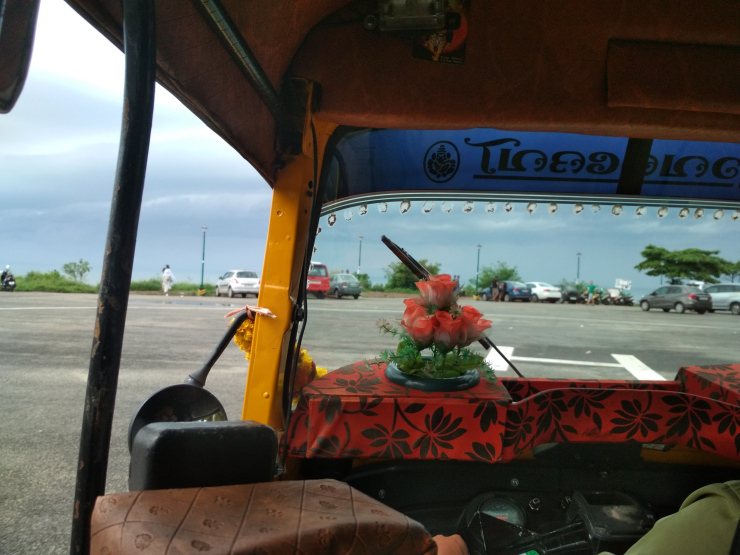 We encountered a dramatic change in the weather on reaching the helipad - quite an unwelcoming show set up by the sea. What followed next was a wild combination of rain and wind, which made us wonder whether we had made a huge mistake.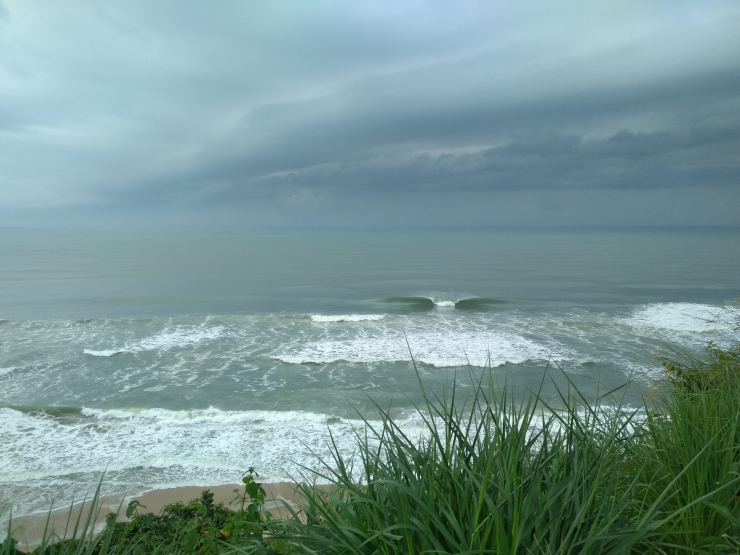 This time we sought the refuge of a nearby cafe and also had our first and heartiest breakfast at Varkala.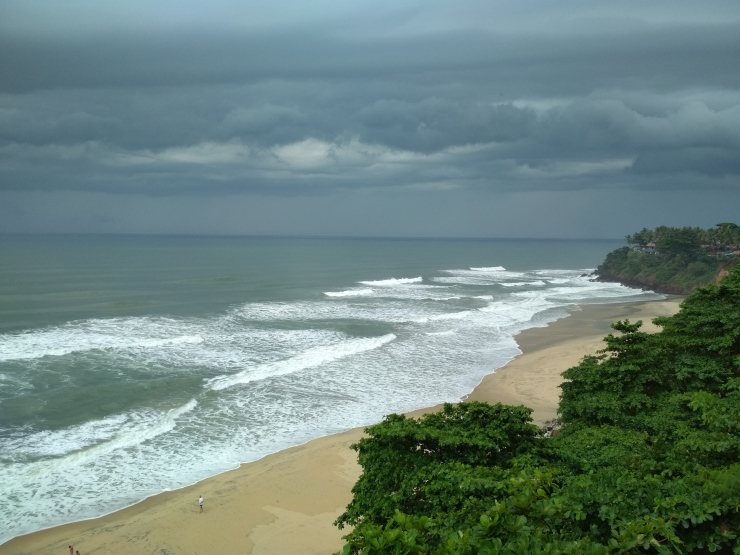 Had the situation worsened, there were more people around us in the Coffee Temple cafe - we were relieved to realize we wouldn't be alone in such a case.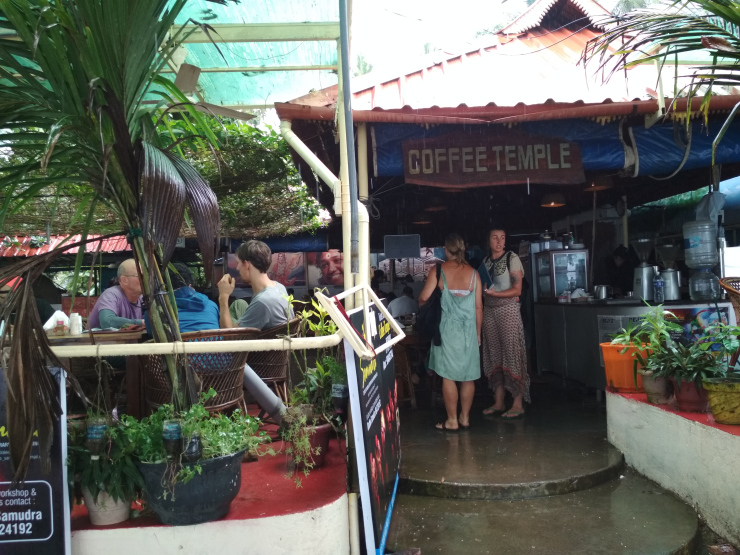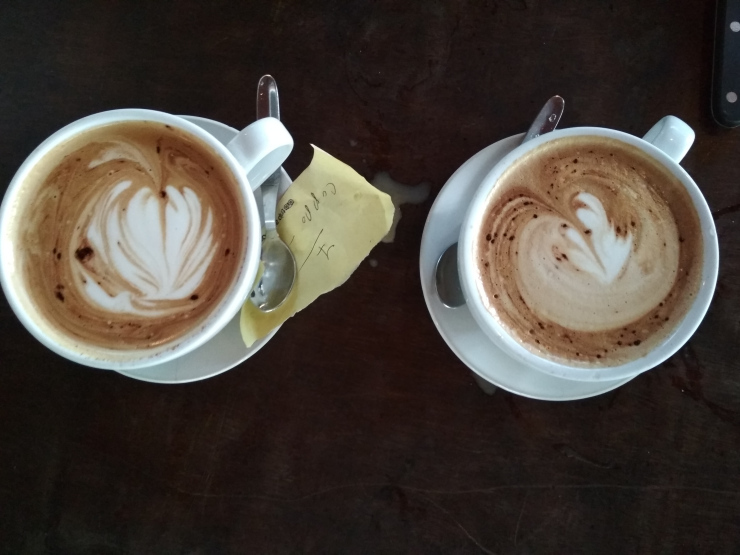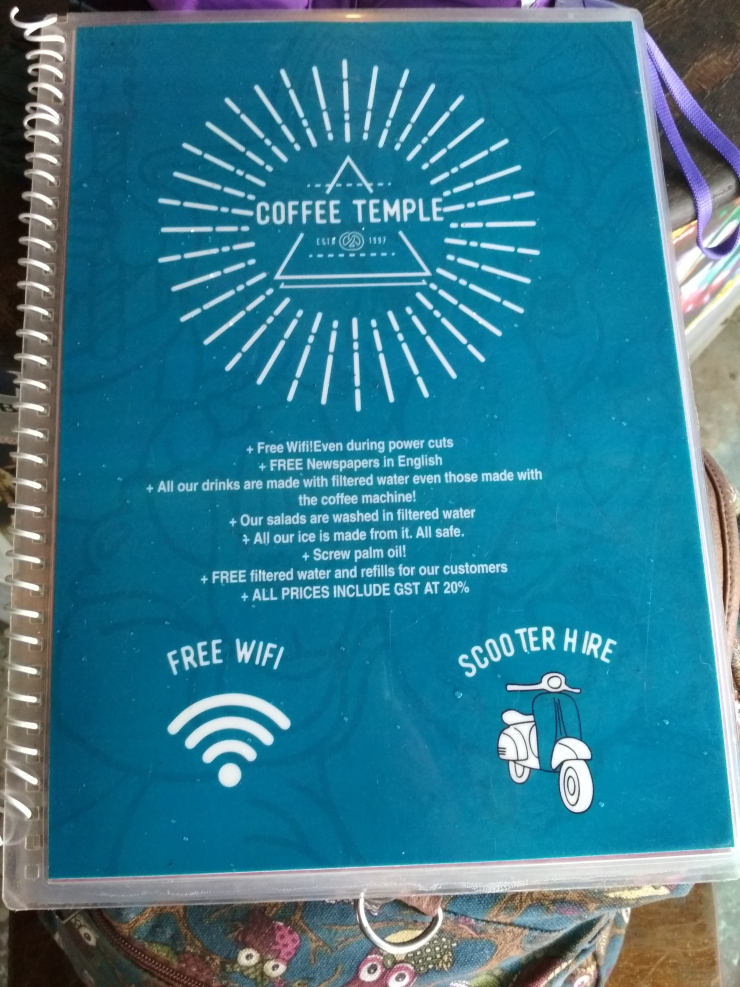 This slideshow requires JavaScript.
Walking through the North Cliff was no less than getting hypnotized by the material world in continuous succession.
With one side giving away to the mesmerizing sea view and the other grabbing our attention with rows of good-smelling restaurants, artefacts, clothes and jewellery shops - we were unable to absorb the novelty all at once.
Stay at Varkala: Mother's Palace
It is best to get your booking done in advance. We had booked Hotel Mother Palace, which offered a decent stay at an affordable price.
Vedanta dormitories present across Karnataka, Kerela and Tamil Nadu is another cheap option to stay, although they have common dormitories for males and females - we were two girls, so we decided against it.
This slideshow requires JavaScript.
The owner/caretaker at the Mother's palace is a generous guy. There was a group of boys staying next to our Non-AC room on the first floor. So, when we requested him, he gave us an AC room on the second floor at the same price, provided we didn't use the air conditioner.
When we stepped out, the sun was shining on us and the streets were buzzing with people. We headed straight to the beach only to find it deserted. The sea was evidently rough and the coast guards and police officials roamed around whistling and asking people not to venture into the water - they didn't even let is touch a wave that now seemed to mock us from a distance.
Nevertheless, we stayed there until lunchtime and bore witness to the rough sea. Find my Instagram video for Varkala beach.
At sunset, when the sea, surprisingly, appeared calmer, tourists finally came out on the beach to enjoy the sunset. The pleasant sea breeze marked the end of cyclone Okhi that was now moving Northward, towards Mumbai.
Everyone seemed to celebrate the receding of the cyclone and stayed on the beach till late in the evening. People were cheerful, couples had their perfect sunset moments, children frolicked in the shallow waters, I lost my silver ring into the sea only to find it back on the shore after 15 minutes - the nature seemed to be in harmony with the mankind once again.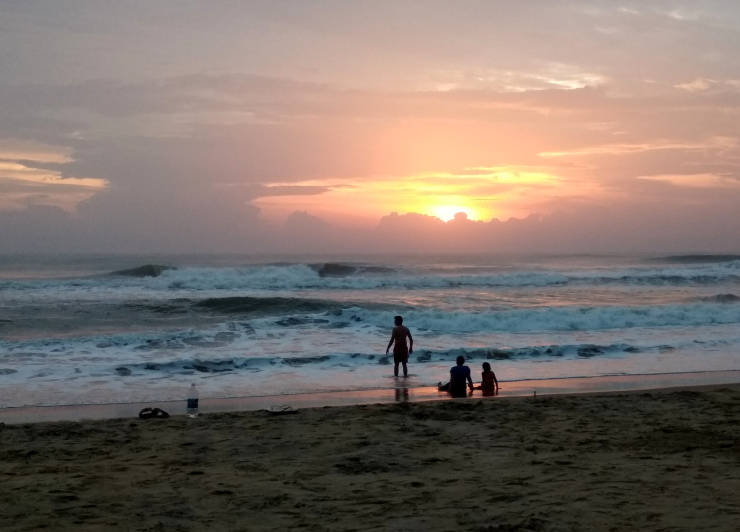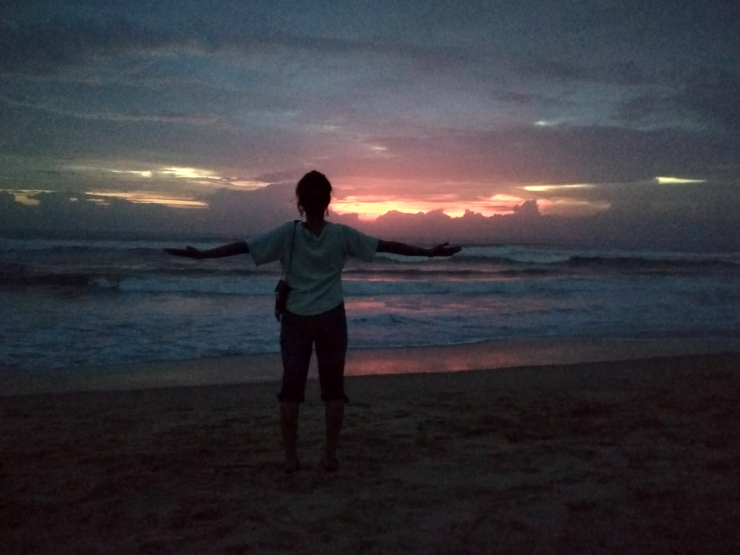 Varkala came alive at night and we just couldn't get enough of the sea.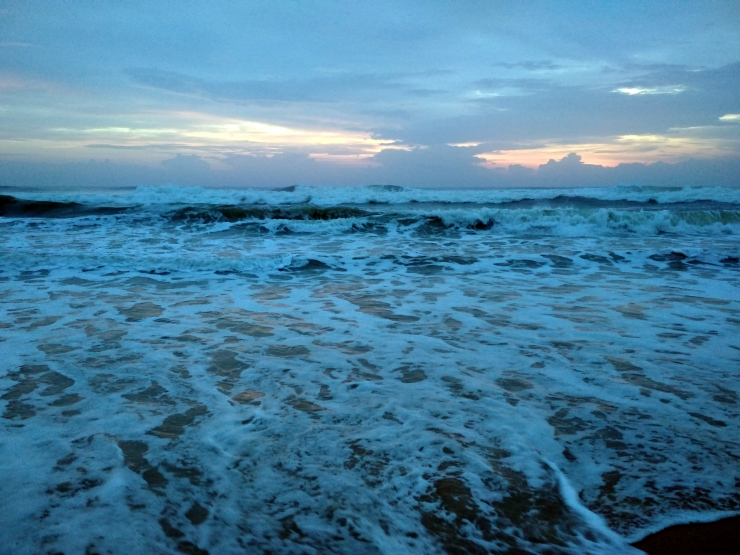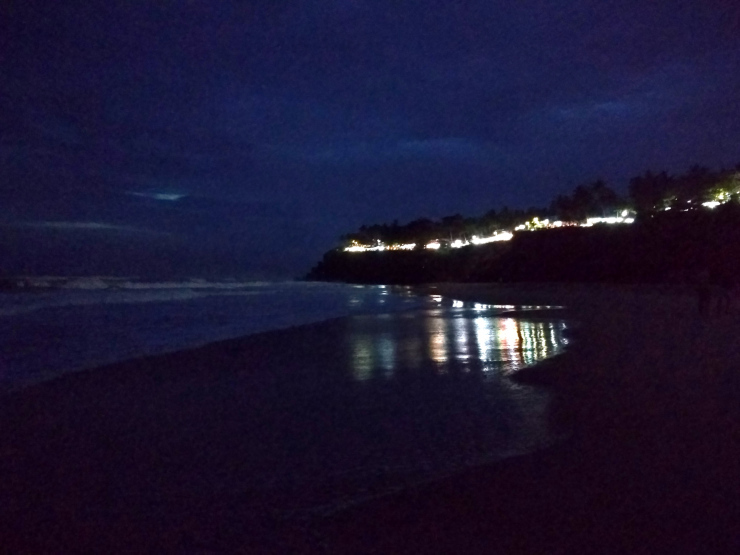 Sunshine welcomed us the next day - there was no trace of the storm. People were out sunbathing, and before we could join them we had a sumptuous breakfast at this blink-and-you-miss-it cafe hidden near the parking.
There is more to Varkala than its popular, sunstruck beach. We walked passed the residential areas, crossed the Varkala Aquarium, Black beach, and finished our journey at Kappil beach.
This space is too short to describe it all; I will leave that for other time.
How to Reach Varkala By Bus, Train And Flight
Varkala By Bus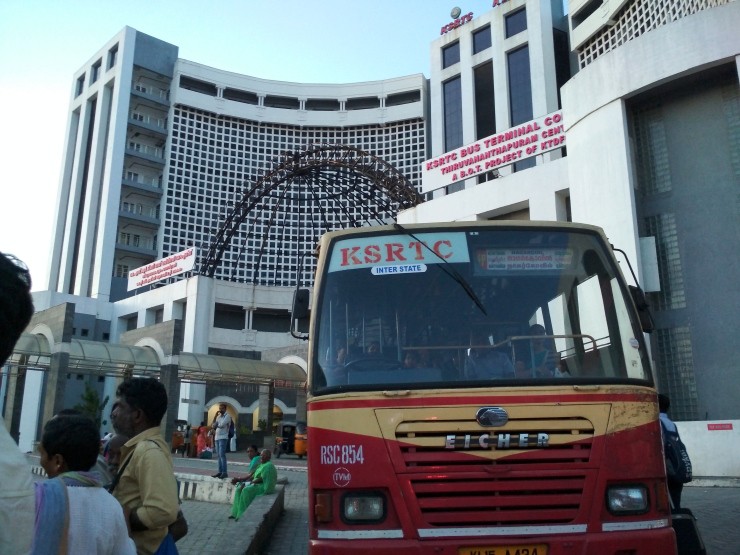 By road, Varkala is connected to all major bus stations. Various government and private buses ply to Trivandrum from where you can take a bus or train to Varkala. Refer to the KSRTC website (Karnataka State Road Transportation Corporation) to book tickets if you are travelling from Karnataka. KSRTC (Kerela State Road Transport Corporation) is another site to refer to. You could also board local buses, which take 45 minutes to an hour to reach Kerela.
Varkala By Train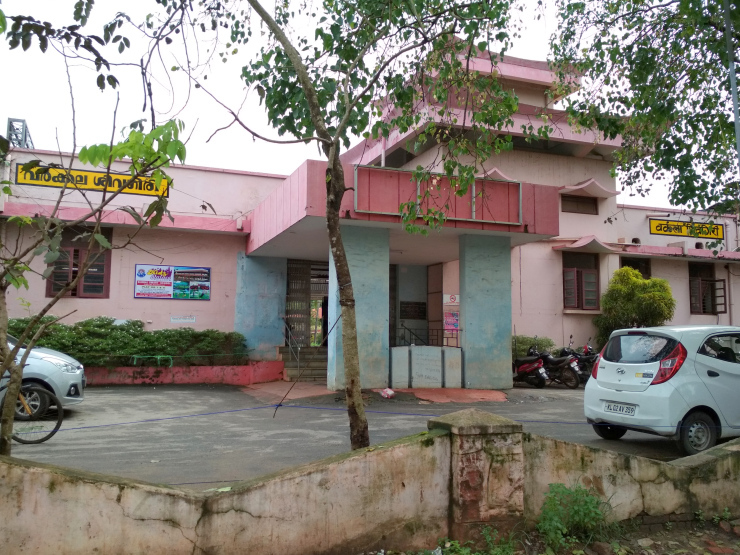 Varkala has its own railways station of the same name (Varkala Sivagiri) which is about 3 kilometres from the beach. Being a small junction, few trains from other states stop at Varkala. Local trains are available with the closest major junction at Trivandrum.
List of trains from Bangalore to Varkala, Pune To Varkala, Chennai to Varkala.
Varkala By Flight
The nearest airport to Varkala is Trivandrum International Airport at a distance of around 50 kilometres. The remaining distance can be covered either by train or bus.
Explore more at my personal blog 2littlemoments.
Original post on Varkala at 2littlemoments.