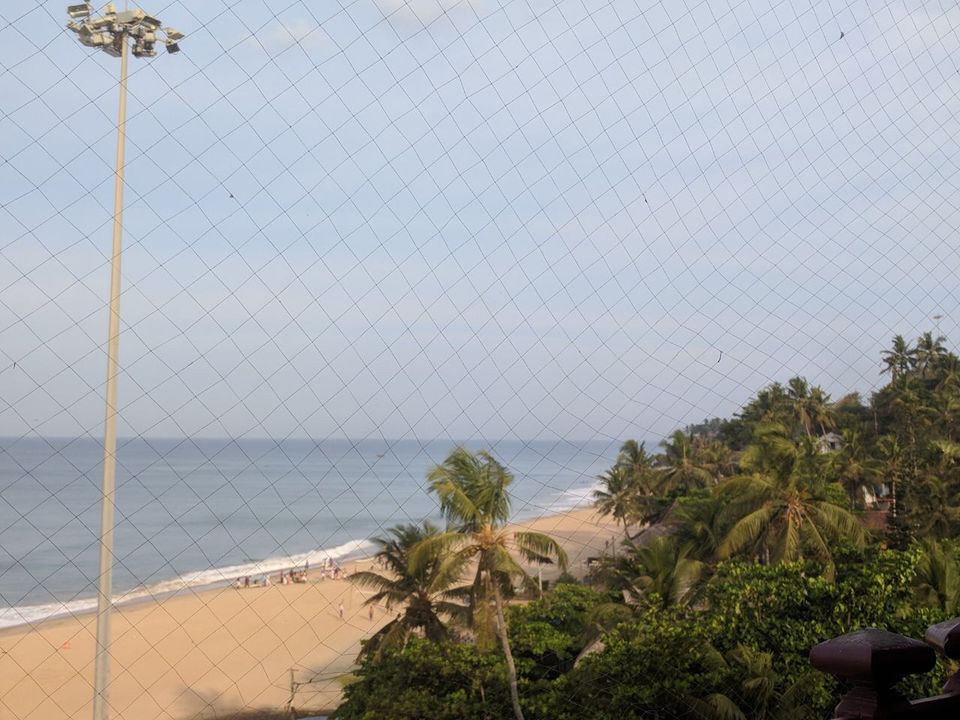 Varkala- The offbeat beach that I had heard so much and longed to see. I finally reckoned my schedule , coaxed in my cousin and voila, we were set to go. Trivandrum being the nearest airport, we booked ourselves. And from there on we had the option to choose a cab or local trains. The local cabs started their pricing from 1600 , and looking at that we are not being convinced about the high price, they kept on lowering and came down to 800 , but on shared basis. We were able to grab Uber ride to Varkala with odd 900 bucks which wasn't pretty bad.
The Stay.Well it being a very small place, you are always near to the beach where you ever you choose to stay. After spending some time on internet we booked Eden Gardens. We didn't want to stay near the cliff to avoid the crowd.The choice turned out to be good decision.It had beautiful cottages, the one I had seen in my childhood in my village. Obviously me and my cousin were on detour memory lane of village which we had chance to go once or twice. The most remarkable feature of the place was its hospitality. A decent converstaion and a sweet smile from the folks around the cottage was heartwarming and we knew are two days are going to leave us with frizz free thoughts .
The Food. Tho hunger stricken girls ready to plunge into plethora of sea foods, destroyed with options, we chose a shack 'Varkala Marine Palace' to have view of the beautiful unfolding sea waves and the menu !!We stacked our table with Kerela fish curry , calamari , fresh juices. Well , the stacked table was emptied in no time.The pace was heiginic, good food, well mannered staff, cozy - little did we knew then that it would be our go to place for next two days. With the sun setting down, we strode towards the cliff. The view from the cliff onlooking to the sea with the picturesque background of setting sun, my words fall short.
In God's own country we found the kitchen ... God's own kitchen. We chose our own crab and prawns to be cooked . The food did taste heavenly.With time ticking as slow as possible, where in we are relaxing every moment, we decided to some shack hopping and landed at 'Chill out lounge'. Tummy full, we sat down with a beer with some awesome live music, a perfect blend of the entire day into night.And yes, we did try some cocktails, but I would advise anyone else not to waste your money on them!!
The Beach.Early morning sunrise with taking a dip in the sea, opens all up all stuck nerves in your body and mind.We took a batch in the sea, relaxed until the sun started blazing on us. We freshened up and decided to hijack some seat at our go-to-shack, neither compromising on food nor on view.
When in Kerela, how can you forfeit the Ayurvedic massages.Luckily our homestay had one, we picked our choices and were ready to be oiled , soothing our body.
Varkala- Promises one with relaxed body and mind. And with weekend ending over , our vacation came to an end, pumping a lot of blood to our brain, soul and muscle strings.
Varkala- Promises one withan end, pumping a lot of blood to our brain, soul and muscle strings.