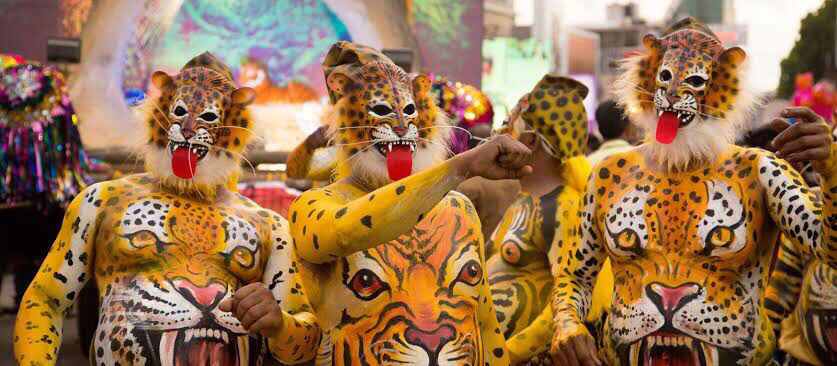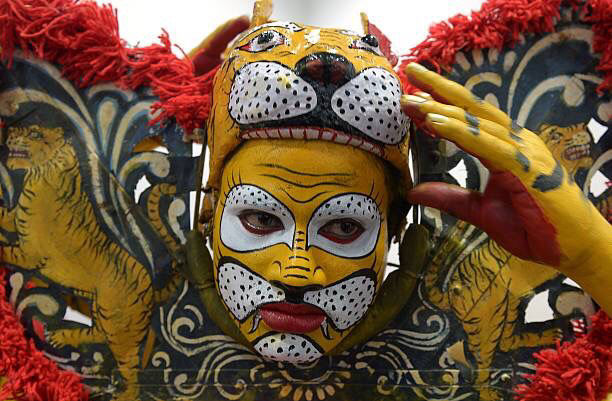 India is a country with varied cultures and festivals. All the festivals symbolizes color, vibrancy and faith. Onam is one such important harvest festival which celebrates the beginning of first day of Malayalam calendar (Kollavarsham). Onam is a carnival of folk dances, feasts, games for four to ten days. Pulikali is one of the folk dances performed on the 4th day of ONAM. Puli Kali which is also known as Kaduvaakali is an Art form of Thrissur district of Kerala, India.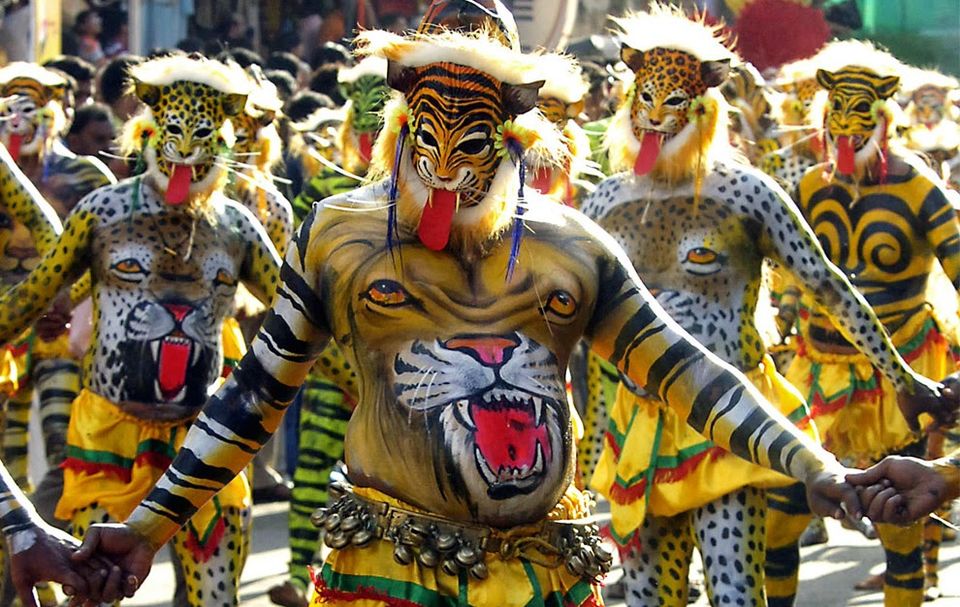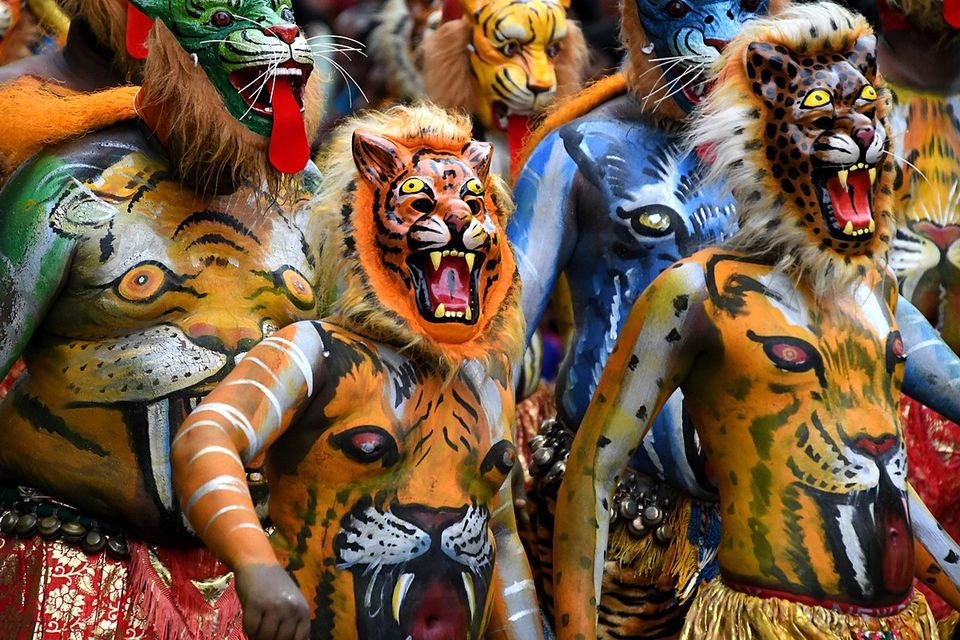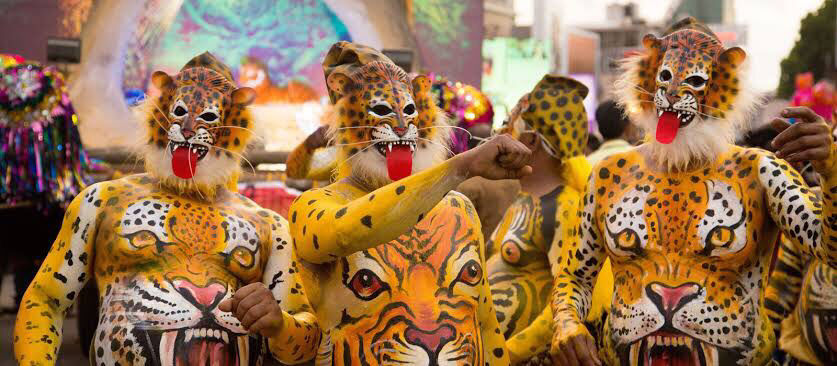 The name Puli Kali literally means TIGER PLAY. In Malayalam language (mother tongue of Kerala) 'Puli' means Tiger and 'Kali' means Play. Onam is celebrated to welcome the spirit of King Mahabali who was a demon(asura) but during his reign it is said that Kerala was a prosperous and happy state. It could be to symbolize the mighty king in the form of mighty animal – Tiger in the PuliKali dance form.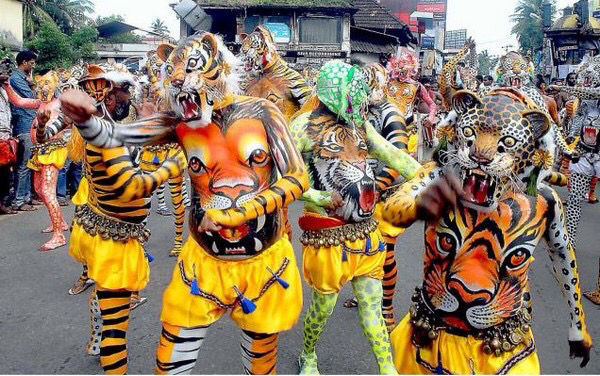 In this play, the artists enact themselves as tigers and leopards by painting their whole body with red, black and yellow colors and wear tiger masks. This folk art's main attraction is the fat bellied men dancing on a particular rhythm or tune.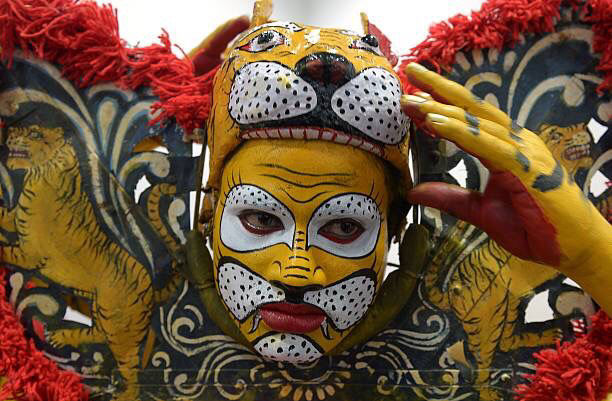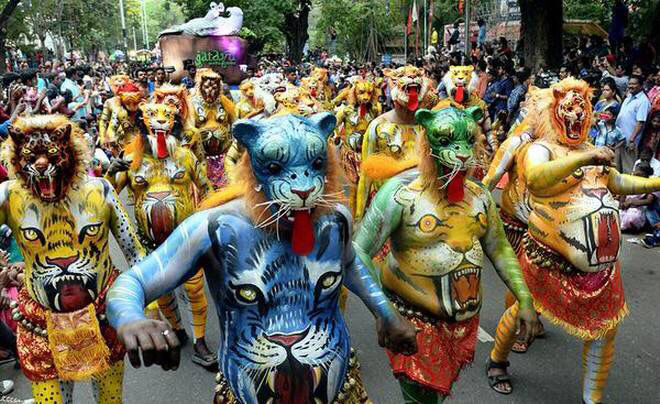 Earlier the performers used to paint their faces as tigers using 'tempera' powder which took hours to dry and was a daunting and artistic task. Today ready made masks are worn along with a belt made of bells around the waist. But still the artistically tiger face painted on bellies are crowd pullers. It is a great way for artists from nearby places to present and showcase their art through the tiger paintings made on human body.
This dance was originated 200 years ago under the rule of King Ramavarma, when the king wanted to celebrate Onam with a special dance form which represented wild and macho spirit. Later this form of tiger dance was also loved and enacted by the Muslim soldiers of British army posted then in Thrissur to perform and celebrate Muharram festival. It was then called as 'Pulikkettikali'. As time passed, the dance form got popular among the youngsters due to its aggression and energetic actions. Based on a common theme of Tiger attacking preys and Hunting scenario, various groups or 'Sangams' as they call, come from different villages of Thrissur district on the 4th day of Onam .They all assemble at Naduvilal in the Swaraj round of Thrissur which is the center of the city and offer a coconut to Lord Ganesha of the Vadakkunathan temple. Then they carry out processions on the streets and dance all day on the beats of instruments like ' thakil', 'udukku' , ' chhenda' and many more. The energy and enthusiasm is looked for and enjoyed by the crowd and is an attraction for the visitors and travellers too.