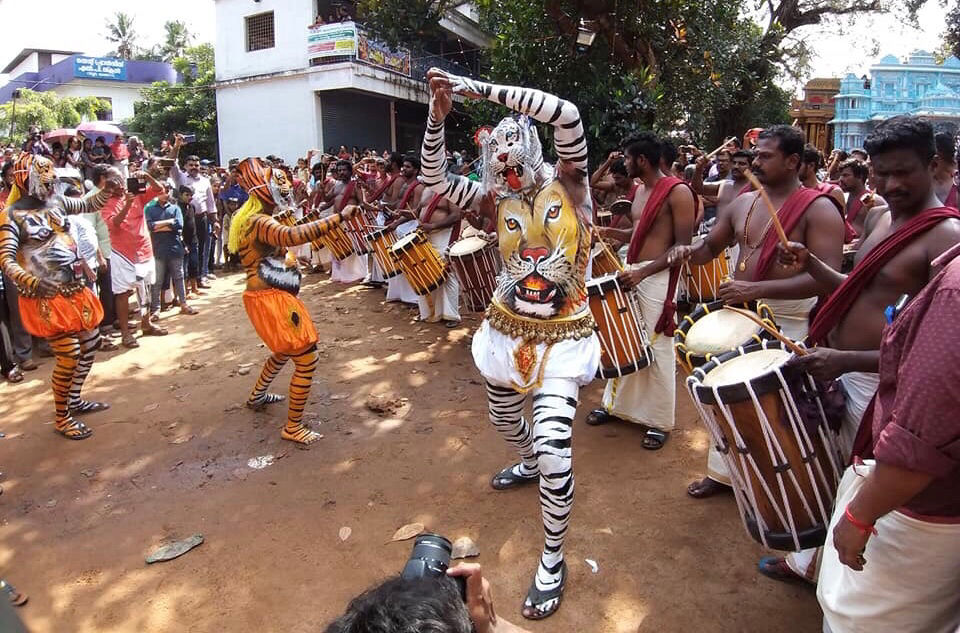 Pulikali or tiger dance is an integral part of Kerala's ONAM festivities. Corpulent men with parabolic paunches paint themselves in vivid hues with tiger or leopard visage and dance their way through. Typically Pulikali takes place on 'nalaam Onam' or the fourth day of Onam.
The Thrissur act of Pulikali has been elevated into an art form and instagrammers, photographers, bloggers descend on this temple town to capture the vibrancy.
Pulikali draws the second highest crowds after Pooram in Thrissur. Make sure to book your rooms well in advance as room tariff gets prohibitive as Onam nears.
Elaborate preparations are made. Firstly,the would-be 'tigers' get their torsos clean shaven and then lubricated with coconut oil. The paint is then applied systematically and finally fierce shapes of the big cat are drawn. Before they commence the procession they wear their painted masks to complete the picture.
Swaraj Round, with the famous Vadakkunathan temple dedicated to Lord Shiva being the epicentre of the town is where all the action takes place.
I caught up with two teams in Viyuur thanks to helpful tips from a reputed photographer based out of Hyderabad,Saurabh Chatterjee ( http://www.siaphotography.in)
If you are keen on capturing their hectic preparations, you need to land up by 7 AM at any of these locations – Viyuur Sivan Kshetram and further ahead near Manalarkavu Devi temple about 2kms from Thrissur town.
And the real action takes place around 7 PM on Swaraj Round where the tigers dance around the massive temple circle of Lord Shiva or Vadakkunathan.
A safe and delicious bet to have breakfast ( vegetarian) would be Radhakrishna Coffee Club near Swaraj Round and Pisharodys near KSRTC bus stand. Most restaurants offer a delicious spread of ONAM SADHYA, a special multi course meal for four days during Onam. It is a must try on the tourist agenda.
Watch out for next year's ONAM dates and make sure to camp at Thrissur to witness a colourful and unique spectacle.
Here is my photo feature on this colourful,unique and energetic festival.