Nestled among jagged mountains and the cobalt waters of the bay, Kotor is one of the most beautiful destinations in Montenegró. Hemmed in by walls snaking around the slanting slopes, the city is a stunning maze of churches, museums, palaces and cafes. The elaborate fortifications are like a spiky armour, hiding inside a city with cobbled pathways, delicious cafes, and one of the most spectacular bays in Europe. Kotor is this teeny-tiny Unesco World Heritage City that will make you fall in love with the Balkans.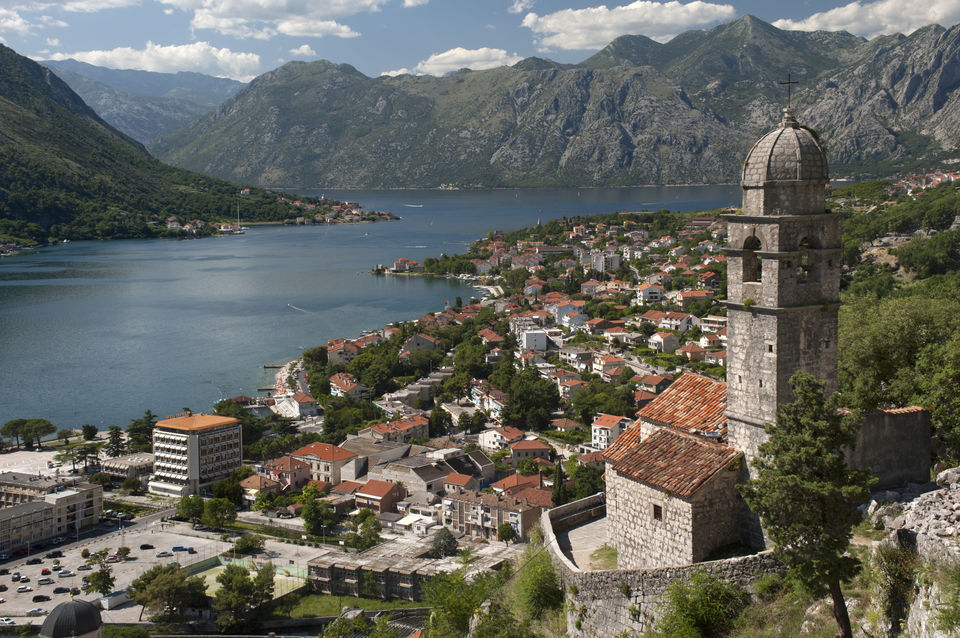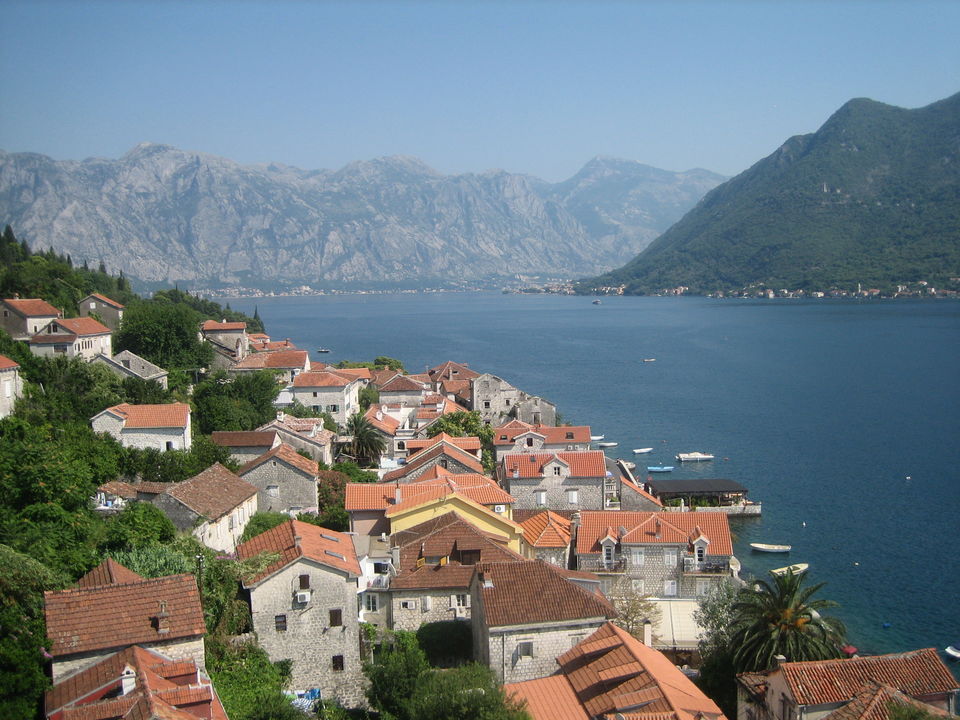 Getting there
The airport nearest to Kotor is Tivat, 8km away. Round-trip airfare from New Delhi to Kotor starts at ₹33,861.
Visa
To visit Montenegro, a visa is required and can be applied for online here. The visa cost is around ₹9,980. However, Indians having a valid Schengen visa, a US visa, UK visa, can travel to Montenegró, and Kotor, visa-free for up to 30 days.
Why travel to Kotor
Once an important trading hub, these days Kotor is a stop-off for cruise ships and backpackers seeking a few days of relaxation and beautiful architecture. The most underrated destination in the Balkans, Kotor packs a strong punch. It's a delightful little place where the past coexists with the present in such a seamless manner that you feel like you've gone back to the middle ages, but with modern plumbing and electricity. Here are some other reasons to travel to Kotor: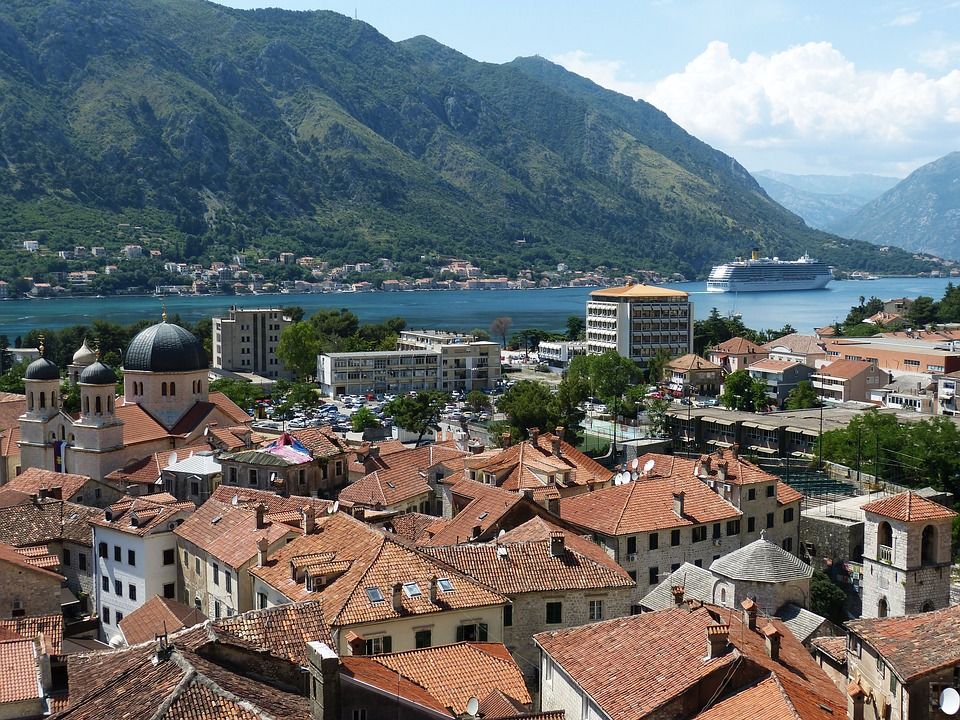 Sea-Gate
Kotor's brooding Sea Gate is evidence of the 400-year old Venetian rule over the city. The winged lion of St Mark, a Venetian symbol of power, is stamped on the walls that encircle the city and there is a huge bench in front of the gates that present itself as the perfect spot for clicking those Instagram pictures. It is also the most popular entrance to the Old Town.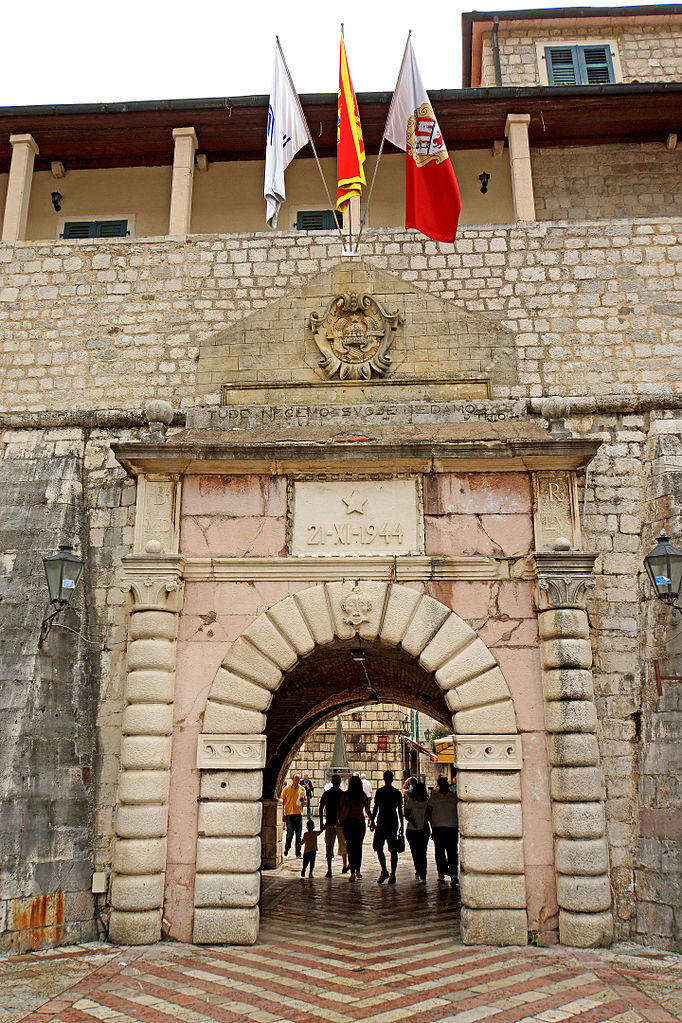 Old Town
Old Town is the most popular part of Kotor. Ancient walls form the frame for the living, thriving museum that Kotor is. to its past. Terracotta rooftops and glistening marble streets inside the walls make for an enchanting sight. The maze of marble paved streets with squares made for sipping coffee are perfect for spending an evening just sitting and watching the world go by.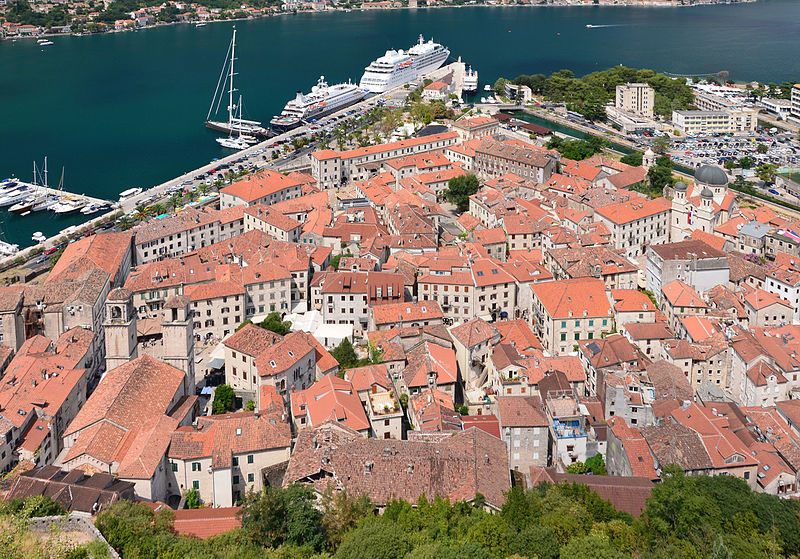 St Tryphon's Cathedral
Kotor's most impressive building, St Tryphon's Cathedral is a Catholic cathedral that is a masterpiece of Romanesque architecture. Slender Corinthian columns alternate with pillars of pink stone, supporting a series of vaulted roofs. The gilded silver altar screen is considered Kotor's most valuable treasure.
Timings: 8am to 7pm
Fees: 2€ (₹150)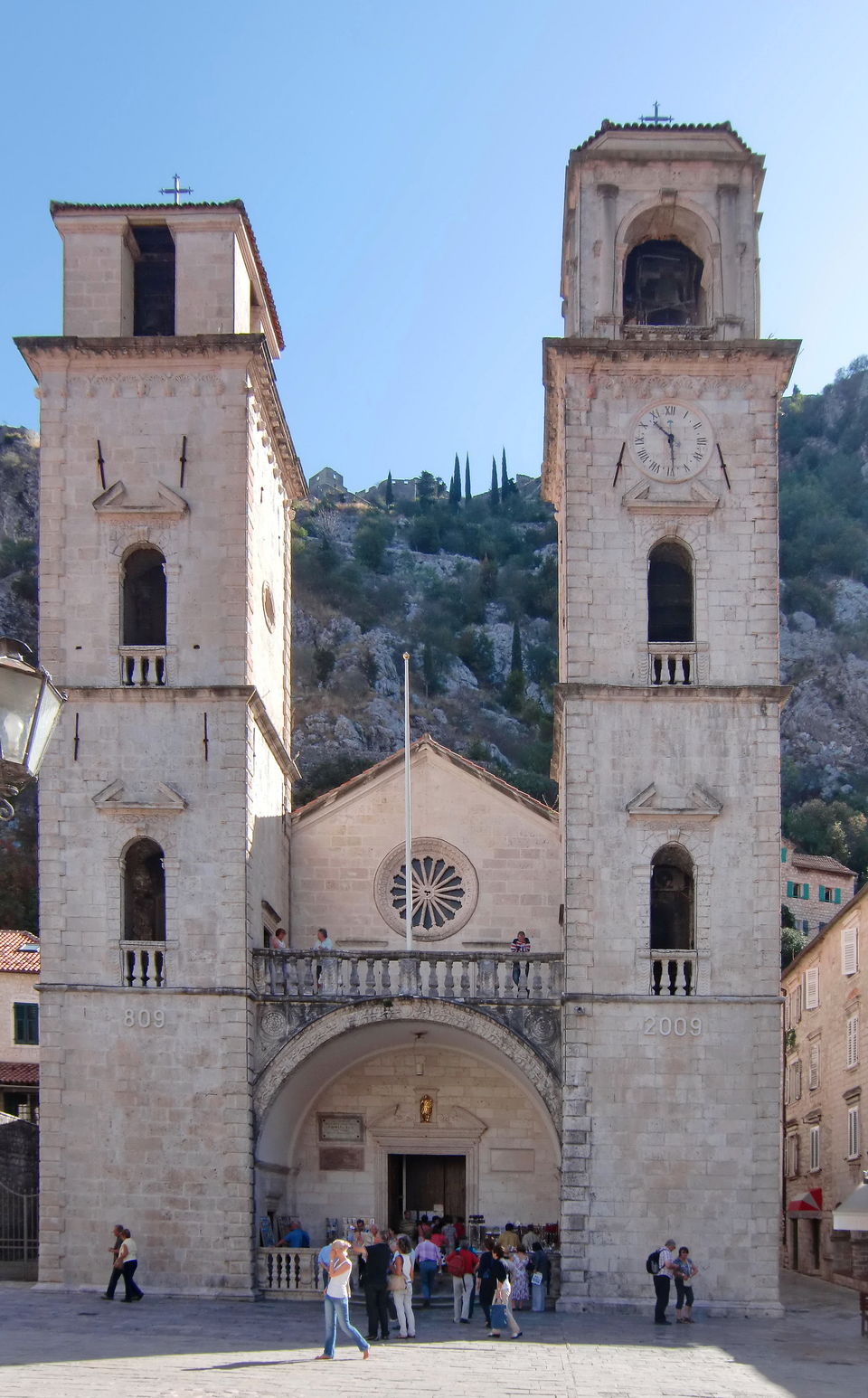 River Gate
River Gate is relatively unknown, and a tourist-free sight, tucked in the northern corner of the town. The gate opens to a moat formed by the clear mountain water of the bubbling Škurda River and is one of the best places in the city to just idle away your time.
Maritime Museum of Montenegró
Maritime Museum of Montenegró is a tribute to the famous seamen, artists, ship builders, craftsmen, statesmen, and diplomats who have been essential in shaping the history of Montenegró. Three storeys of displays housed in a wonderful early 18th century palace, this museum gives a detailed look into the maritime history of the country.
Timing: From April to October the timings are: Monday to Saturday - 8am-6.30pm, Sunday - 9am to 1pm. Between November and March, they are: Monday to Saturday - 9am-5pm, Sunday - 9am to noon.
Fees: Adult 4€ (₹300)/ Child 1€ (₹75)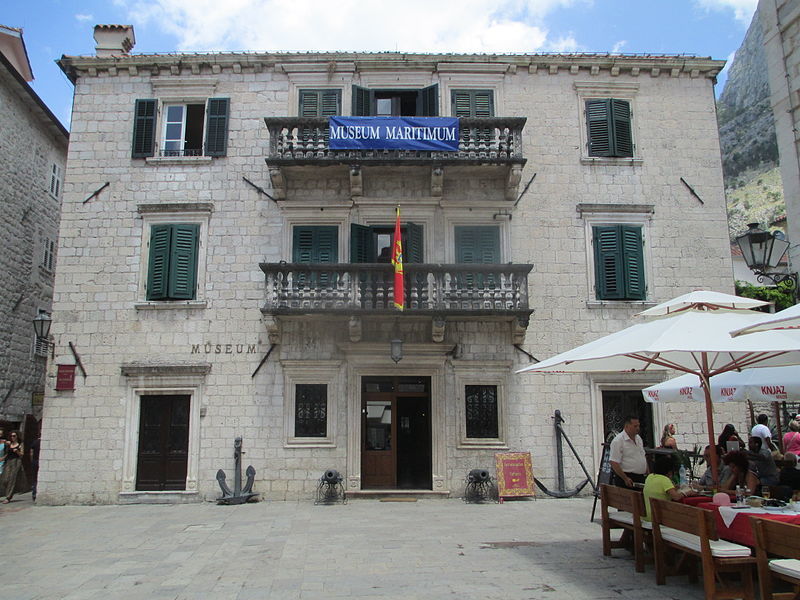 Cat Museum
Overpopulated by felines, Kotor is a cat city. It is no wonder then that it also has a Cat Museum. Whimsical vintage art, numerous old postcards, lithographs, ancient prints, traditional jewellery and beautiful antique are on display, other than cats! The small admission fee goes towards taking care of Kotor's famous felines.
Timing: 10am - 6pm
Fees: 1€ (₹75)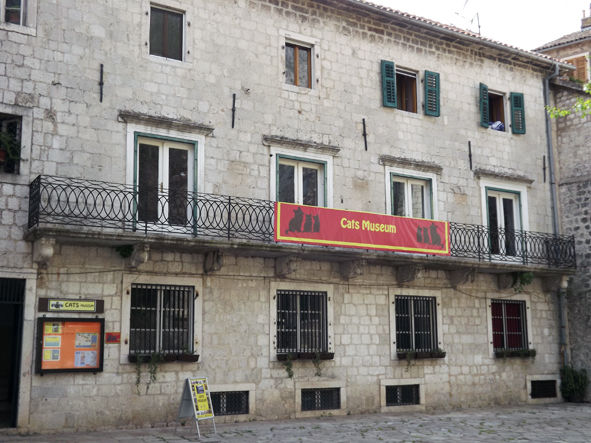 St. John's Hill
Climb 1,350 steps to the top of St. John's Hill, Kotor's most rewarding spot for panoramic city views. St. John's Hill is a part of the extended fortifications of the city walls. There is a minute chapel on top but what makes it worth it are the views of the glistening blue bay and the sepia-toned city beneath. Carry a lunch-picnic and spend an afternoon just lazing around or clicking your next perfect Facebook display picture.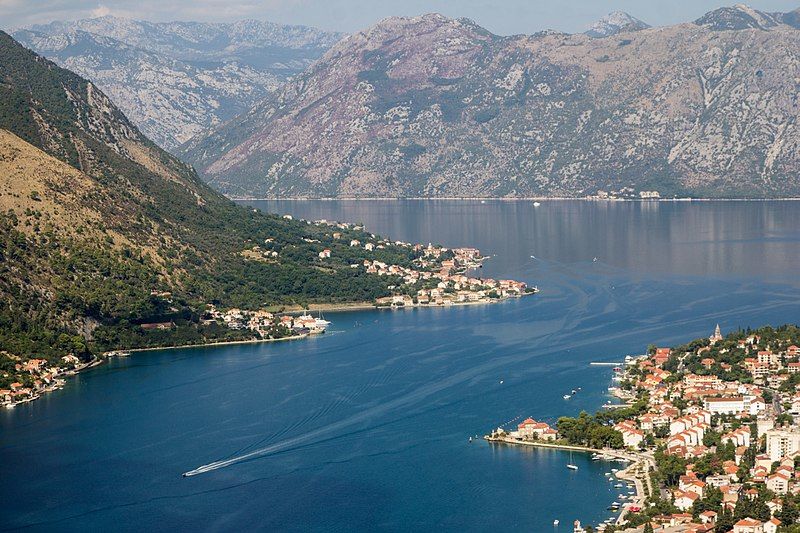 Nightlife in Kotor
End your day, and your trip, by experiencing the unique nightlife of Kotor. A typical night in Kotor starts in one of the many open bars playing live music. Move on to some other bars playing the popular tracks and dance your blues away! And finally, end the night in one of the many clubs across town.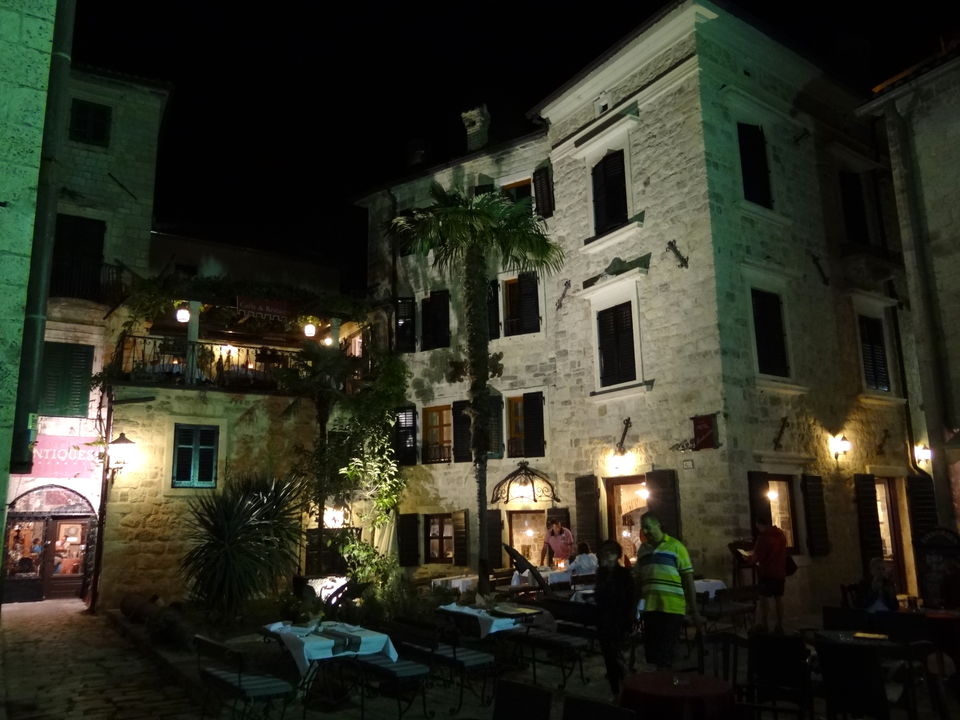 Cuisine on offer
The culinary scene in Old Town is a little sad because it's very touristy and the food is pricey. Instead, head out of town and explore the little restaurants across the bay area. Alternatively, you can also head out to the farmer's market and pick out a meal for yourself there. It is the best way to taste local cuisine.
The trademark dishes of the region are pršut (smoke-dried ham) and sir (smoked cheese), eaten with bread.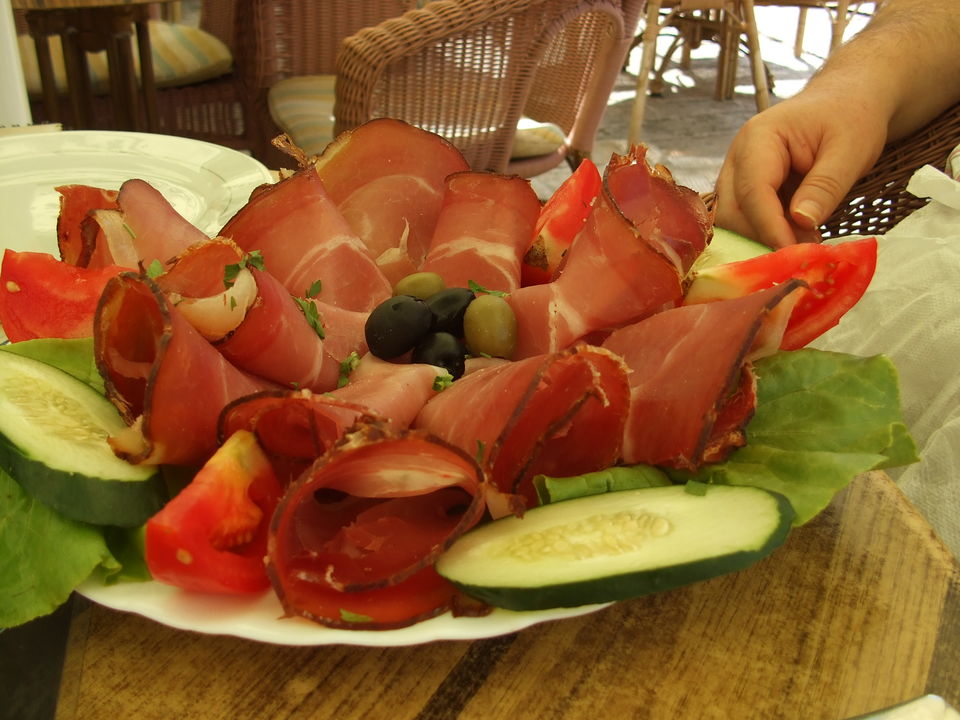 Other than this, you can't miss out on the seafood in the town. From exquisite restaurants to local hawkers, everywhere the seafood is fresh and delicately-seasoned, and fishes and prawns are the go-to meal while you are in town.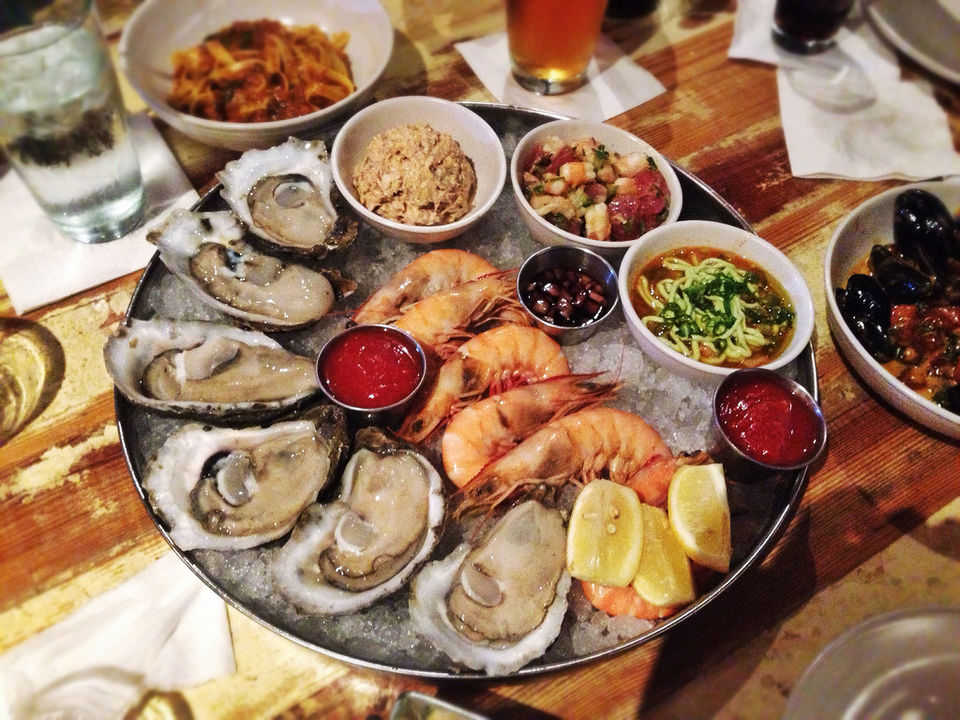 For those looking for a fancy affair, Bastion Restaurant near the harbour is a popular spot. It is also the place where, apparently, the Prime Minister of Montenegró eats whenever he is in town. A meal for two will cost around 50€ (₹3,800), without drinks.
Mon Ami Wine House, located in the Old Town is a superb place to familiarise yourself with the local wine. It is delicious and cheap and this is one of the best places to sample it with some of the local sir (smoked cheese).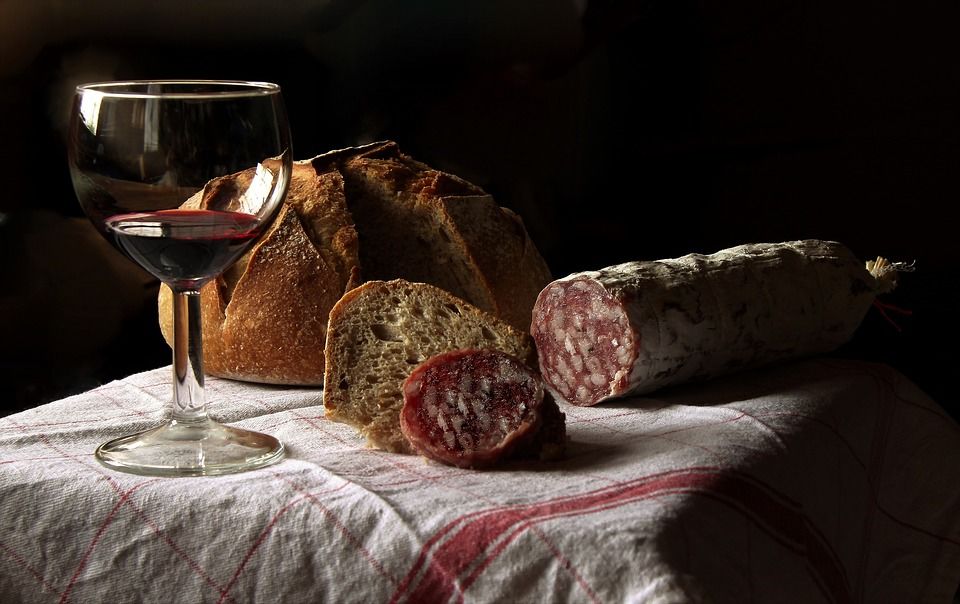 When to go
The best time to see most of the local sites is spring and summer, between February and June, when the stunning blue water of Kotor shines its brightest. Avoid July and August as these are the months when the weather is hot and the streets as well as the coast are the most crowded with tourists.
Getting around
Kotor is really small, so everything is within walking distance. Enter the Old Town via any of the three gates, then explore the maze of narrow lanes between the stone houses. You can also take a fixed red bus tour of the city that costs around 20€ (₹1,500) per person, but be prepared to walk even when you take the bus tour as it will only take you to the entrance or to the nearest point of famous sights, and you will still have to walk inside them, or to get to them. You can also rent a bike and explore the city on two wheels. The average price for a bicycle rental for 12 hours is around 20€ (₹1,500).
Costs
3-star hotel stay: 40€ (₹3,014)
Taxi for a 8-km trip: 6€ (₹452)
Local transport: 1.35€ for a one-way ticket (₹102)
Decent meal with a drink: 30€ (₹2,262)
Meal at a fast-food chain: 4€ (₹300)
A pint of beer: 2€ (₹150)
Accommodation
Historic Boutique Hotel Cattaro is an excellent hotel with the best of amenities. The rooms start at ₹5,172 per night for double occupancy.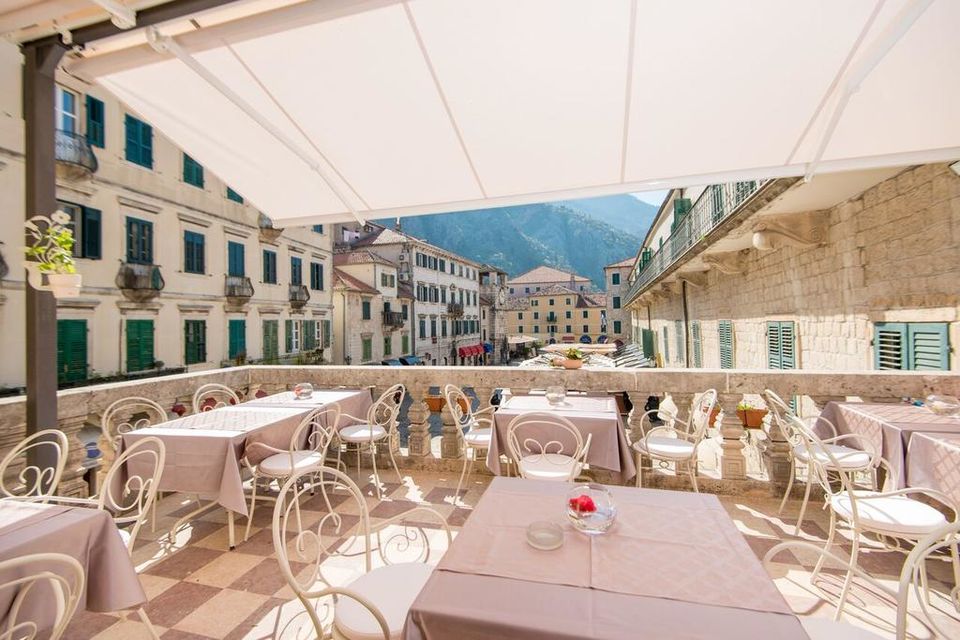 Hotel Rendez Vous is in an excellent location and a comfortable stay with rooms starting from ₹2,034 per night for two.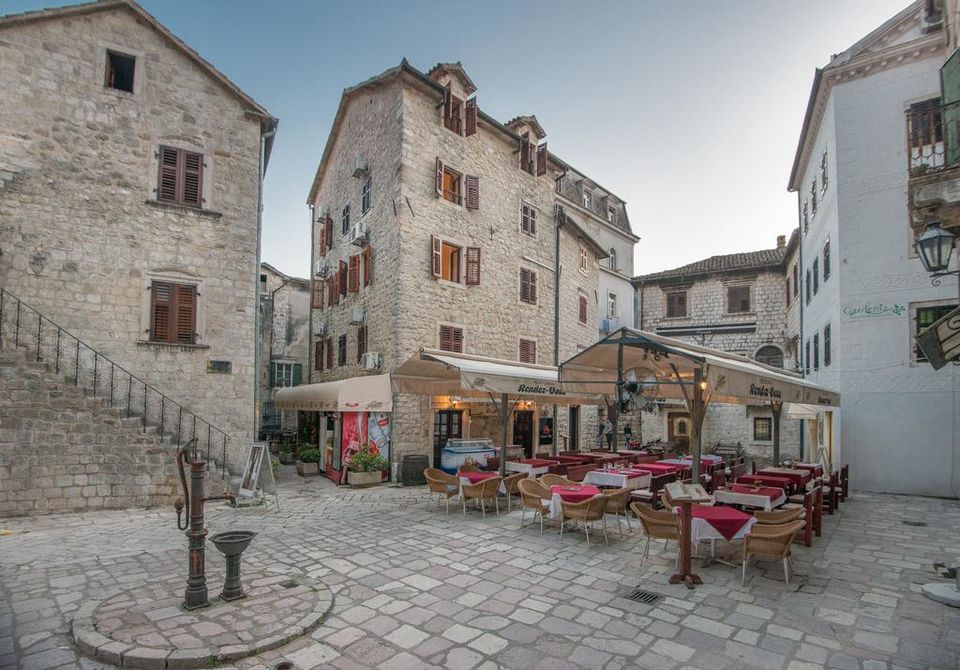 You can check out more options for stay in Kotor here.
Have you been to Kotor? Write your own insider's guide with tips and tricks to help travellers on Tripoto's community have a better time in Kotor.
Frequent searches leading to this page:-
Europe honeymoon tour packages, Europe honeymoon tour packages from Delhi, kotor montenegro tourist attractions, unique things to do in kotor montenegro