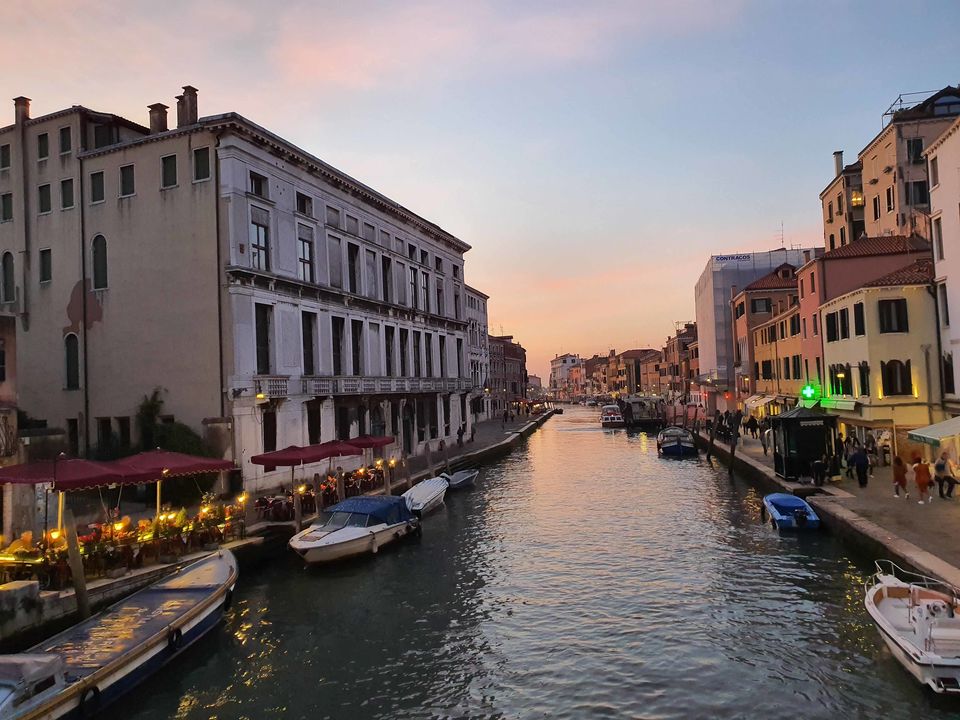 Venice is not just a city, its a celebration! When you get the first glimpse of the city, its like a party everywhere, happy faces all around, each corner so adorable, you just feel like letting go and having a blast! As we know that Venice is built on water, there are water canals after each street, connected by the prettiest bridges, surrounded by beautiful cafes, restaurants and so many shops! The colourful houses along the water canals and their reflection in the water looks gorgeous! Venice was always on our dream list and we finally had our chance to live it!
How to Reach
By Train
You can take a train to Venice from anywhere in Italy, or even other parts of Europe. Remember that Venice has 2 train stations - Venezia Mestre and Venezia Santa Lucia. Venezia Santa Lucia is your stop which is on the main island of Venice.
By Flight
Venice Marco Polo airport is located on the Venice mainland itself. You can easily arrive by flight and take a water bus/ vaporetto to your accommodation.
Where to Stay
Venice is an expensive city and accommodations at the centre, on this island can be very expensive. If you do not want to spend a lot on your stay, we would suggest that you choose an accommodation in Venezia Mestre, near the train station. The train ticket to Santa Lucia costs 2 euros per person and takes only 10 minutes to reach. Be careful and do not book a hotel on any other island close to the main island (Venezia Santa Lucia) as transport via water is expensive, so the money which you save on accommodation will be spent on transport.
We also stayed in Mestre, which is also a very beautiful city, especially in the month of October with autumn hues and the perfect temperature!
When to Visit
The best time to visit Venice is April to May which is peak spring season and very beautiful for sight-seeing, and September to October when the peak tourist season is over and the winter has not yet set in. If you like the summers, plan your trip between April and May and enjoy a colourful Europe and if you want to avoid the crowds and prefer comfortable weather, visit between September and October. After October, Venice is affected by 'aqua-alta' which is a phenomenon where the water rises and floods the city, and is not a favourable time to visit.
Day 1: Arrive in Venice and lose yourself!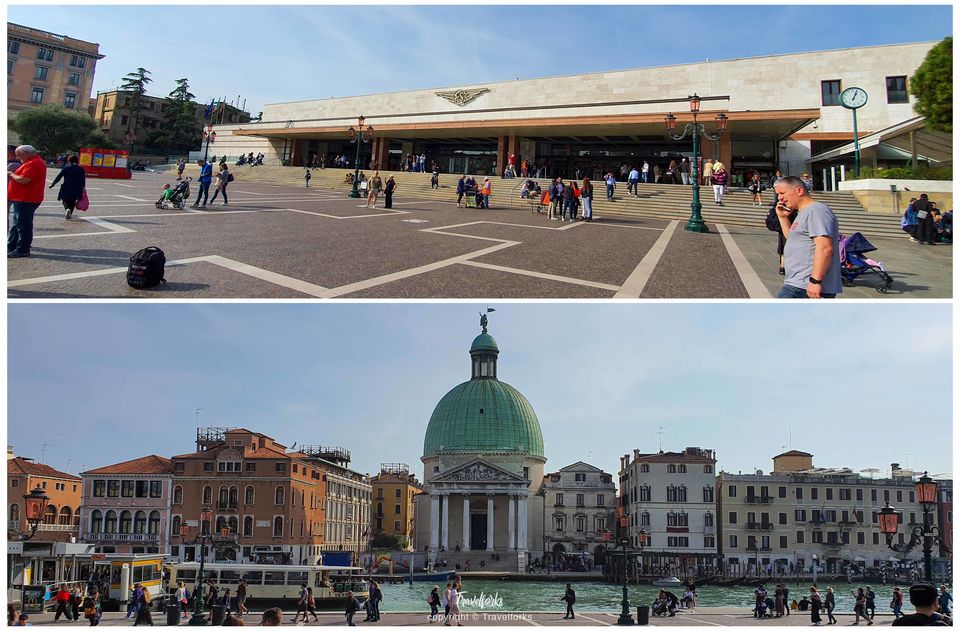 We arrived in Venice from Florence by train (Italo), which took us about 1.5 hours. We always prefer Italo as it is faster, punctual, and cleaner than the other trains.
After settling in our hotel in Venezia Mestre, we took the train to Venezia Santa Lucia (the Venice mainland), which cost us 2 euros per person, and we reached in about 10 minutes.
The view as soon as you exit the station is just amazing, you instantly know that you're in for a treat! The Grand Canal is right where you exit and you see the beautiful San Simeone Piccolo Church just across the Canal. We had planned our day as usual, but the vibe of the city is such that you will lose yourself to it! We actually decided to go with the flow and just have the best time, and that is what we suggest for you too!
From here, you have an option to take a vaporetto (water bus) to where you want to go, or you can just walk your way at your own pace. Venice is not a very big island and every street, bridge, canal and corner along the way is stunning! However, if you are looking to reach somewhere specific do follow maps strictly because the streets in Venice can be very confusing.
The central attraction of Venice is Piazza San Marco or St. Mark's Square, with the iconic Basilica di San Marco or St. Mark's Church. We started walking and exploring the island, stopping at numerous corners in awe of the beauty!
While roaming around, you can grab a bite or even explore the various restaurants around. A lot of restaurants also run happy hours in the afternoon so you can check them out as well. The restaurants are generally expensive and also levy cover charges, so if you want to avoid spending a lot on food, there are a few supermarkets where you can get food and wine for all budgets!
The Rialto Bridge is one of the very famous ones in Venice, make sure to get yourself clicked on it, with the Grand Canal in the background. It will always be very crowded with everyone trying to take a picture, so do not expect an empty spot to yourself!
In the evening, you can opt for a gondola ride in the pretty and cozy 'gondola' which is a small boat in Venice. The cute little gondolas are colourful and painted and decorated with flowers. The gondoliers (gondola drivers) wear striped t-shirts and also sing Italian songs for you when you ride with them! The experience is really beautiful and romantic. The ride costs 80 euros per gondola and they ride you around for about 30-40 minutes.
Treat yourself to some soothing wine and satiating dinner and call the day off. You could also attend some night parties which are quite a thing in Venice.
Day 2: Rise early and watch the city wake up!
We woke up early, got ready, took the train to Venezia Santa Lucia and reached just before sunrise. This time, we took the vaporetto (water bus) to St.Mark's Square (cost 7.5 euros per person) and watched the sunrise sitting in the ferry with the cold morning breeze swishing against our faces and listening to the waves as the ferry cut through them! It was the best way to start our day, with more birds than people and the perfect frames and colours to click pictures.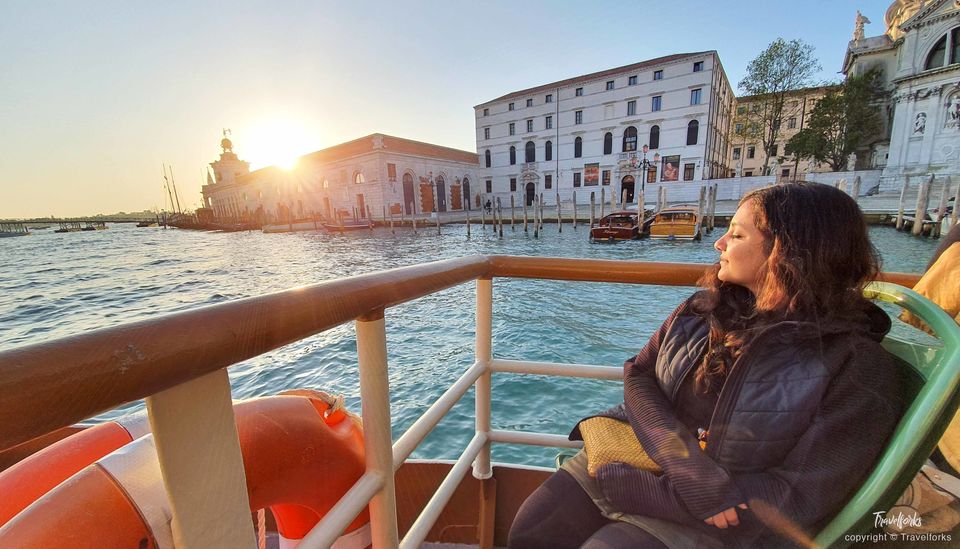 So, after a fulfilling ferry ride, we reached St. Mark's Square, clicked some of the best pictures, admired the Basilica and had a very good morning. We then had some breakfast in a cute cafe by the river canal and watched the island start to fill up with people gradually!
We went back to visit the St. Mark's Basilica, to which entry is free, spent some time inside the church and some more time in St. Mark's Square admiring the pleasant weather and the beautiful view of Venice.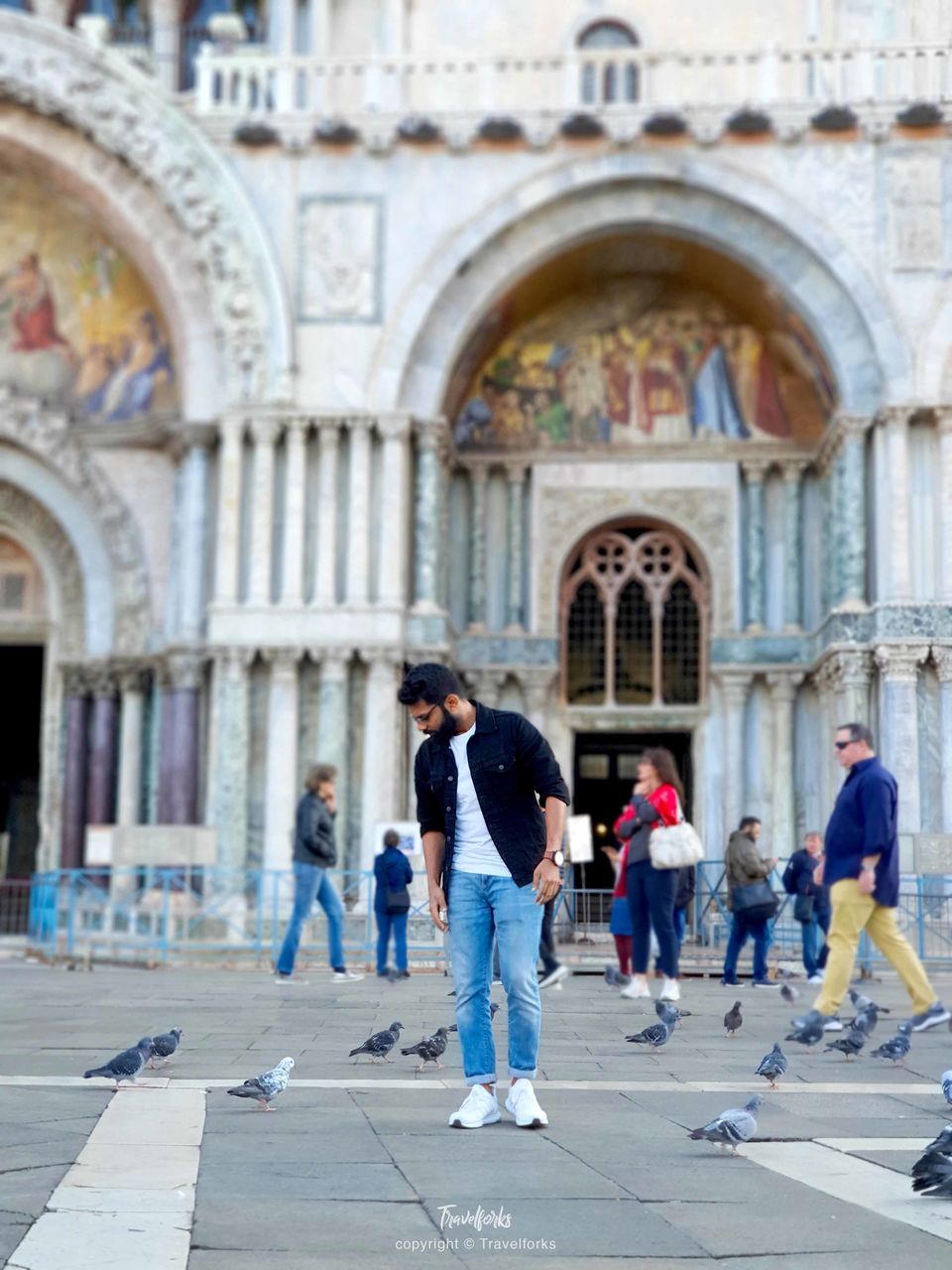 In the afternoon, we explored some more cafes and restaurants and tried the very famous Spritz, which is a bitter wine-based orange drink, must try!
Alternately, we would suggest that you could take a half-day tour to Murano Burano islands. There are plenty of tours that mainly take you to the 3 islands of Murano Burano and Torcello in a motorboat, accompanied by a local guide. The tour takes around 4-5 hours and you will stop at a glass-blowing factory on Murano, visit Venice's first cathedral on the tranquil island of Torcello and shop for handcrafted lace on Burano. The view is amazing and a photographer's treat! The cost of the tour is approximately 20 euros per person.
Once back, you can have dinner or enjoy the Venice nightlife and end the day happily!
Venice is truly one of the most beautiful cities in the world and one of the best that you will ever visit. It is very sad that due to global warming and increasing sea levels, the city is under threat to drown. Please plan your trip soon and do not miss this beauty! Venice is Magic and we totally fell in love with it! Hope our blog helps you plan better, happy vacation guys!
Original blog here
For more stories follow us on Instagram