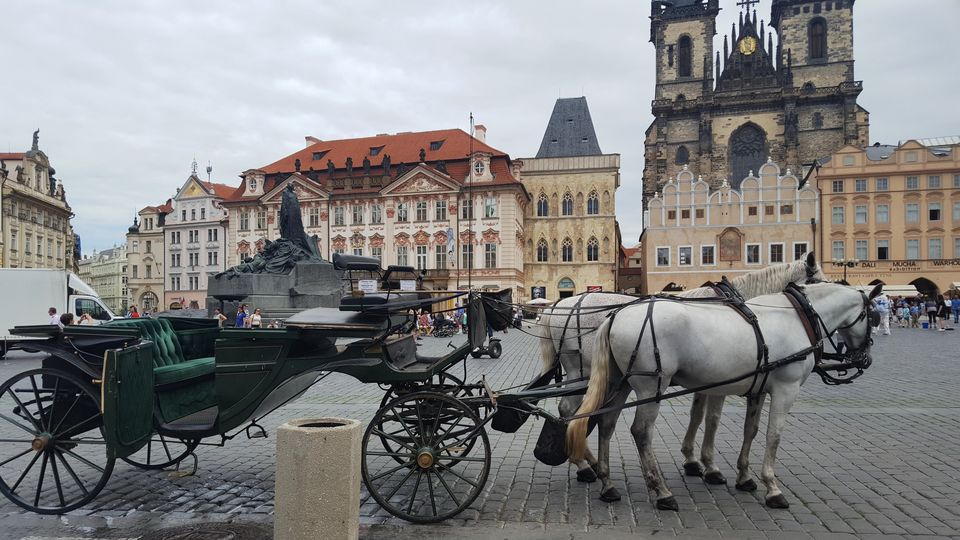 'Prague doesn't let go. Of either of us.This old crone has claws. One has to yield, or else.' - Franz Kafka
Possibly nothing else can describe Prague better than Franz Kafka's own words, but I am going to make an attempt, so here goes...
I spent 3 days in Prague last month and came back with a massive hangover that refuses to let go even now.
Prague..now how do I even begin to explain the wonderful fairy-tale it is! A town with the world's oldest functioning astronomical clock, a dreamy bridge that dates back to 1357, a cathedral with the most beautiful Gothic architecture, houses which you will only read about in fairy-tales and a forever happy vibe that refuses to slow down even in the wee hours of the night; Prague is truly unforgettable. What I loved about the city was the infectious happy feeling that took over me the minute I got down from my cab and stepped right on to the cobble stoned streets of Karlova. Hordes of tourists from all over the world just walking, smiling and having such a great time, its impossible not to fall in love with this beautiful city at once.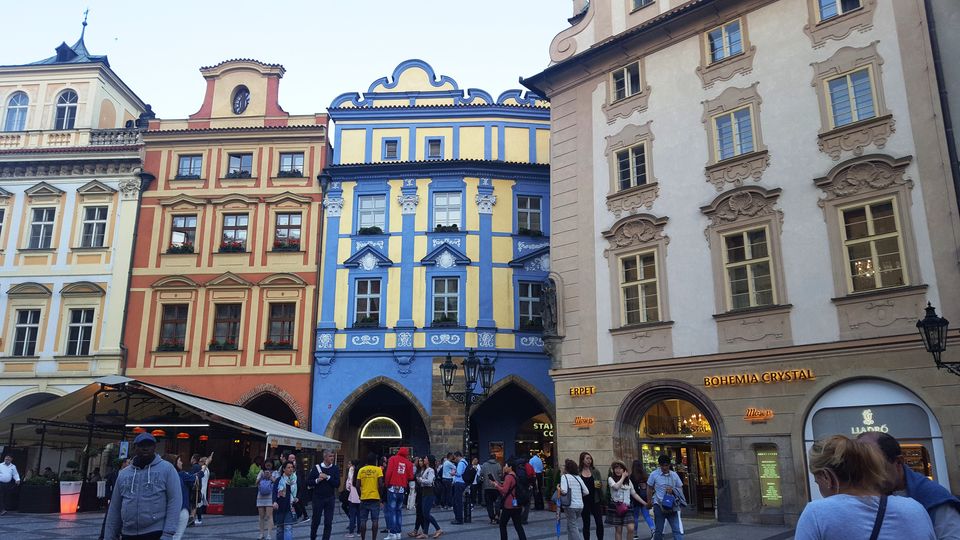 I had opted for a hostel stay in Prague and Ritchie's Hostel on Karlova street, barely a 3 minute walk from the Old Town Square was just perfect. The private rooms with an en-suite were comfortable and if you ask for one with a view of the street, you will always find yourself amidst the buzz. Now while that may be noise for some people, for me it was absolute perfection to feel the bustle of the city every second of the day. After a quick check in and a leisurely lunch at an open air restaurant(U Zlateho) just down the road from the hostel, a walk on the beautiful Charles Bridge was the first thing I did in Prague. Chaotic and full of tourists, yet somehow magical is how I'd describe Charles bridge. Gorgeous sculptures on each side, two enormous gates at either ends of it, street musicians, artists and hawkers on it; the Charles Bridge left me speechless. The views if offered of the city alongside the Vlatava river helped too!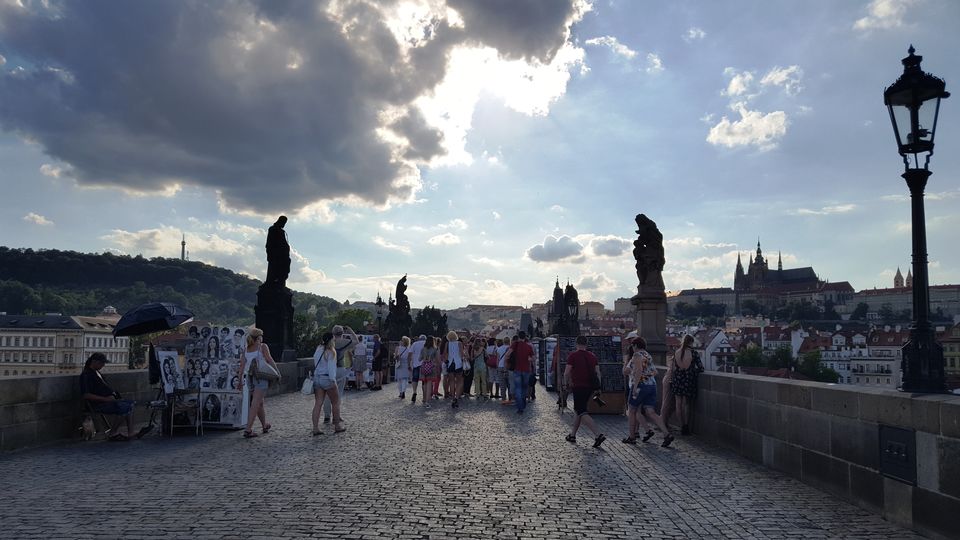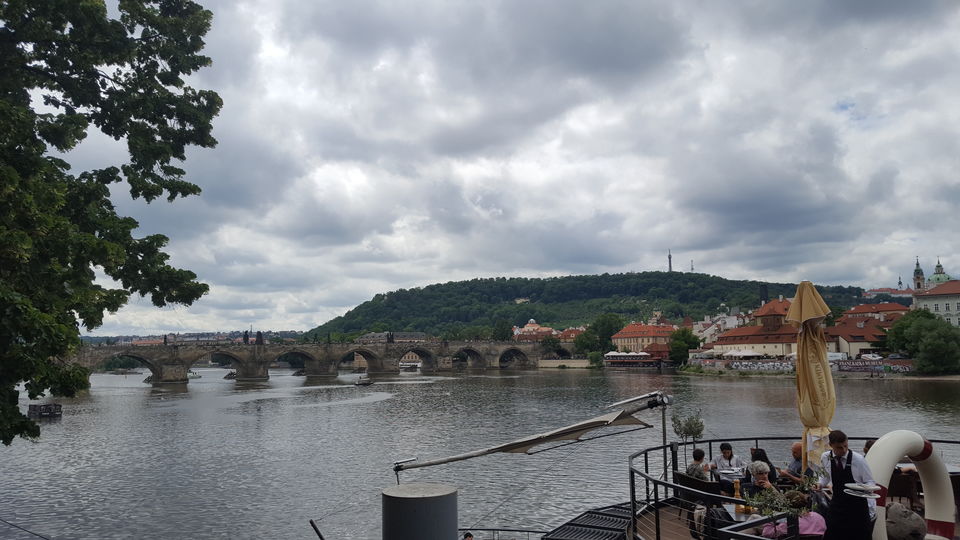 The sun sets really late in Europe during the summers and before I even realized it, it was already 7 pm. Which meant it was time to start exploring what the party capital of central Europe had to offer. Yes, while Prague looks like it has stopped time and preserved itself as a medieval wonderland, it definitely has a solid nightlife as well. Affordable alcohol, meeting young travelers from all over the world and legendary bar crawls is how one should always start their first night at Prague.
We were a group of four girls, so we decided to join one of the pub crawls they have every night of the year to discover the best of what Prague's pub scene had to offer. A safe group environment (not that Prague is dangerous) with lots of fun people was on offer. Once you walk into the old town square, which by the way is the most beautiful setting I have seen till date, you will find yourselves being asked by a lot of promoters to join their crawl.
I had done a bit of research and had booked us for the 'Clock Tower Pub Crawl'. The crawl started with just 15 people and before I knew it, we were atleast 60 people in a hideaway underground cellar having our private party with unlimited alcohol, drinking games and getting to know one another. It was super fun to get to know so many people from all parts of the world and to have some interesting albeit drunk conversations! The pub crawl is definitely the best way to start your experience of Prague nightlife, do it on day 1 itself! You get to explore 2-3 pubs and end the night on a very happy note at one of the popular clubs in town. While you have the option of partying till 5 am, we called it a night at 2.30 am, partly because we didn't want to spend all of the next day sleeping and primarily because in our quest to find one of my friends who went missing, we lost track of where the rest of the crawlers went next, but that's a story for another time!
Day 2 started with brunch at the Old Town Square at a posh outdoor restaurant called Olivia Verde where I had some succulent chicken, and cappuccino to wash it down. After the binge drinking of the night before one is bound to be ill-equipped to handle early afternoon drinking, so coffee was our best bet.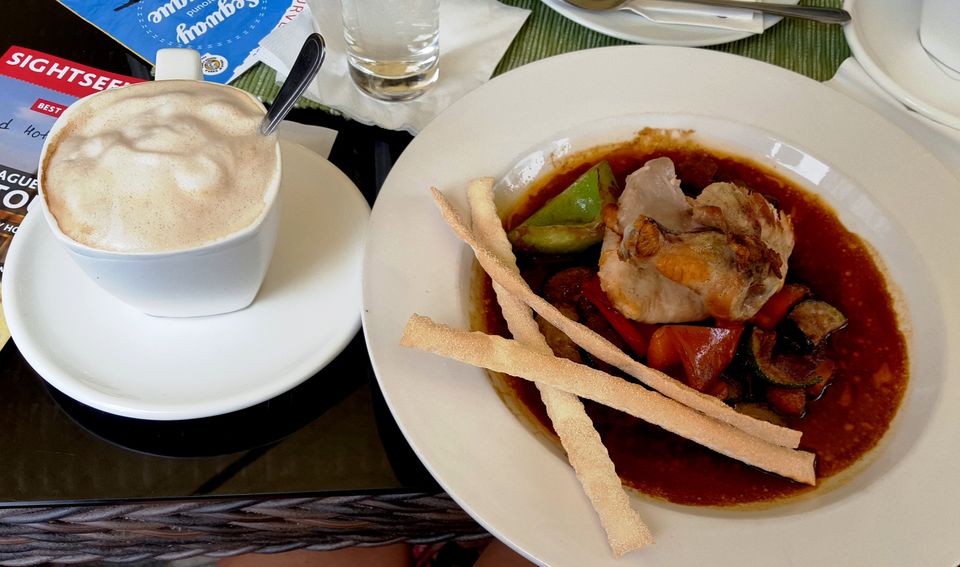 Our restaurant had a perfect view of the Old Astronomical clock which puts on a little show at every hour. Crowds gather to see the mechanical working of this old clock every hour of the day. A few gongs and a little mechanical puppetry is what makes this clock so popular, not to mention that it's beautiful too.
A sumptuous brunch later we saw the best of Prague in the funnest way possible- a segway tour! It was a one hour guided tour through all of Prague's highlights with a super fun guide and we learnt a thing or two about Prague too. Our highlights included a quick stop at the John Lennon Wall, the Love Locks of Prague, the National Theatre, the Frank Kafka museum outside of which you can also see one of David Cerny's controversial sculptures, views of the Vlatva and Charles bridge etc. If you have more time then a 120 minutes segway tour is a great option as it will take you all the way to Petrin as well.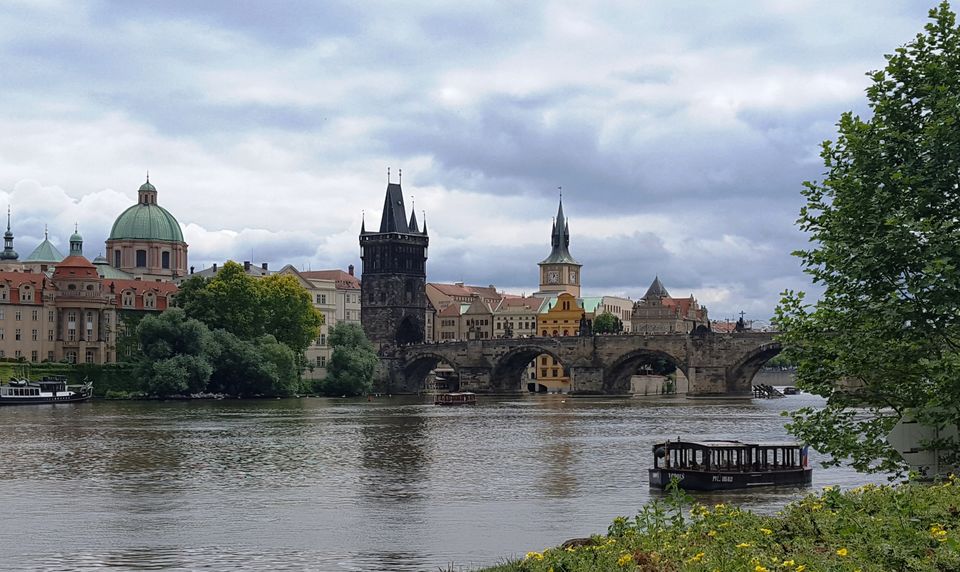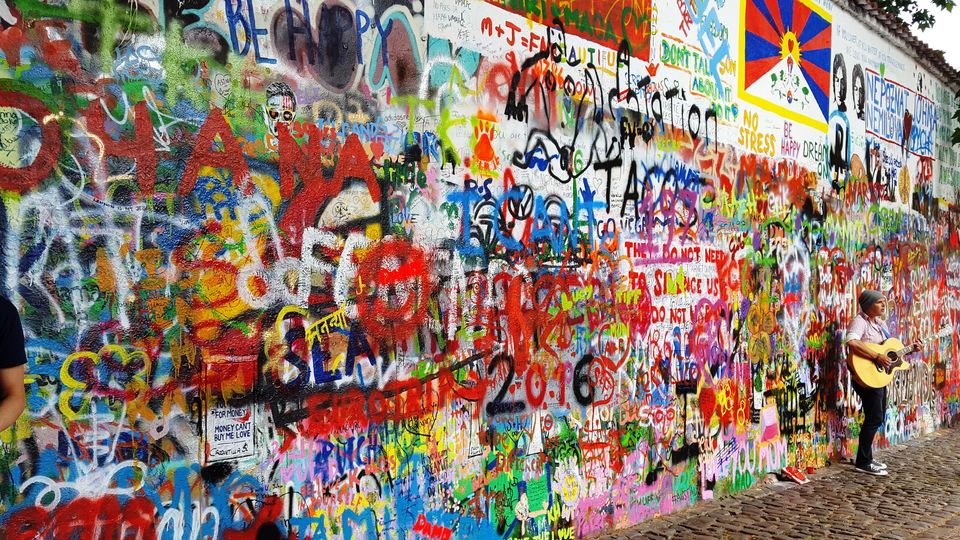 After the Segway tour ended, we walked to the Franz Kafka museum and the experience there was out of the world. Whoever designed this museum certainly knew how to ensure that even people who aren't aware of Kafka get the goosebumps. It is a must while in Prague, I highly recommend spending a good hour if not more at this museum, it will only make you love Prague even more.
There is a museum store right opposite where you can pick up some quirky memorabilia and souvenirs as well.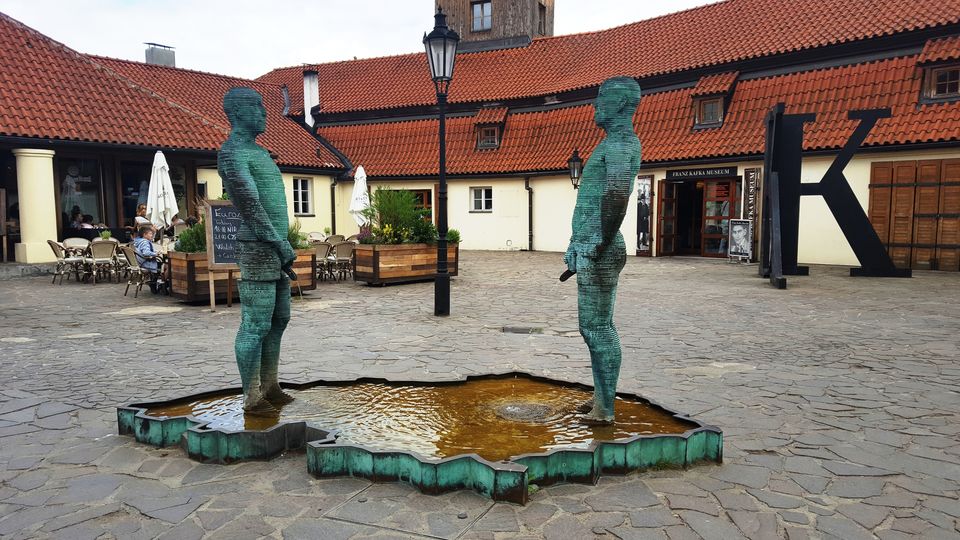 Not having an agenda in hand is probably the best way to explore this gorgeous city. We walked around and saw some beautiful houses; the city is an architectural paradise. We came across cute little cafes tucked away in quaint corners and had a late lunch at a beautiful restaurant called Velkoprevorsky Mlyn in Hroznova, very close to the John Lennon wall. The food was quite good and we had a few Staropramens as well which happens to be the favourite brew of the Czechs. A massive pork knee, a ham steak, a tuna salad and a risotto later we were a bunch of very happy girls. I would recommend this restaurant for the food, the decor and the view but the waitress here is quite rude and refused us water when we asked for some. So that apart, its quite nice.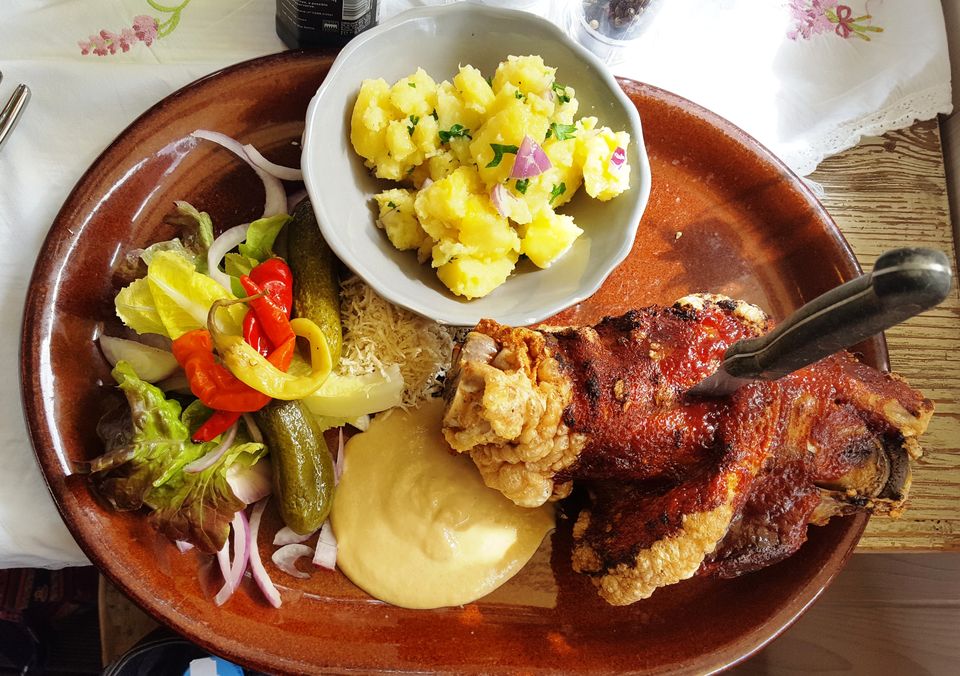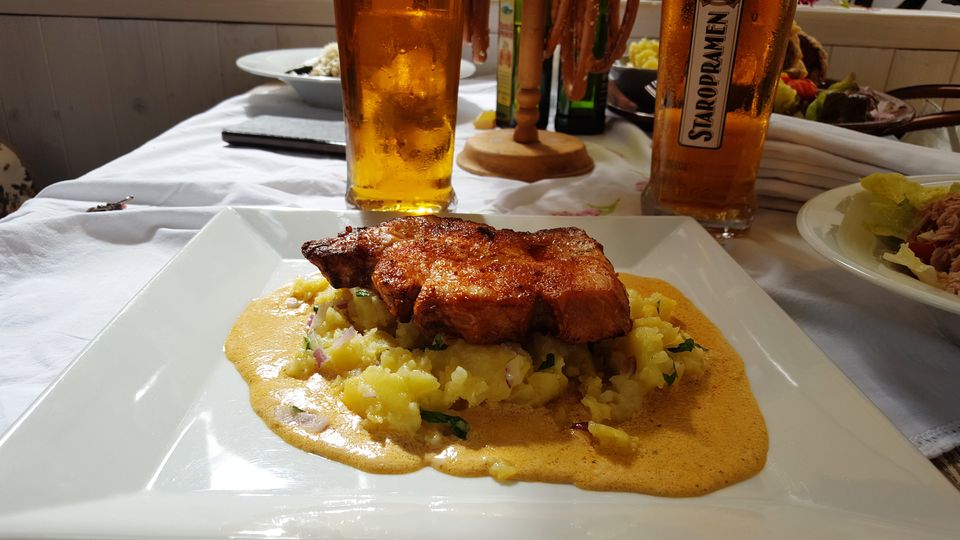 A drink is always a good idea after a satisfying meal and when in Prague one must try Absinthe. No it does not guarantee green fairies, nor is it something that I will ever drink again, but a visit to Prague is incomplete without a quick stop at the Absintherie. We tried some Absinthe cocktails and bought some of the Absinthe chocolates as gifts to give friends back home. It was an okay experience, I wouldn't spend more than an hour here though.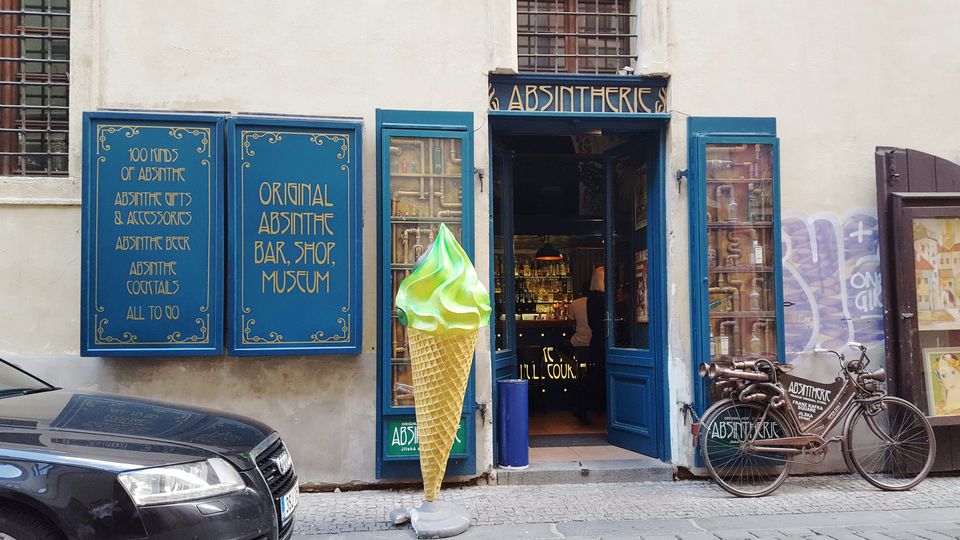 Having spent most of the day outdoors, we decided to go back to the hostel for a bit of rest before heading out for the boat party we had booked for the night. The concept is similar to a pub crawl, except that after binge drinking at the first pub you are taken on a 2 hour cruise on the Vlatava to continue your party on a boat, followed by ending the night at a popular club. I personally preferred the pub crawl, but if you skip the binge drinking (like we did) and head directly for the boat cruise and cocktails on board, its a fun experience. Plus seeing the city at night from a boat is quite a pretty sight. We ended the night at Roxy which is one of the most popular clubs in Prague. Even for a Tuesday night it was quite happening! Every night is a party night in Prague I suppose.
Day 3 three was more about exploring Mala Strana and Prague Castle. So after a enjoying meal from one of the many street side carts selling some pork meat dishes, we made our way to the Prague castle. If you love meat then do try this for a meal atleast once during your visit to Prague. It's authentic Czech food at its best.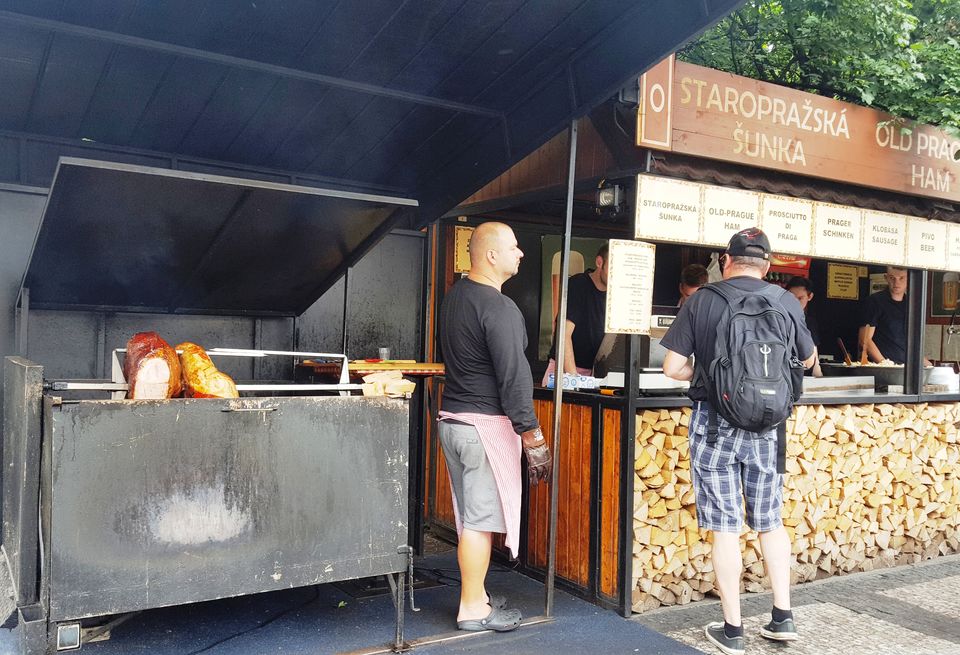 Prague castle is not really one castle but a complex of different structures, the most famous one being the St. Vitus Cathedral. A gorgeous gothic structure which will leave you awestruck for hours. It's truly an architectural marvel. The castle complex dates back to the 9th century and was the seat of the kings and the emperors back then. Walking around the complex is free, there is no entry unless ofcourse you want to go inside the structures. There is also a nice restaurant here in case all the walking around makes you hungry. Do remember to carry a bottle of water with you as you will be walking for a while.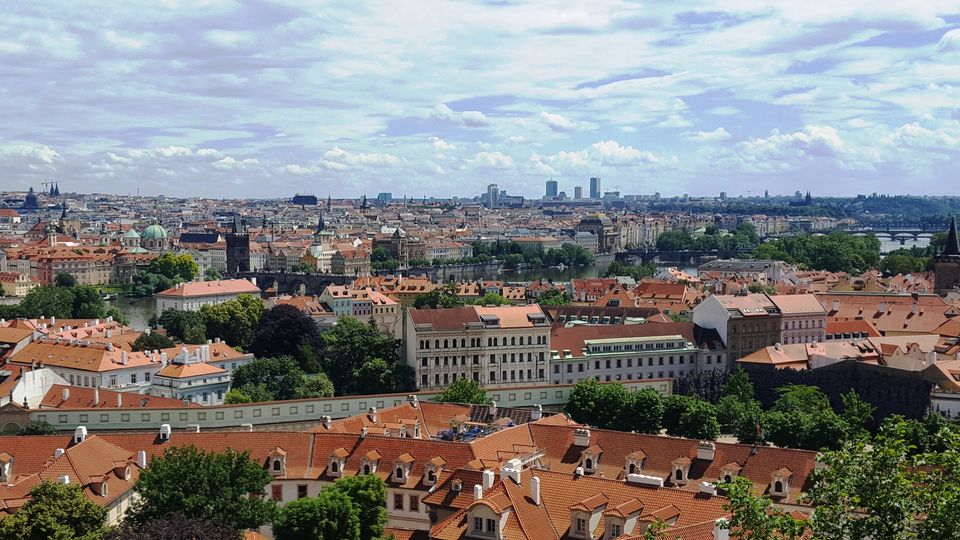 Exploring all of the castle complex will take you a good 3 hours. The castle also offers you delightful views of Prague's famous red rooftops and once you take in that view, you will know why this is a city that dreams are made up of!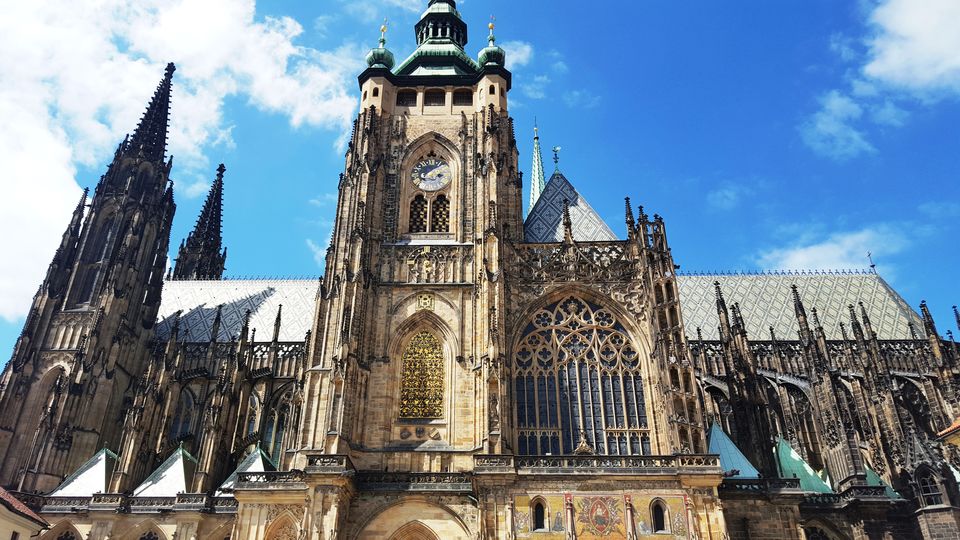 Later in the evening we went for a stroll to Wenceslas Square, where the old world charm of Prague was slightly replaced by high street boutiques, shopping complexes and modern buildings. It's a great place to stop for a drink or shop a little but my heart remained at Old Town Square, so after a bit of walking around Wenceslas and some souvenir shopping, we made our way back to Old town Square where hours were spent just sitting and looking up at the surreal blue skies in silence amidst the chaos.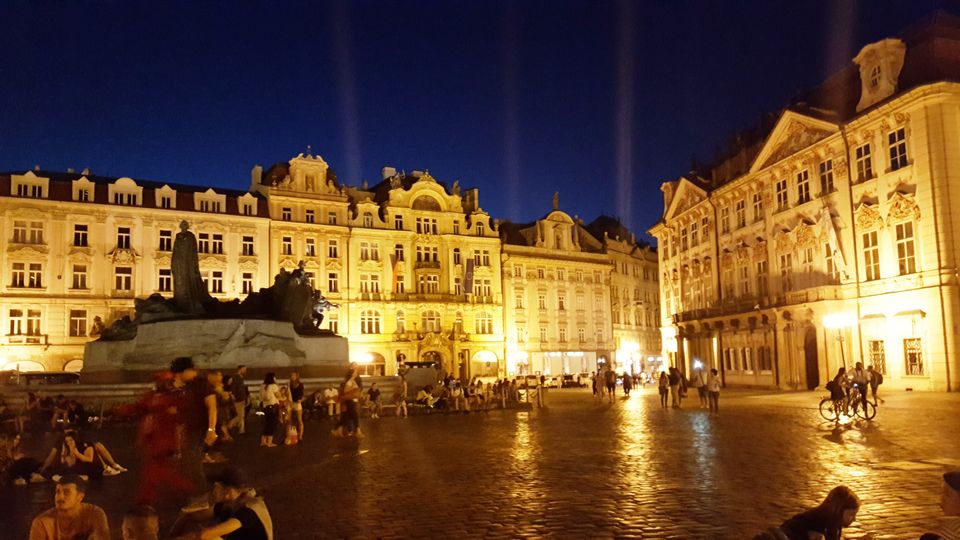 After lamenting about the fact that we spent too short a time in Prague we decided to have dinner at U Prince restaurant which was situated outdoors in the most gorgeous setting the night could have had. A meal of medium rare lamb chops under a fairy-tale setting was delightful!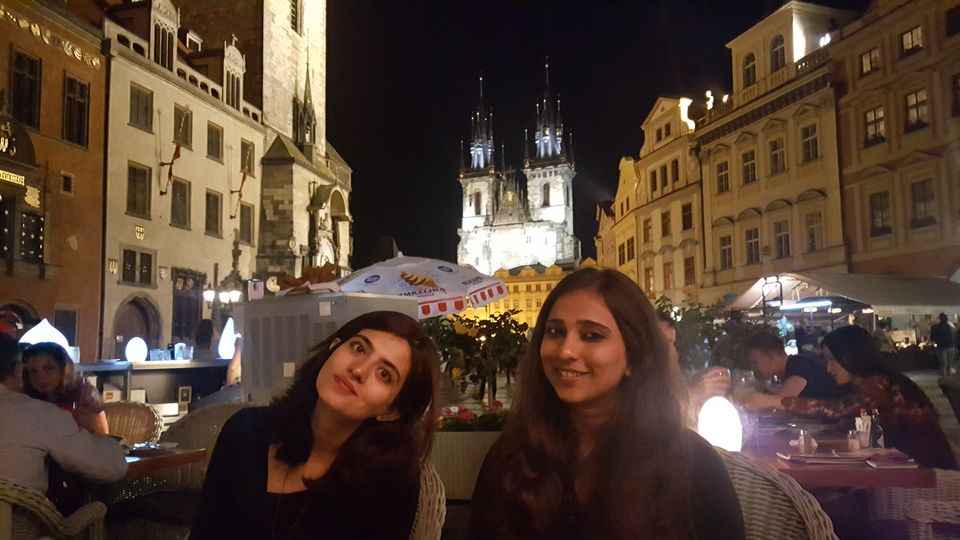 The next day we had our flight to Amsterdam but clearly left our hearts at Prague. Like Kafka said, the old crone has claws.....
Travelers' Tips:
1. Don't convert your currency at the airport even if the exchange counters there tell you that you will not find any int he city, the city has many currency exchange centers and you get a better price.
2. 3 Words. Comfortable walking shoes
3. If you can then wake up early to walk on the Charles Bridge minus the tourists.
4. Definitely go for a Pub Crawl
5. Haggle for excursion prices. You will get a good deal for just about anything - Segway tours, crawls etc.
6. Always check you bill, some restaurants can be sneaky and over charge.
7. Try the local cuisine and beer
8. 3 days are not enough. Not even a week is I suppose. Prague will give you a serious hangover, so be prepared for that.