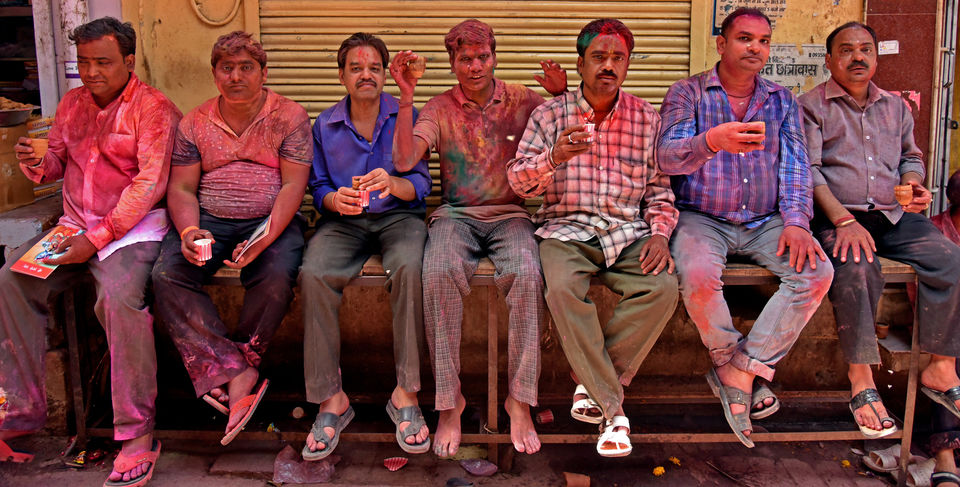 Holi is around the corner and where else one could be but in Mathura to celebrate it at its best.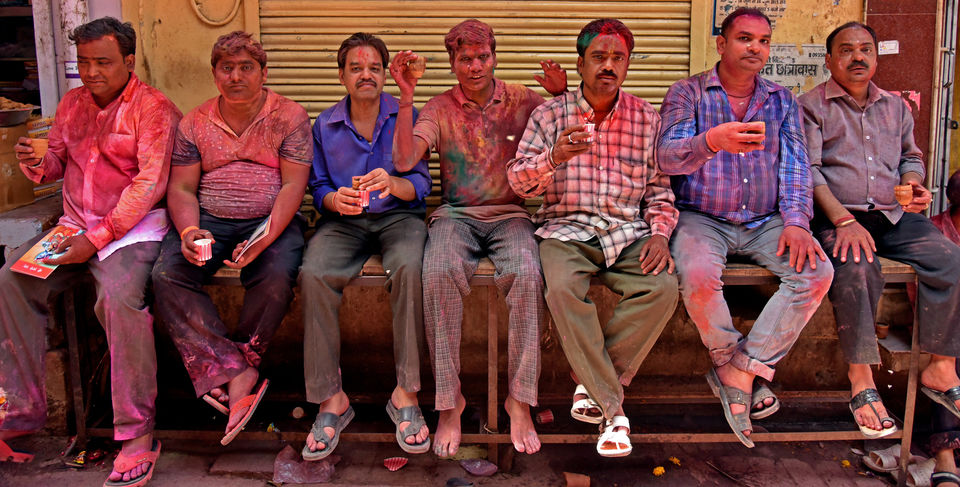 Mathura is the birth place of one of the highly worshipped Hindu Gods, lord Krishna. Mathura along with the adjoining towns and villages like Vrindavan, Gokul, Barsana, Nandagaon and Govardhan are collectively known as Braj or Brij.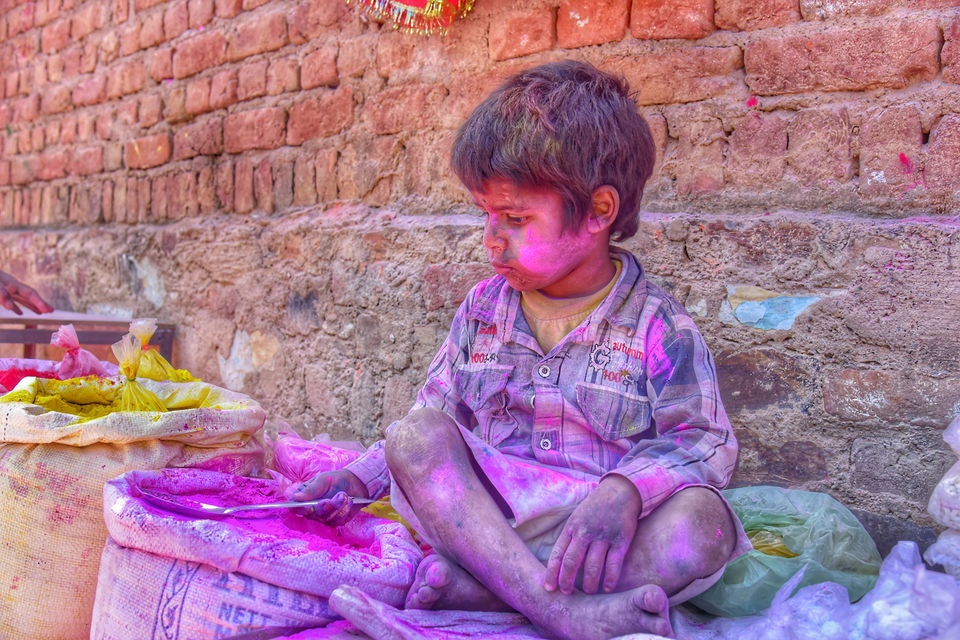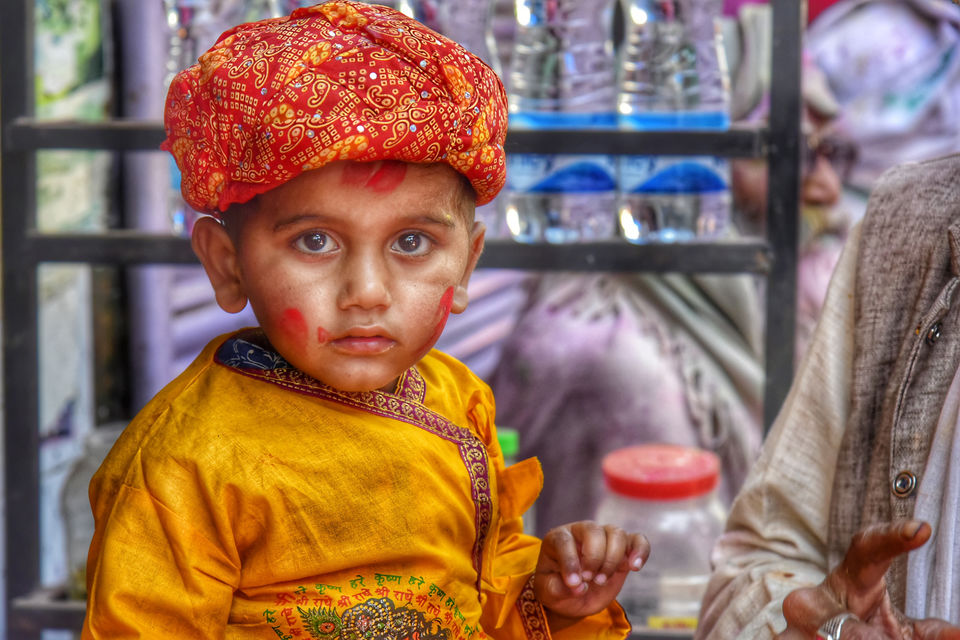 Holi here in Braj starts a month before the actual Holi. However, the main celebrations, the Holashtak, happens to be of 8 days at 8 different locations. Here are the list of various events that take place: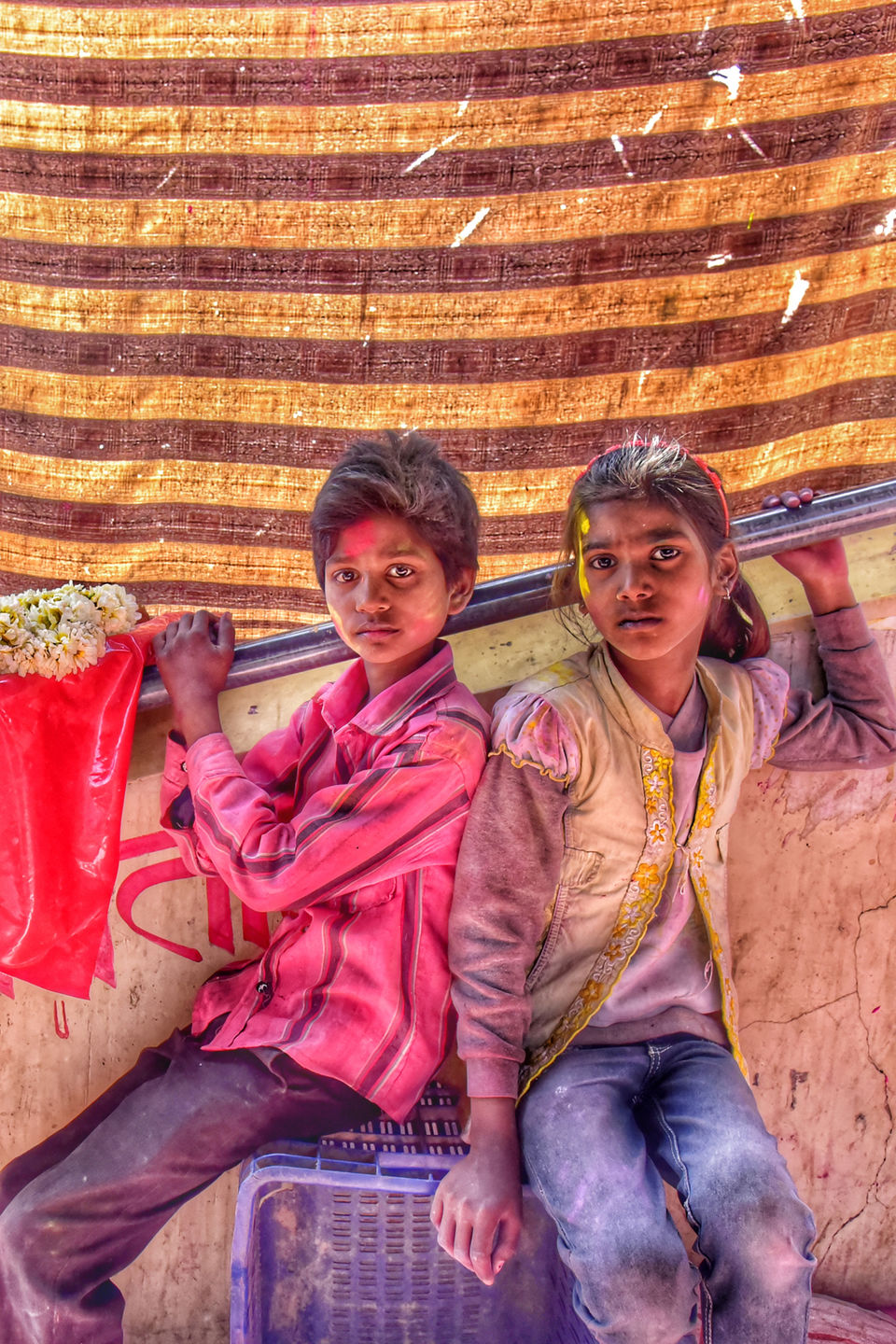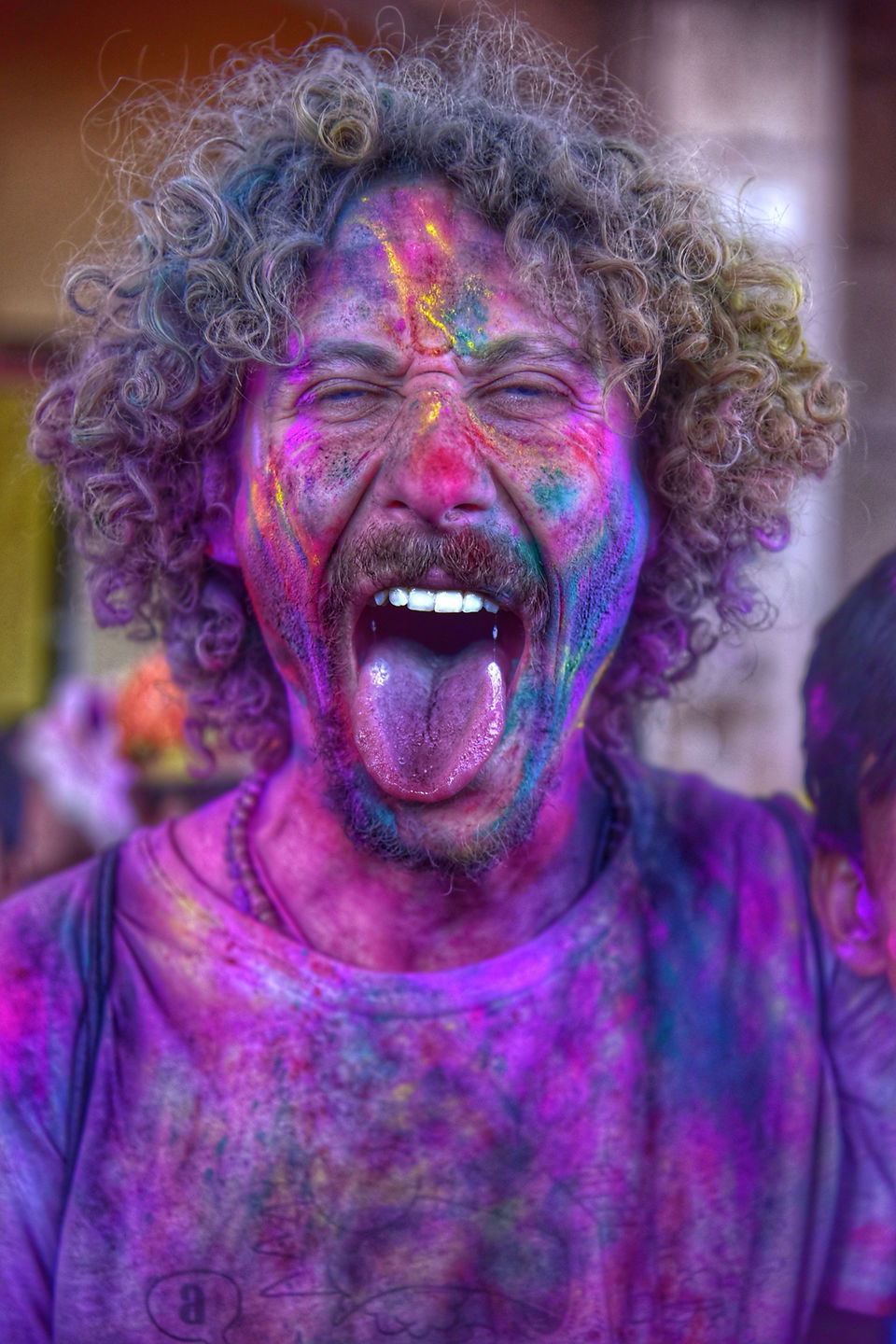 Day 00: Laddoo Holi or Laddoo Maar Holi at Radha Rani Temple, Barsana.
Barsana is 50 odd Kms from Mathura, and is believed to be the birthplace of Radha Rani, the companion of lord Krishna. It can be reached in an hour and half by bus from Mathura. However, the bus stops few Kms ahead of the temple because of huge crowd. So, you'll have to walk the last 2 kms on your own to reach the temple. A day before the Holashtak, people gather here to take Darshan of deity and rush with the crowd to catch the Laddoo which Pujarijis throw from temple as a form of prasad. The Laddoo Maar starts roughly around 3-4 pm. You can come early to watch people playing with colors and enjoying on the tune of drums and songs.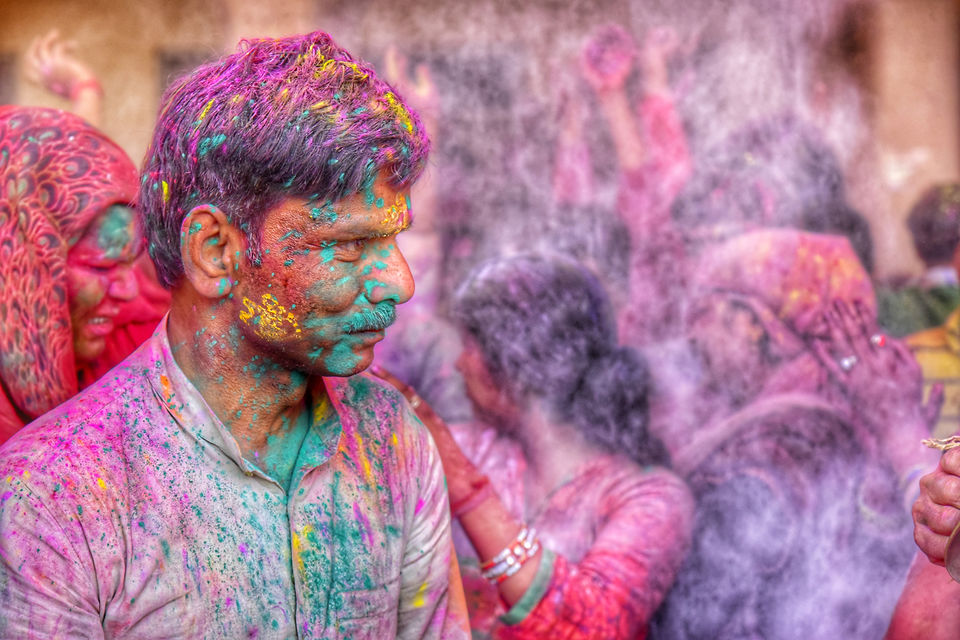 Day 01: Latha Maar Holi at Radha Rani Temple Barsana.
On first day of Holashtak, the famous Latha Maar Holi takes place in which the women of Barsana village playfully beat men who come from adjoining village of Nandagaon with a stick known as Latha. The entire day is full of celebrations. Whereas, the Latha Maar Holi starts around 4:30-5 pm on the streets down the temple. Leave early to avoid the rush of public returning to their respective places.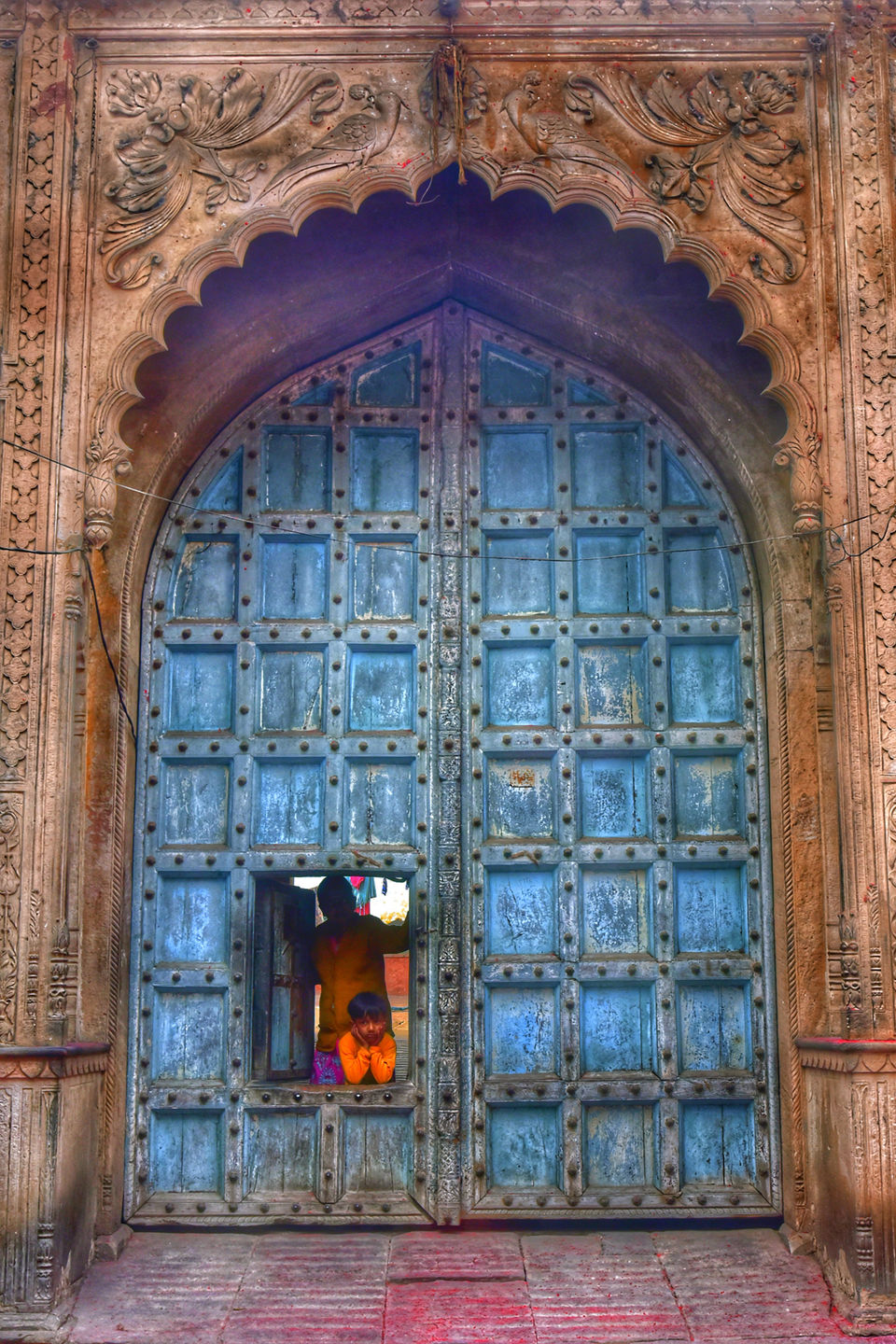 Day 02: Latha Maar Holi at Nandagaon Temple, Nandagaon.
On the second day the women of Barsana go to Nandagaon to play Latha Maar Holi with men of Nandagaon at a ground near the main market of Nandagaon. It also starts at around 4:30-5 pm. But you must reach early to take better seats to enjoy the play as it's crowded here.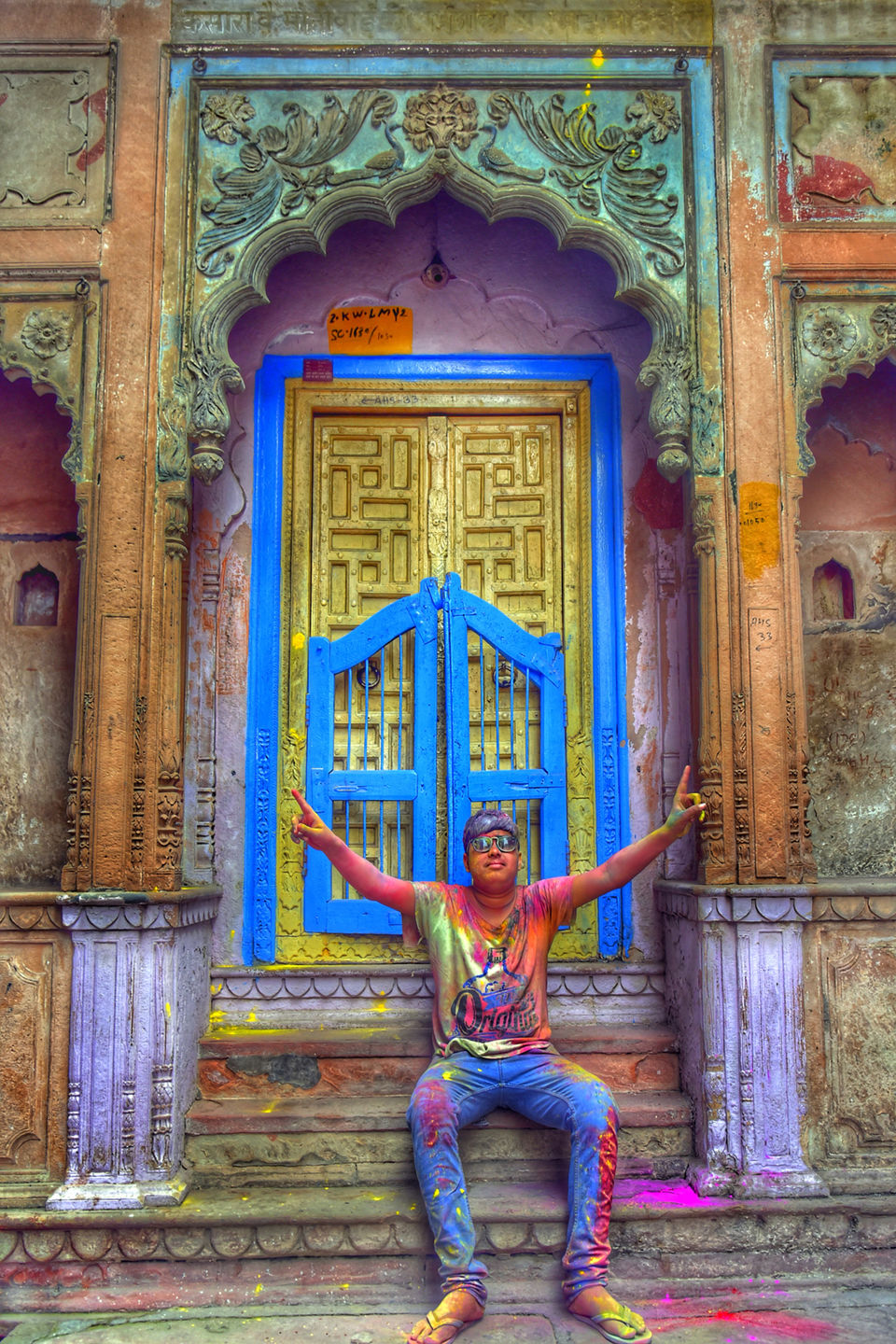 Day 03: Holi at Krishna Janma Bhoomi, Mathura/Phoolon wali Holi at Banke Bihari Temple, Vrindavan.
Krishna Janma Bhoomi is a huge temple built at the place where the Lord Krishna was born. On this day of Rangharni Ekadashi the temple compound is jam packed with people who come to witness a complete touristy event that sums up everything from Latha Maar to Flower to colourful Holi. It also includes dance performances by local artists. This thorough engaging event commences at around 1 pm and culminates again with the Latha Maar Holi at around 5pm.
The second option that you have on this day is the Flower Holi or Phoolon wali Holi that takes place at Banke Bihari, the most famous temple in Vrindavan. Here the worshipers are showered with flower petals throughout the day. Vrindavan is 11 odd Kms from Mathura and can be reached by sharing auto rickshaw in half an hour for 20 bucks. Although this continues for couple more days here this day is the grandest with use of around 1500 kgs of flowers.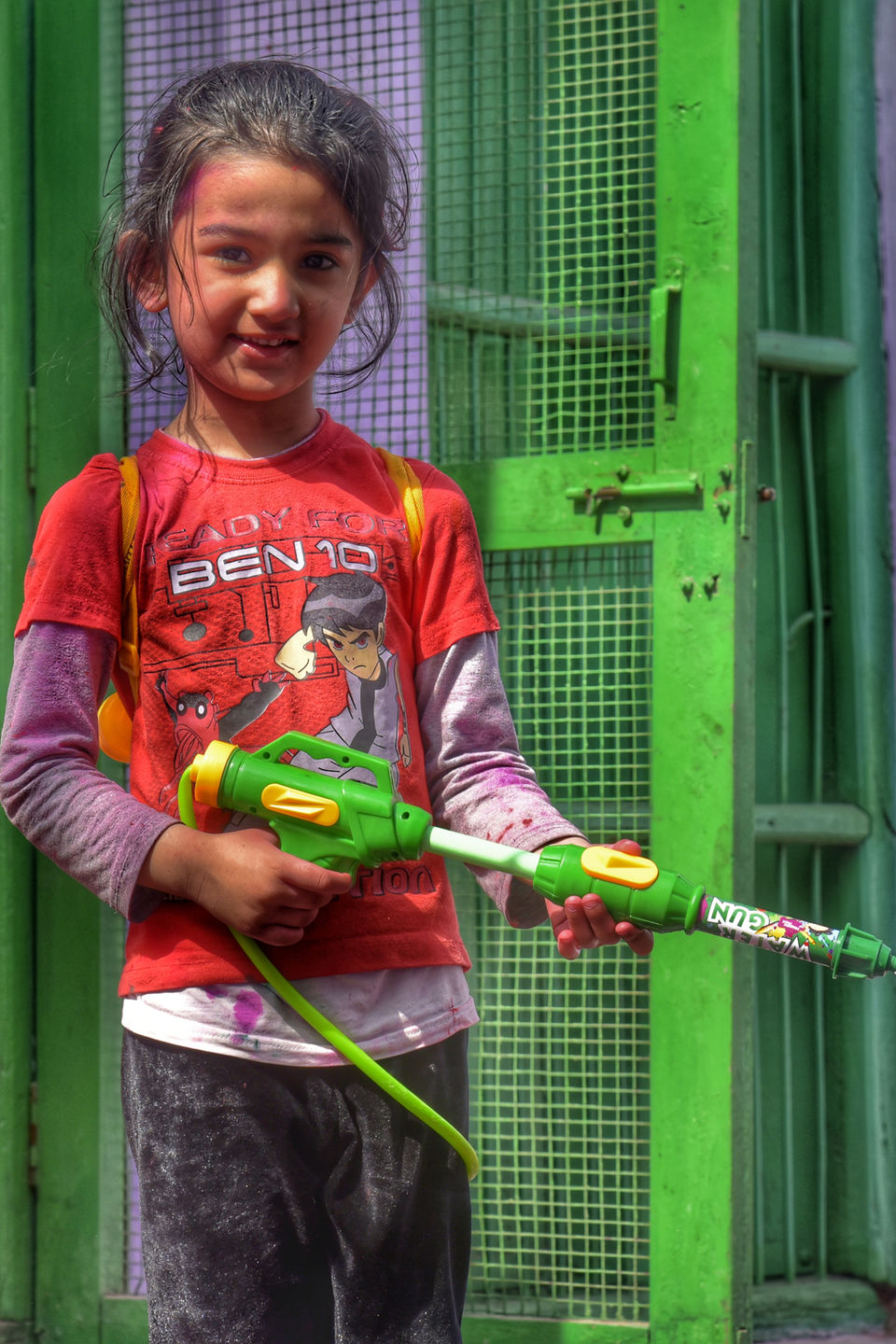 Day 04: Chhadi Maar Holi at Gokul Dham, Gokul.
Gokul, a 12 odd Kms from Mathura is the place where Lord Krishna spent his childhood. On this day kids dressed as Lord Krishna and Radha are taken on a street procession from the Gokul Dham Temple to a ground and worshiped with flowers and colors and then women use a thin stick known as Chhadi to playfully beat men around there. The procession starts at around 12 noon and reaches the ground in an hour and a half where the Chhadi Maar Holi takes place.
Day 05: Temple Hopping in Vrindavan.
There's no any event dedicated to this day, however you can enjoy flower Holi at Banke Bihari Temple in Vrindavan and also you can do a temple Hopping, as there are numerous temples in Vrindavan. Prem Mandir, ISKON, Vaishno Mata Mandir, Jaipur Mandir, Rangaji Mandir and Pagal Baba Mandir to name a few.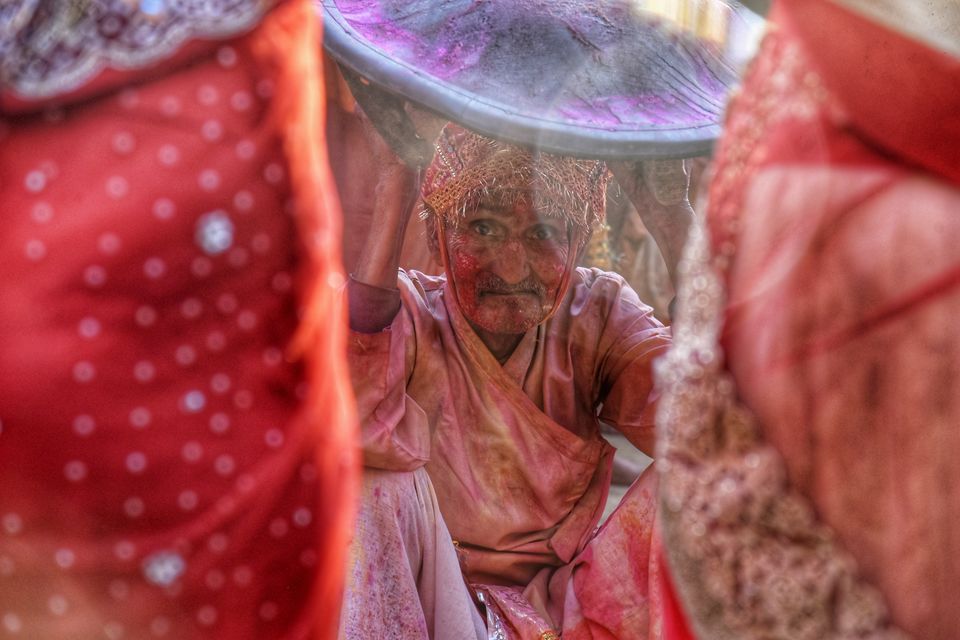 Day 06: Widow's Holi at Pagal Baba Ashram, Vrindavan.
On this day a procession starts from Pagal Baba Temple, which is few Kms ahead of Vrindavan, to an Ashram built by Pagal Baba for widows to live. Widows, who generally wear white attire and refrain from using colors can be seen here playing with colors and flowers in huge numbers. The procession starts around 10-10:30 in the morning and goes for 3-4 hours.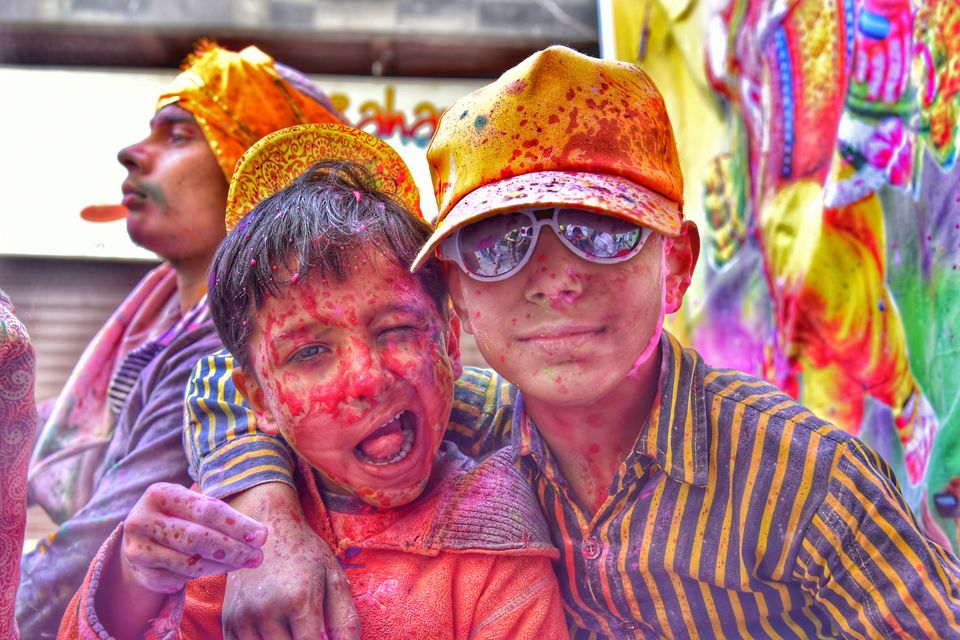 Day 07: Holi Dola Yatra and Holika Dahan at Holi Gate, Mathura.
On 7th day of Holashtak, a grand procession takes place from Dwarkadheesh Temple near Vishram Ghar to Holi Gate. Huge number of people take part in this procession and dance on folks songs to Bollywood numbers. The lane through which the procession goes is real narrow so it gets highly crowded. You often get hit by water balloons or water guns from the terrace of the houses on both sides of the street. The procession starts at around 2 pm and goes till sunset.
Another event that takes place on this day is the Holika Dahan. During night at around 9-10 pm a huge pile of wood and cowdung cakes are lit up with a small statue of a women figure in between.
Day 08: The main or actual Holi, Entire Country.
This is the day when the actual holi takes place in the country. You can see kids since early morning playing with water guns on each and every streets of Mathura or Vrindavan. Whereas the adults join the celebration at around 10 in the morning after doing the puja in their household. The best place to enjoy this is the main town area that includes, Holi Gate, Chhata Bazar, Vishram Ghat and nearby places.
This sums up the entire Holi event, however there is another event known as Dauji ka Huranga which takes place a day or two after the main Holi. You'll get to see banners or posters of the same on the streets of Mathura during the week. So just keep an eye. Hoping you all to enjoy this season of Holi. Play safe and take care.
Please check out the video. Feel free like share and comment and subscribe to the channel.
Also follow me on instagram: https://www.instagram.com/worldinhdr/