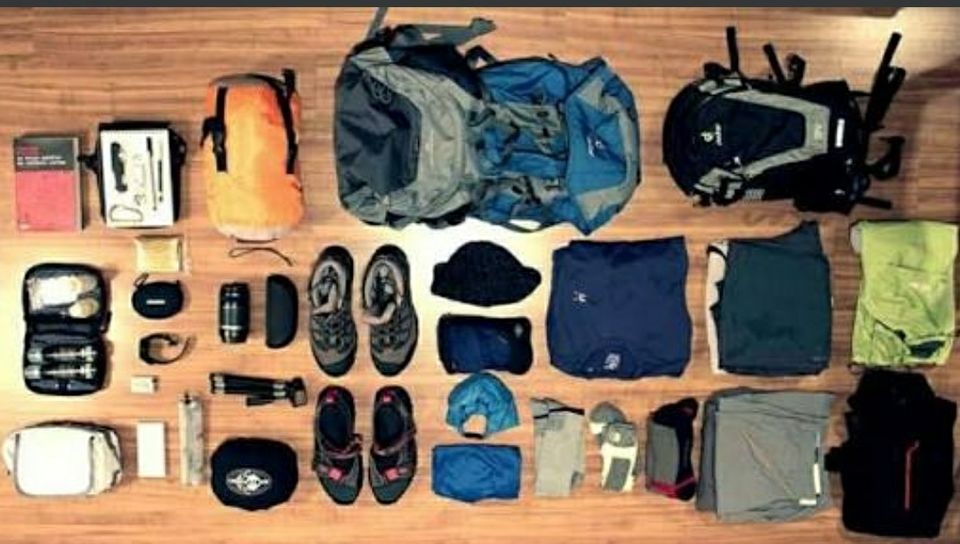 From 25 degrees to -2, from 46 ft to 14,400 ft., from an easy life to an adventure!! This whole trip was a book worthy one!!
My phone rang at 6 in the evening and the voice on the other side said the adventure was awaited! The next thing I knew was I carrying a heavy load on my back cursing for coming here on the top of this mountain covered in snow but today when I sit in that same old crowded local train and look at those tensed face thinking in the back of their mind that this is an adventure for them, to get into this local train crowded with more than thousands I grin and say that trip taught me life is important!!
I was prepared for this trip but honestly not fully so I made this small guide that will help you know if you are prepared for your next trek.
So let's look at the list of things that you need to carry while trekking!!
• Trek bag – one needs to be very specific with the type of bag they choose, it shouldn't be too big and heavy to carry nor should it be too small. The perfect size is a 60L bag.
• Trek shoes – grip plays an important role when it comes to trekking, so one needs to go for trekking specific shoes that have grooves coming out giving a perfect grip.
(NOTE: AVOID SPORTS SHOES OR SHOES WITH FLAT BASE FOR SNOW TREKS)
• Trek stick – moving up, with rocks and snow everywhere you might lose control anytime and anywhere to avoid which Trek stick helps a lot!
• Clothing – on treks the temperature keeps on fluctuating. During day time the temperature might vary around 10- 25 degrees leading to sweat and tiredness while at nights it might drop down to 0. So we need to carry the proper clothing to keep ourselves protected. I prefer:
o Polyester Tshirts to avoid sweat
o Polyester trek pants
o Windproof jacket for cold climate
o Thermal base layer to be used on campsites while sleeping.
o Sweaters for campsites (in extremely cold climates)
o At least 3-4 sets of inner wear as at places due to the extremely low temperature you might not get a chance to take baths so it's always recommended to change inner wears every day
o 3-4 sets of socks, again change every day.
o Suncap to avoid tan
o Woolen cap for the campsite
o Woolen gloves for slow treks
o Poncho/ raincoat for unexpected rains.
• Medkit –
o Bandaid
o Meds for headache
o Iodex
• Torch/Head Lamp – plays an important role for night treks/early morning treks.
• Sunglasses – very important to avoid snow blindness in snow treks and important even at non-snow treks to get a clear view.
• Toiletries –
o Mouthwash/Toothpaste and brush
o Lotion/Cold Cream
• Polythene bags – to avoid littering on the way, you can store the waste in bags and can dispose of the campsite in dustbins or base camps. It also helps in storing wet clothes.
• Energy bar – Snickers get more and more expensive as you elevate. So carrying a few from the base helps a lot.
The list seems long and expensive but the things are minimal and most of us have a maximum of these things with us at our homes. Packing these up will be helpful at all the steps of your trek! So I hope this article helped you all and if it did then do share it with your other friends too.
Happy Traveling!!