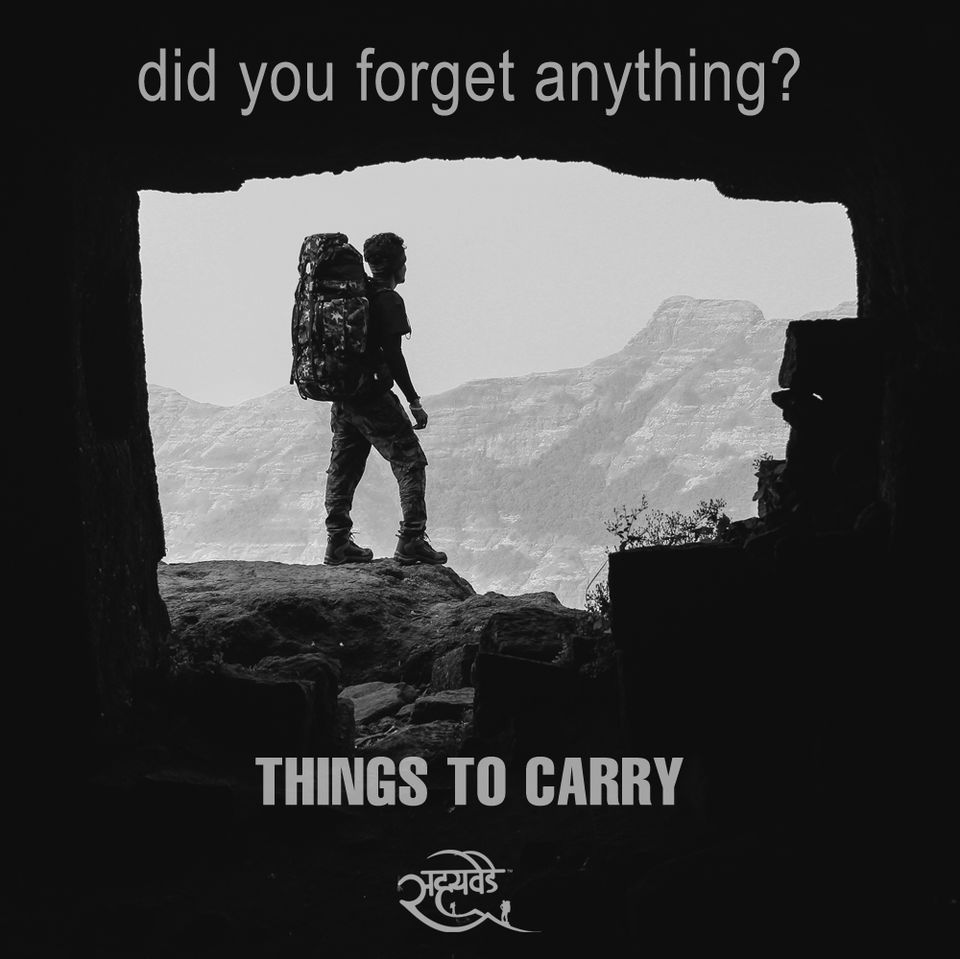 Haversack – This is the most important thing you need. Choose a sack which can sustain the weight throughout the trek. In rainy season, (Make sure that you do not carry any Jholas, one-side bags etc.)
*We prefer to use a big plastic bag inside the haversack. This helps us to keep the things dry.



At least 2 liters of water bottle. It is really necessary to consume the carried water wisely.
(you may add Glucon D or energy powder to it)



Extra clothes as per the season. Full sleeve clothes are preferred for treks. (Towel, Rain coat, Sun cap, Thermal wears as reauired)
*make sure you carry a plastic bag to keep used wet clothes.



Trekking shoes – 'Action Trekking' is Most preferred pair of shoes for Sahyadri region. If not available, one can wear shoes with good grip.



Bedding material – Sleeping bag / Carry mat / Blanket etc.
*Make sure that the bedding material is not bulky or heavy.



Torch with extra batteries.
Avoid using your mobiles as torch as the mobile might be needed in an emergency. Hence, it is important to save on the mobile battery.



Plate, Mug, Spoon etc.
We prefer to carry our own plates etc to the forts. (Optional)



Personal medical kit -
A set of medicines for any personal allergies, insect repellents or the medicines as per your doctor's suggestion etc.
You can also carry basic antiseptic medicines, tablets, band-aids, crape, relisprey etc.
Sahyadri is the northen west part of Western ghats in India. The terrain full of tropical forests, hill forts, backwaters & rocky cliffs