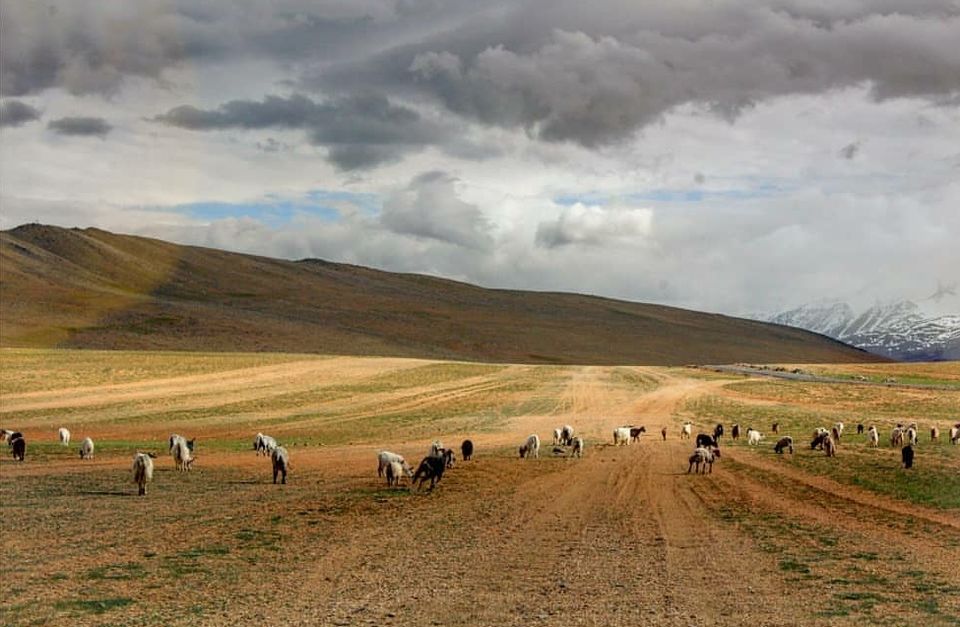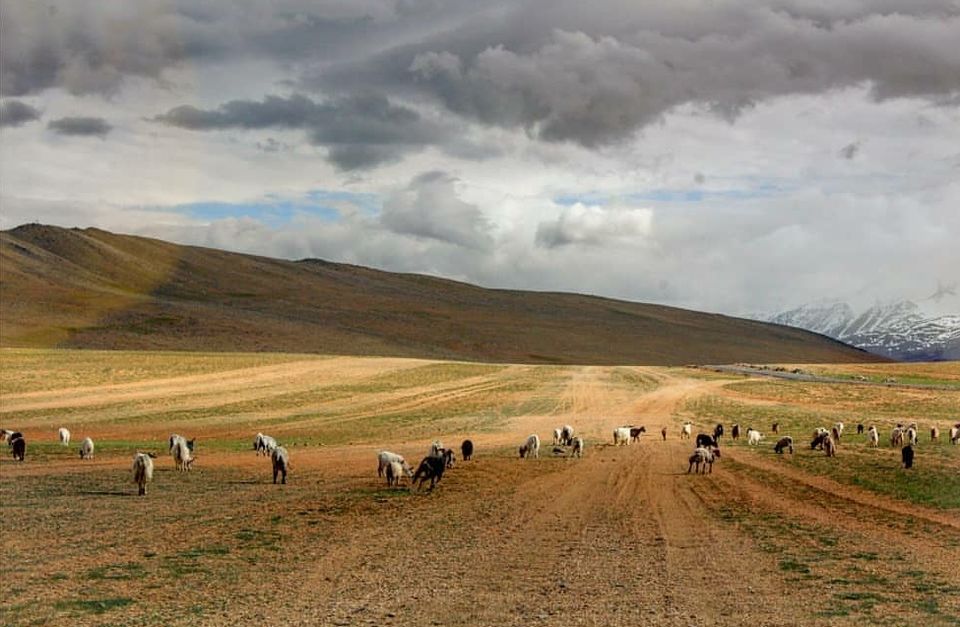 The journey to Tso-Moriri aka The Mountain Lake reminds me of the very famous line, "Safar khoobsoorat hai manzil se bhi". Takes me back to the time I ran in the open space and felt like a bird, yes I was flying as I ran, this gives you an everlasting vibe. The chilly wind as you lower down the window of the car, oh there comes a moment if you open your mouth you won't be able to do it for long, it takes your breath away, literally.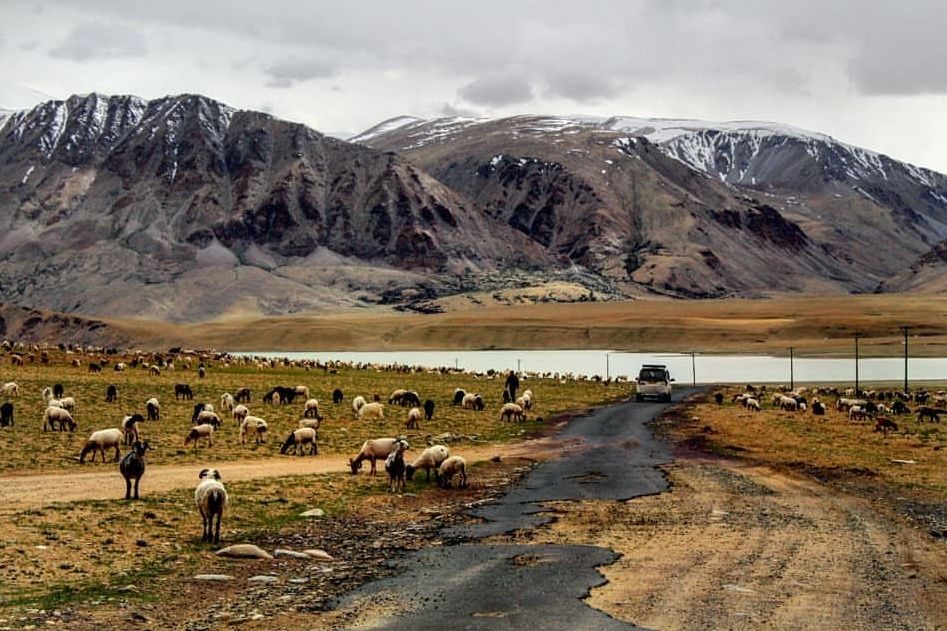 Yes, unlike people travelling on their bike, we went there on a car, my mother accompanied me to this place, actually she is the person who just makes things possible for me. It gets real difficult when the chilly winds and lack of oxygen hits, we survived through it.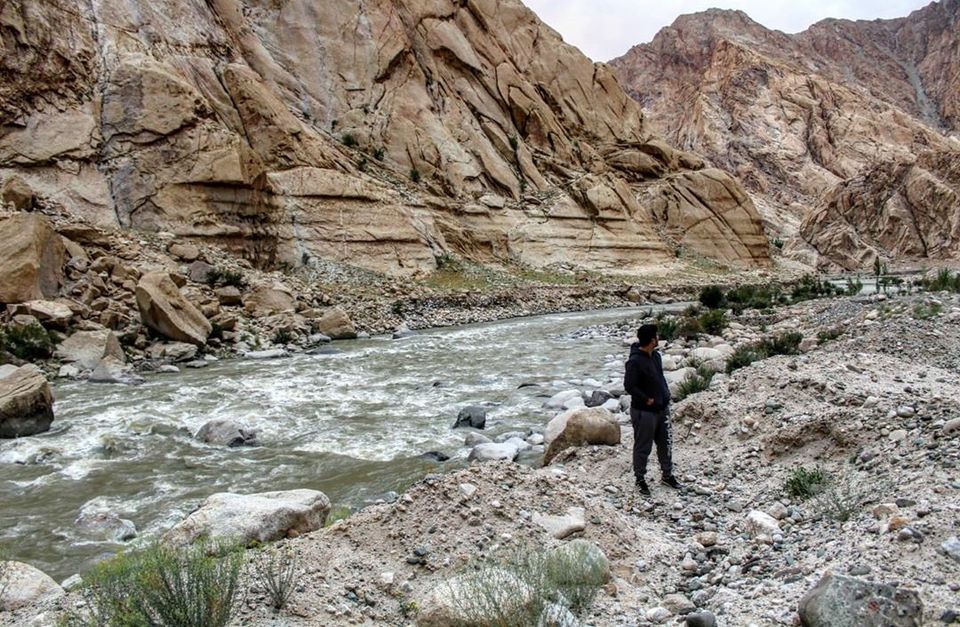 Well, this small stream accompanied us for the longest part of the journey. Stopping at the spot like this and just listening to the sounds of nature brings you peace, makes you feel light and the only sound you would hear of won't be of your thoughts but of the serene presence of nature around you. Nature is formed this way by the almighty, if you feel empty, it fills you with strength to conquer. I could not just stop looking at such a vast structures standing tall and the stream, I witnessed a beautiful relationship.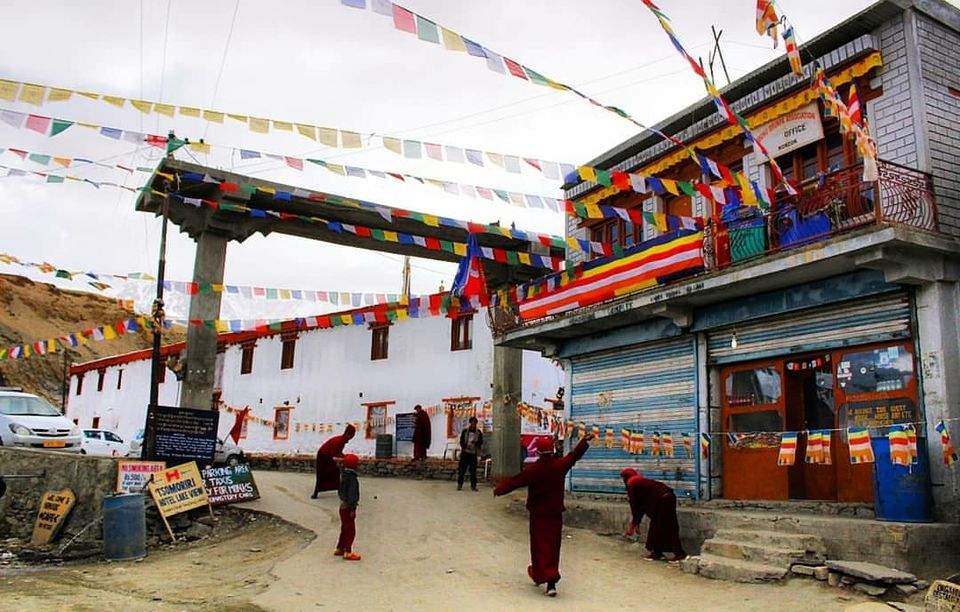 The journey was real long, we started around 7 a.m in the morning from Leh, with all our warm clothes, bottled oxygen and essentials, we were going in to witness a lot of adventure, so we were filled with joy and excitement of what the journey would offer. We reached there somewhere around 3 p.m in the afternoon, yes its that long. Of course, we did stop at multiple places for tea and refreshment and not to forget to feel the view.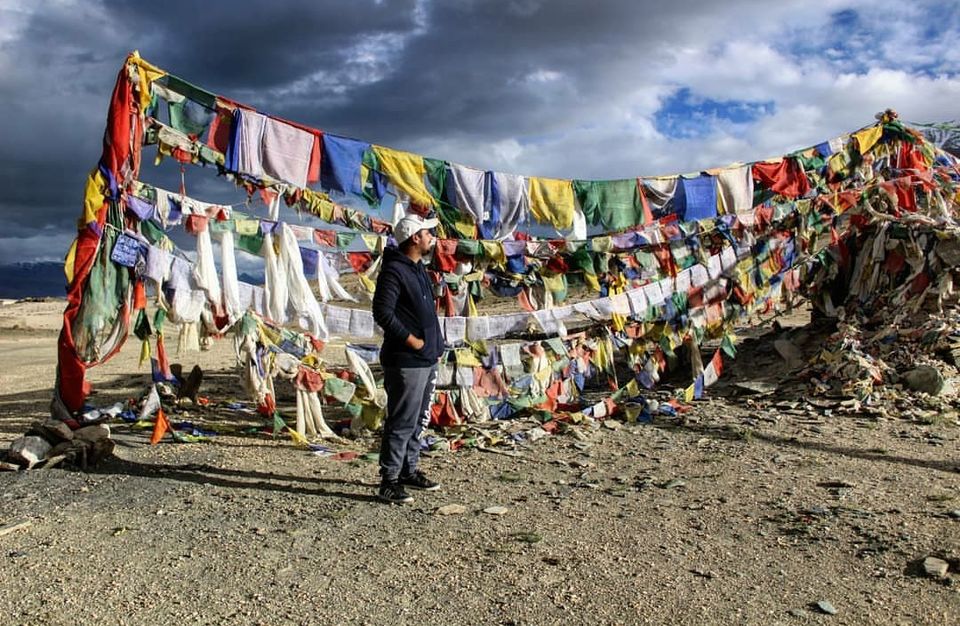 This is the top most point of the place, from here you would get full view of the lake. Also, I have got a thing for prayer flags, it brings me peace and I never miss a chance to click a photograph with them in the background. The wind flows at top speed here.
I'll just share a small story. Well, we think we click the best of the photographs, we know the angles right and everything. I was carrying a DSLR with me. I handed over the camera to my mother to click the pictures. She clicked the best of the pictures, and I was wondering why my pictures weren't coming right. I told her, "you are not clicking good pictures", hearing to that she didn't feel right, I still remember this moment. I closed my eyes and imagined myself taking the journey alone, it wouldn't have been possible without her efforts. I hugged her for everything she has done for me, I was all emotional. All we need to do sometimes is stop and feel things, its all that matters. It makes my heart heavy as I write this.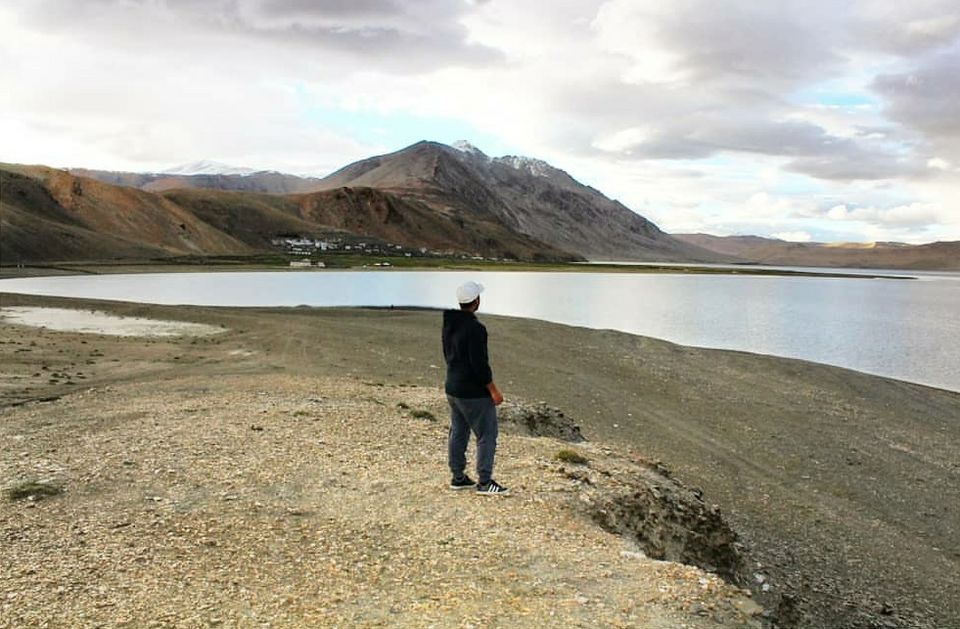 As we reached there, we didn't have any prior arrangements of where we are going to stay, we were just taking the stroll and clicking photographs, all afternoon time we had. We had options of home stays and camping. We saw the home stays but couldn't settle as it felt all closed, then we saw some camps at similar price, all equipped, food and beverages, with attached washrooms. So, finally we settled for the camps.
Soon, we had our evening snacks or supper and were all fine until we began to feel real cold. The gushing winds and the drop in temperature, which we thought of but soon realized. We had huge blankets, the camp had a layer covering but things were not at ease.
We thought maybe its due to the less of oxygen that we feel this way, so we tried to calm ourselves but couldn't as headache started. We took out the small bottles of oxygen which we thought we won't require, it got finished within minutes and things started to take toll on us.
After some hours, I felt sick, because all the time we were strolling there were strong winds which hit did hit hard. It was night at the time I thought of calling out people to assist me. My mother went outside the camp to ask if people were still awake. Luckily, the people who arranged camps were awake and we called the driver and I was taken to army camp for treatment. Not to forget we didn't have phone signals because we were at no signal zone.
In the camp, the doctor was luckily awake too. Few injections and some medicines to support health, we headed our way back to camps. My mother was still awake, waiting for me. The morning was close, she began to feel sick too. The camp people had the cylinder but didn't have oxygen in it or I would say it wasn't functional.
The morning was here, only ray of hope, we prayed for that we go home alive. My mother went to see the doctor too, took some medicines and we headed our way back.
We did put our lives in danger, it was all real scary but we were together, we were there for each other. The struggling times, leaves you thinking that we take our lives for granted.
We made our way back and all that we prayed that day was "Thank you god, for bringing us back to life". The day I witnessed a journey within, of how fragile life is.
Now, the person that was there with me all the time and I would cherish this experience for the entire lifetime. We came back, mumma.