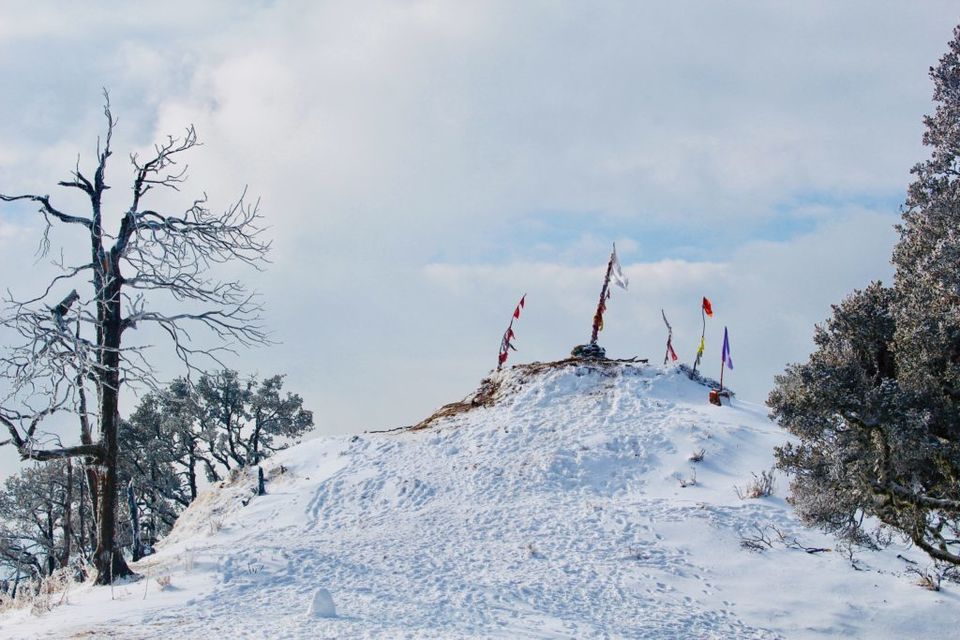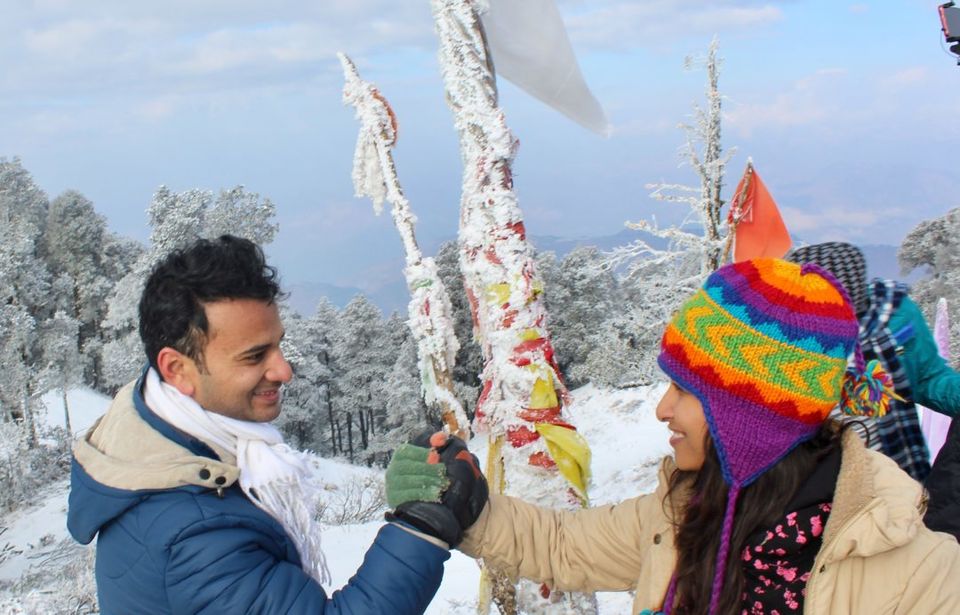 Looking for a short yet adventurous getaway in the lap of mother nature - Try Nag Tibba trek (Serpent's Peak), a relatively unknown trail near Mussorrie but a delight for amateur as well as veteran trekkers, for adrenaline seeking as well as peaceful nature loving souls.
Location: Mussoorie,
IndiaAltitude: 9,910 Ft
Best time to visit: Round the year
Grade: Easy
Duration: 2-3 Days
When 2itchyfeets visited : January (snow)
If you are in Delhi or nearby, it's a perfect weekend escape.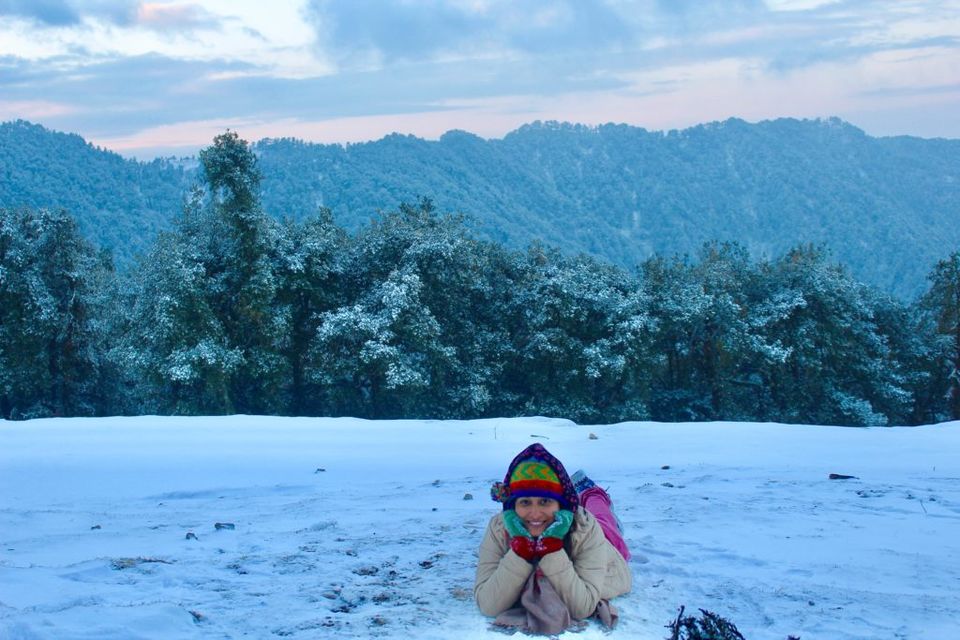 "If you can't fly then run, if you can't run then walk, if you can't walk then crawl, but whatever you do you have to keep moving forward." - Martin Luther King Jr.
Remember this quote and go for it.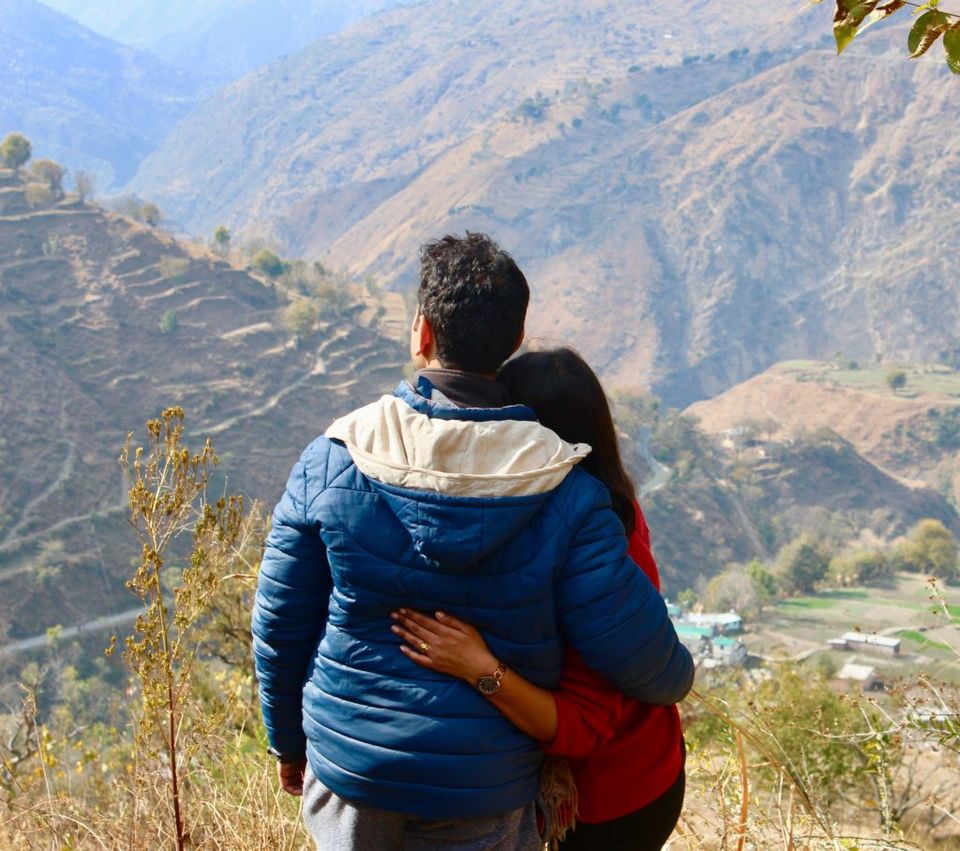 Day 1 : Arrival in Queen of Hills - Mussoorie
We started from Delhi and took an overnight train to Dehradun. Dehradun to Mussoorie local Buses are available just outside Dehradun Railway station
Day 2: Lets trek to Nag Tibba base camp
#Begins from Pantwari Village which is 50 kms from Mussoorie (3 hours).
As we had pre-booked this trek, van transfer was arrange from Mussoorie to Pantwari.
#The trail
We began trek around 1 pm with a group of 40 people (from different parts of India). Weather was cold but it was sunny.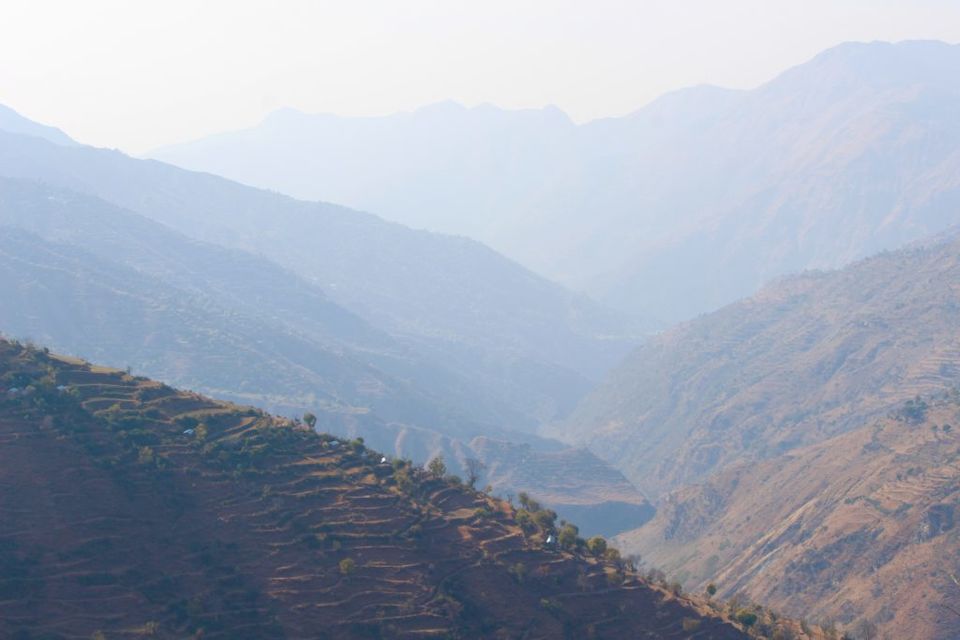 The trek is amidst dense and misty forests of oak with orchids, with a view of Terraced farms and hills slopes.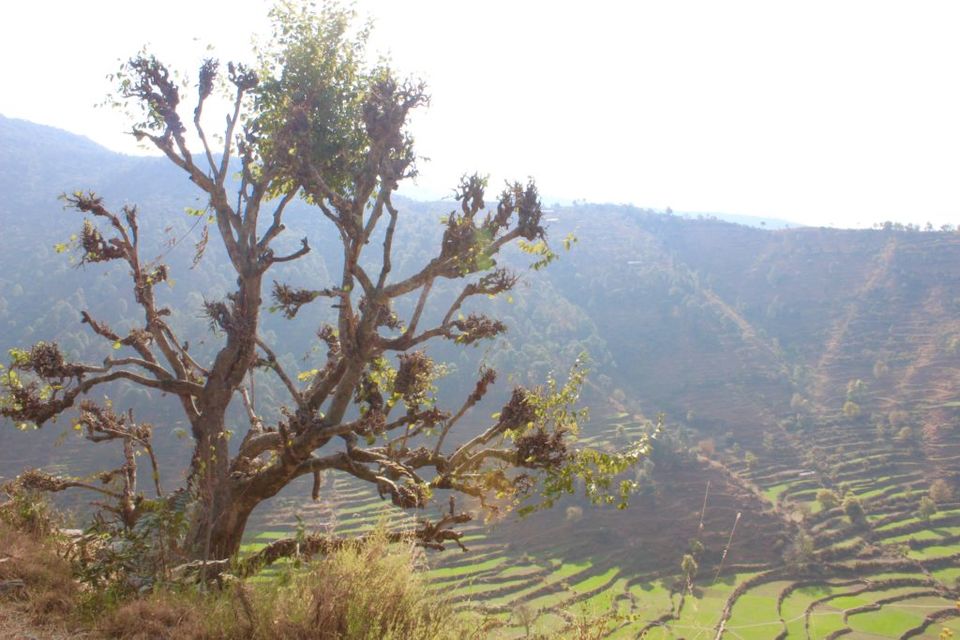 Met friendly farmers and locals along the way.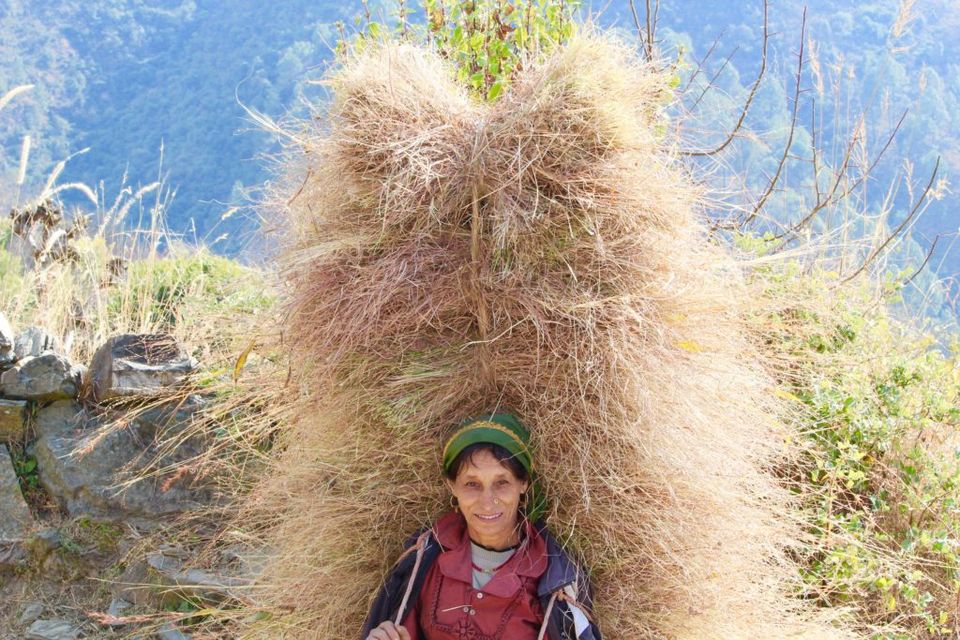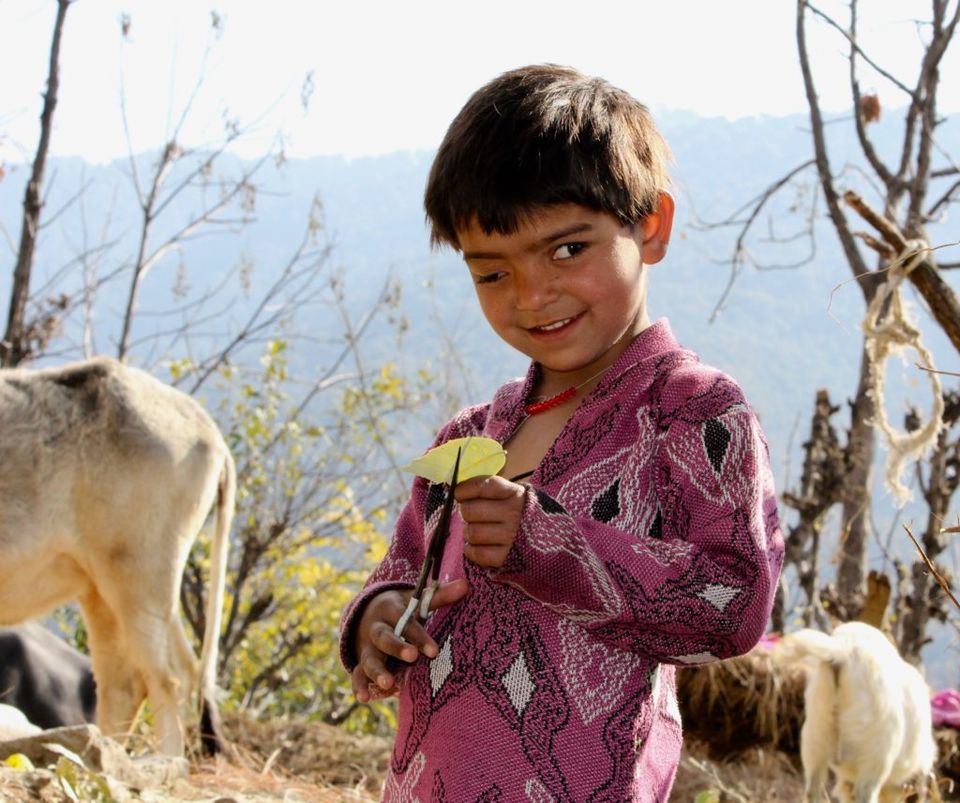 We began the trek with layers of clothing as it was cold but ripped layer by layer on the way due to sweating while trekking.
There is a goat village along the way and look whom we met.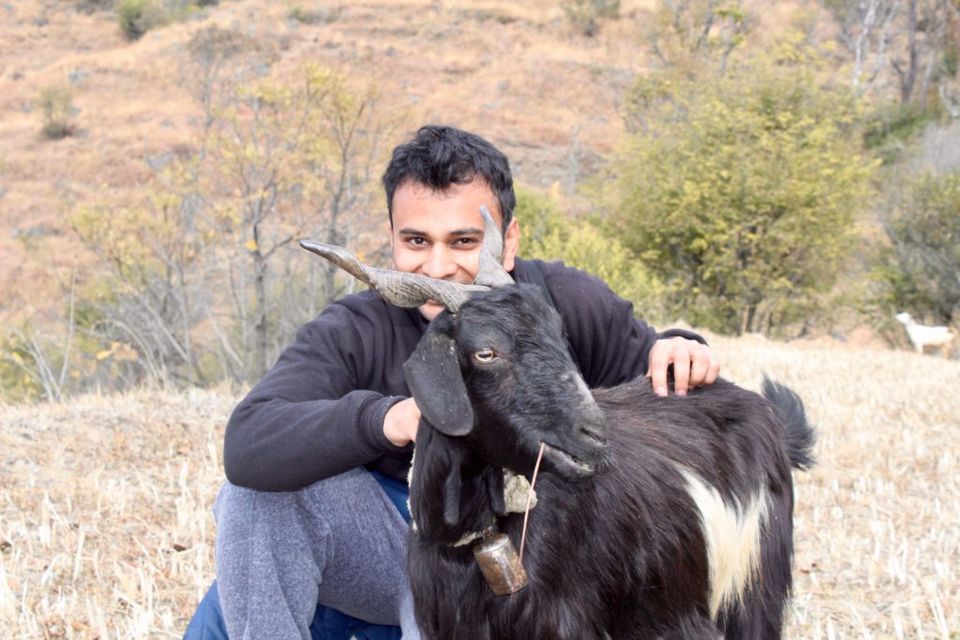 We kept ourselves hydrated and had lunch at around 2:30, arranged by our booking agency.
Suggestion :- Carry energy drinks, refreshment bars, nuts to keep yourself energetic along the way.
Enjoying the Panoramas, walk, weather, views, nature, chit chats (with the group), we continued on our own pace. As walking for so long can be challenging, its mandatory to walk at your own pace, take rest at intervals, take deep breaths, look around to enjoy the views, fresh air, clear sky. You might encounter views like this :-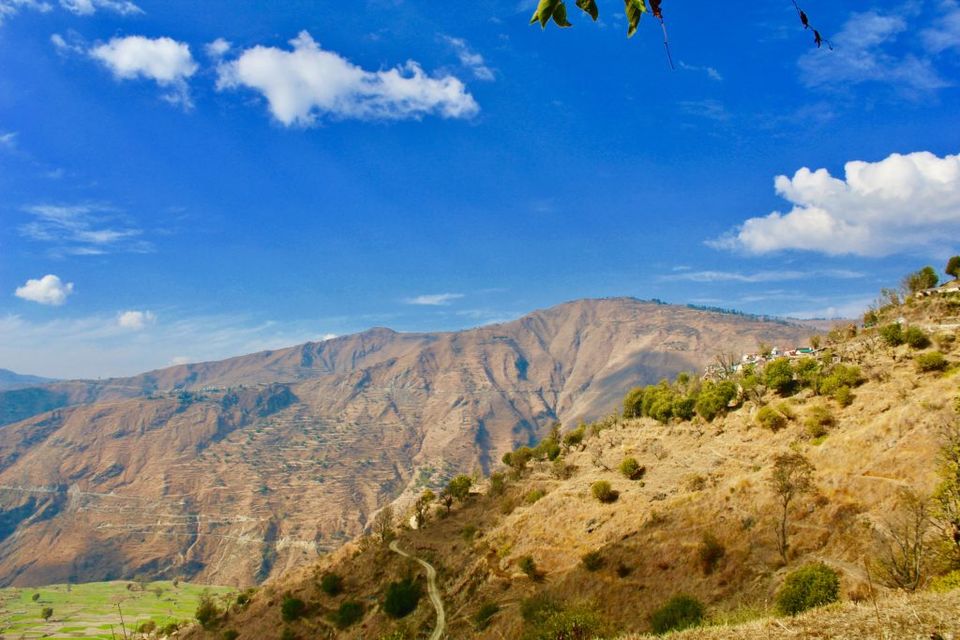 The trek from the entry point of Forest Department is steeper and through dense forest.
#In search of Base Camp
Base camp brings a feeling of relief, laziness and achievement.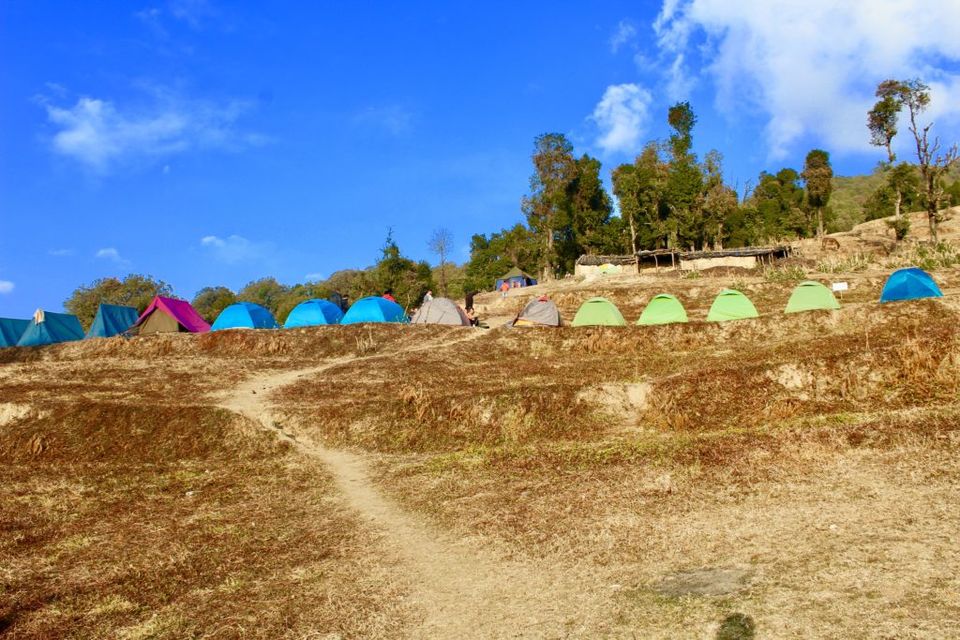 And wohoo, we got site of a base camp and Shu got excited and shouted that "MJJJJ, we reached" and then our trek guide with a mischievous smile, said "Keep moving, this is not our base camp".
We crossed 4 base camps, each time looking at our tour guide and every time he signaled to keep moving.
On the sight of 5 th base camp Shu again shouted "I am sure MJ, this is ours". And I ignored him, looking at our trek guide.
And that's how at around at 5 PM we reached our base camp which was on a lush green meadow with spectacular views of snowy peaks like Swargarohini, Bandarpoonch, Srikanth and Black Peak.
And after a while Shu was found like this -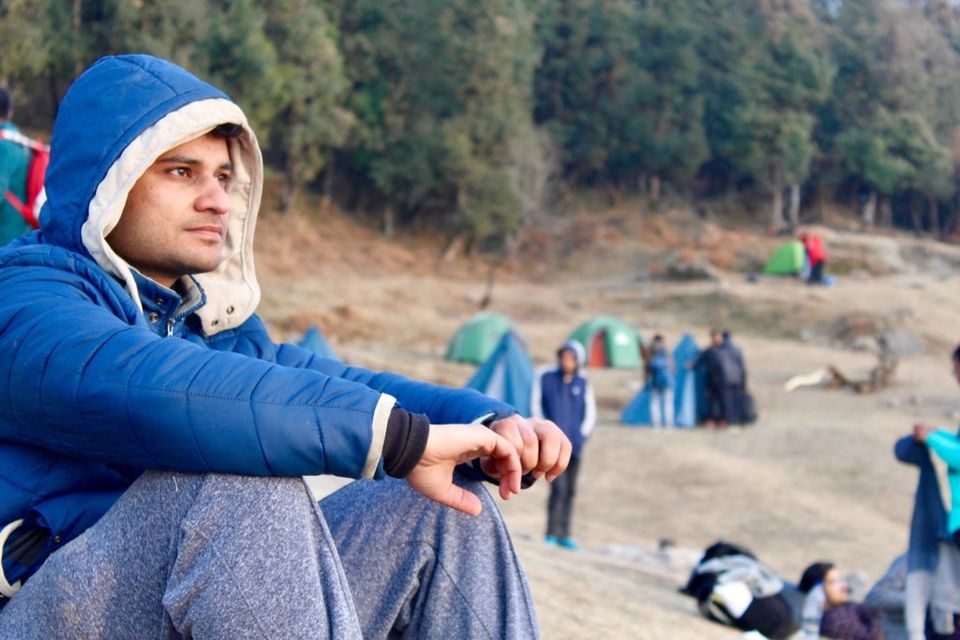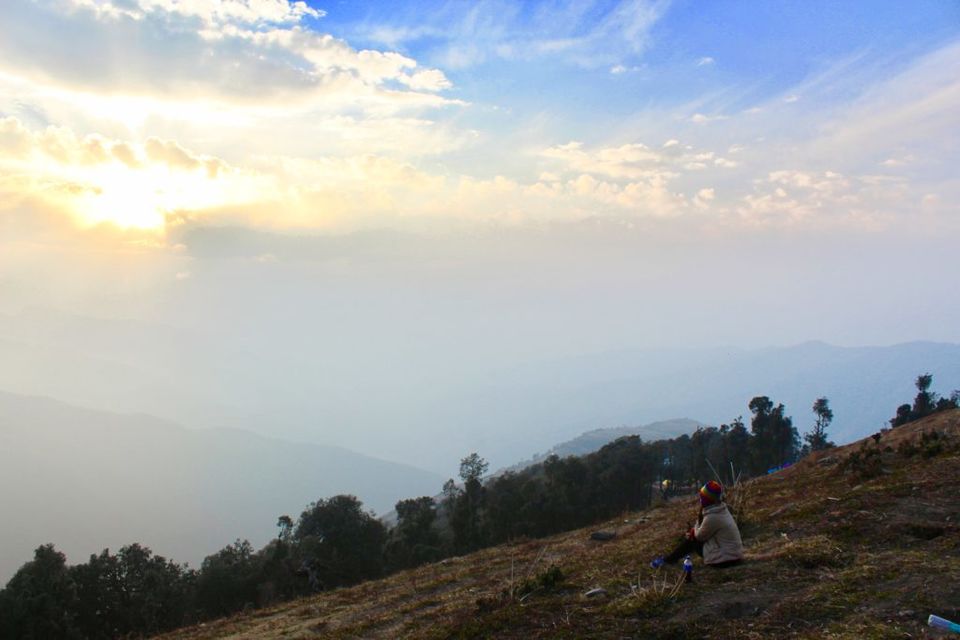 We walked for around 8kms and seeing this sight we forgot all the tiredness, pain, hunger.
# Magical Moments
We had Tea Pakoras, Bonfire with Soup and Popcorns and then a relishing dinner, all arranged by "The Great Next".
We did this trek in January in the hope of snow and I (personally) wanted to see snowfall. But the weather was so clear and sunny throughout the day that we had no hope of snow.
As it was getting cold outside, at around 9:30 we got in our camps and packed ourselves in the sleeping bag.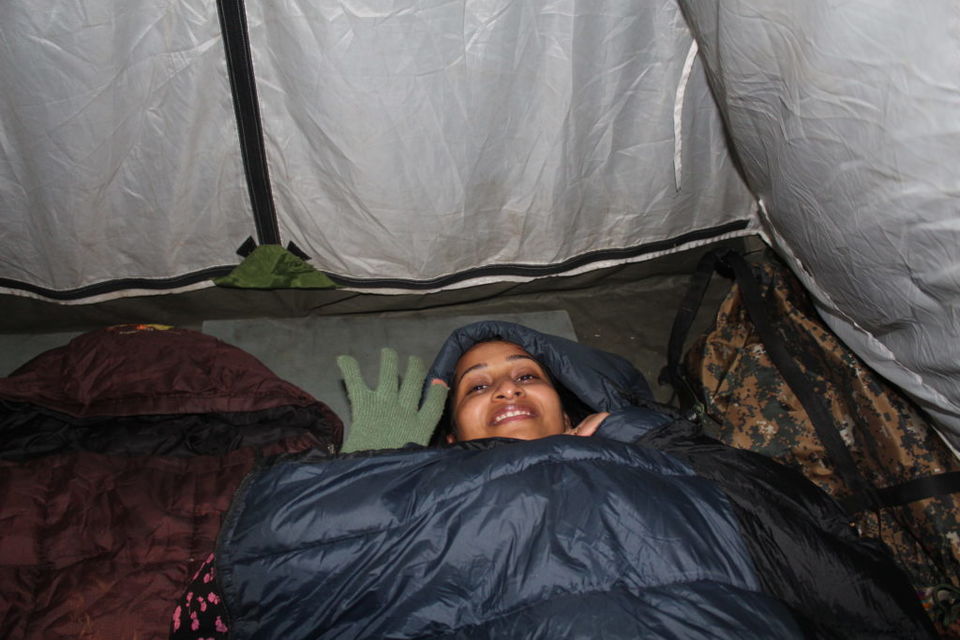 I was trying to keep myself warm and suddenly heard
"Snow Snow Snow"
"Come out"
"Snow Snow Snow"
And that was a magical moment.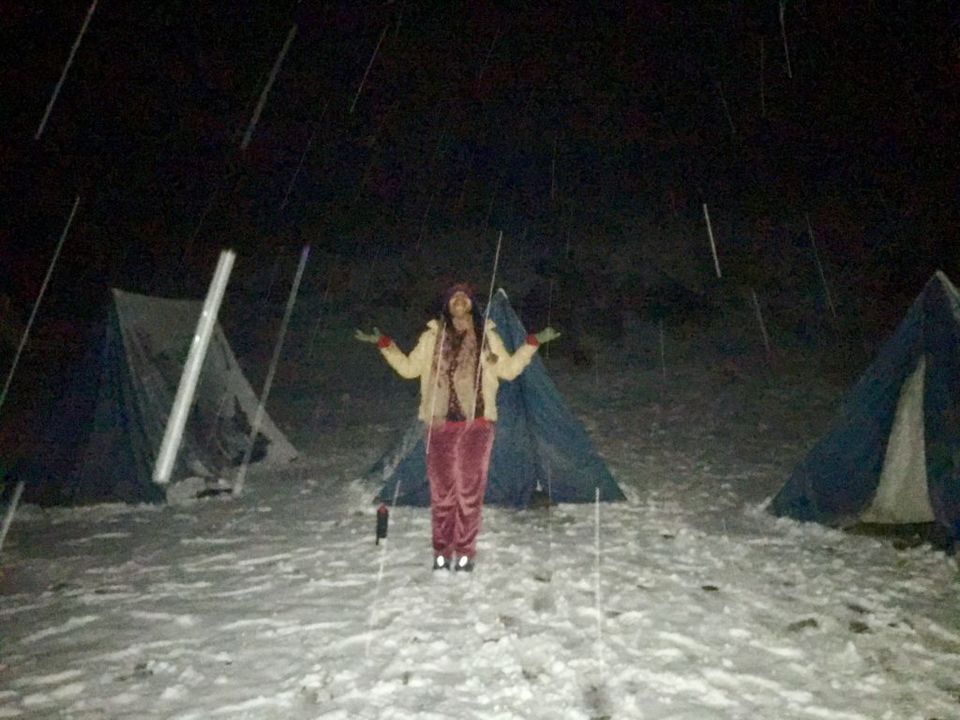 Day 3 : Here we reach Nag Tibba Peak
It snowed the whole night, our trek guide woke us up at 4 in the morning. We had breakfast, trek guide gave us instructions and guide us how to walk on the trek further as it was now a snow trek (4kms).
It was 5 in the morning, green meadows were covered with white snow, we were walking step by step, in a line, with torches in our hands which made the next step visible.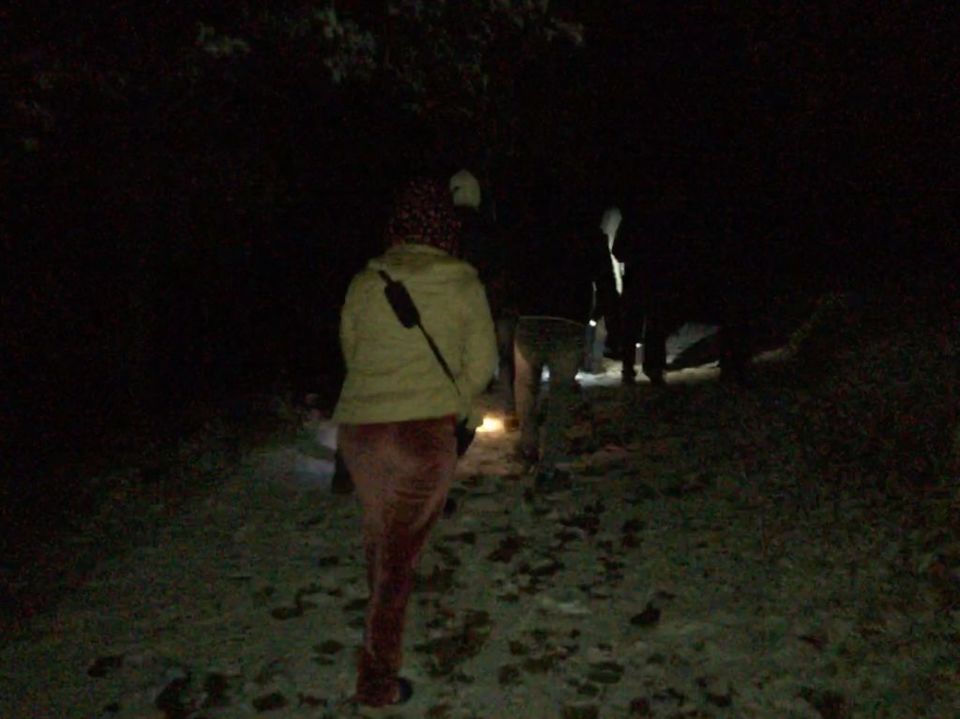 I read somewhere that summit attempt to the Mount Everest is made early morning with no sunlight.
So, the feel was amazing.
The trek from here was very steep and snow made it slippery too.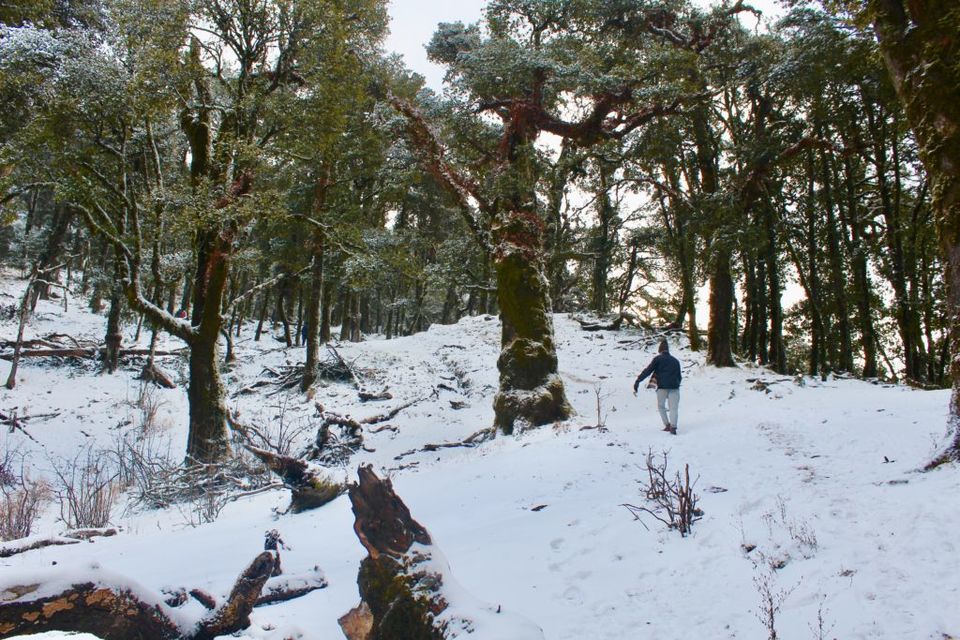 As it snowed, our trek guide told us that we might get dense fog on the peak and in that case will not be able to see the peaks that surrounds Nag Tibba.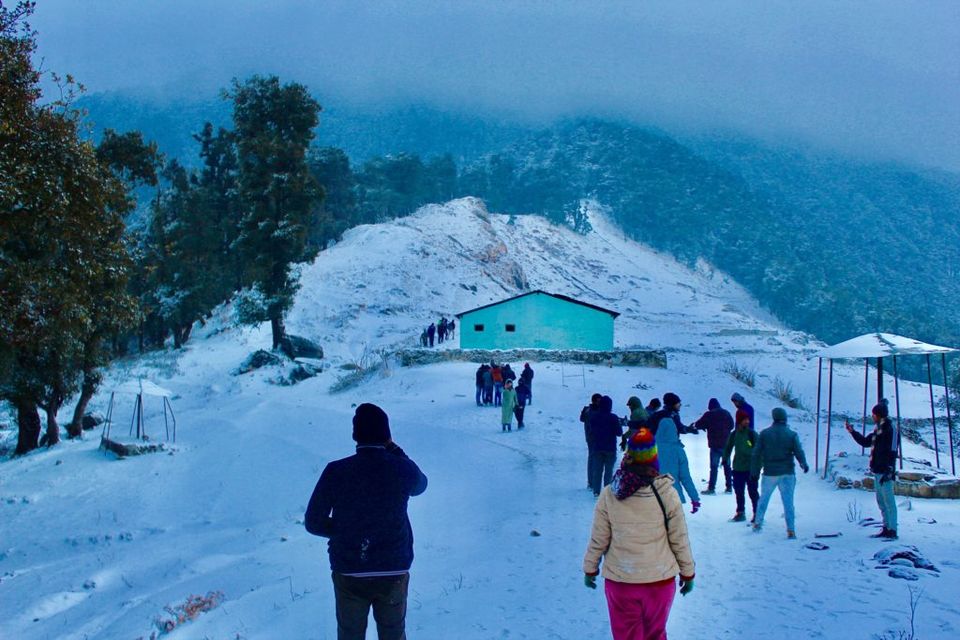 But we kept on moving on our pace and around 9:00 AM, we reached and found this :-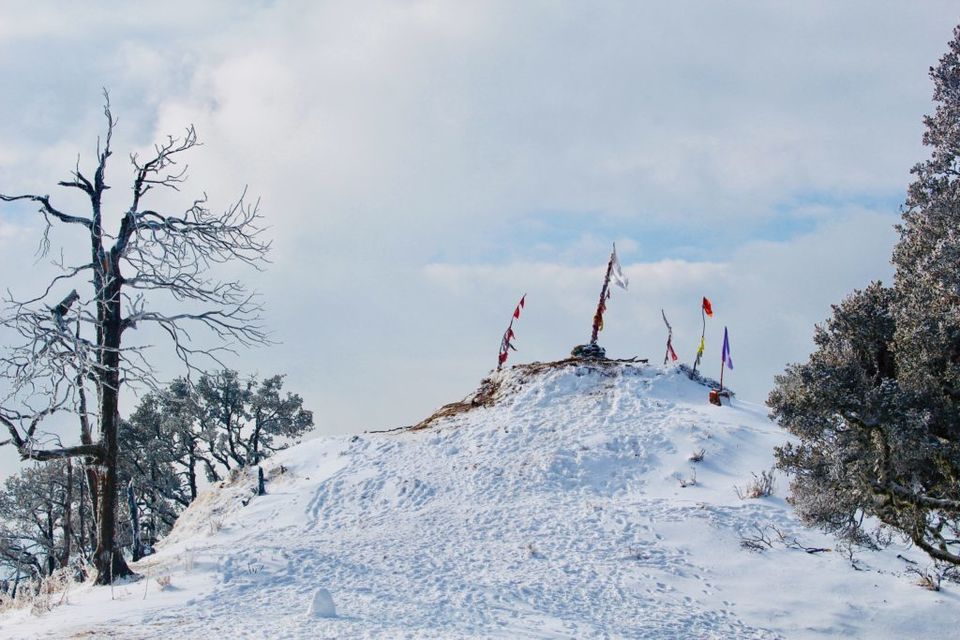 Unexpectedly and fortunately the weather got cleared and gave us the best shot - Magic happens when you deeply crave for something to happen.
#Trek downhill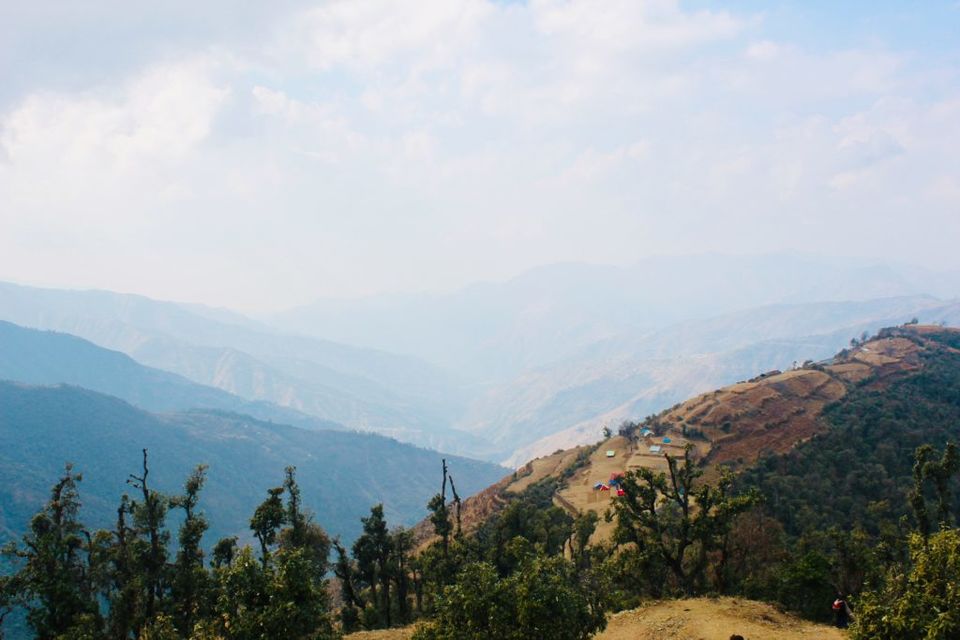 We both were wearing sports shoes and that made the trek downhill upto our base camp very challenging and exhausting for us. We slided downhill, as our shoes were getting slipped on snow.
Suggestion:- To avoid this make sure to wear trekking shoes.
We reached around 3:00 pm Pantwari village.
#Back to Delhi
Our Booking Agency arranged for van transfers from Pantwari village to Dehradun Railway Station.
Overnight journey from Dehradun to reach Delhi.