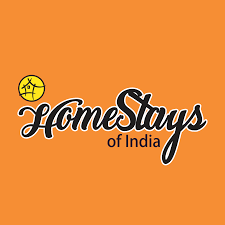 Are you bored of staying in hotels on your holiday and want a more homey setting with all the amenities of a hotel? Then a homestay should be your first choice for a fun vacation with your friends or family, or even for a single trip.
India is famed for its warmth and delectable dishes, and since Kerala pioneered the concept of homestays, India today features some outstanding homestays that you will not want to ignore when planning your next vacation. Scroll down to check out the top Listicle of Homestay's you don't want to miss out on!
1. Sunnymead Bed and Breakfast, Shimla.
The logo itself describes the meaning of the stay that you'll be experiencing out here because it says- 'Residence- style lodging'.
This homestay is one of the oldest surviving residences of Shimla, and inside, it's rich with family heirlooms that blend in well with the contemporary elements.
The top floor is solely dedicated to guest quarters. Each of the four bedrooms has a bathroom. The bedrooms are designed in a classic style with contemporary details, just like the rest of the house. A solid wood four-poster bed is the focal point of the main guest room.
Special Features: Sunnymead's gourmet cuisine is comparable to that of a fine dining establishment. It's made with ingredients straight from the garden; Natural organic soaps and Ayurvedic toiletries are available in the guest bathrooms; they harvest roof rainwater to be used in the guest washrooms, all in all it's a complete power house of sustainability.
Room Types: Oak Tree Room (Twin Bed Sharing); Tara (Double Bed Sharing); Forest Bed (Twin Bed Sharing); The Bay Window (Single Bed Sharing)
Price Range: Varies from Rs4500/- to Rs6000/-
For more details about this property visit their website: sunnymeadestate.com
2. Mr and Mrs Mehra's home, Dehradun.
The name in itself is just so welcoming, a complete filmy style feels you get when you hear the name.
The house, which is located in a peaceful residential area, has everything a lovely home in the Himalayan foothills needs. The Mussoorie mist attracts your attention with its breathtaking views. The Mehras provide wonderful stories and great cuisine from their kitchen.
Special features: A lip-smacking home-cooked cuisine (both veg and non-veg); self driver car facility (chargeable); just a drive to visit the Queen of hills.
Room Type: an en-suite room well furnished and with it's own washroom, well maintained and hygienic.
Price Range: visit the website to enquire for more details: yatra.com
3. The Bangala, Tamil Nadu.
Experience a heritage stay at Chettinad with the Bangala. This property combines the Chettiar traditions along with modern amenities.
The property is located in Karaikudi, Tamil Nadu, between Tanjore and Madurai, in the centre of the Chettinad region. There are 25 air-conditioned guest rooms, a banquet hall with sophisticated Chettinad cuisine served on banana leaves, a library, and a swimming pool on the premises.
Special feautures: Meenakshi Meyappan, the restaurant's owner and host, is committed to preserving Chettinad tradition and has even co-authored a cookbook with authentic Chettinad dishes; Visiting local towns and marketplaces, and shopping for antiques, exquisite furniture, gems, saris, and famed Chettinad tiles.
Room Type: Superior rooms, Heritage Rooms,
Price Range: starts from Rs5000/- per night with an additional charge for the meals.
For more details about this property visit their website: thebangala.com
4. Nandan Farms, Maharashtra.
This rustic residence in Sindhudurg, Maharashtra, has two guest rooms that open onto a broad veranda that views Ammu and Ashish Padgaonkar's farm, which has 12 acres of cashews, pineapples, and coconut palms. It's an authentic Indian experience with modern conveniences. Amboli, a small hill station in the Sahyadri Hills to the east, and Vengurla's beaches to the west are both less than 20 miles away.
Special Feautures: Pet friendly; free breakfast available; a local bullock-cart trip; free parking.
Room Type: a well maintained spacious and hygienic room
Price Range: starts from Rs4000/- per night
For more details visit: tripadvisor.in
5. Devra, Udaipur.
Devra, a lovely homestay in Udaipur, is engulfed in 5 acres of lush greenery and heritage city line, with various beautiful outdoor seating arrangements and courtyards with lily ponds at every level for you to relax with your loved ones, pets, or just by yourself.
Devra's surroundings are breathtaking. In every direction, panoramic vistas of hills and fields stretch to the City Palace itself. Each of the guest rooms has a window seat with a view of the mountainside Monsoon Palace. With extensive sitting areas, balconies, and patios, the entire house is elegantly designed.
Special features: Bird watching, perfect yoga vacation, trekking in the Arravali's, and an experience of organic living.
Room Types: spacious and sound proof rooms with all the modern amenities.
Price Range: starts from Rs 5,500/- per night including breakfast.
For more details about this property visit their website: devraudaipur.in
6. Ente Veedu Homestay, Kerala.
A 'my own home' Home stay loacted amidst colonial coffee estates in Wayanad, Kerala.
Ente Veedu, set among golden paddy fields and breezy coffee plantations, transports you to a relaxed environment that is ideal for individuals looking to rest from the daily grind as well as adventure-seeking nature adventurers. The 7-room homestay is nestled deep within a 150-year-old estate, with a lush green atmosphere and traditional farming practices complementing it well. Ente Veedu provides a firsthand experience of Malabar cuisine and hospitality.
Special features: coracle ride, plantation tour, jeep safari, bird watching, fishing, bullock-cart ride, indoor and outdoor games.
Room Types: Aakash, Thejus and Soorya
Price Range: starts from Rs4000/- per night.
For more details about this property visit their website:enteveedu.co.in

7. A Boutique Retreat in Lush Greenery of Dandeli Jungles
This beautiful homestay is nestled in the Dandeli forest's rich vegetation, inviting us to explore and enjoy the natural beauty. The tranquil Kali river runs behind the guesthouse, and the lush green valleys make this a great retreat for nature enthusiasts.
The home is set in a large garden next to the Kali river, where you may spend some quiet time along the river's picturesque coast. The homestay features an on-site restaurant with a pool and lake view, serving delectable home-cooked cuisine.
Special Feautures: home-cooked local delicacies, amazing nearby tourist spots to visit, along with the natures view.
Room Types: Tent House, Deluxe Tent Cottage, Superior Cottage and Rock House.
Price Ranges: starts from Rs3000/- per night including breakfast.
For more details visit: thrillophilia.com
8. Thippanahalli Homestay, Chikamagalur.
Thippanahalli Homestay is a large red home with 28 rooms located 15 kilometres from Chikamagalur in southwest Karnataka's lush coffee area. The residence was constructed in 1934 as a classic plantation bungalow, and the hosts came from a long family of planters. Since 1860, the district has been producing coffee!
There are a total of five guest rooms. The mansion houses one of them, while the other four live in separate cottages on the property. Two of the cottages have been renovated, while the other two are new.
Special Features: this property has been constructed keeping in mind the famous Victorian architecture, delicious Malnad cuisne is served here, the garden has an almost half-century old cactus tree.
Room Types: Kattura Block(standard rooms); Cottage Kent & Cottage Sanramon; Cottage Arabica & Cottage Robusta.
Price Ranges: starts from a range of Rs3500/- per person per night.
For more details about this property visit their website: thippanahallihomestay.com
Although the idea of a homestay may seem charming and appealing, it's critical to make the right choice. The quality is vary, as it is with most lodgings in India. Those who want their solitude may feel more at ease in a homestay with separate guest accommodations rather than rooms in the family house. Enjoy the ideal cozy experience at a Homestay and let us know if there's anything we've left out.
Explore the best of travel inspiration on Tripoto Instagram!