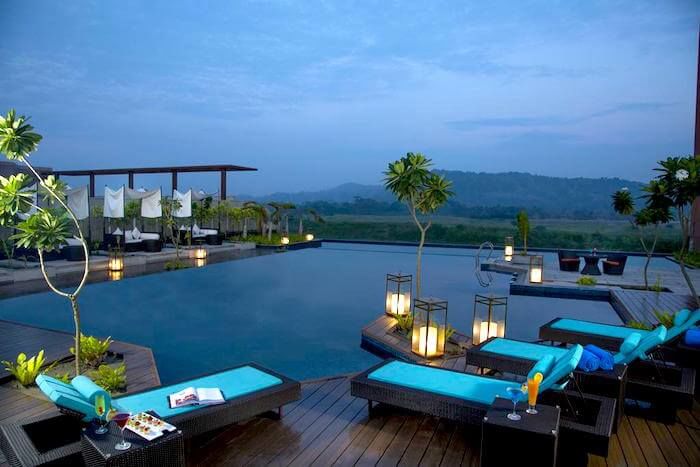 Sprawling by the pious river Brahamputra, Guwahati is one of the most beautiful cities in the North Eastern state of Assam. With its picturesque sceneries and soothing winds, the city attracts travellers from across the world.
In its handful attractions, monuments and landmarks, nature has truly put its charm and colors to enthrall the visitors. Whether you are a loner, a party animal, or a nature lover, there is something for everyone in this city. When it comes to accommodation options, Guwahati has a range of luxury and budget hotels that promise a comfortable stay to make your trip more memorable. Check the list here.
Where: Nikita Complex , GS Road Khanapara
What's so special: One of the best 5 star hotels in Guwahati, Vivanta by Taj is located on the Guwahati-Shillong highway in the center of the city's major areas. Vivanta is designed around the global for work-hard-play hard traveller seeking a vivacious, reinvigorating hotel experience that cuts across possibly the entire sensory plane both in function and form. The luxurious hotel is surrounded with gorgeous flora and is built like an epitome of style that serves opulence and comfort on a silver platter.
Accommodates: Superior Charm Rooms, Deluxe Delight Rooms, Premium Indulgence Rooms, Deluxe Allure Suites and Premium Temptation Suites.
Price: Superior Charm Room starts ₹6,500 onwards, Deluxe Delight Room starts ₹8,000, Premium Indulgence Room starts ₹10,000, Deluxe Allure Suite starts ₹20,000 and Premium Temptation Suite starts ₹28,000.
Where: G S Road Downtown Dispur Assam
What's so special: Novotel in Guwahati is an elegant hotel that features spacious, contemporary and fully flexible rooms designed to be lived in. Fitted with all the luxurious equipment, the rooms in Novotel offer everything one needs for a pleasant stay either alone, with a partner or with family.
Accommodates: Superior Room with two single beds, Executive Room with Two Single Beds, Executive King Room, Deluxe Suite, Superior King Room and Superior Twin Room
Price: Superior Room starts from ₹5,250 and Executive Room starts from ₹8,879
Where: National Highway 37, Gotanagar
What's special: Set in a peaceful section of Assam, the elegant Radisson Blu Hotel provides stellar amenities and a restful location in this bustling city of northeastern India. The luxurious hotel has 196 spacious rooms and suites with all amenities and scenic views of the area's verdant hills. Their on-site restaurant features international cuisine with an emphasis on Indian, Mediterranean and Asian dishes.
Accommodates: Standard Rooms, Superior Rooms, Business Class Rooms, Studio Suites and Executive Suite Rooms
Price: Standard Room costs 8008, Superior Room costs ₹9009, Business Class Room costs ₹15555, Studio Suite costs ₹19999, Executive Suite Room costs ₹33333.
Where: A.T. Road, Paltan Bazar
What's special: Hotel Rajmahal features an outdoor swimming pool, a well-equipped business centre and meeting/banqueting space. It also has special rooms/facilities for disabled guests. The property is located just 3 km from the Alfresco Cruise, 8 km from the sacred Kamakhya Temple and 15 km from the famous Tirupati Balaji Temple.
Accommodates: Super Deluxe Double or Twin Rooms, Premium Executive Rooms, Standard Executive Double or Twin Rooms, Prestige Double or Twin Rooms.
Price: Super Deluxe Double or Twin Room cost ₹3483, Premium Executive Room costs ₹4110, Standard Executive Double or Twin Room costs ₹5500, Prestige Double or Twin Room costs ₹6,481.
Where: G.S. Road. Christian Basti
What's special: Located at a privileged spot in the quaint city of Assam, Gateway Grandeur is certainly one of the most preferred hotels in Guwahati. Almost all popular spots are just a stroll away from this marvelous property. Be it the serene Brahmaputra or the famous Shakti peethas temple Kamakhya, they are all located in the vicinity. You can maintain your workout routine with a visit to the health club or unwind with a visit to the pool.
Accommodates: Classic Rooms and Club Double Room
Price: Classic Room costs ₹6500 and Club Double Room costs ₹13000
Where: Wireless, Beltola Basistha Road
What's special: Hotel ROYALE de CASA is known for its grand architecture which blends perfectly with modern times. The name "CASA" itself means "Home", so the hotel welcomes guests to ROYALE de CASA with luxurious comfort in a home away from home. The hotel is a perfect haven to restore your travel weary spirit. Their highly expertise management are committed in serving you for making your stay comfortable, enjoyable and memorable.
Accommodates: Luxury Double Rooms, Junior Suites, Premier Double Rooms.
Price: Luxury Double Room costs ₹6000, Junior Suite costs ₹7500, Premier Double Room costs ₹7000.
Where: S.S Road, Lakhtokia
What's special: Situated on the banks of river Brahamputra, Hotel Dynasty is a 4 star luxurious and one of the best hotels of Northeast region. It is located in the business center of Guwahati and has been serving the guest from all over the globe for past 21 years. The hotel is equipped with spaces ranging from a Boardroom to Large Banquet Hall. Plenty of options for accommodation and food and beverage are available to cater the need of both business and leisure travellers. The hotel has 76 tastefully furnished rooms and suites equipped with centralized air-conditioner and other facilities.
Accommodates: Suites, Executive Double or Twin Rooms, Excellency Rooms
Price: Suite costs ₹8,699, Executive Double or Twin Room costs ₹3,306, Excellency Room costs ₹4,924
These were some of the most luxurious hotels in Guwahati hotels that offer amenities and experiences that are good enough to make your holiday memorable. If you have stayed in any of these hotels, don't forget to share your experience with Tripoto community here.
Frequent Searches Leading To This Page:-
hotels in guwahati assam, good hotels in guwahati city, exotic hotels in guwahati, expensive hotels in guwahati, 5 star hotels in guwahati list