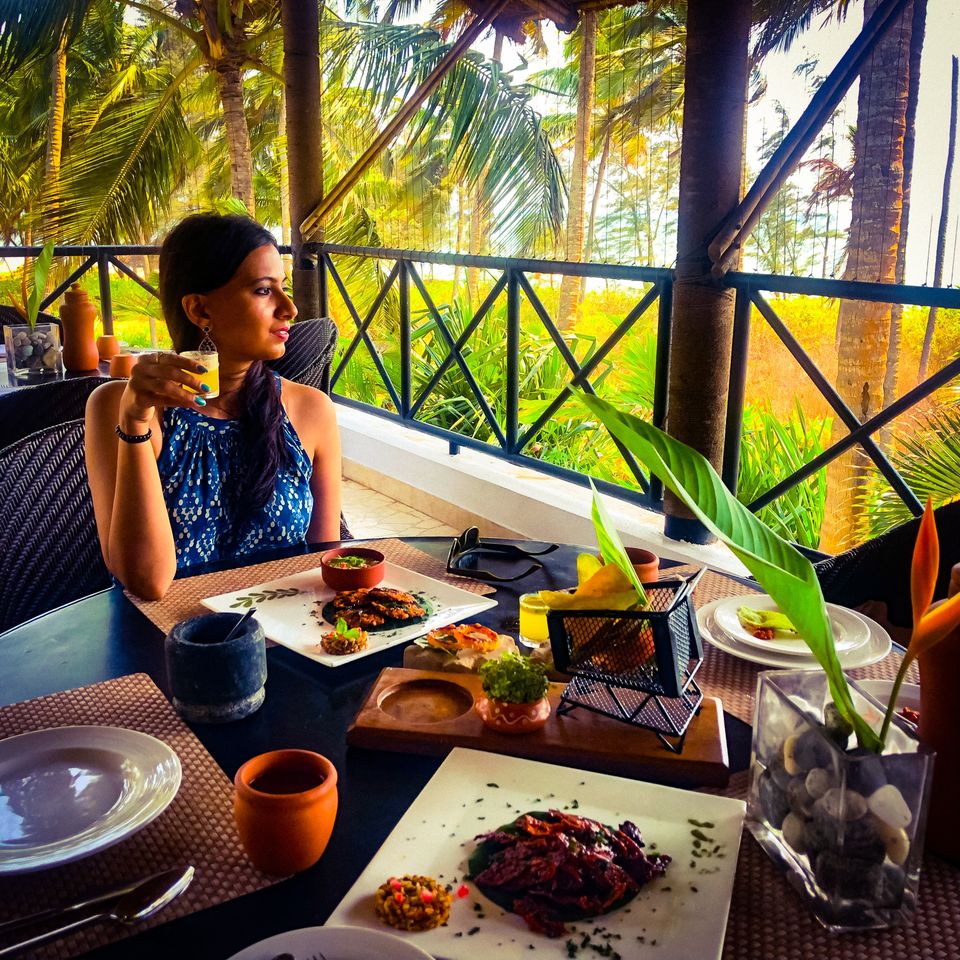 Are you looking for a luxury escape from Bengaluru in these vacations! Do you want to spend quality time close to the nature? Do you also want to watch beautiful sun set by the sea coast as well as wonderful back waters? There is a beautiful place in Kerala where all these will become reality. We suggest you go to Bekal in Kerala, it is around 375 kms from Bengaluru, and its very to easy to reach there by your own transport/ or volvo buses ( Bengaluru to Kasargod) or 1.5 hour drive from Mangalore  if you are flying into Mangalore airport. Bekal has lot of luxury hotels and resorts to offer near the Arabian Sea and Backwaters. We stayed at Taj Bekal Resort & Spa, Kerala, It is perfectly located along the Arabian Sea & backwaters, and is surrounded by lush green coconut trees.
We checked in the hotel at around 3 PM in the afternoon and were welcomed by a chilled local welcome drink , and refreshing wet towels !! After a comfortable checkin process, we relaxed in our room for a while, and then got a call from reception about a Tea Party happening near the pool area at 4:00 PM, we rushed in there and found this ubiquitous chayakada (teashop) which goes synonymous with Kerala; Chayakada-on-wheels serves up delicious local treats along with chai and filter coffee that you can enjoy while exploring the backwaters, coconut trees, lush green parks and sea all at the same time!
After a scrumptious high tea, we lazed around the beach and watched the sun disappearing somewhere in the Arabian Sea. We preferred to take light dinner in the room and then go for a good night sleep! Next morning started with sipping lovely black coffee while swaying around on our balcony swing . Each room balcony in the property has bed cum swings and they are a true highlight. Our room balcony faced the green backwaters and that was really was an icing on the cake! (picture above)
After having great breakfast at the buffet, we decided to go for a Spa and what a fantastic and memorable experience it was! Spa facilities at Taj Bekal are designed to be as uplifting as the spa experience itself, and this facility is the biggest among all Taj hotels in South East Asia. You must try the Vishuddi Chai available at the spa, and it should be consumed before you head for the spa. Its a warm fragrant decoction of holy basil, jaggery and lime! (picture above).
Lunch scenes were sorted with traditional bamboo biryani at "By the bay" restaurant in the property! By the bay restaurant is popular for coastal style of cooking and all the food is prepared with the fresh catch of the day. It is said that Bekal was one of the stops for Vasco Da Gama during his voyage, and all the dishes prepared in this restaurant have Portuguese influence!
Taj Bekal team was so courteous that they decided to give us an upgrade to one of their amazing villas for our anniversary and made our 3rd Anniversary so special!! We had our own private plunge pool, a beautiful bed- swing, and an outdoor bathing area. All the villas are inspired by the design of Kettuvalam houseboats and have an Indonesian influence too! Its a perfect place to relax and unwind in the beautiful surroundings and catch up on the must needed rest!
Anniversary dinner ought to be special and nothing can be better than a moonlit romantic dinner by the backwaters! Sip away your wine, get lost in endless conversations while enjoying the sound the flowing stream!
It was time to say goodbye to Bekal and we ended our trip with the mouthwatering traditional Kerala meal called as Sadhya at Backwater Cafe in Taj Bekal!
Check our highlight "Taj Bekal" on our Instagram page -GulpingNomads to take the complete tour of the property!
Follow us on Instagram and Tripoto @gulpingnomads!