Away from the high-rises of Bangalore and the swanky night clubs of Goa is a coastal town where the pace is slow, landscape lush, and there is little intrusion by modernity. This is a destination where the air is clean, the earth smells fresh and life often throws surprises like a sleeping elephant or a passionate football match at the end of the lane. Welcome to Kasaragod Kerala!
Situated in the northernmost district of Kerala, this coastal town is framed by the Western Ghats in the east and the Arabian Sea in the west. Making for a wonderful weekend getaway in south India, spending a few days here will introduce you to an India removed from the modern world and conventional expectations.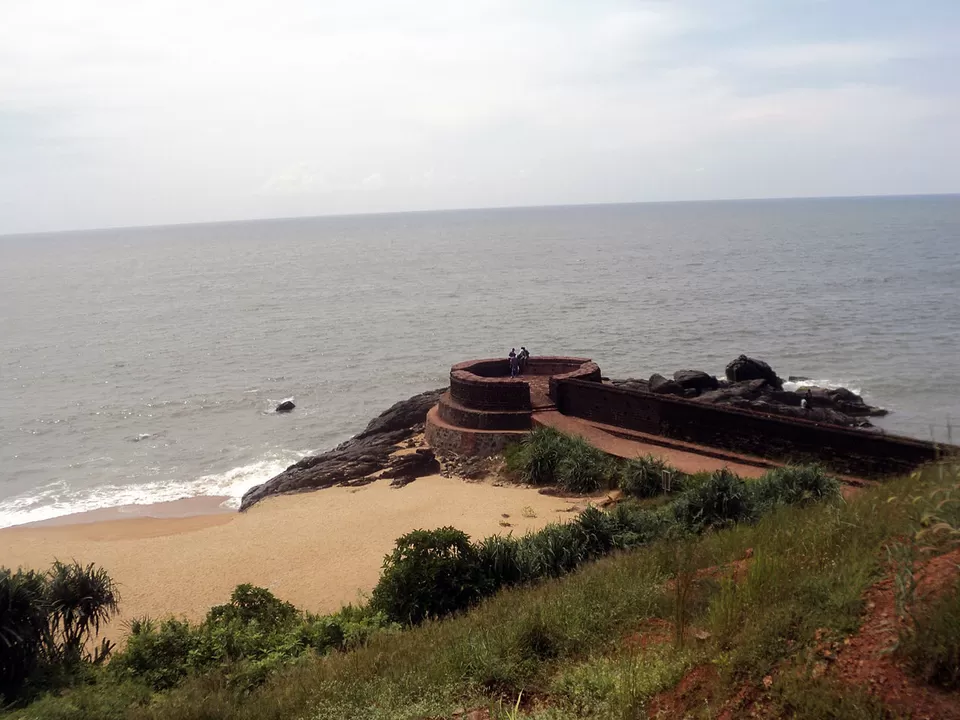 Getting around Kasaragod, Kerala
Kasaragod is a small town and the local sights are all within walking distance. However, auto-rickshaws are easily available for hire if you prefer taking them. Local taxis are also available at ₹8/km or ₹2,000 for a full day hire. Tickets in local buses start at ₹6.
What to see and do
Forts
In a state that boasts of sandy beaches and magical backwaters, Kasaragod district is known for its forts.
Bekal Fort is easily the most prominent attraction of Kasaragod Kerala. Located only 10km from the town, this is one of the largest forts in Kerala. The top of the fort is easily accessible and the views of the sprawling Arabian Sea are so spectacular that you just want to pause right here. A 300-year-old key-hole shaped structure, built with a defence strategy in mind, Bekal Fort today serves as a destination frequented by locals and tourists alike. For those looking to recreate some Bollywood moments, Bekal Fort was also the place where the famous song Tu Hi Re, starring Manisha Koirala, was shot!
Entrance fees: ₹15 per person
Timings: 8am to 5.30pm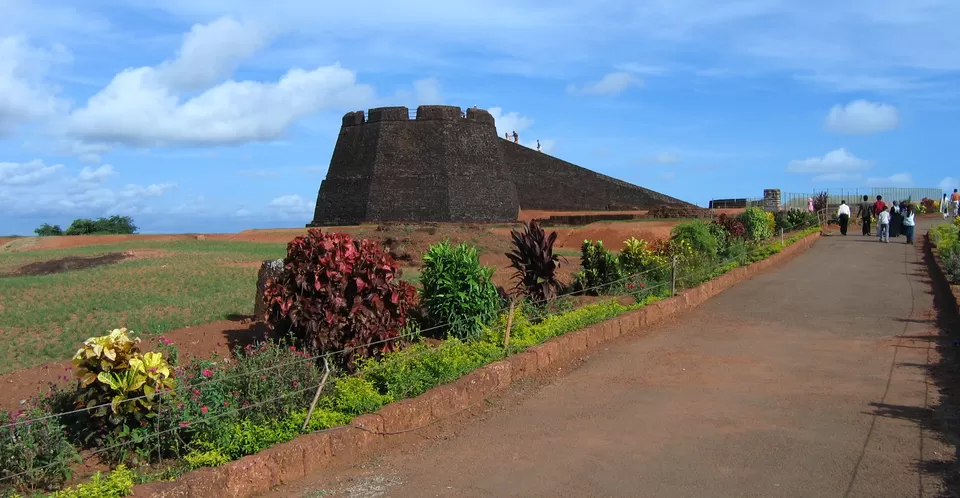 Chandragiri Fort is another imposing structure that showcases the beauty of ancient Kerala. Almost in ruins now, it is still a popular attraction because of the spectacular view of the Chandragiri River joining the Arabian Sea. Only 7km from Kasaragod, this fort is a great place to visit for an Instagram-worthy sunset. You can also take a boat-ride on the Chandragiri River that lasts for around half an hour and starts from the Chandragiri Bridge.
Entrance fees: ₹5 per person, ₹100 per person for foreign nationals
Timings: 8am to 5.30pm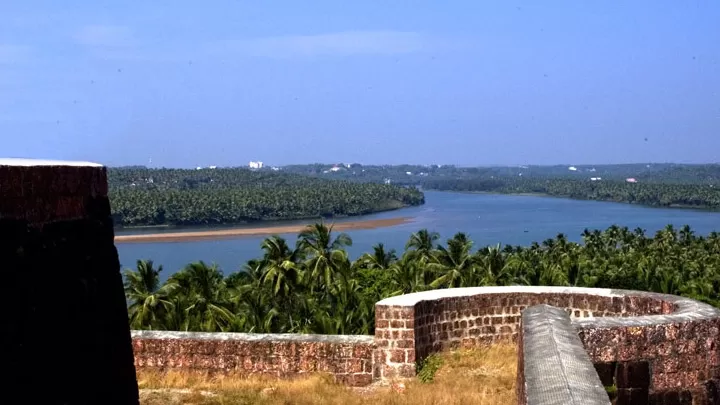 Beaches
Being a coastal town, there is no shortage of beaches in Kasaragod Kerala.
Kappil Beach is an ideal destination for those who crave solitude. You can laze around here or hike to a small hillock, Kodi Cliff, for some spectacular views. Only 12km from the main town, Kappil Beach is a revered place for those seeking relaxation without the cries of hawkers and throngs of tourists. It is also one of the cleanest and most pollution-free beaches of Kerala.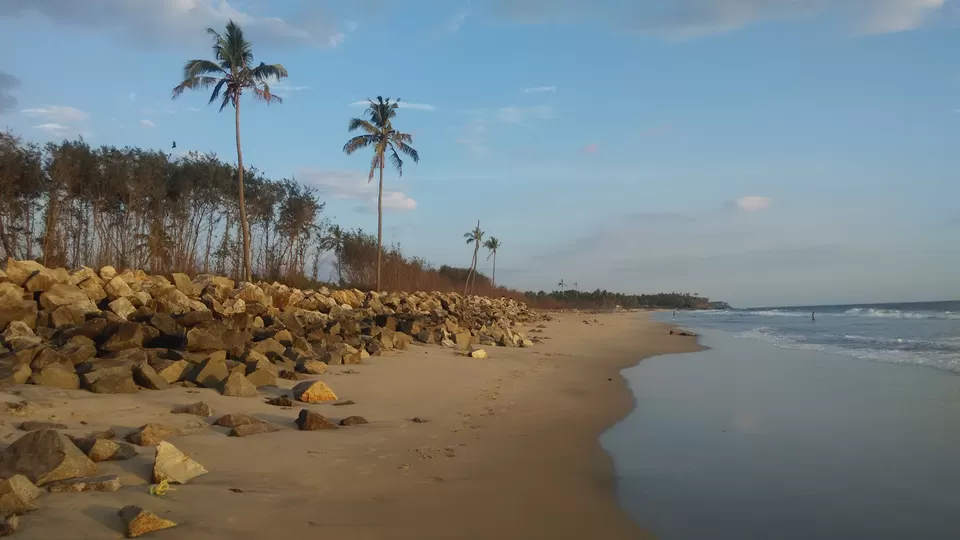 Bekal Beach is right adjacent to the fort. There are a few colourful fishing boats on one end while the rest of the beach is free for swimming and lounging around. Your typical hawkers are here offering candies, horse-carriage rides, fried food and even some magic shows.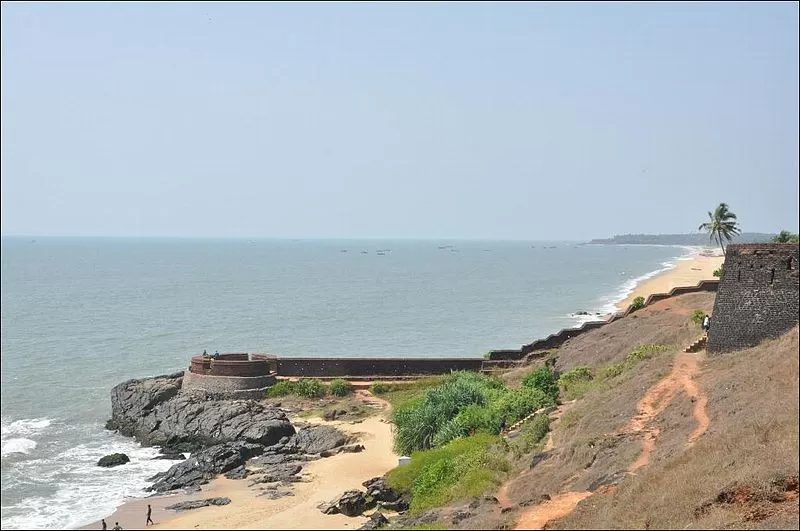 Muzhappilangad is a fascinating place just 100km from Kasaragod. It is Asia's longest drive-on beach, and offers a rare experience of driving on sand for 4km. The experience shouldn't be missed out on by those who love long scenic beach drives.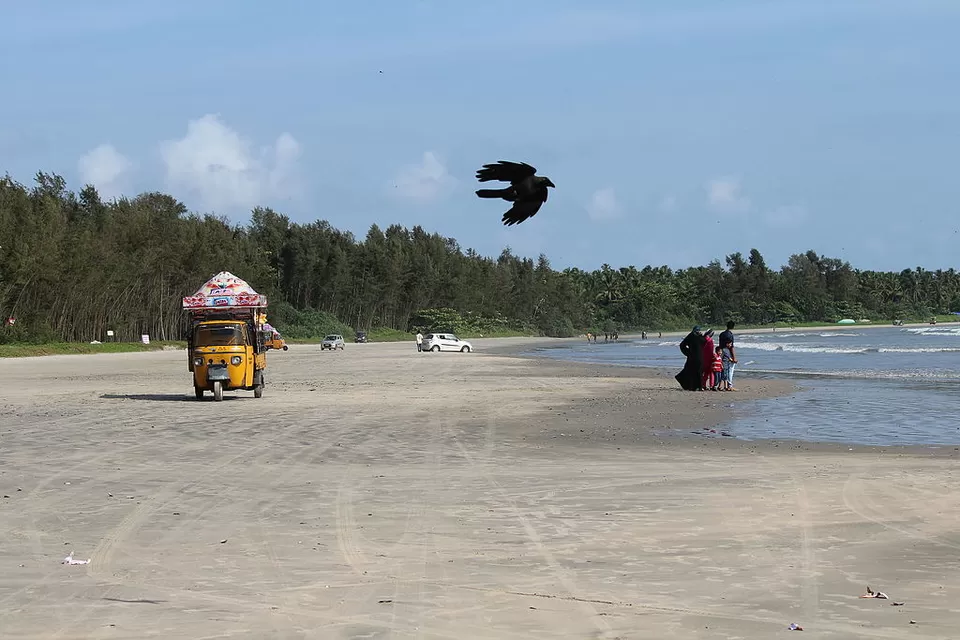 Kaup is another beach that is ideal for a day-trip from Kasaragod. Located 90km from the main town, Kaup is the place you go to see the sea in its wild glory. The waves are high and menacing and make you realise just how insignificant you are in the grand scheme of things. Kaup Beach also has an impressive, working lighthouse, which permits visitation between 4 to 6pm everyday. Only four to five visitors are allowed at a time and the climb up is steep and risky. But the view of the glimmering ocean and sandy beach is worth every precarious step you take.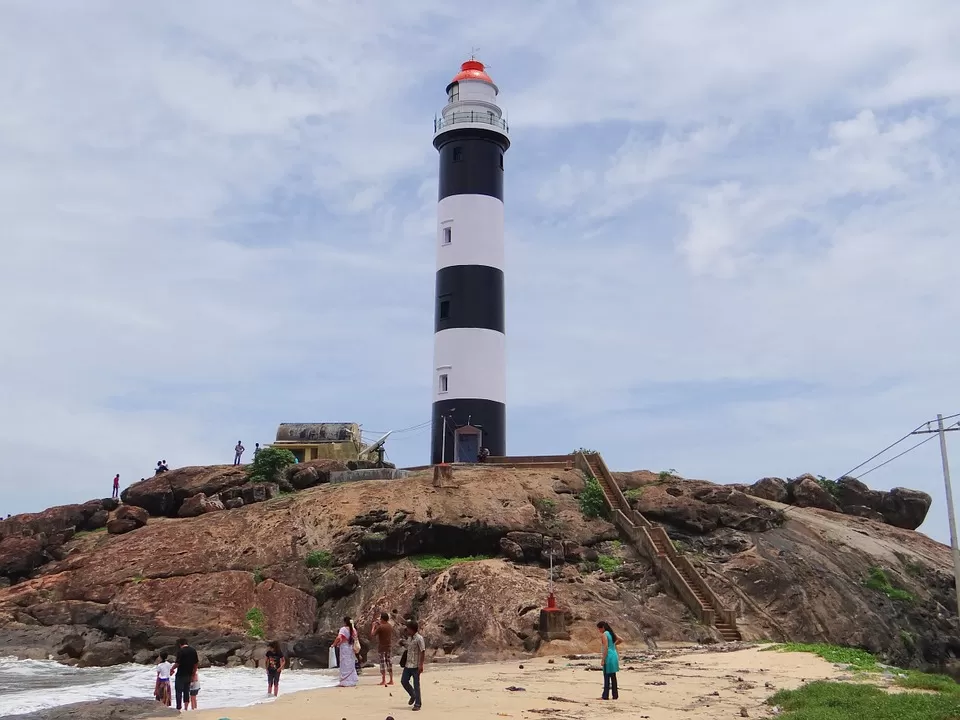 Malpe Beach, about 110km from Kasaragod is another great place for a day trip. Different from any other beach in the district, but like most beaches in the country, it is full of tourists, food stalls, and facilities for water sports such as speed boating, parasailing, banana boating and jet skiing. This is where you can head to for a feel of Goa, sans the nightclubs and beach parties. However, what makes Malpe a must visit is St. Mary's Island. The island is known for clusters of distinctive, pillar-like rock formations that seem to be rising out of the sea. A ferry transports you from Malpe to St. Mary's; cost is ₹20 per person.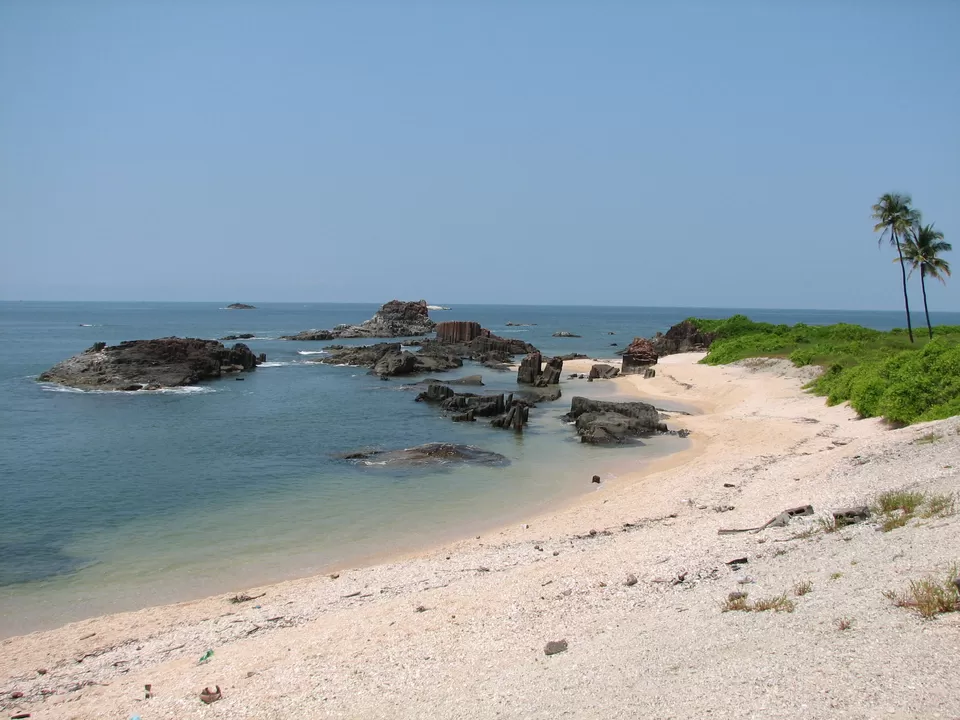 Temples
Kasaragod is also home to many temples.
The Ananthapura Lake Temple is the only lake temple in Kerala. Believed to be the original seat of Anantha Padmanabha Swami, pilgrims from Kerala and Karnataka both flock here on a daily basis. The most interesting part about this temple, however is outside it – the vegetarian crocodile! Yes, there is a single crocodile that resides in the lake surrounding the temple and he only eats rice and jaggery. He doesn't consume any sort of meat and is considered harmless. And according to local legends, when the crocodile dies, it is miraculously replaced by another crocodile from nowhere!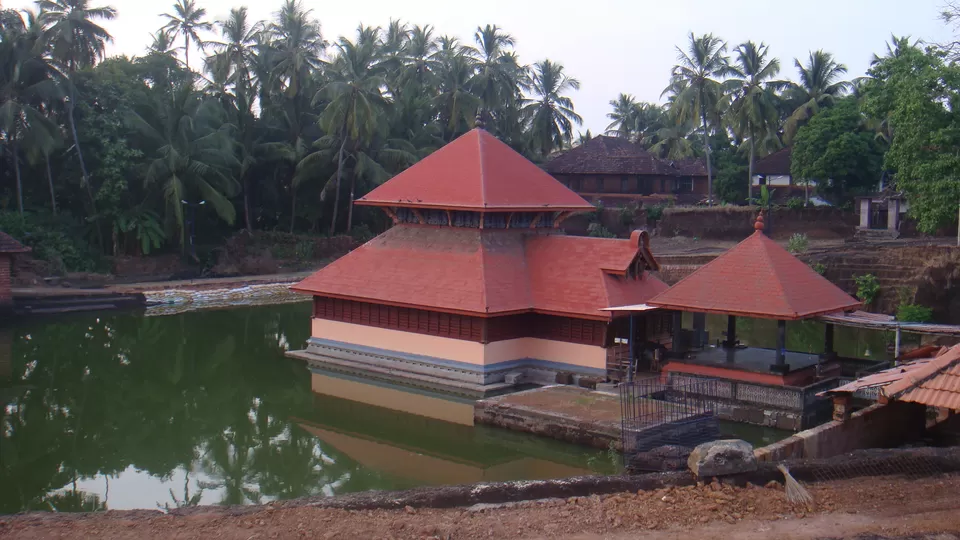 Mallikarjuna is another name for Lord Shiva and Mallikarjuna temple is one of the oldest and most prominent temples in the district. Dedicated to Lord Shiva the temple is known for its musical theatre and the temple festival that takes place every year in March/April. Yakshagana, a traditional dance performance takes place during the festival.
Palakkunnu Sri Bhagavathy Temple is one of the famous temples in Kasaragod, dedicated to Bhagavathy, a form of Goddess Durga. It is believed that Goddess Bhagavathy is the caretaker of the district and looks after all its inhabitants. Other deities are also worshipped in this temple. Bharani Mahotsavam is an annual festival that takes place here every March.
Sri Gopalakrishna Temple is located close to Kasaragod town, and is dedicated to Lord Bala Gopalakrishna, the older brother of Lord Krishna. According to mythology, the idol of Lord Bala was presented to Kanva Maharishi, the saint who established this temple, by Lord Krishna himself. The temple is believed to have obtained sanctity of three yugas (eras) that is Treta, Dwapara and Kaliyuga.
Theyyam
Theyyam is popular in Kasaragod, and in most of north Kerala. Also known as Kaliyattam, it is a ritual that incorporates dance, mime and music and enshrines the rudiments of ancient tribal cultures which attached great importance to the worship of heroes and the spirits of ancestors. There are over 400 Theyyams performed across northern Kerala, but the most spectacular ones are Raktha Chamundi, Kari Chamundi, Muchilottu Bhagavathi, Wayanadu Kulaven, Gulikan and Pottan. These are performed in front of shrines, sans stage or curtains, by persons belonging to the Vannan, Malayan and other castes.
'Thudangal' (the beginning) and 'Thottam' (the invocation) are the introductory rituals of the Theyyam or the Thira, as it is known in south Malabar. The headgear and other ornamental decorations are spectacular in sheer size and appearance. In Kasaragod, it is performed annually between the months of December to April. However, at the Parassinikadavu Sri Muthappan Temple in Kannur, Theyyam is preformed on all days.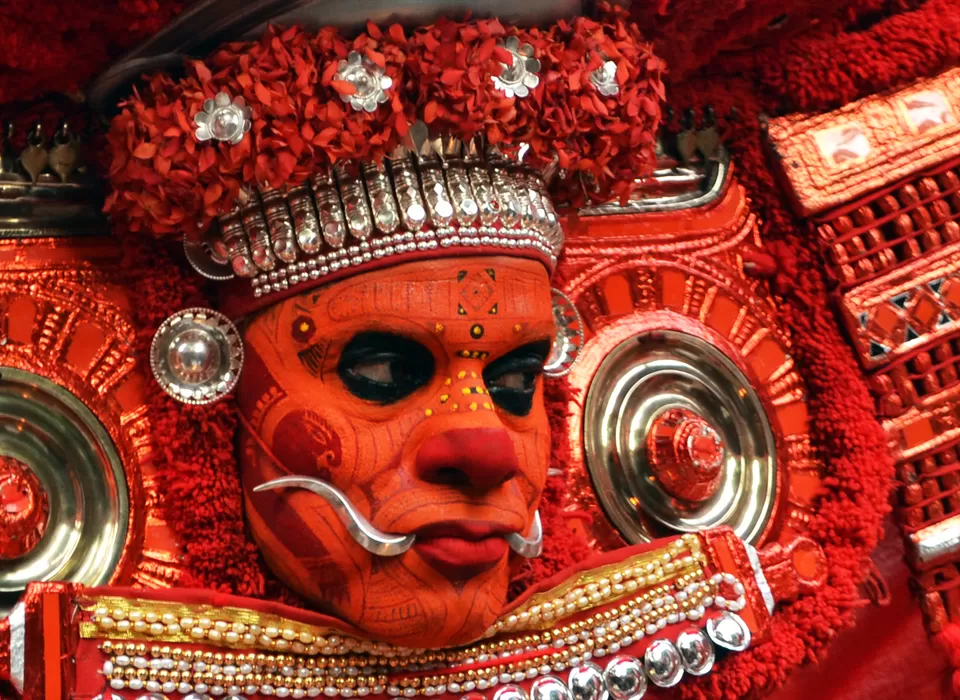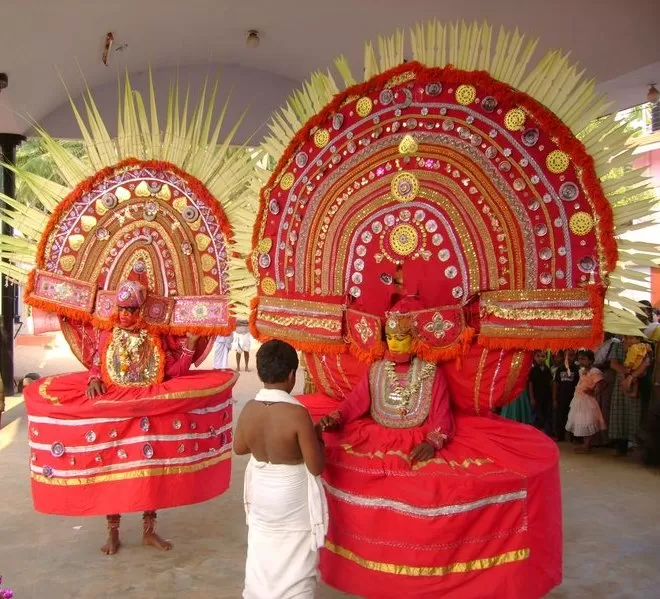 When to go
November to February is the best time to visit Kasaragod with temperatures never crossing 30°C and the average temperature being 20°C. Noon is still hot and humid, but the overall day is pleasant with a cool breeze. Avoid March to June as the temperature often crosses 40°C. June to August sees heavy rainfall, but the surrounding areas turn very green and it's a good time to visit for those who don't mind rainfall.
How to reach
Kasaragod is located around 55km from Mangalore and it takes around an hour and 15 minutes to reach by road.
By Air: Mangalore is the airport closest (60 km) to Kasaragod. There are daily flights from Bengaluru, Mumbai and Chennai. Round-trip airfare from Delhi to Mangalore starts at ₹6,800. From the Mangalore airport, you can take a taxi to Kasaragod.
By Rail: Kasaragod station is a popular stop on many rail routes. There are direct trains from Delhi, Mumbai and Chennai.
By Bus: There are many buses run by KSRTC between Mangalore and Kasaragod. Private bus operators also commute on this route.
By Road: The NH17 (Mumbai- Kochi) runs through Kasaragod. Roads are generally in pretty good condition, in and around town.
Where to stay
Gitanjali Heritage is a cozy homestay run by a very warm family. They help you navigate the city and also arrange visits to forts, beaches and even a Theyyam performance. They charge ₹5,000 per night for double occupancy.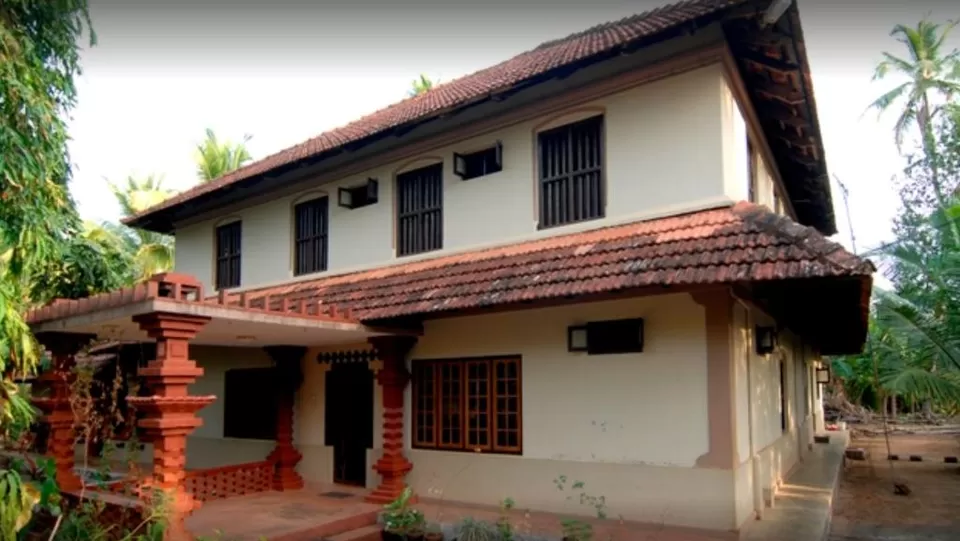 Taj Bekal Resort And Spa is a great resort with stark white walls, boat-shaped rooftops and a private beach. Prices start at ₹9,500 per night for double occupancy.