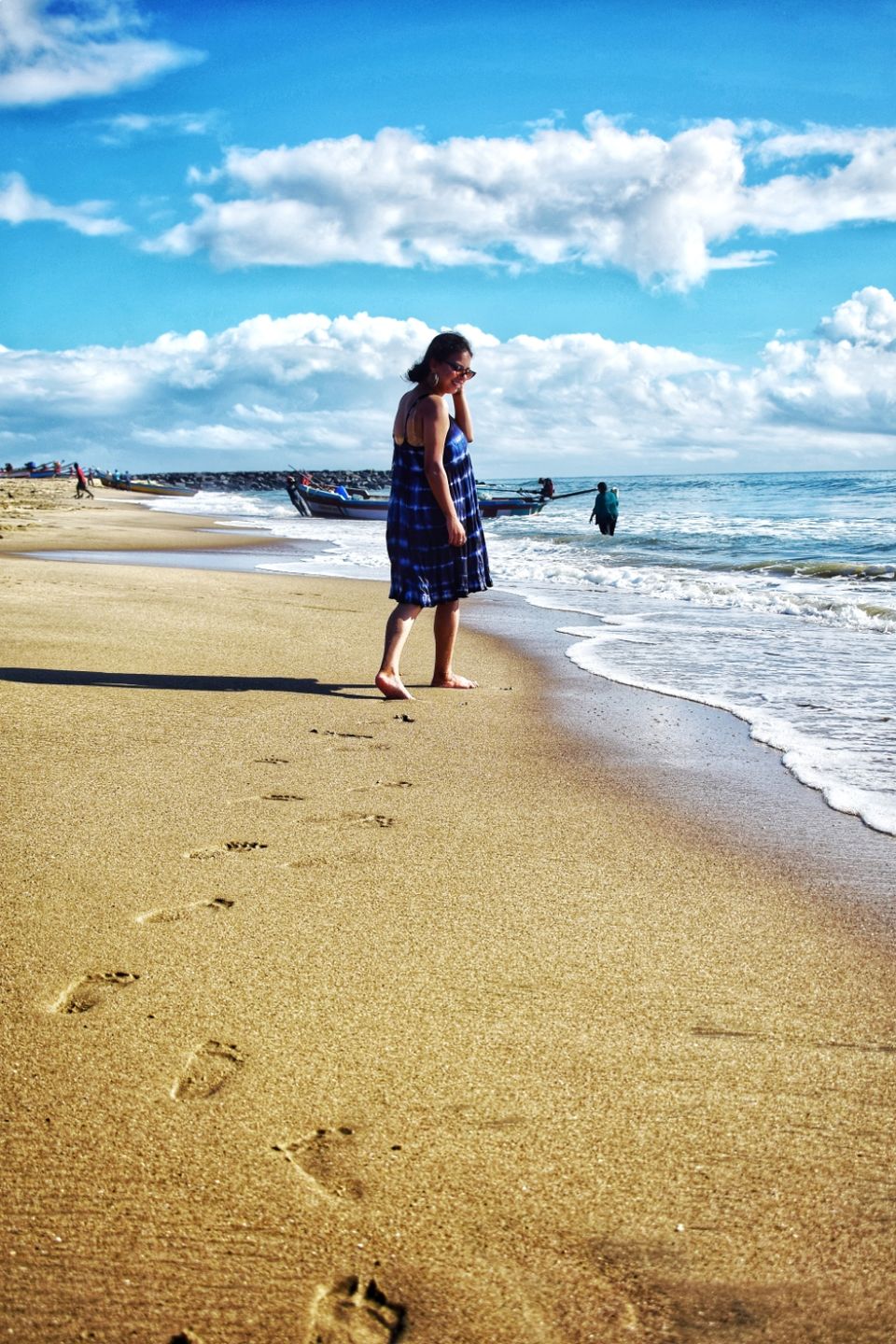 Are you looking for a perfect relaxed venture? An ideal location to just chill by the beach and get a beautiful tan, away from the hustle-bustle. Pondicherry is apt for a weekend getaway with friends, family, or a solo trip. Being an avid traveler, and living in a city like Bangalore, at any given chance I want to escape from the cacophony of loud noise, endless traffic from this concrete jungle. I found my sweet adventure in the city of Pondicherry, love at first sight. It was special in so many ways I wish there were words I could pour my heart in. I could smell the sea and damn did it smell good!
So here I am to share with you my love story with Pondicherry. I took a night sleeper bus at around 11 in the night and reached Pondicherry around 5:30 in the morning. There were a number of auto-rickshaw which were quite overpriced. We stayed at White Town or Ville Blanche. Since he and I were both working the previous day we took a nap for an hour before we started exploring. We took a scooty on rent which cost us 400 INR per day and headed to Rock Beach for Sunrise, well it had almost risen. It was nice just the site of infinite lush blue water, hitting the rocks each time it comes back and people running, walking just enjoying this music. I took a moment to soak in the view and the vibe that surrounded the place. We walked around to let the sun rays sink in and then headed for breakfast to this beautiful place called Bay of Buddha overlooking the sea. We took the buffet cause I could eat up a full-grown man. After our yummy breakfast packed with nutrition and Nutella crepes, we started exploring the town.
DAY 1:
For everyone traveling serves a different purpose. For some, it can be meeting new people, food, or just experiencing the place and its vibe. I believe in doing it all, making the most out of it. Who else suffers a FOMO here? Comment below :)
We then went to Promenade Beach which was a little crowded, with kids running about showing their torso, cute! We headed to Auro Beach it was comparatively empty. We listened to some songs and had a great time by ourselves, looking at the waves just come and go by the shore. We then headed for lunch to the famous Cafe Extacy which was amazing. We tried their pizza I still am dripping drools with the thought of it. We had also gone to see the sunset, but since the beach is on the east coast the sunset wasn't as conventional, but beautiful anyway!
For dinner, we opted for the Sea View Diner that was overlooking the rock beach. Good abience, music, good food, soul-stirring conversations, and the sound of the sea is how we ended our first day in Puducherry.
Day 2:
We chose to take it slow on our second day we visited the Paradise Beach in the morning after our lip-smacking, a meal I will never forget, drool-worthy breakfast at Cafe De Arts. It is a beautiful cafe with bright yellow walls outside and a pleasing antique furnishing in the inside. This place is apt for Instagram pictures and also to learn more about Portuguese history. Paradise beach was all about collecting shells and getting a tan. Our boat to and fro Paradise took 300 INR per person. We spent the day there just looking at the majestic blue water. After our heavy lunch, we decided to just relax by the pool. When the thought dawned on me about how Pondicherry, is an experience that will transport you to the times gone by. That evening we walked around White Town had dinner at Le Pondi by the sea and had gelato at the Gelateria Montecatini Terme (GMT).
Day 3:
This was our last day in Pondy, we decided to visit the Auroville Matrimandir it was serene. The place is packed with visitors from around the world and some been living to give back to humanity their share. It was an amalgamation of traditional and contemporary lifestyles. We learned about their way of living and coping with life in the Asharam. We also happened to meet a few people who shared their insights about the lifestyle preached in the Ashram. We tried to sit and meditate and soak in the quietness of our surroundings.
We had our lunch in Tanto Pizzeria. After a soul-filling lunch, we sat by the beach and I penned down a few thoughts whilst the sun was setting we ended our trip to Pondicherry with an amazing Crab fry sold by the Beach and spoke to the lady selling asking her about her life, nothing too personal.
I explored this city through food, amazing french cuisine, crispy yet soft croissants, subs, crepes, macaroons, with some chilled beer, some stories shared or heard by acquaintances, friendly strangers, my walks down the green streets and the tumultuous waves. Leaving no stones unturned, I left this city with a heavy heart and the hope to go back soon.
Pondicherry is all about your individual experience. It felt like meeting an old lover, more mature, more sophisticated. It is all about walls coloured in different shades of pastels and boulevards filled with Bouganvilla trees, old french architecture and the smell of sea.