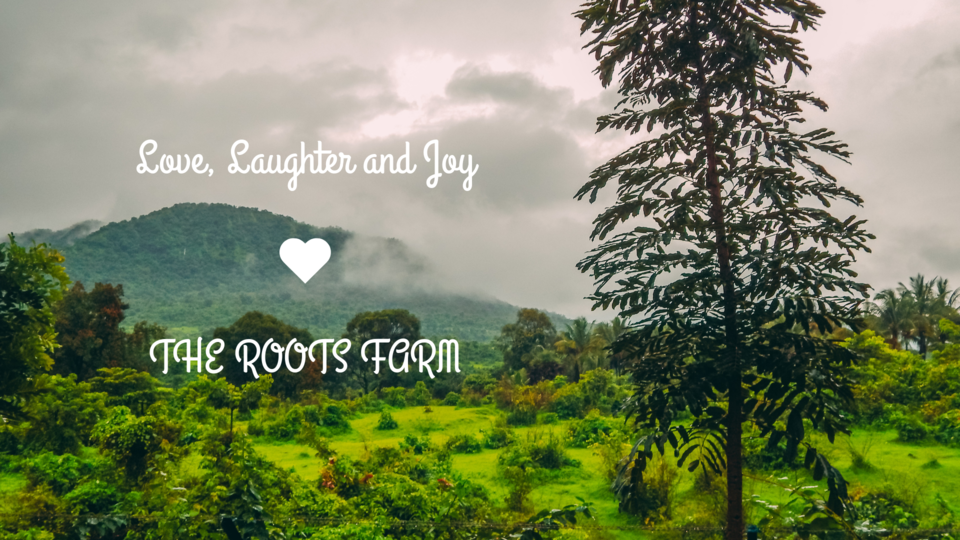 We travel in search of tranquility, to give our weary limbs a chance to rejuvenate, to spend time doing nothing, sample new cuisines and to take a break from our daily routines. The Roots Farm, Panvel offers you all this and more. Located 60 minutes away from the city, The Roots Farm, Panvel is an ideal weekend holiday destination from Mumbai. Let's dive into why you should visit this beautiful farm stay near Mumbai.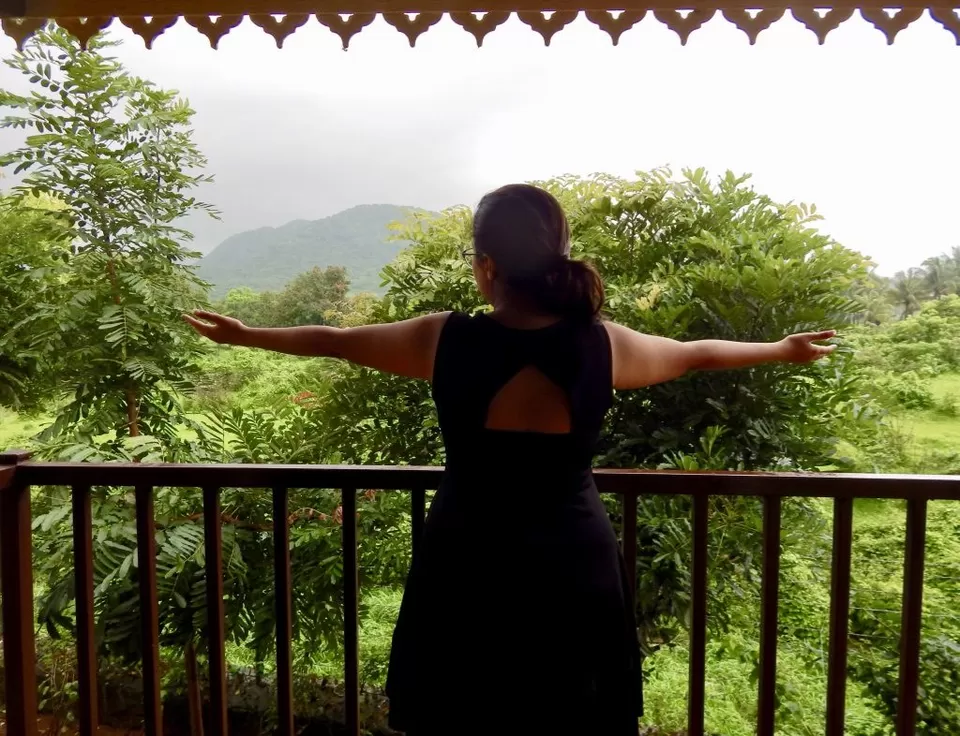 The Roots Farm is surrounded by 14 acres of lush farmland and greenery. Chirping bird calls will wake you up in the morning, the musical drizzle of the rains will lull you into an afternoon nap and the cows will moo at you in delight when you pay them a visit. You can feed the ducks, sit by the serene Koi pond or just walk barefoot on the grass. You are surrounded by nature at The Roots Farm and you will soon fall in love with
Monsoon Magic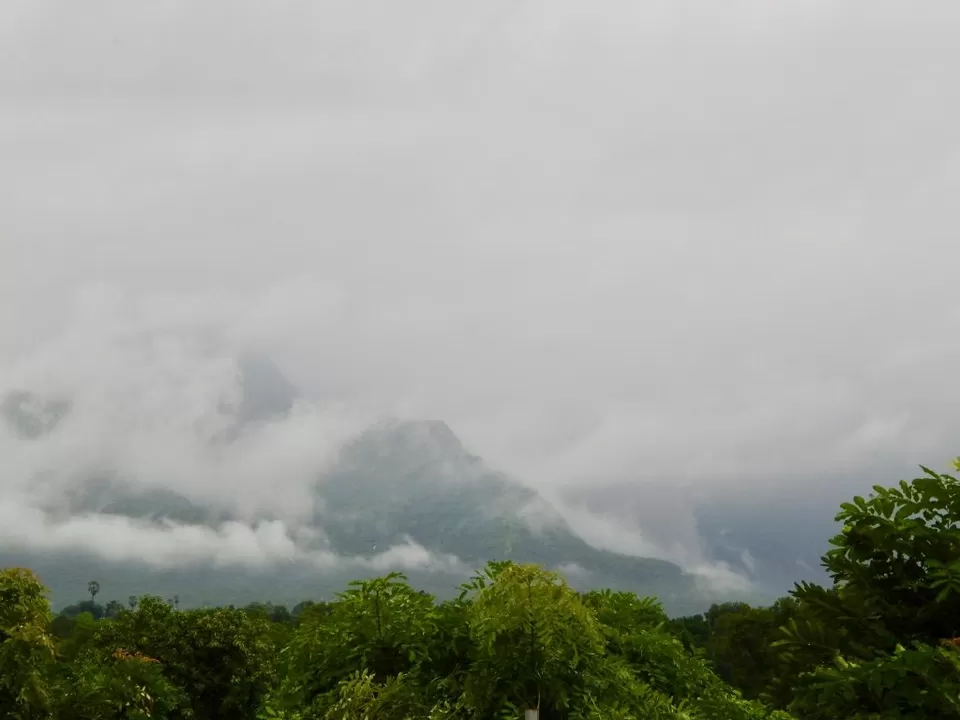 Getting wet in the rains, jumping at the first sound of thunder, sipping on some filter coffee or chai if you please and not caring about those extra calories as you eat yet another plate of pakoras with aam ki chutney.
Monsoons at The Roots Farm are truly magical!
My family and other animals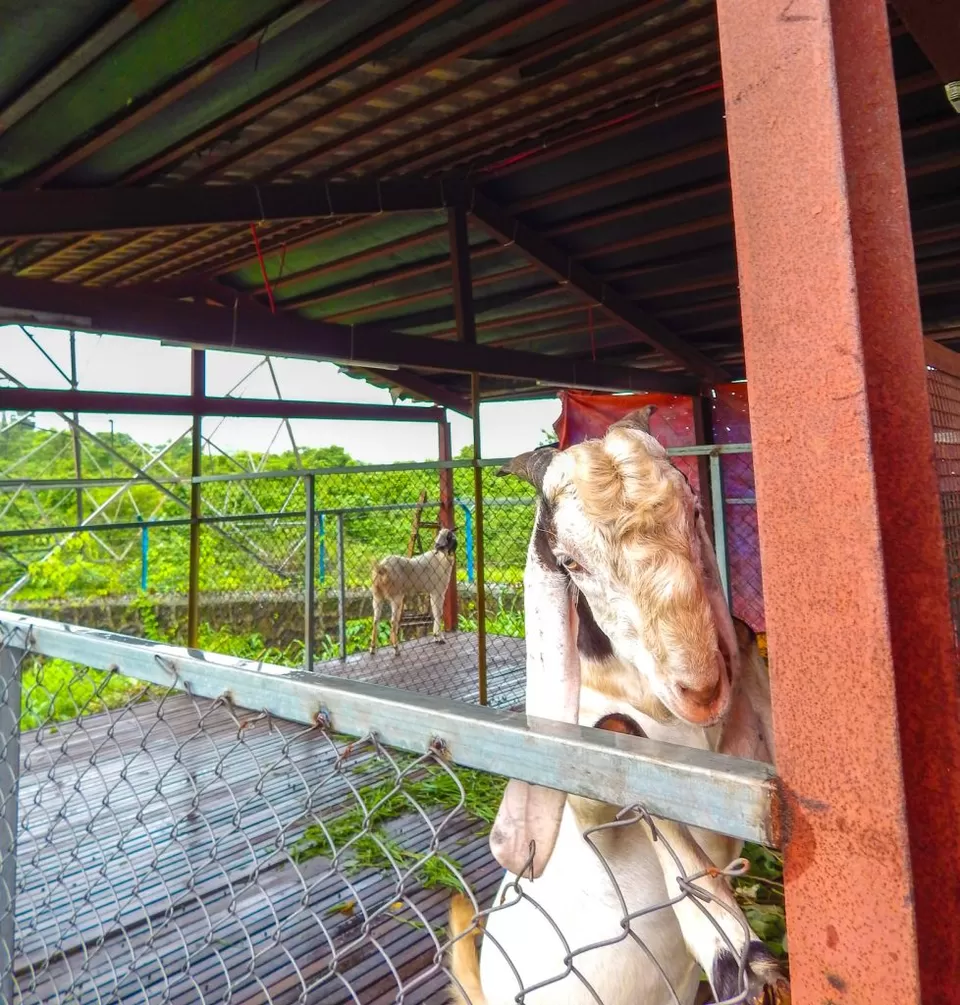 Goats are very mischievous
Cows have beautiful eyes
Hens can be very haughty
And quails are tiny in size
Fishes in Koi ponds
Are surprisingly not very coy
When you are playing with the animals at The Roots Farm
Your heart will be full of joy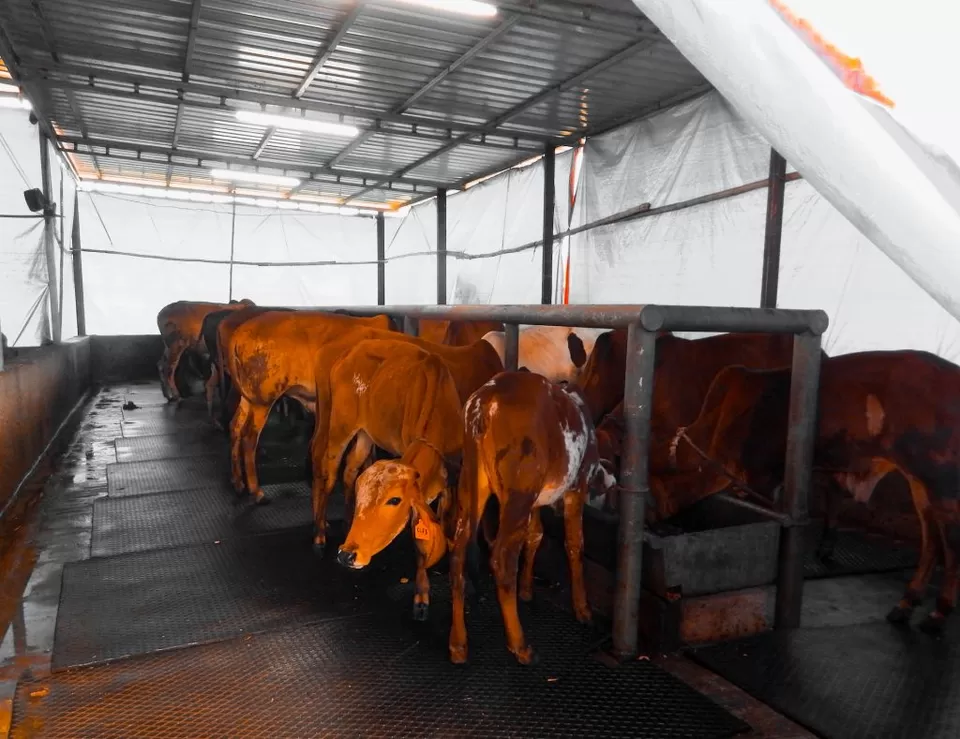 For somebody who has never experienced farm life, The Roots Farm is an ideal destination for the entire family.
Relive Kerala memories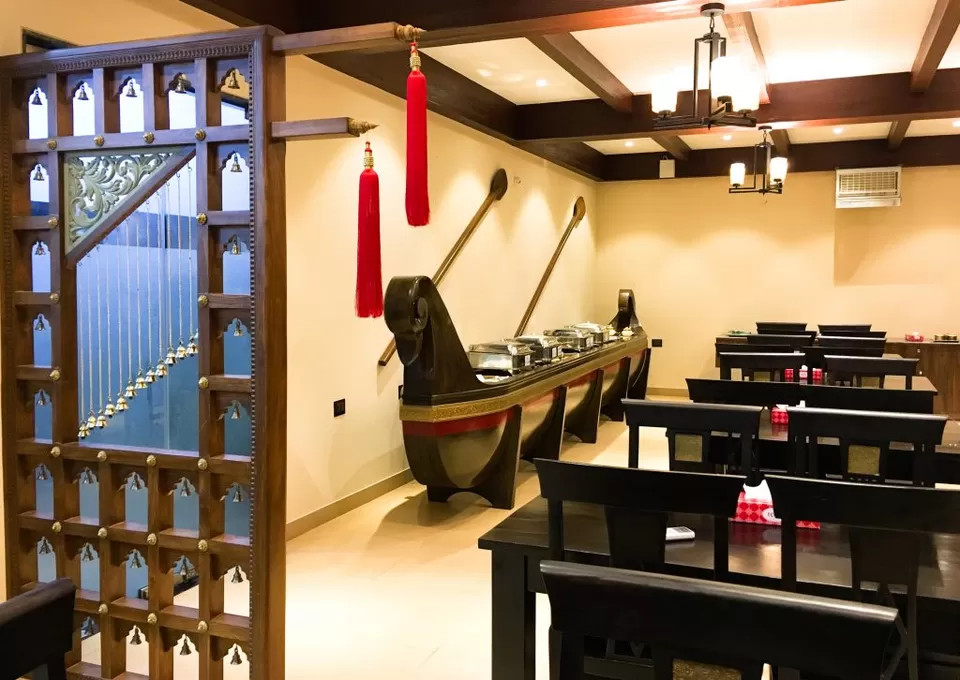 The architecture and the interior design of the farm is homely and reminiscent of Kerala. You have a fountain bubbling at the entrance, wooden elephants that will greet you, food being served on a gorgeous wooden Kerala boat and so many other elements that will take you back to God's Own Country.
Your homely abode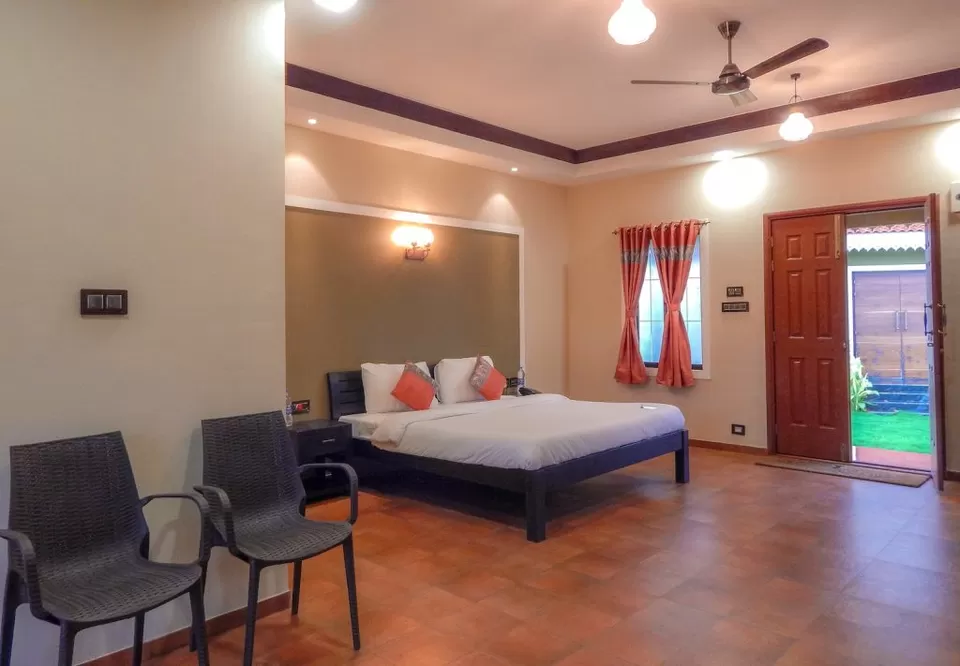 The Roots Farm has spacious rooms with beautiful interiors. A maximum of 4 people can stay in each room. They have free Wi-Fi, a great TV (though I am sure you won't use it) and other essentials that you may require.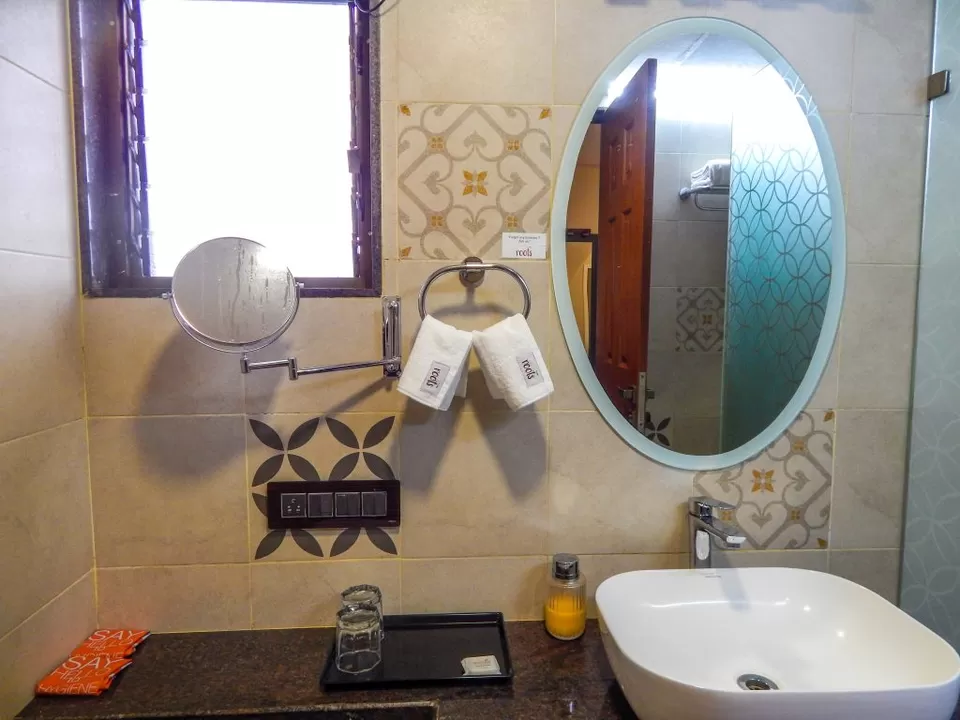 They have Biotique toiletries which are made of organic ingredients available for the guests.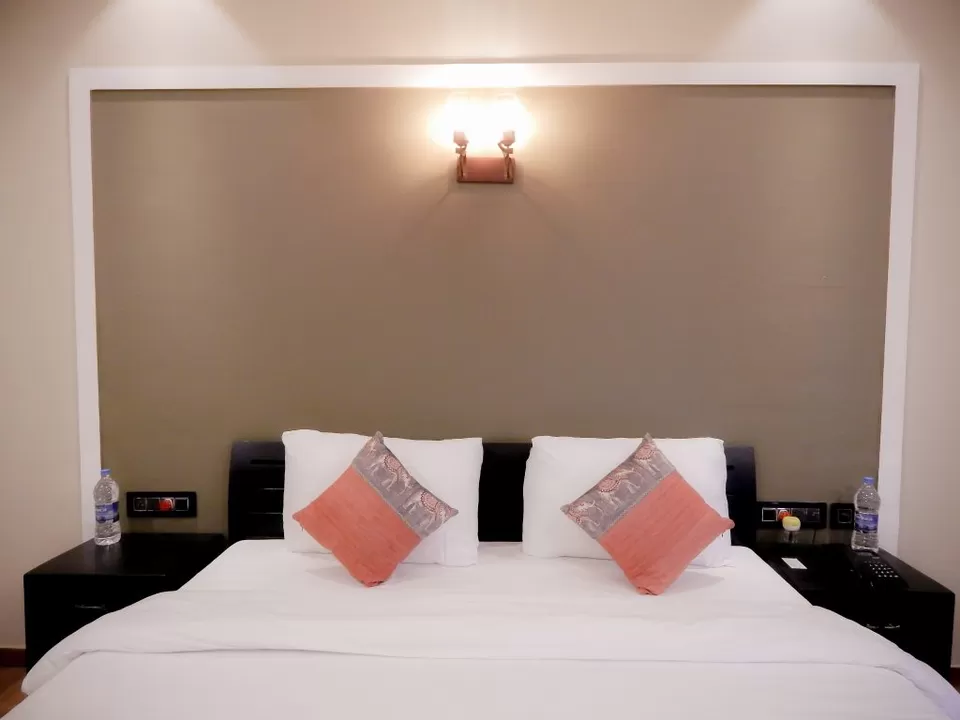 I loved how the interiors were done up especially the presence of elephant themed cushion covers. Who doesn't love elephants?
They have two kinds of rooms, one for larger families and one hotel-style room that is more suitable for couples.
For more information on pricing, please visit here
Soulful meals
Love is the sole ingredient that can turn regular food into a feast of a lifetime. At the Roots Cafe, you will definitely feast like a queen. From North Indian meals to South India thalis, every meal at the Roots Farm is vegetarian, is prepared with the farm-fresh ingredients and is served with love. From the unique curry leaf dosa for breakfast, Rasam and rice for lunch, Kaju Curry and pulao for dinner and freshly made Kharvas for dessert, you will be served most delicious meals throughout your stay. You will be spoilt for choice and can make special requests which the staff try their best to fulfill.
Prepare to put on a few kilos as none of the staff members will allow you to leave without second and third helpings.
The gorgeous 360-degree viewing deck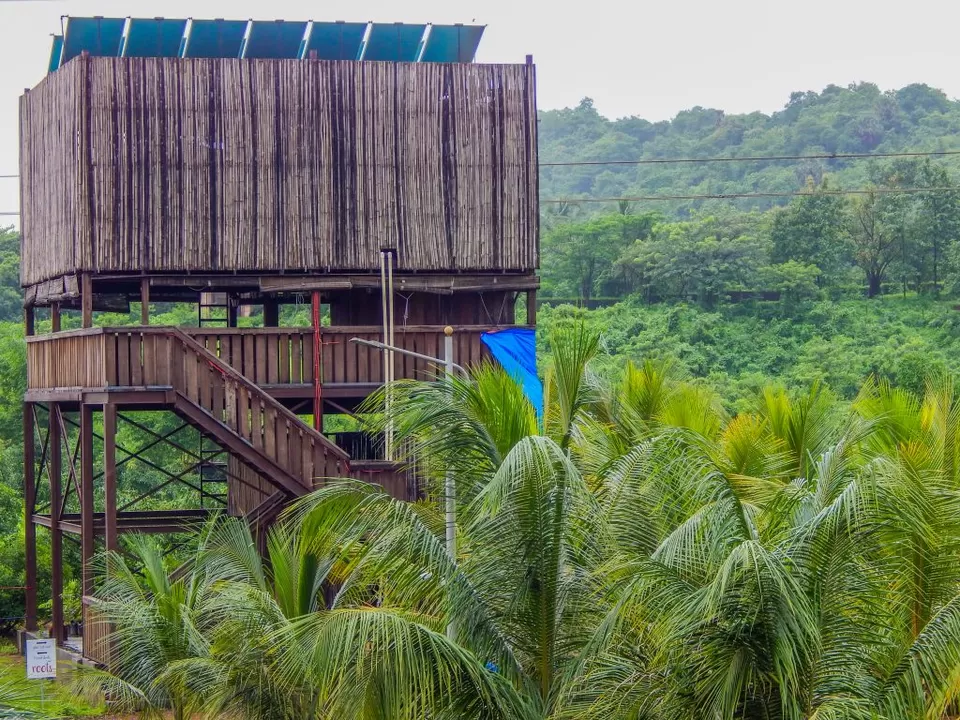 If you want to enjoy elevated panoramic views of the Roots Farm, they have a special 360-degree viewing deck. You can sit back, relax and let the breeze play with your hair as your eyes feast on the beauty in front of your eyes.
Pure Family fun
Apart from enjoying the farm life, there are a host of other activities you can enjoy at The Roots Farm. You can play cricket, badminton, chess, carrom and many other games. If you fancy reading a book, feel free to check their mini library or play their Karaoke system to sing your favourite songs.
Relax your senses
Staying at The Roots Farm gives you the opportunity to relax all your five senses. You will notice an 8 shaped walking path around the grass area. According to Siddha principles, walking on a pathway like this is good for your body.
While they don't have a spa, you can make an appointment for massages at a wellness centre just two minutes from the Farm. The staff will be happy to make the arrangements for you.
Try everything once!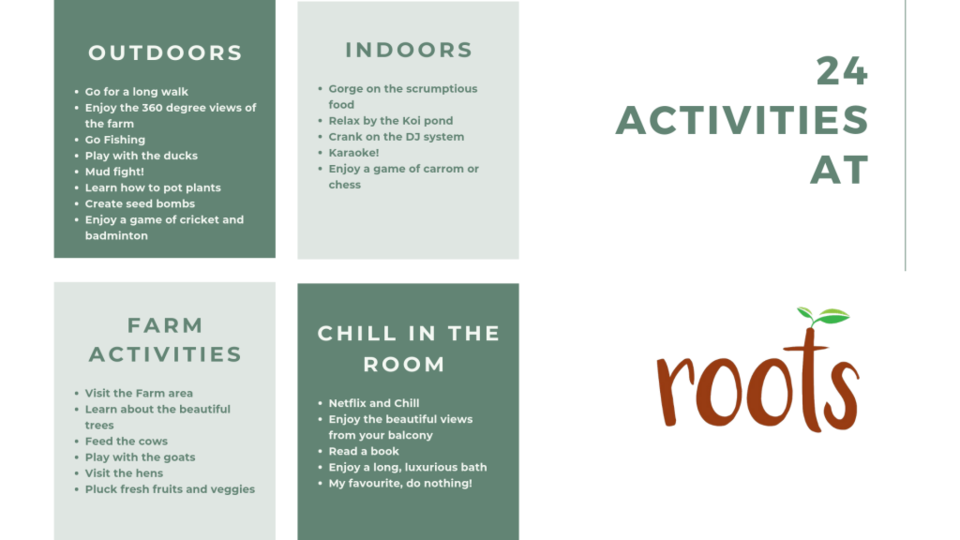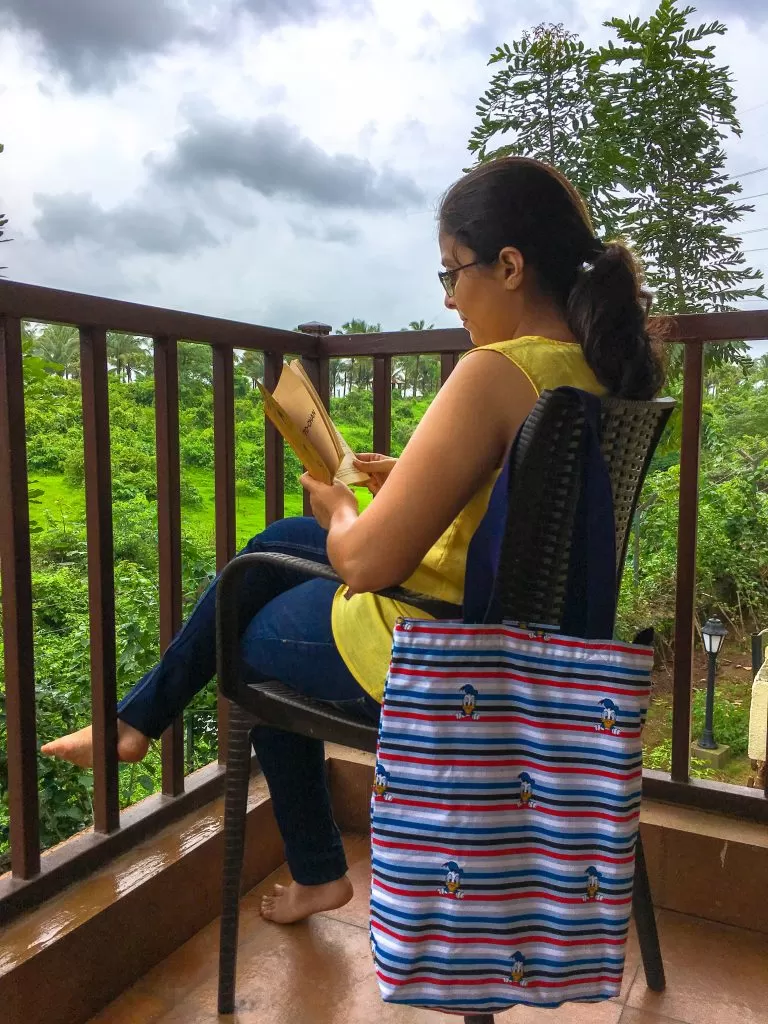 Our daily lives are so frantic that sometimes it is important to just slow down and do nothing. The Roots Farm is perfect for that. You can sit in your balcony and enjoy the gorgeous hills in front of your eyes, you can lie down and read your favorite book or simply take a nap.
The Roots Farm philosophy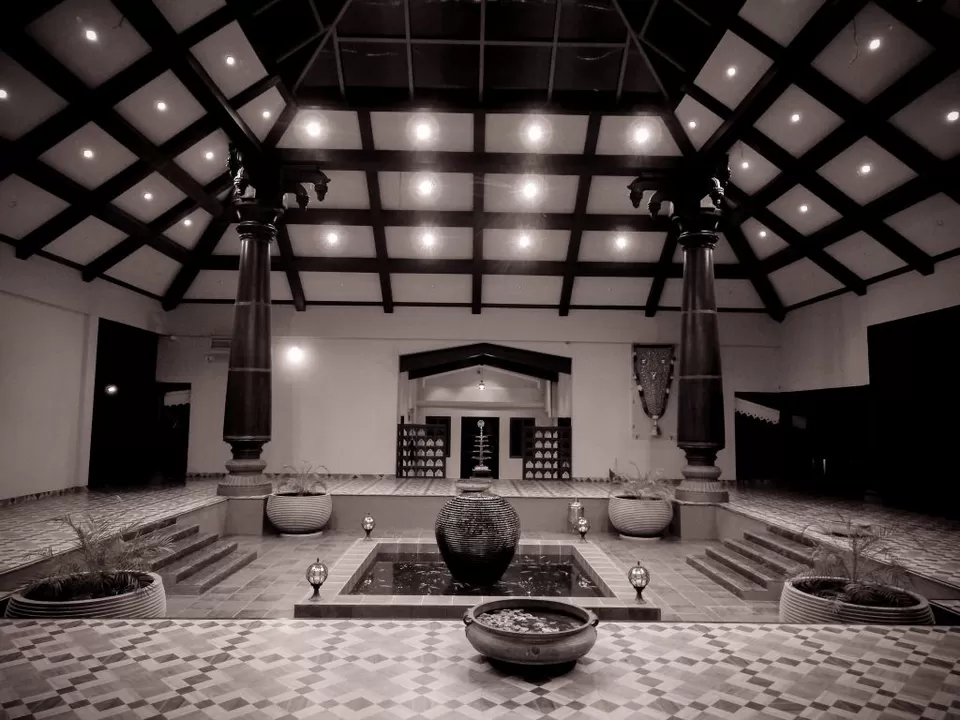 During our visit, we were fortunate to meet R. Mohan the founder of the Roots Farm and his entire family who are some of the warmest people you will ever meet. In addition to making us feel welcome, they went out of their way to be hospitable and kind. We had the opportunity to chat with Mr. R. Mohan on his philosophy. He began by talking about the importance of organic food and healthy living being the prerequisite of a happy life. He firmly believes that everybody should be treated with love, care and kindness. Going beyond his guests, he extends the same principles to all the animals in the farm.
The farm boasts of Vedic Indian desi Gir cows which are famed for their A2 milk. The cows listen to classical music because happy animals give healthy yields.
Return with healthy souvenirs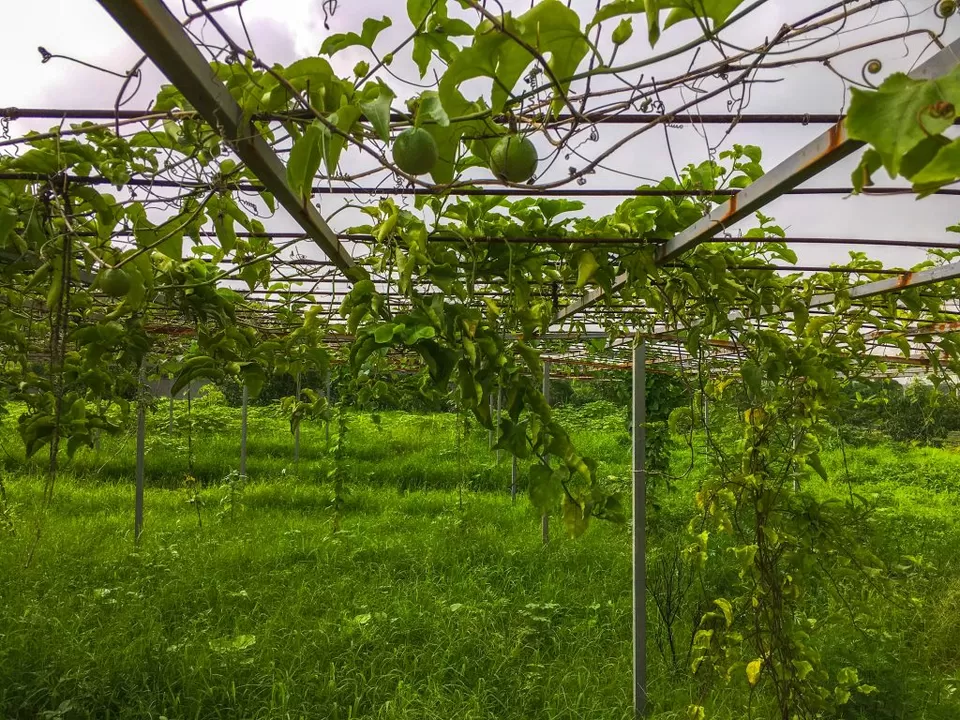 The Roots Farm is certified under India's National Programme for Organic Production Standards. You can also buy fresh organic farm vegetables and fruits, A2 milk, Vedic A2 ghee, butter, quails eggs, Kedarnath chicken eggs and other farm produce.
Quick tips for your visit to The Roots Farm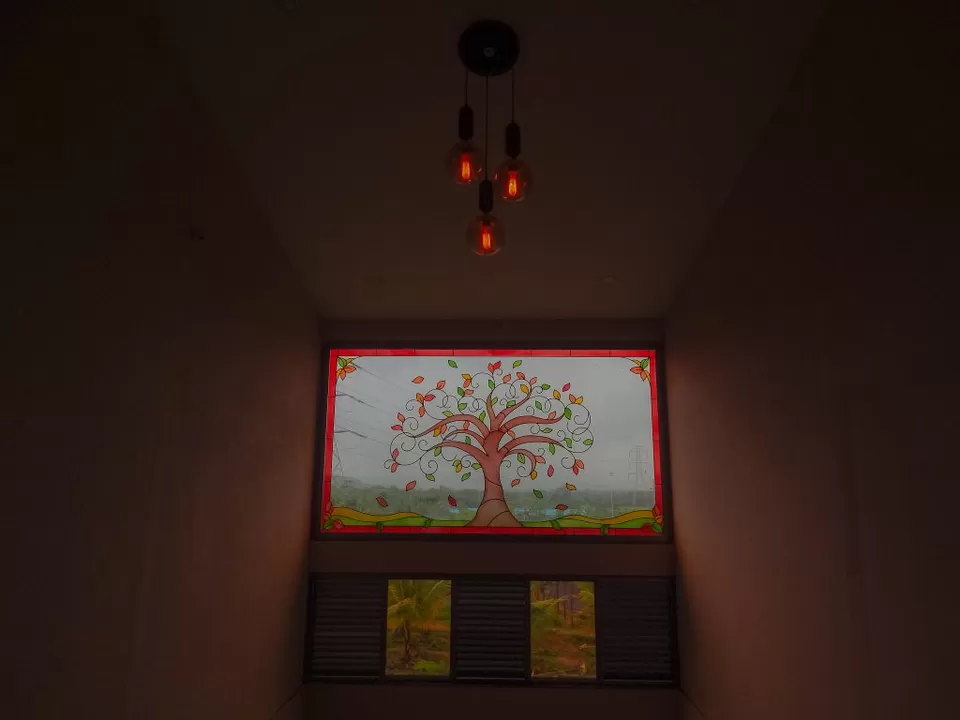 The Roots Farm is located at Morbe Village, Panvel which is around 30 kms from Vashi (Navi Mumbai), around 45 kms from Bandra Kurla Complex BKC (Mumbai).
Google Maps location: https://goo.gl/maps/BwzCEGkrXFK2
You can drive on your own or even use public transport. You can take the train to Panvel Railway station and hire an auto to the farm.
Carry comfortable clothes and sturdy shoes if you want to fully enjoy the farm life
Don't forget to take an umbrella or raincoats during the monsoons. You will definitely need it.
Do not litter or throw plastic around. Also, do not pluck flowers, grass or tease the animals
The Farm does not have room service or a la carte meals. However, you will be spoilt for choice. The food is excellent and you will love the hospitality
Since it is located in a rural location, you might face electricity issues. However, they have a power back up which kicks in a matter of seconds. All rooms are provided emergency lights
You may not get good network but trust me, it will be good to take a break from your phone.
The Roots Farm has Wi-Fi at good speeds but it's better to take a break and enjoy your time here
What's nearby The Roots Farm
The Roots Farm is a destination on its own but if you are feeling adventurous, you can definitely visit the following places nearby:
Morbe Dam which is a few kilometers and is a great place to walk around and enjoy the view.
Karnala Fort and Karnala Bird Sanctuary which is around 30 km from the Farm. It is a lovely place for easy treks.
Dhodhani Waterfalls is about 18 km from The Roots Farm and is a great place for a picnic. On some weekends, there are tour operators that offer rappelling, too.
Gadeshwar Dam which is about 20 km away is a beautiful picnic spot.
Final Verdict
The Roots Farm is a place where you can let go of your daily grind and take a break you truly deserve. It's a perfect place to spend time with your family or just with yourself. You can read the book you have always been meaning to, Netflix and Chill if you wish or be struck by the sudden urge to write bad poems like me. ????
It's a place full of sunshine, joy and everything nice. When do you plan to visit The Roots Farm for a perfect weekend getaway from Mumbai?
Frequent Searches Leading To This Page:-
Weekend tour cost from mumbai, weekend holiday trip from mumbai, weekend trip cost from mumbai, weekend tour from mumbai, weekend holidays from mumbai