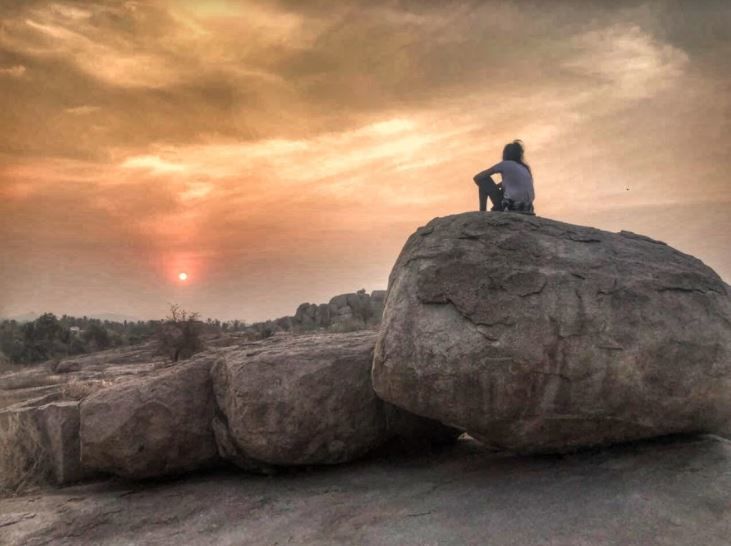 Hampi, the place where the past comes alive! So this time on my birthday, I decided to visit this paradise and trust me, it was magic!
A UNESCO World Heritage site, in the central part of Karnataka, Hampi shines in its glorious past. One of the most famous historical tourist attractions, Hampi was once capital of the majestic Vijayanagara Empire and if you are fascinated by History even a little, this place is just for you.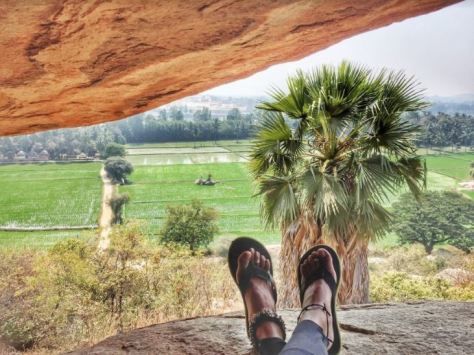 Hampi inspired me in so many ways. Its landscape filled with huge boulders and rocks standing like an artistic installation will just leave you stunned. Historic ruins, huge temples, hippie market, lush paddy fields, this place will make you travel in the past.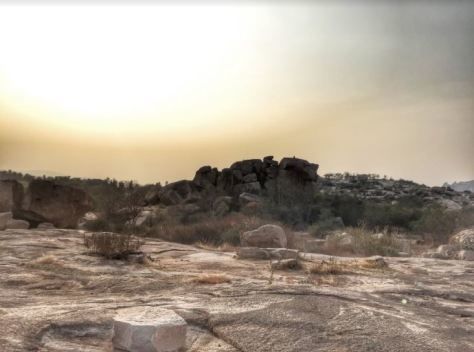 The palaces, temples, market ruins tell you endless fascinating stories that brings alive the rich history of this place.
Located in Karnataka near the modern-era city of Hosapete, Hampi is situated on the banks of the Tungabhadra River.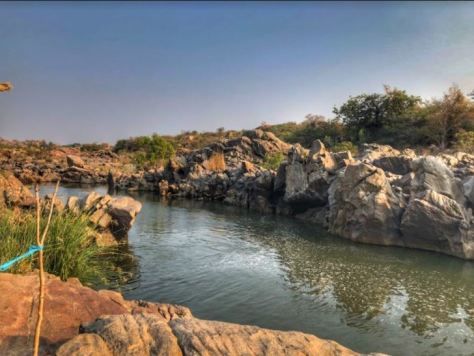 How to reach Hampi?
We flew to Bangalore and took an overnight sleeper bus to Hospet. Trains are also available for the same. KSRTC buses operate on regular basis. You can also choose from taxis or car rental.
Best time to visit?
Due to heat and humidity, we would recommend winters as the best time i.e. from November to February. We visited in January and the days were really hot.
Hippie island
The hippie island is every bag packer's paradise. It is the unofficial name given to the island of Virupapur Gadde. It is called an island as it is surrounded by Tungabadra river from all sides. You can take a ferry/coracle to cross the river for the island. Ferry charges around Rs 20 per person and is till 5 in the evening.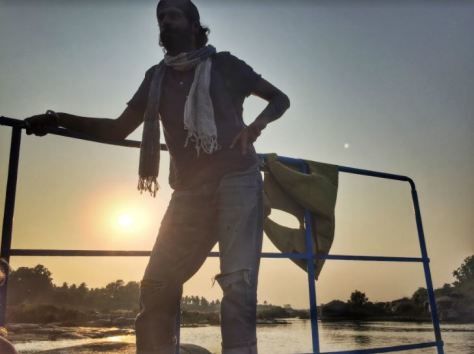 Almost all the guest houses are located in the same lane and have an open-air dining area with good music, hammocks, and you can sit for as long as you want doing whatever you want.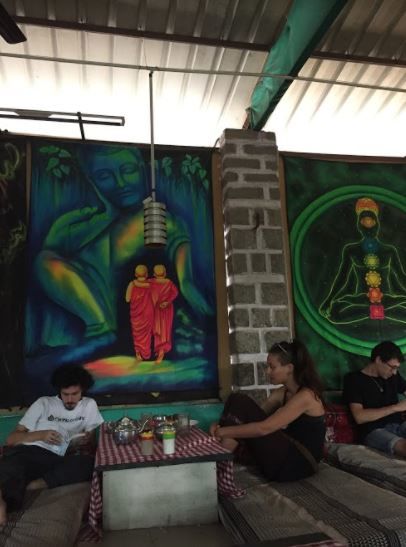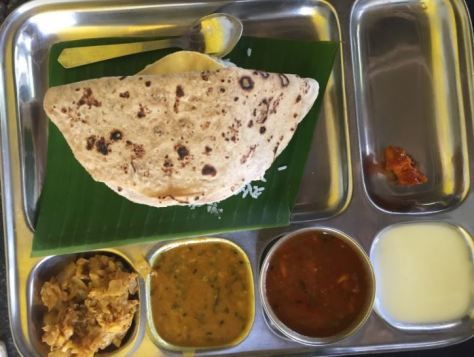 Though the rooms are priced at Rs 500-1500 per night during off season, but during peak season and extended weekends, they shoot the price to straight Rs 3500-4000 for tourists. So make sure not to choose an extended weekend!
Hampi is a strictly vegetarian and non-alcoholic place, so if you wish to indulge in the above two options, head to Hippie island.
Rent a bike
There is a lot to explore in Hampi as well as the hippie island. For the temples and palaces, an auto rickshaw is advisable! However to explore the other side, you can rent a bike, cycle, scooty or even a luna! The roads are gorgeous and you can drive for hours and hours. From small secret waterfalls to ruins all over, Hampi will not fail to show you magic all around.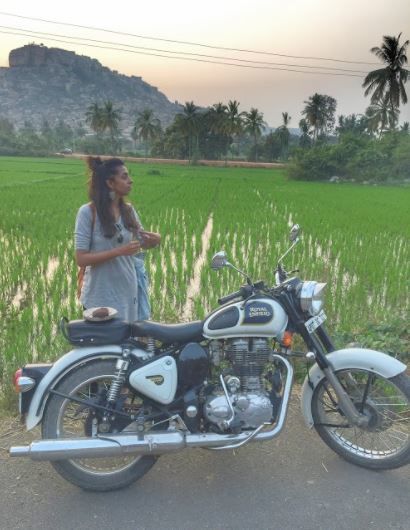 The sunsets in Hampi were the most beautiful ones ever. Climb a boulder of your choice, and sit waiting for the sun to set and as it does, everything becomes gold and stunning.
Also, sunset watching is like a ritual in here. People gather in twos or groups or solo to play the guitar, or the drums or to meditate facing the sky as it changes colours and turn the brush to copper.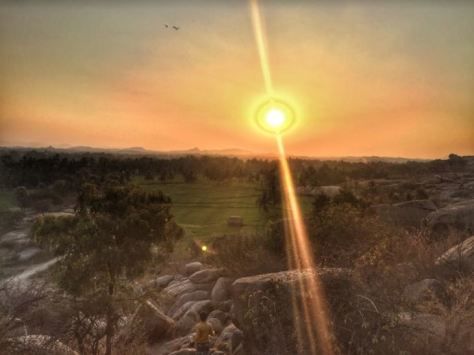 One day is just not enough for the grand temples and palaces. Majority of the attractions shut by 6 pm so make sure to plan your day accordingly.
A list of attractions:
1. Vitthala Temple: One of the most iconic monument, Vitthala temple is known for it stone chariot and definitely a favorite for all the tourists. The beautiful architecture and the carved musical pillars, this temple is no doubt a work of art! You will see a lot of budding artists sitting here for hours and hours sketching this amazing temple!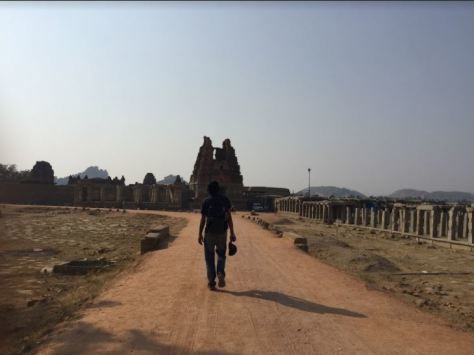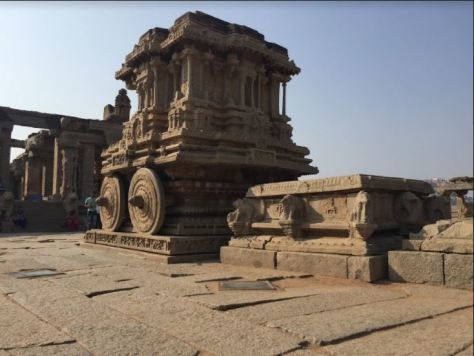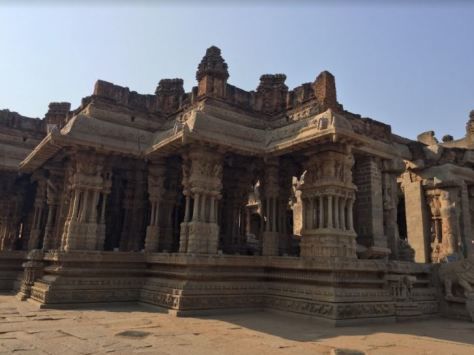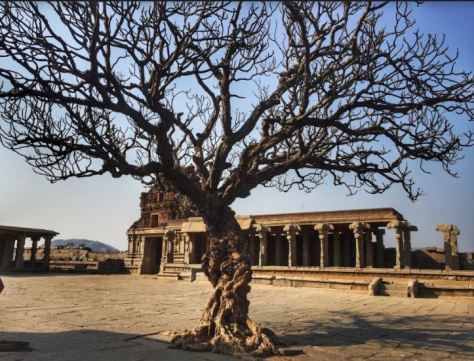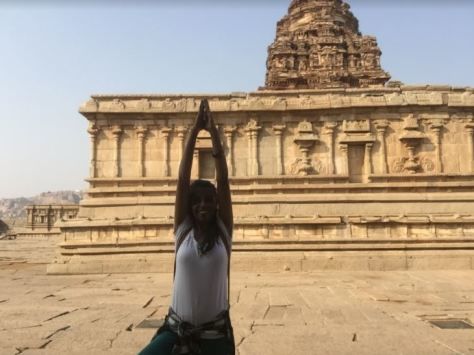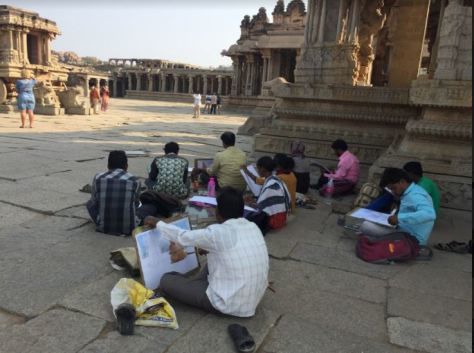 2. Virupaksha temple: Dedicated to Lord Shiva, this temple is still used for worship. Its detailed carvings, architecture and an entire story from Mahabharata carved on a wall will blow your mind!
3.Lakshmi Narasimha: I personally loved this one! It is Hampi's largest monolithic statue and is out of this world.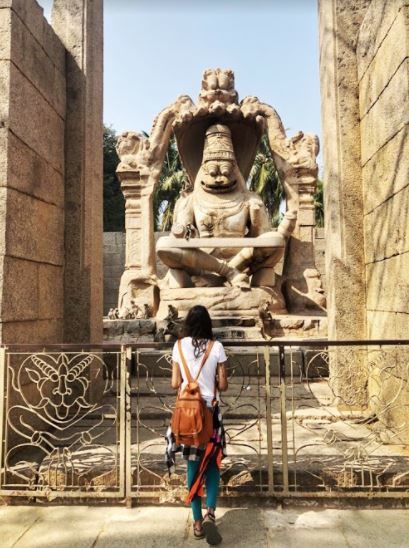 4. Hazara Rama Temple: Once a private temple for the royal family, this has carved stories from Ramayana on its wall. The pillars here are made of black stone and have the most finest of the carvings.
Other attractions:
Hanuman Temple, Hemakuta Hill Temple Complex, Sasivekalu Ganesha Temple, Queen's Bath, Monkey Temple, Underground Temple and many more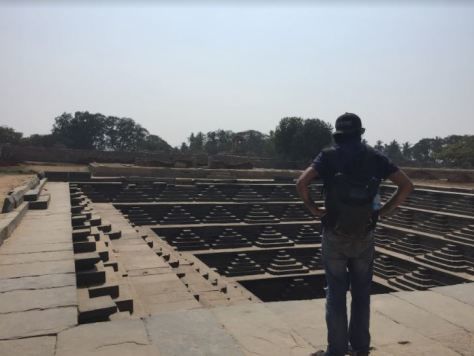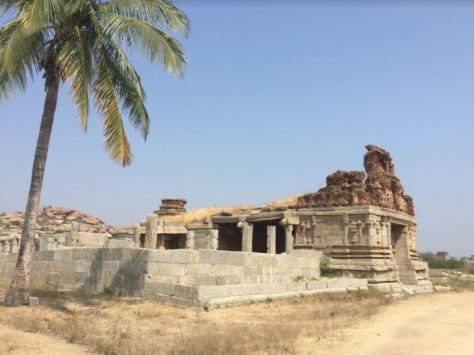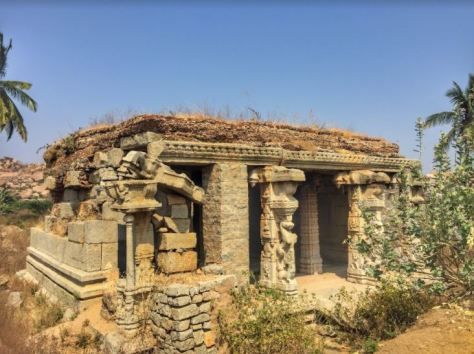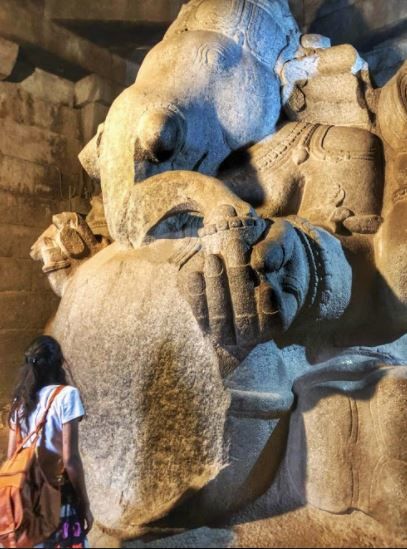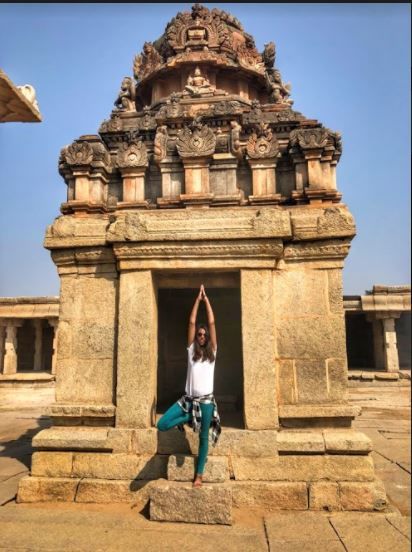 You can also visit the quiet little waterfall near Sanapur village and enjoy a coracle ride as the sun sets in harmony on the ruins of this mighty empire. If visiting in the noon, it is perfect for a good swim. (P.s- locals here also sell morning glory seeds in case you are keen to experiment some hallucinating substances)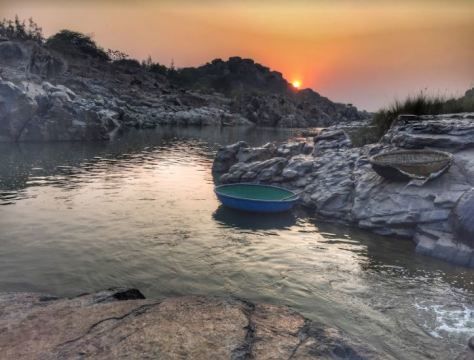 The view from Hampi is stunning and will make you forget everything .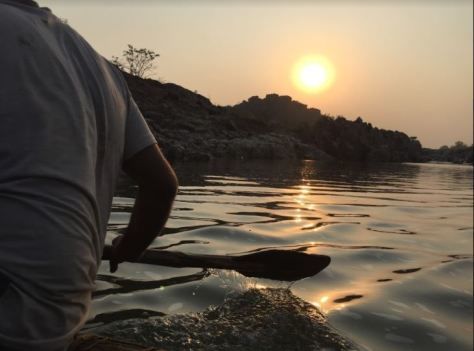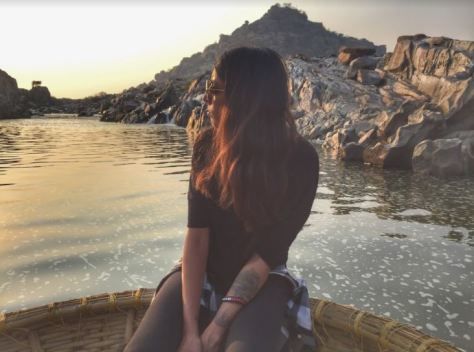 Hampi, where the history never sleeps, has so much to offer to travelers, bag packers, artists and worshipers. From cycling, to trekking, to boulder climbing to doing nothing at all, this place has something in store for everyone. And all this happens between the deserted ruins of a 500 year old empire!
That's how breathtaking Hampi is! Once there, soak up all the magic, history, sunsets and fall in love.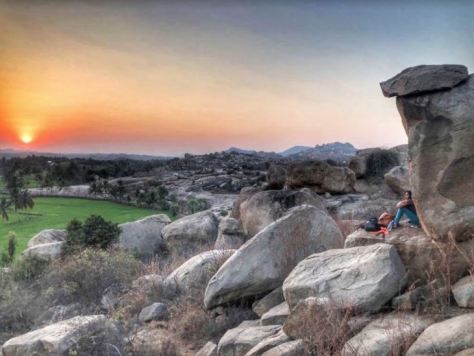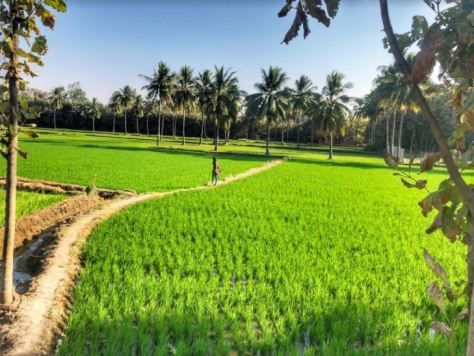 Quickies when traveling to Hampi:
Carry enough cash as there are no ATMs in Hampi. The closest is in Hospet (30KM away)
No network.
If planning on a weekend/extended weekend, book your guest house in advance.
Carry all your medicines with you as there is no chemist in Hippie Island.
If you are a drinker, carry your alcohol from Hospet as there are no liquor shops in Hampi
When travelling the temples and historic places, try to rent a guide as it will be no fun without stories!
So don't worry and be Hampi!!!