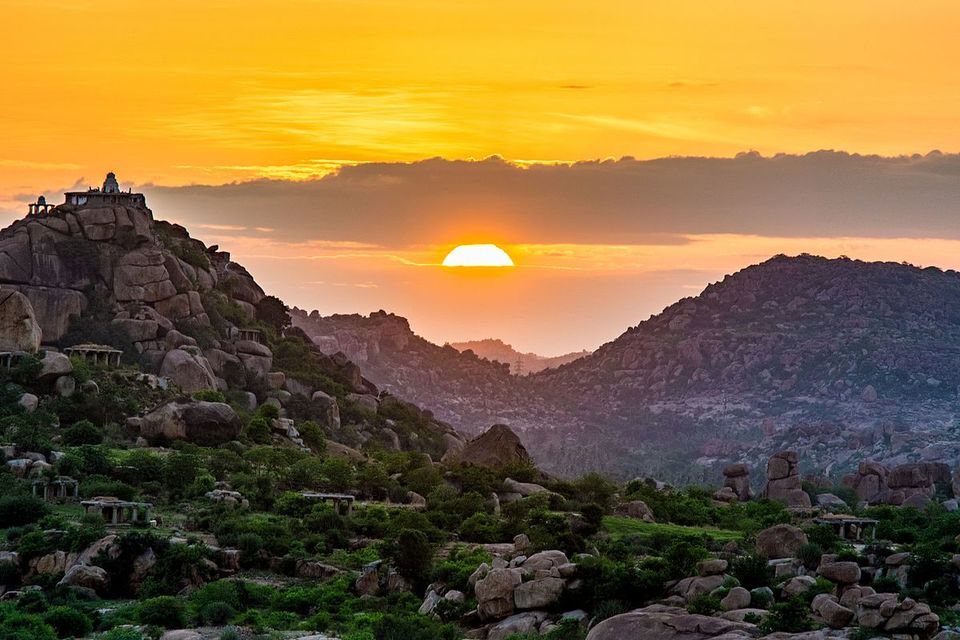 For anyone who has been to Hampi, the fondest memories come from a quaint part of this UNESCO World heritage site known as Virupapur Gaddi island. Fondly referred to as Hippie Island, the laidback place offers a wide range of cottages overlooking the Tungabhadra river and lush green paddy fields as accommodation. However, soon the face of Hippie island in Hampi will change forever.

The Supreme Court has ordered the district administration to evict and demolish encroachments from illegal resorts and other structures on the island. The order came out on February 11 and gives the owners of these structures a period of one month before the demolition begins. Close to 70 structures stand illegally on the revenue land of the large island, making the demolition a matter of grave concern for locals as well as tourists. While the owners are left confused and helpless after the court's verdict, travellers eyeing to explore the heart of Hampi are left with just one long weekend to do so - the one that starts Feb 21.
If Hampi and Hippie Island are on your bucket list, here is a list of experiences that should not be missed!
Explore Anegundi Village on a bike
The nearby villages from Hippie Island offer spectacular views of the surreal surroundings that instantly drive travellers into a dreamland tucked between the giant boulders and coconut trees. Anegundi is one such gem, and also a part of the UNESCO world heritage site. The craft centres in Anegundi which sell products made from banana fibre bring along an authentic offbeat experience. Also, products sold here are much cheaper than the ones in city stores. Exploring Hampi on a bike is a life-changing experience, as the cool breeze against your skin compliments the unspoilt sceneries in front of your eyes!
Climb the Anjaneya Hills and pray at the Monkey Temple
Believed to be the birthplace of Lord Hanuman, Anjaneya Hills offer stunning views of landscapes that the Hippie Island, Hampi is well-known for. Views of the sunset from Anjaneya Hills coupled with the scenic valleys make for some spellbinding pictures that can be easily found floating in large numbers on Instagram. The summit includes climbing around 575 steps and passing a plethora of mischievous monkeys on the way. They call it 'The Monkey Temple' for good reasons! A nominal fee for vehicle parking is applicable.
Try cliff jumping and coracle ride at Sanapur Lake
The tranquility surrounding Sanapur lake (Virupapur Gaddi) is overwhelming. Surrounded by thousands of boulders of different sizes, the lake is a visual delight. The best way to enjoy the brilliance of nature in this part of the world is by taking a coracle ride on the traditional circular bamboo boat across the lake. For adventure lovers and swimmers, cliff jumping suffices the much-needed adrenaline rush.
Watch the sunset from Sunset Hill Point
While the sunset at Anjaneya Hills looks heavenly, the best spot to bid farewell to the sun in Hampi is atop the Sunset Hill Point. The blissful orange and red sky makes you one with inner peace. Unsurprisingly, this place is a favourite among hippie travellers seeking solace and nirvana. Absorb the fading lights of the day with chants of mantras filling the air. Its popularity makes it a crowded spot, especially during weekends.
Explore the ruins in and around Hippie Island, Hampi
Ruins of over 1,000 well-preserved stone monuments, including Hindu temples, forts and palaces have made Hampi a UNESCO World Heritage Site. A step back in time to experience the lost tales of South India's largest, wealthiest and the most powerful kingdom makes Hampi a treasured destination among history enthusiasts. Some of the popular monuments to visit are Virupaksha temple, Vitthala temple and Hemakuta Hill.
Indulge in world-class Bouldering
Hampi hosts many activities for adventure seekers. It is also one of the best places in India to try climbing boulders. Bouldering workshops for beginners are challenging and fun! Make sure to do it in the presence of a professional instructor for your own safety.
Rejuvenate with an Ayurvedic Body Massage
Virupapur Gaddi is known for practicing the essential art of Ayurvedic Body Massage. Exploring Hampi can be tiring, owing to the long walks or bike trips in the lap of nature. Thus, the relaxing Ayurvedic Body Massage becomes an important part of the Hampi experience. Step into one of many centres offering the massage and feel your tiredness fade away at a nominal price of about Rs 1,000 per hour.
Go Cafe Hopping
If there was one fundamental to go by in Hampi, it would be 'Eat, sleep, read, repeat'. Uniquely designed cafes, each with a different vibe cater to a wide range of travellers and food lovers. What better way to unwind on a long weekend than to read your favourite book at a café beside a river or play a game of cards with your buddies. If all else fails and you feel drained of energy, take an afternoon nap on the hammock. Meet travellers from around the world at these beautiful cafes and make new friends.
Read this for more info on how to explore Hampi on a weekend!
Make the most of your trip to Hippie Island, Hampi, since it might be the last time you see any or all of this in one place again. Since the boundaries of demolition are not clearly defined, it is hard to stay which experiences will continue to exist and which won't. And while you're there, go local. Buy from the local stores and help the small businessmen in the area to earn their daily bread while you still can.
The true essence of Hippie Island in Hampi or any other destination lies in its authenticity and not its movement towards commercialisation,, which as proven by history has never been in favour of the ecosystem anyway.
What do you think of this story? Write about it on Tripoto and help the traveller community discover something new.
Craving for surreal travel videos? Try Tripoto on Youtube!