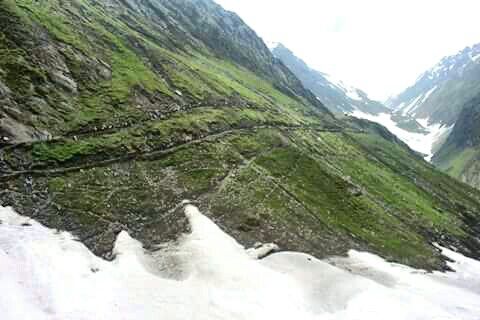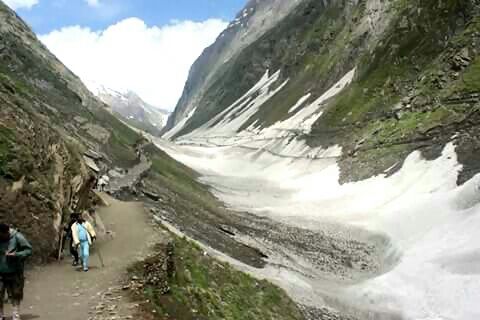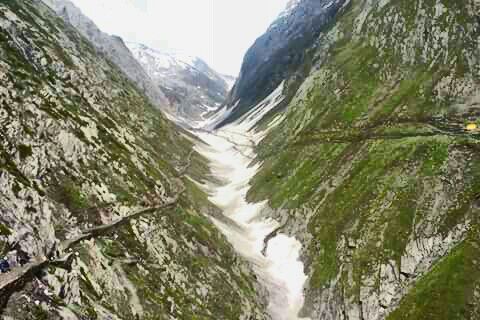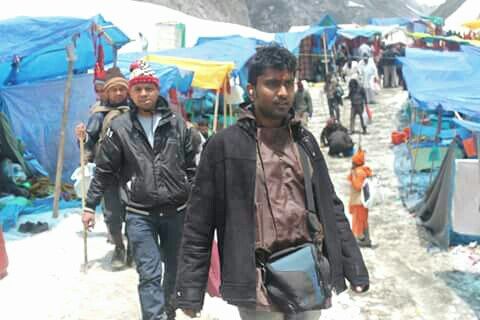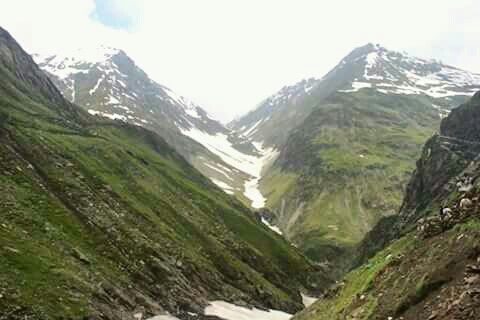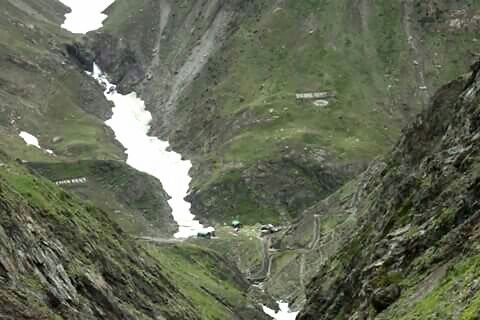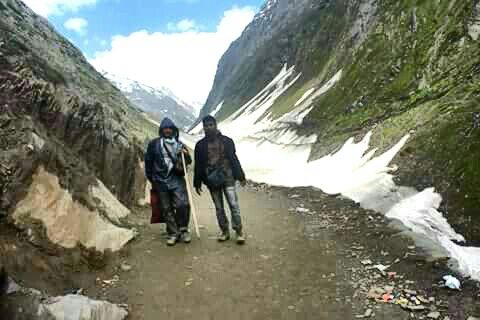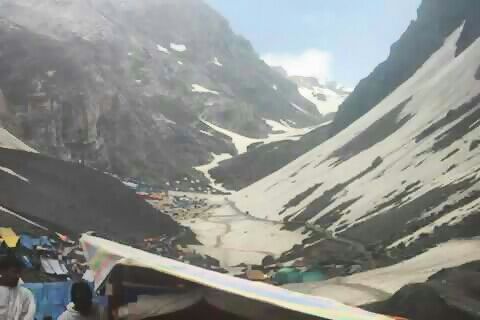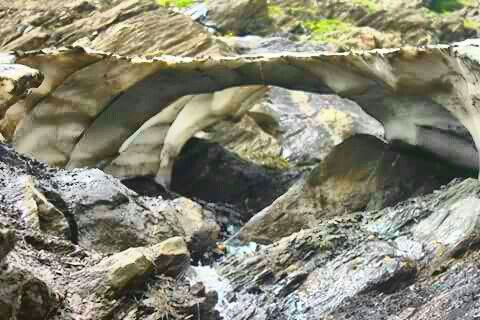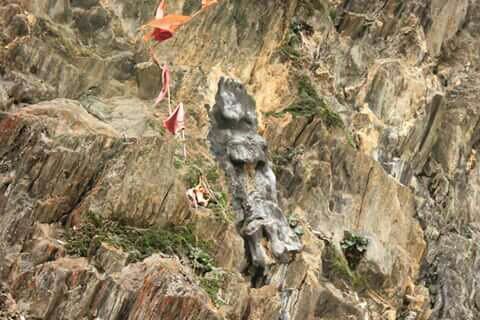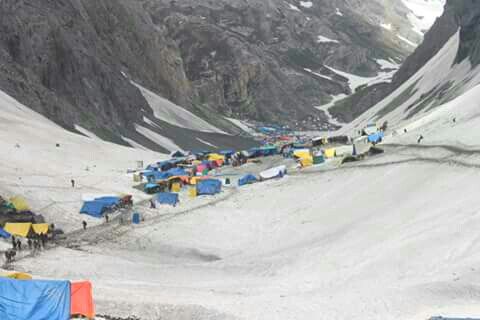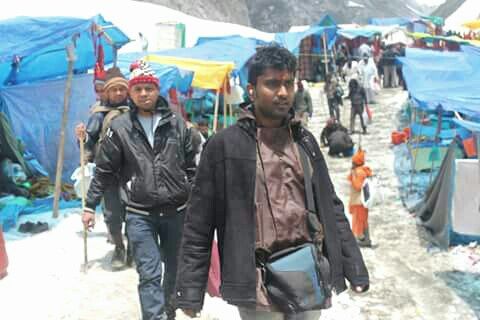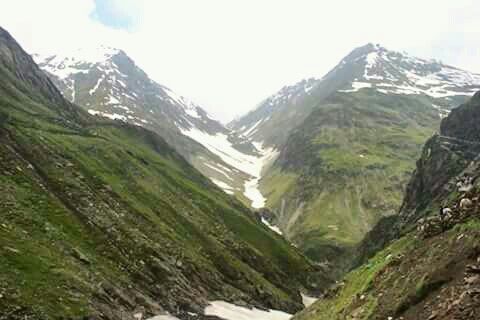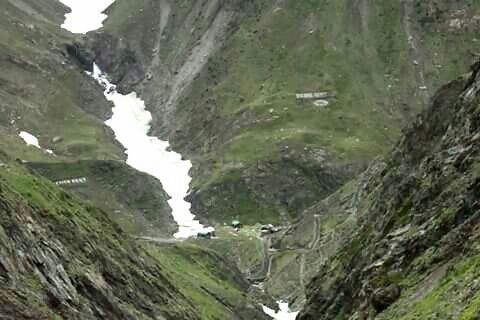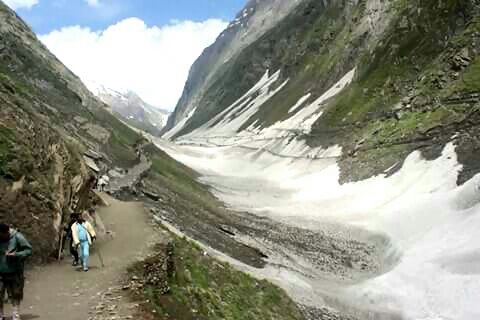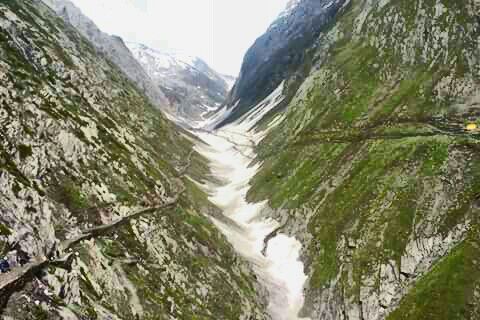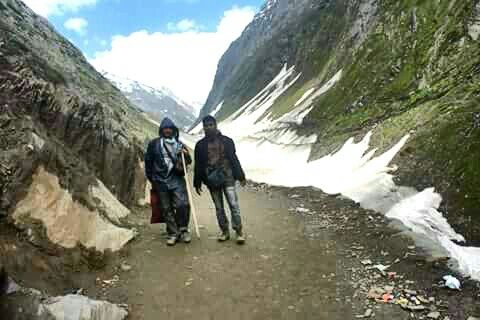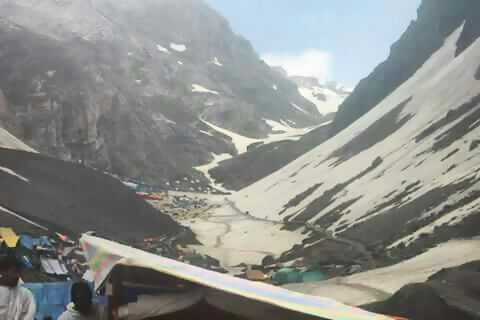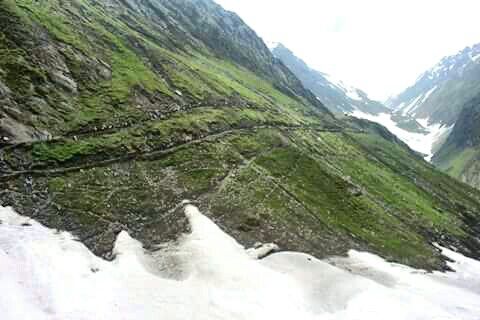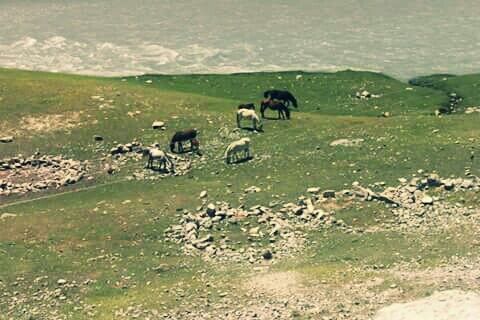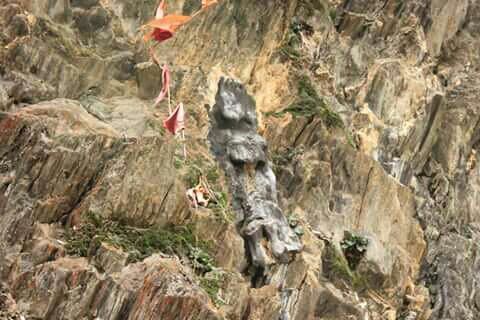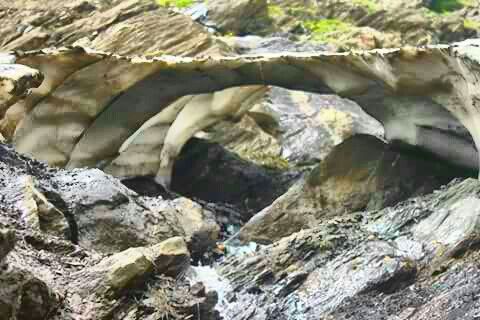 Amarnath, a place Lord Shiva chose to reveal secrets of his immortality to his wife Parvati. To keep the secret safe from anyone else he chooses a place distant from any life.
To keep the secret safe he let go all of his companion. His ride Nandi - The Bull at Pehelgam, The Moon at Chandanwari, The Snakes around his neck at Sheshnaag, The Five basic elements ( Panchtatva ) at Panchtarni, even his son Ganesh at the Mahagunas Top and reaches a hidden cave to tell the secret of his immortality to his wife..
This tale is the legend of Amarnath. Thousands of years later a Shepherd named Bhuta Malik aka Bhuta Chacha found this cave.
The cave where Lord Shiva narrated lessons of immortality to his wife has became a pious destination for lakhs of pilgrims visiting it every year. And they call it a wedding of Bhole & Parvati. 
If you are planning to do this Yatra then I highly recommend you to not to take this Yatra leniently as it's one of the longest, toughest, steepest Yatra / Trek you'll come across. A Yatra that will check every single patience of yours. Trust me I have myself seen two dead bodies being taken away. 
REGISTRATION 
* One have to do a proper registration as well as produce a Medical certificate to avail the Yatra Permit. 
TIME TO VISIT
Amarnath Yatra usually starts in last week of June or in the first two weeks of July and lasts for around 50 Days.
ROUTES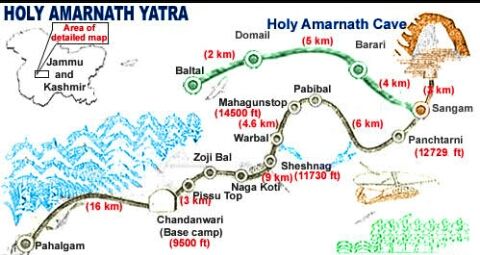 There are two routes to reach the Holy Cave. Pehelgam and Baltal.
* Pehelgam being the traditional route, the route which Lord Shiva took to reach the cave takes around 3 days to complete the Yatra. It's around 35 Kilometers. 
* Second route is Baltal, near Sonamarg. The shorter route but the difficult one with some toughest, steepest ascents.
THINGS TO CARRY
* Always start with those heavy woolen clothes and the rainy clotes as well. The climate up there is as moody as your girlfriend's and it can change at any time. 
* A small torch or led light 
* 2/3 Pairs of Woolen socks, handgloves, monkeycap and undergarments. 
* Raincoat/ Winchester, Waterproof track pants. 
* Nice shoes with some nicest grips or soles. You can always go for those army shoes which you can get in any Jammu Market. Those shoes are hard as rock and will never betray you and the best part they come as at as cheap as 250/- a pair.
* Sun screen lotion, Sunglasses,  moisturizer, toilet paper, deodorants, chocolate bars, electral or glucose powder, medicines as per your requirements. 
 TIPS
* Always remember it's an High altitude Himalayan Trek, never take it leniently.  Follow the rules they are for your own safety. 
* Do carry a visiting card or note down the mobile number of your Tent when you leave for the Yatra as it's very difficult to find your tent when you come back. 
* Carry as low as you can while going to the cave. Carry pair of T's as you are supposed to sweat alot from inside while making the climb.
* Keep drinking water with glucose in regular intervals as you're tend to dehydrate yourself.
* One simple rule to give some rest to your legs is not to sit but stand at one place calmly. It works wonder.
* Always carry an Govt approved ID CARD for security reasons. 
* There's a market around the cave area.No bags, mobiles, cameras are allowed inside the cave so you can use these stalls to keep the same.
* Don't fall prey for those who are selling Kasturi & Saffron it's nothing but a fake copy of thess items.
* Don't rely on telephone networks they won't work there. Stay with your group. 
                 LANGARS / BHANDARAS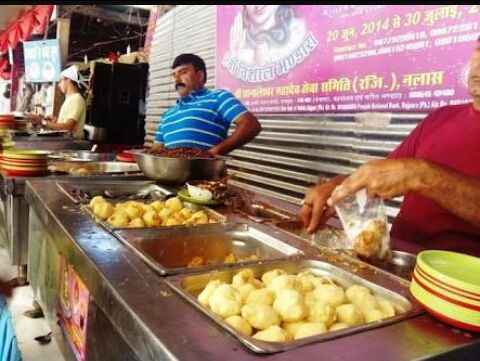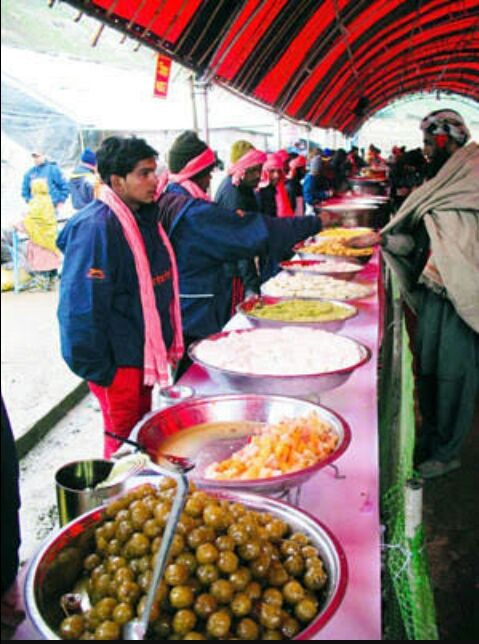 As u enters the Base camp area one thing you can't miss is the Bhandaras. Bhandaras all over mostly from the North States. Dressed up like an indian wedding sets.. Bhandaras that can put a big fat Indian wedding to shame.. Hot breakfast,  Fancy meals from Pizzas to Sandwich es, Burgers to Parathas, deserts made from pure ghee, tens of varieties of Mouth fresheners, you name it they have it. It's fascinating to see all these services at this high altitude. They do this Non-Stop for 50/60 days not expecting a single penny from you. Only thing I would want to say is DON'T waste the food as it's very tough to make this arrangements in such remote areas and they work really very hard prior 2/3 months of yatra..
INDIAN ARMY

The only reason this Yatra is going smoothly is because of the Indian Army.
This particular Yatra is on the hot list of the terrorist outfits from across the border and sadly within the border. They help you in each and every possible way, you are safe there because they are standing besides you. Just try and give them a smile they will surely return you the bigger one. 
MY STORY
So after 32 Hours of Train Journey from Mumbai, 15 Hours of tedious yet beautiful road journey from Jammu finally reached Baltal. After reaching there and going through numerous security checks we entered the Base camp area where we rented a tent. ( There are hundreds of tents at Base Camp where you can find a bed @ Rs 100-150/- with basic facilities )
Baltal camp during Yatra period is no less than a festival/wedding. A festival which goes on for 45/50 Days, where you meet people from all over the India, from young to old, rich to poor, ffamilies to sadhus, from first timer to one who have been coming here for years. And to help this sea of lakhs of pilgrims there are thousands of Army personals & hundreds of Bhandaras.  
Later after munching on that delicious food we bid adieu to that long day and it was time to say good night. 
NEXT MORNING
There began our journey to the holiest cave, the cave which have the highest place in the heart of its devotees. soon as you leave your camps you're welcomed by those huge huge mountains, the cool breezes and the beautiful beautiful surroundings, a painting by the God himself. 
As I started the main journey - the steeps, my legs started to get heavier and the journey difficult. All I could see was those huge mountains to climb, one after another.. Bigger, tougher, meanier than the previous one. To add some vows to the already difficult and dangerous steeps there was rain, not the   biggest one as we get back home in Mumbai but enough to make the journey risky. Rain makes the surface very greasy, muddy, slippery to walk on, I literally had to pull my leg up as it used to get stuck in the mud.
Our target was to reach the Cave by afternoon and return to base camp by the night but we started our journey very late (10 AM ) and the bad climate, heavy traffic of pilgrims and ponies caused us alot of time. The journey/climb was surely not that easy as we thought it would be. Some friends got lost, some remained with the group. By evening we reached ' Kali Ghati ' an easier alternative to reach the destination.  En route we were suggested by the Army personals to take shelter at the Cave Base Camp and not to make the return journey in the night as it can be hazardous. 
THE NIGHT TO REMEMBER
So there I am, breathing heavily @ 14000 Ft, around 1 km away from the cave, surrounded by snow, in minus degree Celsius, with legs paining so badly that they can explode at any time, clothes all muddy, body all wet from hair to toe, shaking and desperately seeking a shelter, a room and all we managed to find was a tent, a tent on ice blocks. Some plastic covers were rolled on ice blocks to cover the surface that was our bed for the night. No electricity, no hot water, not enough blankets to cover the body and to our worse all our extra clothes that we were carrying in our bag were wet due to rain and the inner clothes we were wearing were also wet due to the sweat our body was producing. My tent guy advised me not to sleep with those wet clothes on as I can get fever or hyperthermia. I still remember that night, the cold night I spent in my undergarments. Honestly speaking I had a doubt if I would be able to see the coming morning..
THE DAWN
This morning felt like a new birth. I could feel my legs, breathing became easy, body pain was less and most importantly the Sun was shining and smiling at us. It was the perfect climate, completely opposite the previous day. 
We all got ready, nobody dared to go for a bath the final journey toward Bholenath started. En route we got our 4 friends back whom we lost the day before, further saw one more dead body being taken away by the Pitthus, not sure if he had tge Darshan.
Here we reached the market area nearby the Cave. Kashmiris selling the Bel Patras, Rudraksha, Ganja, Garlands, Prasad as an offering to the Mighty Shiva. 
And in minutes I was there, at the steps of holiest Cave in India, the place Lord Shiva chose. Trust me this place have an unique power, a magnetic pull, it's full of positive vibes. All my pain, misery, strain,  sorrow was vanished. There was this "Adrenaline Rush" n me, my friends and all of the devotees. Cold breezes wasn't bothering me anymore, those long steps weren't tiring, that pain I had in my legs was long gone. All I was looking forward for was a glimpse of a God I truly believe in and follow and he didn't disappointed, I was having a wonderful Darshan of Bholenath. A lonnnnggg journey finally paid off. *goosebumps* it was a billion dollar sight of my Lord Shiva. BOOM SHANKAR