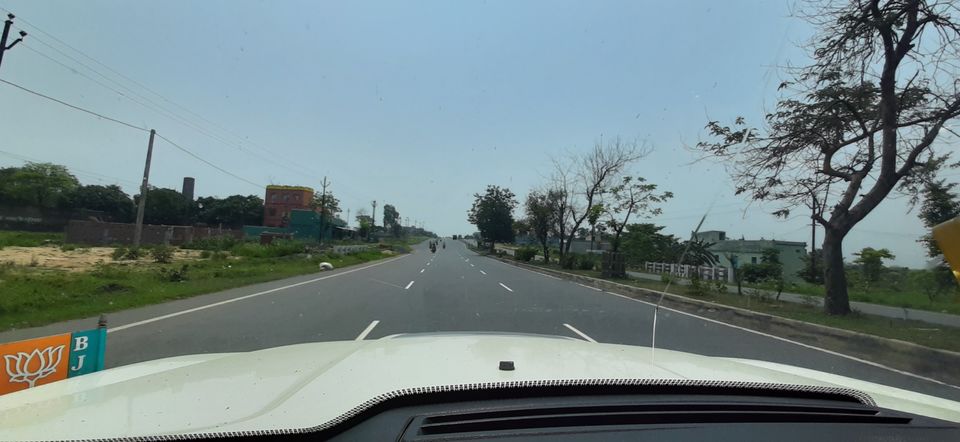 Well, it wasn't much of a trip because everything was closed back then. No hotels, no eateries, nothing. The drive from Gaya to Durgapur and back was quite fun though. The roads were deserted and nature was in full bloom.
My friends and I, we started from Gaya early morning. Since vehicles without passes weren't allowed through the state border back then, we had a Scorpio with a pass. Keeping in mind the pandemic, we stocked up on gloves, masks , tissues , disposable plates and glasses. Because of the pandemic scare we were reluctant to eat outside food. So, we packed litti, poori, sabzi, some chips, chocolates and some packaged food. We even stocked up on enough water to last us for two days. We weren't planning to eat or drink anything from outside during the course of the entire trip.
The trip commenced, and the journey till West Bengal border was pretty smooth with a few breaks along the way. We parked along the highway and soaked in the view of Mount Parasnath, while sipping on some hot chai. After rejuvenating our lungs with fresh unpolluted air, we carried on.
At the West Bengal border, everyone had to go through some formalities, namely, thermal scan and getting your vehicle logged, as a precautionary measure. Once the formalities were done, the kind folks at the center handed us the all clear slip and we were off on our way. This entire process took almost 2 hours and we were already behind schedule.
It was already past noon by the time we reached Durgapur. Since hotels weren't open and we didn't bring the tent, we decided to turn back.
The trip back to Gaya was very uneventful and with lesser breaks.
Although, we did get a much needed break from our monotonous life, it wasn't as fun. The dampener obviously being Coronavirus.
I'd rate this trip a 6 out of 10. The scenic beauty was incomparable because of less pollution and more visibility but the unavailability of resources was also a huge let down.