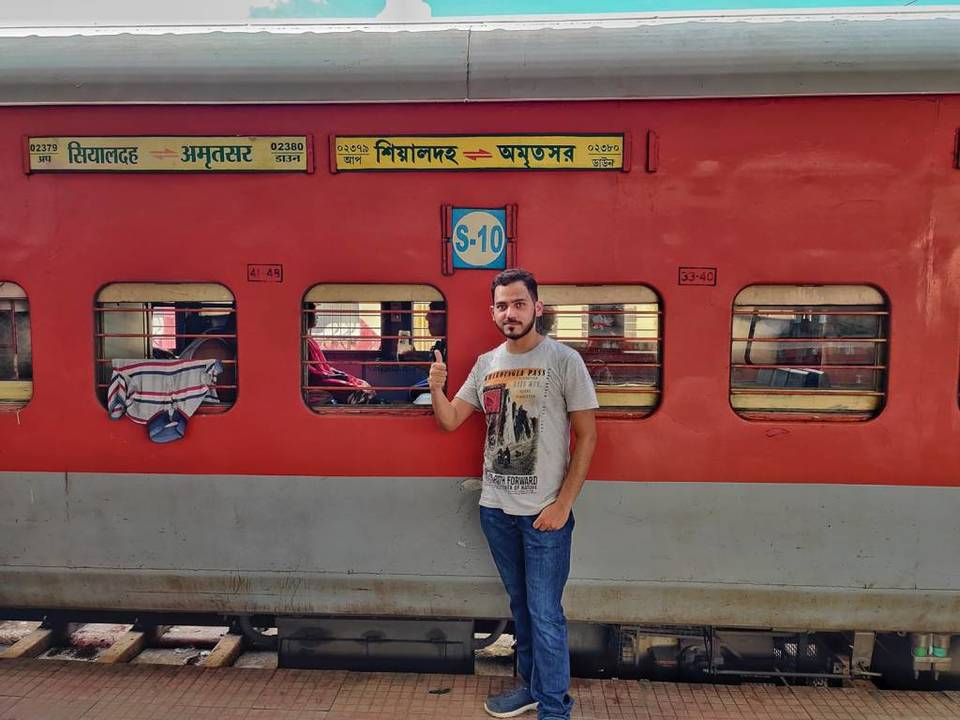 Tell me a day more eventful and exciting than the first day of rather a long trip! Particularly, when you are about to witness quite a few first time events in your life, which could easily be the beginning for something bigger in the years to come.
I woke up sharp at 6 am, after sleeping only for about 4 hrs and 30 minutes the previous night. I had some work to finish and completed late night. I woke up early and called my good friend Shibaji Paul to come up for jogging at a nearby playground. I went to my regular jogging session and came back home in about an hour to finish some last minute packing.
I cross-checked multiple times with a list of things I am carrying in this trip. Since there would be quite a few requirements of items while in the trek, it is better to carry from home and well in advanced.
Soon, I called up Arkya, who was busy in his last-minute baggage checks and informed me of him carrying an extra bag. Since he is a vlogger, he has more equipment to carry and thus, an extra baggage would suffice the purpose.
Sharp at 11.15am, I booked a cab to Sealdah Station. This is about 10-12 km away from my residence and would take about 40 minutes with regular morning traffic.
The cab came at 11.30 and I hurried up in and my journey to North India has officially commenced.
I called Arkya, who was on his way to Sealdah as well. He was nearing Ultadanga, while I was near Tollygunge Fari.
The cab took the straight route via Exide crossing, then turning right towards Minto Park, Mallick Bazar, Moulali and Sealdah.
The Pre-Durga Puja shopping session made worse for the traffic, and the roads saw more people and traffic assemble at around 12pm. I was confident to reach Sealdah, way ahead of schedule.
Eventually, I reached Sealdah at around 12.30pm and called Arkya, who got down at the same time as well. We greeted each other near the Uber Parking point and wasted no time to enter the station.
Arkya has the habit of purchasing snacks and junk foods while traveling in train. I would admit, even I love having these while traveling J.... However, since we would have a long day tomorrow, I was a bit hesitant initially. In the end, I agreed to this proposal.
He bought a large packed of Bhujia, two bottles of carbonated drinks, and two chocolate pastries.
We marched towards our platform, and saw a HWH WAP-7, which has shunted our train from the Coaching Depot! This has now become a common occurrence to see such scenes in Indian Railways!
Arkya was happy to travel in his favorite train, Jallianwalabagh Express (02379) after nearly a decade. The train for its credit has transformed in leaps and bounds to now be the fastest non-premium train in between Howrah and Delhi and even Amritsar as well.
On the adjacent platform, we saw a Gonda WAP-4, cooling its heels after hauling ASN-SDAH Intercity Express.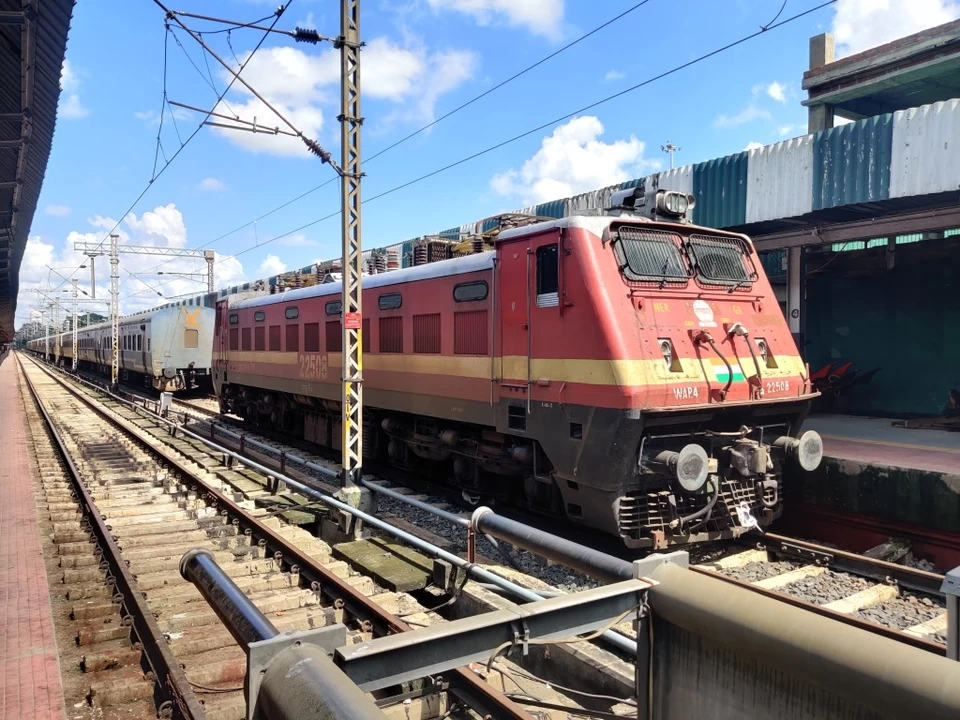 Our train stood tall on platform number 12 and all credits to SDAH CDO for maintaining the rakes wonderfully! Our coach was S-10 and seats were 79 and 80. Although it was a track-side Side Lower and Side Upper Beth, it was still the last cubicle in that coach. This meant the light near the washbasins would be on all the night and might distract our sleeps dearly.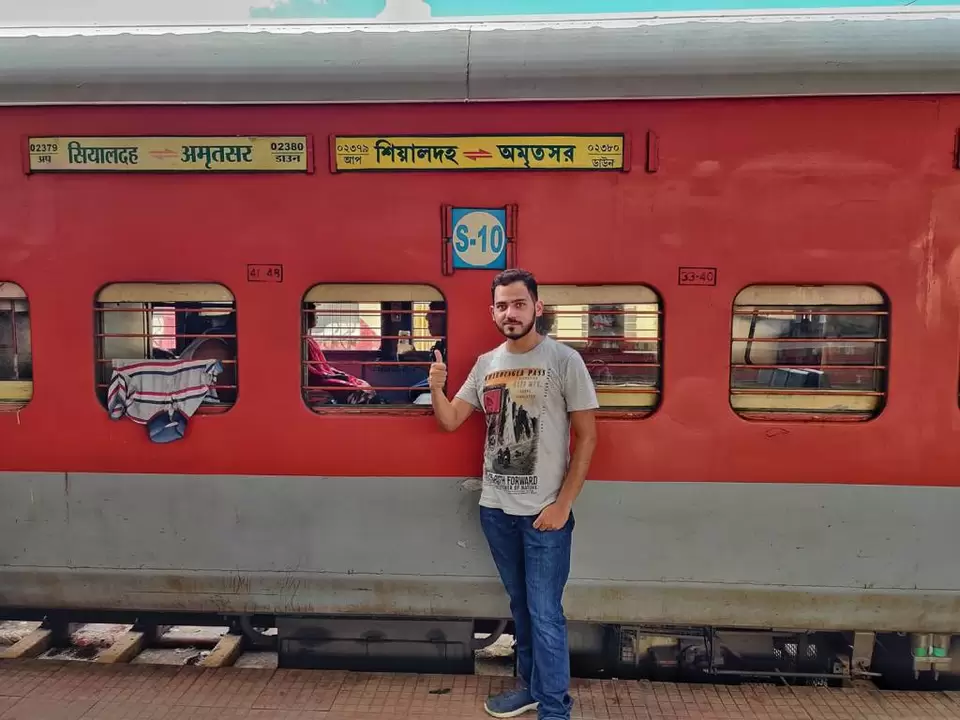 Nevertheless, our coach was excellent and the train was reasonably empty. We kept our bags and I ran ahead to check the locomotive. It was Howrah WAP-7 leading us till our destination. We were excited to spend the next 1650km at a top speed of 130kmph.
It was sharp 13.10pm and a blazing honk meant our journey is on! Slowly, we moved out of the platform towards BNXR.
After crossing BNXR and DDJ, we climbed up the ramp towards Baranagar Road and Dakshineshwar. We zoomed past both the stations at nearly 70-75kmph speed and crossed the magnificent Vivekananda Setu over River Hooghly.
At about 13.45pm, we were near Dankuni and this was the point we started our high-speed run.
The thing about a WAP-7 locomotive is the sheer ability to accelerate within a very short time span. In no time, we notched up the sectional MPS of 130kmph and this felt unbelievably smooth.
We reached Burdwan at 14.37 and witnessed a decent surge of passengers, boarding the train from the station. By this time, our coach looked full and barely a few seats were remaining. Shortly after, we left Burdwan and marched towards Durgapur, which is about 64km from this point. We reached Durgapur at a short delay of 5 minutes and saw all the remaining seats getting filled. As curious railfans, and with the help of NTES and WMT, we traced out the reason of the delay!
It was the popular Shaktipunj Express to Jabalpur, which was ahead of us by barely a few kilometers. Despite having a slack-filled and a lower MPS than ours, ER decided to make us follow Shaktipunj all the way till Dhanbad!
This meant we couldn't continue much with the high-speed running schedule. Whenever we got closer, we were held up and this was frustrating. Shaktipunj, literally halted at every small stations possible and has a large slack for us to overtake.
This wasn't the case as we were delayed at Durgapur, Asansol and even at Kumardubi, where our train halts. In the end, we reached Dhanbad at around 17.20pm, gaining a delay of 10 minutes. This was the point where Shaktipunj takes a diversion towards Chandrapura and Barkakhana, while we would take the Grand Chord Line to Pt. Deen Dayal Upadhyaya Jn, or more popularly Mughalsarai Jn.
Around 17.30pm, we departed towards our next halt, Gaya Jn. The thing about our train is it's a super skipper outside West Bengal. It barely has frequent and pointless halts and skips one major station enroute, Prayagraj Jn. This, backed with an aggressive time-table set, we were on course of yet another storming 130kmph run towards Gaya.
We skipped stations like NSCB Gomoh, Parasnath, Hazaribagh Road. We overtook Kolkata Jammu Tawi Express at Hazaribag Road and marched steadily towards the only Ghat Section of the route, the Gurpa-Gujhandi Ghats. Our train was running behind the popular Ranchi Patna Jan Shatabdi Express, which was barely a few kilometers ahead.
As per the TT, we were to overtake it at Koderma Jn, where JS has a halt and we don't. However ECR didn't think this way and found to keep us behind Jan Shatabdi till Gaya.
We picked up a steady 15 minutes delay, which we felt might be covered before Mughalsarai or at most, before Prayagraj.
At around this time, we tracked the popular Rajdhani Gang chasing us. At one point, the nearest Rajdhani was 02823 (Bhubaneshwar), which was a 160km behind us, while we reached Gaya at 20.13 pm . Little did we realize a train with the same MPS would chase down us and go some 30km ahead by next morning!
After a brief halt at Gaya, we started towards our next stop, Sasaram Jn., which was around 100km from Gaya. We maintained our MPS brilliantly and skipped stations like Anugraha Narayan Road, Rafiganj and Dehri On Sone. Next to our tracks, we saw two more lines getting constructed as a part of the important DFC project.
We arrived Sasaram at 9.35pm and started within minutes towards our next halt, Pt. Deen Dayal Upadhyaya Jn. (DDU) or Mughalsarai. While cruising at full MPS, something unexpected happened!
.
.
.
.
We came to a grinding halt, just after crossing Kudra station. I saw the Guard inspecting to check whether it was due to a Chain-Pulling event or not. I later learned about a possible Brake Pressure malfunctioning, caused due to a possible CRO (Cattle Run Over) incident from the same guard, who looked puzzled.
Both of us were tensed. More so because our train would be missing the time slot in NCR and this means a session of getting looped and getting overtaken by Rajdhanis is imminent.
We had a tight schedule to follow the next day, and a delay at this degree would screw up our plans. We planned to reach Mcleodganj next night and sleep peacefully before starting for the trek. With this delay, there is a chance we might only get a late night bus, which in turn would arrive Dharamshala the next morning. We didn't want to spend a night traveling in a bus, before our trek.
Countless railfan possibilities and nervous talks between me and Arkya made us even more tensed. Arkya speculated we might get a WAG-7, if the loco is failed and this means we would virtually crawl all the way to our point and reach Ambala next evening. After about 30 minutes of grinding halt and it was nearly 22.40pm, when we started from Kudra.
Our train crawled initially for about a km and started getting the speed notch up. We started hitting the MPS and arrived DDU at 23.30pm, a delay of 1 hr and 5 minutes to this point.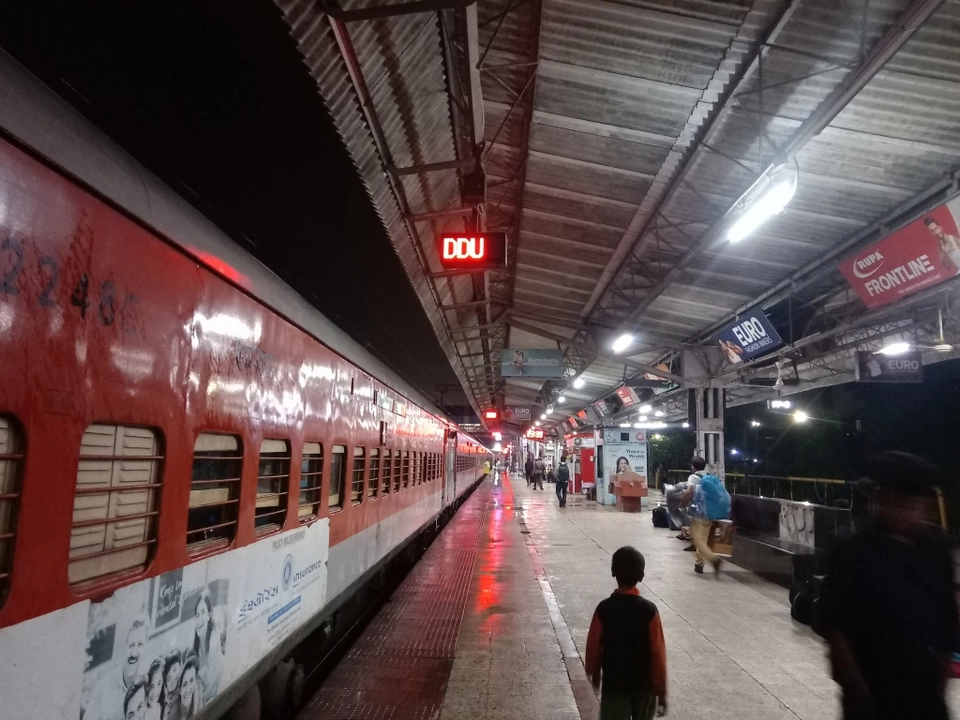 We still were miles ahead of the closest Rajdhani Express coming from Bhubaneshwar, which was around 80km behind us.
About 15 minutes later, we received the starter to proceed ahead. By this time, rain started drizzling heavily. Plus, with a busy day up-ahead, we made it a point to have ample sleep.
Had it been the Suraj till 2013, sleep was secondary for me. As the railfan bug in me would love watching trains crossing, while my eyes remained glued even in the darkest of surroundings. Gone are those merry and hyper-active days to a more humble and wiser version of me, who doesn't miss a chance to sleep, even in the smallest time-gap possible.
We were on the main line to Prayagraj Jn and on to NCR, the dreaded zone for many SF and Non-SF trains of the past. With over-saturated tracks, finding a time slot with hundreds of mail/ express/ premium trains and freights, missing a time slot in the zone means the train would be treated as a mere afterthought. Unless you are the Rajdhanis, the controlling of a slot-missed train would be on the controller's mercy!
Initially we cruised pretty well and were slowed down at almost every station till Chunar. Meanwhile, Bhubaneshwar Rajdhani was almost near DDU and the distance kept on reducing drastically. With Howrah and Sealdah Rajdhanis delayed by 10 minutes each, the only Rajdhani that came to our minds were Bhubaneshwar.
However, at DDU arrivals, there was one more Rajdhani, which ran ahead of Howrah and Sealdah and just behind Bhubaneshwar. It was the daily Rajdhani from Dibrugarh (02423).
With our next day tension of getting screwed up in the supposed "Bermuda Triangle of Indian Railways" loomed darker than ever. With every slowdowns, both these Rajdhanis were chasing with full clearance.
I saw some Rajdhani crossings, and decided to sleep till Cheoki Jn. I woke up just before the station and we crawled over Yamuna Bridge near Prayagraj. We skipped PRYJ at about 2.10 am in the mid night and CNB was some 195km from this point.
Jallianwalabagh Express till this point had a satisfactory run in this region, with still a clear 30-40km distance from the nearest Rajdhani chasing down. If we get a great clearance, we don't see a reason how Rajdhanis would catch us up, as both we and Rajdhanis have same stoppage pattern and top speed in the region.
Still, a Rajdhani is a Rajdhani. The reason why these trains are so preferred by the common mass is hardly unsurprising. The supreme track clearance and the punctuality are of a different level altogether. All the East-Indian Rajdhanis, except Agartala and Patna Rajdhanis (i.e those running via NCR Allahabad Div) have a close time slot. Each one having a 10 minute margin with each other from DDU to NDLS and the slot is maintained perfectly on almost daily basis.
Despite being a normal SF train, Jallianwalabagh Express has transformed into somewhat a ripper in its own standards. I was amazed by the run till a point, when we were slowed down at around 4.10am, and were slowly looped to a station called Bindki Road!
It was perhaps our date with destiny! I was half asleep, and saw the station has a loop in the middle and the mainline on the other side. I tracked WMT and saw Bhubaneswar Rajdhani Express speeding towards this station.
A 130 kmph thrashing was the first of the two more eventual thrashing to come. Me and Arkya couldn't help but praise the supreme clearance the train received. At one point, it was some 170 km behind us, and now it overtook us within 8 hours of chasing. Although we faced technical issues and were caught by nearly an hour worth delay, this was still exceptional for overtake to happen.
After some minutes passed and at a quiet roadside station, we heard one more shrill honk and this time it was Dibrugarh Rajdhani to do the thrashing.
This was followed by the final overtake by the first Rajdhani of IR, Howrah Rajdhani smashed past us at near MPS.
At this point, it was nearly 4.40am and we wondered Sealdah and Ranchi to follow the trend. To our surprise, we were given the green signal to leave. Arkya, meanwhile was confident of us getting looped somewhere after CNB to allow Sealdah and Ranchi avenge the final straw.
We arrived CNB at sharp 5.10am and saw HWH Rajdhani Express departing parallel to our platform. After halting for 10 minutes, I checked for Sealdah Rajdhani, and this was near Karbigwan about 5 minutes back and was closing in. We departed at 5.20 and crawled till the outer and while Sealdah Rajdhani was near Chanderi.
In minutes, we notched up MPS and I went back to sleep.
I woke up at around 7.20am, a good sleep for about 1hr 40 minutes. I was set for witnessing one of the best runs of my life.
We were blasting towards Western UP and to our shock, we were near Tundla already. We skipped Tundla at a slow speed and the time read 7.30am.
In 2 hrs and 10 minutes, we covered 233km!
When I tracked 02313 Sealdah Rajdhani, it was still 40km behind us.
Thanks to getting sandwiched in between the Rajdhani gang, we received the same treatment as like other Rajdhanis. Now you might ask then why wasn't SDAH Rajdhani allowed ahead of us? The reason was because Sealdah Rajdhani on paper was running way before time at this point, and was delayed near DDU, the previous night for some unknown reason.
A constant 130kmph in the stretch without a slowdown left me and Arkya speechless. It wouldn't have seriously been possible, had it not been for the Rajdhani gang. Every roadside station are skipped in seconds and by 8.08 am, we skipped Aligarh Jn.
We were literally overjoyed and hoped that we won't be screwed any further. We skipped the popular Delhi Railfanning stations like Chola, Wair, Dankaur, and Ajaibpur.
We finally slowed down at GZB home signal and came to a halt at 9.10 am. In short, 184km in 1hr 40 minutes, with an average speed of 110kmph.
We entered GZB in another 5 minutes when the clocks read 9.15am. Therefore, 3 hrs 50 minutes for 410 kilometers! Take A Bow NCR!
With such an exceptional run, we were relieved to hope for a delay less than an hour.
Then came the crawling run to Delhi, via the Old Bridge over Yamuna River, which took ages to cross.
We reached DLI at 10.20am and almost 50% passengers getting off. To our surprise, the train saw a large takers and it got full in a couple of minutes. Passengers to Jalandhar and Amritsar from Delhi prefer it seemed.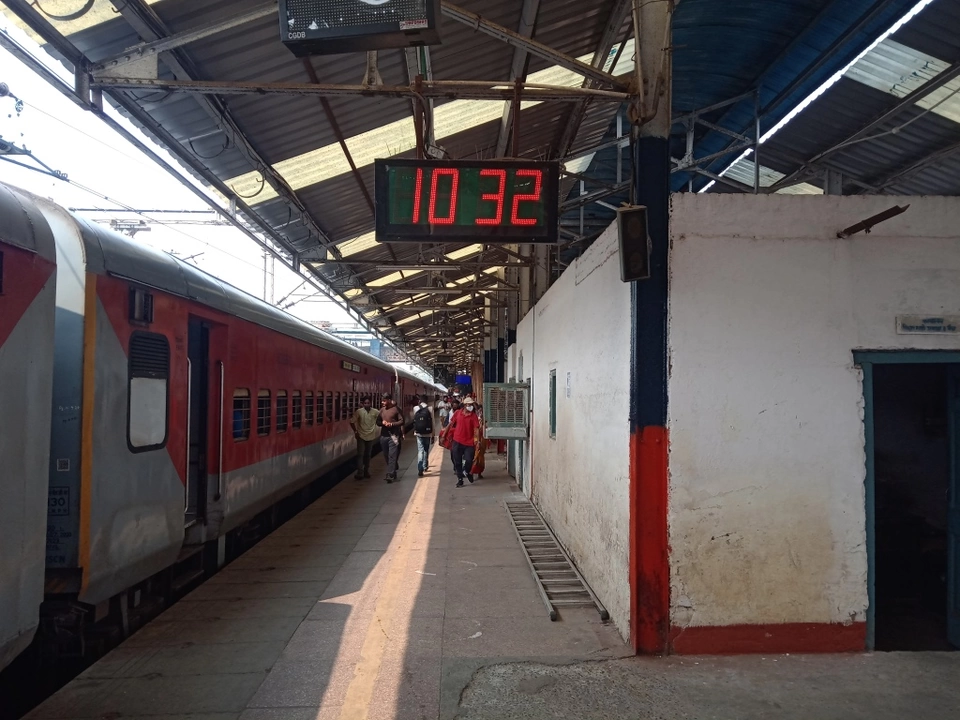 At Old Delhi Jn.
I got us, two boxes of Janata Meals. I have never seen such a neat and clean package of a Janata Meal box before. At 10.40am, we got our starter and left northwards to our destination, Ambala Cantonment.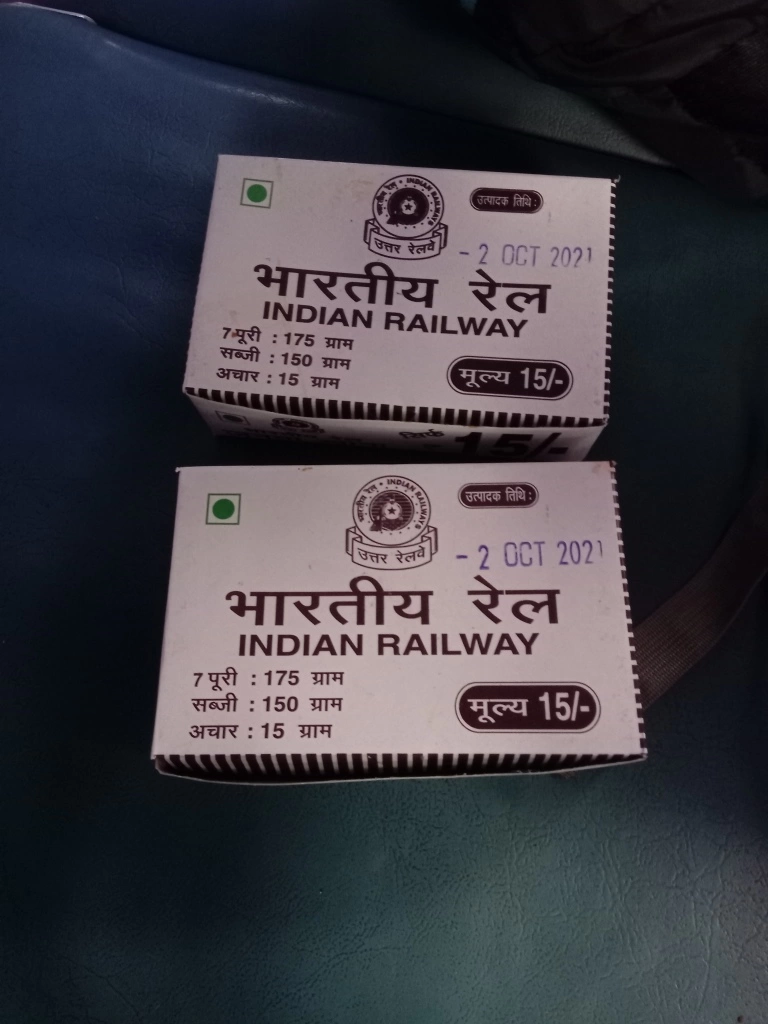 The Well Packed Janata Meals
Just a few months prior, we heard the news of Jallianwalabagh Express, being one of the first trains to hit 130kmph MPS in between Delhi and Ludhiana.
We skipped the suburbs of Delhi and crossed Sonepat in a while. The run wasn't that smooth and was marred by a couple of slowdowns and a delayed Jaynagar Amritsar Clone Express running ahead of us.
The train and the road route towards Chandigarh from Delhi, follows adjacent to each other at most of the times. The train route sees some high profile Shatabdi and Vande Bharat Express in a day.
Still, we were cruising by all means and were at Ambala home signal by 12.50pm. We were caught up thanks to the train we were trailing and saw a crossing with Chandigarh Shatabdi bound to Delhi.
We entered Ambala at 13.12 pm in the afternoon, with a delay of 1hr and 17 minutes.
An eventful train journey was finally over! Stay tuned to the next part, featuring the journey from Ambala to Mcleodganj and our first experience in staying at a backpacker hostel.
PUBLISHED BY
thetrackwalk by Suraj
Welcome everyone to my world of Railfanning and Traveling. I am Suraj Iyer, a Computer Science graduate by education, seeking out numerous expedition to numerous railfanning spots with railfans and even love to travel with my group of friends. In my blog, I will share all the possible details about all the possible journeys to my remembrance and even share about my future railfanning/ travel stories to date. Many may wonder who is a railfan? As you will go through some of my blogs in the near future, your answers will be embedded in it. As a traveler, I set up myself for tough trips, sometimes planned and sometimes unplanned. All the small or large incidents will be present in my blog in the near future. Welcome to The Track Walk by Suraj Balasubramanian Iyer :)
We entered Ambala at nearly 13.12pm in the afternoon, a delay of 1hr and 17 minutes.
An eventful train journey was finally over! Stay tuned to the next part, featuring the journey from Ambala to Mcleodganj and our first experience in staying at a backpacker hostel.
Published By~
Welcome everyone to my world of Railfanning and Traveling. I am Suraj Iyer, a Computer Science graduate by education, seeking out numerous expedition to numerous railfanning spots with railfans and even love to travel with my group of friends. In my blog, I will share all the possible details about all the possible journeys to my remembrance and even share about my future railfanning/ travel stories to date. Many may wonder who is a railfan? As you will go through some of my blogs in the near future, your answers will be embedded in it. As a traveler, I set up myself for tough trips, sometimes planned and sometimes unplanned. All the small or large incidents will be present in my blog in the near future. Welcome to The Track Walk by Suraj Balasubramanian Iyer :)
Visit My Page: www.thetrackwalk.wordpress.com