To go or not to go?
Some hard choices were to be made by my friend.
It was already 2.00 AM.He was thinking it for last 3 hrs after his off duty from job.So much pending work and a Goa road trip, but I was fortunate that at last he chose Goa over pending works and with my new Dzire VDI AGS just 2 of us were off to Goa, some great memories were to be made.
NH 48 is such a lovely buttery highway and at night there's less traffic so around 6.30 am we were near to Mumbai.We halted at McD in the city for refreshment.It was sunny morning.After the refreshment we left for our next stop which was Lonavala.
Just after entering the Mumbai-Pune expressway we felt the rush.Normal speed on the express highway seemed to be over 100 kmph and within 1.5 hr we were at Lonavala at around 9.00 am. We enjoyed the local famous "Maganlal's Chikki".They say that Maganlal invented the recipe of Chikki, not sure but I am sure the taste of chikki is unique and that's why I still order it when feel to have chikki.On the way the tunnels and Ghat are great sights for the eyes.And obviously it was June so monsoon was just about to start some rainshowers already started as we left Lonavala and the greenery was eyecatching, but it was just the start.The best was yet to come.
We than left from Lonavala but weren't sure about where to stop next.So we just kept going and going till we realised it was around 2.30 and we had to take some snacks.So we halted near a local dhaba on the outskirts of Kolhapur.The taste was not so good but we had to eat something and hence we did. Than it was being hard to drive more after having snacks.I was the onlly driver because my friend doen't know how to drive a car. So after a short run of 25-30 minite we stopped for having a quick nap which proved to be a great idea. We were quiet fresh after that(the friend was already sleepy by 1 pm as he came right after duty).
It was around 5.00 pm when we crossed the 2nd interstate border on a single day.It was MH-KA border between Kolhapur(MH) & Nipani(KA).
Our car is having fastag for electronic toll collection which saved us a lot of time at toll booths.We noticed the change of territorry by the unique design hats of the policemen.Before we could judge this, we noticed some strange boards written in local language hence we confirmed that we were officially in the 3rd state of India in the same day.One thing we noticed about Karnataka was unmatched level of cleanliness.We even crossed small bus depo,bus stops and a big local vegetable market near the Belgaum city but surprisingly there were no plastic bag or any other kind of waste at public place.
There are two routes from Belgaum to Goa one from Amboli ghat-Sawantwadi and another one from Chorla ghat.We went from Chorla(the junction of 3 states-MH,KA,GA).
PART 2
Continued
I earlier was searching for routes to Goa by car when I found out this Chorla ghat route.When I saw the pics of Chorla ghat, I decided to go from Chorla and while returning was to be from Amboli ghat via Sawantwadi.
So after the rush of markets of Belgaum, we drove straight for almost 30 minutes.
It felt that soon it will be dark but with surprise as we entered the first ghat to Chorla we were stunned by the freshness.One can just easily feel it around.It was such a great feel, from the polluted industrial arears on the previous day to this place felt like heaven.The freshness gave us a hint that it was going to be better.We moved ahead and found out the heavenly spots.
Small water cascades everywhere were soothing our souls.After some time we were at the triple junction point of states, and that exact location also has its own charm.You can see clouds hovering below you and it is such a great view which can just be experienced by being there.The fresh clouds and the fresh air, it made us forget the fatigue of travel.Later on it was dense forest and also the clouds, which made poor visibility.
Enjoying the Chorla ghat for more than 40 minutes, we entered Goa, almost around 7.00 pm.It was raining heavily.It took us one more hour to reach Nazri resort.Such a nice reosrt, ample parking space, nice restaurant, complimentary breakfast, it was an ideal stay for anyone. We got our room booked and yet it was raining continuously for more than and hour.We avoided going out in the rain also we had to take some rest to explore Goa on the next day.So we had quick showers than dinner and hit the bed.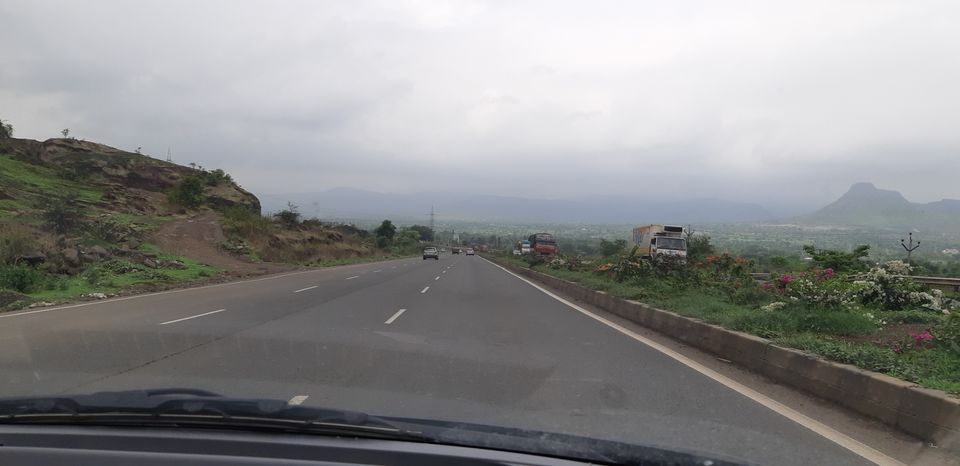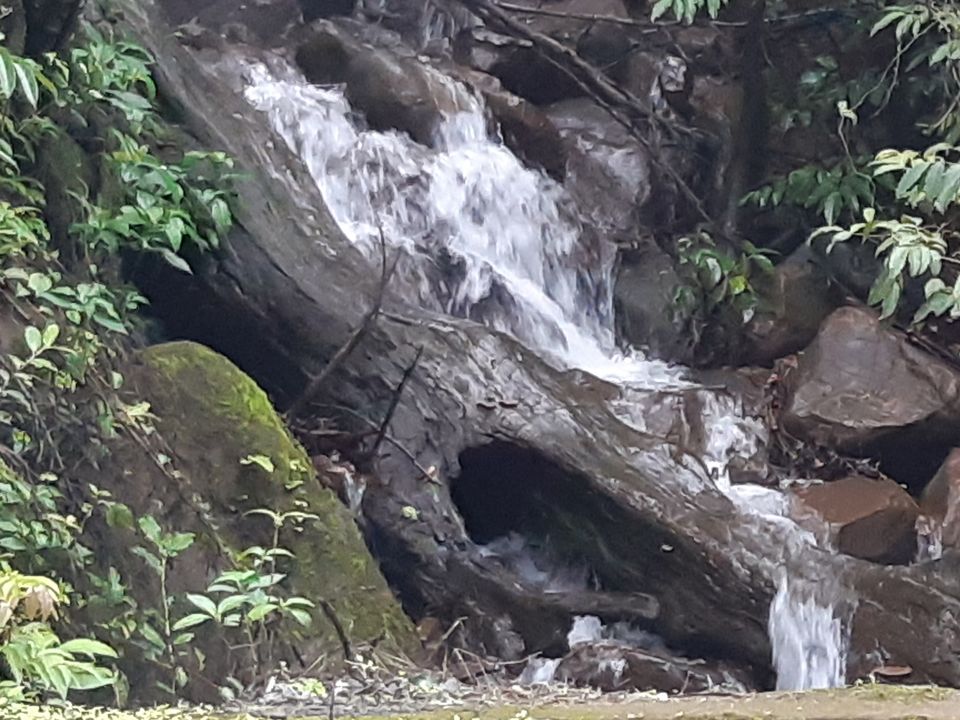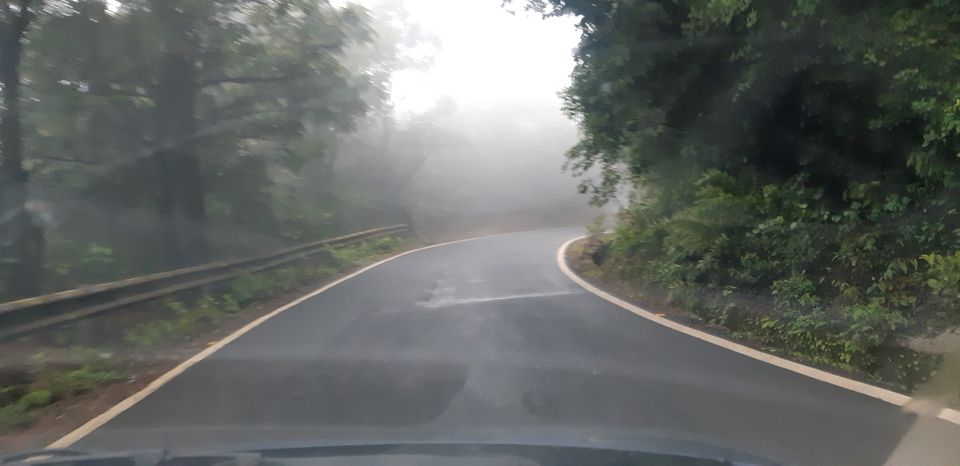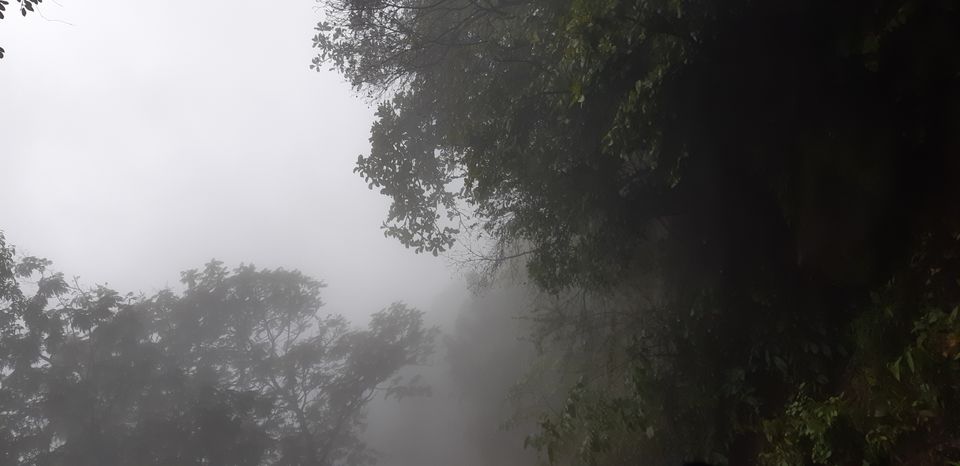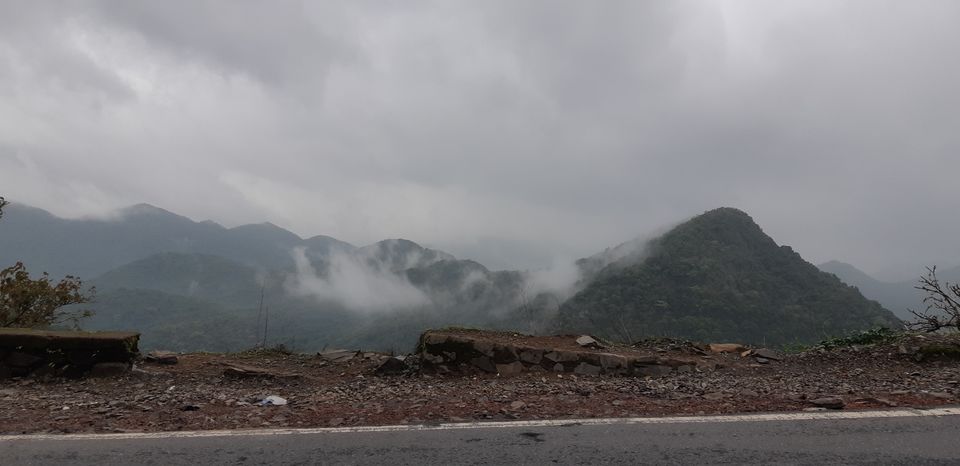 It was a cloudy morning.We went for morning walk on the Baga beach.After that we had shower and breakfast until we found out on news that it may rain heavily in Goa in the upcoming days.So we decided to leave.Actually Goa was our destination but we could not stay there more than a night.We wandered in the local markets,bought some famous Goan items cashews and candies had our lunch and left for Kolhapur.
This time we were going via Amboli ghat.Personally I felt that Amboli ghat was more mesmerizing than Chorla ghat.We could feel the clouds as well and the small cascades as well as waterfalls make it much more beautiful.Amboli ghat waterfalls are so famous that there is a bus stop on the ghat for the falls, MTDC charges 10Rs to enter the falls.So many people were enjoying the rains with waterfalls.It was almost 3.30 Pm there.We left for further journey.We went slowly halting at some places for tea and snacks and some pics.
Later around 7.30 PM we reached the city of Mata Ambabai, Kolhapur.We got fresh and went to the temple.Very peaceful temple.We did darshan after a standing in a short queue for 15 minutes.Than we went to the famous chappal market, bought couple of pair after bargaining.We were feeling hungry again.So we started to reach out local people for searching best food items around.We found out that there is a Khau Gali in Kolhapur as well.
We went there and had the famous 'Rajabhau Bhel'.It was really unique taste Bhel.We also got parcel for our families, than had sleep.