Road Trip is on of the best thing about travel .We come across lots of places while travelling to our destination .We Get different local food to eat , pass through different Terrains and also witness climatic changes .
Lets talk about my Solo Road trip from Vadodara to Goa , Distance of nearly 1100 kms and 20 long hours journey accompanied by Rains.
Lets Talk about the Journey DAY 1 ;- VADODARA TO DAMAN
At 16:00 Hours i commenced with my Solo Road Trip, got my Skoda Octavia on the highway with some soft music on as something is needed for your mind to be focused on the road and the most imporatant part is to abide by the rules of highways .
Always Remember , " LANE DRIVING IS SAFE DRIVING "
FOllOW Traffic Rules . WEAR SEAT BELTS .
Clicked while i was Driving , from the Drivers view
In the mean while As 2 hours passed , i stopped near Surat at "CAFE COFFEE DAY " to sip in my doze of Caffeine as it always believed that Coffee is always a Good Friend for people who drive , it gets your focused.
As i again moving towards my destination , recieved a call from a old friend of mine saying that he is in daman and asking me to stay over there for the night and meet up and leave for Goa the next morning which i thought was a Good idea .
I reached Daman around 21:00 hours ,wherein i was welcomed with Rainstorms and thunderstoms which i loved . This Gave a Good Kickstart to my Solo road Trip .Meeting an old friend after 4 long years is always a moment to cherish. We had some good time and conversation over beers and then doxed off at the hotel .
Day 2 : DAMAN TO GOA
AT 6;00 hours, i started my journey from Daman to Goa accompanied by some cool breeze in the morning and Rains . In a while when i reached Palghar toll gate , i was stopped by the police personnel asking me where was i going and their routine check up .So as i was going to Goa i said sir i am going to GOA , so in return he asked me " Humko Bhi leh Chalo " which i said laughingly ' " Chalo Usme kya " . I though he was just pulling my leg but he seriously said it and he wanted till Lift till "KOLHAPUR" which comes in between my way while going to Goa , so i didnt say him no and agreed to give him lift .
We had some good discussion and this made my Solo Road Trip more Interesting and quite some money saver pack by giving him Lift . i didnt have to pay money at any toll gates .The police personnel was a a head at the toll Gate and he lived in kholapur and as his holidays were sanctioned he was returning home.
We reached hotel Fountain by 8;30 hours , had some breakfast and took the route of Ghodbunder Road to Goa Via -Mumbai- Pune expressway . The Mumbai Pune 6 lane expressway isa very beautiful Road wherein you can cross some good distance in short time . As everyone knows who travel to Lonavala in the rains , the roads are not less then travelling in heaven.
Entering the tunnels on the highway at Lonavla With some Great Rains The beautiful view of rains and the weather :- Lonavala
We did come across some waterfalls , rain & beautiful Scenic View which made this trip more of some good memories . Sharing some videos of the same in the Gallery below . We had travelled around some 300 kms in 3h 30 mins , at reached Pune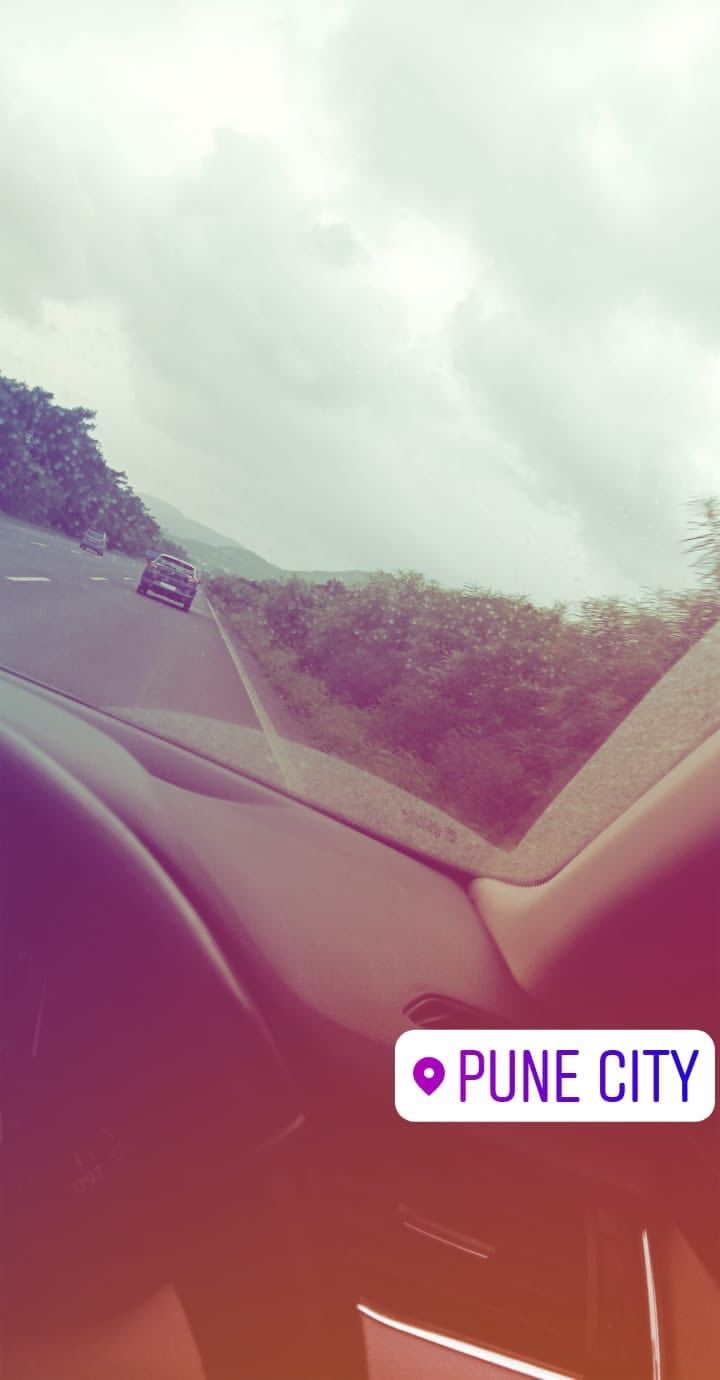 There is Beautiful Maharastrian restaurant , just before the Toll Gate Pune- Banglore Highway where in we just had some local Maharashtrian dishes like Misal PAv and Vada Pav.Whenever i travel by Car to Goa , i always stop over to this restaurant and never miss the authentic maharshtrian authentic taste giving my taste buds some Orgasm .
As we started moving and closer towards the destination , there was a change in atmosohere and it was hot and Humid , whereas when i travelled from Daman to Pune it was Cold and Rainy . The Journey of Pune to Kholapur was around 250kms and long 4 hours 30 min journey depends on the Traffic , We Reached Kholapur by around 1600 hours and i had another 200 miles to cover to Reach my destination . The police Personnel had got down at Kolhapur and i again Drove off and choose the Road of Nipani to Amboli waterfall to Reach Goa .
Again there was climatic changes and now i had to drive bit carfeully as it was fog and i was on the roads of Amboli ghats and it was getting darker as time passed . The roads were narrow , single lane and as it was a village area had to travel safely as you hardly have any driving safety norms and lots of potholes on the way due to rains ,
As i entered this way the color of the terrain changed , could see redsoil everywhere so could sense that the Goan teritory is nearby . As i reached the Amboli Ghat , i Stopped over at Amboli Waterfall which is again a tourist destination where people come and enjoy and eat hot Maggie , Tea, bhajiyas , vadapav, Omlet etc . How could i resist myself , i did eat too . Its hardly 3 hours from AmboliGhats to Goa and then after eating , i moved towards Goa .
Amboli ghats, are more safer to travel when you travel to Goa , rather than travelling throught khopoli - chiplun - Ratnagiri highway wherein the risks of accidents and landslides are often .So i always choose this route .
I entered the Goan teritory by Around 21;00 hours and Reached Anjuna by 22;00 hours . The journey was nevertheless beautiful as always but i could save my toll gate money by giving lift to the police personnel .
Travelling to Goa in Rains is always beautiful but at the same time you need to be vary careful while Driving on this roads because when it rains the visibilty on the ghats/hillsides become low and its difficult to see and you might also meet up with an accident . Always be careful and travel by the roads which you know and not any unknown Roads because it may be dangerous .
I hope you liked my Blog
Share it , Subscribe my Blog
Follow me on my instagram :- https://instagram.com/travelexplorewitholdmonker?igshid=n9s9pokqqht4
#goa #roadtrip #Vadodaratogoa #india #solotraveller #backpacker #wanderlust #tripotocommunity #travelxp #Travelblogger #blogger #rain #mumbai #pune #daman #gujarat #kolhapur #amboliwaterfalls #soloroadtrip
Frequent Searches Leading To This Page:-
tourist places to visit in kolhapur, uti tourist place images, kolhapur sightseeing places in one day, kolhapur in which place, places to visit in kolhapur and coorg, things to do in kolhapur in march