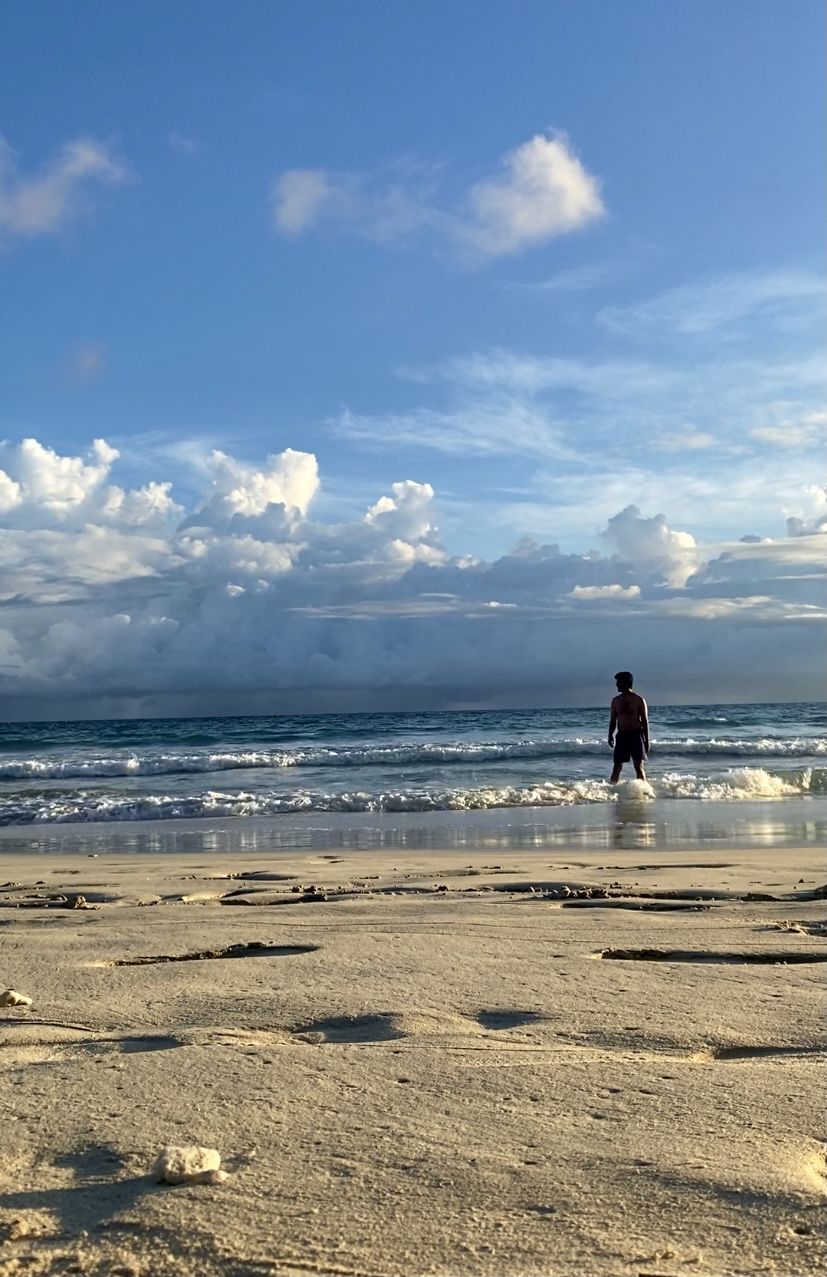 Ok, this might not be perfectly suited for this website but what's perfect anyway. So, here we go.
Why I say it won't be perfect is because I did not go to Andaman just to travel, but as odd as it may sound, I went there for my workation (Work + vacation, if you're unaware of the lingo of today). Why do I say odd? Isn't this what everyone's doing these days and isn't this what the remote working has turned into? It is odd because no one goes to ANDAMAN for a workation. Mainly because the internet connectivity is terrible. The connectivity is so bad that when I was on my work calls, on some good days when I could hear what my colleagues were speaking, they couldn't hear me at all. There was a running joke during my time in Andaman - it seems Arjun is in a coma, he can hear us well but we can't hear him at all.
The blogs I had read before embarking on my trip mentioned that Airtel 4G gives you terrific speed, but it's no brainer to replace the letters 'fic' in the word terrific with the letters 'ble'
Anyway, if you ask me, would I go to Andaman again for workation - my answer would be a big YES (provided my boss lets me go again haha).
I booked my flight only a couple of weeks prior to my journey, and I got it at an exorbitant price.
So, Tip 1: Book your ticket well in advance if you don't want to pay 18k one way from Delhi to Port Blair.
Day 1: 25/09/2021
There's no direct flight from Delhi to Port Blair. I had my 6 hours layover in Kolkata. There's nothing exciting to tell here except the beautiful mural of Rabindranath Tagore that I spotted in the airport: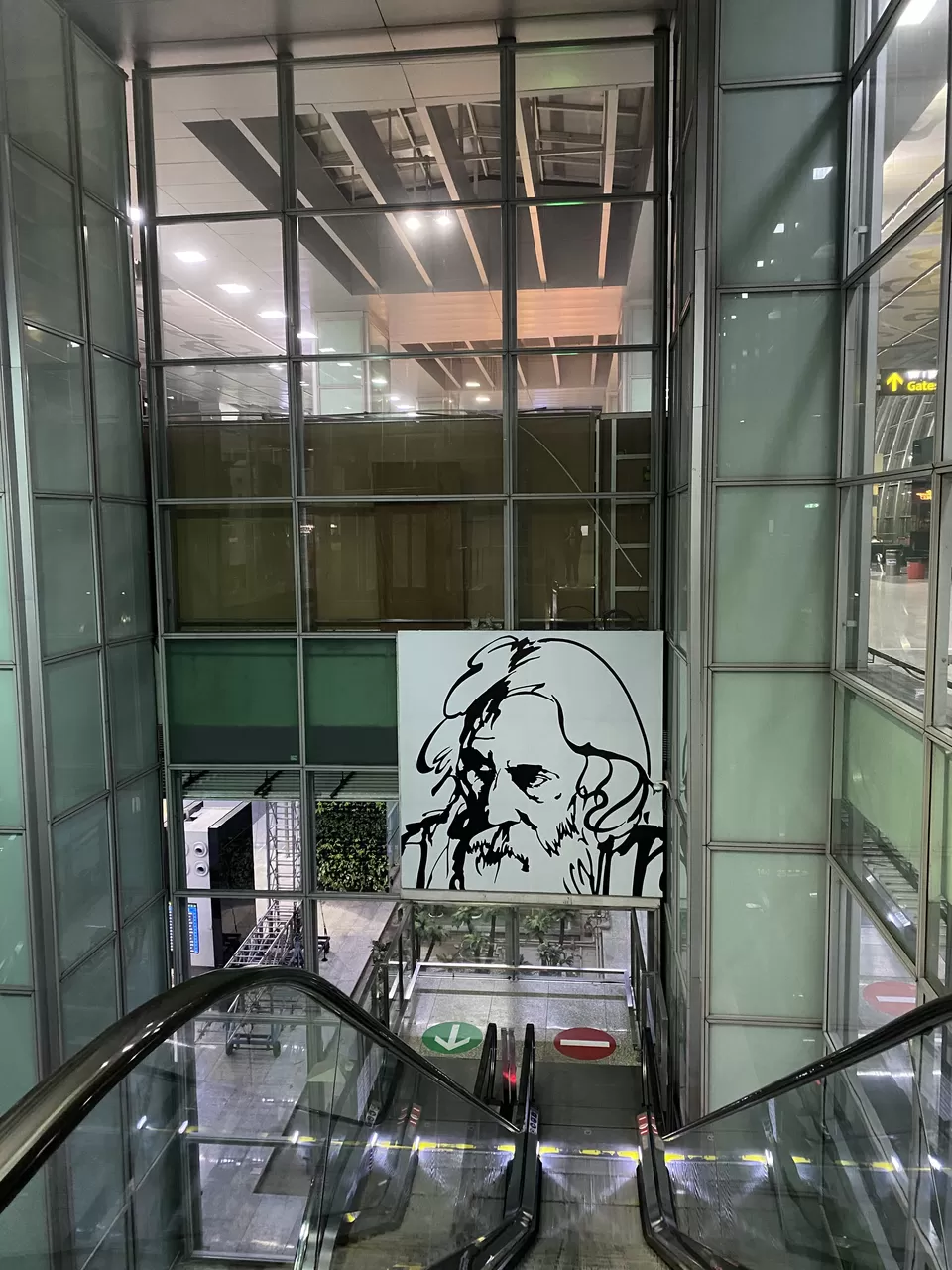 Day 2: 26/09/2021
The only commercial airport in the Andaman and Nicobar Islands is in their capital - Port Blair. I had made my bookings in Havelock Island which is 2 hours on a ferry from Port Blair. But as I understood from reading blogs/watching videos, I had to get my RT-PCR done in Port Blair, which further meant that I had to stay in Port Blair for a day or two till my report gets out (gets out Negative, to be precise).
TIP 2: You don't have to get your RT-PCR done in Port Blair if you are doubly vaccinated.
I could have saved a day had I known this. I was doubly vaccinated, so I could have left to Havelock the same day. And I tried. But one of the ferries (the only one operational at that time) that takes you to Havelock was already booked. So, I had to stay in Port Blair for a day.
I left the airport in a taxi not sure where to go. Aggravating things, it started pouring. Though the cab driver made things better consoling me that he knew the best places to stay which fits my budget. In a new land, where I knew no one, where I knew nothing about how people are, I didn't want to be a pinchpenny, I didn't want to compromise. Hence, I booked a room in a decent hotel. It costed me Rs 1500 for the night.
After incessantly waiting for the rain to stop, I finally decided to step out. I checked in at the reception about the possible places to explore and decided to go to Corbyn's Cove beach. It's the beach of the choice if you're in Port Blair and have limited time to explore. I did a Jet Ski ride, which lasted roughly for 5-7 mins and it costed me Rs 900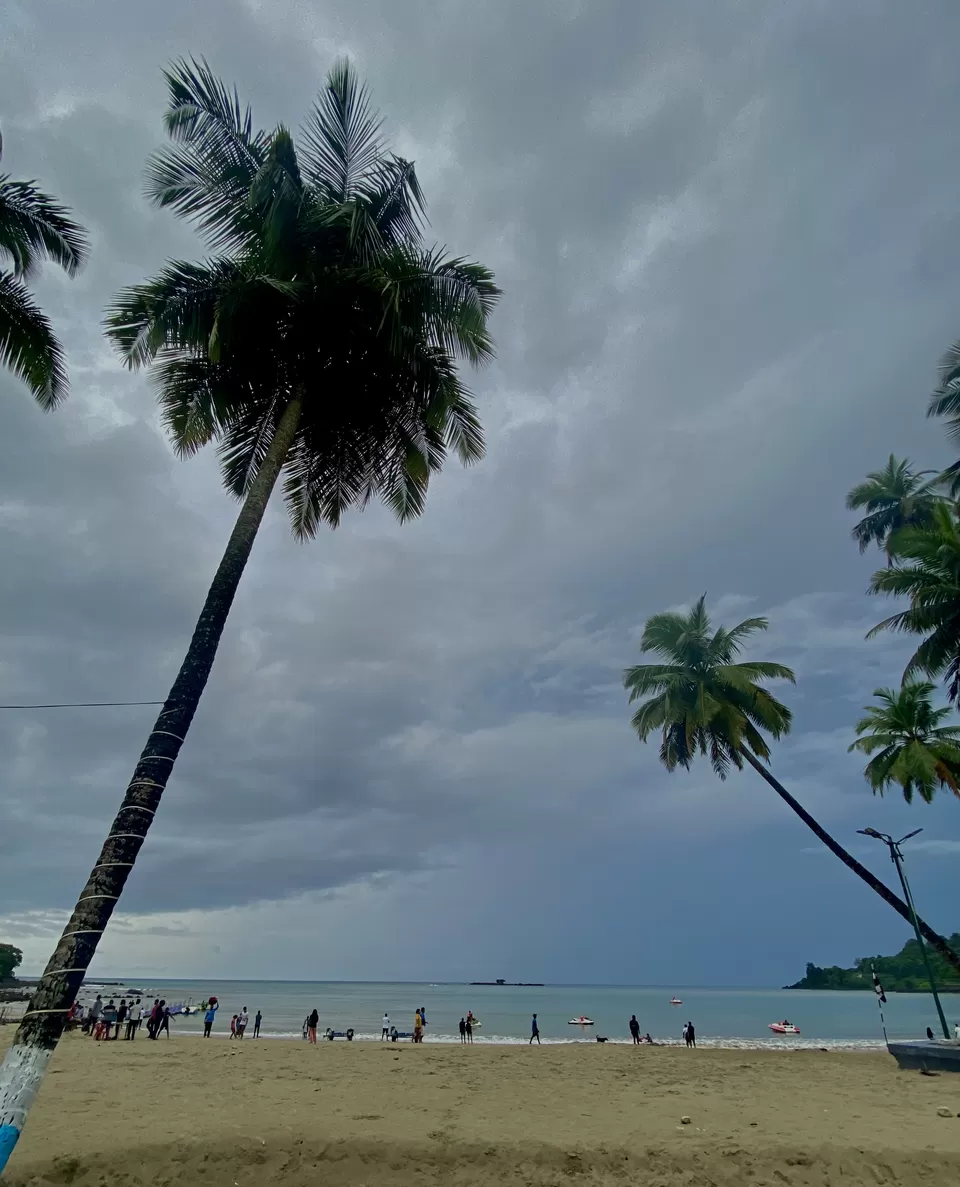 Day 3: 27/09/2021
The ferries from Port Blair to Havelock have specific timings. There are usually many private ferries but at that time only one was operational. It's called Makruzz. The interiors are good - spacious, fully AC, you get paid snacks, etc. but you can't go out on the deck sadly. It has 3 classes: Premium, Deluxe and Royal with an incremental increase in the prices (Rs 1300, Rs 1800 and Rs 2600 respectively). And as grey as it can get, I booked the Deluxe seat.
TIP 3: Book the premium seat (the cheapest one) in Makruzz. (There's hardly any difference between the deluxe and the premium except the leg space. I am six feet, and I found the leg space in premium seats sufficient to have a comfortable journey)
After around 2 hours of plain journey in the ferry, I reached Havelock, and this was the view as I stepped out of the ferry: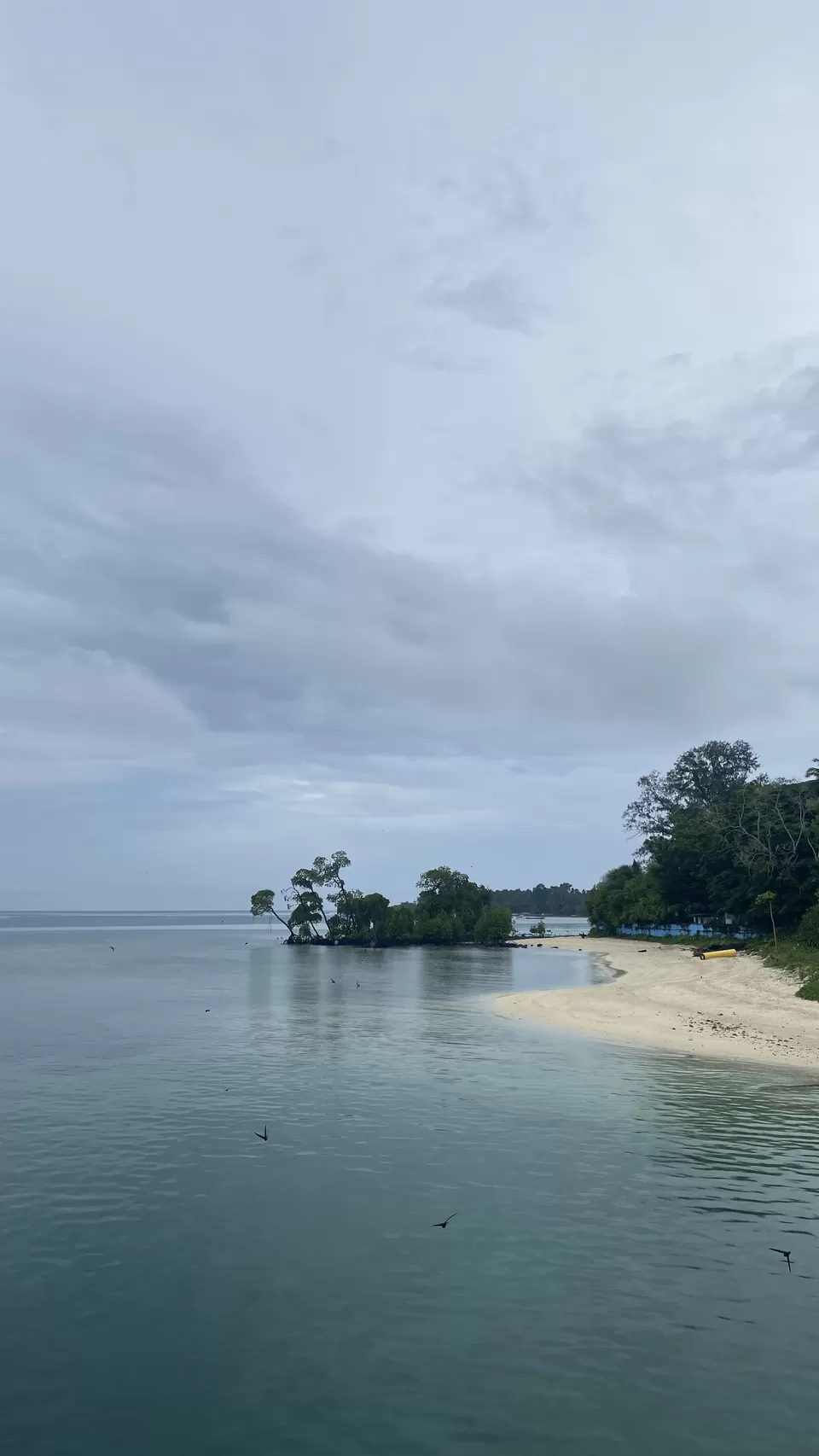 I had planned to stay in Havelock for 2 weeks (subject to the internet connectivity), but I had not booked my stay for the entire 2 weeks, since I knew if I am not able to work, I might as well leave Havelock soon. I had booked my stay for 1 week.
There are no hostels/Airbnbs in Havelock. Most of the resorts/hotels are fancy since a majority of the tourists visiting Havelock are couples on their honeymoon trips. But then there are some budgeted resorts as well. And those are budgeted maybe because of the pandemic. I stayed in a resort called Green Valley, in an AC room. Costed me Rs 1500 per night (The owner told me that the same room costed Rs 6000 per night pre-Covid). Maybe he was lying, but I really liked the room and the view from the balcony was the beautiful Vijaya Nagar Beach. Here are a couple of pictures: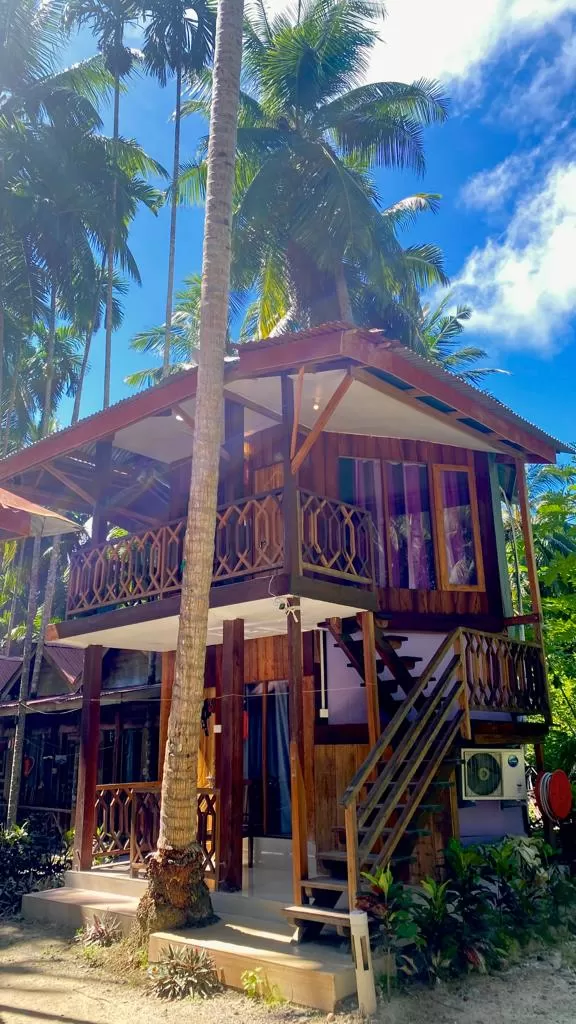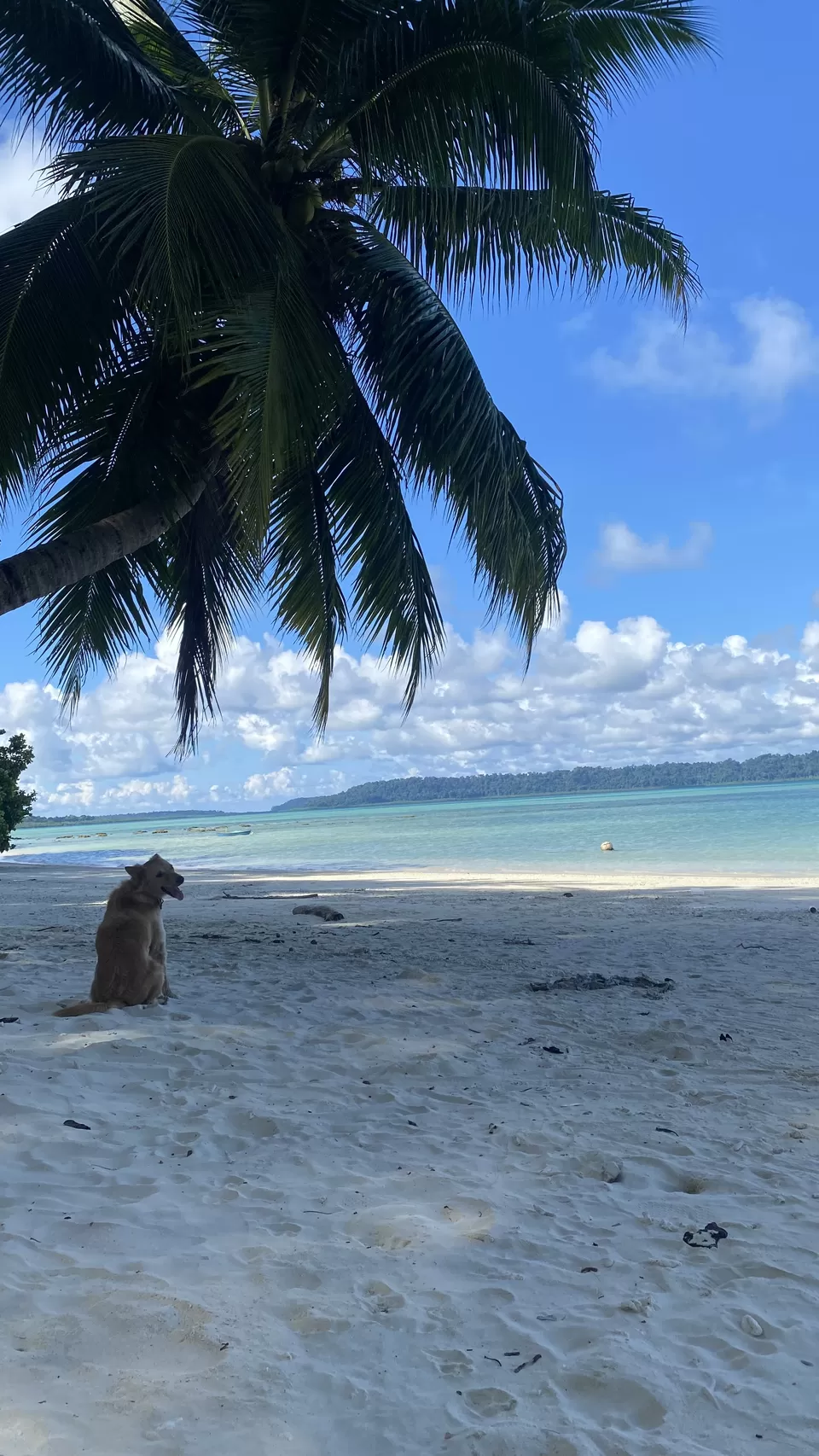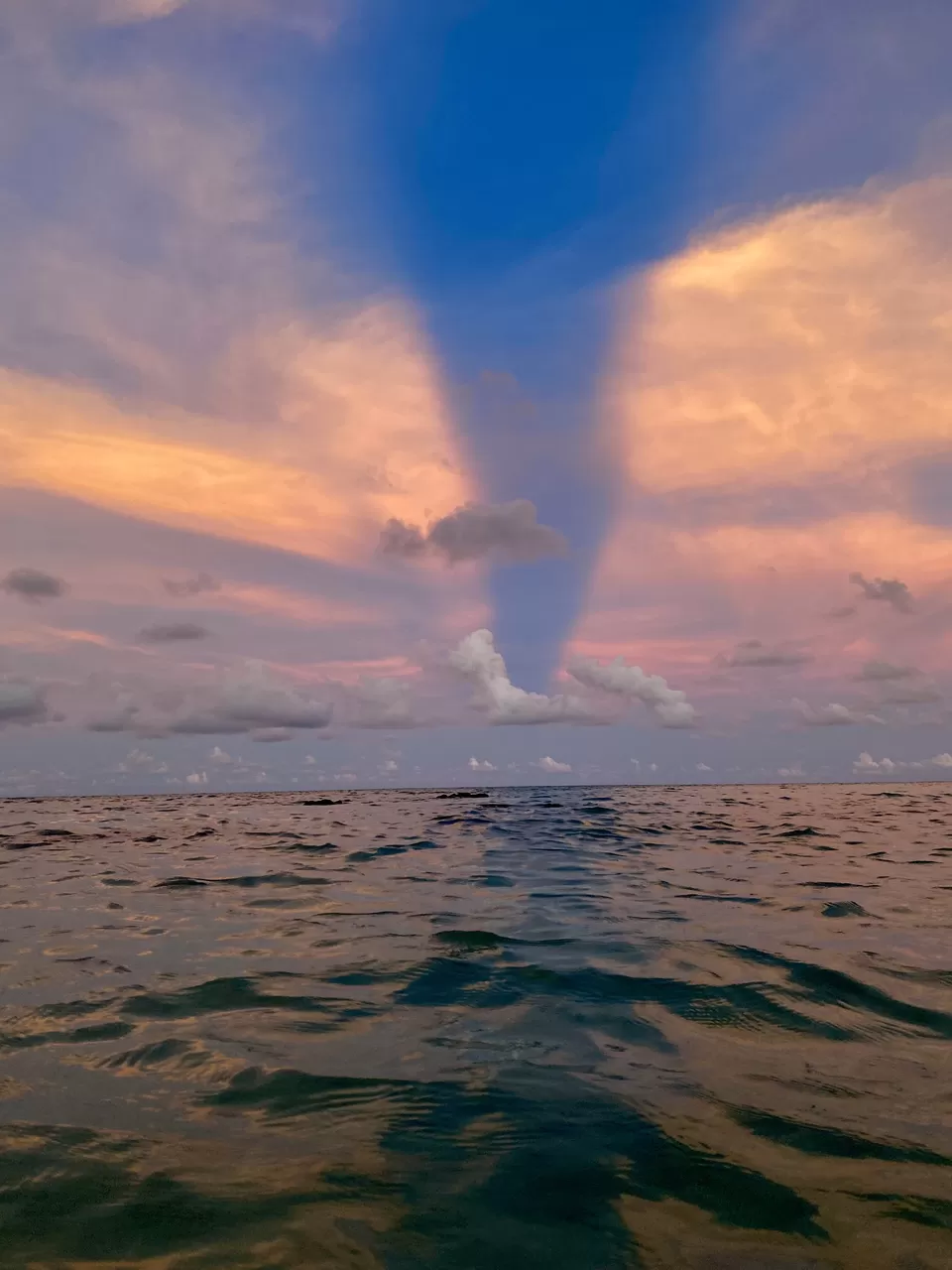 I spent the rest of the day sipping honey ginger lemon tea.
Day 4 - Day 7: 28/9/2021 - 1/10/2021
I used to spend days working in the café of the resort, sitting right beside the router (though nothing worked), and used to spend my nights going out to different restaurants/bars. I lot of people might find it weird to go to a restaurant/bar alone, but I find it absolutely normal. In fact, I enjoy spending time alone off the work - with some good music and chilled beer.
I understood from the locals that the nights are not as happening as they used to be pre-Covid, and also I was a bit early as they expected more tourists inflow post-mid-October.
Oh, I have to mention a very interesting incident that happened during these 3 days. I was out for lunch when I lost both of the debit cards that I was carrying. And as expected as it was, my dad was a little furious while my mom couldn't sleep the entire night (while I, here in Andaman, was snoring like a pig). Their concerns were genuine - I had little cash, and though GPay works here, the internet might leave your hand at any moment. But here comes the best/worst part - I came to know that I've lost my cards through emails that I received saying my cards have been blocked. Turned out someone found my cards lying somewhere, called customer care and blocked those cards for me.
Oh, you gotta love Andaman!
Day 8: 2/10/2021
This was a big day for me - I was finally going to do the sport I think I had visited Havelock for - scuba diving. I was told how magical the experience of scuba diving is. I was all excited to believe what they had said. And so it started.
I went in the first slot of the day. As I wore my super tight scuba suit, slightly uncomfortable, I saw other people and felt a sense of belonging. My trainer then guided me on all the three challenges/scenarios that can happen when I'm 12m deep in the sea. I diligently took the notes. We were then taken on a boat to the middle of the sea. As the moment was getting closer, I could see the fear getting married to excitement.
They stopped the boat, fitted us with oxygen cylinders, regulator, fins etc. and then my trainer asked me to sit on the edge of the boat and fall backwards in the sea. Now, even though you have all the required safety apparatus, falling on your back in the infinite sea seems like a leap of faith. And it is. I shrugged and laughed off at him. I soon realized he wasn't kidding.
When I was thinking to myself "if not now then when", he poked my fins and there I went. Obviously, I came up to the surface since I was wearing the inflatable vest. Then what happened would be ingrained in my memory. Forever.
He held both my hands, while my body was still swinging, and asked me to look down. I followed what my guru said. As I looked down, I could see the wide variety of sea creatures - corals, colorful fishes, and the creatures I don't even remember the names of - it was a different world - a world I had never imagined - it was so so beautiful that with the pipe in my mouth, I gasped "Wow" forming the quintessential bubbles.
It was, hands down, one of the best moments for me in 2021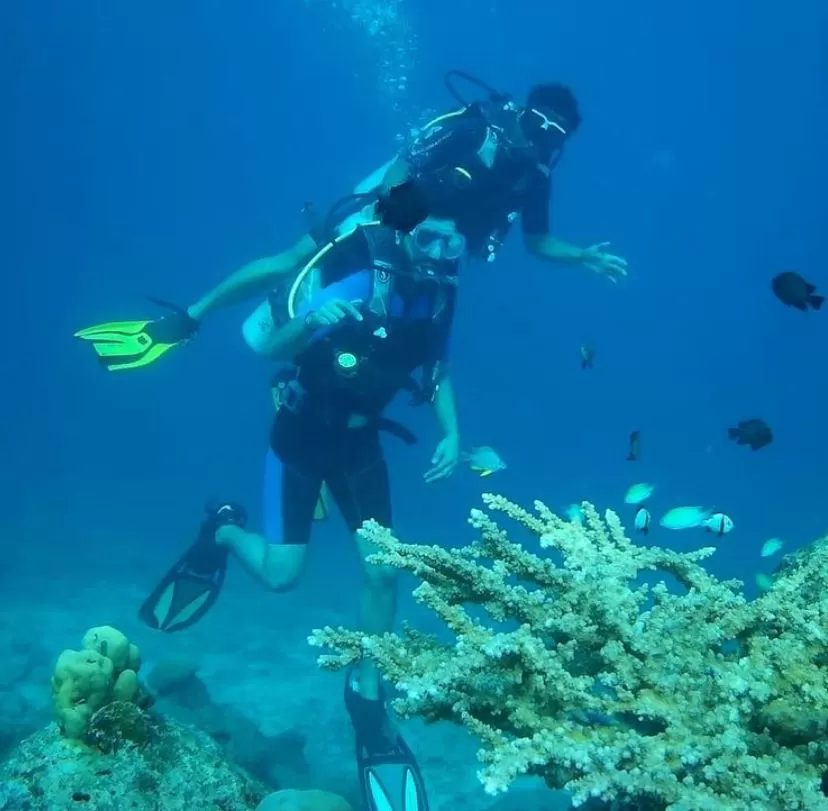 In the evening, I went to see the famous Radhanagar Beach, regarded as one of the most beautiful beaches in India, and in fact in Asia. It's exotic, and the sunset is spectacular. I'll let the pictures speak:
After I came back to the resort, I couldn't stop smiling at how beautiful the day went; I couldn't stop thinking about how the world is a beautiful place indeed.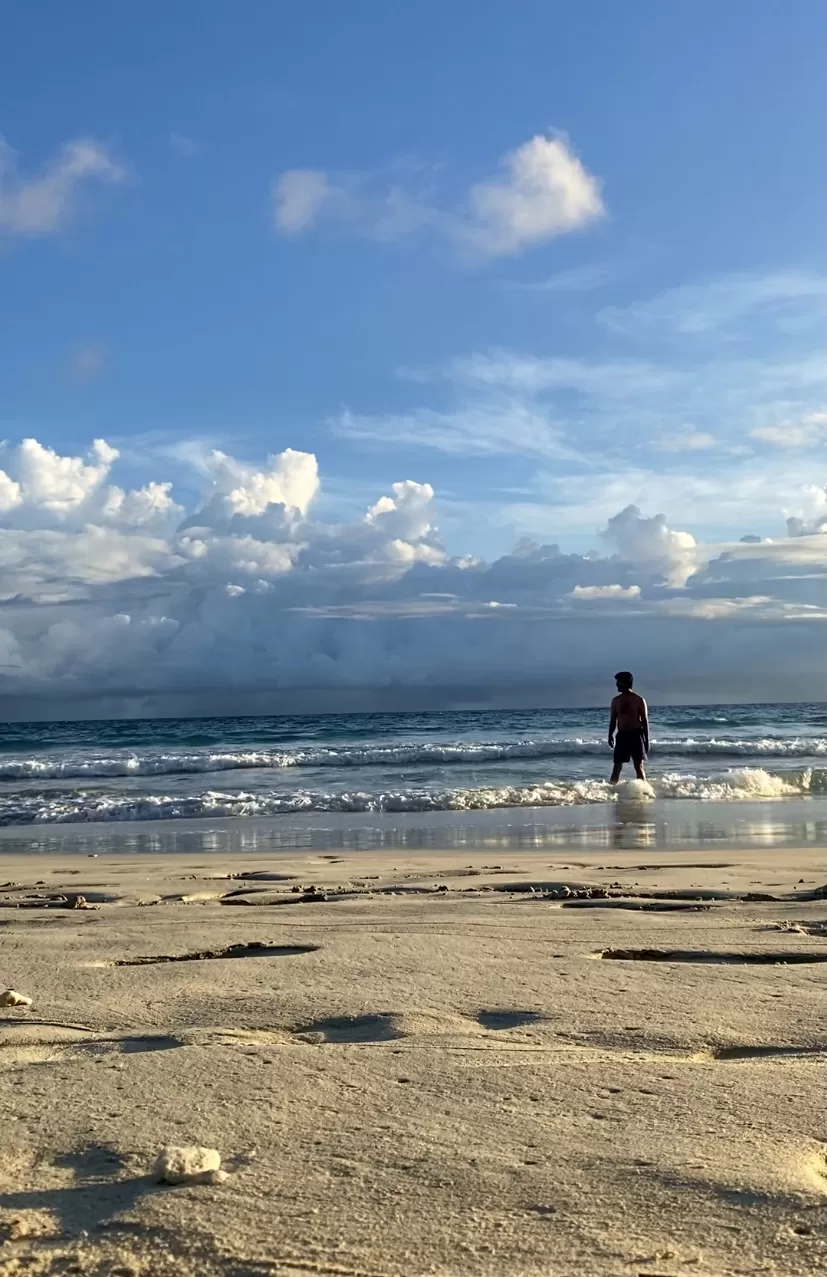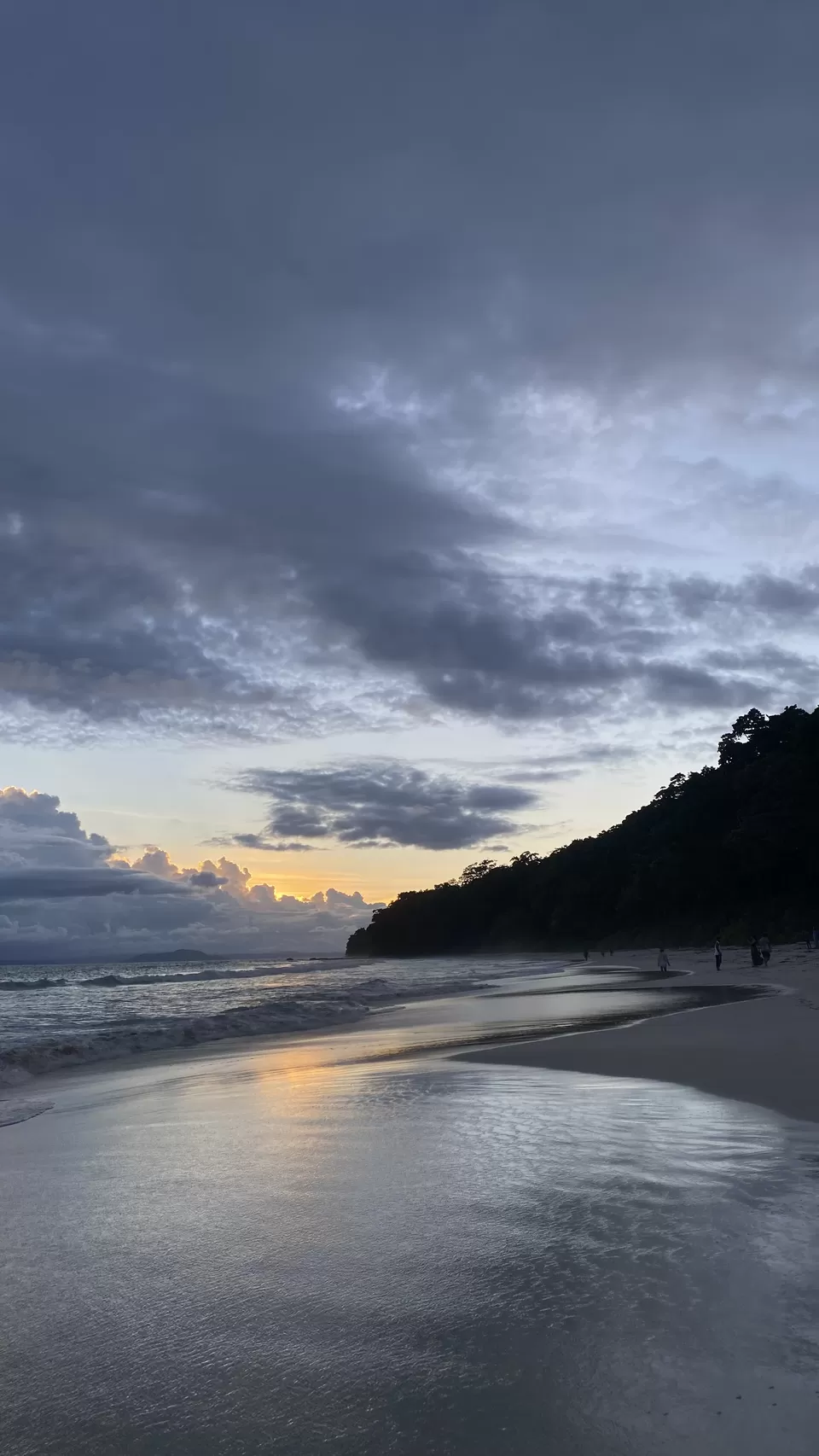 When I came back to the resort, I was so happy. From Scuba diving in the morning to the sunset at Radha Nagar Beach, what a beautiful beautiful day. While I was thinking what a wonderful place this world is, I dozed off.
Day 9: 3/10/2021
After a lovely yet tiring day, I woke up at around 8 in the morning and decided to explore the Elephanta beach - famous for the water sports. You have to take a speed boat from Havelock, which takes about 20-25 minutes to reach the Elephanta beach. There are numerous water sports on this island - parasailing, jet ski ride, snorkeling, banana ride, etc. While I had tried most of the other water sports, I had never tried snorkeling: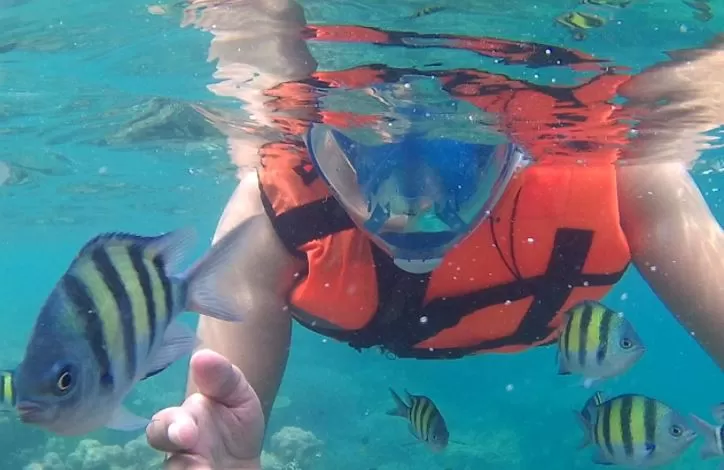 I came back to Havelock in the afternoon. Now, I had the entire afternoon/evening to spend. I'd heard that the property of the Taj Resort was amazing and that they had a private beach that opens at the Radhanagar Beach. Wow! I thought though staying in Taj was out of my budget, I could surely have a meal in their restaurant and this way can explore their property. So, that's what was followed. I explored the beautiful property of the Taj Resort and went to the Radhanagar beach (again? Couldn't get enough yet) for the sunset. In the night, I went to Sea Shell Resort (another beautiful property) for a pint of beer and some snacks, before coming back to my resort at around 9 pm in the night.
Day 10: 4/10/2021
I took a day off from work. Due to the bad internet connectivity, I could not work satisfactorily the entire week and hence decided to move back to Port Blair, where the internet was still okay. I had my Makruzz to Port Blair in the afternoon, but the trip to Havelock was incomplete without witnessing the gorgeous sunrise at Kala Pathar beach. I reached there before 5 in the morning, and giving up sleep of a couple of hours was well worth it: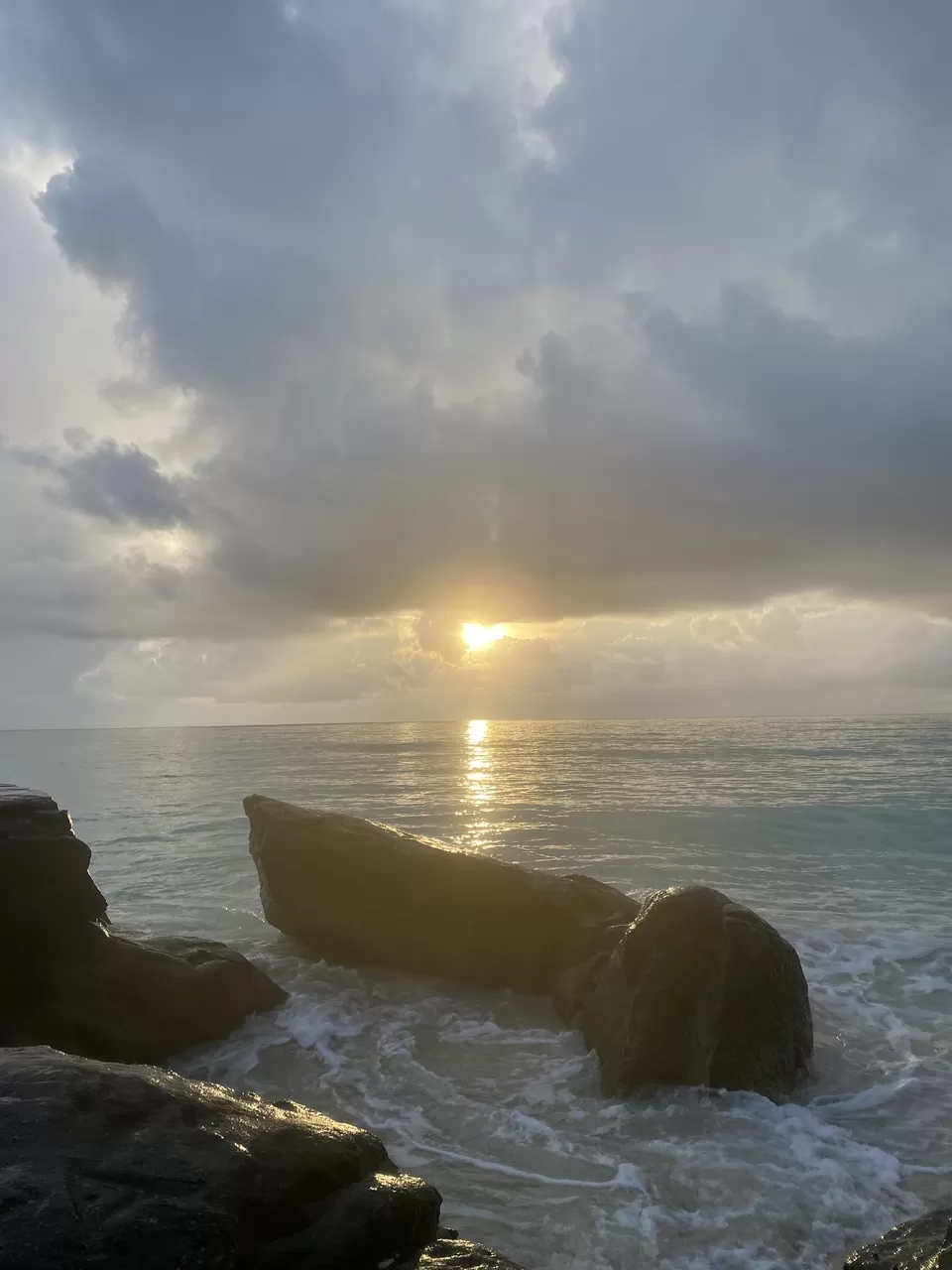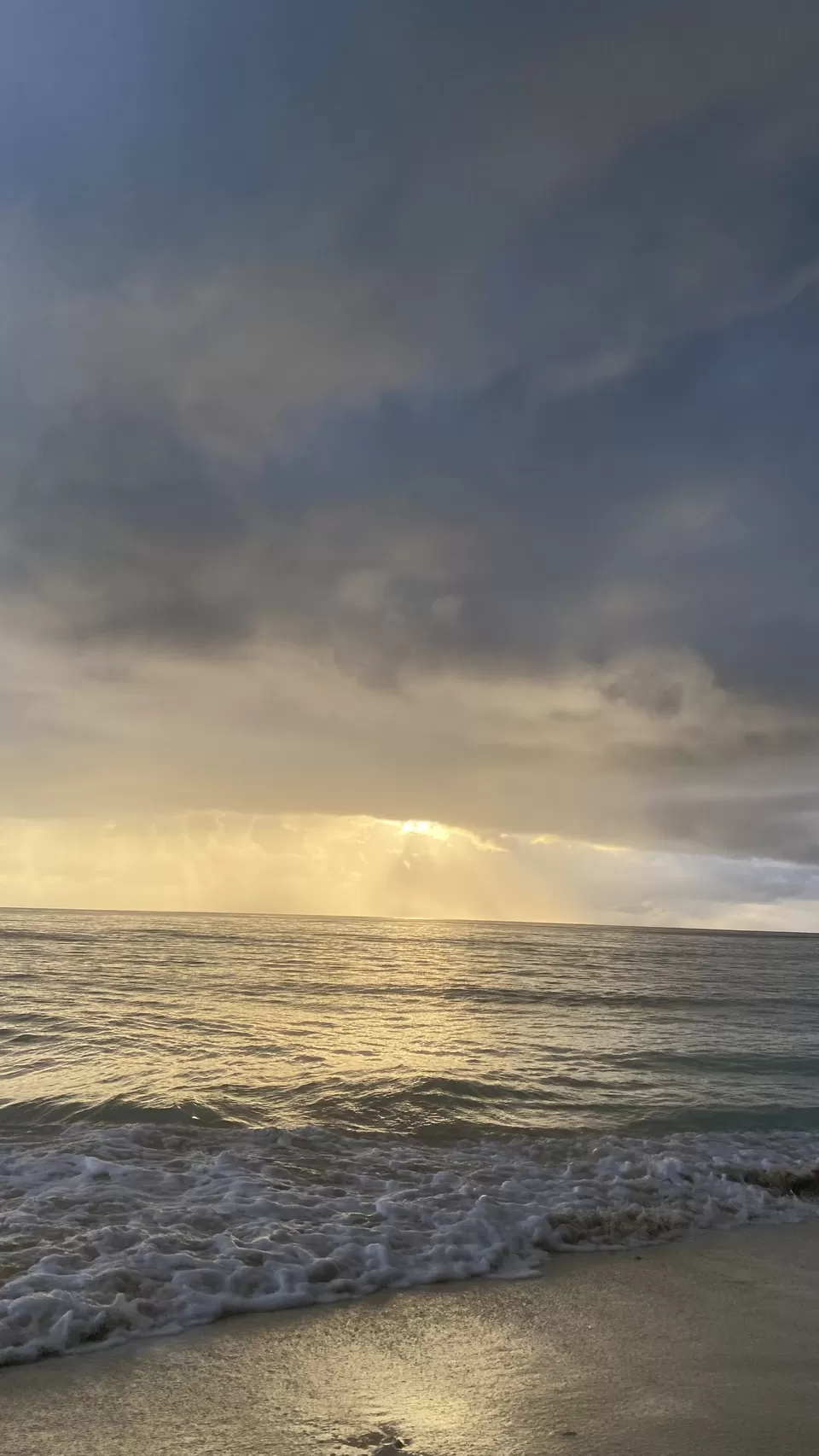 Tip 4: It's best/cheap to rent a scooty/bike in Havelock. Since I did not have my driving license, I rented a car which turned out to be expensive (I paid Rs 2500 for 3 days - hopping from one place to another).
I reached Port Blair in the evening and decided to stay in the same hotel as I had stayed on my first day in Port Blair. Since now I had plans of staying in this hotel for a week, they offered me a (nominal) discount, which I couldn't deny.
Day 11 - Day 14: 5/10/2021 - 8/10/2021
The work had mounted a lot, and so I decided to stay in my room and work the entire day. I know, I know - who works at such an exquisite place? But I had to maintain a balance and this is how I did it.
Day 15: 9/10/2021
Saturday was here. I planned to go to the famous Northern Bay and Ross Island (now called Netaji Subhash Chandra Bose Island). If you're still wondering why I called Northern Bay famous, just check out the backside of the old 20 Rs currency note. The lighthouse that you see is in the Northern Bay. Both of these islands are very close to Port Blair and you take a speed boat and one ticket to cover both of these islands.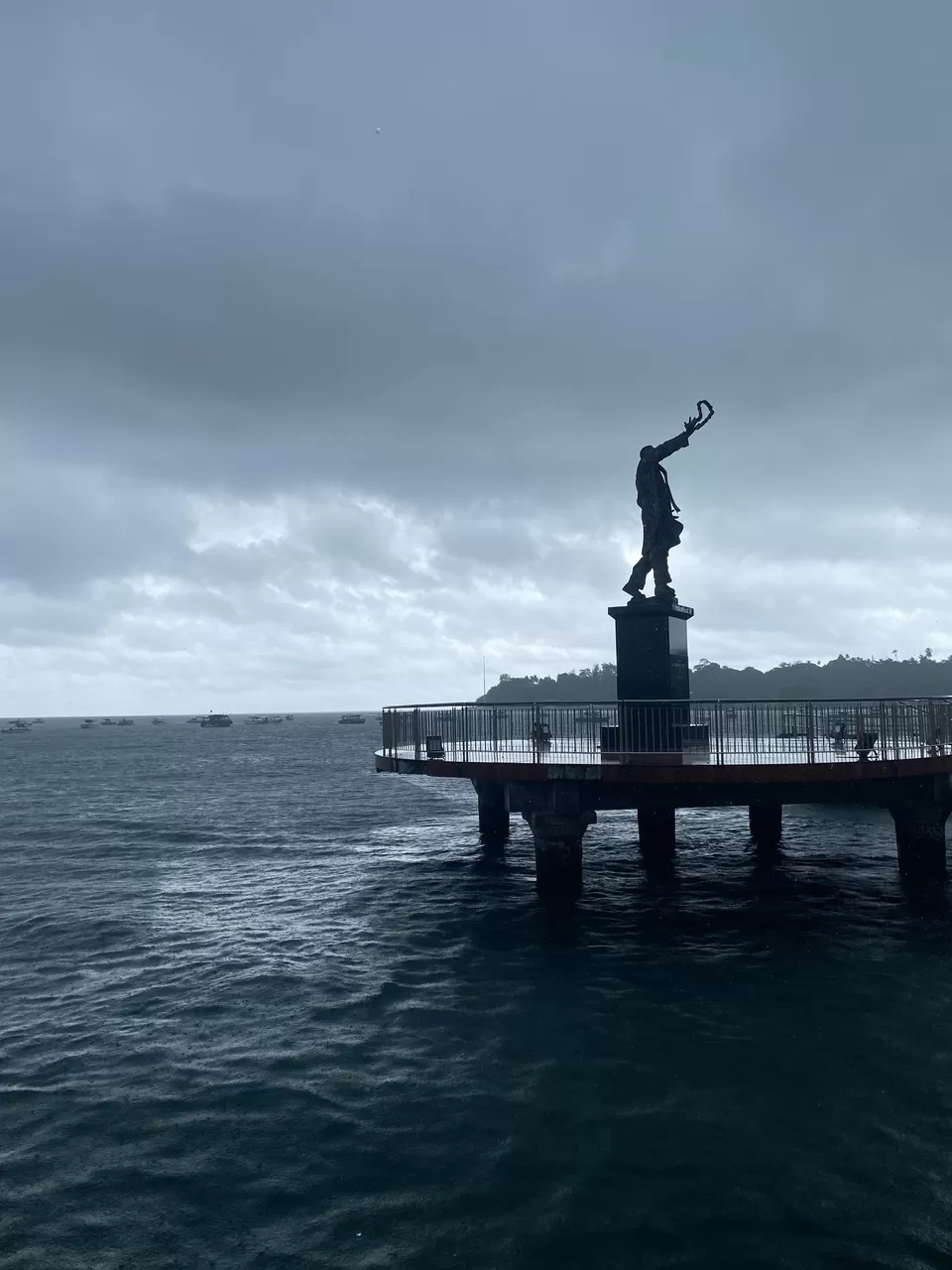 The Ross Island also called Paris of the East, is known for the historic ruins from the British Raj - where the ruins narrate the history of the prosperity and the cruelty of the British time in India.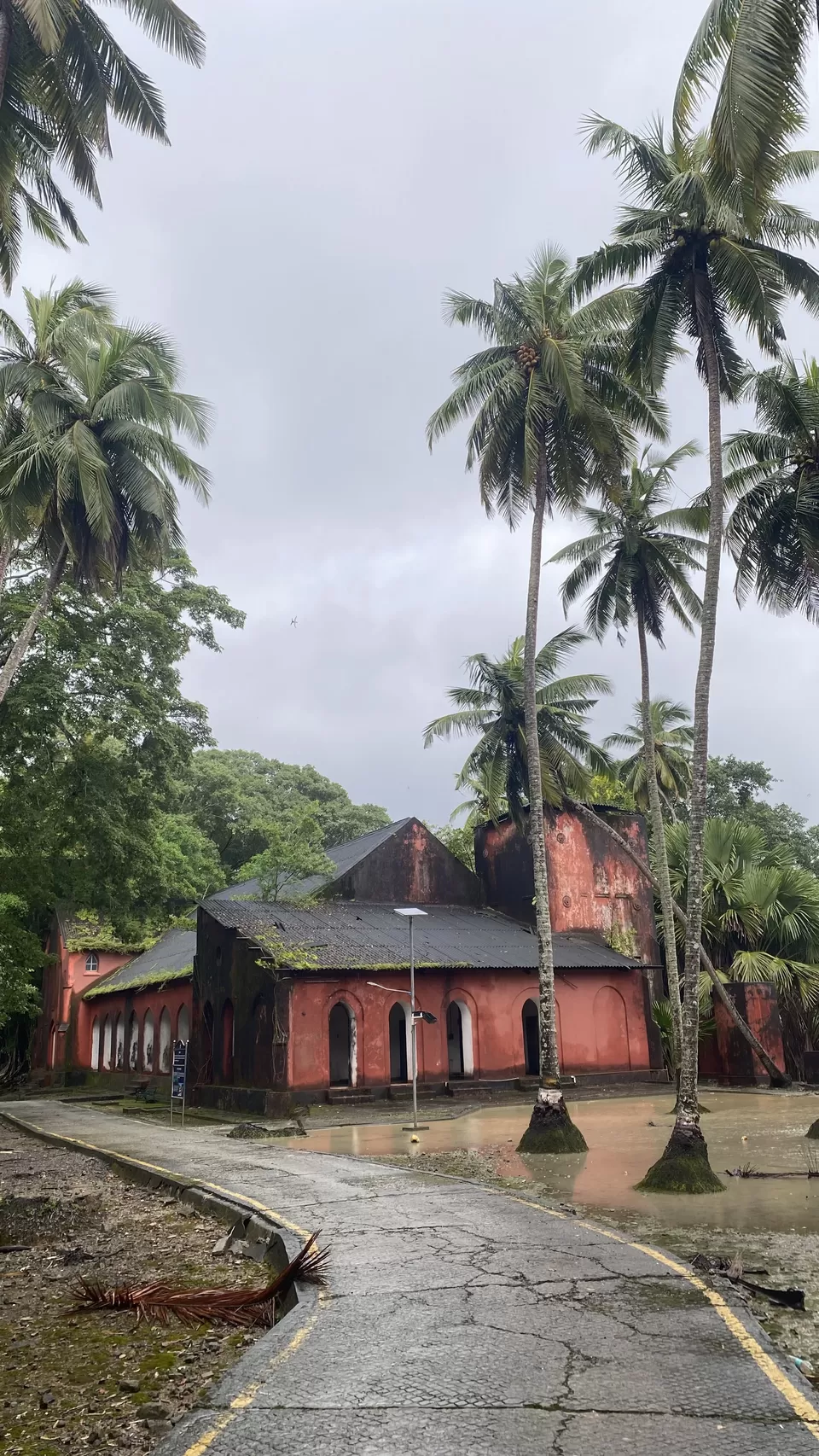 I had plans of strolling through this small island, but as nature would have it, it started pouring. It rained so heavily that I was drenched and had to take shelter till our boat came and we went back to Port Blair.
In the evening, I went to see the (in)famous cellular jail (also known as Kala Pani - the colonial prison used by the British Government for the purpose of exiling political prisoners to remote archipelago). There's a light and sound show that happens every evening, where they tell you about the long-forgotten history of the cellular jail. I bought the ticket online and entered the show. And I kid you not, I had goosebumps the entire show - and I am someone who's quite poor/ uninterested in history usually, and yet the hair on my arm were up like soldiers in the war.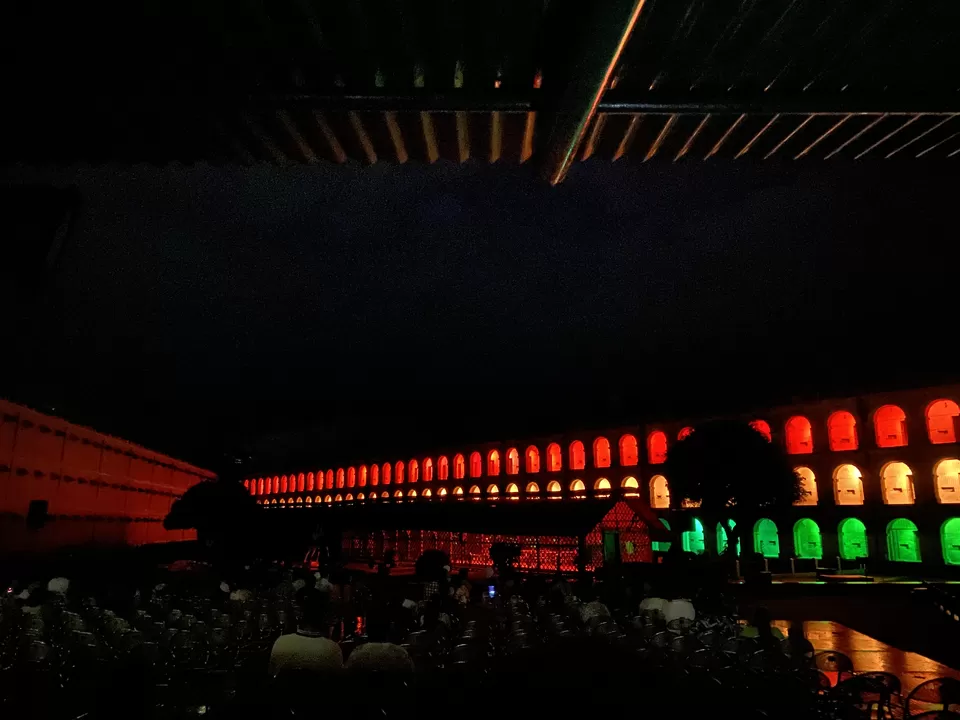 I had dinner at a local restaurant, still soaking in the feeling of how gut-wrenching our history is, and how indebted we are and will always be to the sacrifice of our freedom fighters.
Day 16: 10/10/2021
This was my last day (of the trip) in the heavenly Andaman. While there were a lot of amazing places I could not cover, I was glad that I could explore as much as I could.
While I was on the flight thinking about the 2 weeks that I spent in the Andaman, I realized I couldn't have asked for more - beautiful people, (relatively) untouched beaches and pleasant weather.
Andaman surely has my heart!