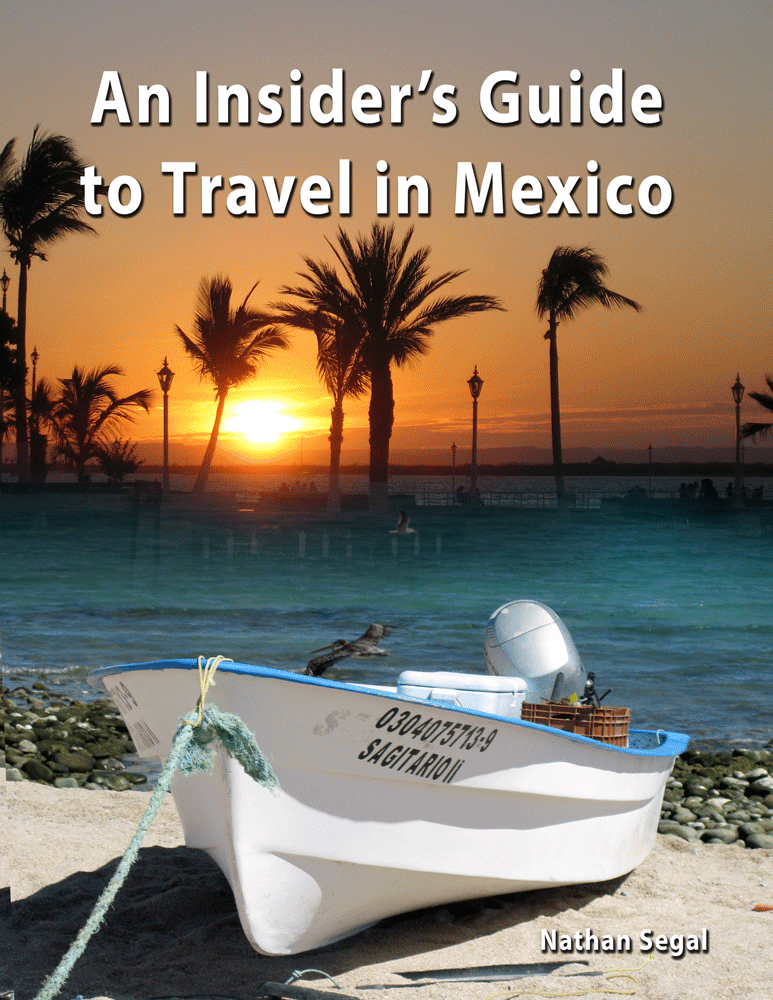 An Insider's Guide to Travel in Mexico
If you've ever wanted to go on a trip to Mexico and have a great experience of the country, you'll want to read every word of this message.
My name is Nathan Segal. I'm a veteran of travel to Mexico and at one point I lived there for three years. I just finished writing a guide where I reveal everything I know about life in Mexico. When you read it, you'll know how to find a great apartment, get deals on food, stay healthy, drive safely, and have the time of your life.
Here Are Some FREE Tips Directly From The Guide:
Changing Money
• Before you go on your trip, it's a good idea to convert some of your cash to pesos. $5-1,000.00USD is a good place to begin. Also, you're likely to get a better exchange rate in your home country than in Mexico.
• Check with your bank to see if they have a "sister" bank in Mexico. If they do, you'll save on banking fees. An example is Bank of America. It's "sister" bank is Santander in Mexico and going there will reduce or eliminate your ATM fees.
• When you go to ATM's check with the locals for the most reliable ones and whenever possible, go to an ATM with a bank attached. If the machine takes your card for any reason, you can access the bank.
Driving in Mexico
• Before you go to Mexico, make color laminated copies of your driver's license and carry one with when you drive, not your original license. And if you buy insurance, make color copies and of your passport. Carry the copies with you and the originals locked in your room safe.
• If you're driving into Mexico, you'll need to buy a tourist card at the border, known as an FMM and you'll have to pay a fee at the bank. When you return to customs to show proof of the payment, make sure you get the immigration stub and the receipt. You'll need both when you leave Mexico. If you don't have the receipt, you'll have to pay the fee again.
Get Great Deals On Food
• Comida Corrida (fast food) is served from during the weekdays from 1:00pm onwards. It's a great deal usually reserved for working people. It offers an appetizer, main course, dessert and drink for around
$50 pesos (roughly $4.00USD)
• Churches are a great source of food, often on Sundays and evenings. They often serve tamales and coffee, Champurrado or Atole (the first is a sweetened chocolate drink made with corn flour; the second is made with sugar, cinnamon and corn flour). These drinks are thick, hot and tasty. Each item is around $10 pesos.
• Mexico has some of the best ice cream in the world. You'll find plenty of it at Michoacana (the name of the store). They have a wide range of flavors and a frozen treat known as a "paleta." It's similar to a popsicle but made with natural fruit juices and costs around 12 pesos.
• If you love fresh fish, go to the public markets. As an example, you can buy one kilo of fresh Halibut for only $120 pesos (roughly $10USD).
Need To Make Long-Distance Calls?
• Get a phone card from one of the local grocery stores. You plug the card into a phone on the street and make your calls from there. It's a good way to keep in contact long-distance if you don't have Internet in your hotel.
All Of This And More Is Available In
An Insider's Guide to Travel In Mexico
Get Your Copy Today ~ Only 7.95 ~
PayPal link: https://www.paypal.com/cgi-bin/webscr?cmd=_s-xclick&hosted_button_id=4YWVE426CB3LY
Here's the link to the actual sales page: http://travelswithnathan.com/optimize/