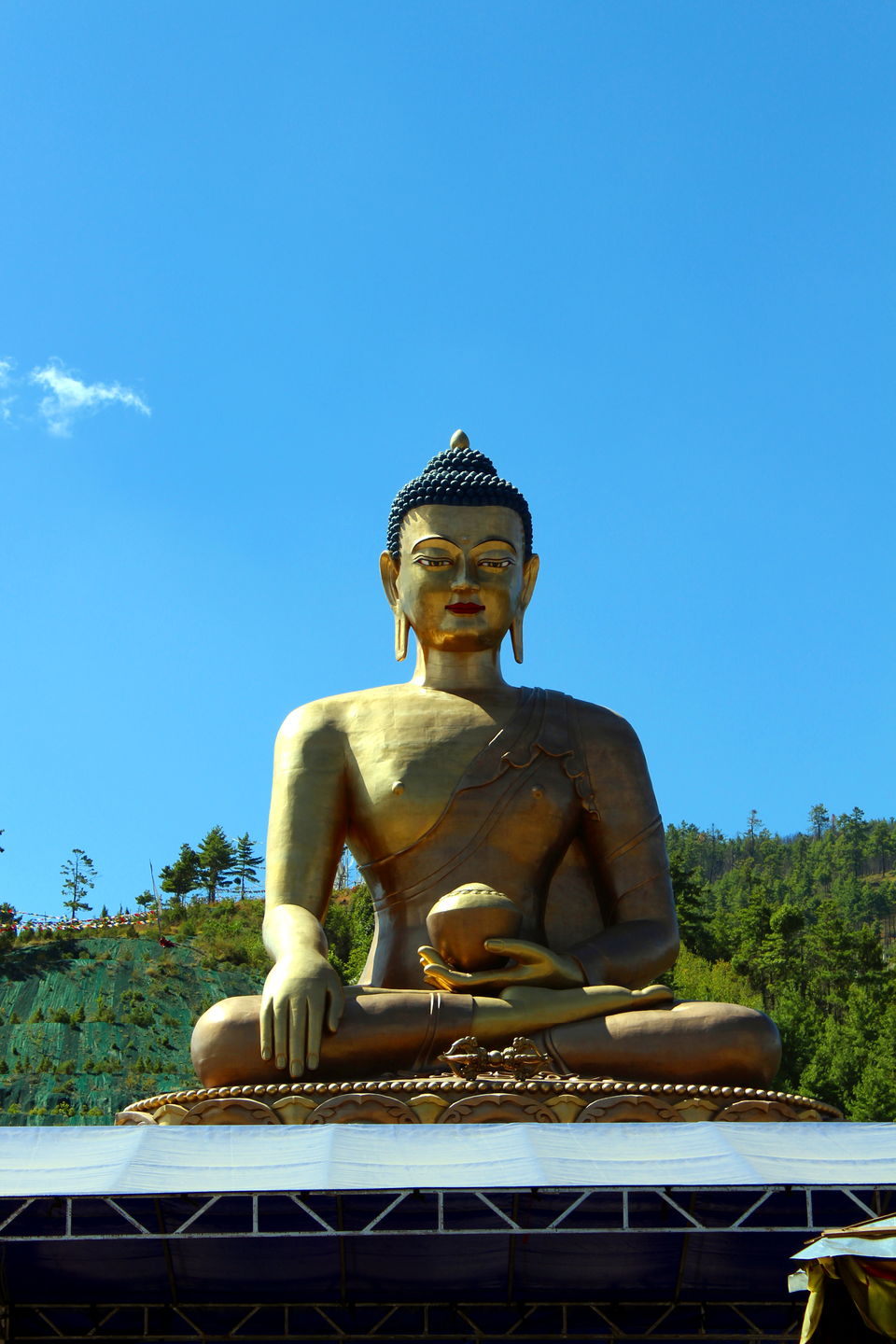 After visiting Sikkim, my plan was to visit Bhutan on a bike for 5 days.
I entered the Bhutan border from the Jaigon, West Bengal. Just a wall separated the two countries. The Bhutan side of the border is called Pheuntsholling. Whereas there is a huge mess and crowd on the Indian side of the border, its calm and peaceful on the Bhutan side.
Citizens from SAARC countries don't require a visa to travel to Thimbu.
You'll need an Entry permit from the Immigration office situated around 100 meters from the Bhutan gate.
The office opens at 9 AM Bhutan time. You can fill out a form which they give out. Other documents that are required-
• Passport or Voters ID copy.
• 1 Passport size photo
• Tour itinerary- Rough plan on an A4 size paper on your itinerary in Bhutan.
a. It can be as simple and plain as below-
i. Oct 16- Reach Thimbu from Pheuntsholling.
ii. Oct 17- Local sightseeing in Thimbu.
iii. Oct 18- Visit Dochula Pass and stay overnight at Paro.
iv. Oct 19- Tiger Nest
v. Oct 20- Chele La Pass and travel back to Pheuntsholling.
vi. Hotel booking receipt from Thimbu or Paro, the place you intent to visit first. In case you don't have one, there are some agents around there who could help you out with the room bookings. They would charge anything between 200 to 500 Rs.
Once the individual permits are issued, it's time to apply for your vehicle permits issued at the RSTA office which is nearby. You can get the application form from the nearby Xerox shop. Documents required are-
• Vehicle RC copy.
• Insurance copy.
• Driving license copy
• Pollution certificate copy.
• Authorization letter if hired vehicle.
• Individual permit copy issued from the Immigration office.
Once you submit the form, then you need to make a payment of 100Nu/- per day of your trip in Bhutan. For e.g. if you plan to be there in Bhutan for 5 days, then you need to pay 500 Nu/- to the counter. Once you get the receipt of payment, you need to take it to the counter where you submitted the form initially.
The whole process depending on the crowd would take around 30 minutes to 3 hours. When I applied, there were loads of agents/ drivers applying for the same and it took us close to 3 hours.
Other important points to note
• Note that, Immigration office does not encourage solo travelers. I would suggest you to reach the immigration office early and hunt for other travelers and you can tag along with them with applying for permits. The permits are issued individually and if required you can go about with your trip individually.
• The roads towards Thimbu from Pheuntsholling is good. There is a stretch of 30 Kms or so which is narrow and curvy. If you are on 4 wheelers you will have tough time navigating between the heavy trucks on the road.
• If you're on a bike, try to reach Thimbu before nightfall. Though the roads are good, they are no lights or reflectors on the road. Riding through the curvy unfamiliar roads in the night becomes a challenge.
• Cheap accommodation at Pheuntsholling- Punjab Grand Hotel.
• Make sure to switch off your mobile data once you enter to the Pheuntsholling. The call rates as well be in International roaming rates. I accidentally kept my mobile data on in my postpaid phone connection and learned it the hard way.
• Try to withdraw as much money from ATM in Indian side for the entire trip before travelling to Thimbu. There will be additional transaction charges if you use the ATM card in Bhutan.
• Immigration and RSTA offices are closed on Weekends.
Food/Drinks to try
• Suja Butter tea
• Ema datshi and Kewa Datshi
• Jasha maroo
• Zum Zin Peach wine
Thimbhu
Thimbu is a beautiful city with calm and helpful people around. There are no traffic lights in the city, all the traffic junctions are regulated by Traffic police. You won't see people using horn on the roads.
• Hotel stays can be pretty expensive here. I stayed at Hotel 89 paying 1500NU/-. There was no electricity for 3-4 hours in the morning. The receptionist said those where the power cuts imposed by the government. Rooms where worth not more than 800 NU/- in my opinion.
• Try to get some accommodation somewhere near to Clock tower square.
• Almost all hotels serve non veg food and alcohol. Finding pure vegetarian hotels here would be a task.
• Places you can visit-
o Buddha Point- try to make it early in the morning as it could get really hot later in the day.
o Thimbu Chorten- entry fee of 300 NU/- per person.
o Tashichho Dzong (9AM–5PM, 5:30–6PM)- I was not aware of the timings and couldn't see the Dzong.
o Ludrong Memorial Garden, this is a garden besides Tashichho Dzong. A well maintained Garden that could be a treat for a photographer
Dochula Pass
Dochula pass is a must visit if you are visiting Thimbu. It's close to 24 KMs from Thimbu and the roads are in good shape.
Similar to the two permits you got done at Pheuntsholling, you would have to do the same for visiting Dochula.
RSTA office- There is one room in the ground floor of the bus stand building where you would need to get the vehicle permit. No payment required to be done here. The copy of the permit you got from the immigration office for Dochula would be required here.
Paro
Paro is a village around 50 kms from Thimbu. This village has the sole international airport in Bhutan.
• For a village, the hotels here are very overpriced.
• Hotel All Seasons. There are 2 of them. The old one has cheaper rooms. I stayed for 1000NU/- per day. It was not worth more than 600NU/- in my opinion.
• You could try the Jigsel II Buffet Restaurant (Near Bank of Bhutan). You can get buffet lunch and dinner for 150 NU/-. All the dishes are in Bhutanese style and is worth trying. Of my entire 5-day trip, this was the best place I had food at.
Jigsel II Buffer Restaurant- Kuenga Norbu- Ph:+975 1787 1369
• Places to visit-
o National Museum- 25 NU/- entry fee for SAARC citizens.
o Rinpung Dzong- 300 Nu/- entry fee for all.
Taktsang
• Popularly known as Tiger Nest.
• Its 10kms from Paro village.
• Try to start from your hotel at 7 AM or earlier. Once the day gets older, it will get hotter and there will be more crowd.
• 500 NU/- tickets per head. The tickets need to be bought at the base of trek start point.
• Try to carry some snacks or drinks along with you for the trek.
• There is a canteen midway through your trek which charge 120Nu/- for a cup of coffee and 4-5 biscuits.
Chele La pass
The place I missed to visit due to some bike issue I had. Visiting the Chele La pass doesn't require a permit.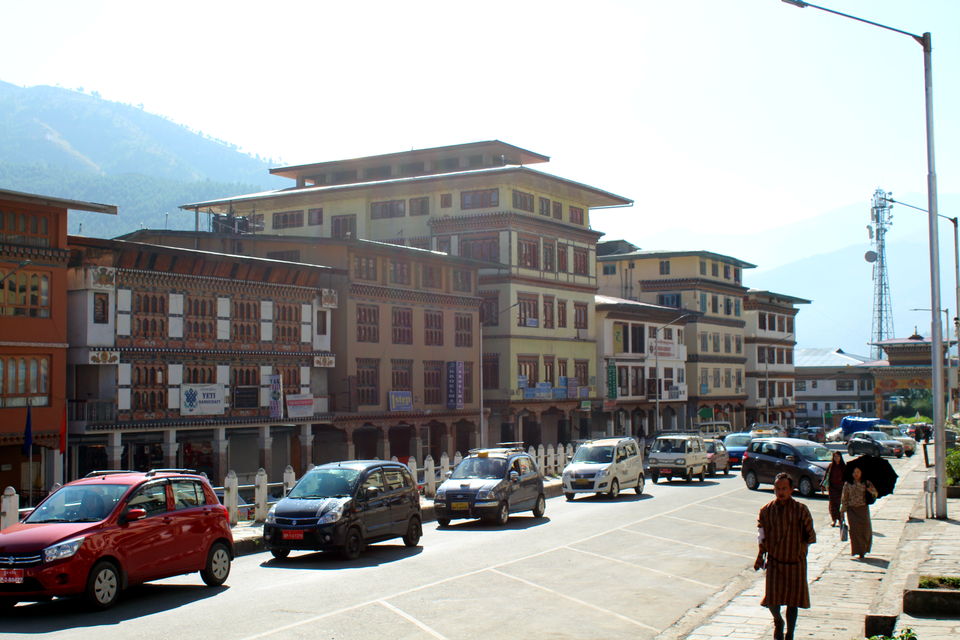 A city snap taken near to Clock Tower Square