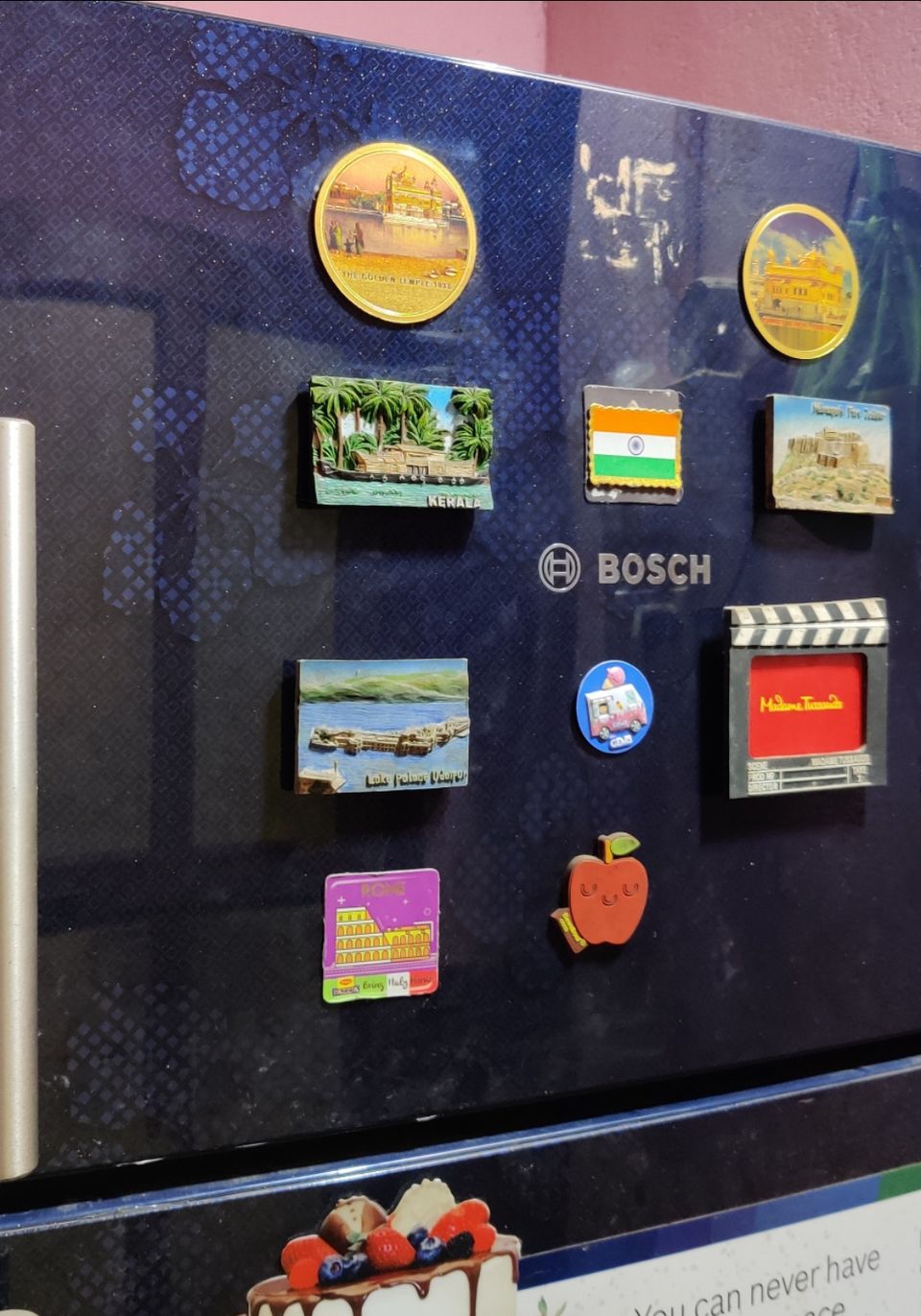 My soul is a kinda magnet which gets attracted towards the places which I travel and gets attached to it.
As a token of memories and to cherish them for lifelong I end up spending some bucks on stuff like authentic sweets or sometime clothing to small mementos like emblems , stickers ,idols and fridge magnets.
Ohhh...Fridge magnet!!! I grew up so fast actually and when i discovered myself as a wanderer , that gave me opportunities to explore the world around , learn new lessons and make more memories for living the healthy and better life.One such way to cherish my those beautiful memories is the Fridge magnet.It was first introduced to me by my father in my early childhood wherein he brought me two sets of magnets which still take me to that golden era where people used to find happiness in small small things .Just the legacy to this i eventually started collecting such magnets on my various travels. So there is a small collection of magnets from various places I have been to and also from my bucket list . They are, Amritsar's Golden temple, Backwaters of Kerala , Mehrangarh fort and Lake palace of Rajasthan, Madam Tussauds of Delhi, Colosseum of Rome, etc.
Amritsar's Golden Temple :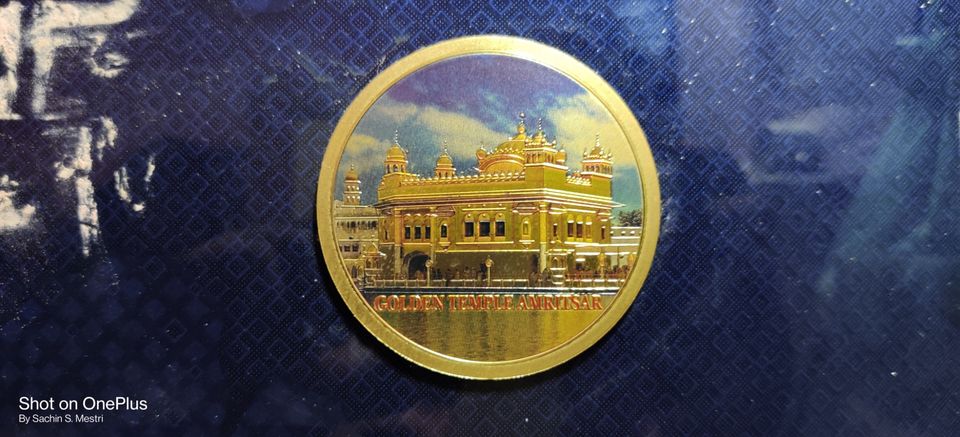 This place is the most closest to my heart as whenever I visit to this place i find my self Lost and Found in this divine shrine. I oftenly sit for hours peacefully attending continuous bhajans performed in the temple. One can also involve him/herself as a helping hand in preparing and serving the holy food called "Langar" popularly known as SevaBhav.
Do's and Dont's at temple vicinity:
Do Not litter around in the vicinity.
Do Not throw food for the fishes in the lake.
Do Maintain silence and be in a Que while entering the temple.
Note : During Amavas crowd is expected at large.
Golden temple has got his own glitter as it gives two different looks i.e. Sunshine Gold and Nightscape Gold so do visit the place during daylight and night too.
Backwaters of Kerala :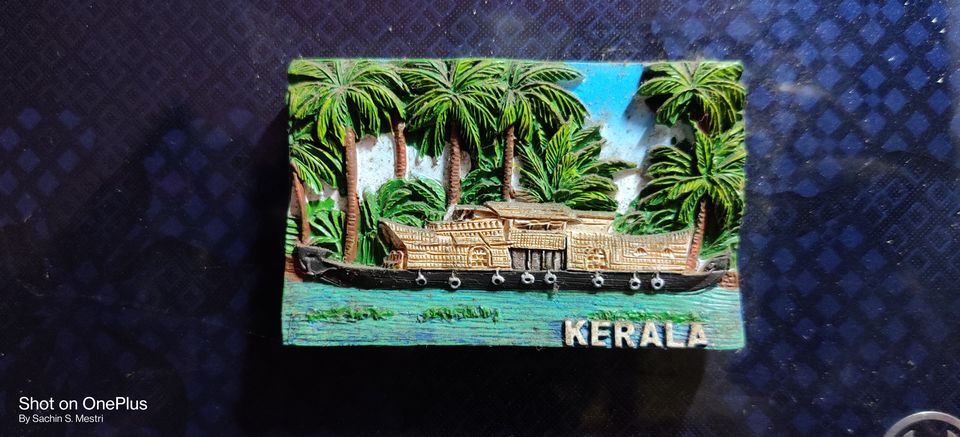 Alleppey or Alappuzha is one of the best tourist places in Kerala with house boat cruises that always fascinate a wide range of tourist.The scenic network of canals and lagoons offers you the feeling of being in Italy and hence known as Venice Of East. The houseboats of Alappuzha are the reprise versions of Kettuvallam derived from Malayalam word Kettu means living structure and Vallam means Boat from olden days.These boats are well equipped with comfort as well as luxuries like AC rooms, modern toilets,Cozy living rooms a kitchen and my most favorite balcony.They also serve the refreshing Toddy drink. So come and explore more to get unwind over the floated life sailing across the lush green village fringed with coconut trees .Also famous for boat races,marine products and coir industry
Winter is the best time to visit and closest airport is Cochi International Airport at a distance of just 75 kms. State transport and railways serves the cheapest mode to reach Alleppey.
Mehrangarh Fort, Jodhpur - Rajasthan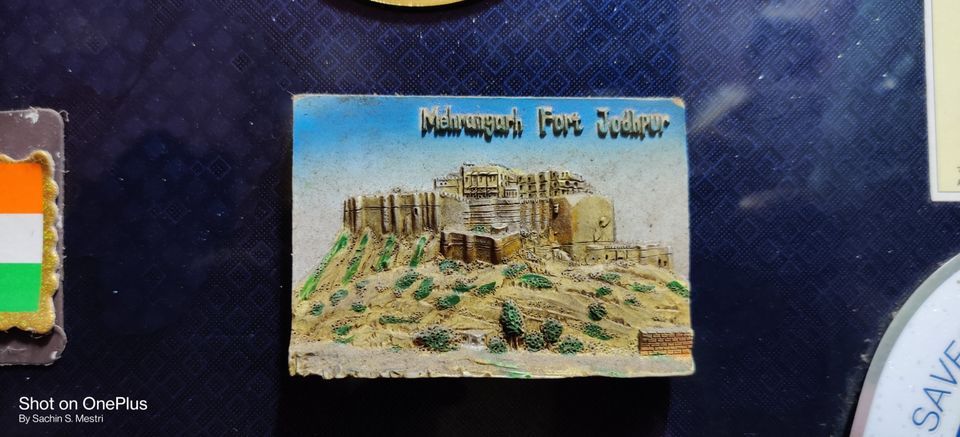 The Mehrangarh Fort Stands tall on the cliff exhibits the symbol of pride and splendid architecture making it one of the magnificent forts of Rajasthan. Built in 1459 this fort has seven gates serving specific purpose during olden era.The fort has its own museum with lots of artifacts like armory , paintings , turbans ,textiles,Wood craft,etc.The fort opens for tourist at 9:00 hrs.The temple of Nagnechji is located on the extreme right of the fort. Said fort was the shooting location for many Hollywood and Bollywood films like The jungle book (1994), The dark night Rises (2012),Awarapan ,etc.The fort gives Wide Panoramic view of the blue city and also looks fabulous after sunset when city glitters with night-lights.
Best time to visit is in winters especially from October to March.
Nearest Railway Station is : Jodhpur
So why don't you plan a trip to this awesome fort...Give a thought!!!
Lake Palace Udaipur :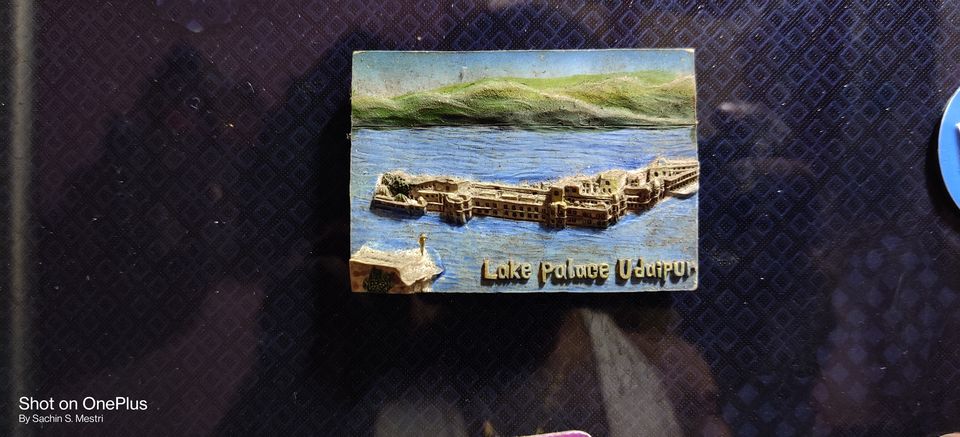 The palace turned heritage hotel is located on the island of Jag Niwas in Pichola Lake of Udaipur. The picturesque view of sunrise and sunsets over the palace in blue water is eye soothing .Trip to city palace is incomplete without a boat ride offered at the price of Rs.400-600/- for adults and 200 for childrens. The Sunset view is magical as the color changes to Orange from afternoons Gold and Morning's blue.During night palace lights reflects on the water giving a spellbound sight, so i think you should go and add this to your bucket list.
Madame Tussauds , Delhi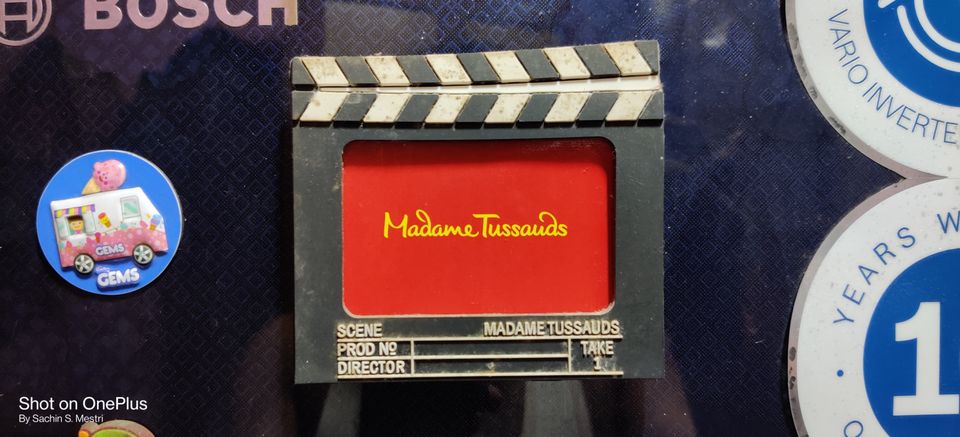 As of now I couldn't make it to visit Madame Tussaud's of London so I gave a thought to visit this twenty third location of Tussauds here in Delhi. This wax museum showcasing around 50 well known celebs like Amitabh Bachchan,Shahrukh, Salman , Dr A.P.J Kalam,Gandhiji, Modiji ,Micheal Jackson , Lady gaga, Lionel Messi, Ronaldo,Beckham, Sachin Tendulkar, Katrina Kaif, Scarlett Johansson,Kim Kardashian and many more.The duration of museum visit is 02 hours and its open to public from 10:00 am to 06:00 pm .
Nearest Metro station is Rajiv Chowk gate and being located in the heart of Delhi one can access this place by public and private transport to book your fun ride.
Colosseum , Rome :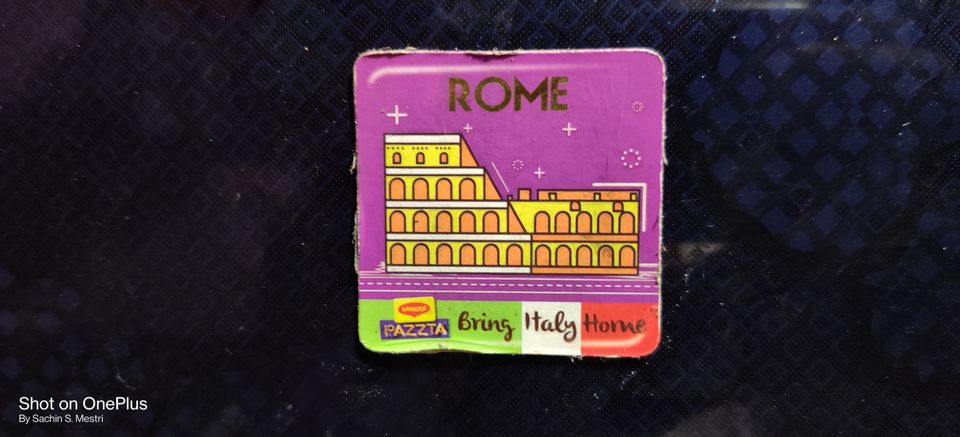 Since i haven't been to Rome but being the travel freak i always go through the travel related literature to know about the places around the world.One such place being listed in my bucket list is Colosseum .Rome is capital city of Italy and undoubtedly one of the most beautiful cities in the world.The rich Roman art and architecture is the reason to admire and Colosseum is the classical impressive historical monument. This amphitheater is the symbol how gladiators fought for their life in the arena.Admission tickets can be booked online .You might also look out for Roma Pass or SUPER ticket and if you don't want online tics , the Que onsite is long enough and can fetch ticket from Palatino. Its open for weekdays (Mon-Fri) and close on Weekends . Weekdays timings are 10:30 am to 04:30 pm.
So this Charismatic city will not disappoint you for sure , so if you are on Europe tour don't forget to highlight Colosseum on your travel map.
Thats it from my fridge magnets stories and don't forget to follow me on Tripoto as Sachin Mestri and on Instagram @routecase for my travel stories.