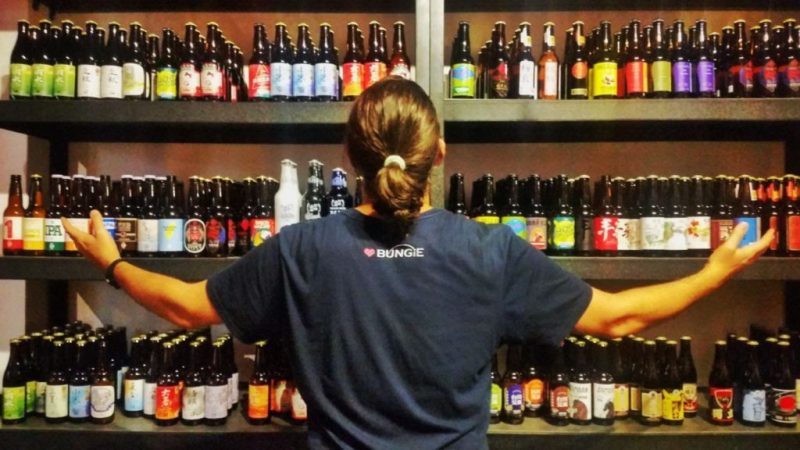 Are you going to Taipei and you like craft beer? You are in luck!
The vibrant capital of Taiwan is one of these Asian cities with many small breweries trying to discover, show and prove people that beer is much more than industrial lagers. Craft beer is here!
We lived the whole boom of craft beer in South Korea. We lived many years in Seoul and saw the first craft breweries boosting and becoming a common option for drinkers escaping the green bottled soju. In the last 3 years we saw a bunch of new breweries gathered at festivals and teaming up with the trendy eateries to offer the best combination and seek recognition among the millions of Koreans who crave good beer, or at least, new beers.
On our world trip, we include beer on our checklist. We make sure we try some local beers and see how the local culture and the local products influence the flavors of beers.
We had tried some craft beers in Hong Kong, Japan, and of course, South Korea. So, we were very excited to try some of the craft beers made in the exciting and modern country of Taiwan.
In Taipei, in the Zhongzheng District there is a bustling area surrounding Ximen MRT Station. In involves many franchise restaurants, coffeshops, street vendors, bars, nightclubs, street perforfmers... Those who have been to Hongdae in Seoul or Harajuku/Shibuya in Tokyo will know what we mean.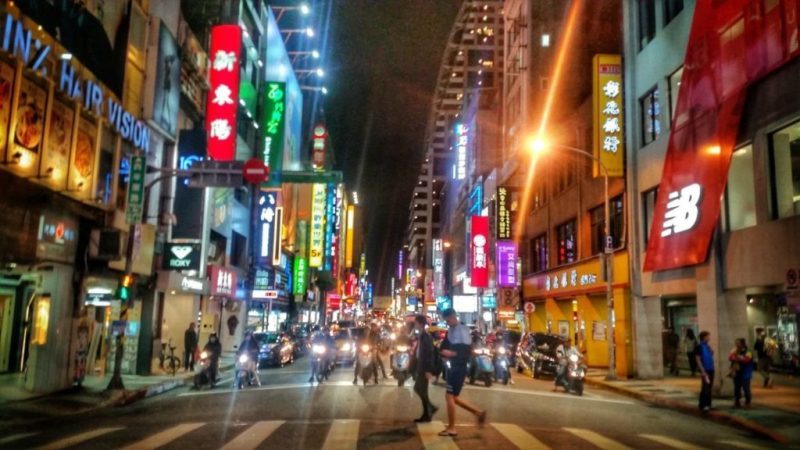 The day we went to the Driftwood we had a long day visiting the city and the outskirts, and on the way back to our room we just wanted to chill and enjoy some hoppy brew. So we started from Ximen MRT Station and explored the zone a little. We want to recommend visiting The Red House, a red-brick western-style building from 1908. Used originally as Taiwan's first public market, and turned into a cultural and arts space a decade ago. The young designers shops, local crafts and arts are interesting, and on the outside there is a bunch of bars and some club the keeps the place alive until late night.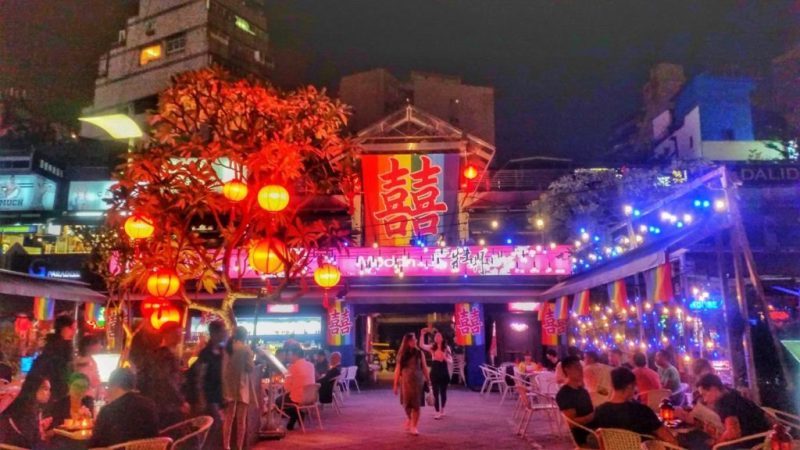 Once at the Driftwood, the kind staff offered us a table and we found out the place is connected to Hotel Papa Whale from the corner.
Driftwood is home for Taihu Brewing, one of the Taiwanese craft beer pioneers. Releasing new brews and innovating constantly. They won some international awards in the last two years.
As peopl e interested in art, design and visuals, we pay special attention to packaging design. And we can say Taihu does too. They have a solid image and very attractive design for their cans. We love looking at their cans and how they play with colors, shapes and naming their beers. Crafting beer is a creative process that doesn't end when the beer is bottled. We love people who express their personality not only on their product but also on the looks. We can say that Taihu and Driftwood got us mouth-watering even before looking at the menu.
Sorry, w e know th e main topic of this post is beer. But we can't help getting excited and trying to pass on the emotion we got as we were there, deciding what beers to order.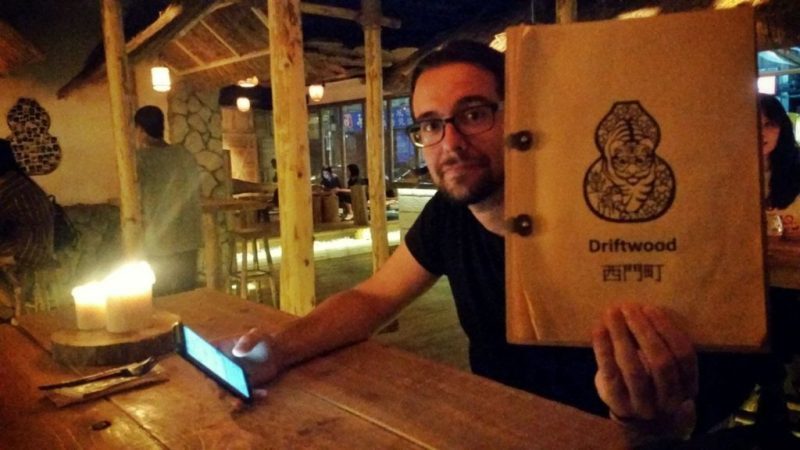 We first had a Sour IPA, as the name says, it had a light acid taste combined with not too hoppy flavor. I (Jordi) love sour beers and the first words out of my mouth after trying were: "Feels gooood!!". I have to mention that was the first craft beer of our trip, so, yeah, it felt really good. Hyekyong choice was the Taihu IPA, an above average IPA that got her smiling since the very first sip. We accompanied the beers with some wedge fries and their unexpectedly spicy yet delicious signature chilli chips.
Driftwood has a good selection of beers on tap rotating. We couldn't find anywhere their current selection and we don't know if they post the updates online. But we are sure you'll find some beers of your taste among their own taps and guest ones.
Before leaving we saw on the menu they had a new beer that just came up recently, named 'Love Has No Label'. Some purple color cream ale exp erimenting with vanilla flavor and some lollipop aftertaste, 'butterflies' is also a word that quite describes it. This beer was released just a few days before the popular Taiwan LGBT Pride, hence its name. Quick reminder: Taiwan is one of the most open country to LGBT in Asia. It has a strong movement and active community and could be the first Asian country to legalize gay marriage.
We left Driftwood quite happy and hope to have a chance to try more Taihu beers in the future.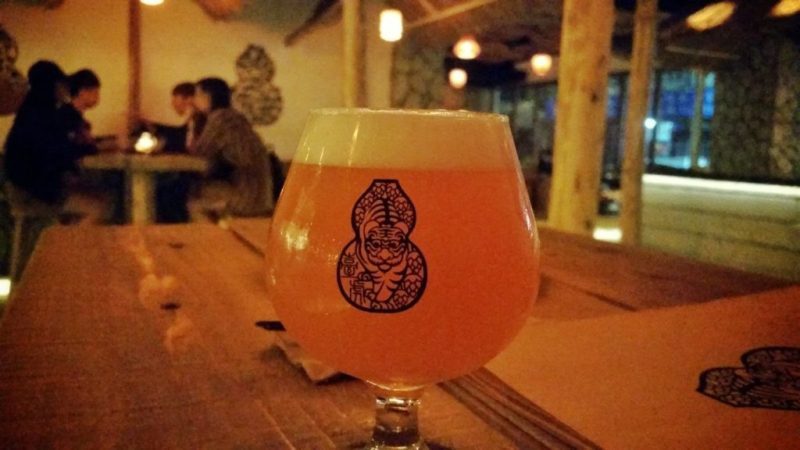 The other place we tried was The 58 Bar. On the same street as Driftwood (Section 2, Kaifeng St.).
This place is rather small but their bottle rack is impressive and they also have a wider food selection. The staff seemed happy to recommend among their taps and we took a while to decide among their long shelves.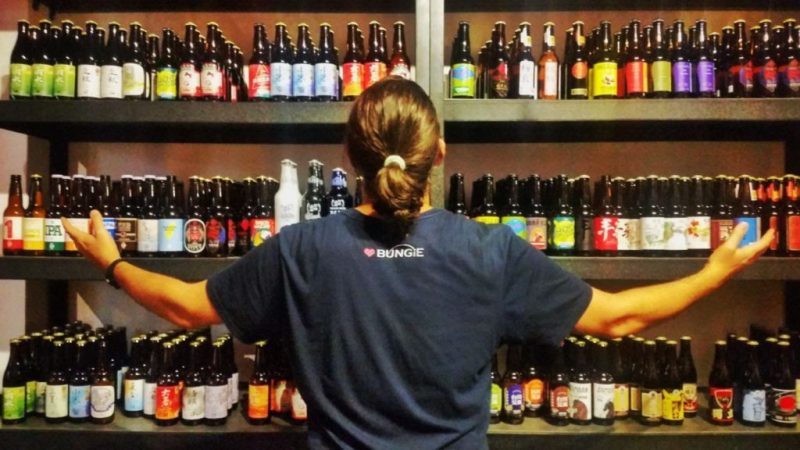 We ended up trying a Major Heat Taiwan Jasmine IPA by Taiwan Head Brewers Brewing Co. which was interesting as we could feel that Jasmine tea notes, but not impressive, just interesting. And the staff recommended the #1 Pale Ale by TW 23 Brewing Company, an American pale ale that goes above standards with some malty, citrus, floral and fruit notes.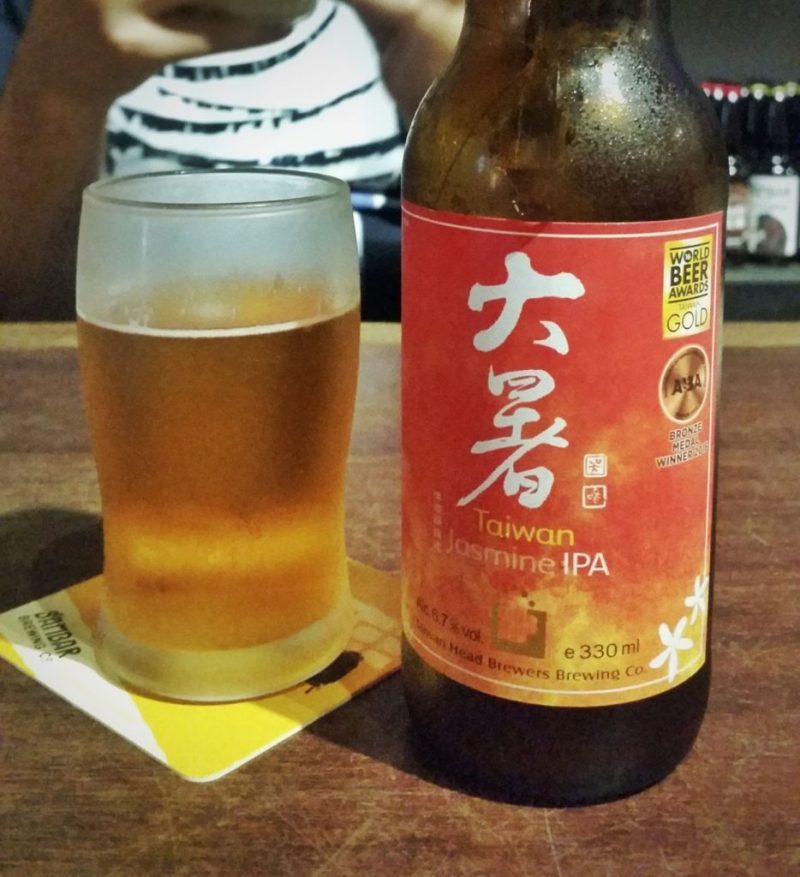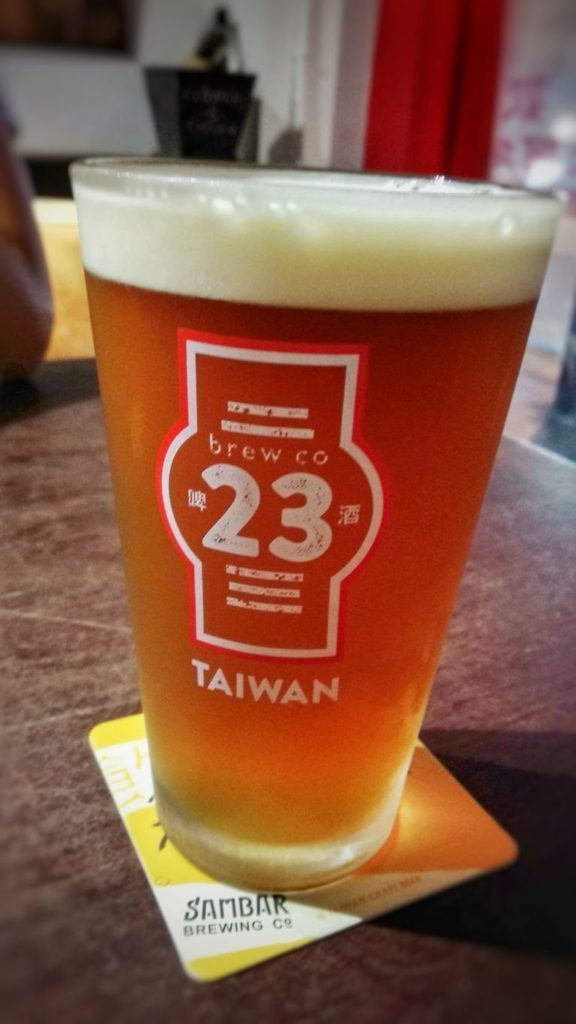 We were quite satisfied with those two, but since it was our last night in Taiwan, we couldn't help but trying some different one: The Cocoa Fountain, by Indie Brew, a Taiwanese nano brewery with some international awards.
It was a very dark porter that the more we drank, the more chocolatey it felt. We loved it!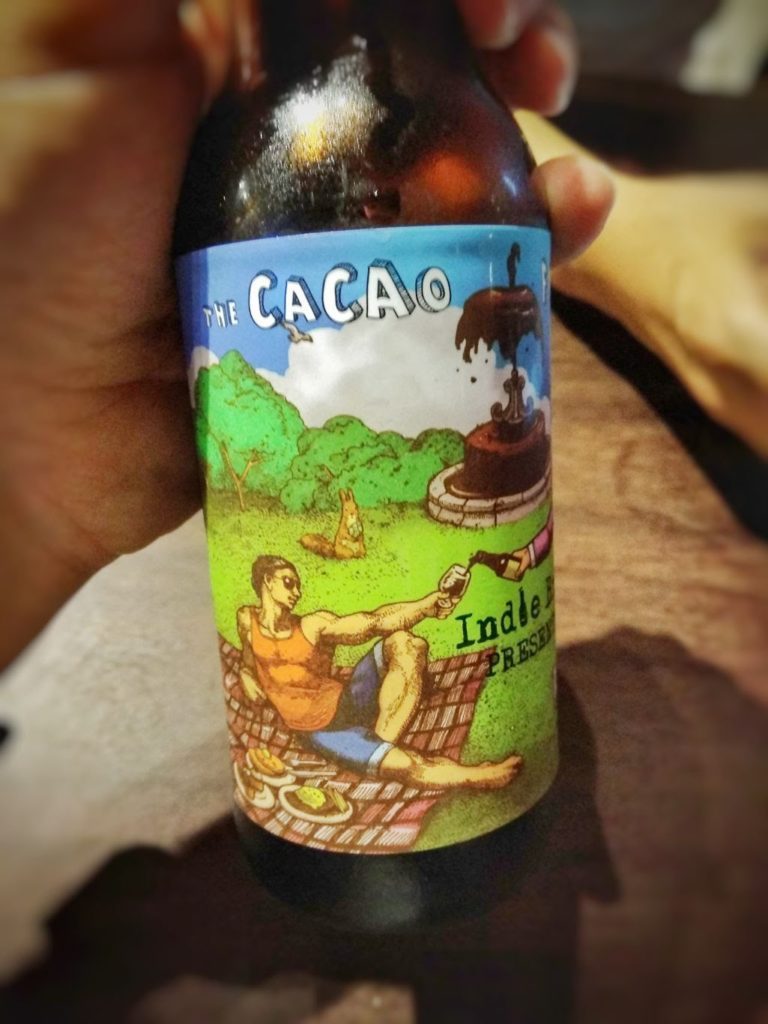 Last but not least, we were happily surprised that some restaurant at the TPE Airport had some craft beer on their shelves. So, on our last meal we enjoyed an American Pale Ale by Taiwan Head Brewers. Quite a regular APA with no remarkable notes. But happy to find it in a place like an airport, where usually they tend to have only the major industrial beers.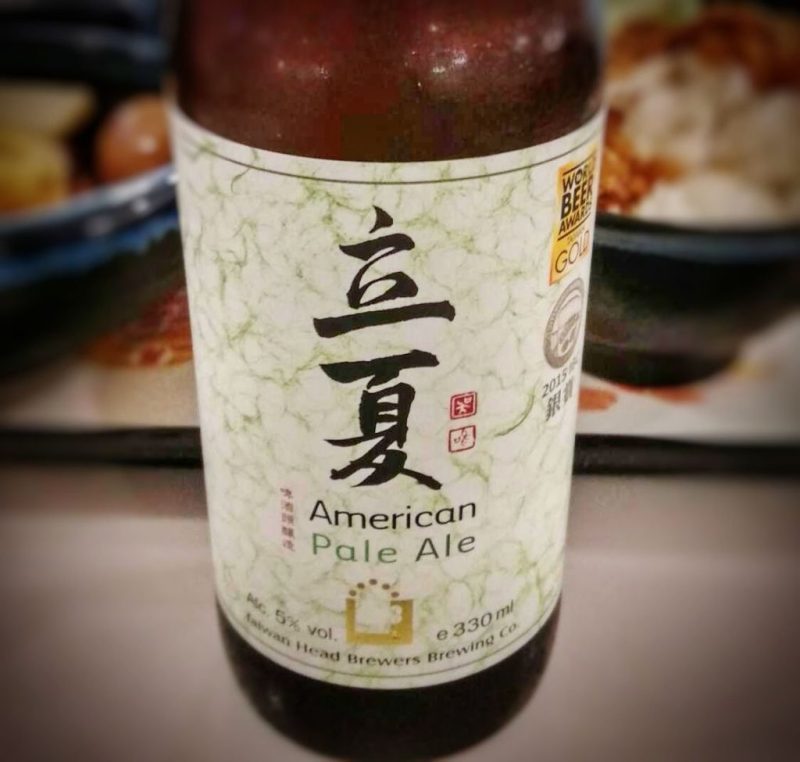 We left Taiwan thinking there are so many brews to try and realizing how interesting is the craft beer scene at the moment. We also thought that East Asia has so many exciting flavors to add on the beer, like some spices, flowers and teas.
We hope we can find more Taiwanese beers to try some day.
If you think the two places we mention here are not enough, don't worry. Taipei has plenty of other bars and tap houses to try even more different local beers. The scene is very active and you will find festivals, camping excursions related with beer, and even beer yoga events.
Cheers!