There is a famous quote that "The World is a Book, and those who not travel read only a page." As a Wedding Photographer I get a chance to travel alot but they are all for work purpose. I love to explore new place, meet new people and to love try local food but I do not get time for all these while I am on work.
It was 31st December 2015, and I along with my cousins were having a house party. One of my cousin (Shanu) started sharing about his experience of 1st Himalayan Trek (He has been to many such treks). His experience lit a spark inside me to go for any Himalayan Trek. I googled and I found a trek named Roopkund. I consulted him and he suggested me or rather forced me to book a Roopkund Trek. He said "I bet you won't regret it". I said "Ok! I will see to it". But at the back of my mind I have finalized that, coming year I will definitely visit Roopkund. ​
1. PLANNING FOR THE TREK
The very next day i.e Jan 1, 2016, I started planning for Roopkund Trek. I booked my slot with www.indiahikes.in (I am not promoting any particular company here, there are different other companies also which provide Himalayan Treks ) of May 26, 2016. No, I was not going alone. One of my cousin (Sritanu) also said 'Yes' for the expedition. I had got all the guidelines from Indiahikes on 'How to prepare for trek and How to pack your rucksack for Himalayan Expedition'. I started preparing and as they say Time Flies, Yes, it flew and the day arrived. It was 25th may, 2016, I summed up my work and I was all set to experience the gigantic Himalayas. The weather was amazing and we boarded our flight to Delhi. From Delhi we straight away moved to Delhi Cantt Train Station to catch our train to Kathgodam (Ranikhet Express).
2. FROM KATHGODAM TO LOHAJUNG (BASE CAMP)
We reached Kathgodam Train Station next day around 5.00 AM. There we met our fellow trekkers from different parts of India. All of them are young, energetic ready to conquer the summit ( 15,750 ft) and brimming with adrenaline. We boarded our transport arranged by Indiahikes. It was a 10 hours long drive through hills. While we were on our way to our base camp, I witnessed some beautiful hills along with river flowing sideways. The burbling of river was music to my ears. We reached Lohajung (Basecamp) around 6.00 in evening. There we met our Trek Leader (Jude). After taking our evening snacks our trek leader called us for meeting. He updated us about the weather, how our trek would be like, how to pack our rucksacks and all. After his session we then moved to take our dinner followed by a Good Night Sleep.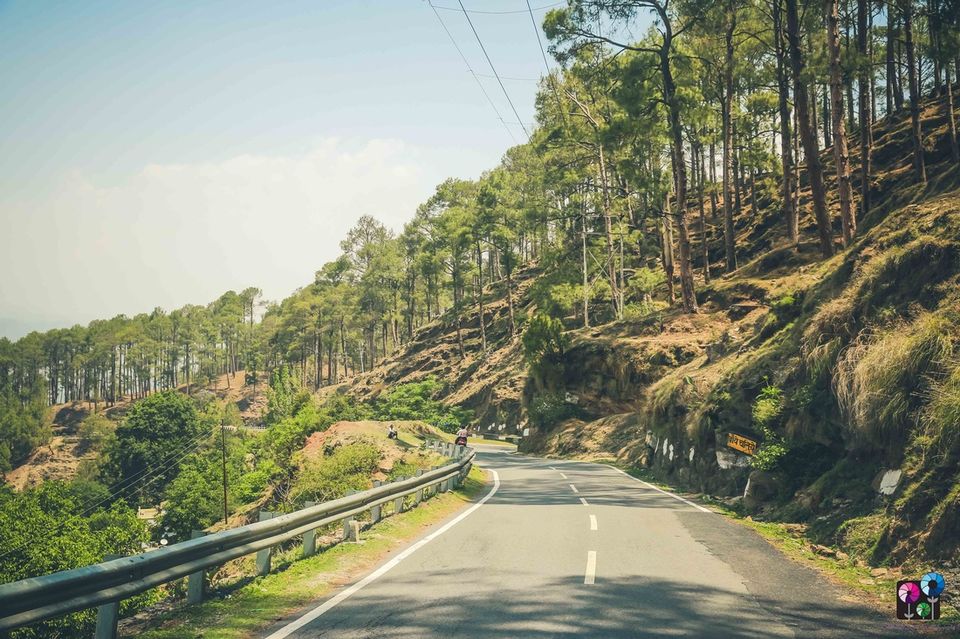 On our way to Lohajung (Base Camp)
3. FROM LOHAJUNG TO GHAEROLI PATAL
The next morning, the excitement of mine was at the top notch. We all gathered and our trek leader informed us about the day's trek. He told us that - "First we will have an hour drive to Wan and our trek will start from there. It will be around 6 to 7 hours tedious trek followed by steep climbing". We then sat on our transport and moved towards Wan. We all were super excited when we reached there. Our trek leader showed us the way from where we were about to start our trek. I went there, looked up and prayed to God for giving me energy to climb up till summit. I took a deep breathe and slowly took my first step. I felt like some miraculous power came into me and from then I didn't look back. While moving up towards GHAEROLI PATAl, I met the most amazing, kind heart'd people. There is a saying that "God keep good people near to Him" and that day I realized it. They were so so humble towards us that my heart felt for them and I was literally overwhelmed by their gesture. They had nothing to do with us but then also they were greetings us (especially kids) with Namaste! For the very first time I felt anyone's greetings. I thought that it was coming from their heart. After clicking few pictures with them, I moved forward and started clicking the beautiful landscapes.
We were walking in deep woods, talking about the wonderful sight. It was a steep accent followed by one steep descent. The bright flowers swaying gently, the sweet singing birds was mesmerizing to ears. The descent lead us to river Nilganga, the great river gushing along and the tall trees standing silent. I sat down and started feeling the silence. That silence leads me to some other world. I realized that "The world is not such a bad place after all. The People whom I met before were the proof of that". There is an ancient chant in Sanskrit: "Yad vaachna na abbhyuthitham": the power and glory that even words cannot comprehend. After a while we all moved forward and reached our 1st camp i.e. Ghaeroli Patal. I was totally exhausted as the trek was a steep accent and by the time I reached the camp, I found myself the last one to reach.
Tents were allotted to us followed by snacks, soups and dinner respectively. We than moved to our tents for a goodnight sleep.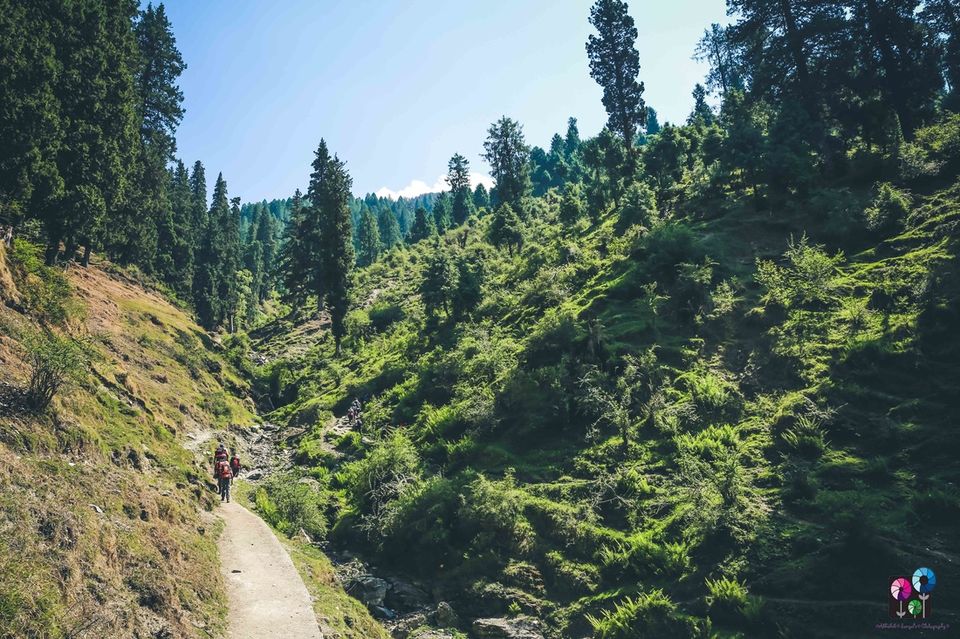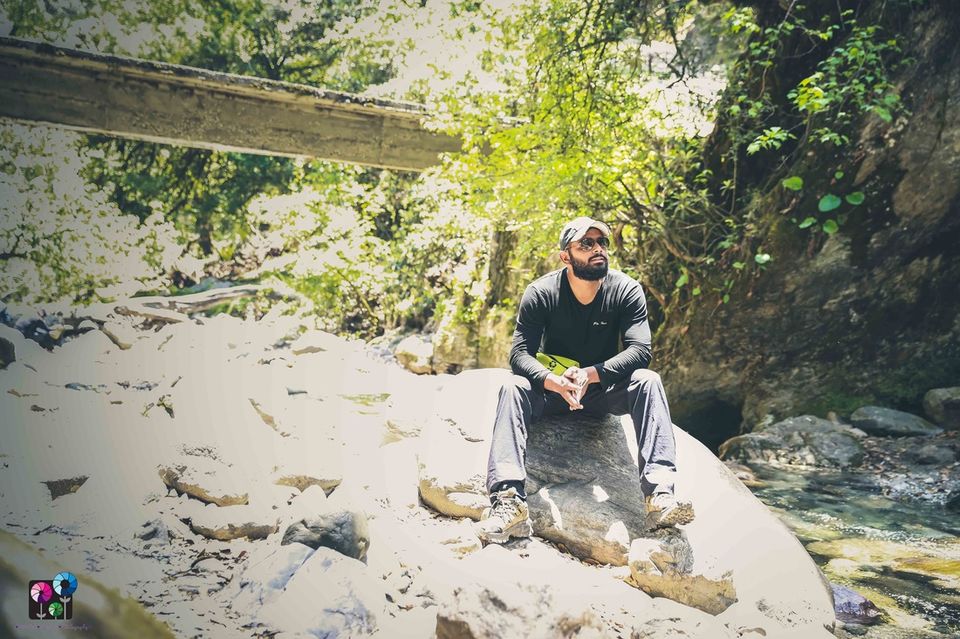 On our way to camp 1 : ​GHAEROLI PATAl
FROM GHAEROLI PATAL TO BEDNI BUGYAL VIA ALI BUGYAL
Bedni Bugyal and Ali Bugyal are two gigantic alpine meadows that blows my mind. They are at an altitude of around 11,000 ft. These naturally landscaped beauties looks like sand dunes covered with green carpet. We enroute the dense oak forest to reach the meadows. The magical oak forest on the trail from ​ Ghaeroli Patal to Ali Bugyal and then Bedni Bugyal is magical to say the least. This dense forest floor is laden with fallen leaves. These golden and deep red leaves crunch beneath feet as we walk through.

We left Ghaeroli Patal around 8 AM. We started walking through the oak forest. I enjoyed the freedom of walking alone without a care. As the day advanced, I began to feel less light - hearted. First my shoulders started paining as the rucksack was slung on my shoulder and it was heavy. Second, my feet were beginning to give me trouble. Having never walked on such steep ascent, I found it quite painful to walk on the rough and uneven oak forest. At the back of my mind, I was thinking of Giving Up, But then I sat down for a while, took a deep breath "You have just Started", I told myself, "have patience, don't give up. Walk the path, the journey has just begun".
After few hours of trek I sat on a rock and thinking of Giving Up again at the back of my mind. I took out my water bottle and had few sips. While I was having my sips, I looked above and the view I saw was breathless. It was like wind kissing the grasses and that's the thing motivated me. It was nothing but the starting of meadows. The view brought chills through my body. I stood up, fully energized and started walking again. Near about half an hour later we reached Ali Bugyal. There we were welcomed by nature in the form of an unending green carpet studded with small yellow and purple flowers. It was very difficult for me to believe that I made it till here at least also for my eyes that suddenly forest ended and grassland started without any gradual transition. Tree line is a line of trees beyond which trees don't grow due to unfavorable climate. We all stayed there for a while, I started taking pictures of that amazing meadows. That place was so amazing that all you need to do is press the shutter button and result will be a great image. After resting there for few minutes we move forward towards our camp Bedni Bugyal. We reached there around 3.00 PM or so. We were welcomed by a nice refreshing lemon juice and after that we were allotted with our tents. We than settled in our tents and I was so tired, I fall asleep although you are not advised to do so because of the fact that you will not get a requisite sleep at night. My tent mate woke me up after few hours because we all were asked to gather at a place as we were about to play some games. I came out of my tent, fresh n up and went to join my team. We had fun playing our childhood games again. After that we all had our soups followed by dinner. After dinner we went inside our tents and breaking all the myths I again fell asleep.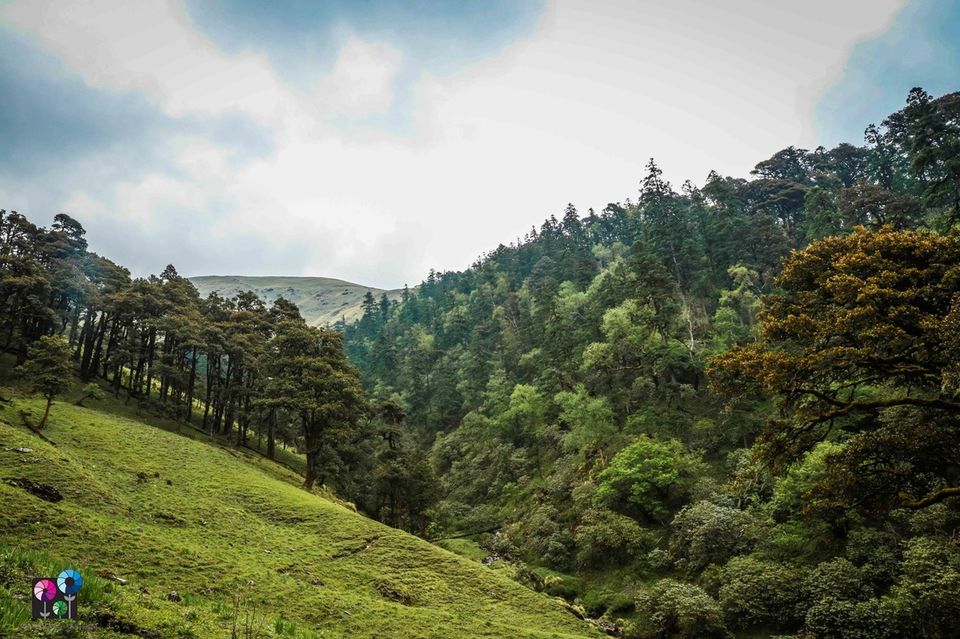 Way to Ali Bugyal. The starting of meadows can been seen.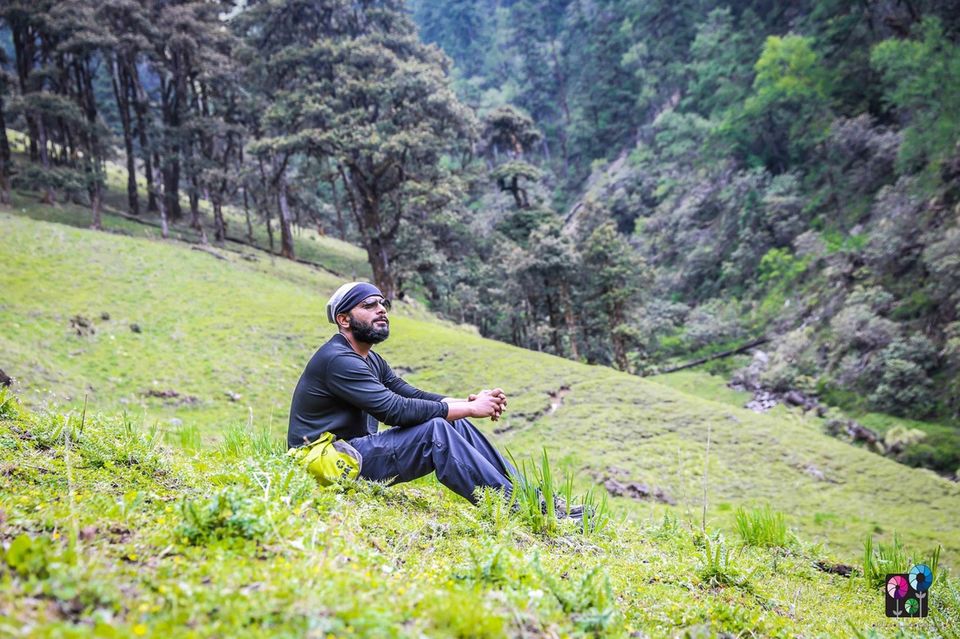 Me resting while we were on our way to Ali Bugyal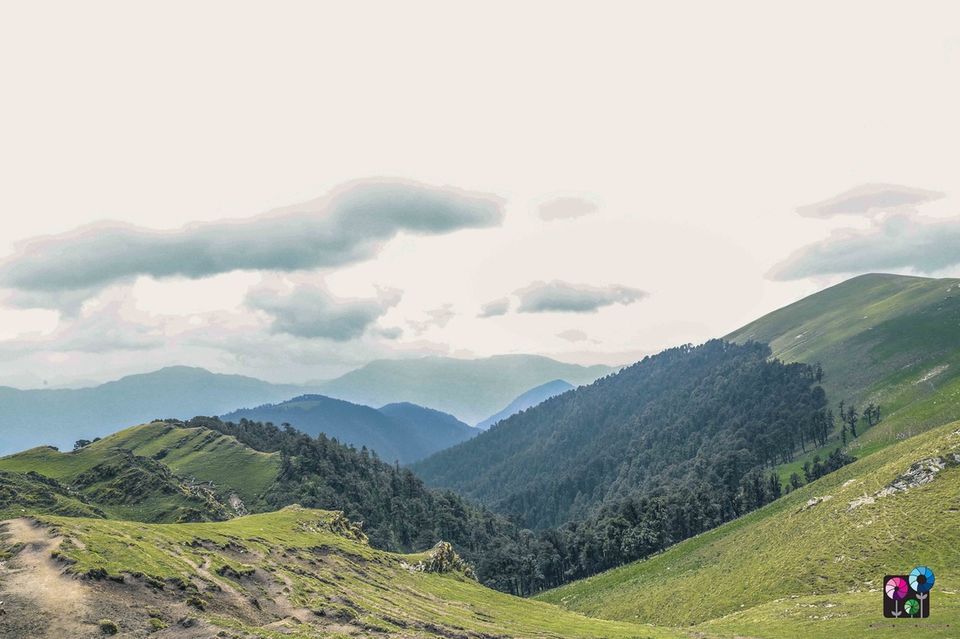 The End of Tree Line at Ali Bugyal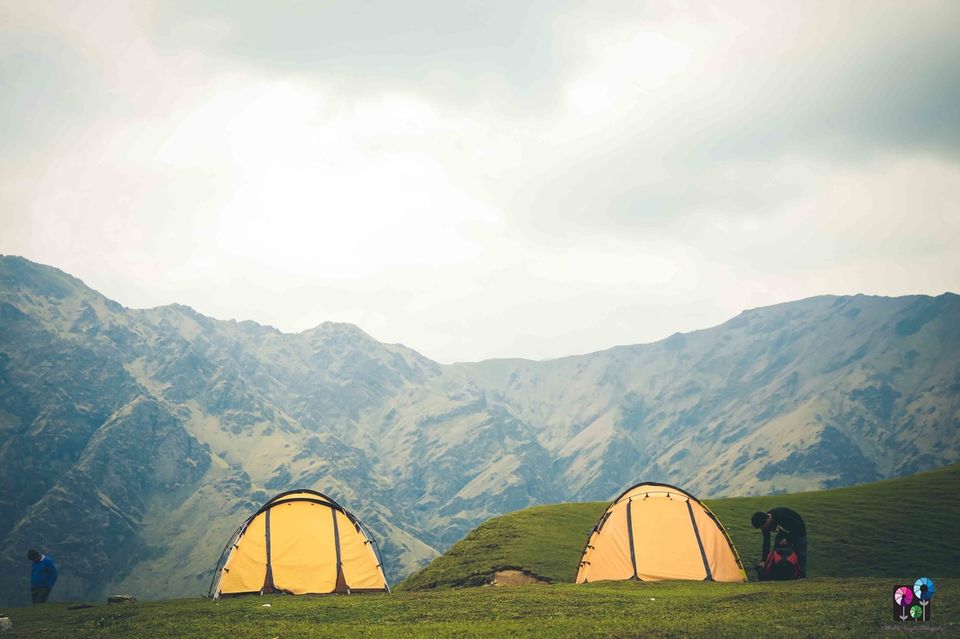 FROM BEDNI BUGYAL TO PATHAR NAUCHANI
Leaving Bedni Bugyal was one of the hardest thing for me. It's serene beauty, vast green meadows and the breeze were the things which was holding me there. But as someone said "Life moves on", ​ keeping that in mind, I packed my bag and along with my team members we all moved towards Patar Nauchali. Our trek leader told us about the weather in Pathar Nauchali. He said "Patar Nauchali will be the difficult camp of all. The campsite will be windy and it's speed may flew off your tents. Also it may rain while you trek and there are chances of Hail Storm. It will a ascent first than gradual descent to pathar. The views will be great if there is no clouds." After this he started our 'head counts'. Head count was the thing which he used to do daily to make sure that we all (Team of 25) were present. After head counts we were set to leave for our next camp. While we were on our way, we saw some trekkers were coming back from summit. We congratulated them and they wished us All the Best. We also took some information about the summit like the weather and how was the terrain be like for them. Their reply somehow increased our excitement : "Just walk and experience the gigantic Himalayas by yourself, Words cannot describe how beautiful it was" ​they said.
Physical inconveniences were the least of my problems by this time. Earlier I used to be the last one to reach camps but now I was the one who was walking at front. It was my mind, which in times of solitude became agitated and, at times, disillusioned. The beauty of the valleys and hills, and the hope that there was someone up there in the snowy heights who would help me find the answers to my questions, kept me going (Yes I do had some questions which was perfectly answered by Himalayas).
It was in the afternoon that we reached Pathar Nauchali. The sight of mountains, the clear water behind our campsite gushed down with great force, momentarily washed away all my physical troubles. I felt calm, peaceful and joyous. Same routine again, welcome drinks followed by lunch and power nap. While I was deep in my sleep, I've realized the breeze turned into wind and I've heard something falling onto our tents. I tried seeking out of my tent and found it's Hail Storm. The wind was icy cold, and there was no one in sight. I decided to stay inside my sleeping bag till the storm stops. After few hours when the storm stops I again tried seeking out of my tent and what I saw forced me to come out of my tent. Still the wind was icy cold but then also I came out. My heart filled with happiness, I ran around my campsite like a freak. I went to edge of the valley and shouted my trout out. I then called my other team members to witness what I saw. By the way I saw the mountains infront of our camp covered with snow which was hours earlier was green. Few minutes later sun rays hit the snow covered mountain. The witness turned a dazzling golden yellow at the tips. My eyes straight away refused to believe what it just saw. I than convinced my heart and soul that whatever you are experiencing now if for real. Watching me outside my tent, all of my team mates came out and started taking pictures. After that we had our same routine - soup followed by dinner and good night sleep.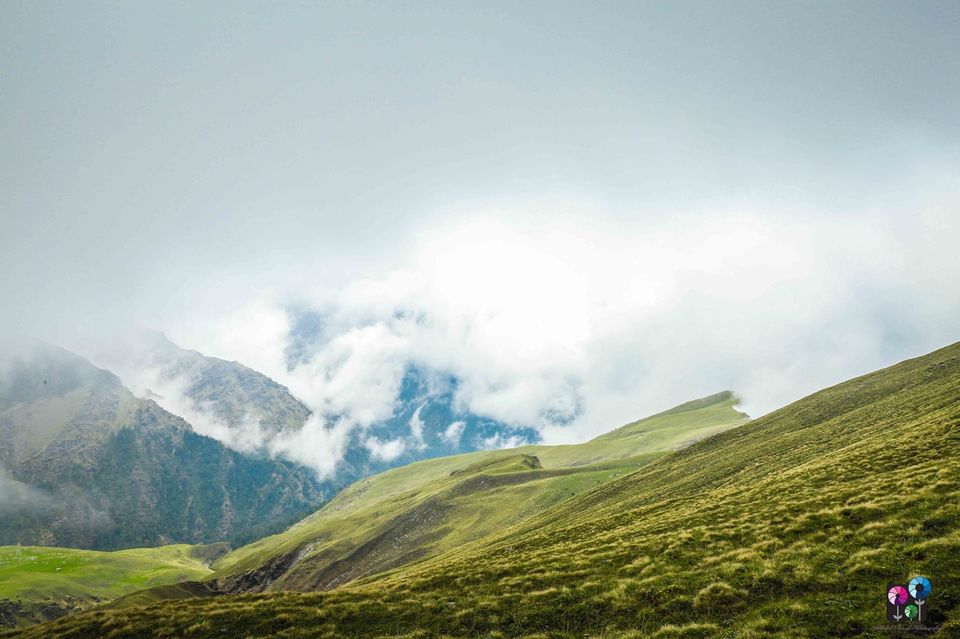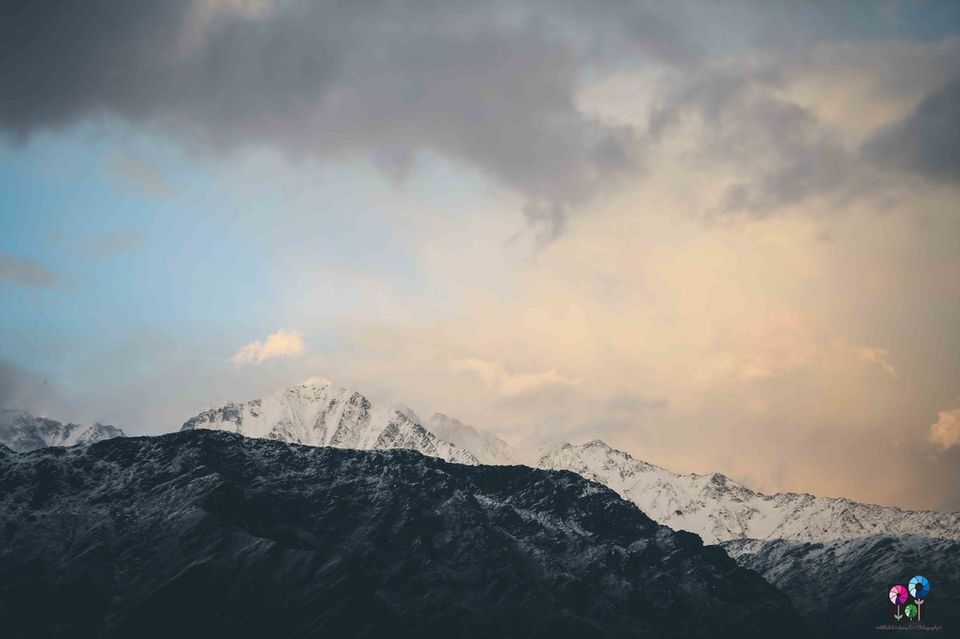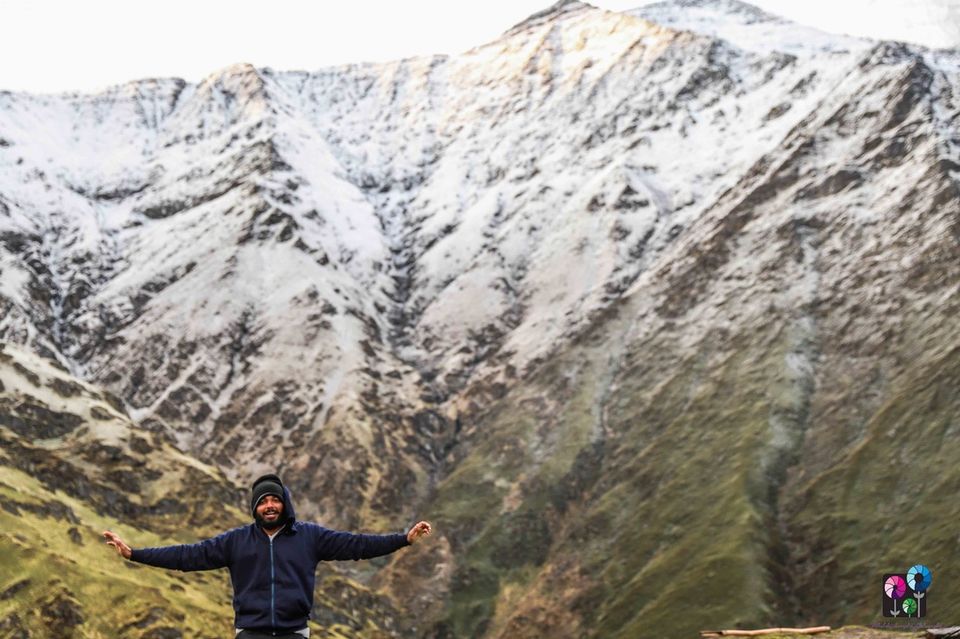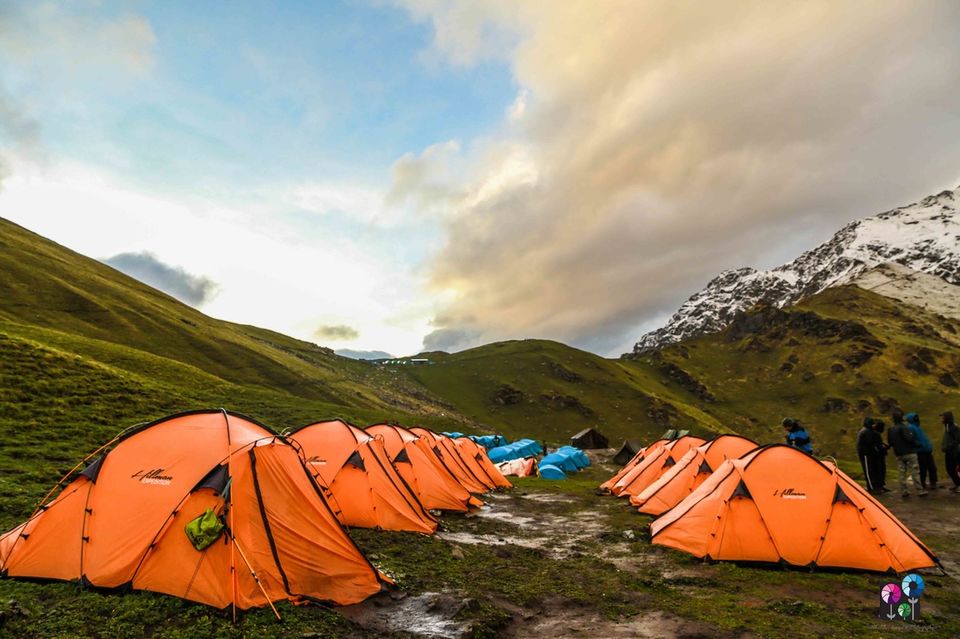 FROM PATHAR NAUCHALI TO BHAGWA BASA
After an unexpected yet exciting day at Pathar Nauchali, today we were all set for our next camp site to Bhagwa Basa. Bhagwa Basa was the last camp site before the summit. Same routine was being followed. We had our tea and snacks, we packed our rucksack and then trek leader called us for head count. After all this we started trekking for Bhagwa Basa. We have been told to carry our ponchos handy because we may witness snowfall on our way. First it was ascent not much steep but after a while the climb became quite tough, and it had become very cold. To add to that, it started drizzling and than snowing lightly. We took out our ponchos and wore it asap. We kept on walking and after few hours of trek we reached Bhagwa Basa around 2.00 PM. I must mention here that it was the best campsite I have seen yet. It was covered with peaks from all 4 sides. You can clearly see Nanda Gunti and Trishul peaks from there. Again welcome drinks were served to us by Indiahikes staff. I was wondering that how they managed to do all this even at this high altitude. Timely service of all necessary things with a smile on their face was really commendable. Our trek leader asked us to gather near food tents after lunch. We had our lunch and as per instructions we all gathered.

Now he (trek leader) introduced us with the technical team of Indiahikes. They were the one who were supposed to made the climb to summit possible. He guided us on, how difficult the final trek to summit would be. He straight away demotivated us just by saying this "Till here all you'd done is morning walk". We all were awestruck hearing that. But than he motivated us and pumped up our hearts by saying his Shayaris. We were all charged up listening to his verses. After that we were given Cramp ons (Cramp ons are the thing which is to be worn below the trekking shoes. It help us to walk smoothly on snow) for practicing, so that we can walk smoothly tomorrow. Firstly it was very difficult for us to walk with it but we some how managed after few minutes. We practiced around for an hour and by the time we finished practicing, out evening snacks was ready. We had our snacks and tea and after 30 mins we had our dinner. We were asked to sleep early because we were supposed to leave for summit around 3.00 AM. We had our dinner and went to our tents around 7.00 PM followed by good night sleep.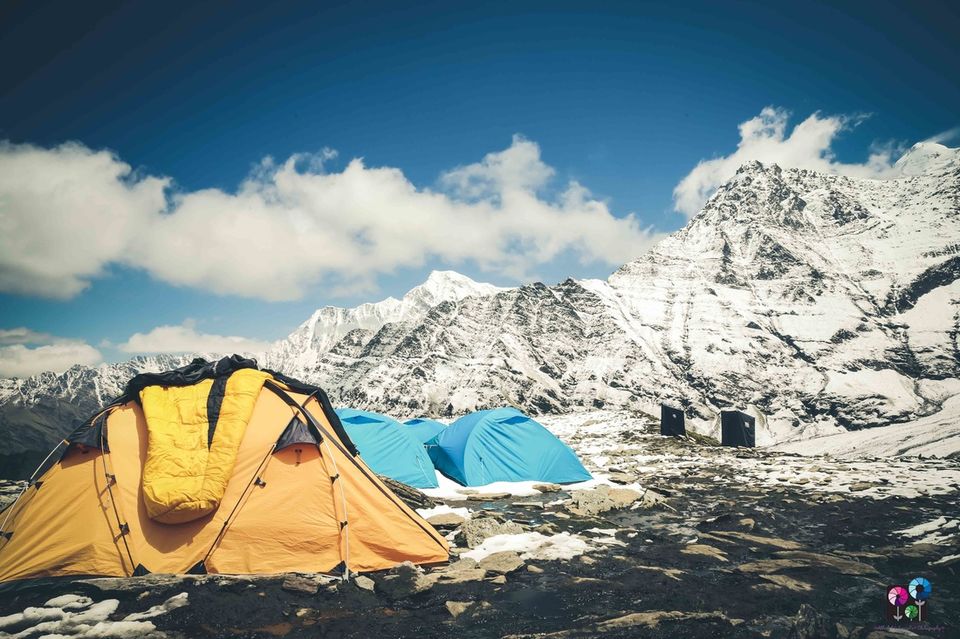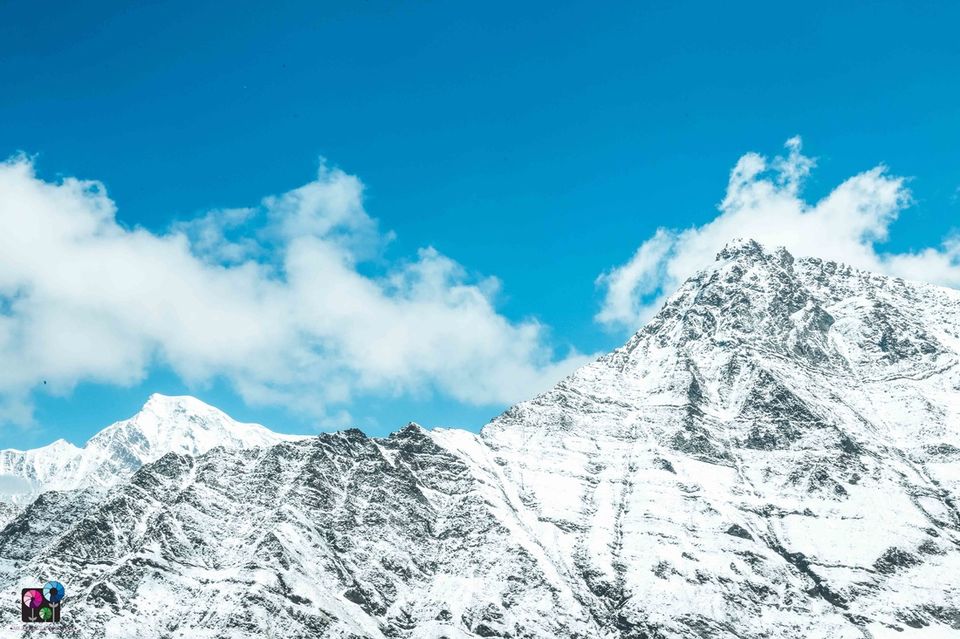 Nanda Gunti and Trishul Peaks from Bhagwa Basa Camp
FROM BHAGWA BASA TO ROOPKUND AND RETURN TO PATHAR NAUCHALI
It was 2.00 AM we got our wake up call. It was freezing outside. I went to washroom (toilet tent) and I found the water inside bucket turned rock solid ice. I'd done with my morning ablutions and got ready for the final destination. The trek leader came along with the technical team to check whether we wore the cramp ons correctly. One guy from technical team came forward and started giving us instructions. He said ​"There is only one rule here - Listen to what we say. Any kind of misbehavior will lead to your termination from Indiahikes team. You are not allowed to take out your water bottles and cameras unless untill we say. If you don't listen to us then it will straight away fix a meeting of yours in heaven or hell as per your KARMA." We laughed after listening this and after his speech we all stood in a line. Our trek leader took our head count and after that we all moved forward to witness the thing which we came for. We were walking very slowly. It was cold, dark and the weather was clear. As they say " Without the dark we'd never see the stars", all the stars we shining. We were walking slowly but continuously. As we were gaining heights it became very difficult for me to breathe even. At the back of my mind I was crying and wanted to give up. I closed my eyes and started singing Coldplay - Fix You. My mind travelled to dimensions I had not even dreamt of before and my consciousness expanded immeasurably. It's lyric gave me some power to reach to top. I was continuously murmuring that song to keep my mind distracted from my physical conditions. We were walking and I saw the color of sky is turning orange. The sun was rising and I found the scene unbelievably beautiful - the ice clad peaks at distance and the diffused tranquil light. I raised my voice and started singing the song now. Lights will guide you home (Cold Play - Fix You) and literally that sentence pushed me little more. The sun had just risen and I found my nose bleed. It scared the shit out of me and I didn't knew when it started. I realized that i f it's scaring me it might be a good thing to try, I rubbed it and told to my self "You cannot giveup here". Also not to forgot, the technical team were shouting and motivating all of us. They kept on repeating "Zor se bolo Jai Mata Di", "Saare Bolo Jai Mata Di" (Religious Chant).
I looked up and found how hard the technical team along with our trek leader were working. As it snowed last night, therefore all the trenches were covered up with snow. They were making path for us by digging the snow. We were walking on it made by them. Finally around 7.00 AM we all somehow reached to summit. I stopped and looked around - the scenic beauty, the heat from sun hitting my body made me cry. I turned back and found my self at the top of the world.The best view comes after the hardest climb and the view I saw and captured was the best till date. Everything feels like an uphill struggle, just think of the view from top. The feeling of making it to summit was immeasurable. I moved forward and saw the Roopkund Lake. It was immensely beautiful. There is a Shiv Parvati Temple at Roopkund - I went there and offered my prayer. We all took snaps and were playing with snow. Around 9.00 AM we all were told to move back to Bhagwa Basa ​as the snow will loosen and make it worse for us to walk over it. We came down around 10.30 AM and after taking our breakfast we all moved back to Pathar Nauchali.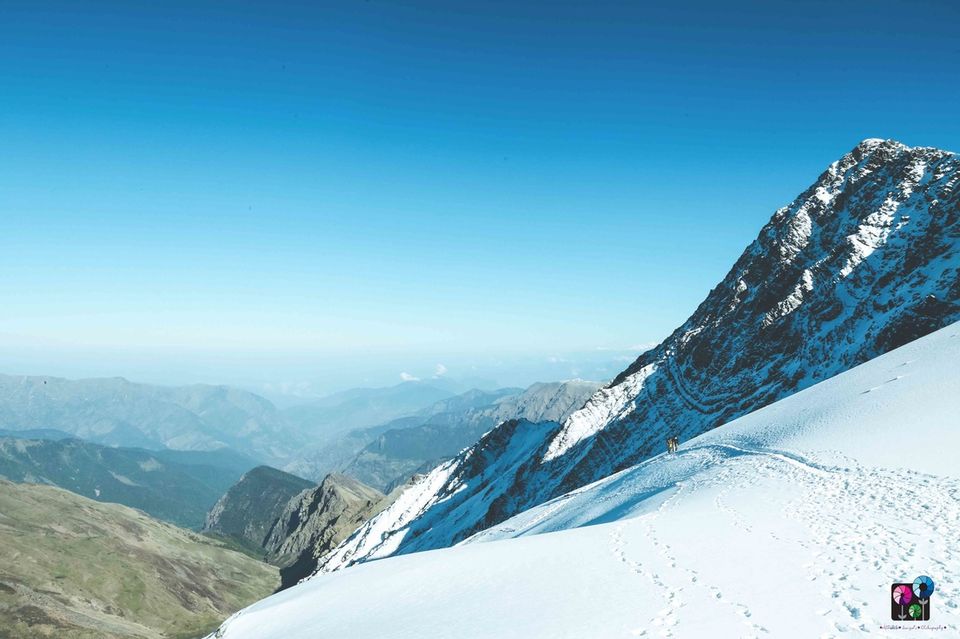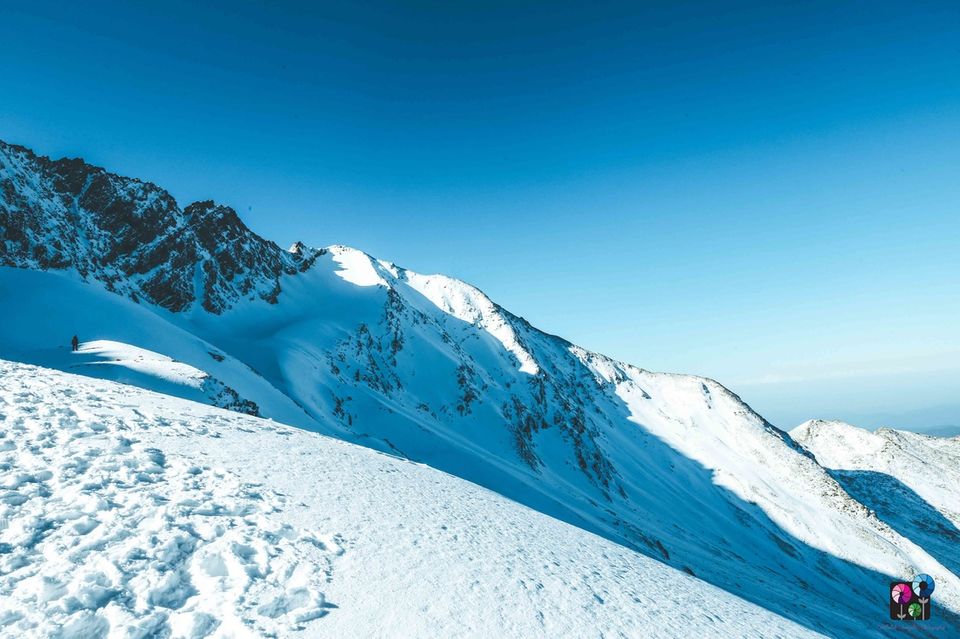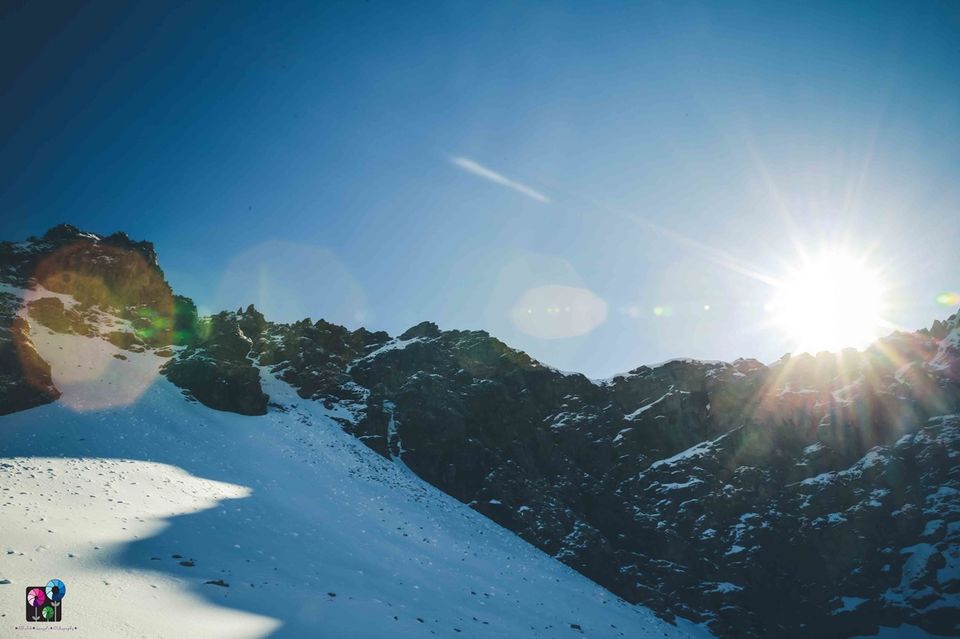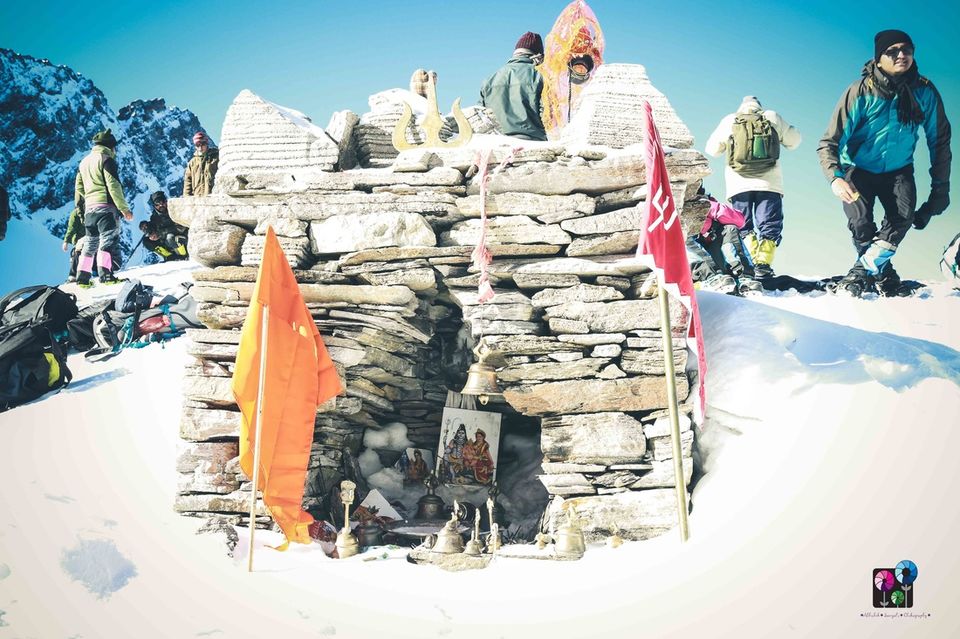 The Shiv Parvati Temple at Roopkund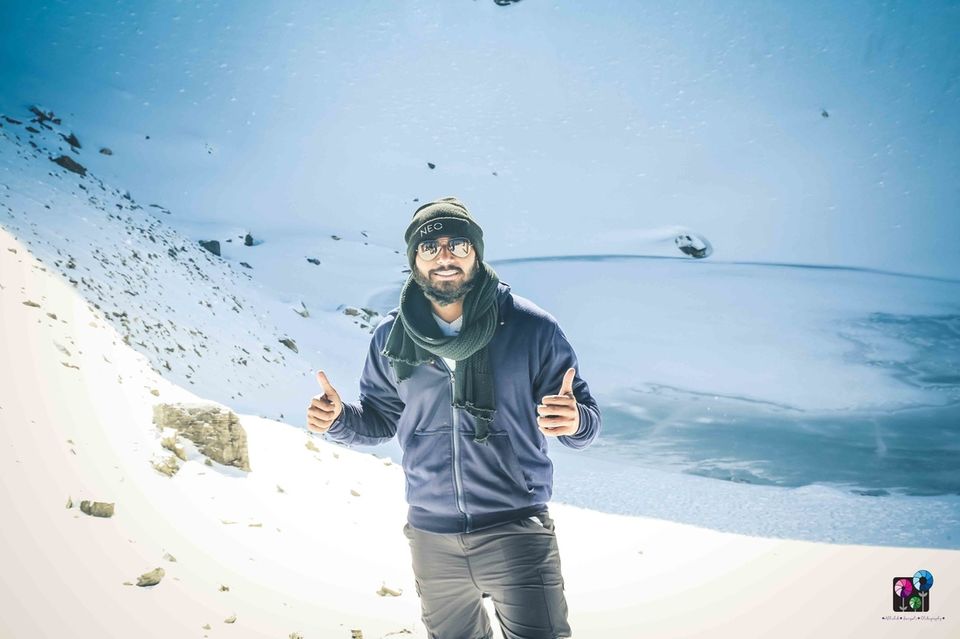 Me at the Summit. Roopkund lake behind me
FROM PATHAR NAUCHALI TO LOHAJUNG AND BACK TO KATHGODAM
We reached Pathar Nauchali around 2.00 PM all happy faces. We had our lunch and after that we sat around and shared our feelings with each other. We had a night stay there. Next morning we move for Lohajung (our base camp). It was a full day trek and we started around 8.00 AM. We reached there nearby 6.00 PM. We all rushed to our allotted rooms and took bath first. Around 8.00 PM we all gathered because we were about to receive certificate. One by one our names are been called and while receiving we were supposed to share the feeling of reaching there. I too gave a speech and while I was sharing my feelings, I found my hashtag of the trip. It was #iwasthere. And Yes #iwasthere. We had our dinner and we all went to sleep. The next morning we left for Kathgodam and from there to our places.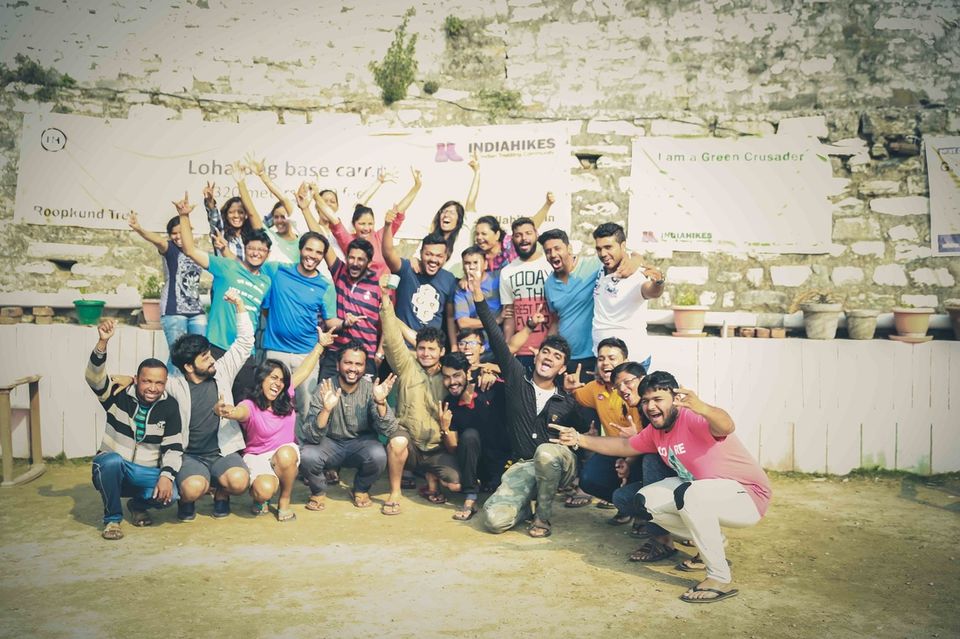 Roopkund May 26, 2016 Batch - Indiahikes
QUESTION I HAD IN MY MIND

If you'd have gone through the whole blog, I'd mentioned that The beauty of the valleys and hills, and the hope that there was someone up there in the snowy heights who would help me find the answers to my questions, kept me going.
I'd one question that "Why I'm going for the trek? I am spending a good amount of money in this which can be spent in many better ways? Just because my cousin told me something about mountains, doesn't mean I should listen to him. But when was at the summit I've got all my answers and would like to Thank my cousin for suggesting me a Himalayan trek.
I came back with life experiences. I've learned that Life is not easy. You need to burn your ass to reach your goal. Never Give Up even if you are bleeding. All physical discomfort is temporary but what remains with us is the Result.

Also there are something you can't download, there is something you can't read about. There is something you have to say I WAS THERE. Get up from your desk, plan your Himalayan Diaries, pack your bags and let go off your soul. I have made my #iwasthere moment. Do you have something to share, please share.
This blog was orginally published on 'abhisheksanyalclicks'