When a friend called to excitedly propose the idea of an impromptu trip to Meghalaya, the land of verdant, rolling greens and cottony clouds, I impulsively said yes. The NH7 Weekender was scheduled for the first week of November and boasted of the legendary Poets of the Fall. The idea of getting out of the city's noise and into forested valleys, to listen to some great music amidst hills with a nip in the air appealed to me. What I didn't factor in was how a chronic hibernator during winter, like me, would fare in the chilly air of the hills and make my sedentary legs carry me up steep hillsides. Nevertheless, warm clothes were bought and bags packed in anticipation of the trip.
DAY 1
A short flight from Kolkata to Guwahati afforded me a glimpse of what I could expect. Fluffy warm clouds basked in carelessly spilled warm golden sunlight and as the plane curved downwards to land, my eyes were treated to lush green fields beckoning.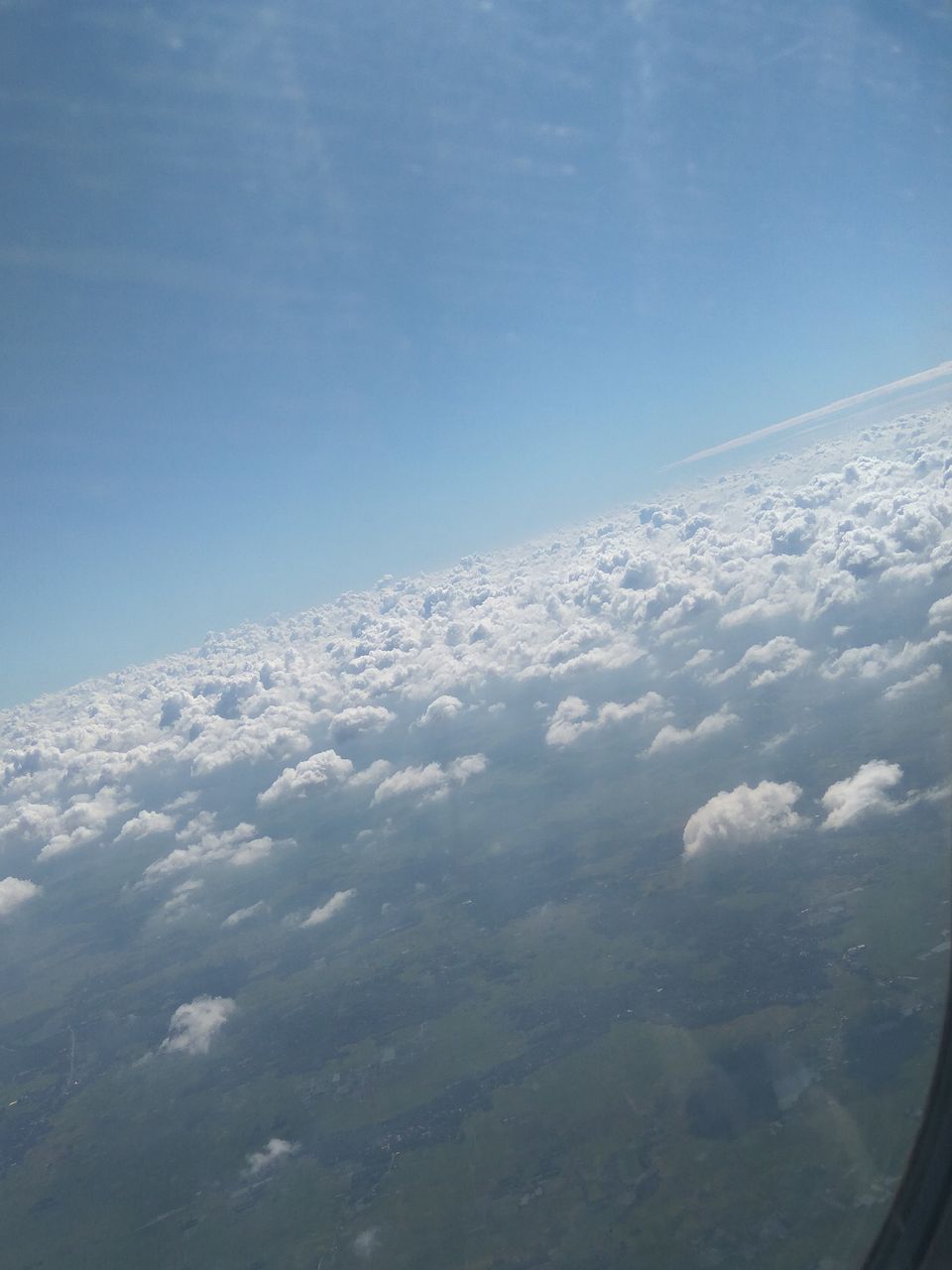 We set off towards Shillong, a good four-hour dive with quick pit stops in-between. As the town slowly gave way to nature, our stops become more frequent to look down at sparkling lakes and soaring hills.
As a cover of darkness descended over the small town of Shillong, we headed towards the bright lights of Police Bazaar, the shopping hub of Shillong which caters to an increasingly young hipster crowd. Boots, belts, furry warm jackets, socks, shoes – you name it. They've got it all. Threading our way through the hustle and bustle of the marketplace we picked up some much needed warm socks and a warm cap with an adorable cow face on it.
It was only the first day but I was already enjoying my time away from the city. Sitting on the hotel's balcony with our legs up on the ledge; the dark silhouettes of the silent hills outlined before us. It made me realise how fun life could be, away from lying prostrate on couches watching Netflix.
DAY 2
Morning saw us drive down streets dotted by soft pink cherry blossom trees on our way to Laitumkhrah.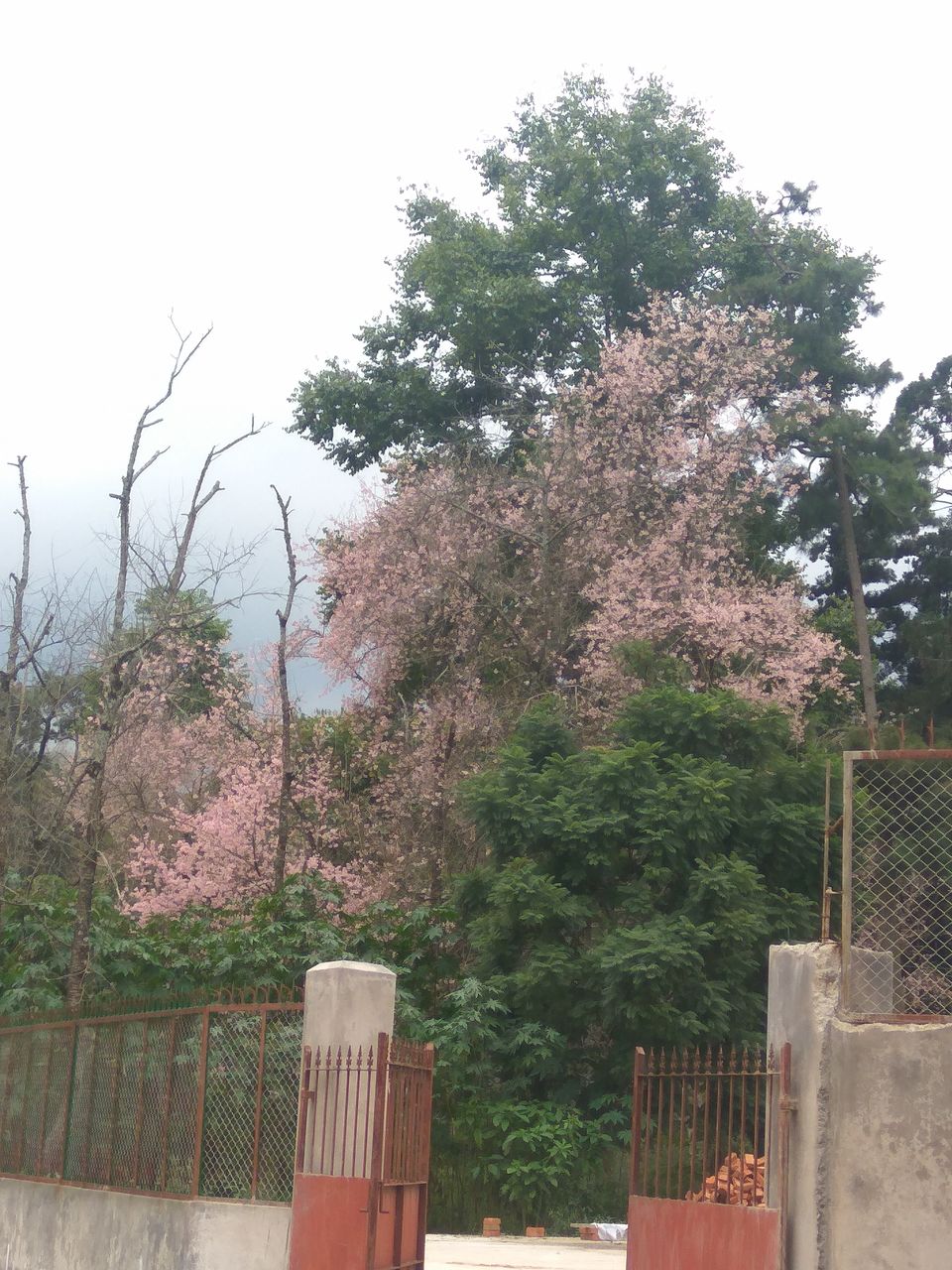 The Cathedral of Mary Help of Christians stood somber and tall with high arches and colourful stained glass windows depicting scenes from the Bible. Our footsteps echoed off the cavernous ceiling. Several heads were bowed in reverent silence, holding conversations with God in hushed whispers. We lit a candle and prayed for the departed and walked away as mother Mary looked on.
It was getting on towards evening as our car wound its way through misty roads towards Festive hills; the venue of the NH7 Weekender. We spotted a stream of people as we got closer to our destination and joined in.
Long queues and cumbersome security checks later, we found ourselves in the middle of a gigantic field fringed by steep steps cut out from hills. I tried my best to ignore the cold biting through my jacket as catchy music blared from speakers and echoed in the hills around us. With cold hands, we bought rum to warm ourselves up and wandered up to Poets of the Fall belting out their most popular numbers to a sea of screaming people. The atmosphere was electric, crackling with young energy and mirth. It remains unknown whether it was the rum or the collective energy of thousands of people screaming out lyrics; but all discomfort was forgotten as we linked hands and gave in to the music.
DAY 3
The hangover of both rum and Poets of the Fall hung heavy over our heads the next morning but our cab driver Uttam Bhai knew just what would perk us up. The strains of soft Bihu music filled the car as we drove towards Elephant falls which lay 12kms away from Shillong.
The name Elephant falls was coined by the British, changing it from its original name Ka Kshaid Lai Pateng Khohsiew in local khasi meaning 'three steps waterfall'. A signboard informed us that the English name came about due to an elephant shaped rock near one of the three falls. The poor rock shaped elephant has since disintegrated after an earthquake but the name stuck.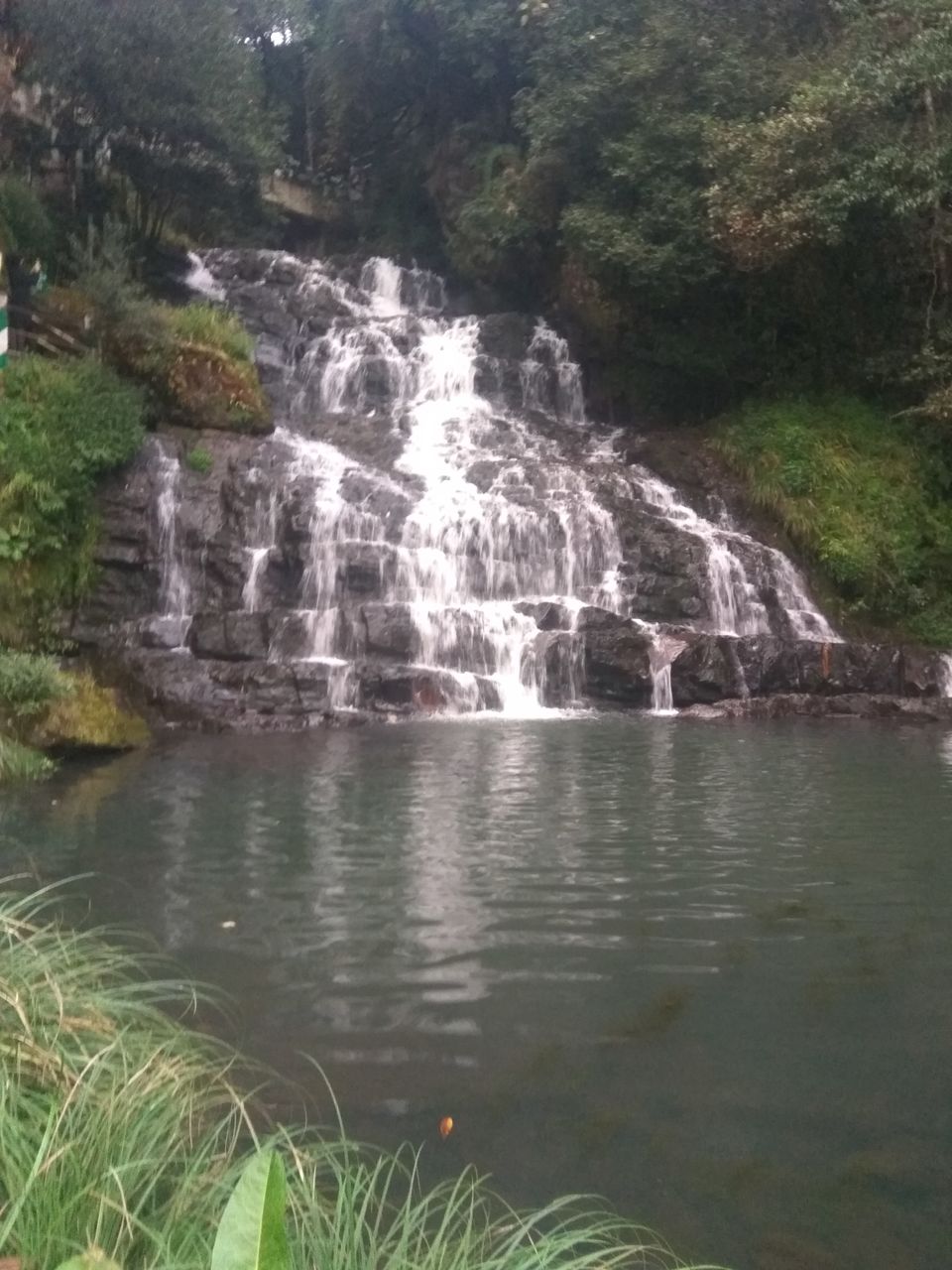 We climbed the steps leading up to the roar of the waterfall pouring out in a spray of white through fern covered dells. We climbed wet slippery stairs towards the waterfall, trailing our fingers on the moist mossy boulders on the way. We stopped awhile to simply stare at the gushing water making the pool beneath it froth.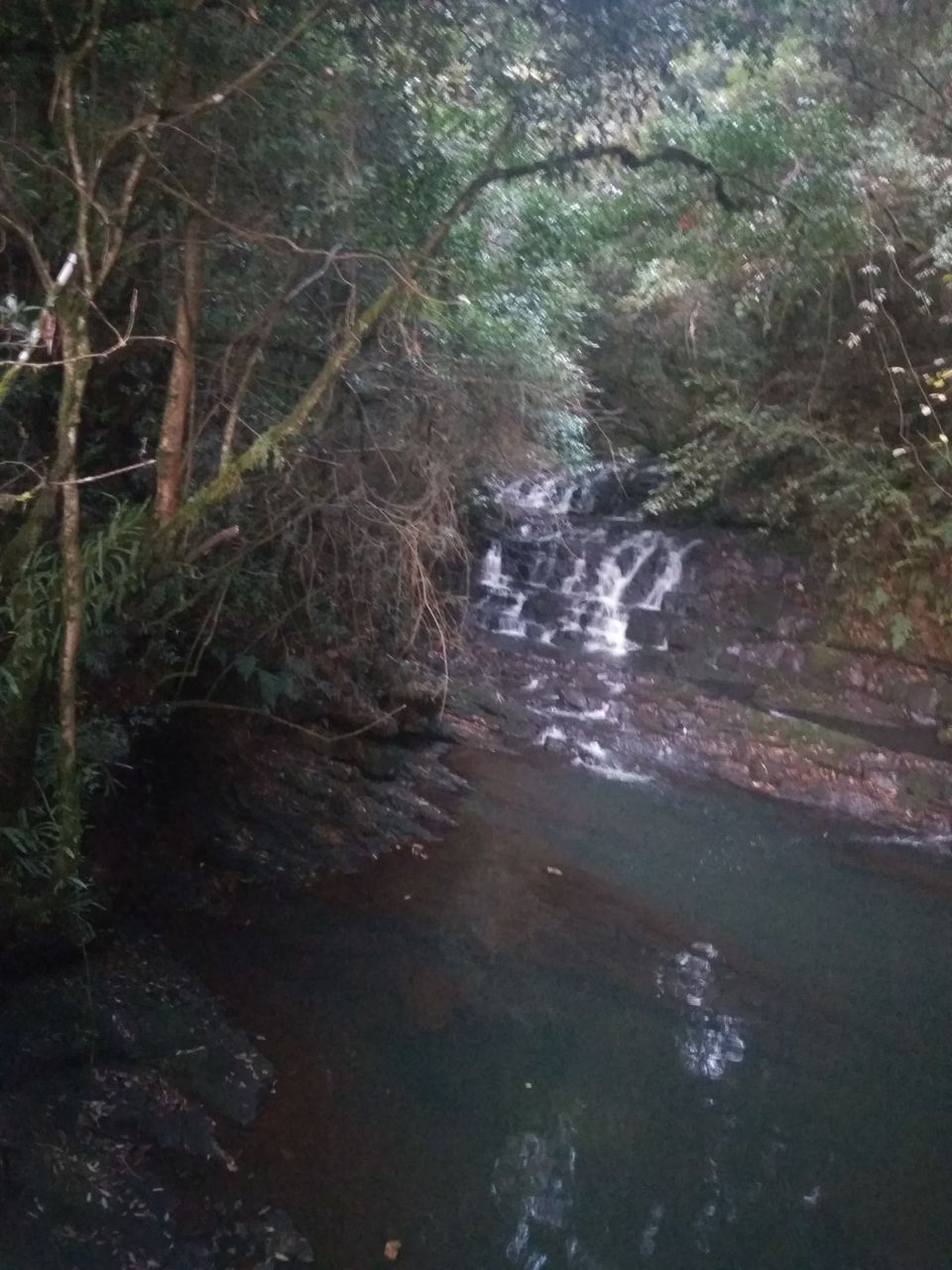 On our way back down we met a few friendly locals huddled around a bonfire who cheerfully beckoned to us to join them. Our cold limbs welcomed the heat from the blaze as we conversed with them in broken Assamese.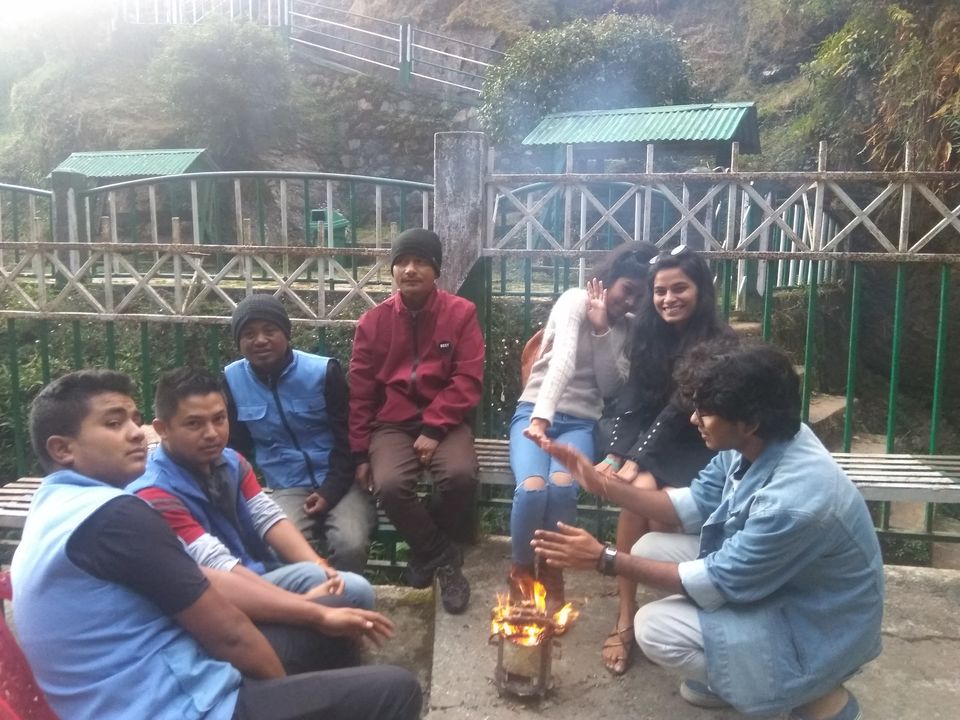 Our next stop was Shnongpdeng. Uttam Bhai pointed out the Bangladeshi border as we raced past lush trees and moss covered flanks of hills. When our legs hit gravel after a 3-4 hour long drive, we realised how secluded Shnongpdeng really was. There were a few cottages and storefronts. You can opt for homestays or camps. We had opted for a camp so we had to climb down several treacherous stairs down to the banks of the glittering Umngot river. Our camp was pitched right in front of the river and night had already fallen.
The dark river glinted lazily under the moonlight and the wind blew sparks from a nearby bonfire. Drinking wine in front of a roaring bonfire and watching the dark river shift and gleam, has to be one of the best experiences in my life. There was no cell phone network; I had left my worries behind with it. All was at peace.
DAY 4
The sunlight and some insistent rooster-crowing roused us from our sleep. The water of the river looked clear and deliciously cool on a sunny day.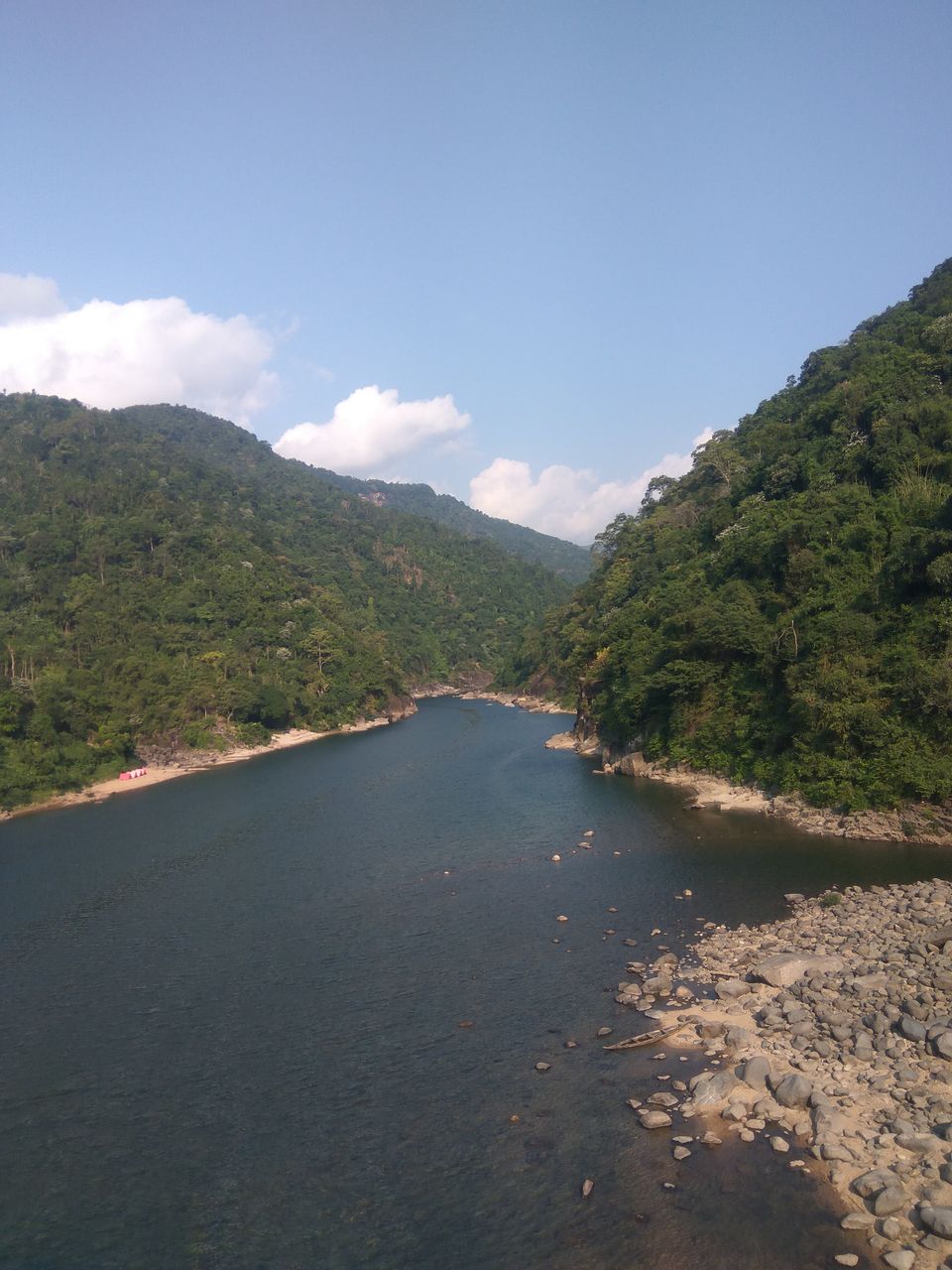 We headed for the suspension bridge just overhead. Long and stretching from end to end the bridge swayed slightly if too many people got on at once.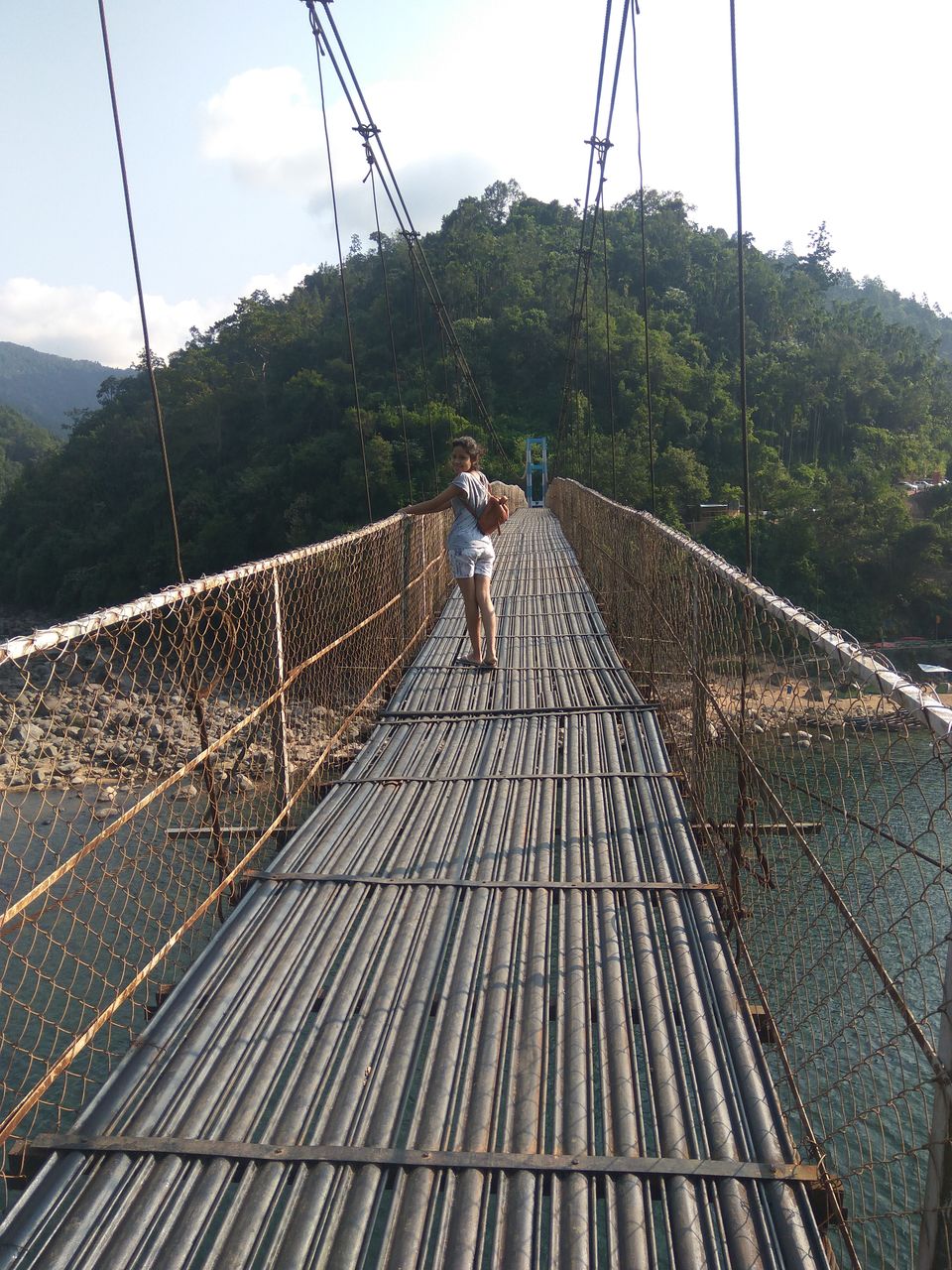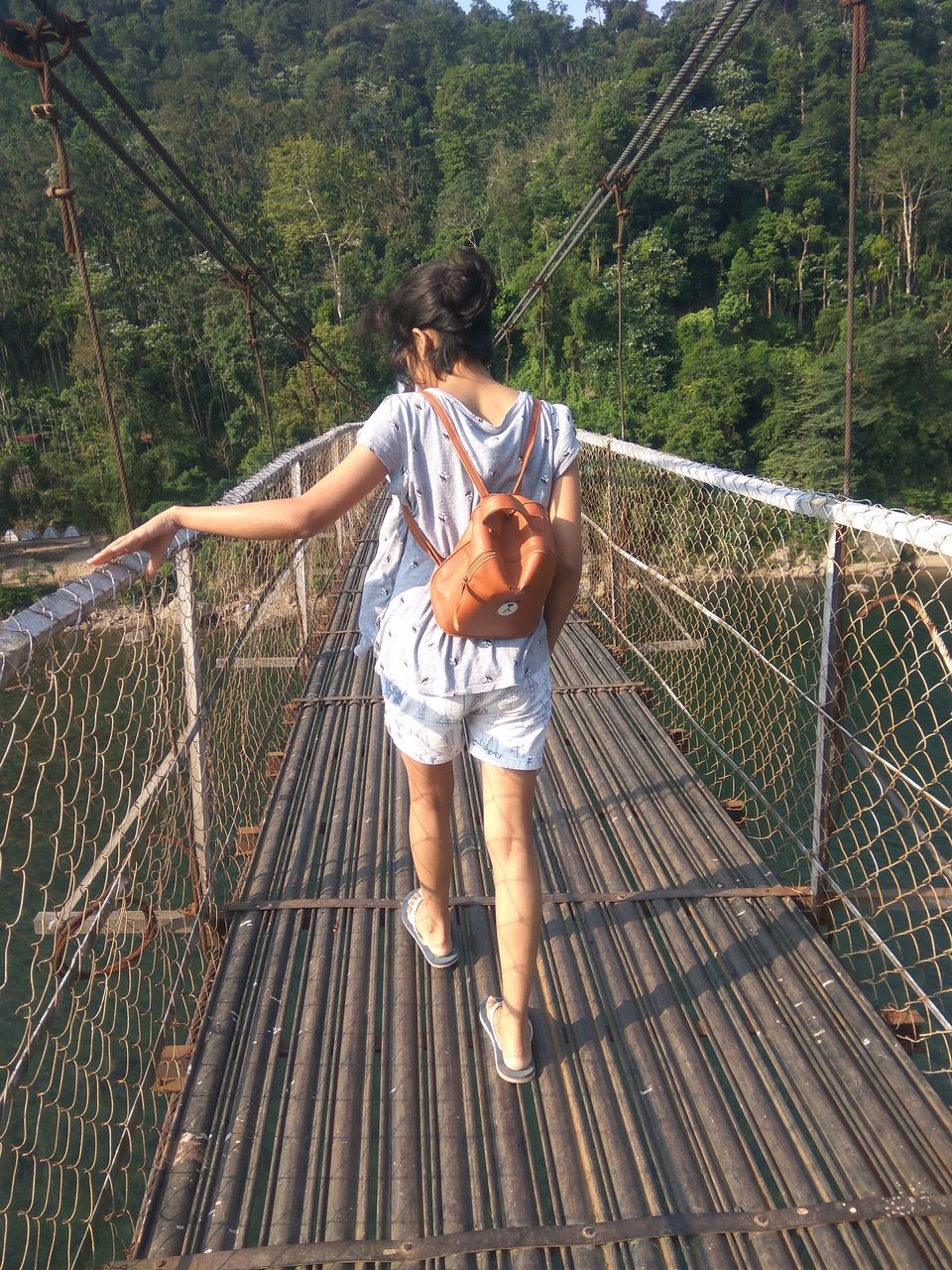 A boat ride was in order. We found a local who promised us both breakfast and a boat ride. Omelettes and rotis were devoured and we set off towards the river. The boat glided smoothly over the clear water as the boatman rowed us closer to a waterfall.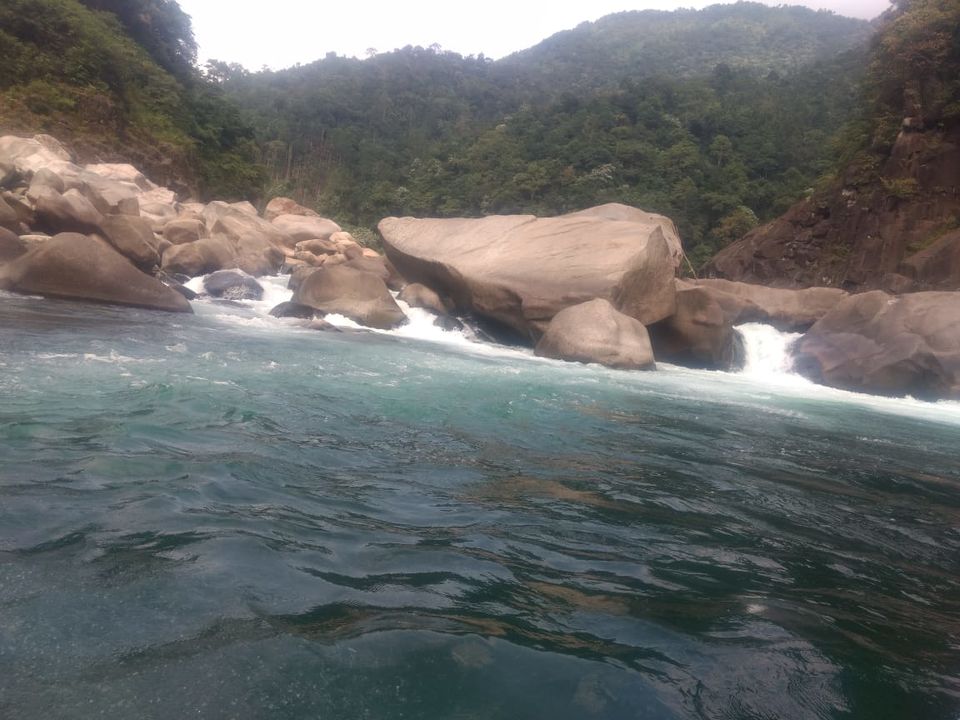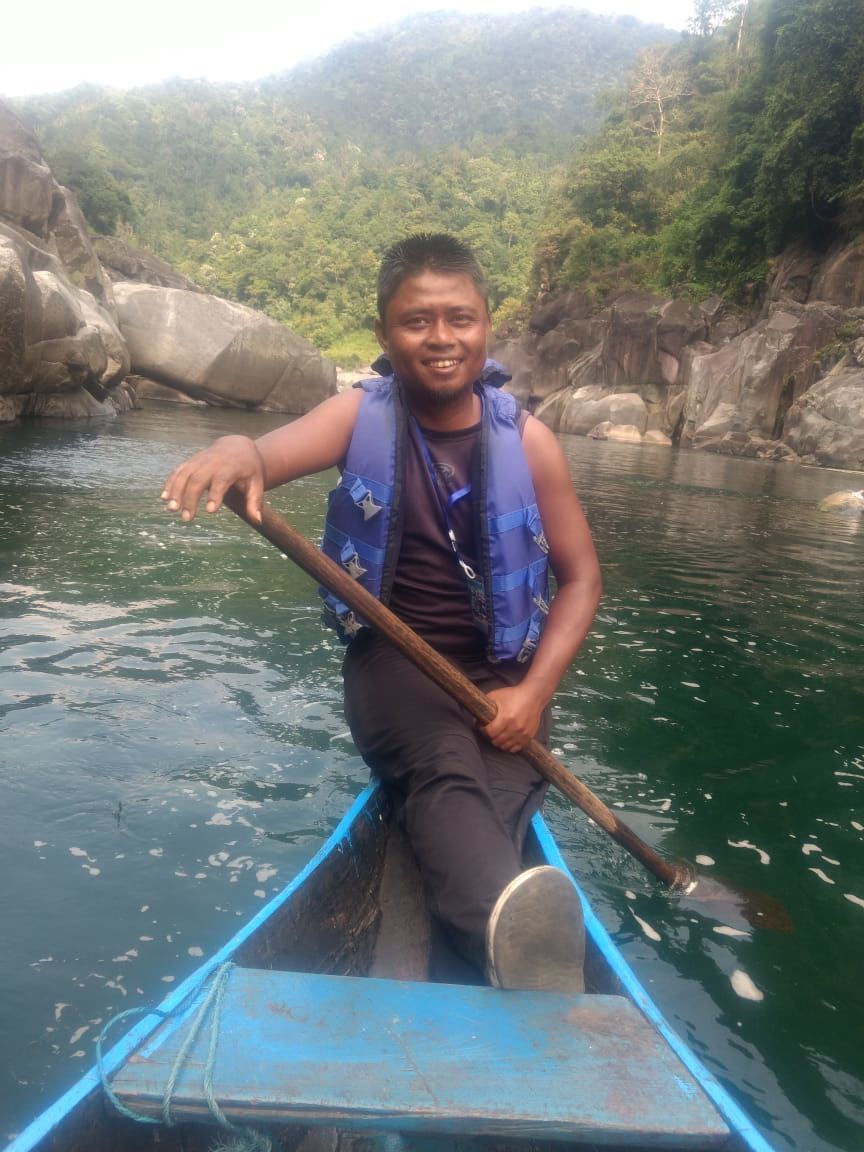 Large boulders jutted out of the water and fishermen lazed in their boats, lines cast, waiting for fish. The water looked so inviting that we had a half a mind to jump in for a dip but the chilly weather limited us to just dipping our feet in the current.
The place is ideal for both nature lovers and adrenaline junkies. The clear water, lush vegetation and craggy peaks will lure in nature enthusiasts. The available thrill sports such as cliff diving, snorkelling, kayaking and zip-lining will give adrenaline junkies their fix.
DAY 5
The freezing weather and treacherous steps had pushed me out of my comfort zone somewhat but my biggest ordeal was still coming up.
We left Shnongpdeng and set out on a four hour drive towards Cherrapunjee. Though we were already accustomed somewhat to the pristine beauty of the misty hills; there were points when we passed by such breath-taking sights that we just had to stop. The cold was biting and the clouds seemed to sail right through us. The valley beneath was made up of the confluence of several hills. Despite some serious shivers, we stayed put a few minutes longer to soak in the scenery.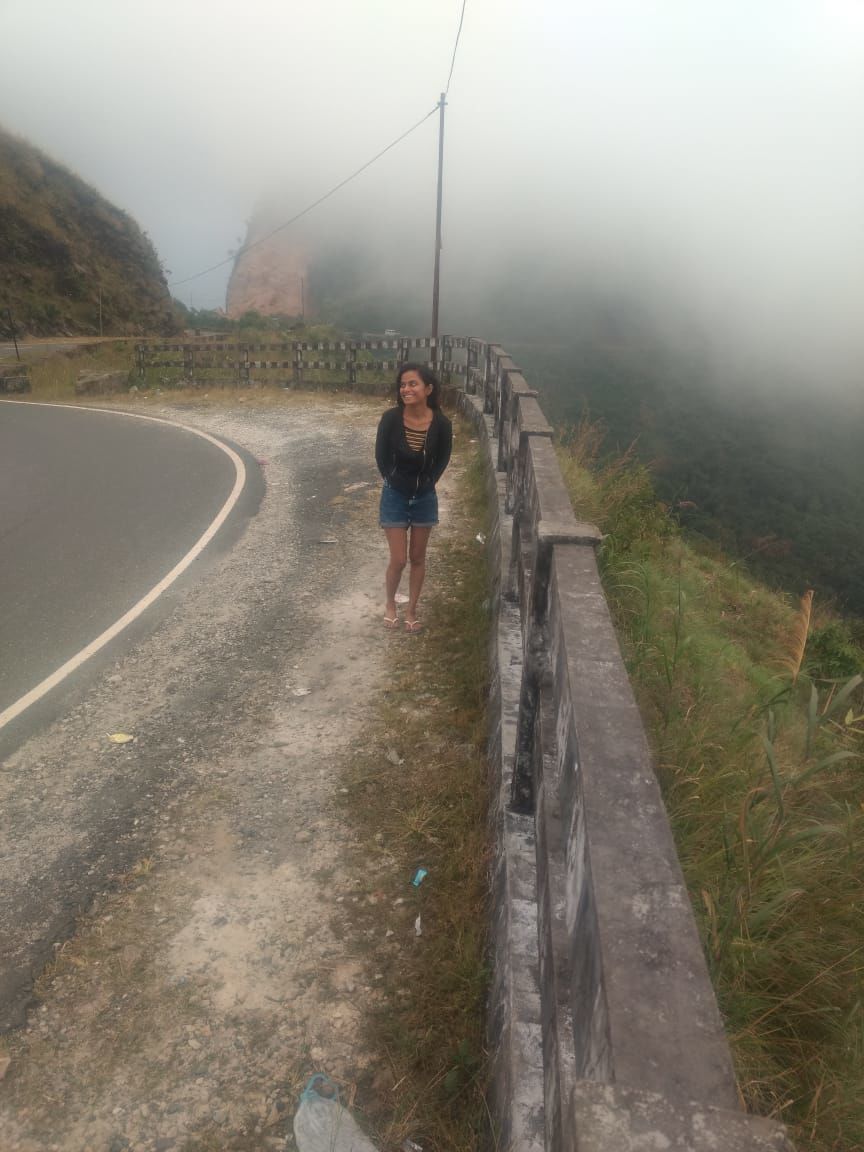 We had planned a trek in Nongriat, a village in Cherrapunjee famous for its living root bridges. A hearty breakfast of chole–bhature later, we laced up our trekking shoes and reached the trek by 12. Our hired guide said it was too late to trek to Rainbow falls but we could pass by some natural pools and take a look at the double-decker living root bridges. The trek from the get-go was full of steep stairs hewn out of the rocky hill. Now climbing stairs is no easy feat for city dwellers, accustomed as we are to elevators.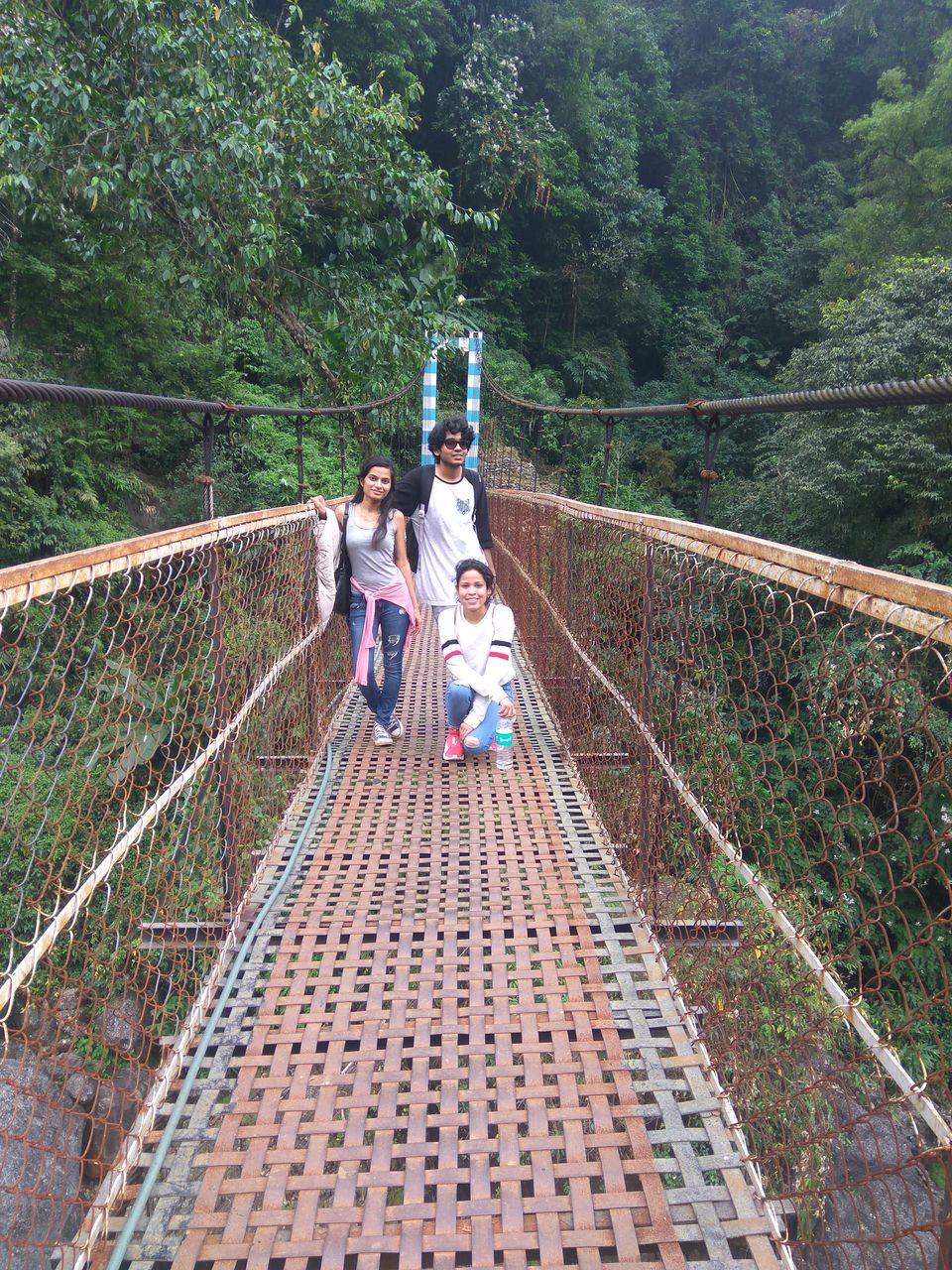 Twenty minutes into climbing stairs, my knees started to protest and wobble. I took off my jacket as sheen of sweat covered my forehead. What kept us going was the gorgeous views from the stairs, soaring green hills with clouds drifting past below us. I felt like pictures could never do justice to the view before my eyes.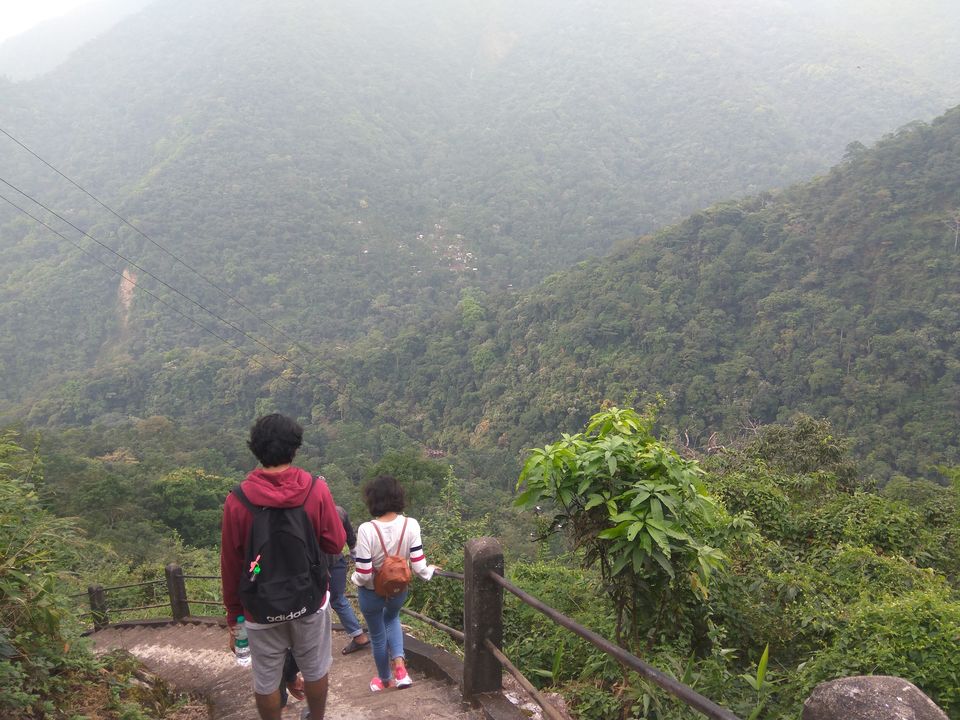 We stopped intermittently as our legs protested and bought some tea from local shops along the way. Our cold hands cupped the hot cups soaking in their warmth. After more stair-climbing, we arrived at the living root bridge above a pool of water. We saw children scampering, playing in the water. As for us, we climbed the biggest boulder we could find to catch our breath.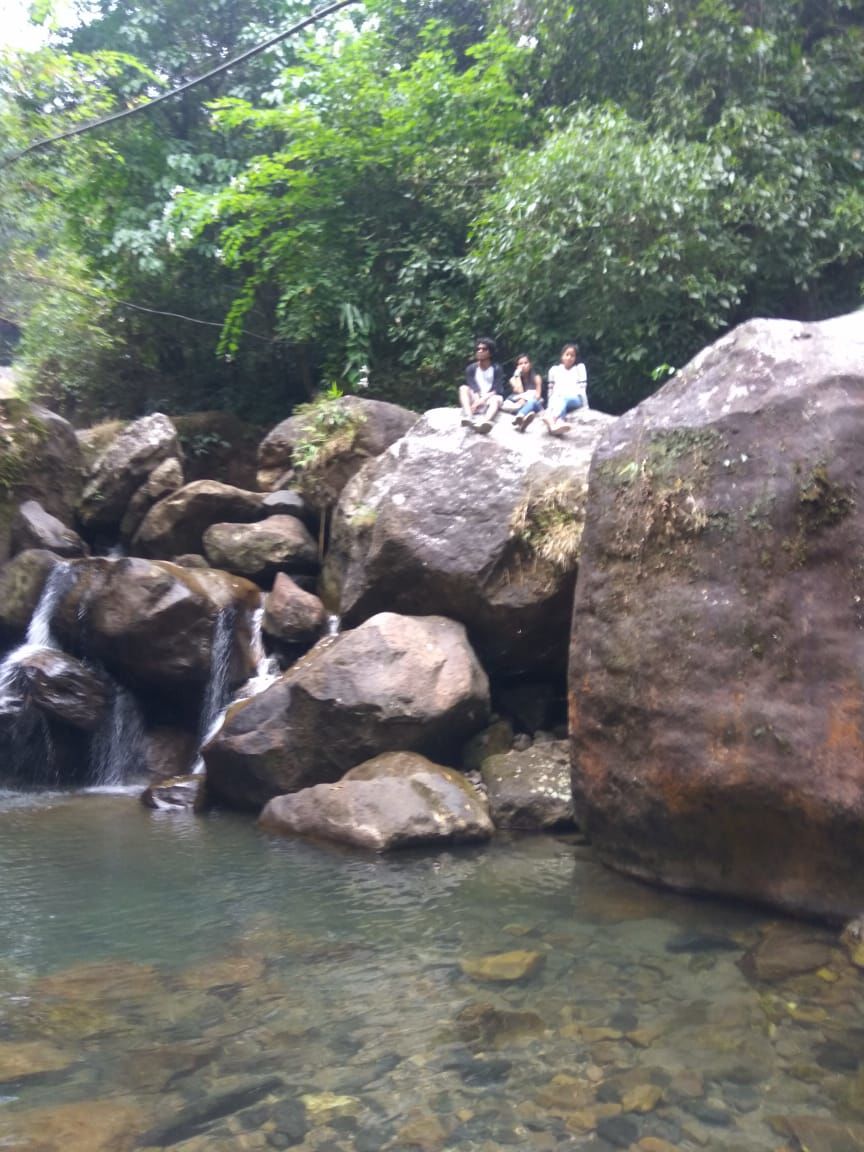 The art behind the living root bridges is fascinating. The Khasi people are adept at entwining the aerial roots of banyan trees since centuries to form suspension bridges. Nowadays, cables are used for additional support.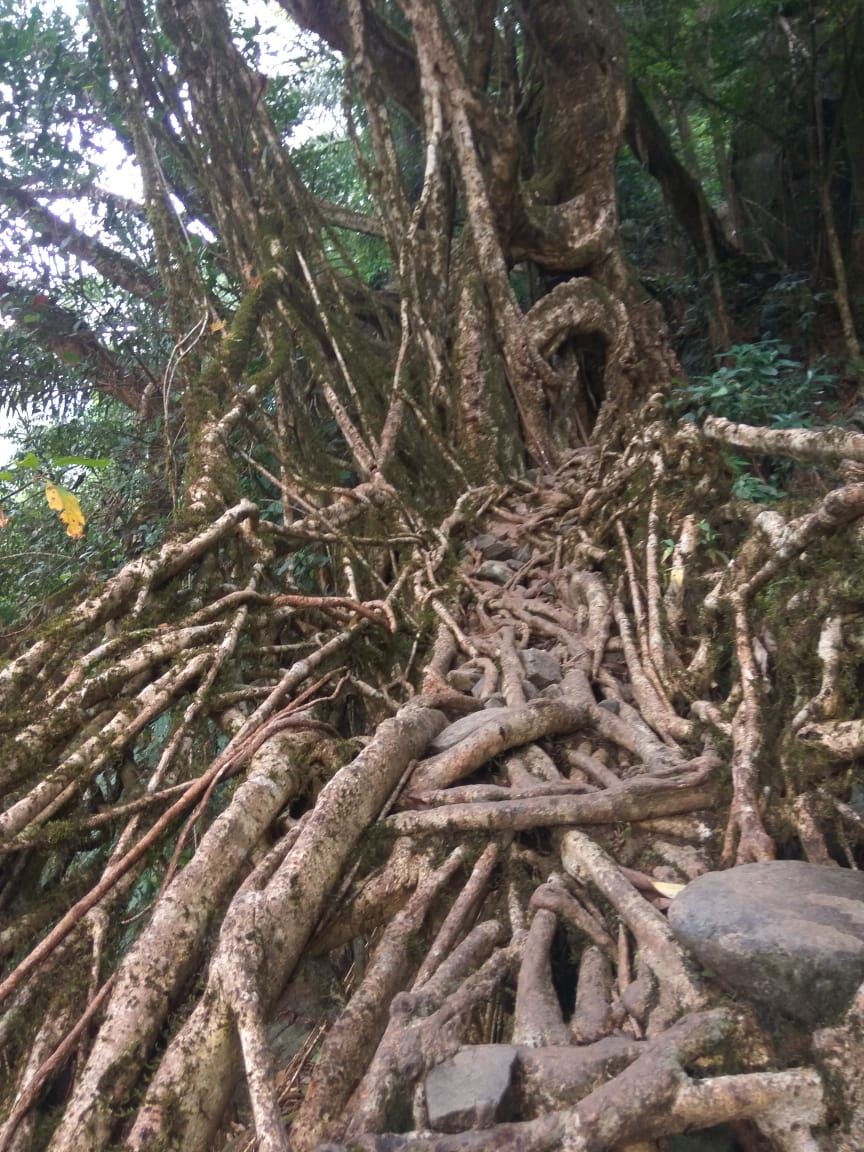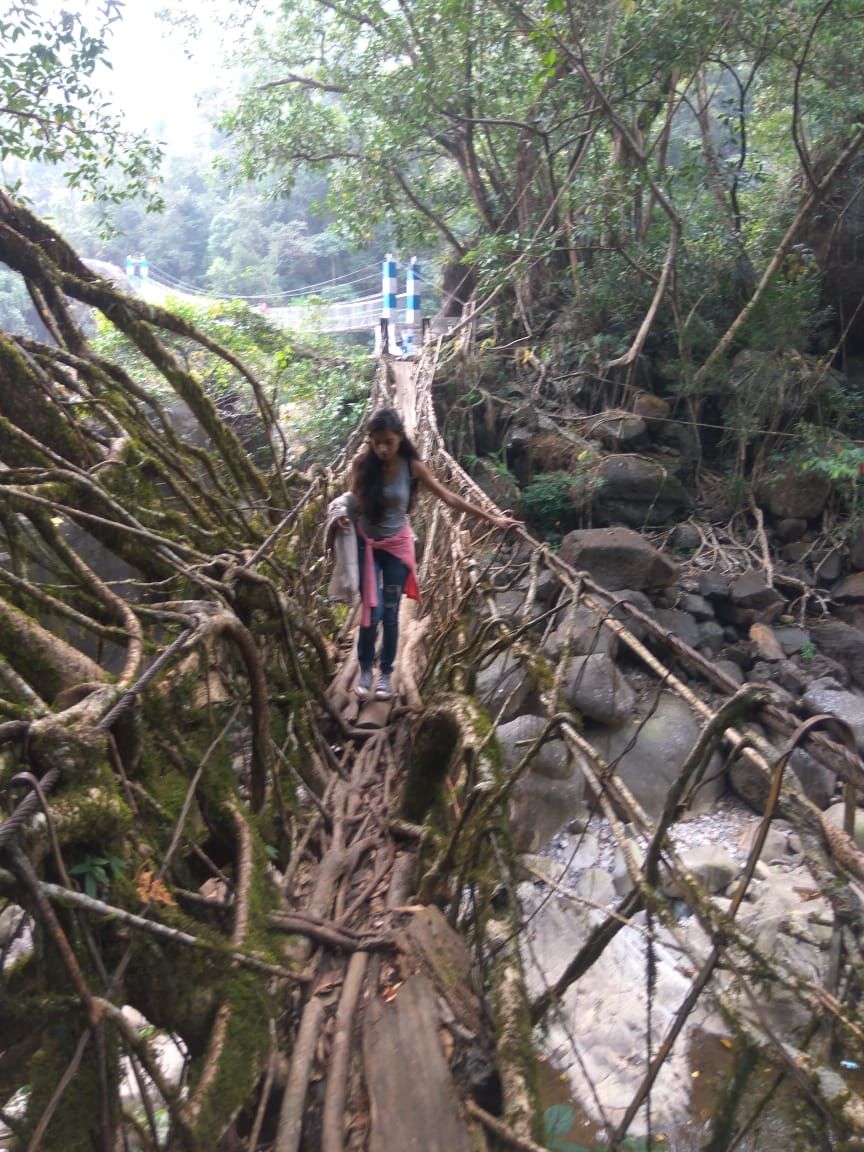 As we walked we looked at gigantic fern covered flanks of the hills and colourful butterflies that fluttered happily around in the abundance. The stairs continues as our legs faltered towards a natural pool. Last few boulders were climbed and we came upon a pristine bluish pool of gurgling water and a waterfall. We were tempted to submerge ourselves in the cool water to wash off the sweat off the trek but we contented ourselves with walking into the pool for some distance. I dipped my face inside the crisp, pure water and spied a few small fishes swimming away quickly.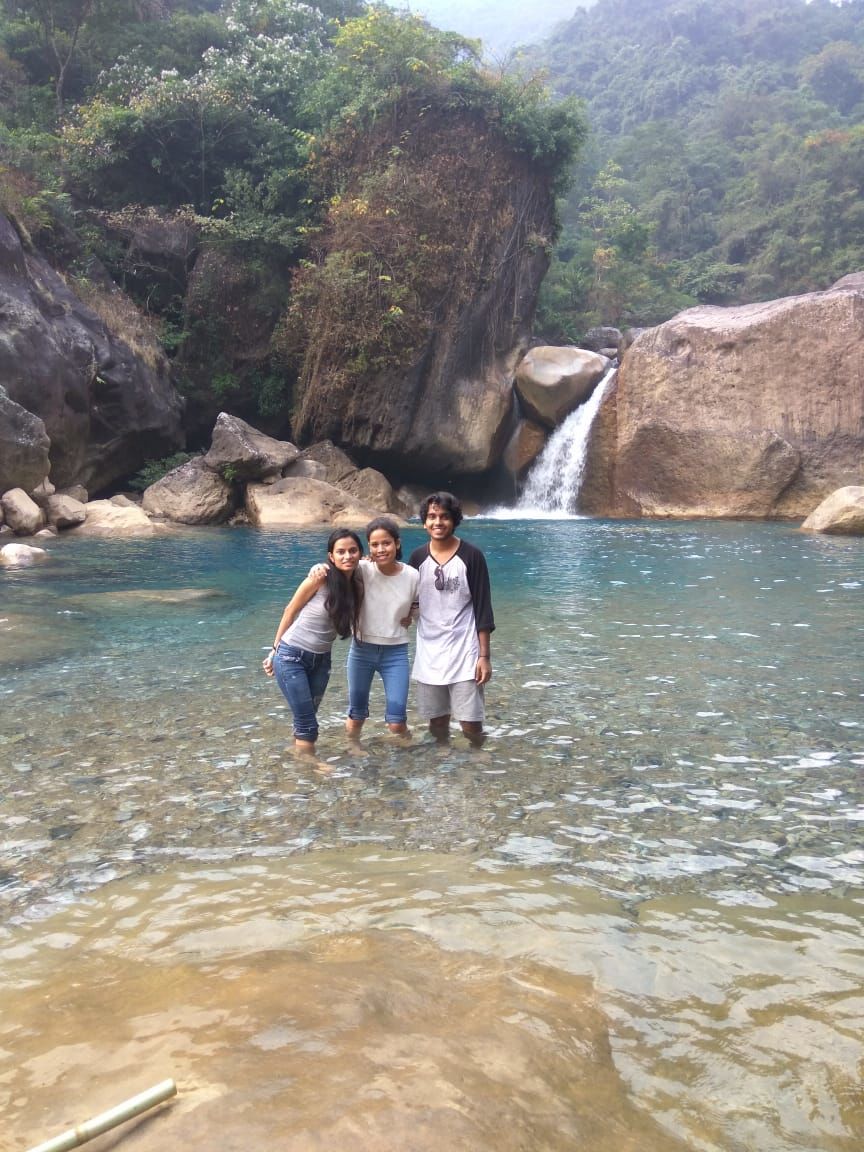 The rocks were slippery and had to be stepped on carefully lest our foot slipped into the frigid water. Perched on a dry rock overlooking the water, there we were man and nature, in harmony.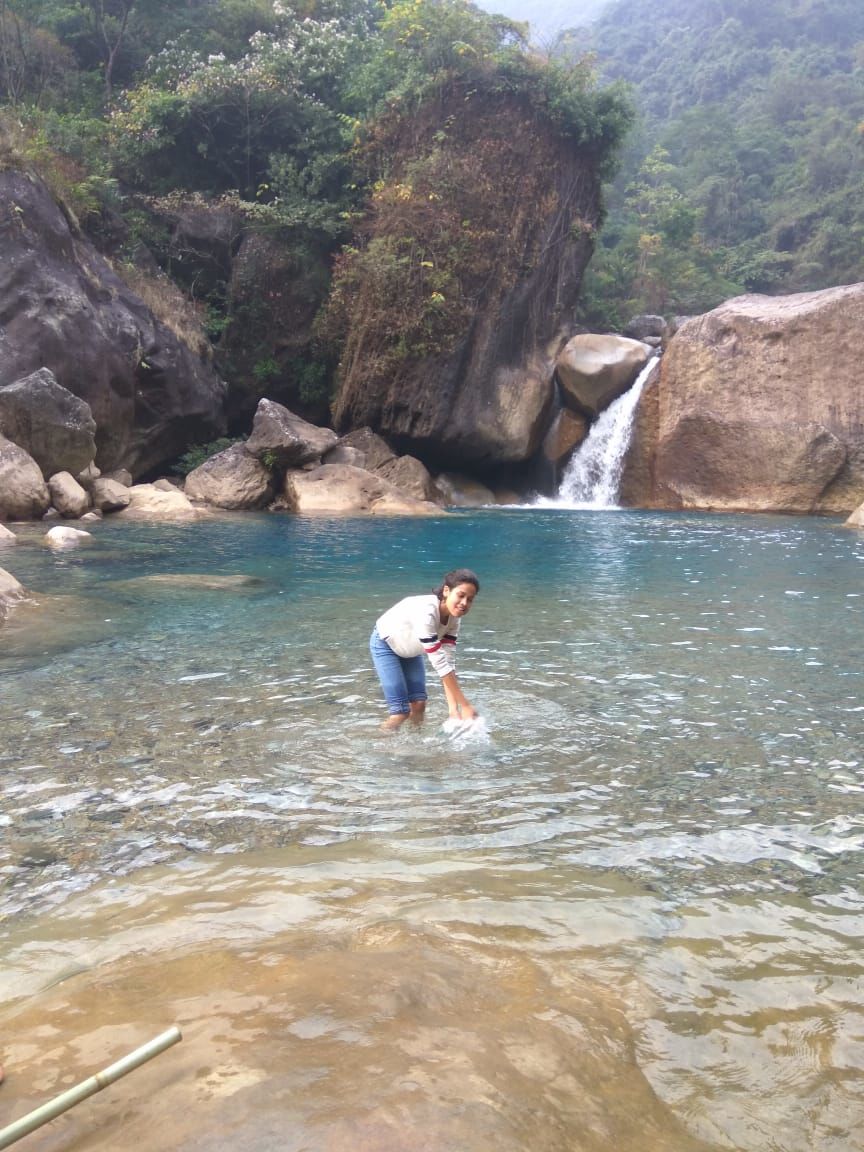 All too soon, however, our guide appeared and told us that it was time we started making our way back. We had spent three hours walking down to the pool and we had to retrace our steps in order to get back to civilisation. It was essential that we started now as nightfall would make the stone steps even more treacherous to navigate. We were already considerably exhausted and the steep stairs were making our legs scream in pain. We kept up a steady pace for a while, anxious to get out of the forested valley which was getting eerily dark.
Exhaustion took over soon and climbing another stair started looking like a daunting task. Our breaths came out in short, ragged gasps and we had to stop often to massage our trembling legs. Our guide appeared to be having no issues at all, light-footed in his chappals. I started putting all my failing body weight on a stick to propel myself up the never-ending stairs. We found out the hard way that this was 6000 step trek. Our courage was faltering as our legs started giving way when a few locals passed by us, offering words of encouragement. The only sounds now were the humming of the insects from the trees and our gasping.
After a tense two hours, we started approaching some lights and the hubbub of human voices. Bolstered by seeing some more companions on our trek, we continued upward. We didn't even realise that we had crossed the last step until I stumbled over it and stood there eyes closed. I had done it, couch potato and all. I had not in my wildest dreams thought that my first trek would be such a paradox, punishing as well as rewarding. My soul was singing and my body was bruised as I made my way back home. But not to the couch.
Frequent searches leading to this page:-
shillong cherrapunji tour 5 days, shillong cherrapunji itinerary, shillong cherrapunji mawsynram tour plan, shillong and meghalaya trip