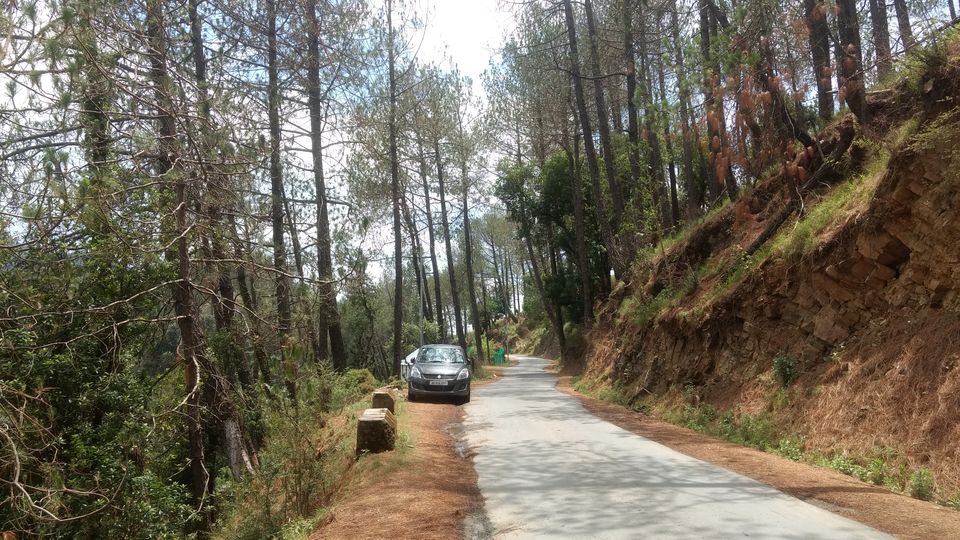 It was in the middle of a long and sultry Delhi summer when we had but little choice other than to squeeze out some hours for a breather. So there was myself and 3 more of my breed busy winding up a friday with fluttering tummies.
I had only a few hours to fix an offbeat destination doable in 3 days and was tied up between chakrata and this place suggested by a close friend. Himachal roads remain more predictable any day compared to uttarakhand. Hence, considering that we were talking about around 800 kms in 3 days, Nohradhar was worth a destination to be considered. From preliminary research, it seemed to be a typical mountain hamlet with just one "liveable" accommodation and lots of quietude. Just what we needed! I booked the only accommodation in a jiffy through makemytrip (which was a mistake as I realised later).
Day(read "Night") 1 - Friday: I happily overworked to ensure that I was past any possible commitments over the following weekend, left office at 10.30pm, tanked my beast up to brim and sped off to pick up my friends from Noida and DU. By 11.30 we were comfortably cruising on the well ironed NH-1. (Just for your information, in spite of the reputation, highways in this part of the country have managed to build for themselves, NH-1 till Chandigarh is perfectly safe for an overnight drive even if you are in a mixed group. I still won't recommend it to some solo female traveller though.) The drive till Zirakpur was quite uneventful as expected other than the customary stops at the over-hyped Amrik Sukhdev and a couple of tea breaks to keep ourselves from dozing off.
Day 2 - Saturday: It was just dawn when we branched off from NH-1 onto the fabulous Himalayan Expressway from Zirakpur. Hills were already showing in the horizon and we experienced a beautiful day break. We stopped at Timber Trail, a luxury resort with a well furnished restaurant just after Parwanoo. We discovered that the restaurant shall not open before 7.30 AM. A female friend of ours wished to use the washroom and the manager was offensive enough to demand Rs 100 for the same in spite of the current regulations in place. We were too happy to create a ruckus over this petty issue and shelled out the bucks and started off. Thankfully we stopped at a more rustic, scenic and much more hospitable tea stall soon after, which offered panoramic valley views. After a delectable breakfast consisting of butter-toast and maggi, we continued. For Nohradhar, you need to travel till Solan, take a right on to Rajgarh road and follow road directions till you reach Nohradhar. From Dharampur, there are 2 ways to reach Solan, one on the right via Barog and another straight up. In spite of an old board instructing you to take the right for Shimla and Solan, be sure to take the straight road through the town since the former is longer and full of diversions. The road from Solan to Rajgarh keeps on getting scenic and narrower as you proceed. By the time you are around 20 kms short of Rajgarh, you are accompanied by lush green pine forests and vehicular traffic, horns and humdrums have reduced by leaps and bounds. Make sure you stop amidst the forest, come out to behold the beautiful hum of insects and birds. By the time we reached Rajgarh we were already convinced that the overnight toil was more than worth it. The wndin roads kept on throwing vistas at us and we reached Rajgarh before we realised. Rajgarh is a single street town, and the last big one before Nohradhar. After around 5kms from Rajgarh, roads vanish suddenly and you are greeted with a dirt track for around 10kms. Still we didn't mind the same considering the scenery around. Reached Nohradhar at around 12 pm in the afternoon, this time quite tired from the continuous drive. To make matters a little worse, we discovered the hotel we booked (Chureshwar Resort) had not confirmed our booking from MMT and was houseful but for a couple of dilapidated rooms on the ground floor. Without a second thought we accepted the couple of rooms on the ground floor since we were too tired to search elsewhere, that too in a place which didnt have a second hotel in sight. The owner as well as the manager of the property later turned out to be extremely hospitable, amiable and caring which more than made up for the initial confusion. The owner was also prompt enough to return us the excess booking amount over the tariff of the rooms we chose.
After a hearty lunch consisting of red hot chicken curry at a local shop, we set off to explore the surroundings. We were immediately smitten by the pretty place with lush green rolling hills and meadows on one side and a deep forested valley on the other. After asking the locals, we drove off to a little brook with a waterfall around 8 kms from the town. The road to this place was beautiful and the spot was a treat. After spending almost a couple of hours at this spot, we headed back to our hotel via a "prachin mandir" (old temple) nearby. This place was quite picturesque as well. Places such as these doze off quickly, and hence we were left to ourselves by 8 pm in the night. It felt like heaven to be able to indulge in hearty conversations under the blankets over carefree topics. Slept off by 2 in the morning.
Day 3 - Sunday: Woke up with a heavy heart this time with the breather about to tick off soon. Started for delhi after a breakfast at a local shop and took the same way back. Stopped for lunch at Dharampur Haveli on the way and reached home by 12 in the midnight.
Trip summary:
Driving time: 10 hours one way non-stop
Perfect for: A group of friends or relatives looking for solitude and tranquility
Keep in mind: Roads beyond Rajgarh are somewhat twisty and narrow; not really suited if you are driving in the hills for the 1st time. Also, absolutely no other option to stay in the town other than Chureshwar Resort. You can contact me for the number of the resort's owner. Camping is a good option in this area though.
To do: Laze around, explore the pastures and visit the waterfall nearby
Mobile / Cellphone connectivity: Calls could be made seamlessly but internet was not available mostly, and thankfully! :P