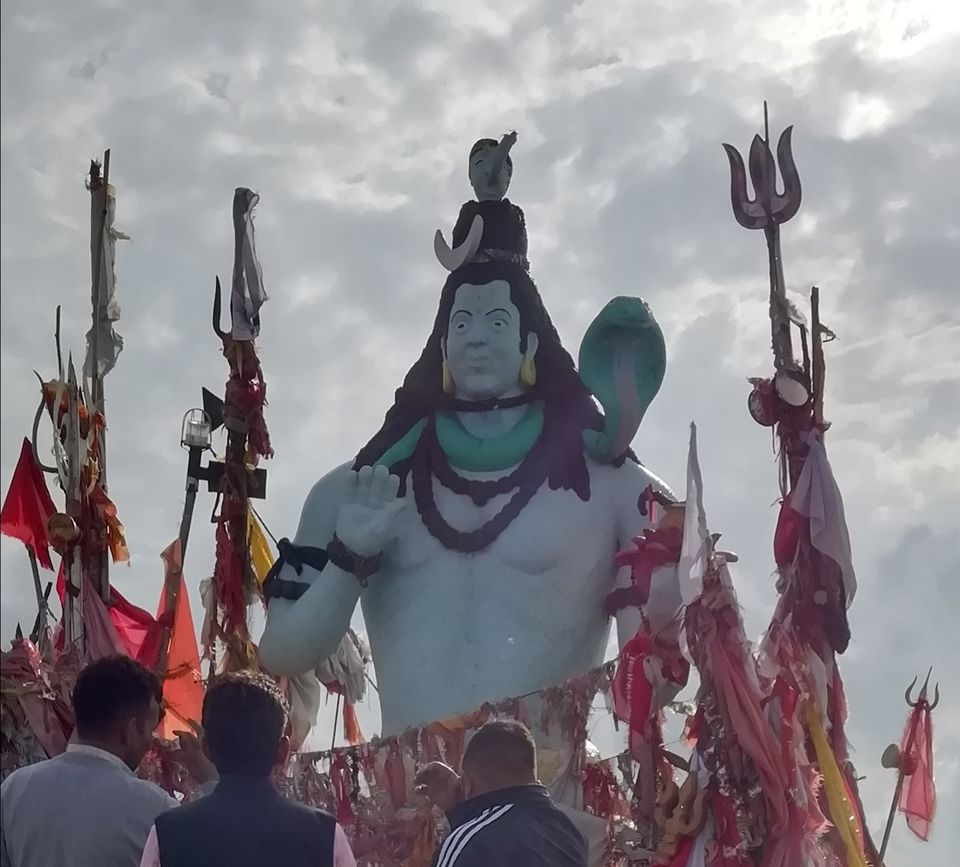 !! Om Namah Shivay!!
After scaling the highest peak of Shimla few weeks ago, now I accomplished the trek to the highest peak of Sirmour District in Himachal Pradesh. This peak is called Churdhar peak with the height of approx. 12000 feet. The journey was so nice full of adventures and peacefulness.
Before explaining my experience of this journey, here are few important things about the place :
- There are different routes to Churdhar peak but I took the longest one which is 18km and begins from Nohradhar.
-One can reach Nohradhar from the route Solan-Rajgarh-Nohradhar
-Parking is available there.
-Before starting trek, consult with local people carefully.
-Best time to start is early morning.
-Only 2 halting stations are available on the way (at this time) so carry eatables and water bottle. Natural water is available in abundance on the trek.
-Night stay is available at the main temple premise.
-Rs. 10 per blanket they charge.
-Langar/free meal is available for dinner.
On 25th June, we (me and a childhood friend) started our ride from Mohali. Taking the route via Chandigarh-Solan-Rajgarh-Nohradhar,
we arrived Nohradhar around 6 am. There we took breakfast. After asking from the locals, I parked my bike there. They charged Rs. 70 as parking fees for my 2 wheeler.
We started trek to Churdhar from Nohradhar at 7:30 am. From the starting point we were only two persons on the trek and didn't find any pilgrim /trekker upto 6 km. The trek is good and there are little chances to lose the way in daytime. But the tragedy happened with us and we lost the track just 1 km away from starting point. We took a different path and continued our journey by spotting the more travelled paths. It took us 3 hours to reach at first halting point . At there, we came to know that we took long route and therefore the track of 18 km became 20km for us. But after that we found many other people and continued our journey. We reached at the top of peak at 5 pm. After doing Darshan of Bholenath ji, we trekked down to the main temple of Shri Shirgul Maharaj ji. The deity is considered as the most powerful in Sirmaur and Chaupal regions. Lots of pilgrims visit here to take the blessings from the God. During winter the region receives snowfall upto 25-30 feet and the trek is closed upto April. We attended the aarti/puja for Shirgul Dev ji and then took langar(food served as social work). We stayed there in night as the temple's committee provides blankets and place to stay for almost free. There are big halls available to spend night. All you need is to get the tickets for number of blankets required. There are separate rooms for gents and ladies.
We spent night peacefully and satisfied. Next morning we woke up around 7 am. Took blessings from the God and started return journey to Nohradhar.
It was a lifetime experience to visit such s place where the environment is full of spiritual energy, peace and blessings. And for trekking I would rate this place 10/10.
Jai Bholenath ki!