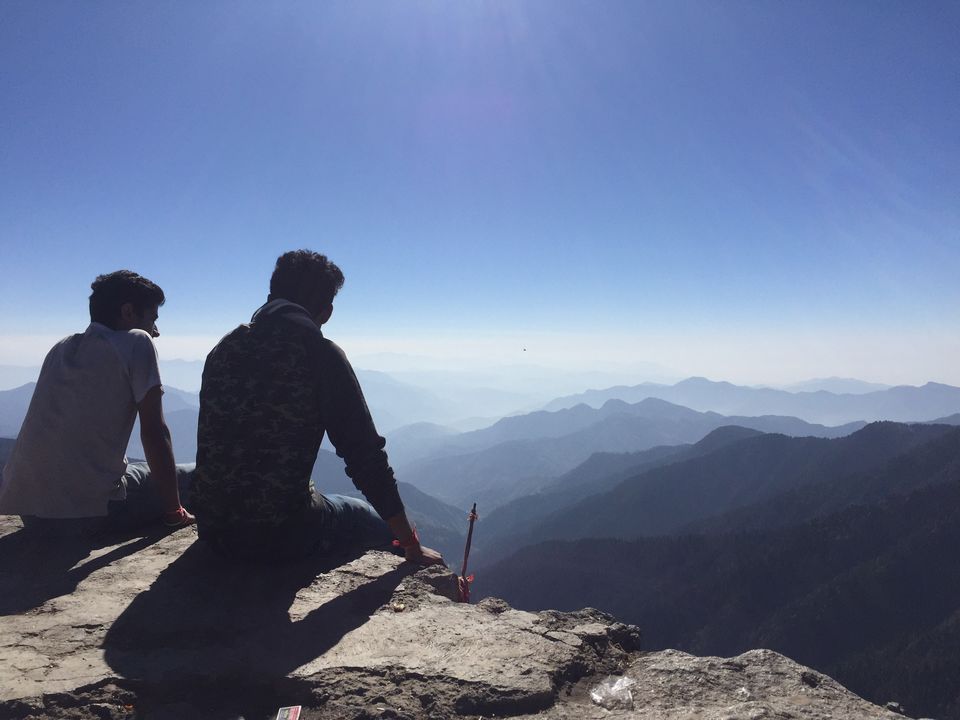 So, i am writing my first blog here! Would appreciate your views on same...
I am Prabhat Singh, wannabe blogger who loves to travel around new places and exploring this beautiful world. Earlier, during my B.tech days i was not fond of travelling like i am today. Post my bachelors, i decided to go for masters, and there i realised that for me, travelling is not just an outing on weekends or a trip with friends....
For me travelling is exploration(of life, nature and to some extent our physical & mental boundaries) and in the process, unidentifying ourselves with many personalities we may have undertaken during the course of life. Travelling is meeting new people from different places, ethnicity, creed & background and how you deal with new challenges that confronts you out of the blue! Travelling doesn't need money, it needs courage more than anything. And my first 3 day travel plan includes it all. Lucky me!!
DAY 1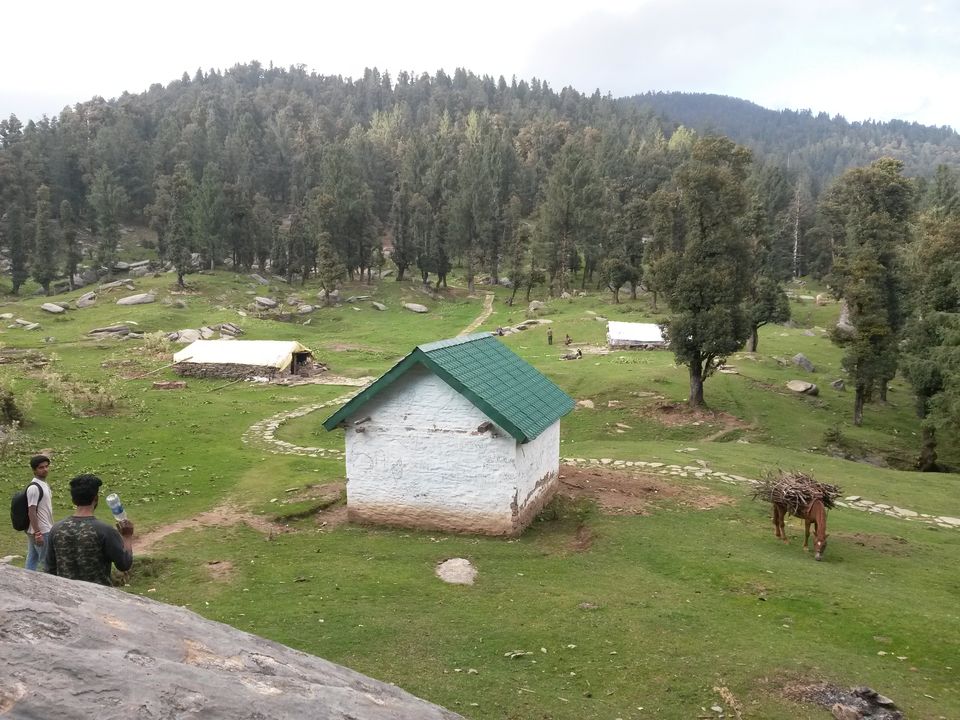 It was sep 2015, morning, time- 4:00 AM, when two of my friends Ankush and Shanky (Galt Bande) came to my room and started banging the door. As i opened the door while scratching my eyes, they in a hustle told me to wash my face and pack my bag. When i inquired as to where they stated - for CHURDHAR TREK and will be back on the third day (As we had already discussed about CHURDHAR TREK few days back). It took me 15-20 mins to freshen-up myself and pack by bag. Now we were ready to leave our hostel with just 2k in my wallet. We took a cab from our university to Waknaghat, from where we took a bus to reach solan bus stand and then from solan to Rajgarh, a place before Nauradhar from where we were going to start our trek.
It took us around 3 hrs to reach Rajgarh, where we filled our pockets with the "bidi bundles" instead of "cig packets"(money saving mode - activated!!). Once we filled up supplies, we headed towards Nauradhar thinking of boarding a bus from Rajgarh but, due to limited bus service and overwhelming crowd for the destination, we were unfortunate to get one. Right then Shanky told us to take the seats over the roof of bus before it gets packed too.
We traveled for about 2 hours on the roof. Truth be told, it was not any 4-Lane or a 2-lane highway, it was a single lane road with a 200 ft cliff on the other side. Himachal Pradesh roadways driver maintaining the old age reputation of being rash and rough on the edges. On many occasion you feel calling your parents and expressing your love for them one last time as you may not get another chance(pun intended) :P.
It was one hell of a thrilling ride for me on that roof. A different experience all together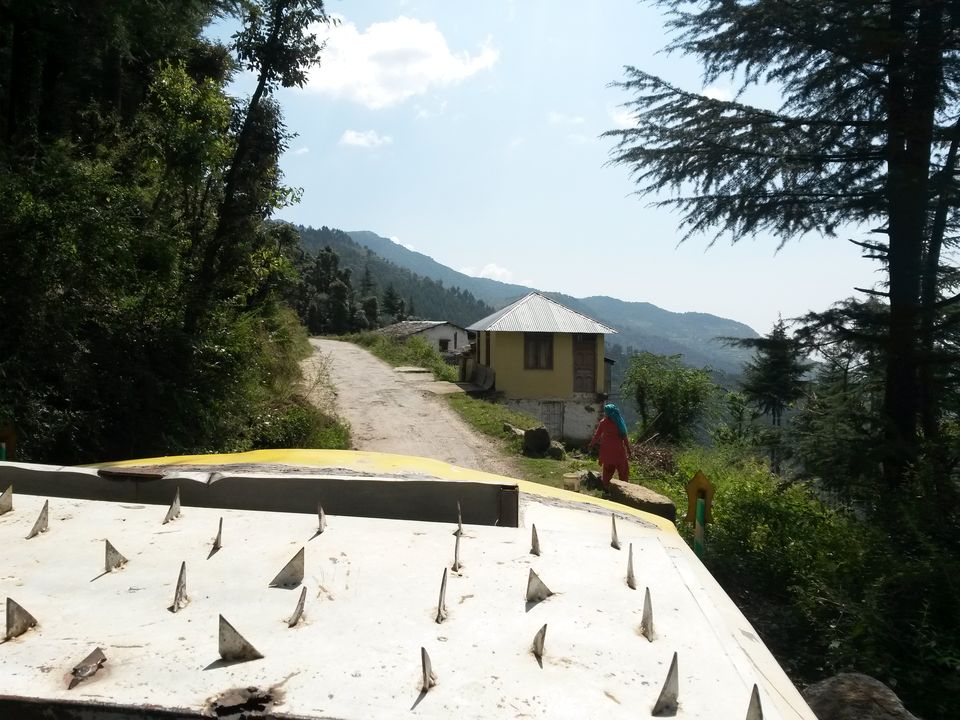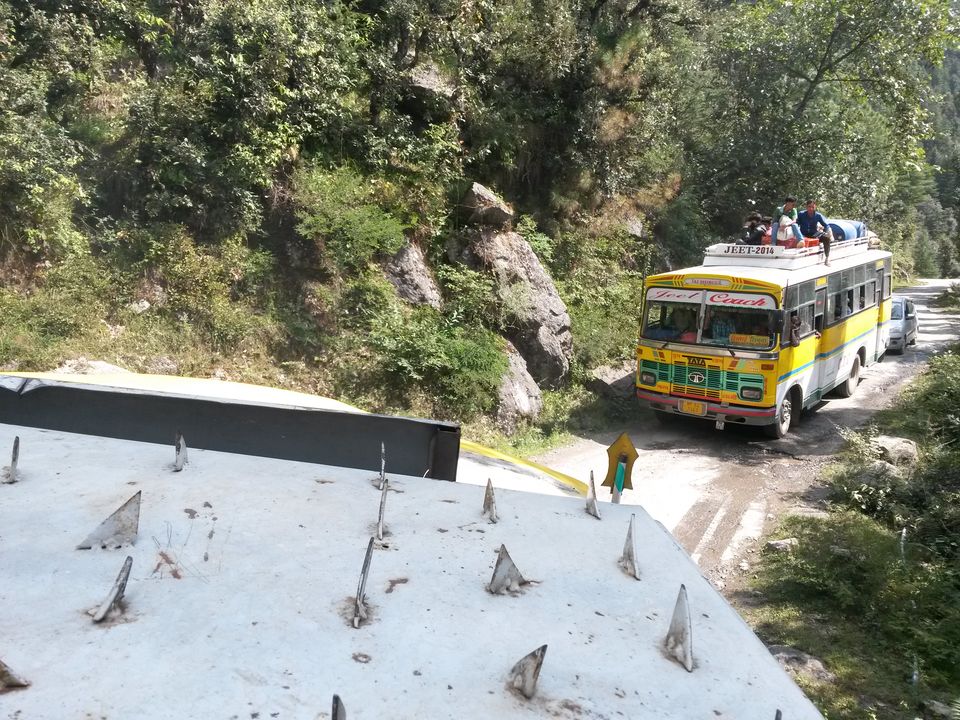 After 12:00-13:00 of exhaustive travel, we reached Nauradhar from where we have to start our trek. As we were already a bit tired however; neither of us wanted to stop. You may want to know that there are three trek routes out of which two are general and one through the forest. We had the luxury of making a route choice..
Yes, you got that right; We choose the route through the forest, which was more adventurous, risky and way more fun.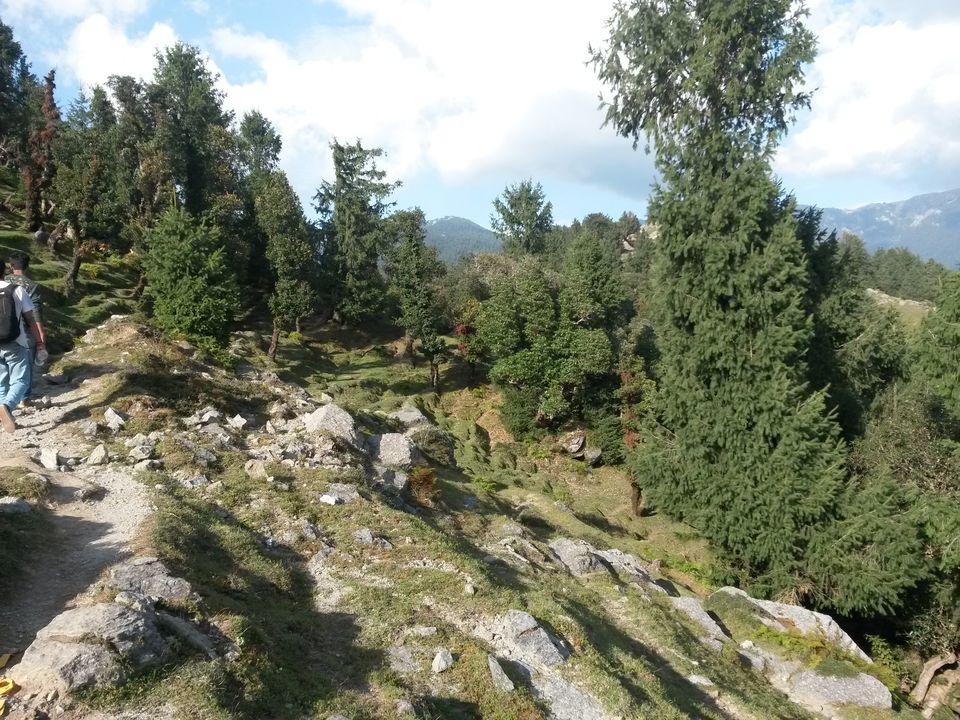 The overall trek of Churdhar is around 18 Kms from Nauradhar which will take 10-12 Hrs if you trek maintain a good pace. First 1.5 Km is quite steep through the rocks & muddy mountains. Then comes the pine forest and deodar trees. Natural landscape is breathtaking. The trek showed us some amazing views, scenic, forests and got the opportunity to meet and engage with amazing bunch of lively and generous folks. Our day was going very well until the sun bid us farewell at around 18:30 Hrs. Furthermore, with the temperature going down rapidly, we were in middle of a forest with no torch among us. Our phones' batteries were already drained, thanks to photography! Moreover, as the sun was going down, we had just 5 more hours of trekking to reach Churdhar.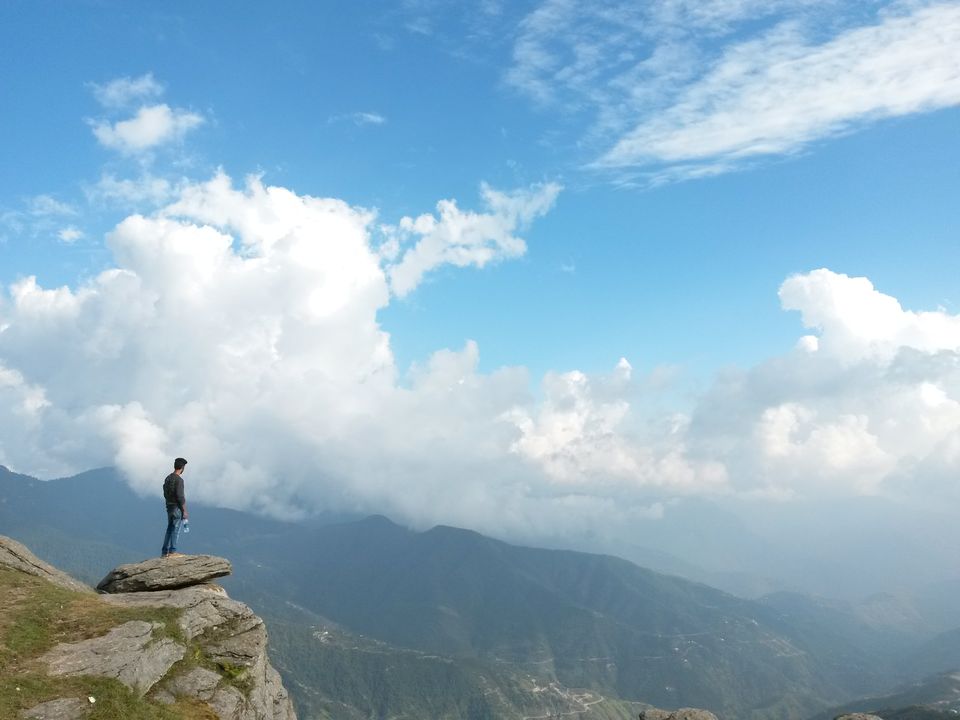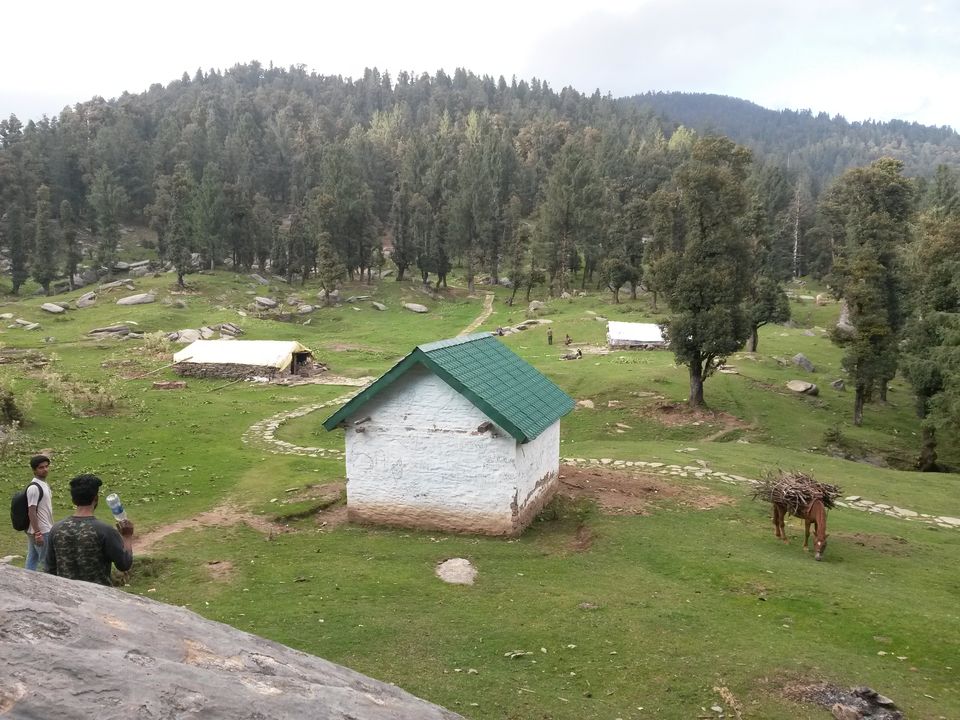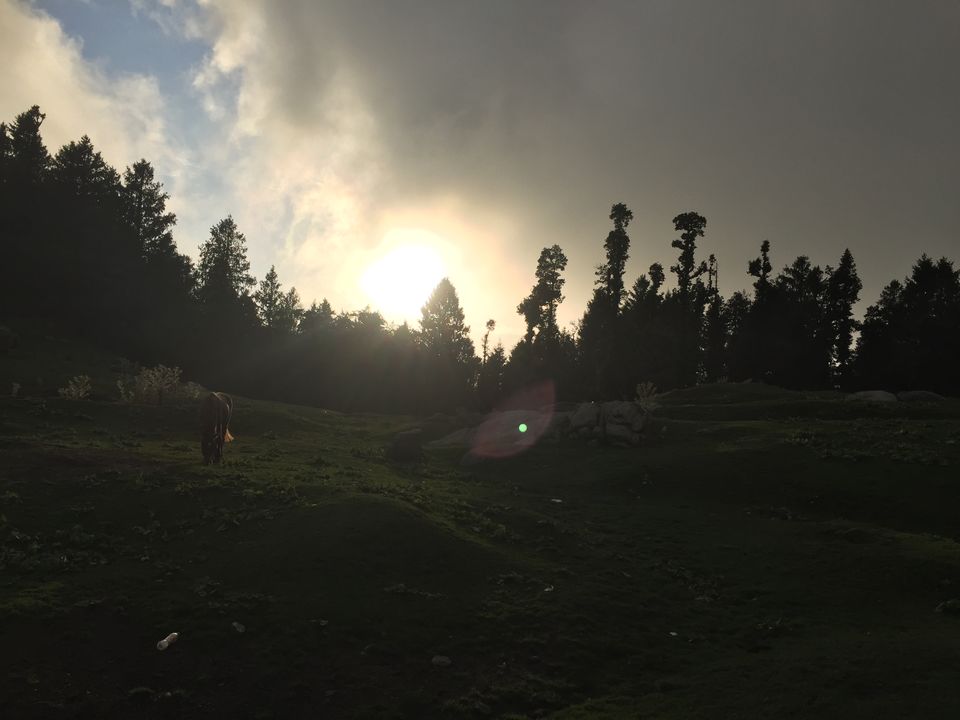 But, as they say,
"Where there is a will, there is a way..."
We met two other group and jelled up great with them making a group of 14 members. All helping each other during the remaining journey. At last, we reached our destination at around 12am. We made a halt at Dharmshala (a rest house devoted to religious purposes). If somehow rooms were not available, this Dharmshala provides you a hall, you just have to rent your mattresses (Rs 50/mattress) and quilts (Rs. 20/quilt), find your place and prepare your bed. We took 6 mattress and 9 quilts. Then we had dinner and a much needed hot tea in the only opened shop cum dhaba and went to our shahi self-made bed.
DAY 2 AND 3
Next morning, sun welcomes us again like never before!! We were 100% charged again both our phone as well as us. Today, we were to visit Chureshwar temple and from there 1 hour of rocky and steep trek to reach the statue of Lord shiva. In between we came upon a giant rock called "Naag patthar" wherein we halted for 10-15 minutes for a quick break and to let the amazing landscape sink-in...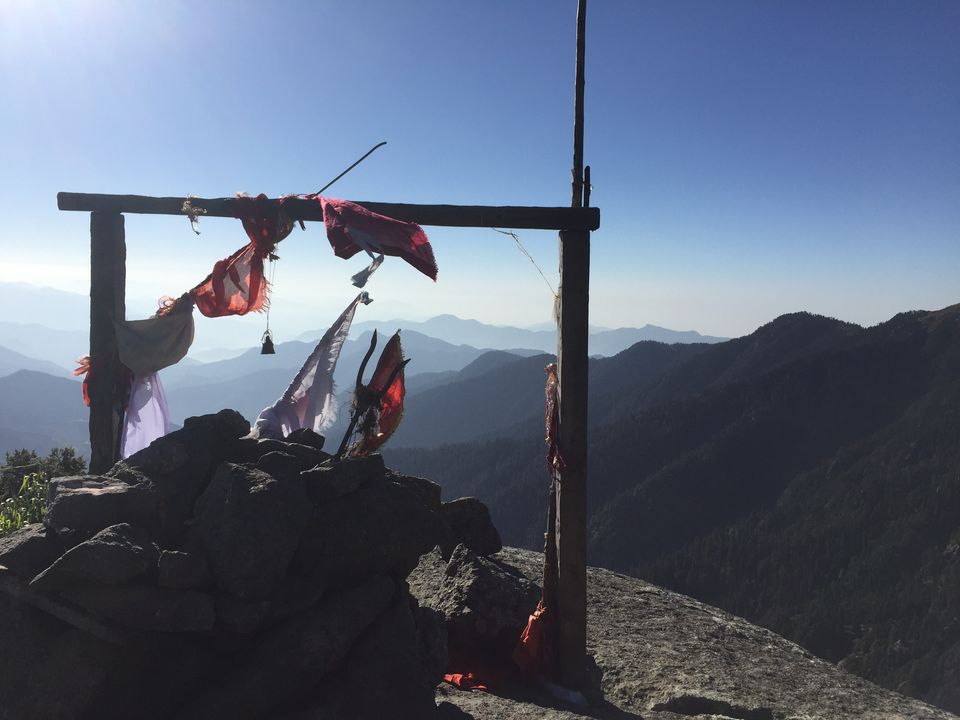 Then we start our journey again, and as we reached the top I was like, WOW!! A giant statue of LORD SHIVA facing towards Kailash having 360 degree view of the Himalayan ranges. There was no peak taller than us. I was mesmerized and just thanked the almighty for having brought me up here safely.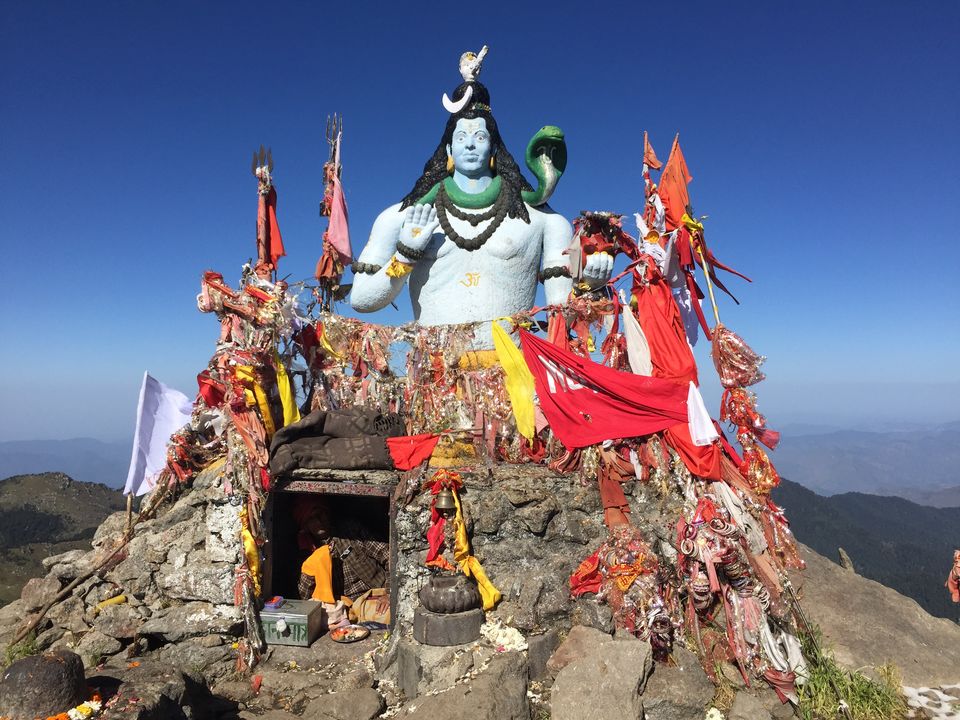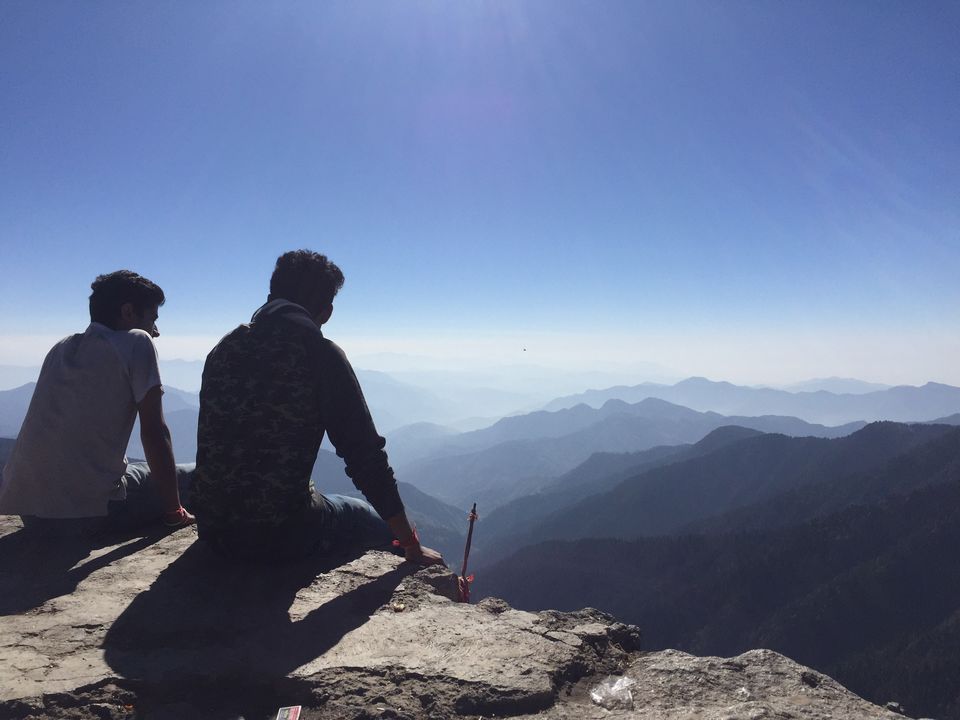 Post this, we started climbing down as we had to reach Nauradhar by 1900hrs to catch the last bus to Solan. On the rocky parts there were some snow which made our return tad bit slow and risky as the same time. We took less stops but captured some beautiful moments en route.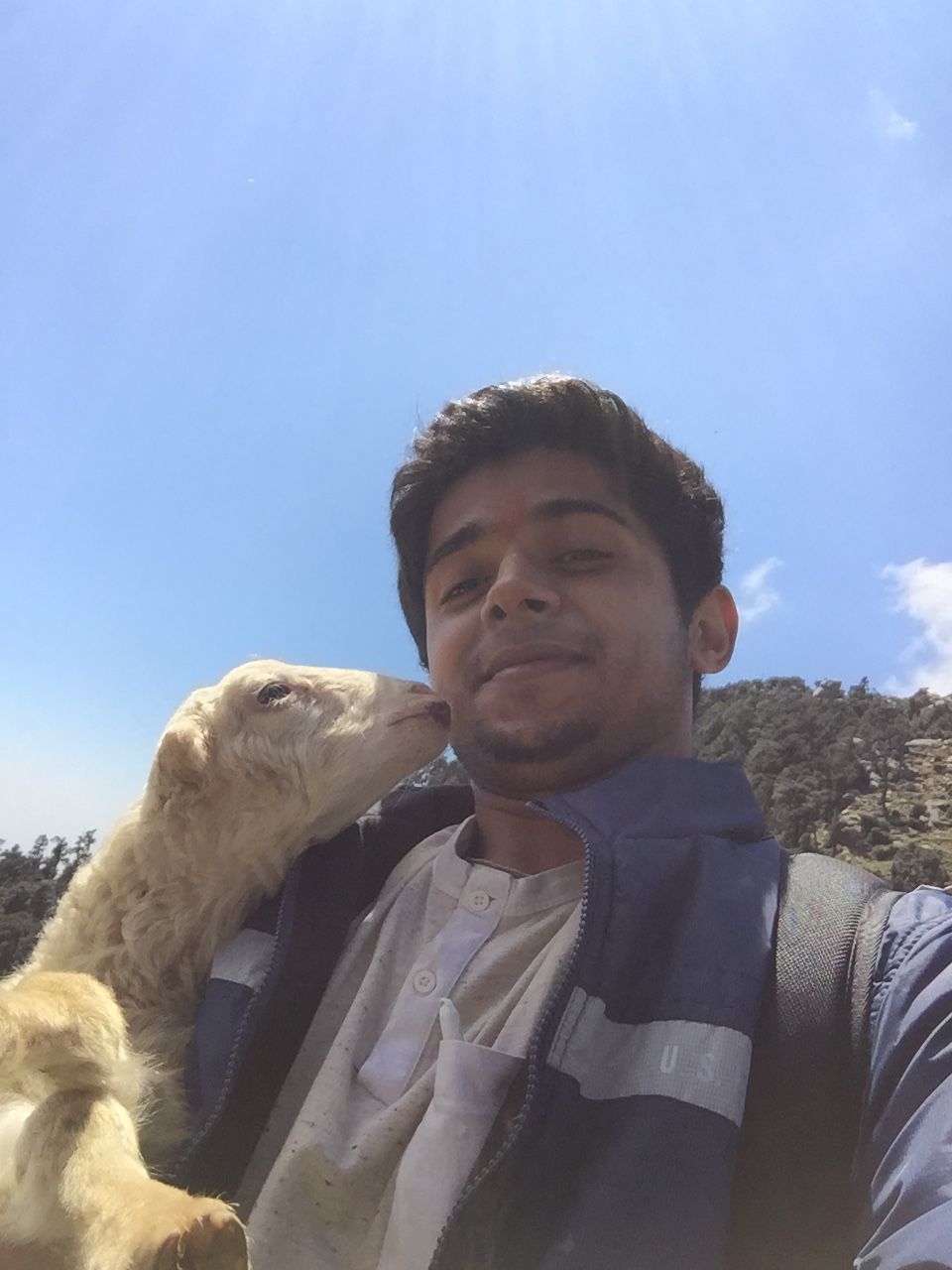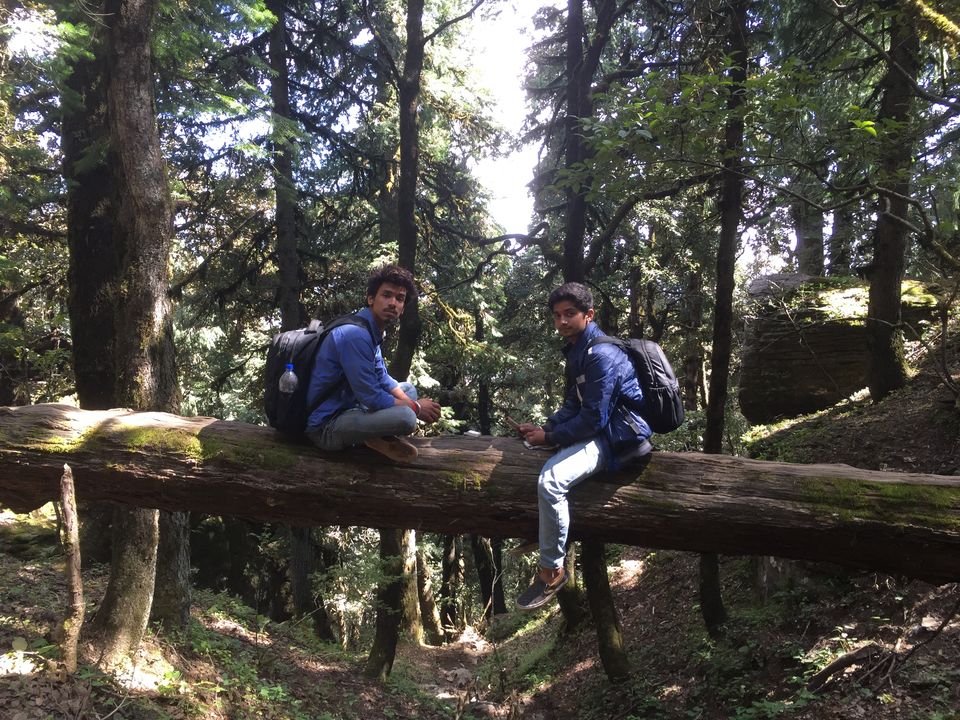 We took 8-9 hours to reach Nauradhar and yes you gussed it right, we were late by approx 1 hour and the bus left the stand already. There was no public transport available at that time and we didn't have enough cash to book a taxi. We tried to take lift from every vehicle passing by, that includes trucks too. After trying for more than 2 hrs all we could get our hands on was disappointment. At last, we quit!! It was around 00:00 hrs, we were roaming around the roads and guess what? We found a Gurudwara, having a big smile on our faces we rushed towards and spoke our mind to their head and told him about our situation. He was generous and kind enough to let us in. We had some food and then before going to bed, thanked God for this amazing roller-coaster of a trip. Next day we woke up early and took the bus to Solan and reached college in second half.
THINGS I HAVE LEARNED
Life is so unpredictable, so why waste our precious time thinking about future instead of living & enjoying present. Travelling is something that gives you inner peace, calms your mind, makes you introspect. It teaches you to deal with the situations you haven't had the courage not the belief to face in your daily life. It transcends you to different cultures around you which you are not even aware off. Travel to open your eyes, enlarge your perspective in general and widen your horizon.