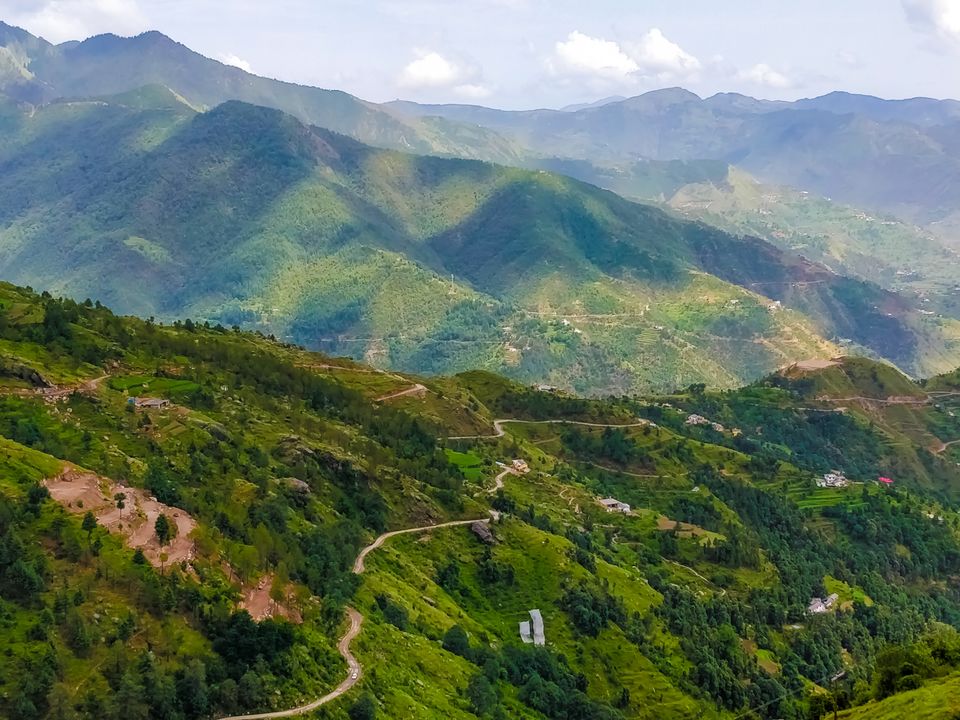 It was the last working day in the office, the weekend was upon me and a trek was on my mind. So without wasting any time I just planned this trek at eleventh hour. I called up my friend, Joban and asked him if he is willing to come and as always he said, lets go buddy for some new adventure. We chose this trek as it involved very less time to travel. Churdhar peak can be trekked in just a span of 2 days including return journey. It is a perfect trek in the vicinity of Chandigarh as it takes you through dense forests, open meadows and finally to the Churdhar Peak from where views are just breathtaking. On a clear day, one can see peaks like Shrikhand Mahadev, Kedarnath, Badrinath, Kinner Kailash.
Churdhar peak can be trekked from at least 3 routes – Sarain (Chaupal) in Shimla distrct is the base for the shortest route though it is a steep incline of 7 kms, while Haripurdhar in Sirmour district is the base for a longer route of some 50 kms. The third route is from Nohradhar where the trek is a 18 km climb. The route from nohradhar is quite popular among the trekkers but we took the shortest and the most strenuous one, Sarain to Churdhar.
Day 1: 16.06.2018
We started our journey from Chandigarh at 12.45 AM. As we prefer to travel by HRTC buses I and Joban boarded the bus from sector 43 ISBT for Shimla as there was no direct HRTC bus to Sarain (Chaupal). We choose this route because we wanted to see the Bijat Maharaj Temple en-route which is an architectural masterpiece in itself. The temple adorns the wealth of wooden carvings. The only temple of this stature I had seen was Bhimakali temple in Sarahan, Himachal Pradesh. We reached Shimla at 5:00 AM in the morning. We then inquired for a bus to Chaupal but unfortunately no bus was available for Chaupal. After inquiring a bit we came to know that two tempo travelers daily go to Chaupal. One leaves at 4:30 AM and other at 6:15 AM. We called up the driver of the traveller Mr. Bharti – 9816122876 for booking our seats. He is a very generous person, inspite of having all seats already booked he adjusted us. He just took Rs. 200 per person for Chaupal which is a 3.5 hour (96 km) long journey from Shimla. We had some breakfast at a stop en-route and finally we reached Chaupal at about 10.20 AM.
We then hired a shared cab for Rs 30 per person to Sarain which is about 10 kms from Chaupal border. Finally we reached our first destination – Bijat Maharaj Temple, Sarain at about 11:30 AM. Sarain is a beautiful place surrounded by the fields, apple orchards, small villages and forest of deodar.
Bijat Maharaj Temple is an ancient pagoda style temple dedicated to the Bijat deity which is deeply venerated by people. It is located in Hambal valley, 26 kms away from Chaupal town. When we saw the temple, we were just left awestruck. We were completely captivated & mesmerized by this architectural masterpiece. The temple is believed to be built in early 16th century by Maharaja Mahiprakash of Sirmour.
The temple has a lovely courtyard to capture its nonpareil beauty. The craftsmanship is literally incomparable. The temple architecture temple exhibits fine artwork of Himachali craftsmanship, influenced by Tibetan, Buddhist and Hindu styles of architecture. The temple complex has two parallel tall buildings that houses the Bijjat Maharaj "The God Of Lightening". There are many building in the complex and all are double storyed except for the two tall towers, which rise above all.
This is the main deity in the area and is identified as the 'God of prosperity and good health'. In the month of April, the Bishu Fair is organized here, which attracts thousand of pilgrims from all over the state and out of state. Photography is not allowed inside temple premises and you have to deposit your mobile phone & camera with the security staff. The entrance is adorned by ancient coins pitched on the rise part of the stairs and narrow wooden stairs having a distinctive design & feel take you to the first floor of the temple. Only the left tower (from inside) is open to public and the other one remains closed. After climbing the second stair you will see drums hanging. The third stair leads to the room where the idols decked up in gold and silver ornaments are placed. After paying obeisance, we clicked some pictures in the courtyard and finally we moved to our final destination, Churdhar.
Churdhar Peak – Religious Significance
Churdhar is also known as Chur chandni, for the snow covered peak which resembles a silver bangle. Churdhar (elevation of 3,647 metres; 11,965 feet) is the highest peak in Sirmour district of Himachal Pradesh and is also the highest peak in the outer Himalayas. The peak has a great religious significance for the people of Sirmour, Shimla, Chaupal and Solan of Himachal Pradesh. Churdhar is a holy place related with Shri Shirgul Maharaj (Chureshwar Maharaj), a deity widely worshiped in Sirmour and Chaupal. The peak is named after Chur, a servant of Srigul and a devotee of Lord Shiva. When Srigul fought a lone battle against the tyrant Mughals, he handed over his Kingdom to Churu and thus the peak was named after the loyal servant.
At the top of the peak, is believed to be the place where Lord Shiva in the form of Chureshwar Mahadev (also known as Lord Shirgul) resides. Religious followers have installed a statue of Lord Shiva which sits on the peak and tourists and pilgrims tie prayer flags around it. A temple dedicated to the presiding deity, a few meters below the peak, is a place of pilgrimage for locals of surrounding areas.
Legends say that it is the place which housed the life restoring herb " Sanjeevni Booti" that Hanuman ji took to heal the injured Lakshaman ji during the events of the epic, Ramayana.
The trek
We started our trek at 12:30 PM. The weather was very pleasant. We thought very few people would be going from Sarain side but to our surprise there was huge rush of natives who were also going to the peak to pay their obeisance to Chureshwar Maharaj. We didn't started with enough water which we found to be very essential as it was a steep incline. There is no eatery within first 3 kms. Few water taps donated by the residents have been installed in the initial stretch of the trek where one can quench his thirst. The trek passes through a dense forests and lush green open meadows. The beauty of the woods comforted our hearts. The forest's smell was fresh and organic.
The woods we entered were lush green. We were in awe of the size and majesty of the trees. Their knotted arms rose ever upwards, as far as my head could lift. They stood like skyscrapers proudly. We could hear the orchestra of birds. The blanket of grass was unending. We walked in and out of shady glades.
The peace of the morning was soul soothing. We saw some horses grazing in the forests. 'Oh, you beauty, were the words just came into my mind. The black one had a chiseled body structure and long hair. He seemed to be friendly and made some awesome poses which we captured.
The vegetation was also different which you won't find in plain areas. As moved further we saw some trees struck by lightning.
They offered a great picturesque sight. The woods now became denser, the trees stretched out, the huge rocks covered with moss became more prominent and the hike became more steep. We could feel the fatigue so we rested for few minutes in between where we could. The natives praised us for choosing this tough route which boosted our stamina and we moved on.
We found a lot of people en-route and it seemed as if some small festival is going on as numerous people were ascending and descending. Some people were even bare foot and even had kids with them. Men, Women, old, young all were so excited enchating "Jai bhole" and moving with speed, which made us realize that no doubt we are youth but we can't match the fitness levels of the native people. There is something divine in these mountains that was motivating us to keep moving on these steep trails.
Huge Chir & Deodar trees were standing tall and were seeing us like we are nothing in front of them. The moments came where we felt exhausted and thought that moving on is impossible and then the natives carrying everything from clothes to heavy steel trishuls and trekking bare foot comfortably. We ran out of water very early but still managed to reach the first stop, the Gujjars huts.
We relaxed there for a while and had some food to regain our stamina. I think it is the mid point, here you can find tea, pakodas and freshly prepared sweets which re-energize you and you are good to go further. After filling our bottles with natural stream water (there is no bottled water available in the entire route) and started our journey again by 3:45 PM. After hiking we found a large meadow from where we were able to spot the Chureshwar temple and the mighty Churdhar peak. The majestic peak seemed to be unapproachable as we were loosing the day light.
We then aimed for Chureshwar temple. By 6:00 PM we made it to the temple premises. There I saw a St. Bernad breed dog running here and there. He seemed to be quite friendly and I started clicking his pictures. He came running towards me and starting posing. He was so adorable.
After spending some time with him we then thought of arranging accommodation. Thousands of natives in colorful dresses starting coming in to seek blessings of Shrigul Maharaj. Being a weekend people in large number had come. They were plunging like anything. The temple premises was full. People were struggling even to get blankets. We thought to ourselves that we wouldn't be getting stay option here. It was so crowded that we thought of going back. But the almighty had some other plans for us. I met the temple priest who was looking after the arrangements. Being weekend there is a huge rush, he replied. Don't worry, I'll make some arrangements for you, just wait for a while. Hearing this, we had a had a sigh of relief and we then checked out the local shops also if there is some other stay option available. After meeting the priest our hopes of getting boarding and lodging grew strong but still it struck into my mind that for how many he could make arrangements as the number grew more & more. I once again met the priest and he promised me that he will open up the dormitory for us after a while, so please be patient. The crowd thousands in number made us more and more worried and the weatherman too. Neither we stood in the line for getting stay arranged nor we tried for the bedding. I believed in my self that I'll will make it and then the priest came to me and said come I am opening up the dormitory. We were so happy, we rushed for the dormitory and got our place to stay for the night.
Soon many people came and it was full within few minutes. Now the second thing how to arrange for the blankets? It was 8:00 PM, the line was still as it is and people were standing in long queues. By this time chilly winds started blowing and the rain was about to pour in. I told Joban to wait in the dormitory as the moment we will move out of it, our place will be taken by some another person. Now, I thought to myself how to get the blankets and there, I saw the priest again. I met him again at his room and asked if any arrangements for the blanket can be made. He said you have to take it from the Dharamshala below after getting the pay slip. It was not at all an easy affair. I saw the blankets in the priest room and I thought it would much easier to convince him then getting in that large queue. I told him about my credentials, place from where I have come from and bingo, he gave me 4 blankets instead of 2. I was so happy. I came to Joban and he was surprised how I made it. We then had dinner, Rajman Chawal at the canteen which were not so good but we didn't have any other option too. The rainfall, then started and we could hear every drop falling on the dormitory roof. Suddenly the priest came to the dormitory and asked everyone to accommodate more people as 15-20 guys had got drenched in the rain. These guys tried to trek the peak in night. Shivering in cold they came and we got one adjusted with us. We thanked the almighty for everything and slept peacefully.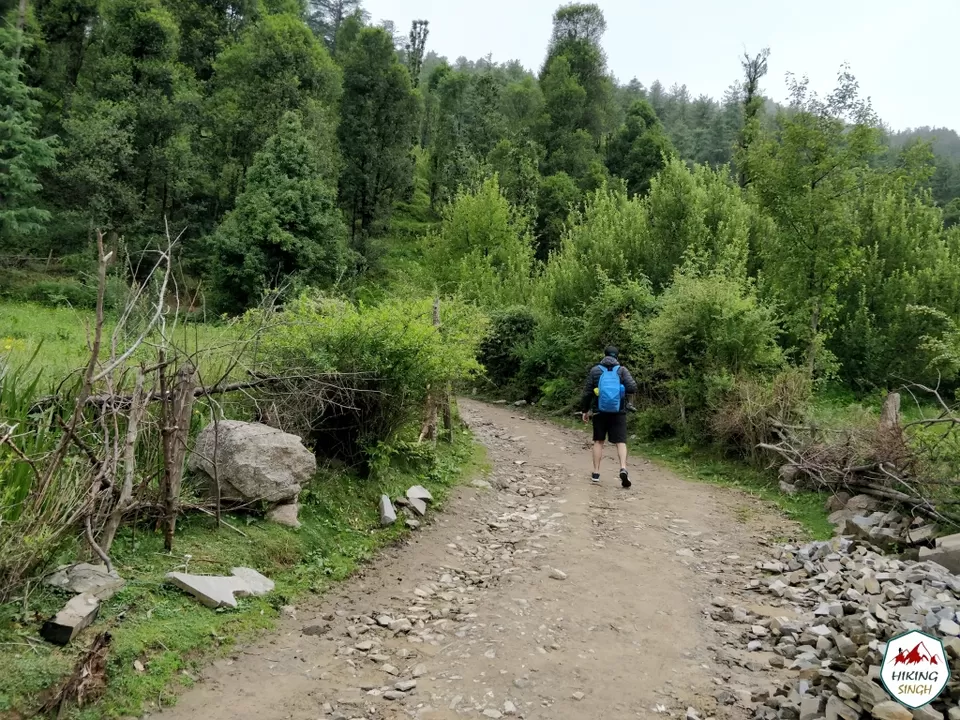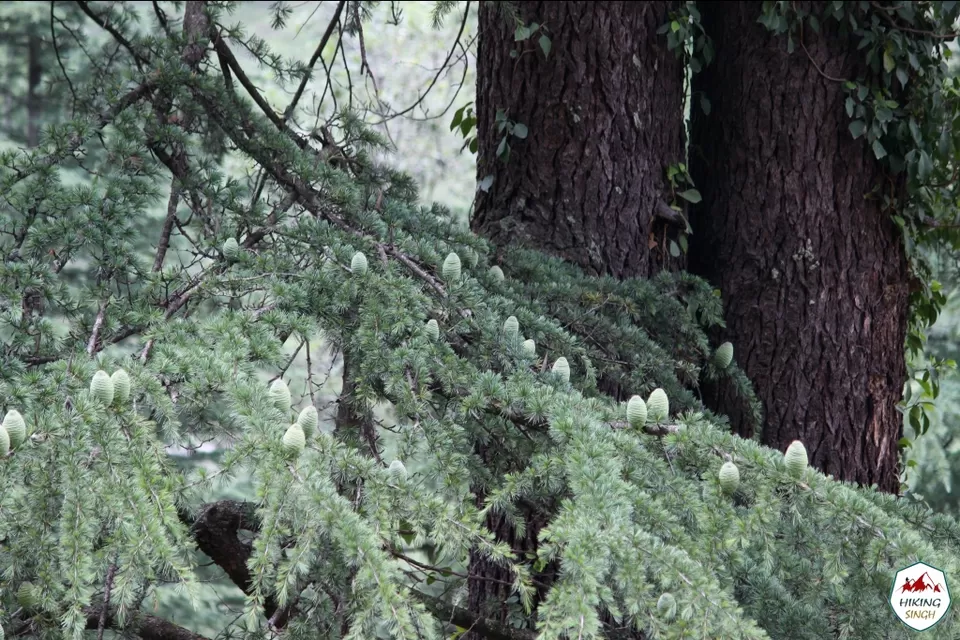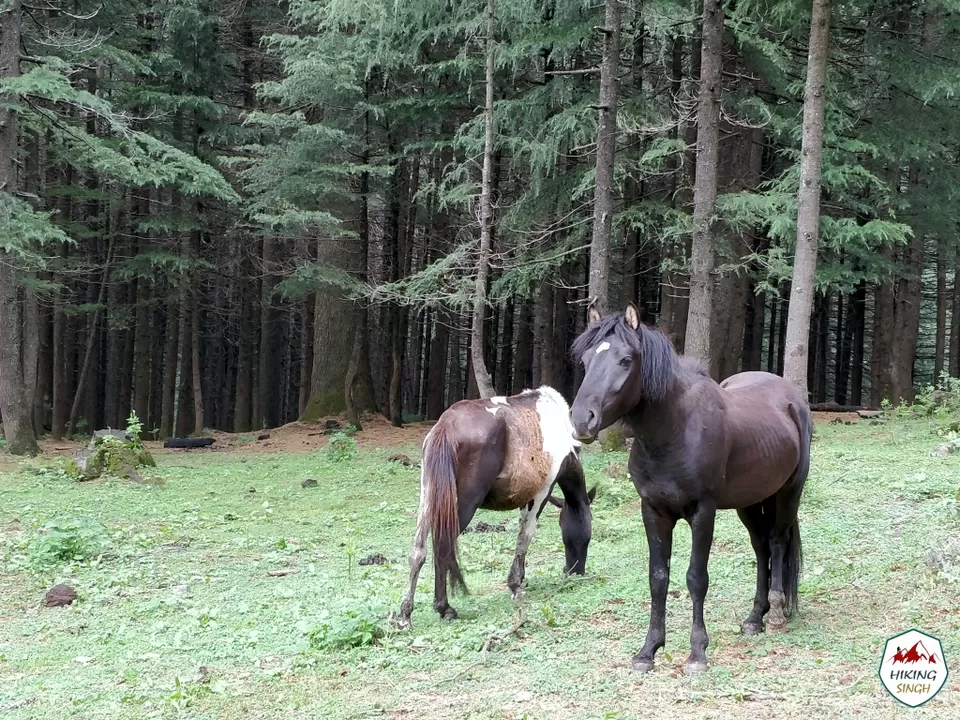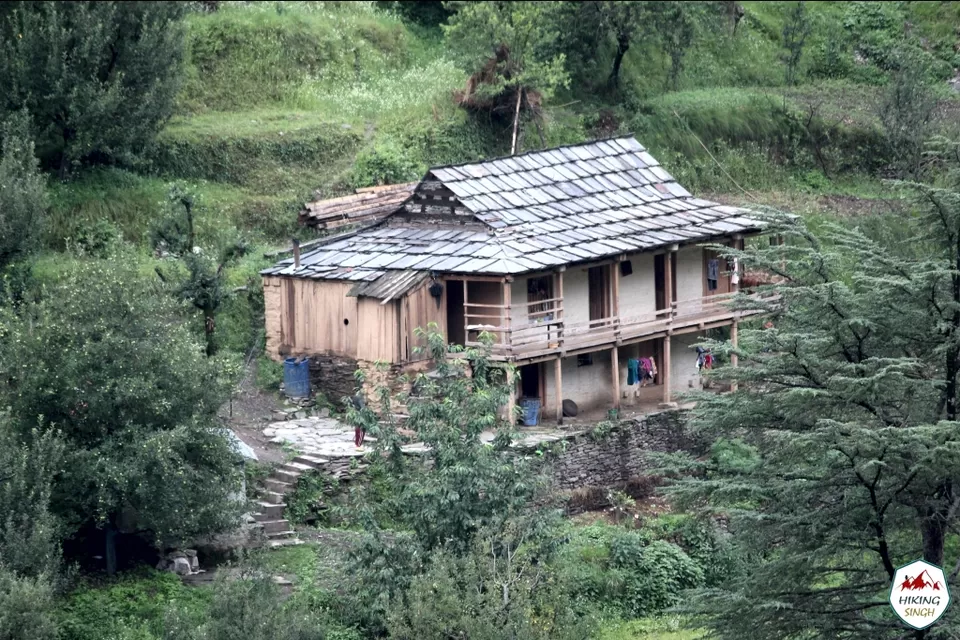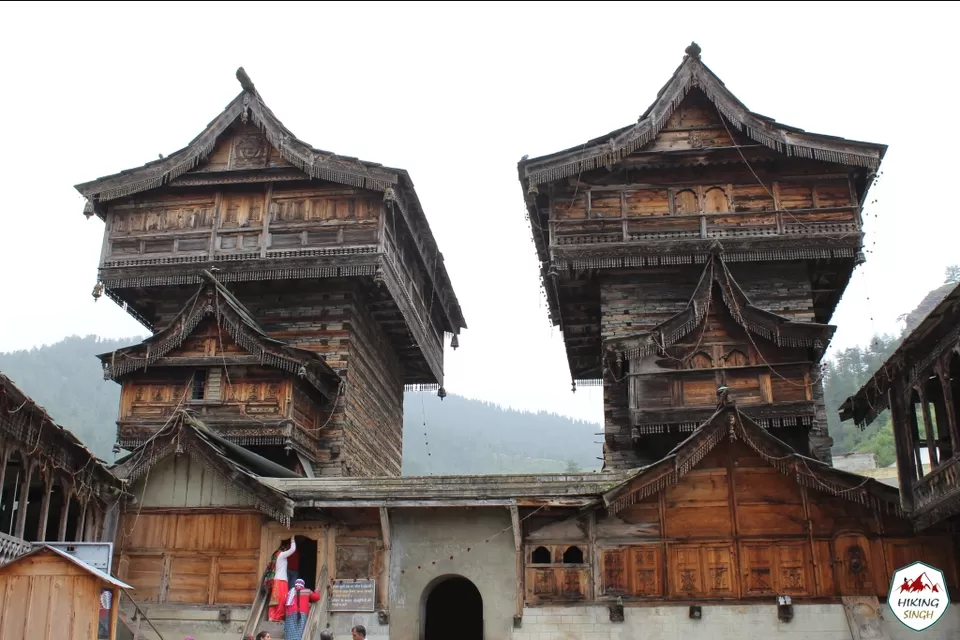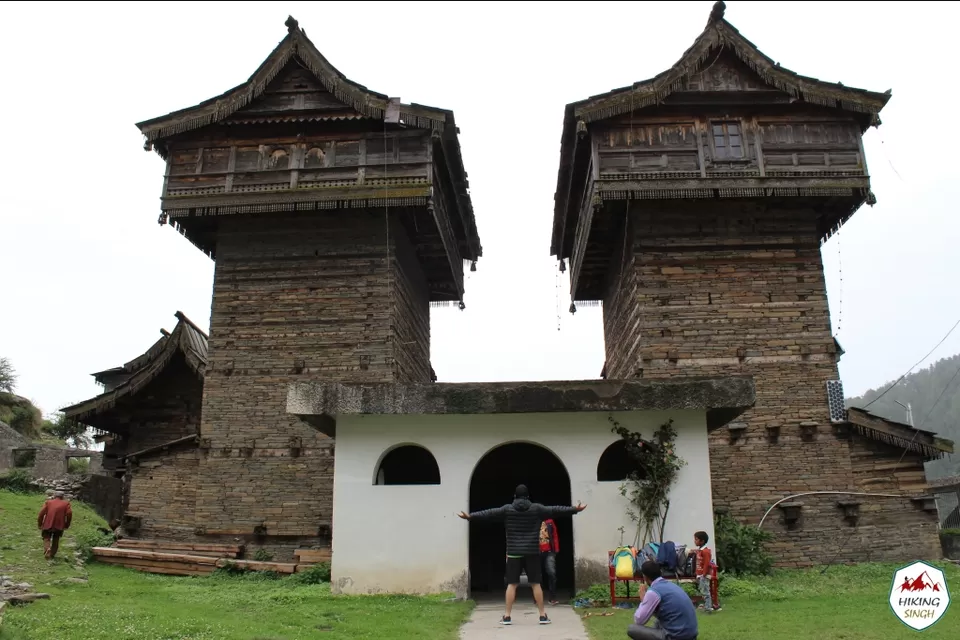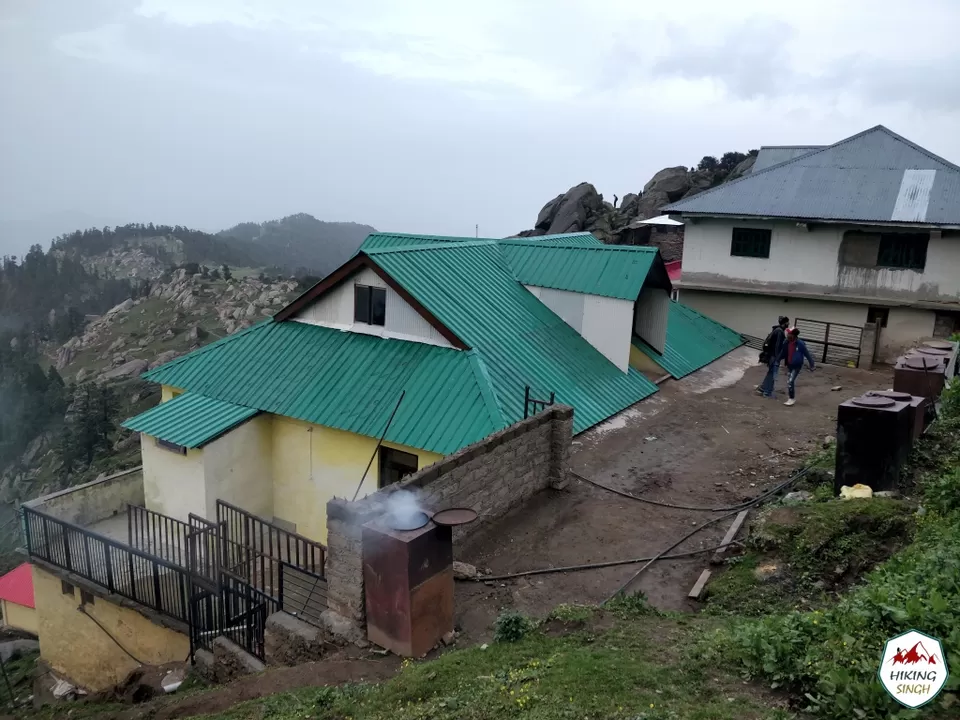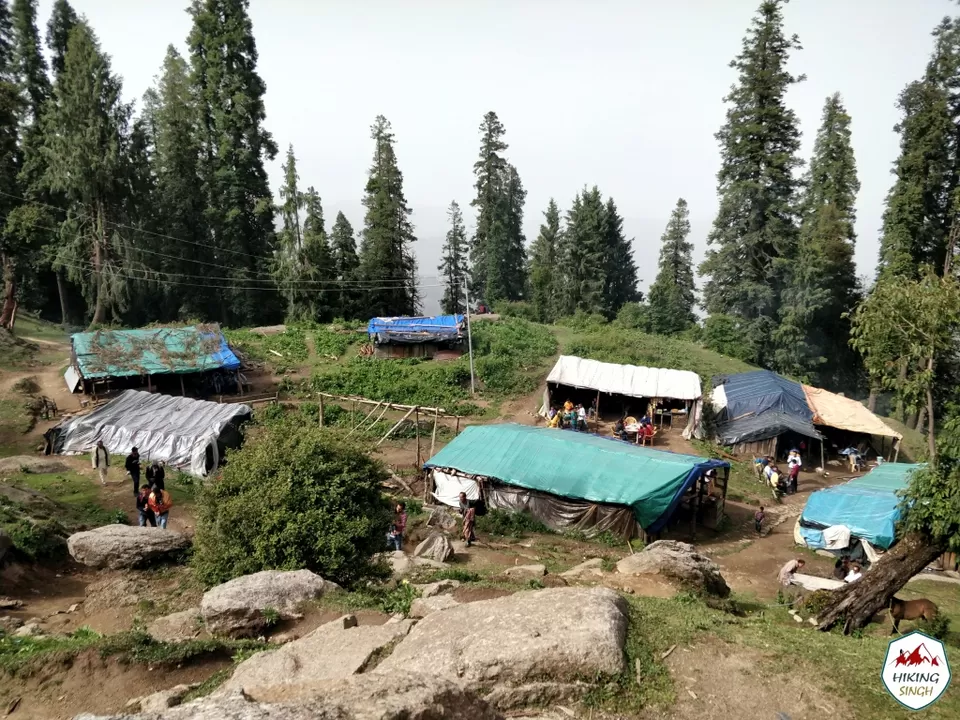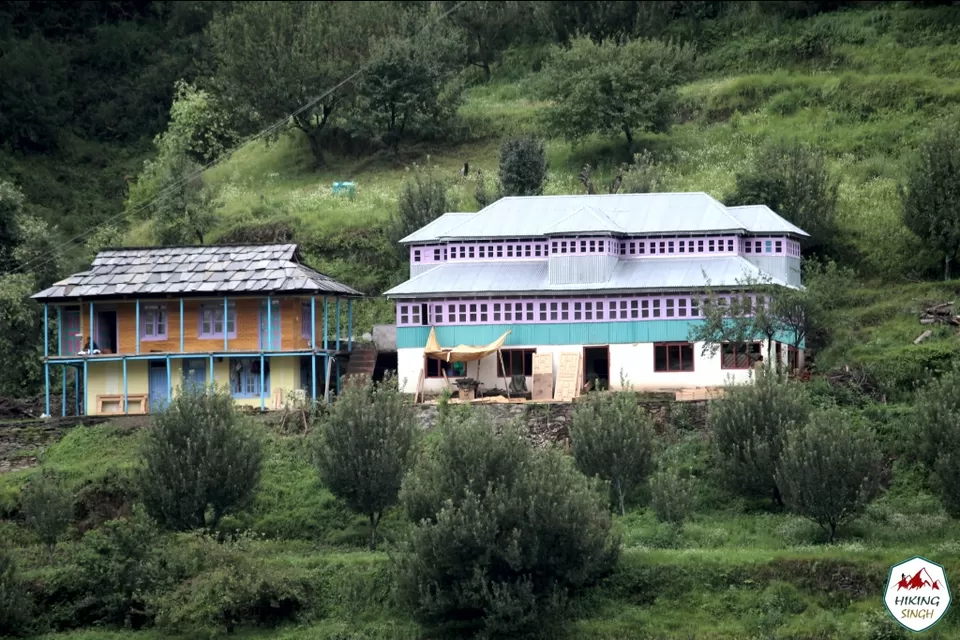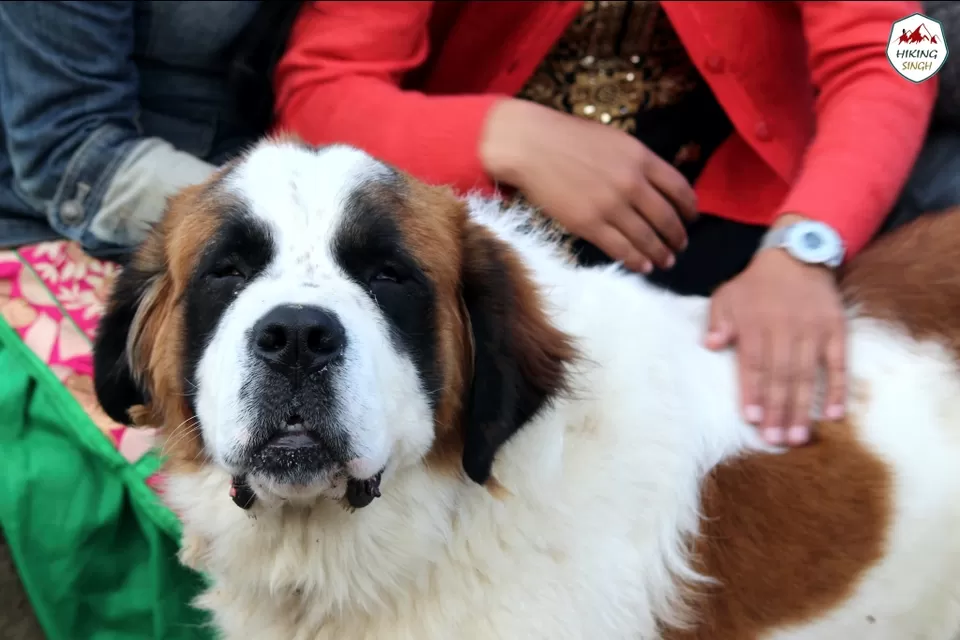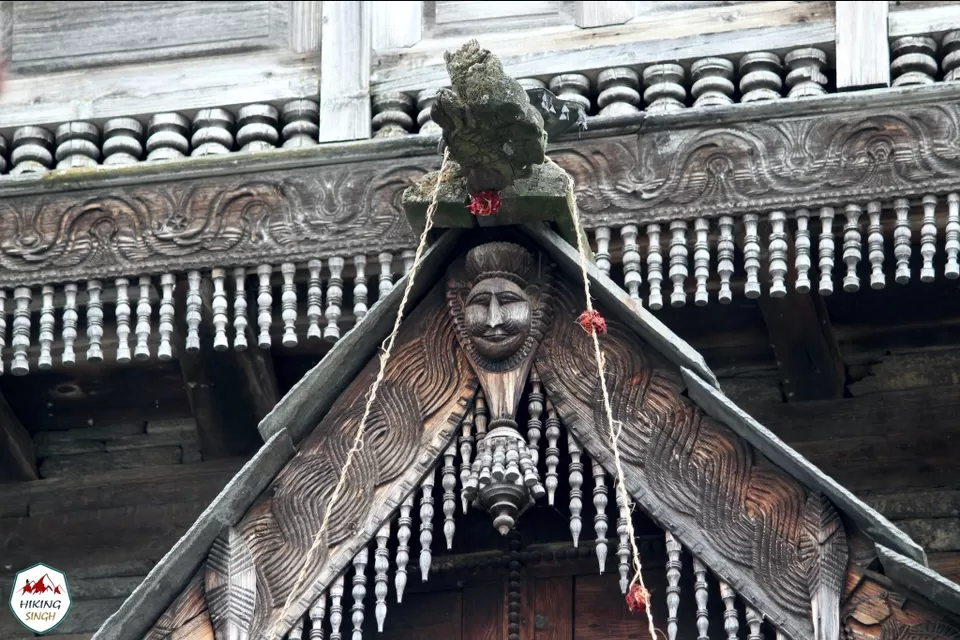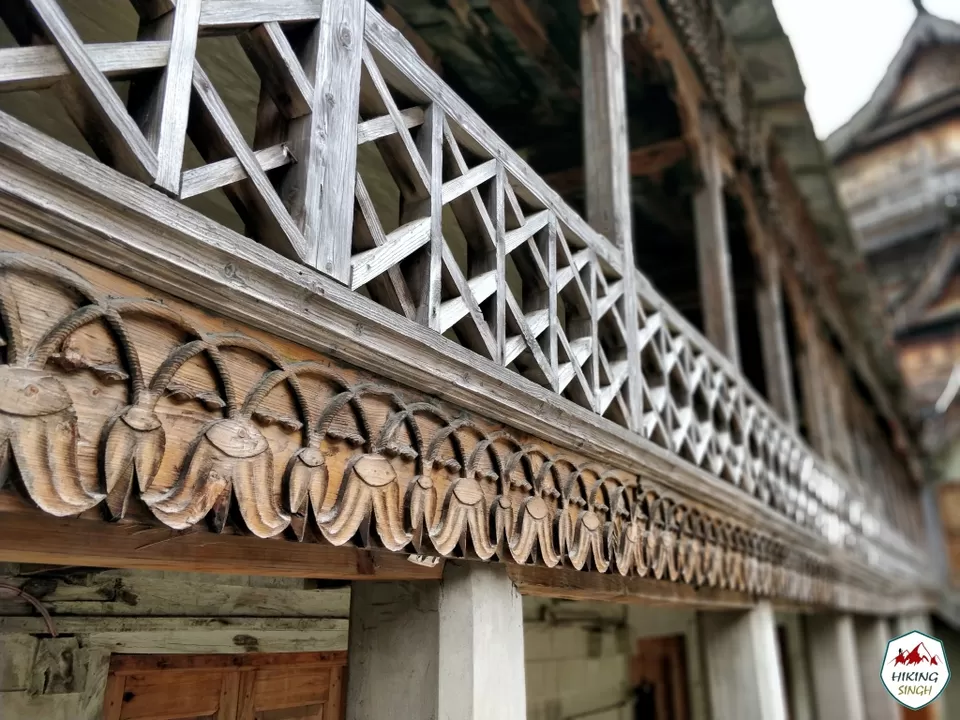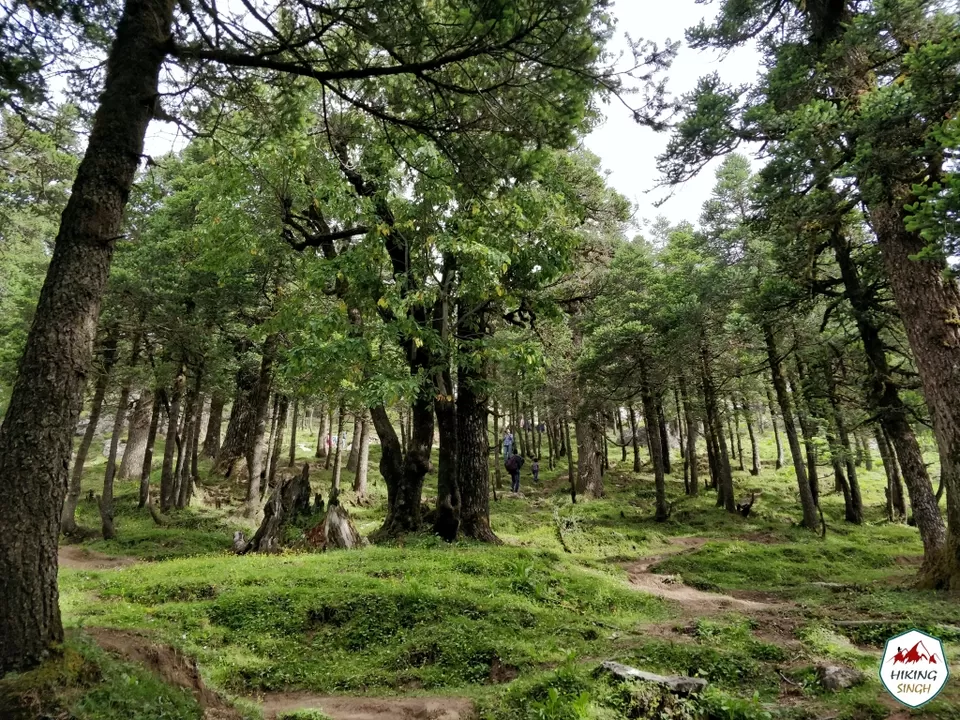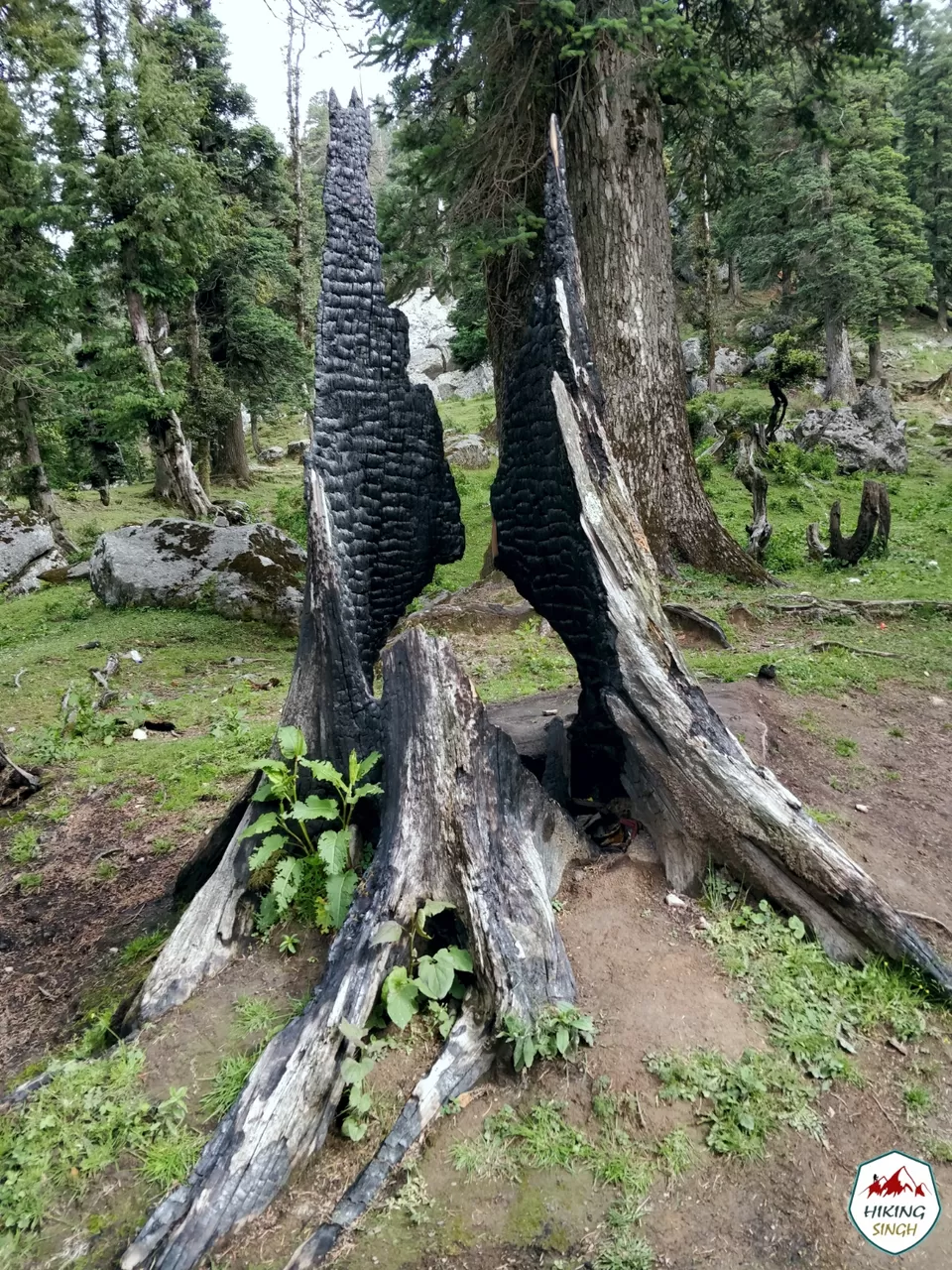 Day 2: 17.06.2018
We woke up early at 5:00 AM in the morning with motionless legs and decided to make it early for the Churdhar peak. We folded our blankets and tried to find the priest to thank him for his overwhelming support but we were unable to spot him in the huge crowd, so we stacked up the blankets near his room and moved to our final destination, The Churdhar Peak.
As it had rained at night the narrow rocky route became slippery. We trekked carefully diverting the slushy paths and the slippery rocks. Soon we came across the route from nohradhar side too. The two routes meet at a common point from where one can trek to Churdhar peak. Several peaks & valley came en-route and which were getting shorter in height as we trekked up. Churdhar is the highest among all peaks in this region. There is no dearth of pleasant surprise as your trek this peak.
The mountain is part of the Churdhar Sanctuary and home to some important flora and fauna including the state bird of Himachal, the beautiful Monal. The Churdhar Peak is also mentioned in the book, The Great Arc, by John Keay but is referred to as The Chur. It is from this peak that George Everest made many astronomical readings and sightings of the Himalayan mountains.
We then saw Churu Ka tibba, a huge solid rock on top of which people perform religious rituals and pay their obeisance to Lord Shiva.
During winters, Churdhar receives moderate to heavy snowfall. The best time to visit is during the summer months. Trekkers can stay in the dharamsala (pilgrims' rest house) of the temple or carry their own tents. It is heard that black bears are to be found in the area, so the trekkers must be careful. Always stay in groups, bears resist to attack on the ones who are in groups. The journey was very fruitful. We reached Churhdar peak at 6:56 AM, the himalayan magic unfolded itself and the 360 degree panoramic view of the mountains appeared to be rushing towards us from all the directions. The view of majestic mountains surrounding the Lord Shiva's idol was just jaw dropping.
We saw multiple peaks ranging from Hanuman Tibba, Swargarohini, Deo Tibba & Jakhoo from the top of Churdhar Peak. We paid obeisance to the Lord Shiva and after having eagle's eye view of lower himalayan ranges covered with dense forests, we decided to start the descent towards Nohradhar at 7:30 AM.
The Descent
It was not at all easy to trek down as the paths were slippery and marred with mud. If it requires stamina to trek the steep slopes it equally requires technique to trek down. You need to be very careful, a small mistake can lead you down into rocks. We then decided not to go by the same route to end our trek, instead to take the longer 18 km route towards Nohradhar.
We reached the junction of two routes at 7:59 AM and still we could see more and more people coming up.
We moved on and entered the most exciting part of this trip the forest of Churdhar. Believe me you will love this the most. Lush green surroundings, Chir, Deoder & coniferous trees towering high, snaked routes, slushy pathways all will pump the adrenaline which one seeks in the woods. The trail passes through a thick forest which is said to be the densest forests of the entire state of Himachal.
The trail is well marked and beyond the woods lies the rockscape interspersed with green moss patches in the entire route. The hike down was filled with talks & courage we all had to make this trek possible. As we moved the clouds began to multiply and thickened indicating the rain is about to happen any time. We got a pair of Ponchos from a Sarain itself for just Rs. 120 to protect us from unwanted rain. The light drizzle started but we kept on moving through the woods as the trek was long and we wanted to reach home before midnight.
The beauty of the woods that surrounded me was peerless. The sunless sky covered the woods over the treetops created a canopy over my head. The gentle breeze was creating rustling sound. The dead leaves formed a thick springy carpet for us to walk upon.
The forest seemed to be pure and clean, as though it had never been disturbed by man and his vicious life killing machines.
I carried my walk through the damp verdant forest floor, not concentrating on where I was stepping. There, I had my first slip and thank god I balanced myself. Soon we reached the first stop Teesri at 9:57 AM, the point where one can relax and have their stomach filled.
We had our breakfast, clicked some pictures and then moved forward towards the second stay point known as Doosri.
Each hamlet in this trek holds a great reservoir of excitement and fun. As we moved further the mysterious forest, majestic trees stood tall and proud, like sentinels guarding a magical territory. Was this a magical land? Am I really witnessing this? Gazing upon natures version of heaven, vibrant beauty swallowed me in its warm embrace. I was in a bliss. Pleasure rippled merrily through my pulsing vein as I gazed at wonderful sight ahead of me. I was wondering, why go home when I can be in a place which brings so much joy to me, irradiating all worldly worries. I was truly trapped in a world of magic and mystery. The rain drops dripped gracefully down onto the luscious emerald grass. It appeared as if I was in wonderland, and yes it was a wonderland to me.
While Joban was in sprint mode, I moved slowly capturing the essence of the woods as I wanted to enjoy every second of this trek. Soon I reached Doosri at 12:30 PM.
Trekkers had their camp put up and some were staying in the camp arranged by the locals. I rested for about 5 minutes there and filled my water bottle and moved further. I spotted various tent stalls (cafe) put up by the natives. I finally rested at a cafe which was just few kilometers away from Nohradhar. After having some food I then continued my journey. Soon I spotted the habitation, the fields. There was a big rock that had Lord Shiva's Trishul with Damru painted on it. The view from this point was magnificent.
Sun rays started emerging on mountain tops and embracing the beautiful valley. The road slithered like a snake into the valley. The spectacular views were worth capturing.
The last trail has lots of rocks and boulders that makes it a bit difficult to hike down as my fatigue level has reached to its peak. Finally I made to Nohradhar. Joban had already reached there 1 hour ago (according to him). I had some bananas at the shop down there and restored my energy levels. Then came the interesting part of this journey, how to go back? There were hundreds of people waiting for there bus to solan. Then came the first bus at 3:25 PM and every one tried to fight for a seat. I told Joban not even to try for it or we will be crushed like anything.
We then waited for another bus which came at about 4:15 PM. We boarded that bus but didn't got a seat. The situation was same, it was fully crowded. After reaching Rajgarh Hills we got the seat and relaxed. The bus finally reached Solan at about 7:15 PM. We then waited for the bus to Chandigarh but every bus that came was full and we didn't have stamina left to go without a seat. There were few people who were also going to Chandigarh and we talked to them if they wanted to share a cab. They agreed and we 5 people got a shared cab (Etios) to Chandigarh at Rs 400 per person. Finally I reached home at 11:00 PM and rested for the night.
It is surely an offbeat destination and offered a lot to the nature lovers. Those who are looking to escape the heat of the coming summer months or want to have an adventure should consider this trek.
The next morning, remembering the good time spent, I left for office.