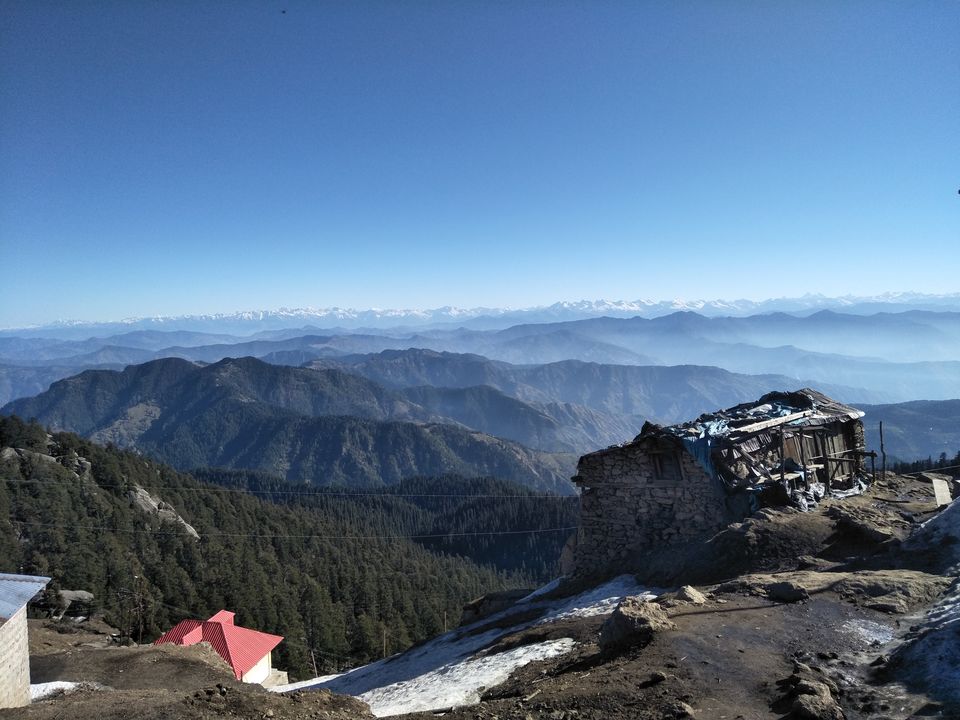 If I say trek to the mountains then it would specifically include all the experienced ones or the trekkers indeed. But calling it as पदयात्रा means it included even the people who have never been to the mountains or even who have never thought of being the part of trekking. I didn't know what it would be and what it offers.
25 people in a group some knew about trekking others didn't, some realized soon that what it offers others didn't , some thought of giving up while others motivated them but in the end no one gave up, the common thing among all was the enthusiasm to be at the top, while each person wanted to be at the top leaving not the single person behind. May be that was the difference between trekking and पदयात्रा.
It all started from boarding to a bus from Delhi to Solan but ended up bus getting broke down after Ambala and somehow we took the lift from other passing buses and reached till Chandigarh. As we were all sitting along the road sleepy and hungry still excited waiting for the bus to reach.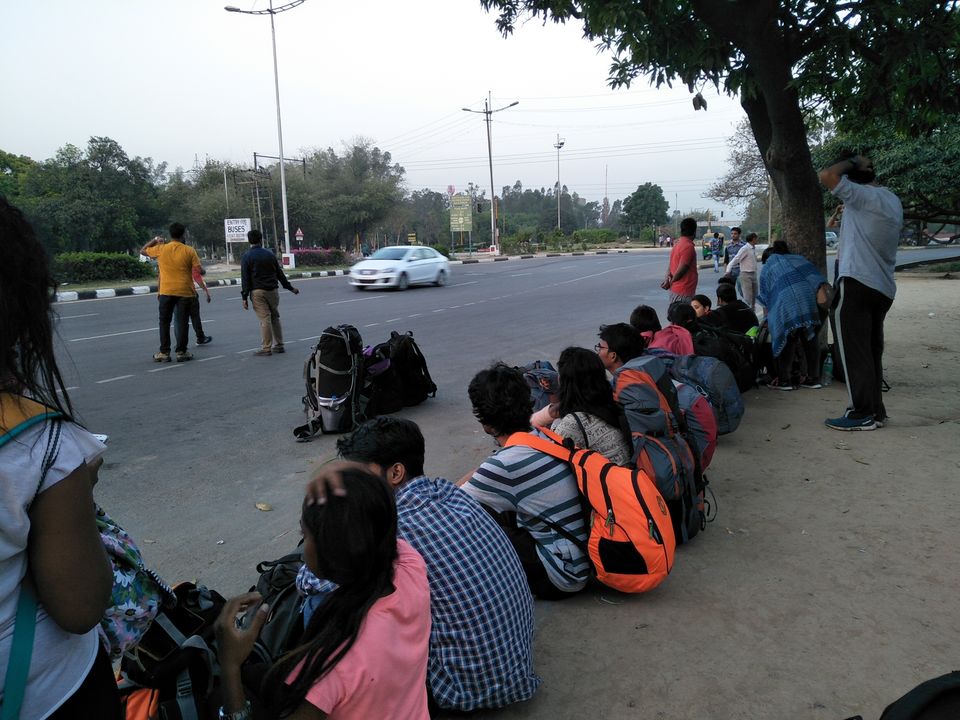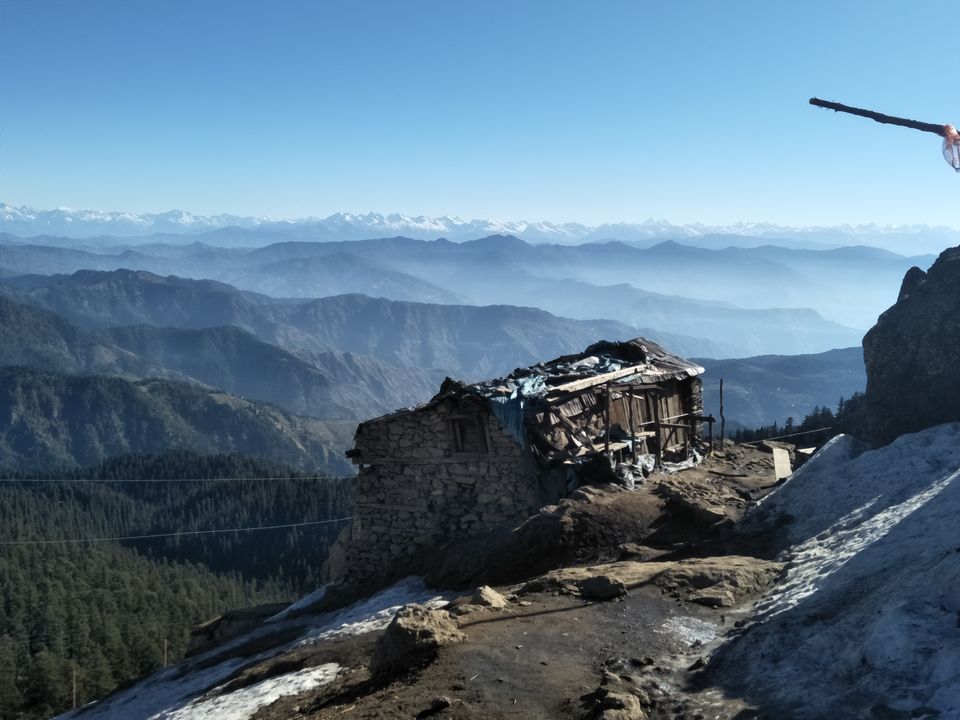 The village we ended our trek was the most beautiful sight. The colourful wooden homes, river/ waterfall flowing accross and the bridge. Sarah !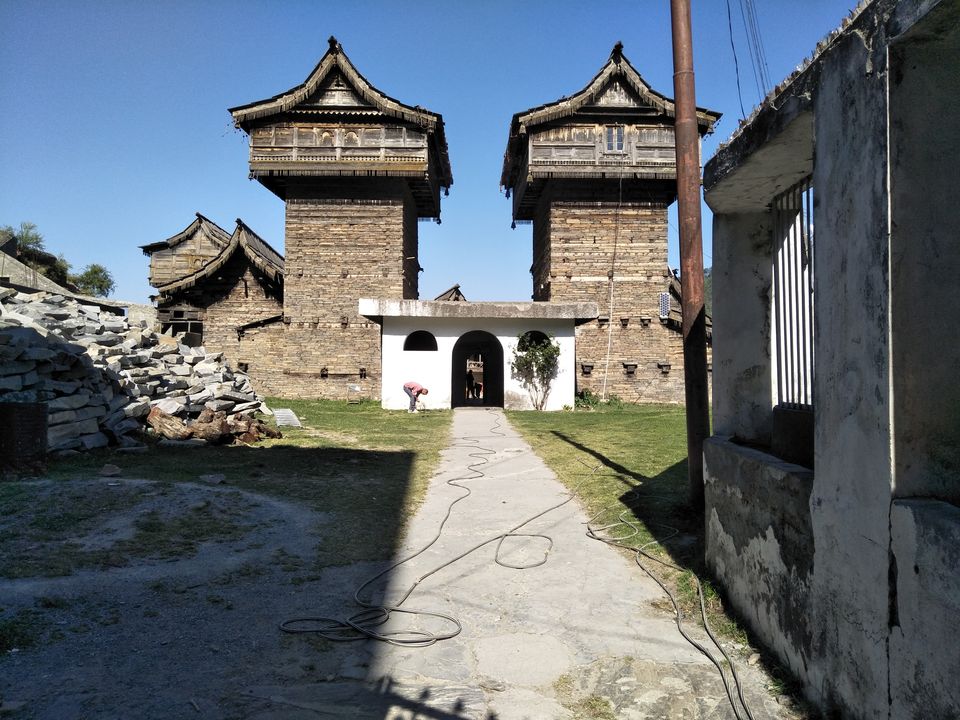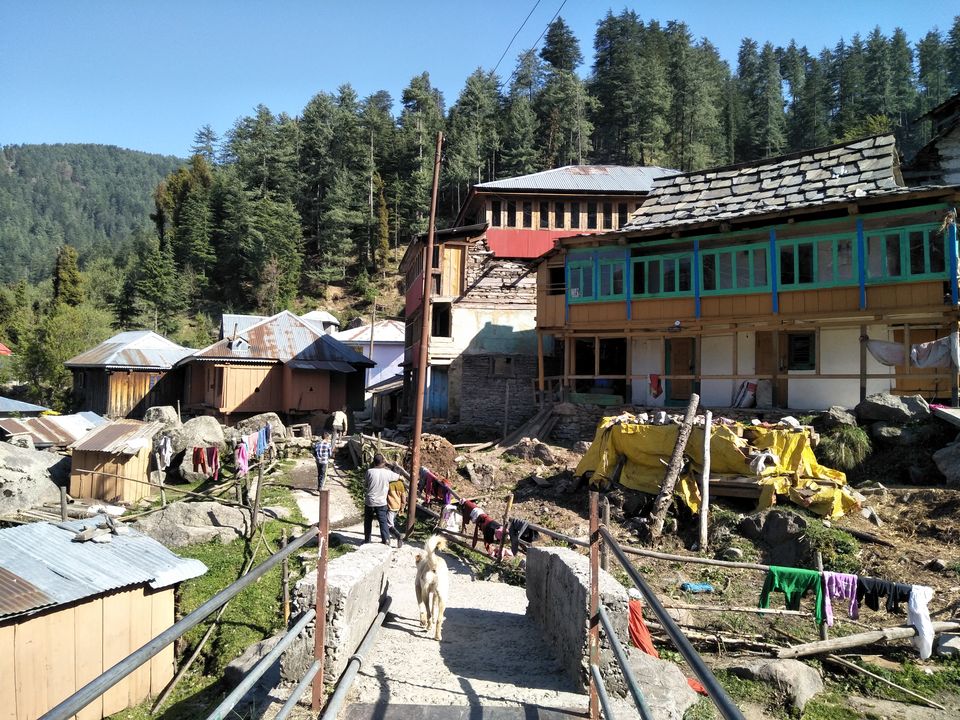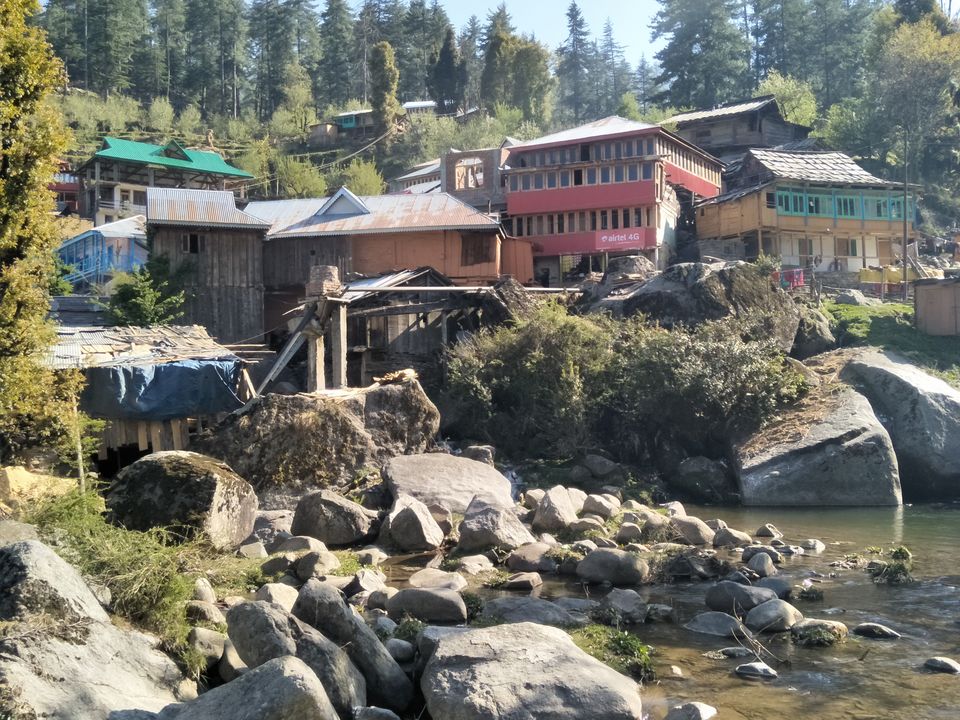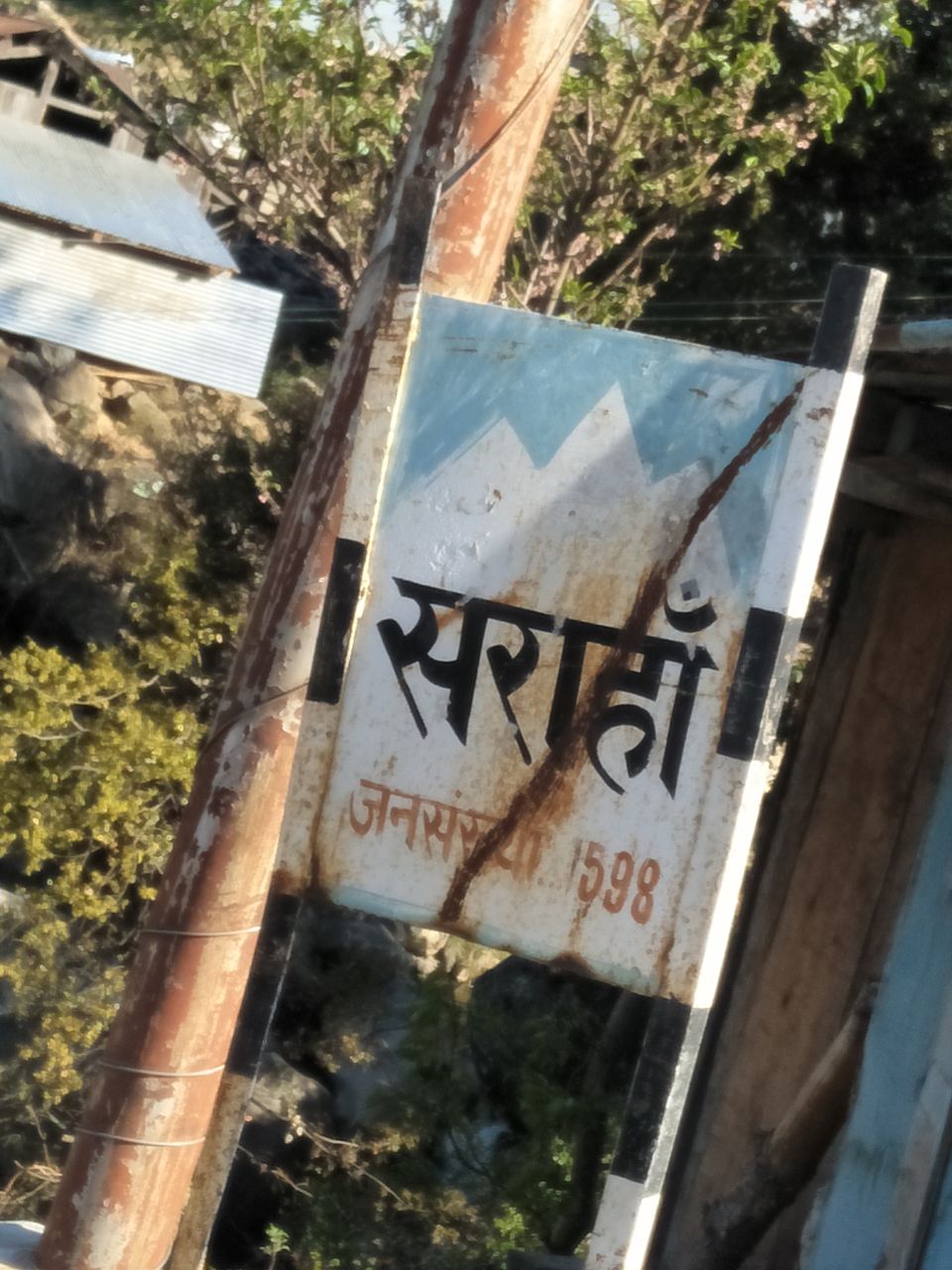 We took another bus some found a place to sit while other were leaning across the door or sitting on the floor finally reached Solan 3 hours late as per the schedule. From there we boarded into the small taxis from Solan to Nauradhar (70 KMS) where we scheduled our stay for the day and from where the trek was planned to start next morning. While having a conversation with the locals and the hosts , we came to know about the snowfall happened a day before, about the difficulties in the trek, tips about the timings that if we don't reach to a certain point by 2 PM we all should return back , to be well prepared with warm clothing and the shoes.
Geered up for the next morning, we all slept as we planned to start early. 6 AM पदयात्रा to चूरधार peak started. It is always difficult to start, but it was going decent.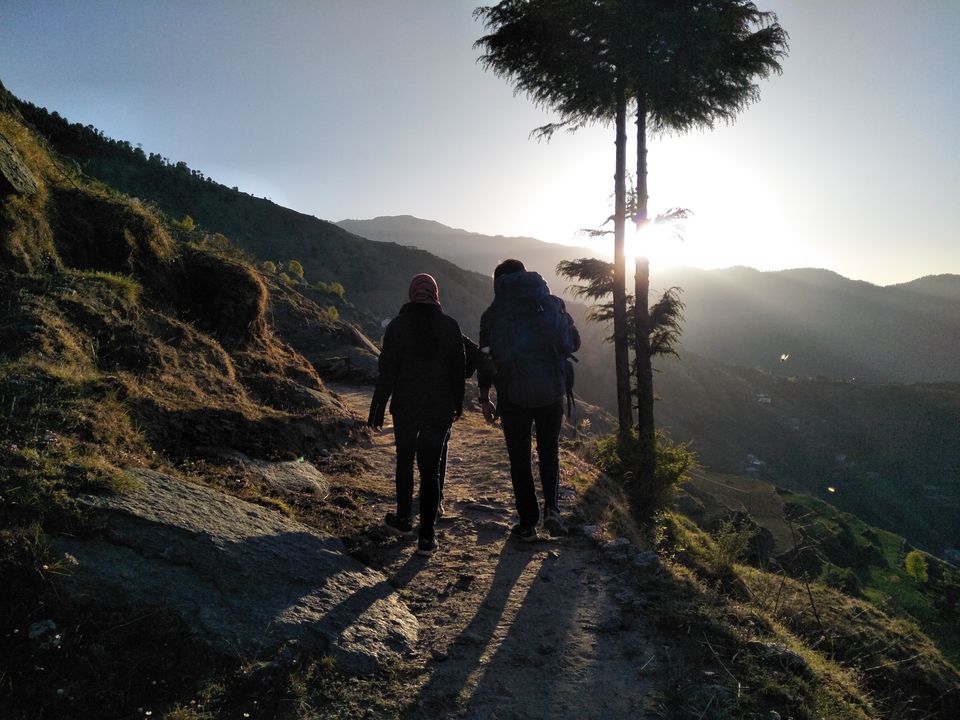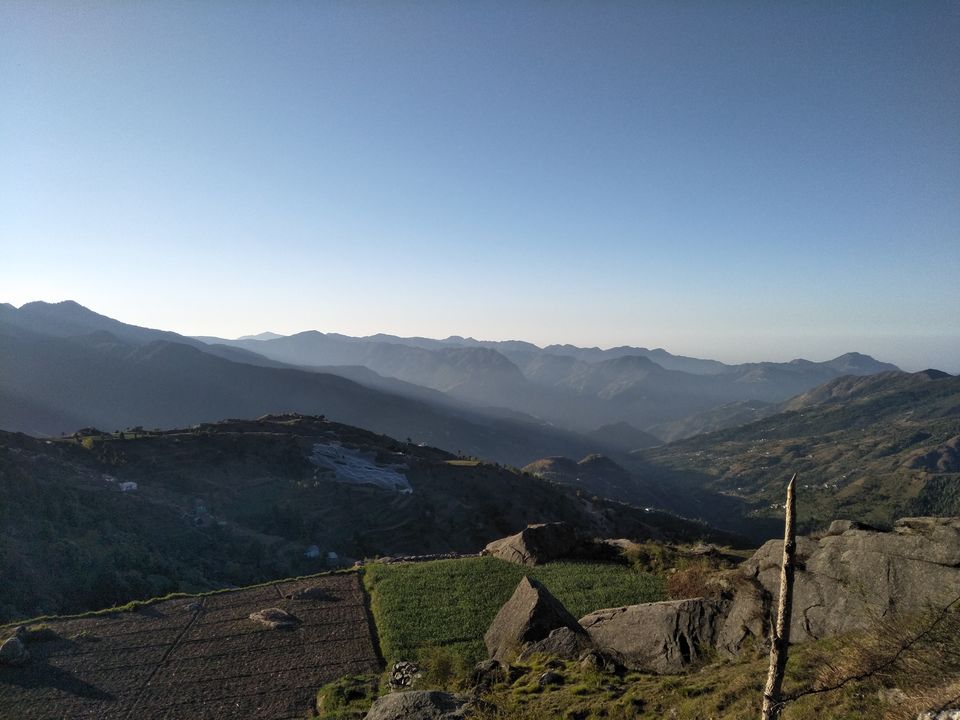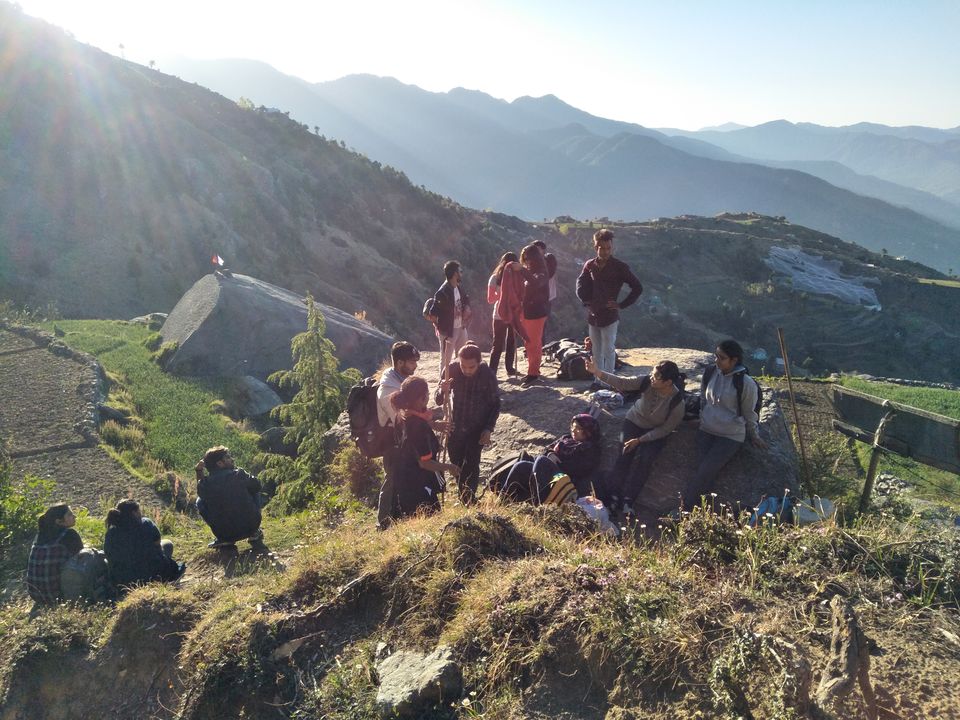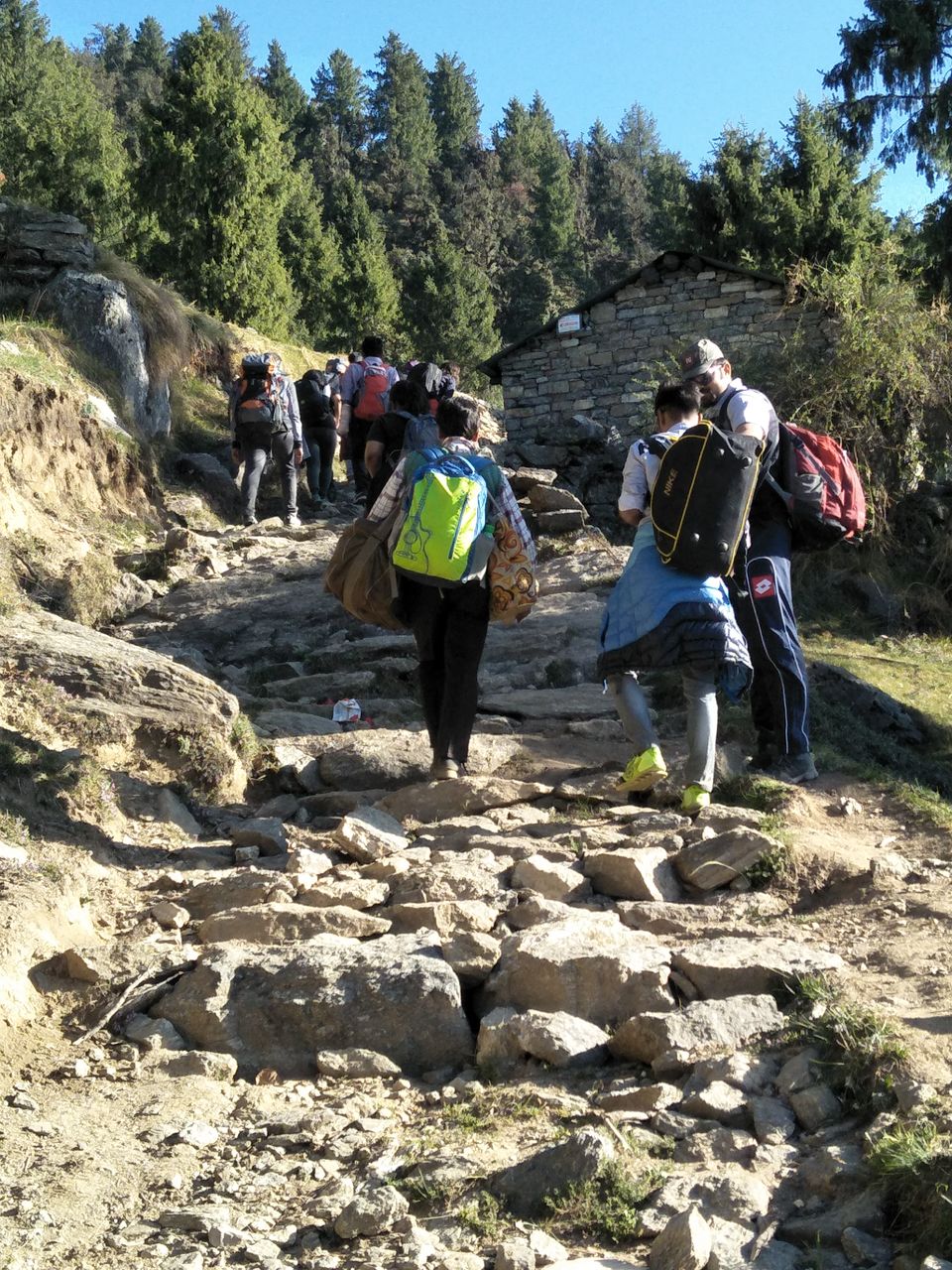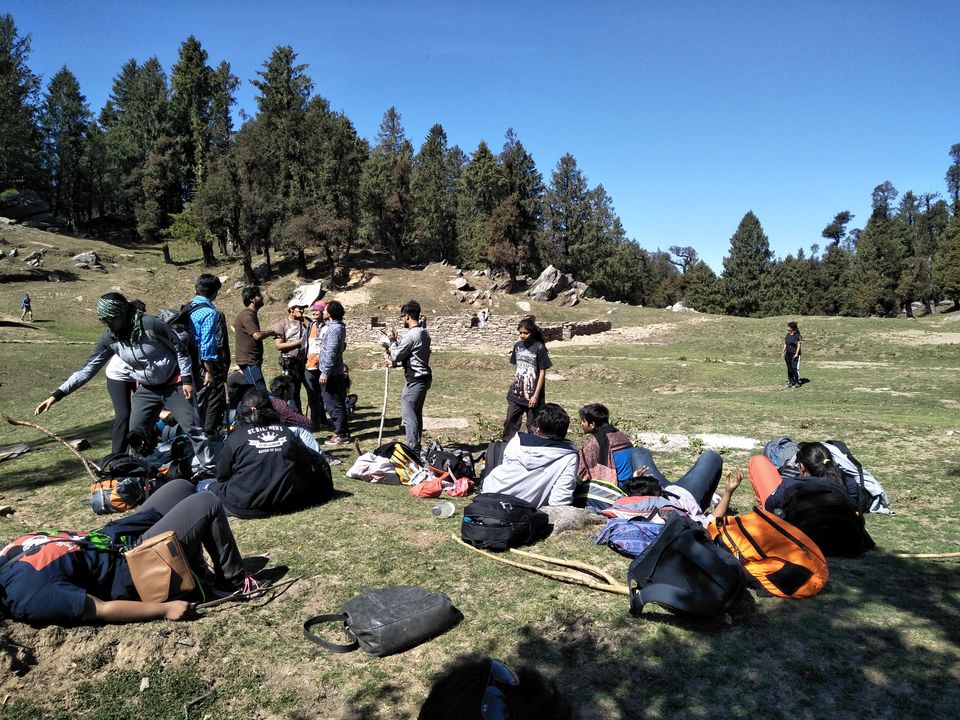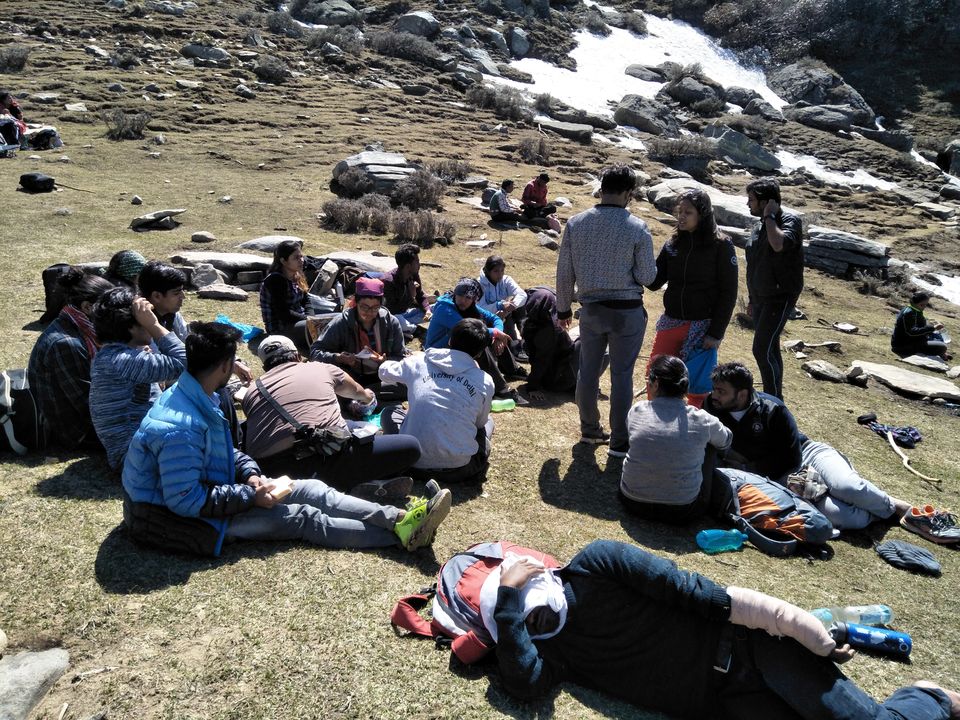 We were going fine with the timings as told by the host uncle and there seemed no option of returning back. Till the point we had lunch and reached at 1 PM and I almost slept and could only feel the breeze flowing across. Everyone was having their time, some were having foot massage, some of them had lunch, while few of them were lost in the view.
By the time we started again it was already 3 PM only if we knew that it is quite a late. After that the path became steep offering huge rocks to climb with the snow paths in between and as we were approaching to the higher altitudes cold wind across the snow peaks started slapping us making the yatra even tougher.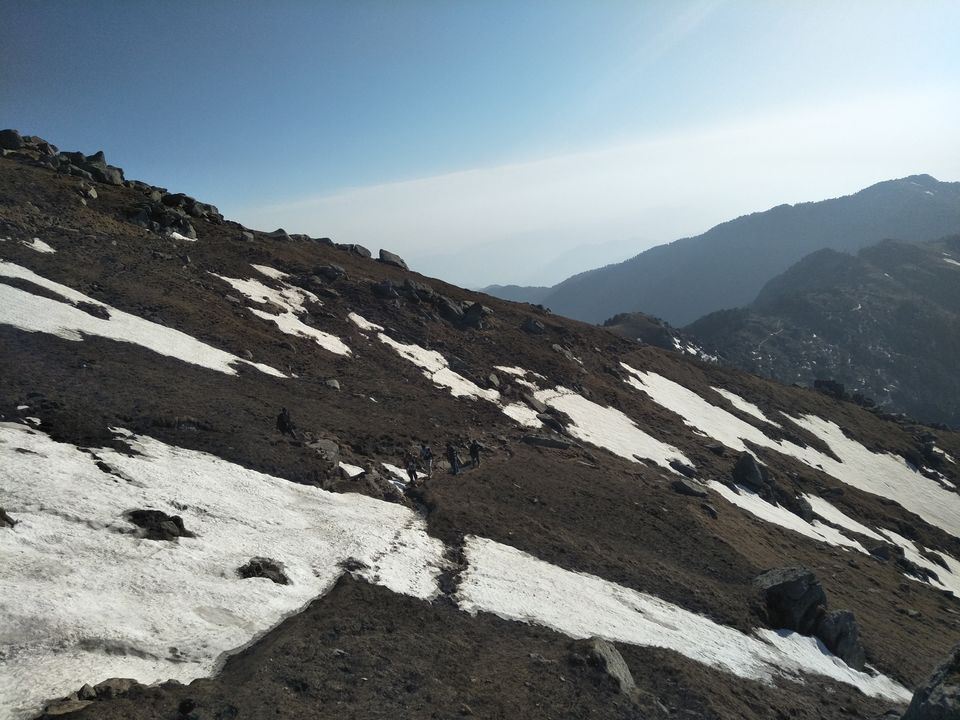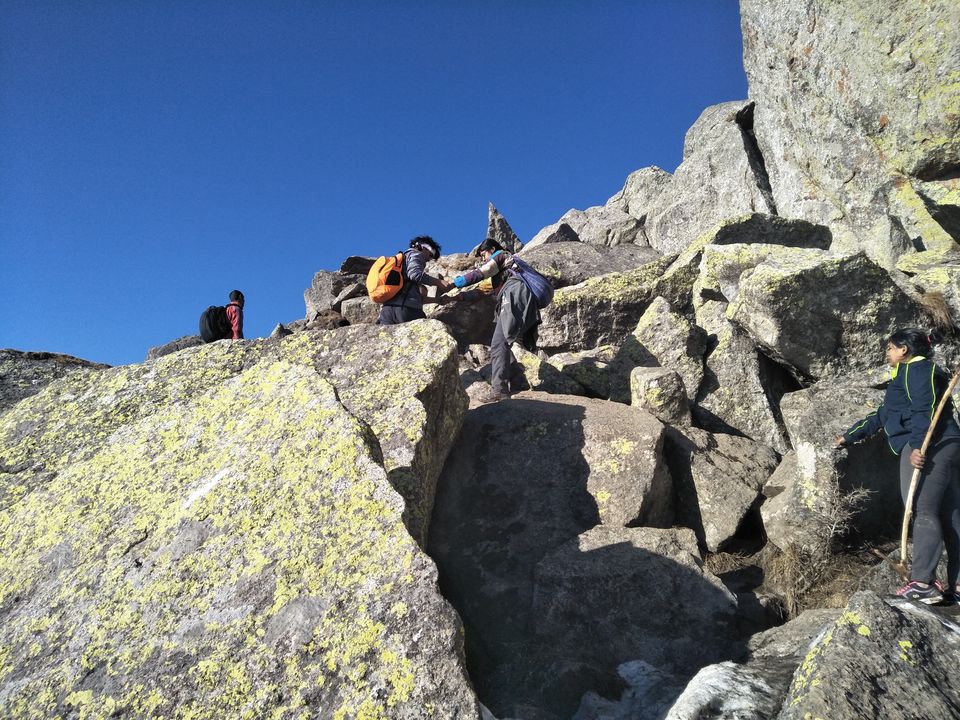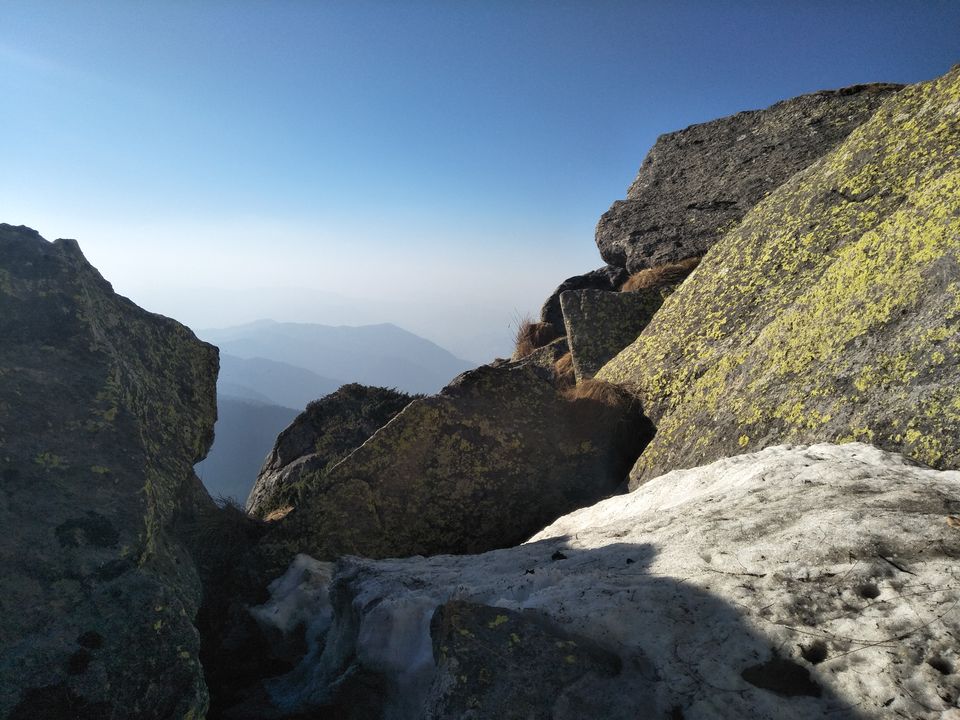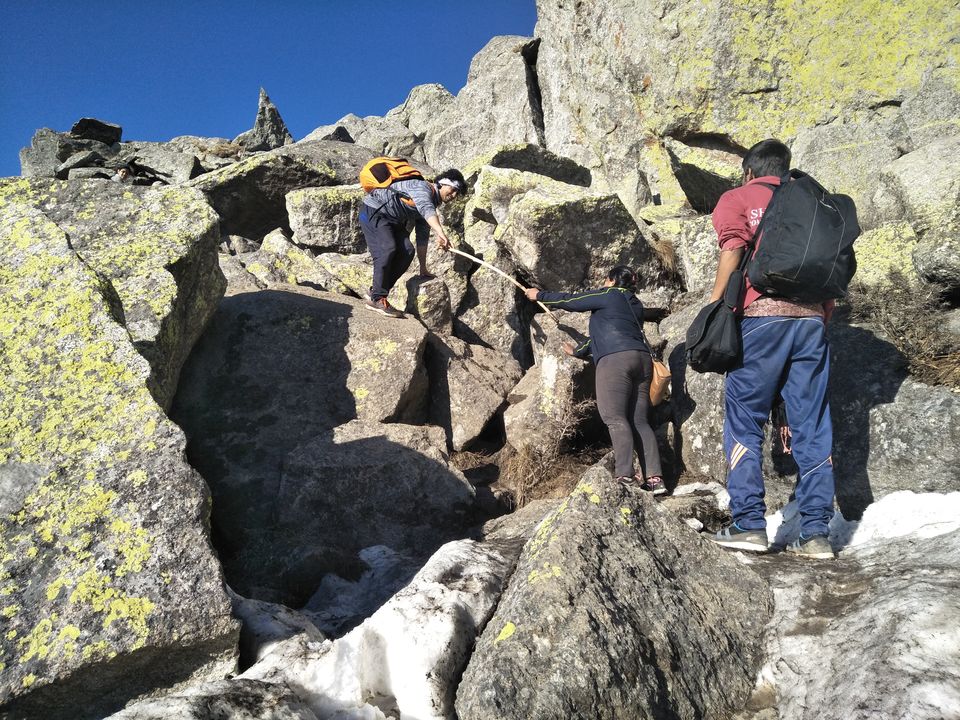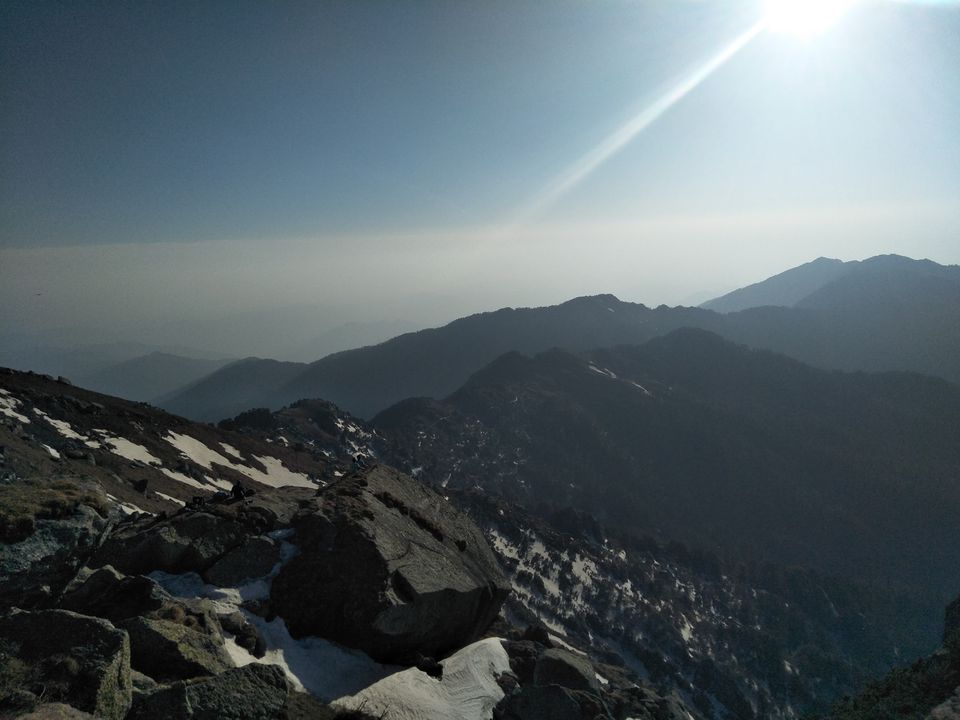 Someone exclaimed that few people have fainted due to the cold waves back, there was no option to stay at midway , will they able to reach safely. They took other route with more snow to avoid crossing the peak and cold winds.
Some of us reached around 6:30 PM while few of them came at 8 PM, shivering in cold, few had breathing problems while few banged their head to rocks but all of them arrived safe and sound. There was only a room and few blankets which were available and we all had to settle in whatever was provided to us.
Initially i didn't want to go to this place, as in the mind somewhere i had misconception about the Himachal Pradesh but reaching here i was mesmerised by the beauty of the peak and the view of amazing snow clad ranges and peaks of Badrinath and Kedarnath.
Next morning everyone was fresh and energized with the view the place offered, had their breakfast and left for down trek.
Down trek is always boring if we take the same trek but this route was different, we had a down trek passing through the forests and snow through which most of them slided.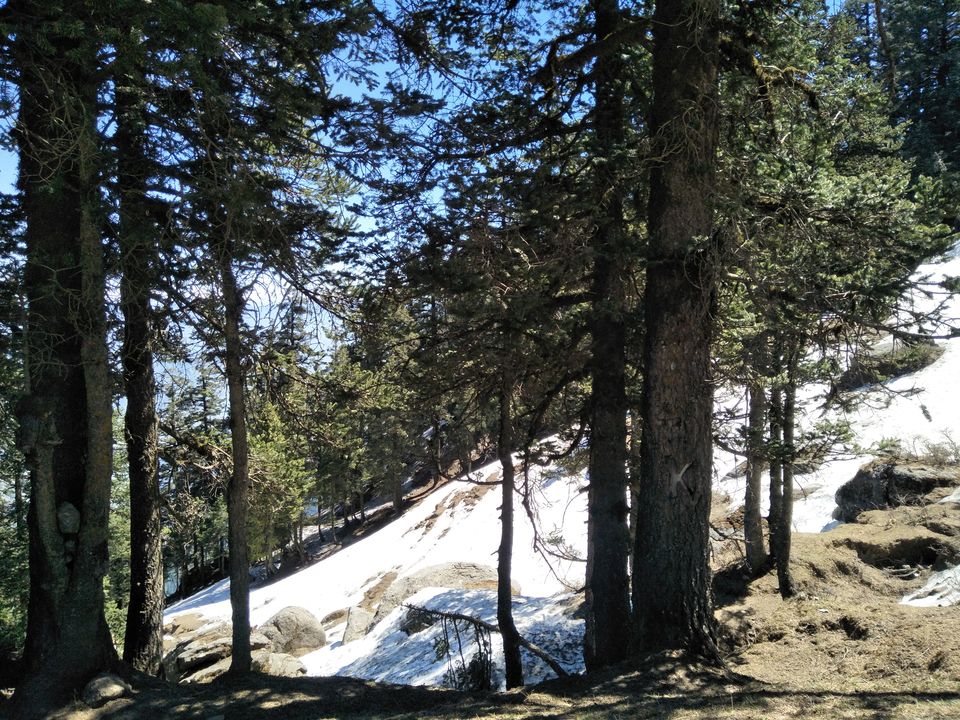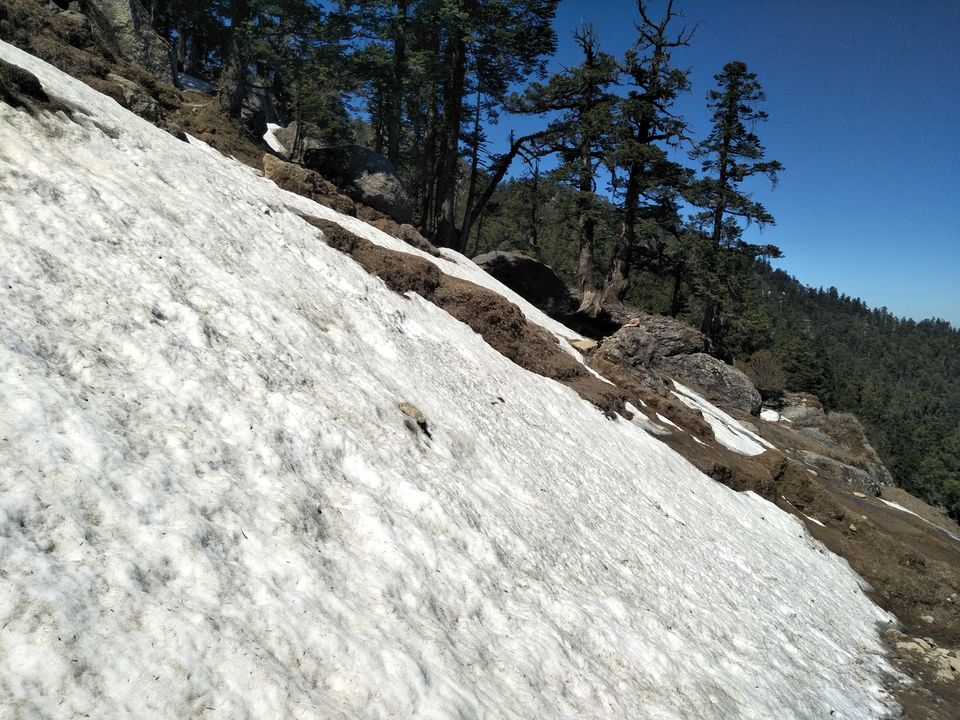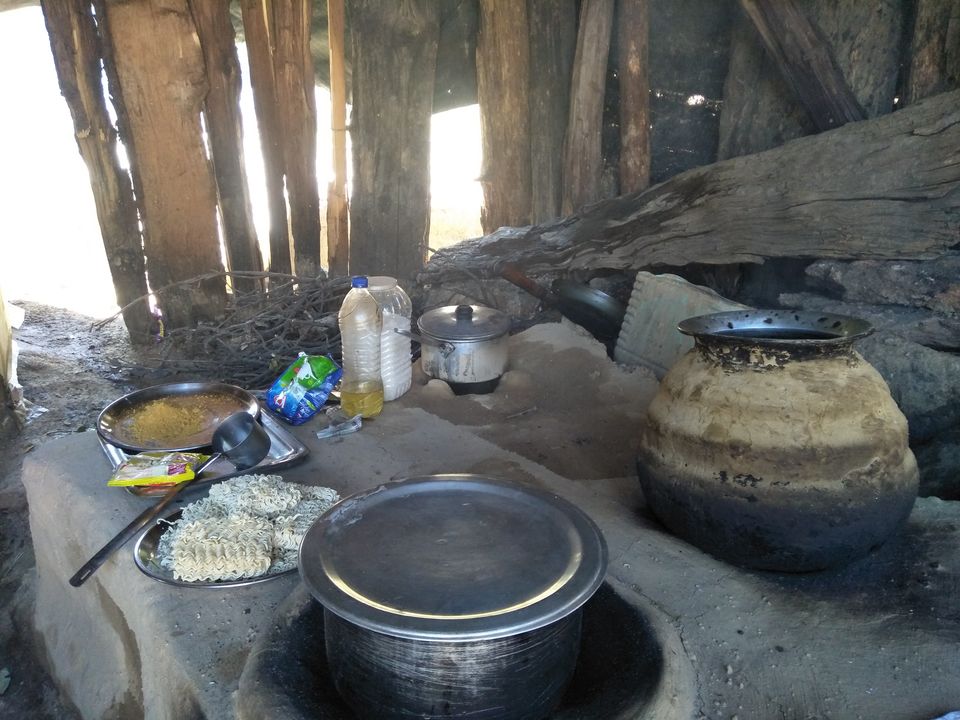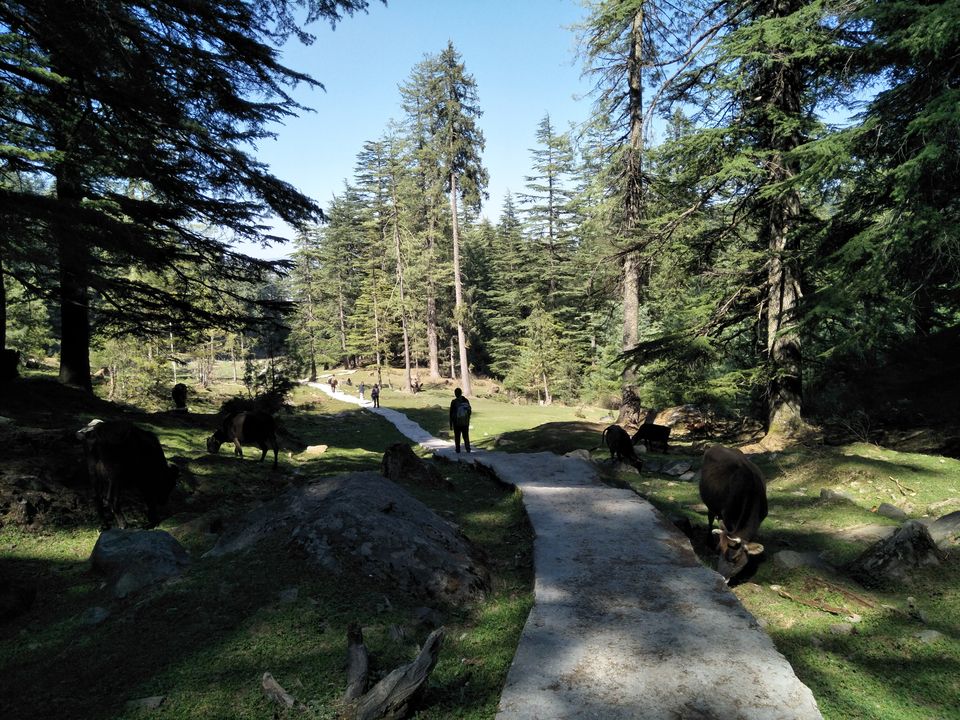 With the promise of returning back to this village and stay for some days we headed for the return journey to Shimla.
Basic information about the Trek Chuurdhaar:
At an elevation of just under 12000 ft above the sea level, Churdhar is the highest peak which is not in the Himalayas.
There are three routes to approach Churdhar Peak. Chaupal, located in the district of Shimla is the shortest route with a trek distance of 7 km. Haripurdhar in Sirmour district involves trekking a longer distance of 50 km. Nohradhar is the most preferable route and it is a 20 km trek uphill.
We trekked through the Nohradhar route and headed down through Chaupal in the village Saraha.
Who goes there
Mostly local pilgrims visiting Chureshwar Mahadev Temple near the summit and some trekkers.
Best time to trek
Peak season for yatra begins from May to November, during which stay could be arranged easily. During winter months the path is entirely covered with snow and it would be difficult to find any facilities.
Difficulty Level
It is moderate kind of trek , we had beginners with almost no experience but for them it became quite a difficult. Trail through Saraha village is quite easy but if you are trekking via Nohradhar rocks path could be quite difficult.
Time to Reach
We took almost 12 hours to reach because of the larger group and the inexperienced people. Smaller groups and people with little experience can do it in 8 hours.
Preferably you should stay at the top of carry a tent to pitch it at the meadows in the midway. Day up and down could be dome through the Saraha way.
What to carry
Make sure you wear something light and loose because sometimes you might have to take the big steps to climb and jeans won't allow to do that. And dont forget to carry woolens and wind cheater to protect from the cold waves at the top. Make sure you have proper trekking shoes to avoid slipping off the rocks and snow.
Carry sufficient water - We were out of water and almost dehydrated and had to fill in snow in the bottles as we consumed it all while reaching the top.
Food - There is not a single food stall in the midway so carrying snacks, fruits and energy bars is always the good idea while trekking. You never know when you might need them.
Sunscreen - If you don't want to get tanned.