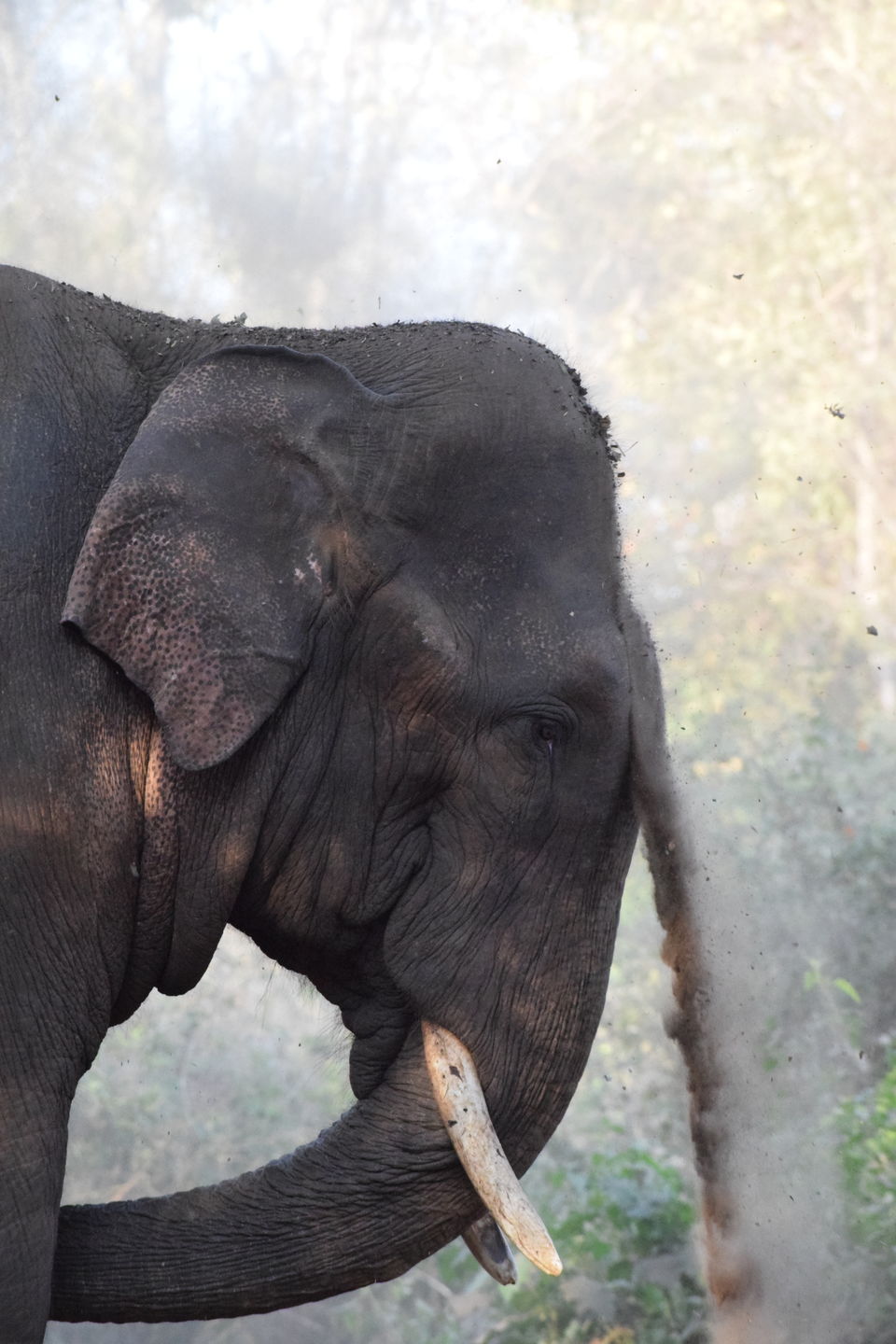 This is the story of how I went from not being a big admirer of elephants to becoming obsessed with them. We decided to just relax in a resort surrounded by nature and came up with the concept of staying in a jungle resort. We opted to go to Shimogga(around 300km from Bengaluru) because it was the initial wave of the corona virus, and we didn't want to take any chances by travelling too far.
Sakrebailu in Shimogga is a well known place for Elephants. They train elephants here, safeguard them, and treat those who are injured or captured from all across the state.
We boarded our train to Shimogga on Friday night and arrived at the station at 4.00 am. There will be a slew of cabs waiting to take you to your destination. To get to our resort, we took a taxi. Our check-in time was about 10 a.m., but the resort manager graciously consented to let us in earlier.
So, as for the resort, it's a jungle resort in the heart of the jungle. It's a somewhat distant location, away from people, vehicles, pollution, crowds, and so on. It was still dark when we entered because it was 4.30 a.m., and we couldn't see how the entry looked. We entered the cafeteria and had our identities checked, as well as having our luggage sterilized. We were apparently talking a little too loudly when we heard an elephant trumpet. I believe we were bothering them while they slept :)
There are totally 3 kinds of stay we can select here:
1. Wooden Cottage - 2.5k
2. Tents - 2.0k
3. Dormitory - 1.7k
We made a reservation at the Wooden hut. As soon as we walked in, it was ready. The space was well-organized. The beds were really comfy, and they had their own natural goods to use, such as body wash, shampoo, conditioner, and moisturisers. I believe this is maintained by the Karnataka government, and everything was in good working order.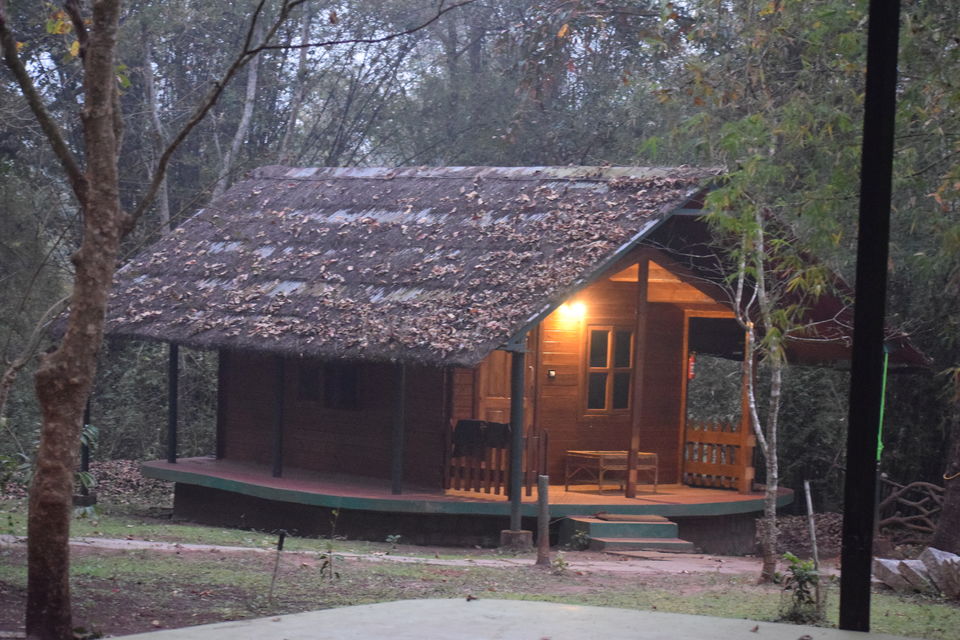 We rested for an hour before exploring the area. We were able to participate in a variety of exciting games. First, my friend and I hopped up on the trampoline and played until the maintenance personnel informed us that it was only for kids (they do have an adult trampoline, but the kids one is better). There is also a spot for birdwatching. When we arrived, there were only a few birds to be seen. The chirping of birds will be heard all around this location.
Meanwhile, the breakfast was ready. We quickly freshen up and had our breakfast. After that, we played a variety of other activities such as basket ball, carrom, wheel swing, tight rope, balancing beams, and so on.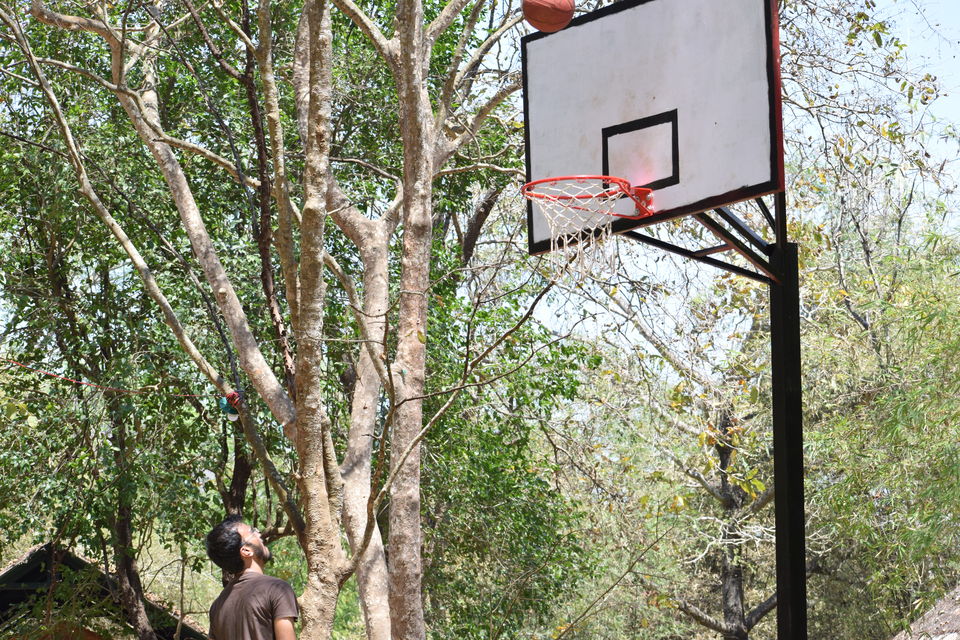 Later, around 5.00 p.m., they took us to interact with elephants. We must walk for approximately one kilometer before being taken to the location where elephants are trained. They even tell us how they teach them, what hurdles they encounter, who will train them, what problems elephants would face, and so on, and each one gave me shivers. Instead of capturing and holding elephants in captivity, they identify those that require special attention and train them to defend the wildlife. Let me mention a couple of intriguing points I heard:
1.Elephants that require mental focus, as well as those that just ruin crops and attack humans, will be enthralled by trained elephants (Abhimanyu is most famous among them). They will practically battle amongst themselves, with a mahout coordinating the training. Mahout will use their ears as accelerators and probe near their stomachs to apply breaks.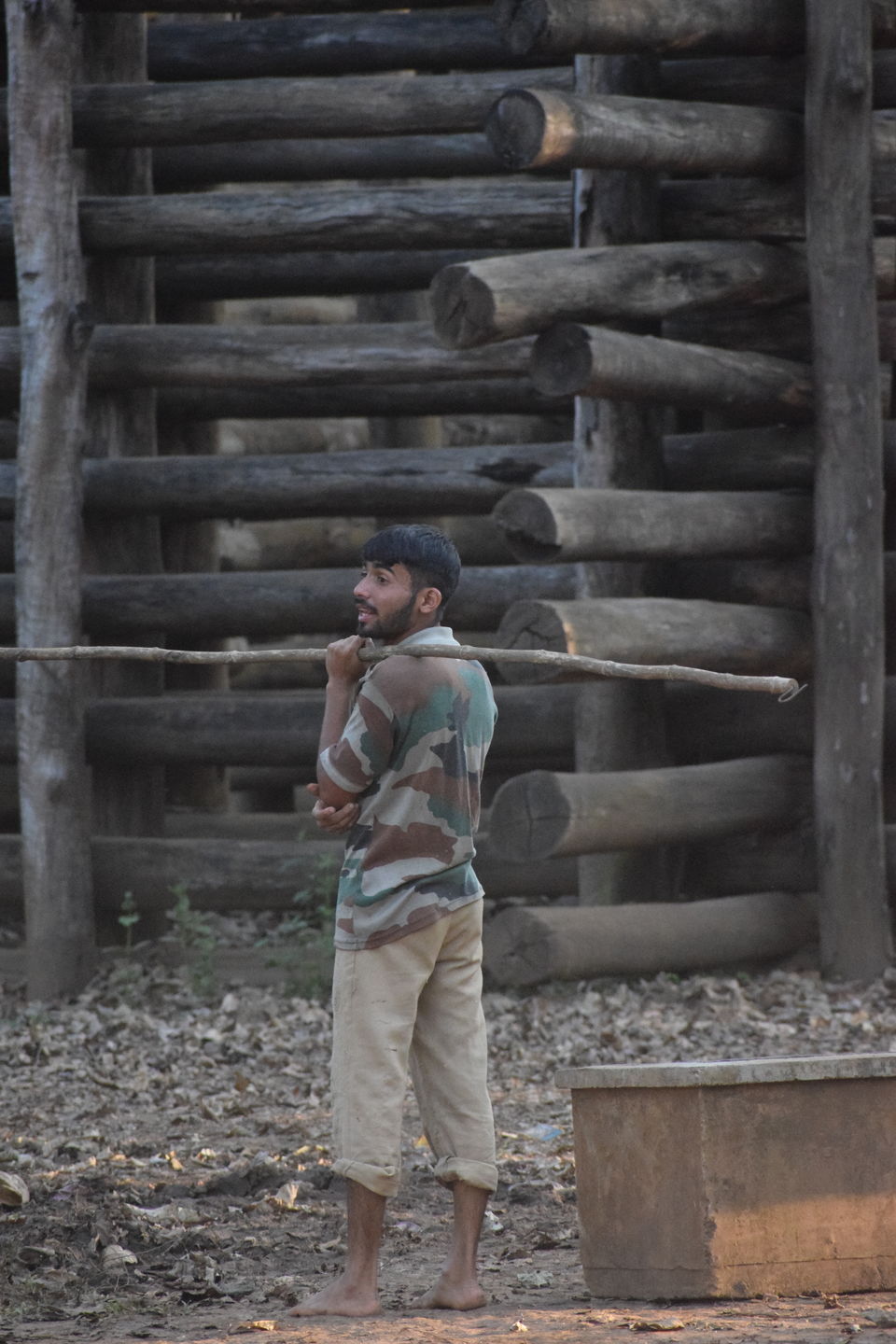 2. Once captured, these elephants will be housed in an elephant-built prison. It's awe-inspiring to see this.
3. Elephants bear their young for approximately two years!!
4. Despite their size, most elephants die from minor ailments such as acidity!! They won't be able to last more than a month. As a result, elephants given to temples will need to be groomed on a regular basis. I also saw that one of the elephants had lost strength in one of its legs as a result of standing for long periods of time.
Aside from that, there will be some little insects inside the wood that they would eat, which will harm the elephants' internal organs. As a result, mahout must keep a close eye on what it eats.
5. To find food, they search the entire forest for their favourite tree. They'll cut the tree into pieces once they've located it, no matter how enormous it is.
6. Elephants are wary of most people. They only trust one or two people, and mahouts must stay with them for months to earn their trust, no matter how dangerous the situation grows. It will be easier to train later on once trust has been established.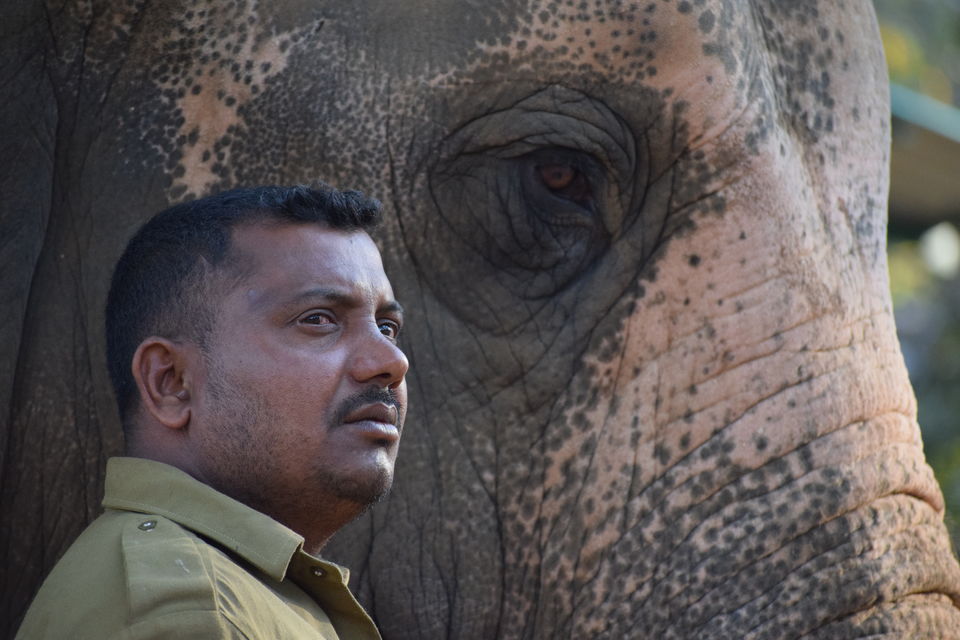 7. Because Bengali and Urdu were the languages used by mahouts during training in the past, elephants can understand them.
8. Forest elephants simply show up for a fight with trained elephants, which lasts for a week until they both have a final fight with several injuries. They will wait till then to meet someone new and will be rambunctious at all times.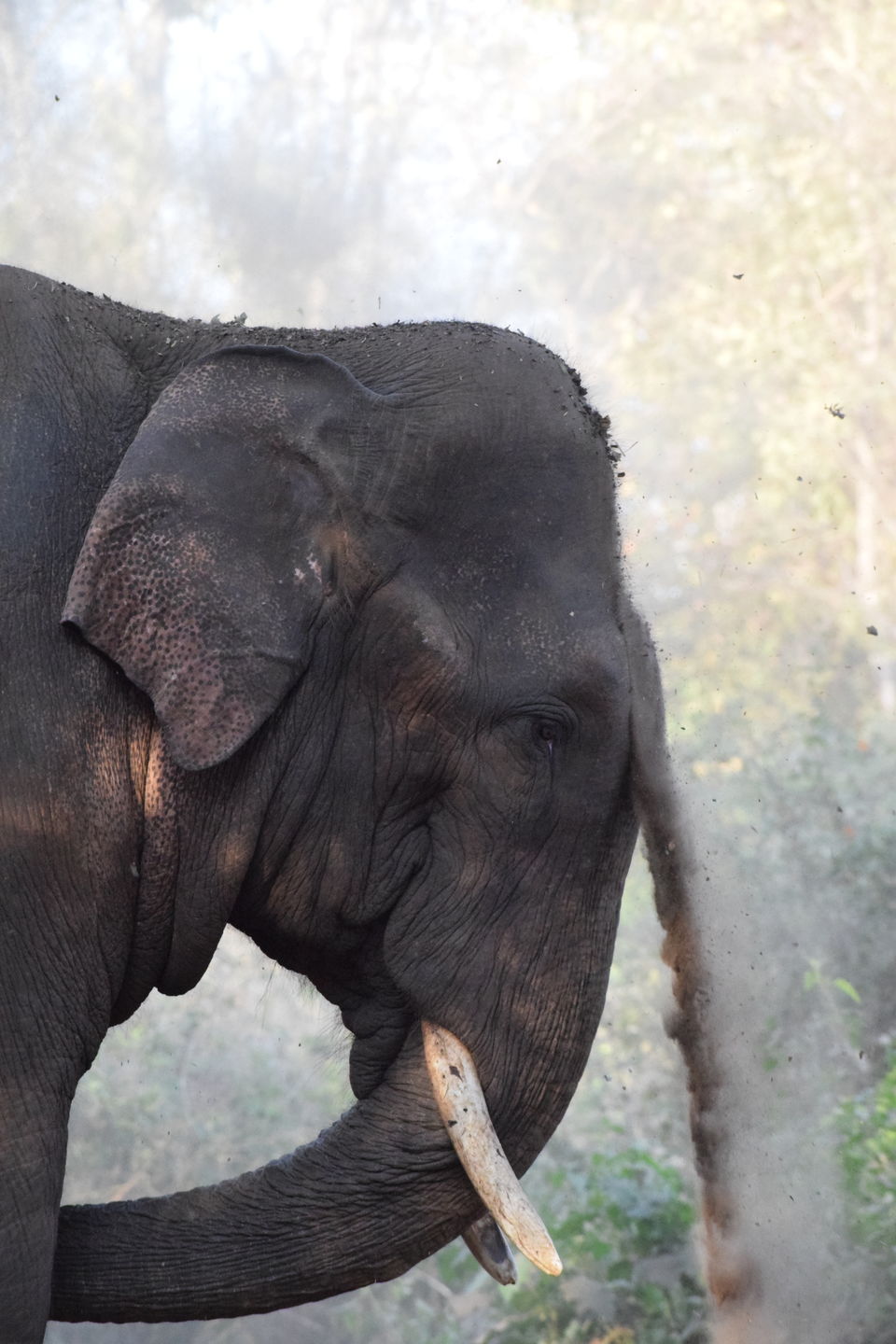 We learnt a lot about them. Then we reached to our camp and they played a wild film show, documentary on Elephants and other wildlife which shows how amazing they are and how they will be educated, among other things.
There will be a campfire at night. Because this location is surrounded by forest, it will be very cold, and the night was so clear that I couldn't stop stargazing for a long time. Outside the hut, they have swings for us to lounge on, and it was an extra bonus that we could enjoy the gorgeous night. The dinner was ready; they provide both vegetarian and non-vegetarian options. We can also request any additional meal we wish to eat, but it will be charged separately.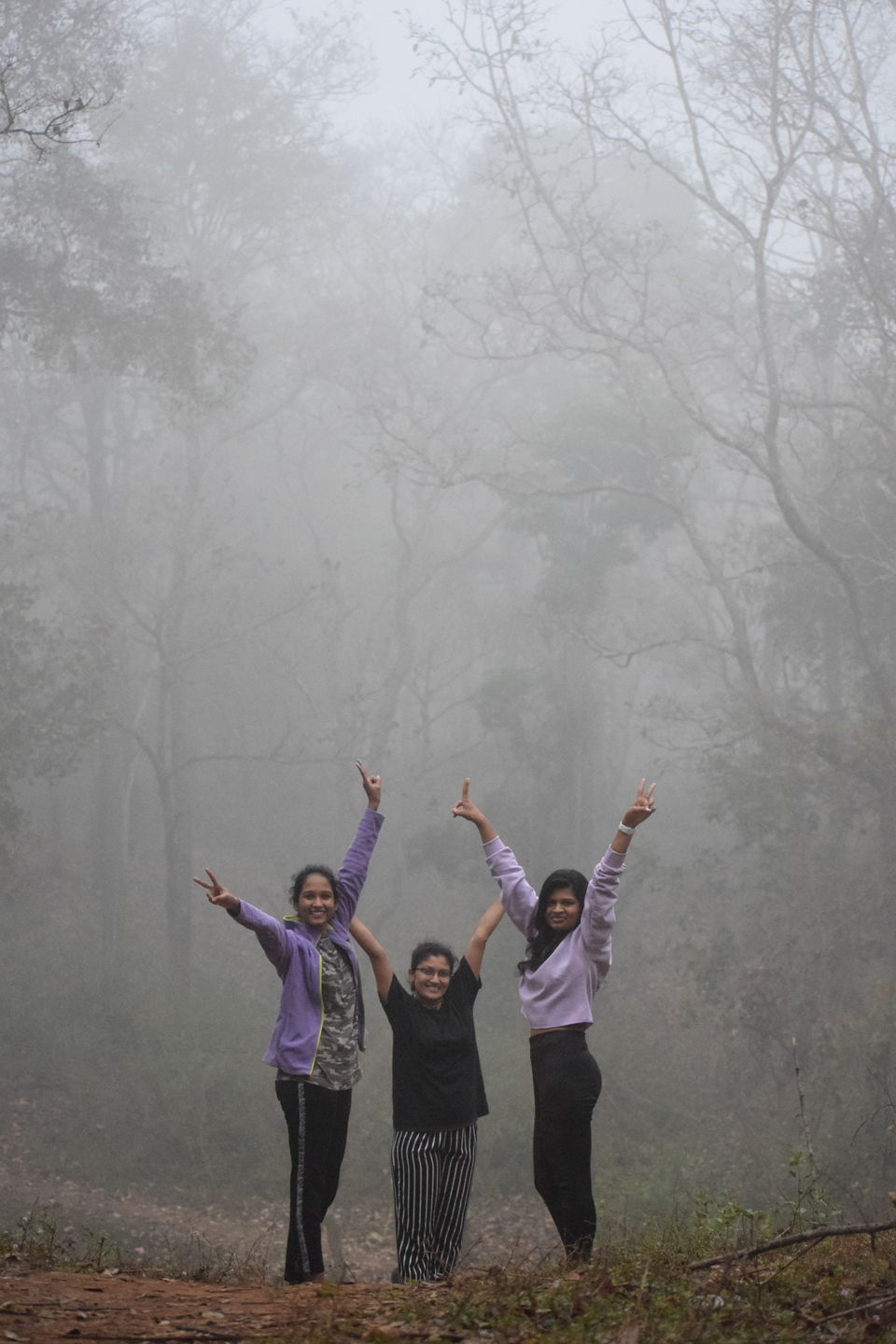 They awoke us the next morning and reminded us of the morning trek. We completely forgot about it and raced as they were about to abandon us. 😄. It was a trek to forest named Shettihalli and we couldn't even able to see what's infront of us as it was it was completely obscured by mist. My advice is to avoid wearing shorts because we will be walking through a forest with a lot of pricks and throns. Instead, put on a comfy shoe and clothes before you go. We also got to know how they search elephants which they leave it in the night. As I said since they don't captive it, they'll leave it once the training for the day is done and and look for them by tracing foot steps in the morning. And once they see them, even the elephants react to them. You should see the mahout's relationship with the elephants. One of the mahout even told me that the elephant he is training means more to him than his own child. They all look after these elephants as if they were their own children.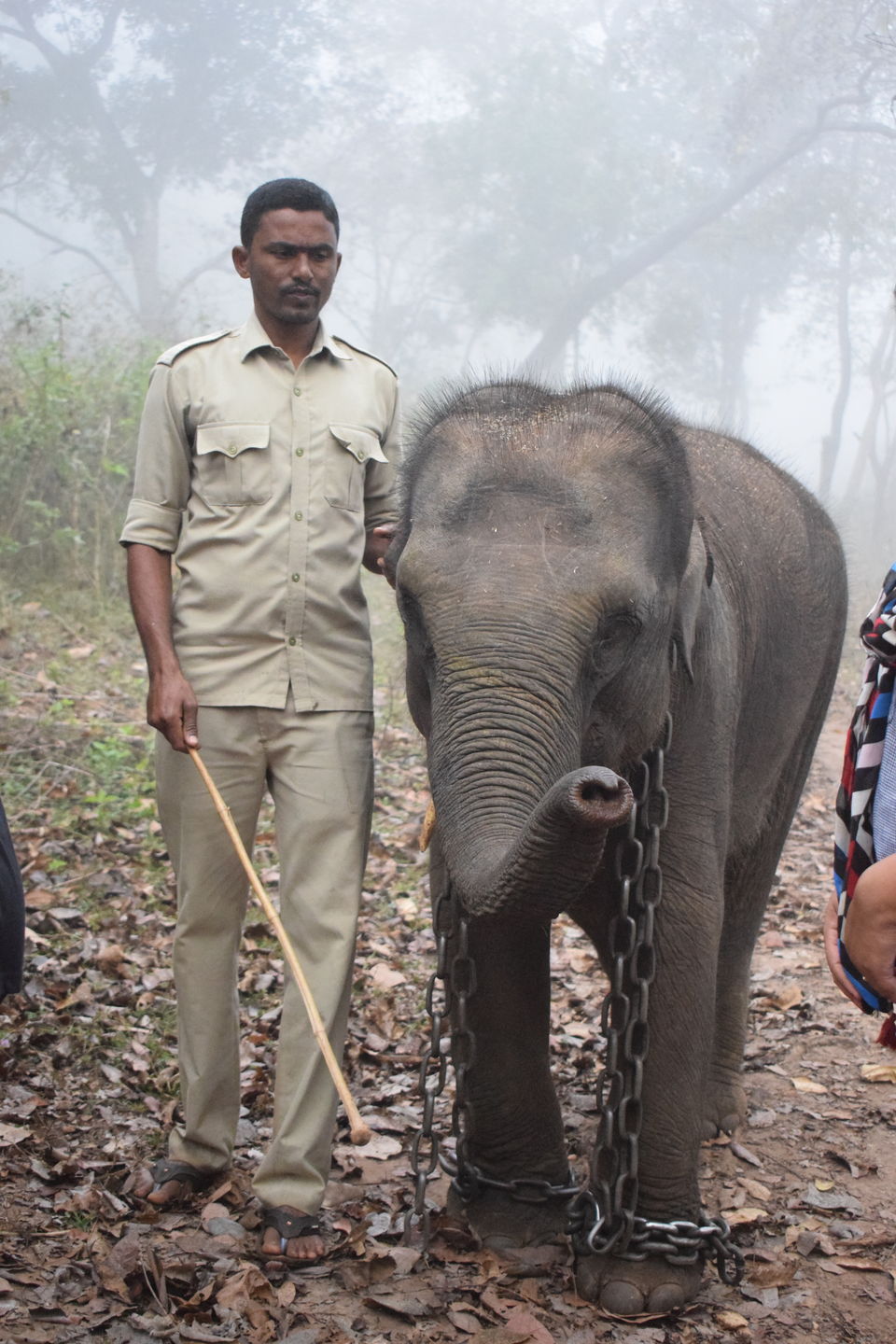 Later, we prepared to travel to the Sakrebailu Tunga River Trial, where elephants are bathed. Anyone who pays a charge can bathe them. There will be a large number of elephants who will come to bathe, and watching them bathe is a lot of fun!! We checked out after some time.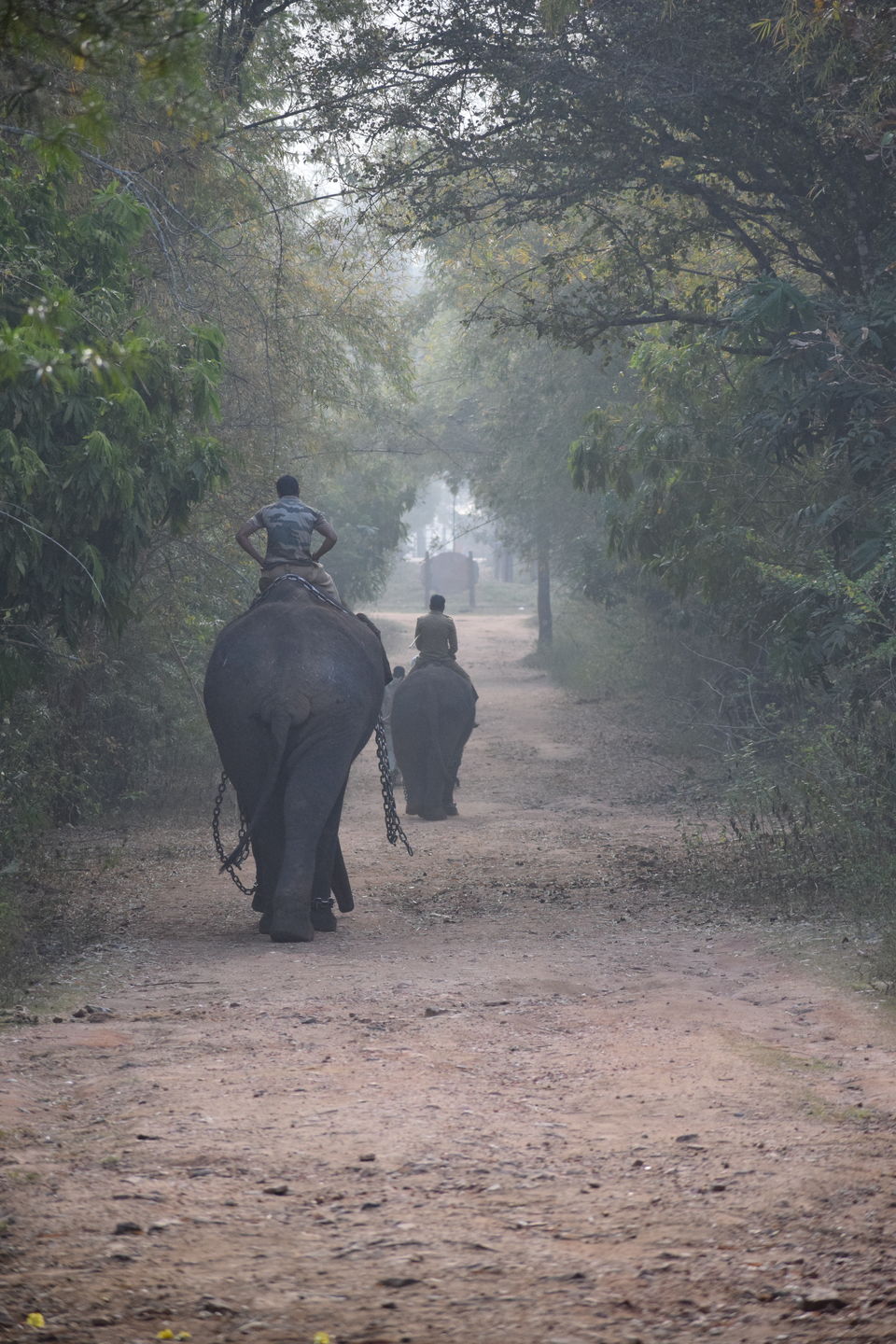 I highly recommend everyone to visit this place, especially children, nature enthusiastic and elephant lovers!!