Elephants! These mighty creatures of the jungle have been part of our culture for years on, especially in the south of India, where they are an integral part of temples. Mysore, in their Dasara celebrations, often have elephant parades where elephants are dressed ornately and paraded through the city.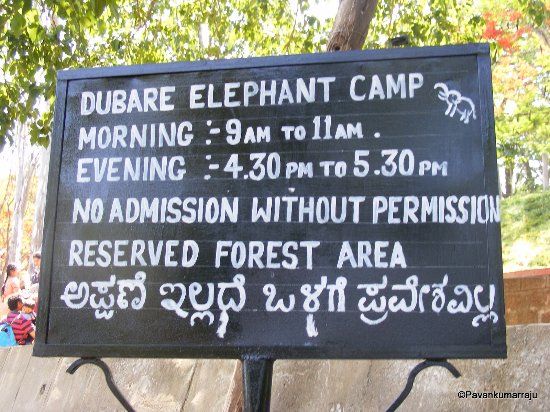 I hadn't honestly thought much about elephants until I found myself in Madikeri. One of the highlights of our stay in Club Mahindra, Madikeri, was the visit to Dubare Elephant Club, to see elephants, and learn about how they live.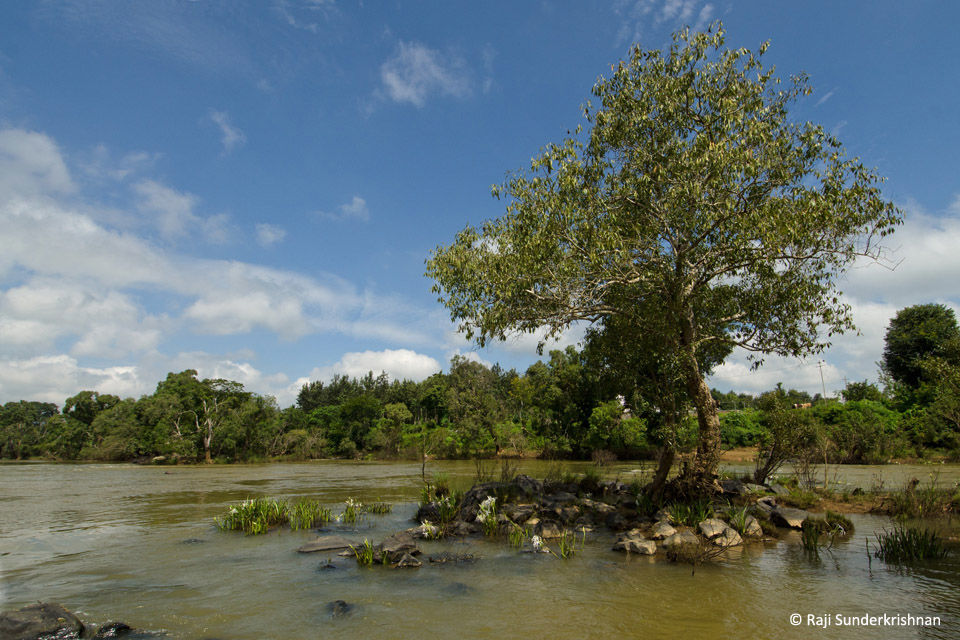 Dubare is 29kms from Madikeri and is an island on the banks of river Kaveri. Dubare Elephant Camp is a training center for elephants, and as I later learned, a retirement center for elephants who paraded Mysore during Dasara.
Since Dubare is an island, all visitors are taken by boat. There is usually a wait for some time before the elephants are brought in for their daily ritual river bath. We were told by the mahouts that we could touch the elephants and even scrub them if we liked. It seemed impossible to think that such large creatures would allow us to scrub them.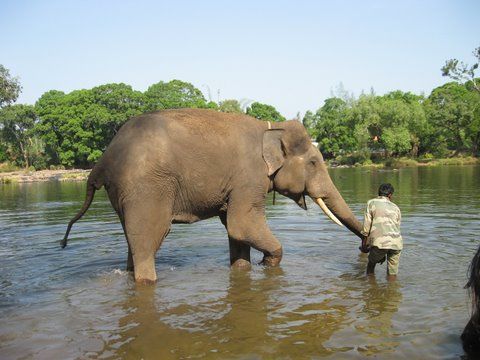 But when the elephants came, our whole idea of the pachyderms was blown apart. These elephants, though old, were full of mischief. They were excited to enjoy their time in the water. One of the younger elephants immediately squirted the others with some river water only to get a spank from the mahout. The mahouts or trainers who had come along, explained how the camp functioned. These elephants had a safe haven here and it also functioned as a knowledge park for tourists. There was enough documentation about how the elephants lived and tourists could observe them being fed and learn how they lived. The scrub-bath was a ritual that was started so that the visitors could experience elephants from close by, and could touch them without agitating them.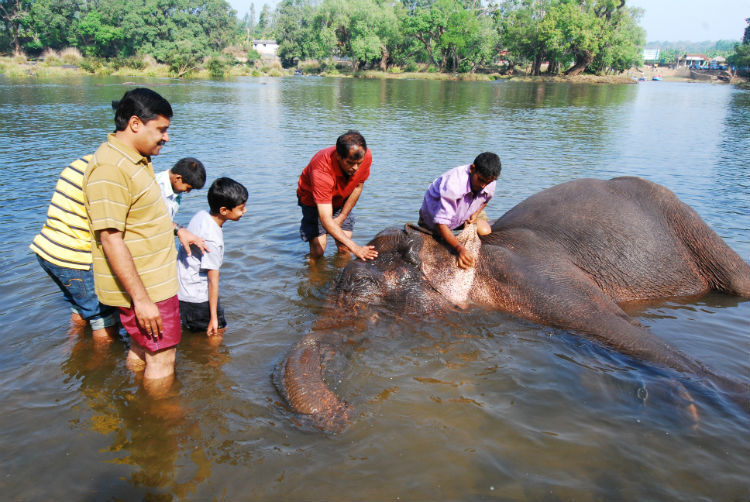 When it came to it, the trainers allowed us to use a scrub and scrub one of the elephants who was now lying down in the water. The elephants had been trained for that and even though this was probably mundane for them, it seemed like they rather enjoyed getting scrubbed. The brush we used was very similar to what we used for washing clothes, the old wooden ones, except it had stronger bristles. The elephant's skin was smooth and yet tough and it took a fair bit of effort to scrub them. After a few tries, we handed the scrub to the experienced trainer who scrubbed the elephant down in no time. After they had rolled around and played in the water, the elephants were taken to the feed area.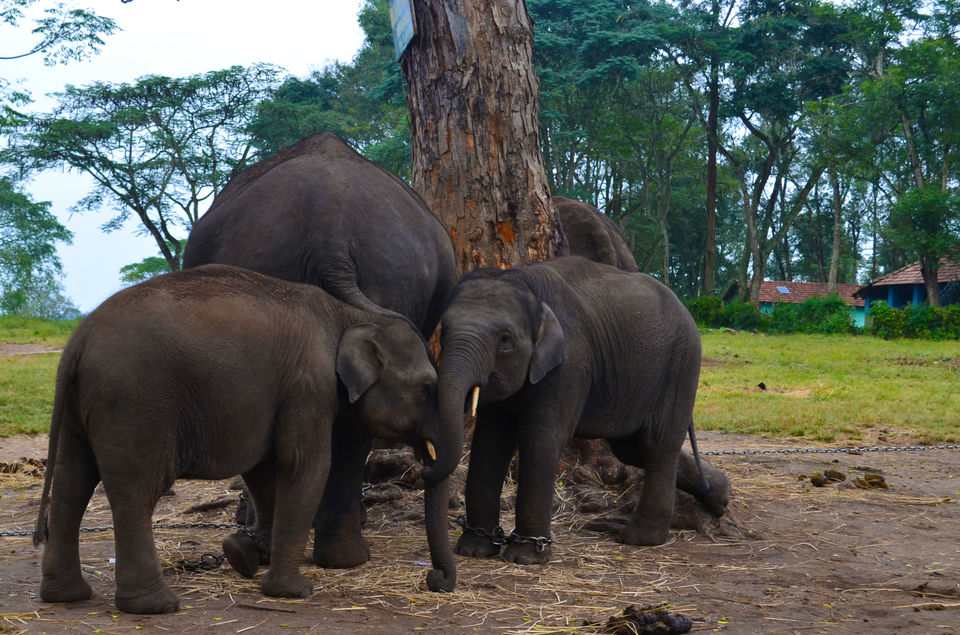 There is a lot of documentation at Dubare Elephant Club about the diet that these gentle animals are fed. The trainers feed them a nutritious diet of ragi, jiggery, coconuts and some other local millets. The whole mixture is put together in balls and each elephant is fed an allotted amount. There's some pleasure in feeding animals, and even though feeding isn't allowed for visitors, you can watch.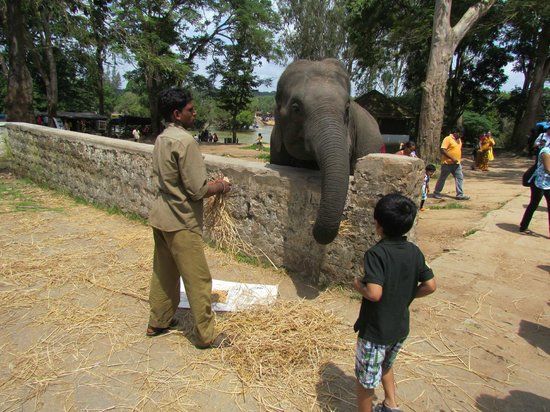 Dubare Elephant Club helped me observe elephants from close by. I saw how playful the elephants were when they were in water, and also how patient they were when inexperienced hands bathed them. I also saw how happy they would get when they got to eat some of the nutritious balls that they were given. The Club is well maintained, clean and provides essential interaction with a species we don't think much about.
There are forest lodges and resorts, which also have provisions for river rafting and other activities. The Forest Department conducts trekking activities in the surrounding areas.
For all those who want to interact with elephants closely, this camp is a must visit. It provides a close look at the lives of elephants and if you're not too careful, a playful elephant can drench you when it is enjoying in the river.
Here are some other details:
Entry Fee: Rs. 20 for Boat
Day Visit: Rs. 1,499 for Indians, Rs. 1,758 for Foreigners (includes Lunch, Tea / Coffee, Coracle ride, Camera fees & taxes).
Elephant Camp Activities: Rs. 885 for Indians, Rs. 1,535 for Foreigners, (includes interactive experience with camp elephants)
Timings of Elephant Interaction: 8. 30 AM - 11 AM & 4.30 PM - 5.30 PM
Details of the Forest Lodges:
1. http://www.junglelodges.com/dubare-elephant-camp-hobli/