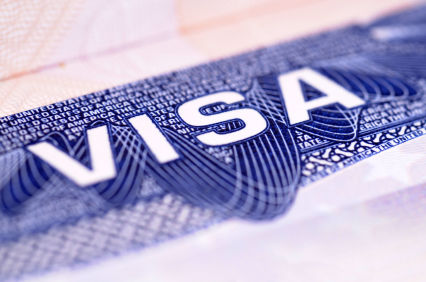 After my husband and I narrowed down on visiting the States we began the planning and preparing for all our paperwork in place for applying for a US Visa. We started by collecting all our documentation – bank slips, salary slips, employee leave letter, covering letter, etc. etc. Once we had all that in place we applied online (yes, online and you have to do this on your own without a travel agent to help you). So after applying online and going through the numerous questions in the application form, when we thought we were finally done we realized that again we'll have to create an account and apply online for scheduling an appointment with the consulate. But before you do the same and schedule your appointment you must first pay your Visa fees which you can do so at any Axis bank outlet. Now once you have your MRV fee receipts, the next step is for you to schedule your appointment – You must schedule two appointments, one for the visa interview at the Embassy or Consulate and one for the OFC to have your fingerprints and photo taken. On the day of our appointment, we arrived at the Consulate and were in for a rude shock. For some reason I always thought the American embassy would be like a 5 star hotel and I would be interviewed in luxurious cabin with fine Italian furniture but what transpired was something really similar to me getting my train pass at Borivli station. But service here is really quick and I guess that's what really matters. Well but who said service is not quick at our Borivli station counters?
So after we got our bio metrics done, we were ushered to a counter where we were informed that we could avail of a lounge facility service on the day of the interview. For an extra INR 400 per person we would be picked up from the OFC centre and driven to the Consulate (a 5 minute drive) and we would be given preferential treatment. We politely declined as we have our own vehicle and were in for another shock the Indian lady officer rudely told us "OK, COME ON YOUR OWN AND STAND IN THE LONG LINE AT 7.30 am". Wow!
Well, we did not pay heed to her and arrived comfortably at 10 am. Well, she was right about one thing though… The line at the Consulate could give Siddhivinayak a run for their money on a regular week day. Fact – EVERYONE wants to travel to the US. But again no worries here because everything is so efficient and organized and before we knew it, it was our number flashing on the screen and our turn at the counter (again, no fancy interview cabin). There are about a dozen such counters catering to different regional languages so don't worry if you cannot speak English. We beat our boredom by playing the guessing game of who made it and who did not make it. Other than a smile from ear to ear on an individual's face, you will come to know if your visa is approved if they do not return your passport back to you. Interview questions range from annual income, reason for visiting the US, do you have relatives there etc. So when our number was called, thankfully due to the previous stamps of other countries on our passports, our interview was a breeze and we were done in under 2 mins. Did we get our US Visa? Well we sure did not walk out of the consulate with our passports in our hands.