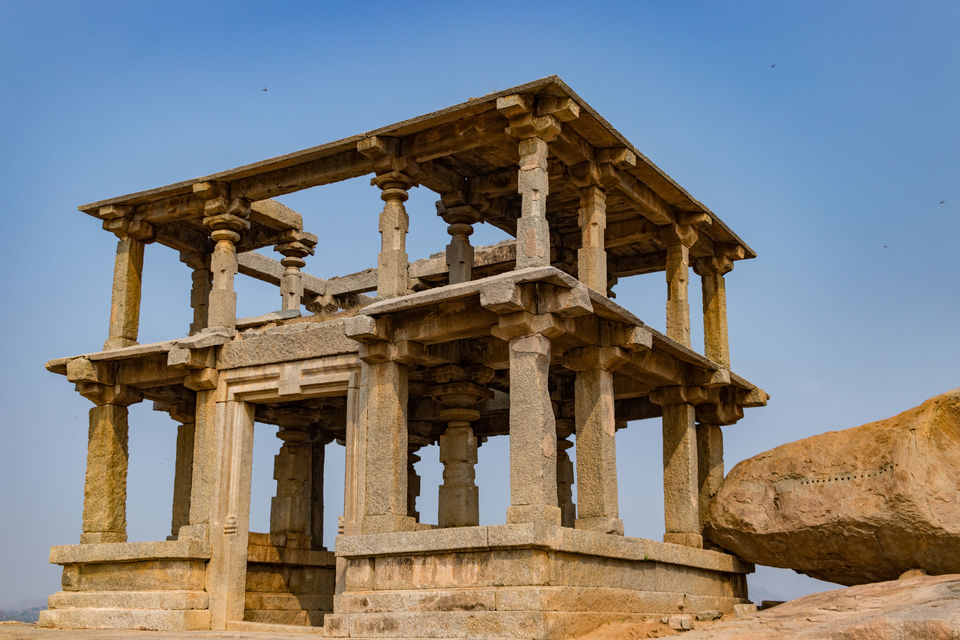 Hello, guys, I am Ajinkya and in today's video, I am exploring the ruins of Hampi. Hampi is situated in Karnataka state from South India. The Hampi ruins are a Unesco World Heritage site. In this video, I explore the Sasivekalu Ganesha, Hemakuta Hill, Krishna Bazaar & temple and Laxmi Narasimha aka Ugra Narasimha and the Badavi Shiva Linga.
Most of these sculptures are monolithic and are dated between 12th to 16th century AD. I planned my Hampi trip using the Tripoto website and booked my guesthouse using the Booking.com site. It all became very easy because I had all the things I needed in one place.
The bus, hotel, flight, reviews, locations, blogs, etc. I get everything on Tripoto. If you are planning a trip on your own then I definitely recommend using Tripoto. You can check out my profile here - AjinxedArtist
Back to Hampi, I came from Pune to Hampi on an overnight bus journey with SRS Travels. Bookings were done using Redbus. I reached Hospet around 8 in the morning, got a rickshaw and at the rickshaws I met Raghu, he took me to the guest house in around 30 mins. He asked for 250 for the drop off and I was not happy about it, so I asked him if he could take me around Hampi for the 2 days that I will be staying there and include this drop from Hospet and also drop me back to Hospet at the end of my trip.
He agreed! He dropped me off at the Ranjana Guest house, you can find it on Booking.com, it's very cheap compared to other hotels and I was happy with the service and the cleanliness of the place. I freshened up and Raghu was waiting for me outside the guest house. He took me through Hampi Bazaar to a restaurant called Old Chill Out for breakfast. I ate my breakfast negotiated on the price with Raghu and I was off to my first site. hang on but that's not what happened Raghu handed me of to Viru, he's Raghu's driver and Raghu said that he'll take me around for the 2 days. Viru is a decent chap who lives in Hampi. Viru takes me to the first site that is Sasivekalu Ganesha which is a 2.5 mts monolithic sculpture dating back to 16th century AD.
My tour continues with Hemakuta hill which is right next to the Ganesha idol. By this point I must tell you I had started feeling the heat and was regretting carrying my tripod. I would recommend all you guys to buy a handbook to know the details of each site and a guide as well if you are interested in the history/mythology associated with each site. I didn't hire any guide but I bought a book. I also had read about the most famous spots of Hampi online. I was most interested in the pictures and actually feeling the sculptures. The photos/videos don't do any justice to the actual place.
After Hemakuta hill Viru takes me to Krishna Bazaar and the temple. He tells me the bazaar was a gold and diamond market during the Krishnadevraya reign, famous all over Asia. I also spoke about it in my vlog but later found out that it was only a groceries market. I had to delete that video from my vlog. I was a bit confused now because I couldn't tell if Viru was right or the book or if there's a third version. I know this happens a lot with Historical sites but I would like to know the real history.
Krishna temple is epic to just look at it and spend the afternoon knowing about it. I decide to go with the book and just listen to everything Viru says. After Krishna temple we went to Laxmi Narasimha aka Ugra Narasimha and the Badavi Shiva Linga next to it.
This is one of the best known idols of Hampi. It is an awesome work of art. But time has mutilated most of it. The structure is restored at some places by the archeological department. I went to Shiva linga next and I forgot to mention that both these sculptures are monolithic. I will keep posting videos and writing blogs about Hampi for a while now. Stay tuned for further updates. Please subscribe to my YouTube channel.