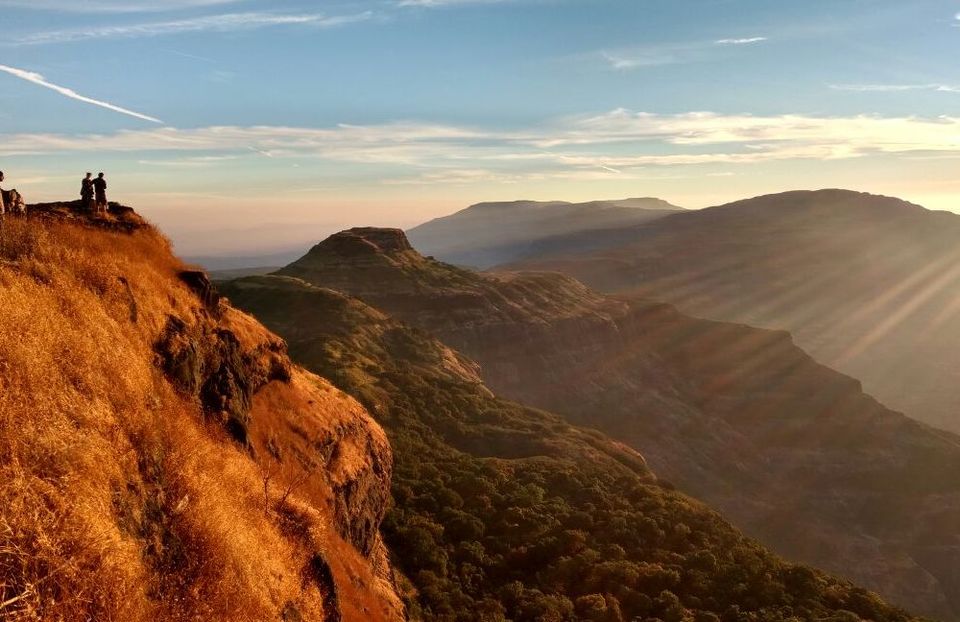 Weekends in Mumbai were becoming a bit monotonous.So One weekend in Mid-December, I packed my bags to join my college mates on a trek to Harishchandragad. The trek was led by TISS Adventure Club, a group of trekking enthusiasts who organize treks to some really awesome trekking sites around Mumbai.
The One with the Smoky Bite: We started the first leg of our journey from Chembur at 5:30 am by a local train to Kasara. It took us around around two hours to reach there . From Kasara we hired a jeep to reach the base of Harishchandragad which was a 3 hrs ride on a circular road with twists and turns. The total cost of one way travel was approx 200 Rs. Naturally we were all very hungry after reaching there and were doubly delighted to eat fresh home food cooked by the tribals. Chapatis made on the 'Chulha' had that priceless smoky flavor in them and were an absolute delight , served with dollops of love by the villagers.
When the Cave was our home : After a hearty meal, we started the ascent at around 5.30 PM. We had heavy bags with us, so climbing initially was difficult. In fact three of us were quite behind the others. One of our friends -Rishi , then started telling us interesting Panchatantra stories . Somehow, listening to these stories, we forgot our pain and discomfort and started enjoying the walk up-hill. By the time we all reached there, the moon had just risen. It was a very beautiful sight, like the one on a Supermoon day. Our efforts had finally paid off.
It was really cold up there. Wrapped in our jackets, we had a hot cuppa. Most of the group members decided to go to the peak in the dark, while few of us decided to save that for early morning. We started a bonfire and sat around it ; singing and sharing anecdotes. Dinner was again awesome , for a modest 100 Rs per person for an unlimited hearty meal of Sabzi, bhakri , Dal and Rice. I highly recommend the same place to you for I was bowled over by their hospitality and innocence.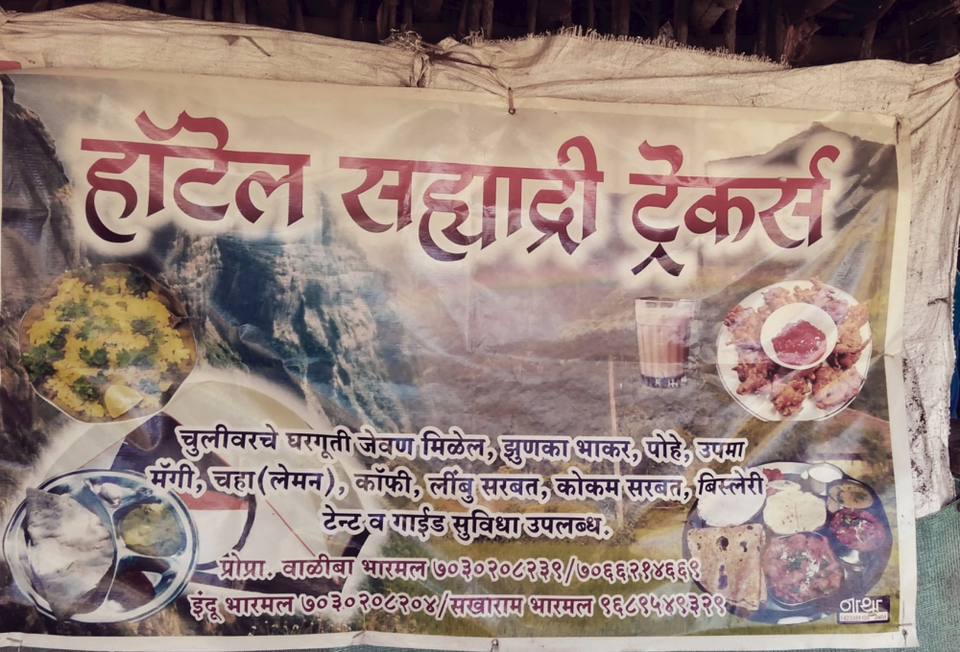 Pepping up the adventure quotient by several notches, all of us slept in a cave there. It was my first experience in a cave. Living in that huge cave ( that too for free), I felt like the King of the Jungle ( just ensure you have a good sleeping bag, flashlights and mosquito repellent). Next morning , there was something exceptional in store for me ...
We woke up at 5 am the next day as we were to climb uphill to the top of the peak of Tara Machi to see the sunrise . It is the topmost point on the fort (around 1429 meters).It was still dark and icy cold when we stepped outside. After all of us answered nature's call in the bushes, we started our ascent in the dark. Donned with flashlights , we made our way uphill. It was an interesting climb with some tricky steep slopes but I was glad that I was able to climb well this time. In fact I was ahead of many others :) Although , its never a race while you are on the mountains, but I was just happy with my own progress from last day.
We reached at the top around 10 mins before sunrise. Lights were slowly setting in and it was super windy up there. A flag put up there by previous explorers was fluttering wildly, while we were clicking pictures and admiring the beauty of the Western Ghats. And then the moment arrived-The sky started showing up shades of red , yellow and pink and the first beam of light pierced the sky.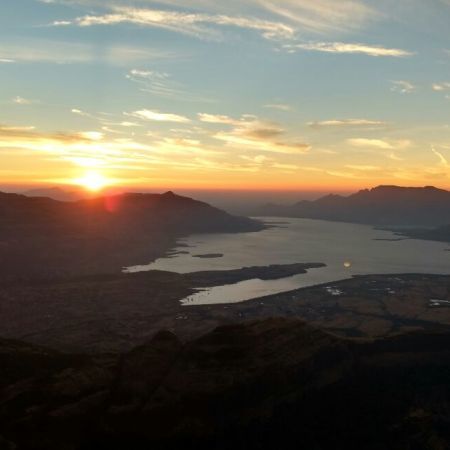 Describing that moment is a very difficult task for me and all I can tell now is that I had tears in my eyes and a wide smile on my face . It was the most beautiful sunrise or one of the most beautiful sight of my life. The colors of sky, the patterns of the rays , the shadows on the mountains and the river flowing through them; the moment was simply priceless. It was totally worth everything!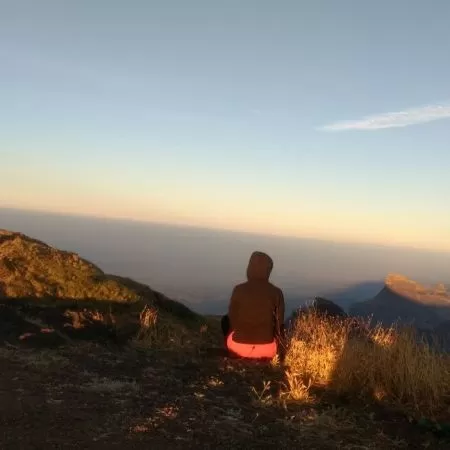 When we got Lost in the Mountains: After soaking in the soft- shiny rays of sun, it was time to climb down. We took a new route but after descending for about 10 minutes, we realized that we were lost ! It could have been scary had I been alone, but now that we were in a group I was at ease.
Two of the seniors went ahead to find the route ,while we had a quick round of snacks to ease the rumbling in our bellies. In about 20 minutes , they came back and we started on a new route which was full of adventure and beauty with thick bushes, steep slopes and wilderness. We were following another group, one of whose members told us that the violet flowers that we saw all around were called Karvi (lavender flowers) which bloom once in seven years for only 2 months. How delighted we were to be the lucky ones to see them bloom! With a heightened appreciation for those flowers , we clicked many a pictures.
So exploring new ways while getting lost in the mountains , we found our way to our next destination which was the 'Konkan Kada' cliff . This cliff which acts as a border between Thane and Ahmednagar district has a concave fall of 3000 ft. I sat at the edge of the cliff and realized I had goosebumps all over me. I then lied down under the soft sunshine for a while.There never could be a comforting bed than nature's lap.
It was after a 15 mins descent from there that we reached our base camp . We picked up our luggage from the caves and had yummy breakfast at the same place as last night. We also saw an old Shiva temple of the 12th century. Absorbing so much in those 1.5 days, It was now time to leave. We followed the same mode of travel in return too, only difference being the heavy rush in the local train we experienced this time , it being a sunday evening.
Reaching home, I took a bath and one jug full of warm water with lemon as advised by our trek-guides. I Also drank turmeric milk at night. All this is said to avoid muscle cramps and ease the pain which sets in the next day of trek.
This truly was one of the best trips of my life and I'm glad I made it beating the morning sleepiness which was luring me to shun the plan and tuck in my bed on that Sunday morning. As someone has rightly said , "Every time you feel you are at your limit, Go one step further !"
Pheww! I think I have overloaded you with lot of stuff to read . But It just came out ..From One Wanderer to another :)
PS: Check out my blog for more such stories https://thethirdeye003.wordpress.com/
Some of the pictures in the post were captured by my friends so a huge shout out to them :)