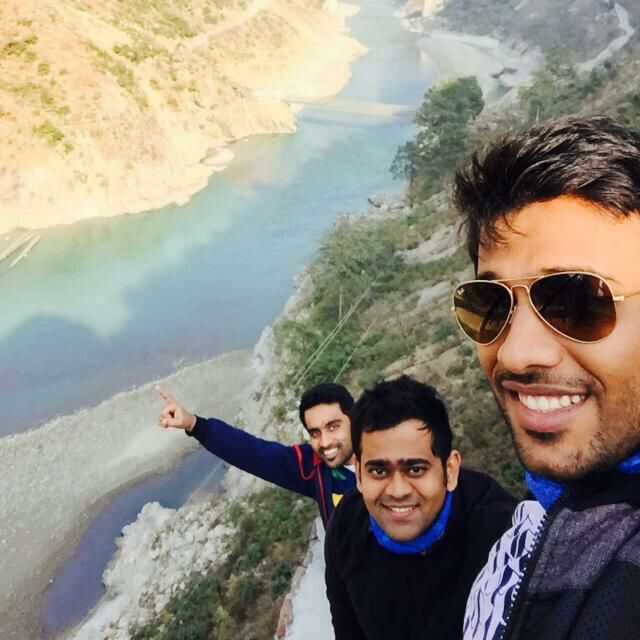 Before I start about the trip I would like to tell you how the trip was planned. I wanted to visit Uttarakhand and do a mountain trek in late December to witness chilling climate, tent stay etc. Being from Mumbai the idea was not appreciated by my friends and family as -10°C is not even given a thought but I was very much fascinated. I convinced 3 more friends giving them minimum details of the trip and only speaking about their likes. They were convinced and we booked our slot for Chandrashila Deoriatal Lake with India Hikes from 23-28th December 2016. So as the time was coming near we realised from India Hikes and friends that you should have a habit of walking atleast 45 min daily to make the trek comfortable. There are fix set of requirements which is required like specific shoes stick head torch fix set of clothes. The excitement was slowly turning into fear. My friends and I decided no matter what we are going. We will return if we cannot or if we are not prepared. So the travel was planned Mumbai to Delhi by Flight. Delhi to Haridwar by sleeper train and after that the travel was arranged by India Hikes.
We had 2 luggages each and a bag full of home made snacks again a wrong thing for a trek. As the requirements are minimum clothes but proper thermal and sweat shirt. 2 bottles per person and srtick and many more. Obviously our idea was alot of clothes and alot of pictures.
We left Mumbai and reached approx 12:00 midnight at Delhi and reached New Delhi station directly from Airport as our train was at 03:55am and remember it was chilling winters plus sleeper class train. We again had no arrangements for bedding as it was a matter of a few hours which was easily manageable but DONT TRY THIS. Travel in sleeper but with proper bedding. We entered the train and thought of sleeping. In about half hour. We were shivering and sitting down close wearing all our winter clothes waiting for sun. This was our start. Where we were scared as hell as there was -10°C coming in a few days and tents. It was a mistake and it was accepted by all of us.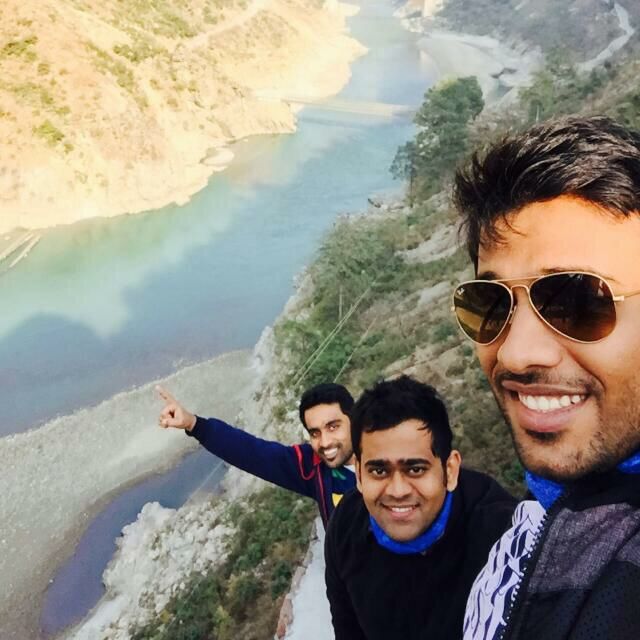 We reached Haridwar finally and checked in to a nearby hotel. Our trek was going to start the next day so we had a day time to explore Haridwar.
We checked in took some rest got ready and decided we are going Dehradun to robbers cave. We were all ready for a lot of travel. It was a beautiful place to visit. Whole day spent there and in return had the best North Indian food in Haridwar. The best part about north India is FOOD. It was amazing. We returned and slept. It was a good day
Now came the main day when our trek was about to start. We reached Haridwar station where there was a bus and a SUV waiting with approx 22-25 people who were gonna be with us for the next four days in the trek. They were amazing people. We sat in SUV as the bus was full. The journey started. The journey was from Haridwar to Sari approx 300km but it took approx 12 hours as it was HILL. The journey was amazing. It was amazing with river on side and mountain on the other. It felt relaxing. We reached at night. We got to eat some fresh oranges on the way. The locals are so friendly and very helpful. We reached and had all the feelings nervous scared excited anxious. We met the group leaders and they informed us that they will check the medical certificate and will check our blood pressure and oxygen level. We were 4 as I said. 3 did not clear the test. They said if our blood pressure is not below the permisible mark we would not be allowed and we were totally upset. Then they informed that because of traveling and going on height resulted in the rise in blood pressure. There was a small introduction and we slept praying that we are allowed atleast for one day so that we can experience the trek.
Next day obviously with hardly any sleep with one thing in mind how to control our blood pressure. We got up and there was a test in which again 2 of us did not clear. They asked to sleep for sometime walk it will control it. The nervousness kept increasing. Again after 15 min there was a check and we again did not clear. We requested them to allow us. They said they will allow us for a day since first day is a small trek and if it is controlled in the entire day we will be allowed further or we have to return. We were ready for the trek but remember we had 8 luggage and we had to carry them and walk. Which is IMPOSSIBLE. We removed all the extra clothes and they were ready to keep the luggage down. We managed to make it 4 light weight with 2 litres of filled bottle and a walking stick In hand. All pumped up for the trek we started it. Within 15 minutes of walking steep on hill. We concluded that this is not our cup of tea and we will return next day even if we are allowed. It was a 2 hour trek. The campsite was DEORIATAL LAKE. With reaching the half way it started raining. So now we had to wear a poncho and walk which kept making things difficult. The rains turned into snowflake. It was like a dream but we were in no mood to enjoy. We reached the campsite. Almost drenched and we were alloted respective tents. Where we cannot even stand inside with no beds inside. So basically we entered a tent with barely Any space to keep our wet luggage and we had to sleep there as well. The leader came out in all excitement. As we came out if was completely white. The mountains the tents. The entire area was covered with snow. It was a treat to watch. We started some exercise and it made our body warm and slowly we started enjoying it. It was super amazing day. We played with snow. We made new friends. The locals were amazing. There is a rule In India hikes they don't serve food in disposable or their plate. We have to carry out own plated tiffin spoon and mug. We had lunch. Only to realise that we have to wash it too. As it was snowing. It was cold. We had our gloves on. And sweat shirts. To remove it and wash it ice cold water was a task. As we were 4 frnds. We made a rule that only 2 will wash at a time. The rest 2 would wash it at next time so that not everyone will have to use water. It was not over. In these temperature with no proper room we cannot take bath but to freshen up was again a task. There is a tent where you have to sing songs loudly so that no one enters it. After you are done with your work you have to pour coconut mud so that there is no smell and carry your own tissue. But it was not that a prob. It was fun too. Later at night while having dinner we interacted with others. There were few other groups too we spoke too. It was fun. Now the sleeping part. 3 In a tent with luggage. With individual sleeping bags and sack. So get inside a sack then inside a sleeping bag and zip your self. All done completely uncomfortable. One friends want to use the loo. That was the most irritating thing that he had to get out of the whole thing and go out. As it was dark obviously he wanted company. So we all went out abusing him and later laughing with him.
It was not a good night but a fun night
We were informed to get up at 6 am. Get ready by 7 then breakfast and start your trek by 9am.
We came out of the tent to witness the most beautiful sight. Clicked pictures. We realised that the whole day we did not use any phone as there is no network and that's the best part. You enjoy the moment. It was a 7 hour trek. You must have realised during trek distance is not important. The time to cover that distance is important. It was difficult but it was superb. We were getting use to the routine the view. It became a part of our life. As We walked the snowfall yesterday made it slippery. We slipped jumped hopped only to had laughter. The problems of yesterday were fun today. We reached the campsite happily going inside the tents. Come out eat in our tiffin wash it. It was amazing. There were no other groups in our campsite. Everyone sat inside one tent where food was served. And spoke about each other's life and did not realised the topic was shifted to horror stories. We spoke about 2 hours only horror stories. When we went to respective tents. There was fear. With only 12 tents in between of mountain and jungles. All the prayers taught in our childhood was used. It was one of the best day
The routine was same the next day
6am get up
7am breakfast
8am journey starts. The journey to reach the next campsite CHANDRASHILA BASE CAMP. It was 5 hour journey.
It was superb. No problem walking. Everyone were friends and it was fun talking and sharing food remember the home made we carried. It was simply amazing. We did not realise that from a busy city life we are enjoying the nature. Sitting on ground. Eating the whole meal in the same small box. Washing it. It was simply amazing. Just before reaching the campsite. One of my frnd got dehydrated and he fainted. But thanks to the immediate action. He was given ORS and water which made the situation normal and he was perfect in 15-20 minutes. We reached at 4 am. It was beautiful. We were informed to not go far from the campsite as there are wolves. They informed to keep all belonging inside tent as wolves do roam around camps at night. There was only fear now again. As it was turning dark we could spot the wolves easily with their eyes shining in dark. We were informed the next day schedule. 06:00pm today get up at 01:00am , do some star gazing, 02;00 breakfast 02:30 am trek starts. We had to reach the campsite before sunrise. It was difficult to sleep at sunset. But we managed and we were excited for the next day.
We got up at 01:30am and we were out by 02:00am. The temperature had fallen to -12°C. We had worn the maximum clothes this time. The view right above us was sky and stars. Being from Mumbai we hardly seen stars and if we do we can spot only 1 or 2. But here we could see millions of them so close. There was a person who had knowledge and he explained us the names and all the stars. It was a beauty. We were given breakfast at 02:30am. Imagine the timings but we were quiet comfortable. We started our trek. Remember the first day snowfall. After 4 days the snow was hard it was slippery where there was ice. It was a steep walk this time. We had to climb a mountain and return on the same spot. It was difficult. We kept taking breaks while walking. By the time it was 05:00am we were hardly 500mts away from the SUMMIT. But the leader said it will take 45 min. We had given up. It was not possible to walk further. The leader kept encouraging us. We made it to the SUMMIT at 05:45 before sunrise. We were so pumped up that we removed shoes jackets and we were shouting at top of our voice. We were dancing. It was amazing. The best feeling. As the sun started to rise we could see the view. There were hundreds of mountain we could see in one direction. There were mountains clouds snow sun light. It was the BEST. That moment was truly HEAVEN ON EARTH. We enjoyed. Kept clicking pictures. Few made it and few did not make it as it was difficult. We started descending it was fun. We reached down. There was a shop. We saw after a long long time. After 4 days. There was so much of excitement. We 4 had 14 Maggi. That was the level of excitement. Our trip was over. We were given our certificates. It was emotional. We met everyone. From stranger to family for 4 days. It was fun. We spent the next 3 days at Rishikesh. Which was again amazing but I'll post a different story about that trip.
One thing I have been saying everyone after that.
ONCE IN LIFE EXPERIENCE TREKKING IN NORTH INDIA IN DECEMBER.
Comment your views about my story. I hope you liked it